'Sup ya'll. Drumroll please…
1. Three cheers for Futurism!?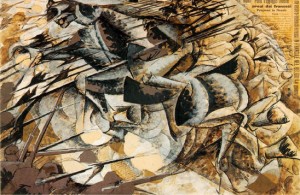 You've got to love an art movement obsessed with industrialized warfare who's adherents where so woefully incompetent at warfare that most of them died as soon as they set foot on the battle field. Remember dears, function before fashion on the battlefield. If you'd like to learn more about the Futurists, stop by Istituto Italiano di Cultura on Friday around 6pm. They'll be reading the Futurist Manifesto alongside contemporary music and dance commemorating Futurism's 100th B-Day. Hooray for Futurism!
2. Inflatable Art at Spoke!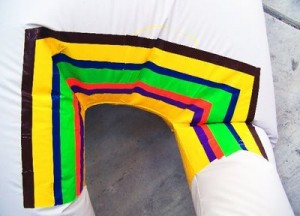 OK, so I don't think I've ever seen Claire Ashley's work before in person, but I looked up her website, and her performances look weird enough to warrant an in-person look. For Spoke she is creating a giant blow up mattress/wall/window voyeur object-thing. Apparently there will be a camera there to shoot people playing with it, so go play! You can have interactive art with no one to interact with it. Friday night from 5-7pm.
3. Everyone likes art raffles, right
Well my dear friends, it's time to say bon voyage and go to heaven. Not the dead people one, the one on Milwaukee. Harold Arts is raffling off art by their 2009 residents to raise money for the future Harold Arts Residency. That's a clean little loop if I ever saw one. So come, play the odds, and perhaps you'll go home with some art you like. Friday from 8-midnight.
4. The ultimate battle: the herbivore vs. the carnivore.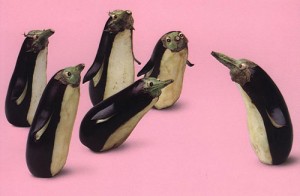 Dude, high five to Hyde Park Art Center and the people who put on Artist Run Chicago. They just keep having awesome stuff, why must it end? Well it's not over yet my friends, and this week they'll be holding the great "Fryvalry." Ya'll are invited to bring meat or veggies (whatever fits you persuasion) for Phillip Von Zweck and Kevin Jennings to grill up in the ultimate test of gristle vs. greens. It's just cool. Saturday afternoon, 3-6pm.
5. Indie films..
If you're looking for some fun Sunday evening, and have $10 to spare, you should head over to the Elastic Arts Foundation and check out some indie films. The screening was curated by Ehsan Ghoreishi and is being held to raise money for another film, Voices and Faces of the Adhan: Cairo. Voices… is a documentary about muezzins, and how soon, for the first time in over a thousand years, they're all going to be out of a job. Thanks technology, sometimes you suck. You can learn more here. Movies start at 7pm and go 'till 10pm.
---
Hey ya'll, I'm reporting to you from afar. I'm gonna keep this short, 'cus I've got to get ready to spend a week in the woods hiking, shooting, canoeing, and watching zombie movies. Mmmmm…Chopper Chicks in Zombie town. But I digress. Here is my Top 5 for this weekend. Enjoy 'em, since I can't.
1. Aspen Mays explodes your brain with science!
In her first solo show, Aspen is showing off all her art/science craziness. Aluminum foil spaceman, check. Fireflies in the camera, check. You won't be disspointed. Opens Friday at Golden gallery, 7-10pm.
2. Geometry and mold spores at Thomas Robertello Gallery.
This stuff just looks strange. The title is what caught me, the show is called "Taxonomies." But with ceramic mold spores from Sarah Hicks and geometric paintings from Peter Barrett, it seems worth a look. Check it out Friday from 5-8pm.
3. The faculty has shown good taste at SAIC.
The faculty at SAIC has passed down their opinion on what's good and what's not. Surprisingly (well I was surprised), I mostly agree with them this time round. You can go see new work by Sarah Belknap, Joseph Belknap, Tif Bullard, Yu-Hang Huang, Merideth Lacina, Alison Rhoades, andIsabelle Schiltz at the Betty Rhymer for the Annual Faculty Exhibitions Committee Picks show (I don't think this is the real title, or whether there is one, so I spliced this together. ) Opens Thursday from 4:30 to 7pm.
4. Artist dresses up as volcano, spends day reenacting Day in the Life of a Volcano.
Do I actually need to say anything else? The afore mentioned peice (by Eliza Fernand) is part of Post Scarcity, a new show at 65Grand curated Thea Liberty Nichols. Opens Friday, from 7-10pm.
5. Performing in the bedroom…
The Second Bedroom that is. Anni Holm is doing an installation called Sleeping Around. If you're in Bridgeport, head over Friday night.
Sorry for the lack of pictures and links, the zombies are coming!
---
The City Museum and Art Gallery in Bristol has been taken over for an exhibition by home-grown graffiti artist Banksy. More photos can be seen here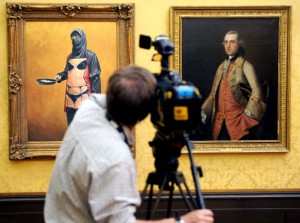 ---
1. Green Lantern says it's the end but we can still be friends…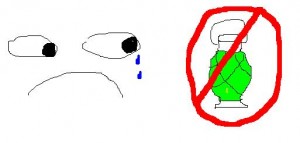 After 4 (or so) years going strong, the Green Lantern is closing it's doors. Unfortunately The Man clamped down, and now we must say good bye, though hopefully only to the current space. Hopes are high for the Green Lantern re-opening in 2010 in a new locale, but for now we celebrate the end of an era. So head over on Saturday the 13th for It's Your Turn, and rock out with Caroline and the rest of the crew. BBQ and copious toasts will be had. Afternoon to 2am.
2. ebersb9? WTF is that?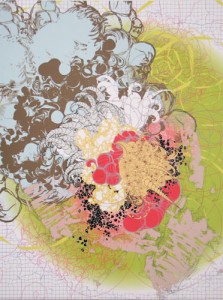 I'm glad you asked. ebersb9 is a (relatively) new apartment gallery in the Noble Square neighborhood. Everyone likes new apartment galleries, right? Well, now you have the chance to check it out and go see some weird looking work by Krista Hoefle. The show is called The girl who stopped being human, and opens Friday night from 6 to 9. And just remember, people live there, don't barf on the bathroom floor.
3. Jim Nutt (and others) talk dirty too you at the Smart Museum.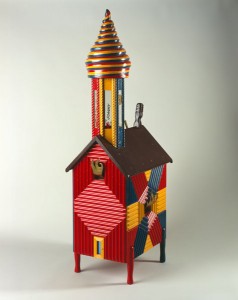 Jim Nutt, Gladys Nilsson, and Dennis Adrian talk about the work of H. C. "Cliff" Westermann on Sunday at the Smart Museum. Come on, Jim Nutt is awesome, I'm sure the other two are smart, and you'll probably learn something. What else do you have to do on a Sunday? Come on down for an enlightening afternoon, Sunday the 14th at 2pm.
4. Western Exhibitions presents…PORN!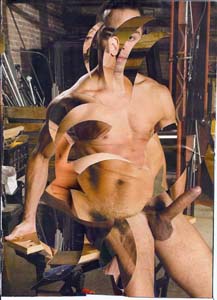 Not just porn, but that's what caught my eye (no surprise there). If you're ambiling 'roung the West Loop drop in, there are two shows opening. The afore mentioned porn is part of The Ecstasyis,work by Dutes Miller. Also opening is they will not ruin us through the things that we like, a show curated by Philip von Zweck and featuring the work of Joel Dean, Anthony Elms, Carol Jackson, Andy Moore, Mindy Rose Schwartz, Deb Sokolow, Amy Vogel. Two for one, and in the West Loop. Sweet. See yout here with Grolsch in hand. Opens Friday night, from 5 to 8.

5. The weather is better down where it's wetter, under the sea (in a window on Armitage).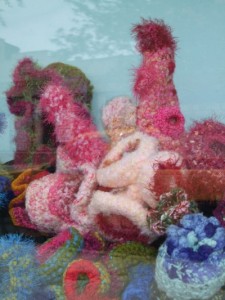 Art on Armitage is a strange place. It's a window, rather than a whole gallery, and shows an array of work some good, some…Well, this week we're going for a trip under the sea. Usually I'm not big into crafty work, but this stuff is just friggin' cool looking. A whole coral reef made by knitting? How can you hate on that? Drive by, or stop and take a closer look ( and drink some wine) Saturday 2 to 5.
---
A rarely seen collection of Robert Lostutter's watercolors, dated 1968 – 1973, are on view at Corbett vs. Dempsey. They will be for some a sharp departure in Lostutter's oeuvre, considering he is far better known for his images of male figure sheathed in masks made of bird feathers.
I had to see this show in order to satisfy my juvenile curiosity about the pre-homoerotic Lostutter, and fantasized that in seeing it I would be able to smartly delineate the transition in his work. I would be able to tell, I supposed, exactly when Lostutter turned his back on the exaggerated form of the emotionally detached female subjects of the earliest work and ushered in the arrival of the fierce, clandestine, and virile male figures that would populate his work forever thereafter.
It turned out not to be so sudden. In many of the works during this time, men and women inhabit the same surreal space, facing off amidst geometric zaps and zig-zags. The bodies share not only the space, but also a similar predilection for corsetry and what looks like highly refined, custom S&M wear. Their bodies are also rendered akin, like personalized sensory homunculi, with each the most crucial sexual elements bulging and ballooning with proportional importance according to the artist. In the ladies, elephantine thighs protrude from giant granny panties tightly clinging to barely concealed pudenda. (That's right, I said "pudenda"). In the men, sturdy, block-like torsos are supported on huge square asses and trunk-like legs, nipples featured prominently and treated occasionally with garments that further accentuate their central role. Now, this might be where I go too far in acting like I see Lostutter's transition on paper as a time-line mirror of his transition in real life, but I am pretty sure I can parse in many of the works the way in which the male figures begin to assert their dominance. In 1969 for example, a female figure, shown in profile, sports a dog's elongated face as a protrusion from the groin area through her skirt. But by 1970, who's wearing the strap-on dog? Big Daddy, that's who. (Okay, I'll quit with that, but it does bear examination if you're interested in such things.) From that year forward, the fecund, monumental females are encroached upon by men with jutting chins in trench coats, mostly tucked subserviently into the scene- emerging from the edge of the picture or hiding behind curtains and camouflaged by graphic elements. This goes on for a few years until, at the turn of the 1970's, Lostutter dispenses with the gals altogether and trains his vision on more and more intense psychological renderings of vulnerable bird-men.
While not officially a member of the "Hairy Who?" group of Chicago artists, Lostutter existed on the fringe of all the Imagists' sub-groups and is often mentioned in the same breath. Like them, he eschewed prevailing trends in New York and focused on a tightly rendered, highly illustrated surrealist vision of the figure in space. His work has been remarkably consistent in its passion for precision over the years, even as his figures have softened and relaxed. In these early works, his expert handling of the watercolor medium is shown off in both broad fields of delicately managed color as well as areas where it is fit within tightly knit abstract elements and illustrative details. These flower petals and energetic zig-zags found in the early works would later metamorphose into the brilliant feathers adorning the artist's more recent work.
This early body of work will be a welcome respite from the obsessive detail that emerges in the work as the years go by (and as fewer bristles remain on Lostutter's paintbrush, seemingly). If you find some of the more recent work cloying in it's florid detail and color, the broads in these early watercolors will give you an opportunity to see a more tortured and terse version of the artist's fetishistic renderings.
---