Getty Trust President and former Art Institute of Chicago Director James N. Wood died late Friday night of natural causes. Mr. Wood, age 69, was reportedly in good health and his death was unexpected. Board chairman Mark S. Siegel announced Saturday:
We are deeply saddened to announce that J. Paul Getty Trust President and CEO James N. Wood has passed away suddenly of natural causes.

Jim was internationally recognized as a leader in the arts. His passion for the visual arts and quiet, yet firm leadership were a perfect fit for the Getty. We were able to entice Jim to come to the Getty out of retirement, after 25 years as the head of the Art Institute of Chicago, and in just a little over three years under Jim's leadership, the Getty moved forward in significant ways toward a renewed and strengthened mission.

Jim valued collaboration, and he reinforced that value at the Getty. Working with the Board, Jim led a strategic planning process that emphasized ways in which the Getty's four programs could work together to further enhance the institution's already strong worldwide reputation. He also saw the Getty as a catalyst to encourage Los Angeles' many outstanding visual arts institutions to collaborate, strengthening our region's stature as a major cultural center.

He was a private man, who acted with great kindness, strength, and dignity. The Board and the Getty's entire staff mourn his loss, and we extend our deepest sympathy to Jim's wife, Emese, their daughters Lenke and Rebecca, and their families.

Wood served as director and president of the Art Institute of Chicago from 1980-2004, after which he retired with his wife Emese to Rhode Island before his appointment as President and CEO of the J. Paul Getty Trust in December 2006. He assumed his position as CEO in February 2007, after an extensive search conducted by the Board of Trustees.

Prior to directing the Art Institute of Chicago, Wood was the director of The St. Louis Art Museum (1975-1980), an adjunct professor of art history at SUNY at Buffalo and associate director of the Albright-Knox Art Gallery in Buffalo, New York. He also held positions at The Metropolitan Museum of Art in New York. Wood sat on the boards of the Sterling and Francine Clark Art Institute, the Institute of Fine Arts at New York University, the Harvard University Art Museums, and the Museum of the Rhode Island School of Design. He was also president of the board of the Pulitzer Foundation for the Arts.
Wood, 69, received his B.A. with honors in Art History from Williams College in Williamstown, Mass. and his M.A. from the Institute for Fine Arts at New York University. He also holds a diploma from the University for Foreigners in Perugia, Italy. Wood's areas of specialization included European paintings and sculpture of the 16th to 20th centuries, American painting and sculpture of the 19th to 20th centuries, and photography.
Arrangements are pending.
---
Ahoy there. Fearless leader Burke here, bringing you yet another round of weekend picks. Sorry for missing you all last week, I was out on the west coast communing with the scorpions and cactus. It was nice, I got a sunburn, and I even looked at some art. But that's not what's important right now. Right now you want to read about some shows happening this weekend. Well, here you go…
1. Bad Boys at Thomas Robertello Gallery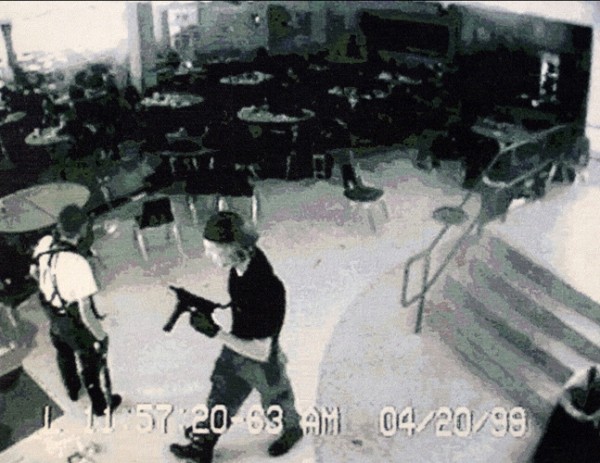 New work by Noelle Mason.
Thomas Robertello Gallery  is located at 939 W. Randolph. Reception is Friday, from 5-8pm.
2. Halfsleep at HungryMan Gallery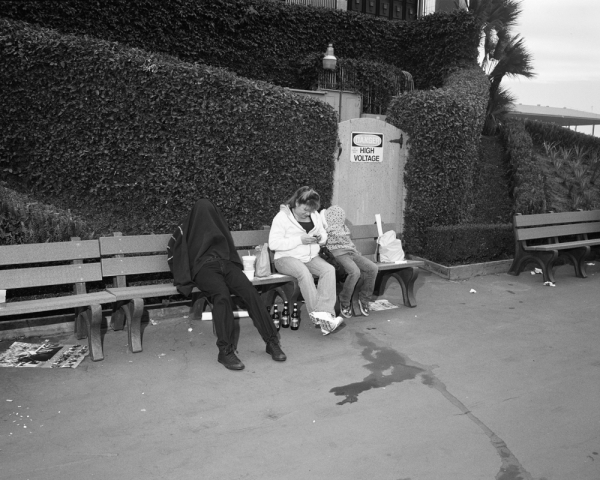 New photography by Casey McGonagle.
HungryMan Gallery is located at 2135 N. Rockwell St. Reception is Saturday, from 6-11pm.
3. International at Donald Young Gallery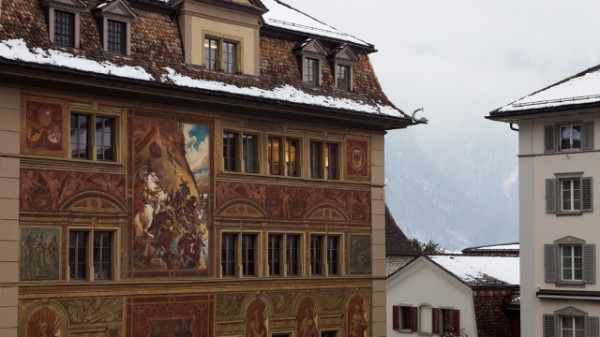 Video and sculpture by Joshua Mosley.
Donald Young Gallery is located at 224 S. Michigan, Ste. 266. Reception is Friday, from 5-7pm.
4. Retrospective at Garage Spaces

Ephemera from three 2009 shows: "Stolen," "Den" and "Funeral."
Garage Spaces is located at 1337 N Maplewood Ave. Reception is Friday, from 5pm-12am.
5. Incident Control at MoCP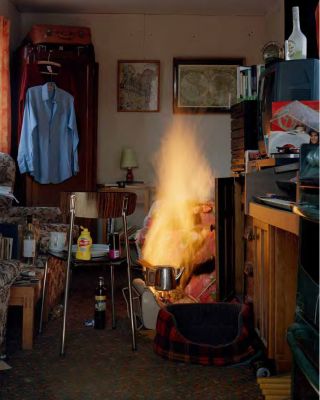 Photography by Sarah Pickering.
MoCPÂ  is located at 600 S. Michigan Ave. Reception is Thursday, from 4-7pm.
---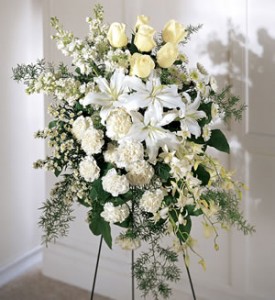 Yoko Ono while returning to Montreal on Tuesday to unveil an art exhibit celebrating the week 40 years ago she famously stayed in bed with her husband John Lennon in a hotel room high above downtown Montreal and slept in about peace died of massive trauma to the head when the "Yes Painting" complete with ladder & magnifying glass fell on her.
Ono was in the city for the anniversary of the 1969 bed-in, which is being marked by an exhibit at the Montreal Museum of Fine Arts, titled Imagine: The Peace Ballad of John & Yoko. The exhibit would have opened Thursday.
"Montreal means very much for me because it was a place where John and I created a very important statement," the 76-year-old artist told reporters at the museum on Tuesday right before saying "Oww oww that ladder is crushing my bones, get it off get it off, I have brittle bones from Coprophagia so this really hurts"
That went on for 30 minuets while local pedagogues and reporters documented and critiqued the latest and unbeknownst to them final performance art work by Ms. Ono.
Montreal's city coroner ruled that it was an accident but Mark Kostabi is wanted for questioning in relation to the event since as the Police Chief said:
"This seems like the kind of shameless promotional work that he would do" and followed up with "Plus I always wanted to meet him, I have one of his paintings over my desk, you know the one with the gray androgynous human figure in a empty room holding a odd but ironic object that fits nicely with the title, he's so handsome too."
Kostabi's lawyers have released a statement that he has a solid alibi since he has been in Rome for almost a decade doing nothing.
More to come as it unfolds this sad sad April 1st, 2009.
---