Adam Ekberg has a lovely exhibition of new photographs up at Thomas Robertello Gallery that closes Saturday, February 6th — that's tomorrow people! — so if you haven't seen it, you should do the proverbial rush right out and see it thing before it closes. After that, get yourself over to the MCA, where Adam's work can be seen in the group show Elements of Photography, up through April 6th. I had a brief virtual chat with the very busy Mr. Ekberg this week, and am most appreciative of him for taking the time to answer my questions.
CI: In the brief statement that accompanies the portfolio of images on your website, you mention 'lens fallibility' as one of the means by which you activate otherwise ordinary environments. Could you elaborate a bit on how the notion of fallibility operates in your process?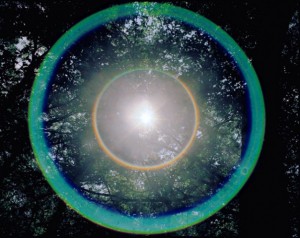 AE: These pictures have been discussed as referential to spirit photography but I like to think of them more in terms of the camera malfunctioning due to misuse. Pointing the camera at the sun is generally recognized as a bad idea on the level of putting balled up tinfoil in the microwave. If you are to go to a camera shop you can even purchase a variety of lens shades that prevent this effect from happening. I love the mistakes within images, Diane Arbus had a tendency to have vignetting in her prints and Nan Goldin always used flash in an elementary way which made her work feel even more personal and intimate.
---