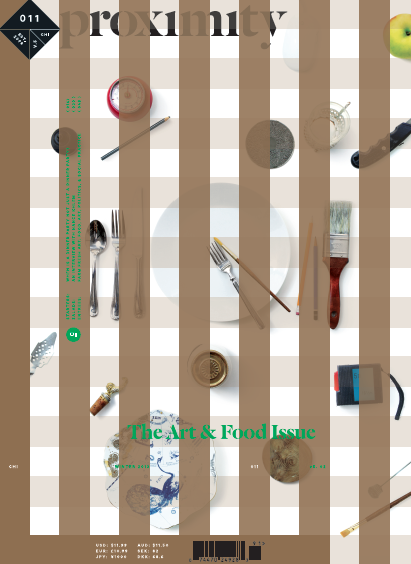 Proximity Magazine has a three day program coming up at the Co-Prosperity Sphere.
Oct 18 is the release party with drinks galor.
Oct 19 is a Pop Up eatery with The Rice Table
and Oct 20 is family programming action!
check out http://proximitymagazine.com/
Please come to one of the events and please take a stack of magazines to hand to your friends and colleagues. We want to get them out to the people.. And please spread the word if you can. thanks.
-edmar
/////// details below:////////////////////////////////////////////
LET'S DRINK, LET'S EAT, LET'S PLAY
A Proximity Art, Food and Radical Hospitality Mini Fest 
October 18-20, 2013
@ Co-Prosperity Sphere, 3219 S Morgan Street, Chicago, ILWe are hosting three special events to celebrate the release of the Food and Art Issue of Proximity. Our three course event takes place at the Co-Prosperity Sphere which is being turned into a series of installations and environments each day.Join us for the potluck edition of Proximity Magazine, wherein we investigate the intersections of art, food, politics and socially engaged practices. In this issue we followed our noses and inhaled the simmering pot of radical hospitality as a strategy for making art. Our investigation into how the boundaries of art and food have been blurred, smoothed out and ingested is revealed through the practices of many local artists, activists and chefs. Our menu offers a survey of projects that are presented as profiles and discussions about the role of food in our lives. A veritable feast was found within Chicago's art ecology, now lets sit down and eat.LETS' DRINK
Friday, October 18, 2013, 8-11pm
Co-Prosperity Sphere, 3219-21 S Morgan St, Chicago, IL
Admission: $10
Come to our magazine release party and get a hot-off-the-press copy of Proximity, meet some of the featured artists in the magazine and enjoy some bread, and alchemical craft beer creations of your own choosing.
Features installations by PREP,Edra Soto,  Hardcore Craft Beer presents Alechemy, Bread & Beer and the return of the Hornswagglers!
Complementary beverages by Stone Brewing Company. Other beverages provided by Founder's Brewing Company & special guest brewers. The Hornswagglers bar will be coming out of retirement for the evening serving their signature cocktails.
LETS EAT
Saturday, October 19, 2013, 7-10pm
Co-Prosperity Sphere, 3219-21 S Morgan St, Chicago, IL
Admission: $45 by RSVP Only ( Limited Seating)
Join us at our pop up eatery in the Co-Prosperity Sphere for a special Prix fixe dinner with Chef Chris Reed from The Rice Table.
When the Dutch expanded their empire to Indonesia, they were enchanted by the native cuisine it discovered. Excited by this new world of creative cooking, their appetites increased, and so to the number of dishes at the elaborate table. Thus began the birth of the Rijsttafel, which highlights the various delicacies. The Rijsttafel was brought to The Netherlands, and now this fascinating  culinary event in all it's glory, can be enjoyed by you — right here in Chicago.
The Rijsttafel consists of a treasure trove of Old World delicacies, brought to life and executed to perfection. For this special occasion we have compiled a 12 dish dinner comprised of classical offerings from the West Java province of Indonesia. This evening is a ticketed event at $45.00 a seat and includes 2 complimentary drinks provided by Maria's Community Bar, additional drinks
RSVP and purchase tickets here:Â http://proximity-ricetable.eventbrite.com/
Photography  by Ben Syverson
Beverages curated by Maria's Packaged Goods & Community Bar
Audio selections from: Dj Joe Bryl
Presented by The Rice Table & Maria's Packaged Goods & Community Bar
LET'S PLAY
Sunday October 20, 10:30am – 2pm
Co-Prosperity Sphere, 3219-21 S Morgan St, Chicago, IL
Admission: (Suggested admission $10 per family)
Our LET'S PLAY program is for kids and adults.
At this family-savvy happening, you will find the Kite Collective's Shadow Forest installation, make visual poetry windchimes with the Kite Collective to take home, boogie to the beats of a Future Hits electric set, cross paths with SHoP's portatable Froebelian learning center, learn more about Be the Change Charter School and play with Cultural ReProducers. Eric May, a featured artist from Proximity's new issue, will be serving his signature E-Dogz to attendees. This event is part of Co-Prosperity Sphere's "Urban Operating System."
///////////////////////////////////////////////////////////////////////////
---
Hello all,

Here is an update on Carissa Hinz and how you can donate money to her family to aid with the expenses related to this tragedy.
For those who missed the story yesterday, we reported the shocking death of artist Carissa Hinz, 21, last Friday as she was leaving Version Fest. She was killed by a hit-and-run driver who has yet to be apprehended.
Please make all donations to Jackalope
---
Devin and I curated a show at the Co-Prosperity Sphere in Bridgeport; it opened a week ago and tonight we're having a mini-symposium called "Location/Location: The Mistranslation of Objects." It's an exciting show for us with some great work by Rebecca Mir, Carrie Gundersdorf, Heather Mekkelson, Ellen Rothenberg, Stephen Lapthisophon, Christian Kuras and Bad at Sports' own Duncan MacKenzie, as well as Mark Booth and Justin Cabrillos. We were trying to curate a show that might explore an object oriented ontology. This exhibit closes on Wednesday, the 13th of June. It is open on Sundays from 1-4 and by appointment.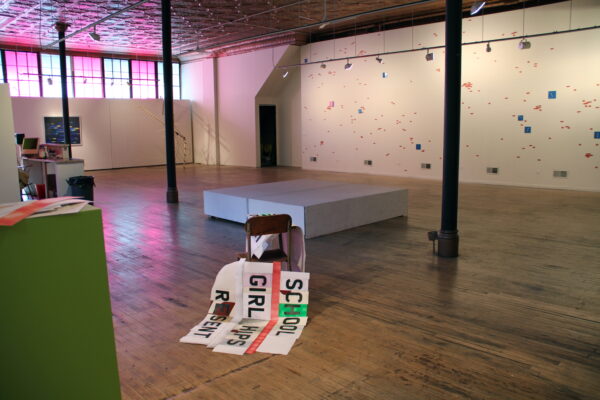 You have entered the Co-Prosperity Sphere: a large corner-space on a neighborhood block in Bridgeport, five miles from the Loop's chain shops. The inside of this space feels old. It is massive — 2,500 square feet. A tin ceiling stands fourteen feet above you, not for stylistic preference — though it suits current vintage tastes — but due to an oversight; the previous owner of 40 years did nothing to maintain the building, using it instead as a hoarder's storeroom. Before his time, when Bridgeport was prosperous and you could see cattle moseying to their death outside of the window, this space was a department store. The owner was the wealthiest man in town, and is said to have had the first car in the neighborhood, driving it across the street to the church on Sundays, throwing pennies out of his windows at children in the street. Since then the space — and the neighborhood — have been through a decline normal to working class neighborhoods in American cities. Hoarders bought the space in the 80s. Ed Marszewski moved in a few years ago and cleaned it up.
The wooden floor of the Co-Prosperity Sphere creaks when you walk on it. Light shines through a host of upper windows, reflecting off the wood like an old gymnasium. The new white walls and spartan emptiness assign the space to contemporary art exhibitions. This particular landscape is comprised of material — pillars, windows, floors, and doorways turn into wood, screws, pipes, bricks, plaster, glass and tin. The composition of this space exists on multiple levels. As concrete, discrete materials they fuse into one structure. More abstractly, these materials exist as indicators of past and present; each object tells a story through its own unique, associative system of influence. Sometimes the story is responsive — the sound of your footsteps or the water that runs through overhead pipes. Other times the story is inaccessible but conjured — the imagined sound of mooing cows or copper pennies against cement, indicating a different American economy. Or, the story is simply material — the unfinished areas of this space, the space beneath the stairs on the far white wall: if you peer around its edge, you can see the building's insides.
What begins to emerge is an ecology that blurs the lines between life forms and inanimate material bodies. In Field Static we first wanted to create an opportunity in which relations between objects might be highlighted such that the field created via the installation of artwork would accent one's material engagement. Each object within the Co-Prosperity Sphere would become focal point and periphery alike, suggesting both solitary histories and the peculiar synthesis of matter common to all things. Field Static rejects or, at least, torques art's historically anthropocentric position — the poem is written by a human, the portrait is painted of a human — in favor of a more egalitarian engagement with objects.
Through this, we don't mean to treat other species or categories of objects as citizens of another nation. Instead, we are trying to expand an established hierarchy where humans patronize other objects. How might a gallery show include the presence of bubble gum splotches, twigs, fan blades, icebergs — easily marginalized masses — in order to engender new political spheres? We hope to discover new ways of integrating experience and materiality so that less priority is placed on the human's role amongst objects. This project is far-seeing: sentience in technology, impasses in distinguishing between "non-living" computer viruses and "living" biological viruses, and our current ecological condition all suggest the possibility that, to borrow the theorist Timothy Morton's word, the mesh (1) we inhabit is much larger and stranger than we may have thought. This mesh is also able to exist, quite comfortably, without us. So how do we look at the relations between objects?
We became interested in curating a show around objects through familiarity with the work of Graham Harman, a philosopher and theorist based in Cairo, Egypt. Harman, along with Timothy Morton, Ian Bogost, Levi Bryant, and a few other thinkers, is one of the proponents of object-oriented ontology — a metaphysics that, loosely defined, rejects a human centered worldview in philosophy in favor of something more democratic. Instead of privileging the human subject's relation to the world, object-oriented ontology hopes to democratize the field of metaphysics though a general inquiry about objects, specifically the ways in which objects interact with each other and the world. Object-oriented ontology is a metaphysics that asks not only how humans engage with the world, but also how forks, bee pollen, James Cameron's depth diving submarine, and Sancho Panza's donkey relate to each other and the world. Harman's work is less about deprivileging the human than opening up the nature of the field — examining the infinitely complex assortment of materials operating within a given frame of reference. As Harman writes, his "point is not that all objects are equally real, but that they are equally objects."1 In order to think the world, we must think about the world and the many objects that make it up, not only our relation to it. It is exciting and truly weird work.
Harman's theories work out in many different directions. One of the most interesting, for our purposes, is the idea that though an object exists as a bundle of relations amongst itself and with other objects, these relations never eliminate the full spectrum of possibility residing within an object. The Co-Prosperity Sphere is a node within Bridgeport, within Chicago, both rife with their own complex network of encounters. You are distinctly aware of these very real relations, and together they build up the space's identity. At the same time, the Co-Prosperity Sphere could also, possibly, enter into a number of different relations that we might not have any understanding of: it could be used by a sect to summon demons, it could be eaten slowly by Larry Coryell to improve his jazz guitar, it could slowly erode a statue of itself in slate. These are humorous examples, but they reveal how objects can exist more fully outside of whatever relations they may exist in currently — whether they enter into those relations or not. Even if we were able to list every theoretical relation this space could enter into, it would still have other relations beyond our list. The number and variations of its relations is infinite but in every instance, whether micro or macro, the objects within that field can never be reduced to their relations. They are not simply indicators of signification, but exist within a network. Consequently, objects — as metaphysical bundles of all the possibilities of their relations with themselves and other objects — are ultimately withdrawn from each other and themselves. Objects are always at a remove from their relations.
Harman more fully explains this idea through the image of a sleeping zebra in CircusPhilosophicus, a series of alternately humorous and petrifying myths he wrote to explain the basic tenets of his ideas:
For first, [the zebra] rises beyond its own pieces, generated by them but not reducible to them. And second, it is indifferent to the various negotiations into which it might enter with other objects, though some of those might affect it: as when the zebra interacts with grasses for its meals, and predator cats for its doom. While the zebra is cut off from its pieces in the sense of being partly immune to changes among them, it cannot survive their total disappearance. But by contrast, it might survive the disappearance of all its outward relations. And this is what I mean by sleep, if we can imagine a truly deep and dreamless sleep…Sleep should not be compared with death and its genuine destruction of the zebra-entity: sleep entails that the thing still exists, but simply without relation to anything else…Sleep perhaps has a metaphysical function no less than a physical one: as a kind of suspended animation in which entities are withdrawn from the world. And perhaps this happens more than we think.(2)
Like the zebra, the Co-Prosperity Sphere could be ripped in half by a giant and sacrificed to Goran, Lord of the Impetus, or it could play a game of Go with the bar down the street, and yet, through all of these changes, it still exists, partly, as a space for the community to gather in. As Harman writes, objects are "partly immune to changes among [its pieces]."2 Were we to remove all of the space's outward relations — you, inside the space, reading this book about it, me writing this essay a month prior, thinking about the space, the printer printing these words about the space, the ink coming out of long tubes, the humidity wrinkling the pages, the recycling bin holding the book about the space, the recycler pulping the book — the space might still exist, withdrawn from these outward relations, in something like sleep. While it is impossible to gain access to the withdrawn aspects of an object, it is our belief that the best art, at least, allows us a place to exist in a type of still-sleep with an object. We've curated the artists in this show in the belief that their work engages with objects as bundles of relations in the field of the world, and yet, through their work, the artists show these objects as still, withdrawn, sleeping entities.
Still, the artists in Field Static engage the world of objects in different ways. The show should not be seen as as a grouping of artworks that fulfill any one approach to objects. While our curatorial impulse was inspired by Harman's philosophy, we nevertheless present works that address objects in a variety of ways.
Of course, all exhibits exercise this interest; historically, art is the making and honoring of objects. However, the peculiar and various approaches these artists take to field and object-making seem particularly compelling, especially when their work could be assembled under the umbrella created by the Co-Prosperity Sphere. We are not looking to project human metaphor onto the state of these artworks — although those poetic nuances are probably an inevitable facet of an aesthetic experience — but rather to invite your imagination to consider the sleeping potential of these things in their thingness, their associative and personal autonomy in the world, each with its own discrete and, by now, non-contingent identity. A strangeness emerges — similar to the eyes of a fox, the unripe stem of a green banana, or Achilles' shield — all familiar and unknown, a potency common to all things that nevertheless remains out of reach.
…
Rebecca Mir's work is simple and understated. She often works with paper, small collections of objects, and her own body arranged quietly. This humility in equipment is connected to Mir's infatuation with punk culture that shifts into an engagement with the landscape. She has also written love letters to the ocean. Perhaps the best way to think about her work is as an amalgamation of bygone Romanticisms — nature, the lover, the explorer, the punk rocker — that add up to rediscover the sincerity currently lacking in all of these labels. For this show, we were most interested in Mir's engagement with nature. We gave her the storefront windows to fill up and she gave us hanging sheets of paper with flat black prints of icebergs on them. These are the most frightening objects in the world, slowly leading us towards underwater cities. Mir's prints garble our response; we instead encroach upon the ice.
When we met Ellen Rothenberg to talk about this show, she shared pictures of older pieces she had made and used during performances: clocks on a pair of shoes, or a wooden shovel with words engraved on its mouth. They were tempting to curate into Field Static for their embodiment of an inaccessible past-use, an original context no less significant then their present status as formal, sculptural works.  But then Rothenberg showed us a more recent piece she had exhibited in Berlin. In her installation, Constellations, Rothenberg establishes a literal field via small blue signs printed with arrows and red vintage price tag cards. She assembles these on a wall or in a room; the proportions of the work vary depending on the site. In every version, these small indicators create an enigmatic field or map. The price cards elicit a time when two cents might have been a useful sum — think of those children in dirty boots on Morgan Street. Relative to our current economy, the sums are so small as to be powerless and dismissable. The oblique arrows, meanwhile, propel the eye to wander among these many numerical islands. The precision of placement combined with the interplay of materials and time: the slick, contemporary instructional arrows, against the foxed, nostalgic price tags are fixed to the clean white wall by antique metal clips. A tension emerges flike a magnetic field as the viewer is absorbed in the act of looking.
In Diagram (2010), Christian Kuras and Duncan MacKenzie installed a multi-leveled series of roofless recangular rooms; the entire system looked like a complex model of a building site. Balsa wood rooms connected by ramps on cinder blocks, coffee cans, and side tables. Cords lay around the floor of the installation, a bare flourescent light tube, a lamp, a plant. In one instance an antique sign, "Girls Toilet" was legible. This assemblage conspired to portray some kind of institution — a university or a corporation — the 'rooms' clearly exist in a network, even if their function within that network is unclear. In an effort to grasp the purpose of this material system, you might lean in to read the pencil marks, left behind by the artists in the process of making. These do not unlock the piece. It remains at bay, undissmissable because of its sprawl and, even, the care toward detail. In Field Static, Kuras and MacKenzie work with letters, transforming a textual message in a game of anagrams. They began with one phrase originally mailed as an off-the-cuff collage from UK-based Kuras to Chicago-based MacKenzie. MacKenzie and Kuras reorganized the letters of the phrase into stacks, paintings, and phrases that may or may not be legible to the viewer. While connected to their original context, each new combination creates a new meaning contained in the original. The text is distant, distinct, and equitable to its physical counterpart.
Last winter, Mark Booth composed a durational performance at Devening Projects during his solo exhibition God Is Represented By The Sea. For one performance during that exhibition, the improvisational bellows and electronics duet, Coppice (Noé Cuéllar and Joseph Kramer) played music with Booth for roughly four hours. During that time, twelve individuals were asked to read Booth's score: a stream of ever shifting phrases in a loop. The last word of one phrase became the first word of the following. "God is represented by the sea" became "The Sea is represented by an irregular shape" and so on until we arrived at last to "An owl is represented by God," at which time the readers would begin again. The words became blocks, algebraic variables that could be swapped in and out of one another. Booth's piece evokes an intuited, physical structure in language; he seeks to find an equivocation, a way to codify experience through metaphor. Here, he has installed a sound installation with flags entitled: I IMAGINE YOU SLEEPING SIDE BY SIDE AND WHILE YOU ARE SLEEPING YOUR SOULS RISE TOGETHER LIKE A FLAG ON A POLE FLUTTERING SOUNDLESSLY IN A WINDLESS WIND AND THE FLAG OF YOUR LOVE IS SHAPED LIKE […]
Objects are often manufactured by human beings; it is sometimes difficult to imagine their autonomy. We know rocks come from mountains and meteors, so they observe an obvious independence from the human sphere. But what about old tires or tennis balls? In what way can those objects boast a non-contingent being when their original purpose is tied to human activities? How can such an object fulfill its potential if its potential is reliant upon human use? Heather Mekkelson articulates one possible answer. Over the past several years, she has made a practice of fabricating distress. Mekkelson begins with new objects — phonebooks, traffic cones, caution tape, fans, or blinds — everyday, banal objects. Through a variety of processes she imposes the visible signs of deterioration and stress on each object and, placed in an exhibit, these objects evoke a traumatic narrative, as ready-mades discovered by accident in the wake of disaster. The distress of the objects suggests their secret lives or past, an encounter made more interesting given that Mekkelson's objects never endured such trials at all. Their life was spent in her studio. In more recent work, Mekkelson has created a telling-point on the object that allows the viewer to see the artifice of distress. At one critical point of perspective the viewer can see both the artifice of distress and the object's unadulterated newness — like on a stage set when you see at once the façade of a town and the plywood backing on which the town is painted. That point reveals a moment of interior instability; it is as though the object is telling you it is lying. The object is laughing at you, or winking, confessing its own ruse.
Alhough we first knew Justin Cabrillos as a sound poet, we've been lucky to see him as he's developed into a somatic phenom. We've included his video Dance for a Narrow Passageway — a work that shows Cabrillos improvising a dance in a passageway. Before composing the piece, Cabrillos spent time observing movements in passageways, both his own and others: buses, subways, airports, even passageways in dramatic movies. He is embodying the influence that space and non-human bodies have on human choreography. The one rule of the improvisation: move like somebody would move in a passageway. When talking to us about the piece, Cabrillos emphasized his interest in the absence of other objects as he came into movement — the passageway encourages nothing but the supposed emptiness of transition. It also has a history: many bodies, winds, and drips have left their associative trace: that past is something Cabrillos is responding to as well, embodying it. Like a corporeal version of John Cage's famous anechoic chamber experience — where the composer learned that the world was never truly silent — Cabrillos' video indicates that one is always connected to other bodies.
Is it possible to imagine the inner life of objects? It seems we are not quite permitted to apprehend the idea. We cannot imagine what such a sleeping interiority would be like, especially when discounting the tools humans dream with — thought and words and pictures. Instead we must describe the possibility of an object's interior space by activating a sense of its absurdity. In a kind of negative proof on his website, Stephen Lapthisophon shows a looped video of a potato, alone on a shelf. In the background we hear jazz music. Because of an automatic desire to anthropomorphize the potato, we imagine the potato — otherwise absolutely still and solitary in the frame — listening. The scene becomes comical. And yet it describes something about the constant, albeit invisible, movement of a potato: it is constantly deteriorating, or growing, or leaking, or emitting vibrations. Conceiving of its ability to hear and listen is a way to access, through metaphor, the potato's experience of itself. For Field Static, Lapthisophon shows The Taxonomy of Root Vegetables, a long, crude shelf stacked with many different still growing, still rotting, root vegetables. The piece, to us, builds off Lapthisophon's humorous depiction of a morose tuber. Instead of an attempt and appraisal of projected experience, Taxonomy suggests unfamiliar, mutating ecologies and locates the fruitlessness of our contrived negotiations as we seek to categorize and map our world.
The inaccessibility of individual objects can be compared to the inaccessibility of our environment — as our awareness of very small objects builds up, we bump against the infinite array of inner lives, and the very large mesh that consists of animals, insects, bacteria, rocks, ashes, oxygen. Slowly, we bump up against the sky, the world of planetary bodies: the sun, the planets, the stars, light. Carrie Gundersdorf observes, paints, collages and draws solar phenomenon on two-dimensional picture planes that reference modernist painting. In one collage, Gundersdorf collects a variety of different images of Jupiter. She assembles these images in a grid on one sheet of dark paper. One sees the many sides of Jupiter at once but we are no closer to apprehending this planet. This is not simply the result of scale or medium; Gundersdorf is very literally transcribing astral photographs. And yet Gundersdorf's work shows how astral photographs are manipulated by space and technology. The picture of Jupiter has traveled through eons of space, been reflected on a variety of mirrors and then digitally enhanced with various colors and contrast in an effort to indicate data. Those manipulated images represent the source material that comprises our collective experience of Outer Space. In this show, we have included Spectral Trails with Absorption Lines, a drawing that depicts the spectrum of light. Here too one is called to consider not only the camera's apparatus, but also the receptive reed of the body: the stereoscopic vision of two eyes — what is then intuitively and unconsciously synthesized into one cohesive whole. Add to this the limited capacity of our oracular perception: We can only see a very narrow portion of the spectrum. Given our minimal sensitivity to light, how could we possibly see all objects? What objects are we missing?
Hopefully these works, along with this book, will lure you into an experience of Field Static in which you begin to account, through perception, for the discrete fields asserted within discrete works; and then the field described by the works together; and then the field described by the entire show in the context of the space, a space in which we are immersed. It is an uncanny and perhaps anxious position, as we grow ever more aware of the inexhaustible relations between non-human things.
This essay was written by Field Static curators, Caroline Picard & Devin King. To schedule an appointment for viewing, please email caroline@lanternprojects.com
END NOTES:
1. Timothy Morton. The Ecological Thought (Cambridge: Harvard University Press, 2010).
2. Graham Harman. The Quadruple Object (Washington: Zer0 Books, 2011), p. 5
3. Graham Harman. Circus Philisophicus (Washington: Zer0 Books, 2010) p. 72-3
4. Harman writes, objects are "partly immune to changes among [its pieces]." Circus Philisophicus (Washington: Zer0 Books, 2010) p. 72.
---
Ever have an artist that you thought was fun, fresh, interesting and smart? Someone you told all your friends & family about and thought was someone you could be interested in for their entire career? Then they move to a different city, make some money,  get a grant/scholarship, sudden increase in press or some other seemingly innocuous change at the time. Then almost overnight you don't know that person and the work is not just bad on it's own but seemingly worse for what it could have been?
I was told years ago for some Jasper Johns was kind of like that in many people's eyes (being a big fan myself I could kind of see it even though I still enjoyed the later work) but for me that person has always been Will Cotton.
I remember seeing video and photos from one of his first major shows back in 1999 and reading Mark Kostabi's article in Shout and thinking "I agree with Kostabi on something? This is a new feeling!". Will's Candyland Landscapes were unlike anything else being made at that time and were wonderful in their unabashed gluttony, scale, execution & humor. During a time when I had as much angst and gritty somberness/passive aggressive irony as any man could take durring the 90's I liked this idea of slick, fun and cranked up to 11 sensibility. Hoping like Chuck Close he would disasemble the formula over time into a more non-representational approach and I would get art I would want to do and see without having to do all that blasted hard work lol.
Will Cotton then it seemed to me, spent the summer of 2002 in Giverny, France, where he worked under a residency grant from the Monet Foundation and realized that women have these things called breasts, and they are beautiful and now that he has money the women who own these breasts will sit for him; he never looked back. Almost overnight the landscapes were gone, the witty humor melted and it was cotton-candy sky is the limit on cheesecake. Most recently you will see his latest work as the cover of Katy Perry's new album Teenage Dream.
In some other dimension of reality Will Cotton would have gone to an Analytical Cubism conference, fallen in love with geometric rhythm and not breasts but who am I kidding, "you gots to pay the bills somehow".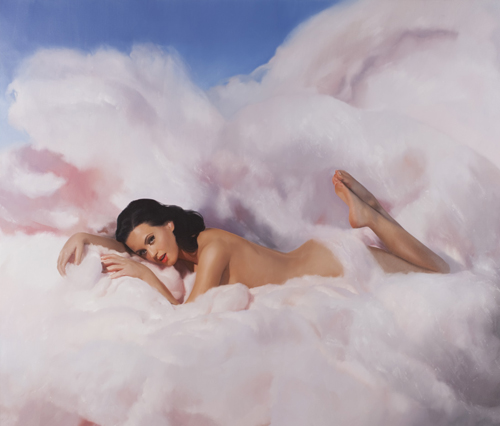 ---
In Other News.
The Museum of Science and Industry has a PR stunt underway where one person will have the chance to live in the museum 24/7 for a month with full access and receive $10,000. All they have to do is interact with the visitors, blog, tweet and generally promote the institution, not to mention stay sane. Sound great? Well if you do the math, that it's thirty 16 hour days of confined living; it equates to a 20$ an hour job. I guess it's not bad but being the unconventional event spokesperson for the museum, near constant walking, no personal internet & sleeping in the U-505 submarine or the coal mine might appeal to some but it looses the shine after a night or two for me. It will be interesting to see who they choose (want to lay odds its not a guy?) and how long it takes for that person to sour. Do I smell Bad at Sports office pool in the making? Some here think it is a great idea so keep reading I will try to keep tabs on this winner and how it goes :) read more here & here
Theft of a $55 million Vincent van Gogh painting at the Mohamed Mahmoud Khalil Museum in Cairo, Egypt prompts talk of increased security. I am sorry but with only seven out of 43 security cameras functioning and none of the alarms attached to the museum's paintings working adding a baby monitor would constitute increased security? read more here
Remember the guy who bought the Ansel Adams negatives for $45 and a few weeks back the grandson of Ansel, Matthew Adams badmouthed them saying something akin to that they were worthless without the hand of the Artist to burn the final image? Well now the trust representing the famed nature photographer filed a lawsuit to halt the sale of prints. read more here
Ed Marszewski—editor-publisher of Lumpen, festival host, gallerist, and general Chicago indie art world guy-around-town—has remodeled Kaplan's Liquors, the Bridgeport bar owned by his mother Maria Marszewski since 1986, and reopened it with the name Maria's Packaged Goods & Community Bar.
Maria's Packaged Goods & Community Bar
960 W 31st Street
Chicago, Illinois 60608
773.890-0588
www.communitybar.wordpress.com
---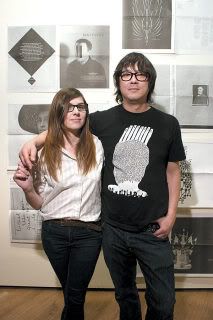 Version 09 begins this Thursday April 23rd. Ed Marszewski took some time out of his busy schedule to answer some questions and let us know what's going on over in Bridgeport.
So, Version was originally at the MCA and Buddy gallery?  Now that you have been based in the Co-Prosperity Sphere how has Version grown?
It started in 2002 at the MCA and was three days long. Over just a few years it spread throughout the entire city and was held everywhere from the Cultural Center, SAIC, MCA UIC, to contemporary art spaces alternative and trashy. It didn't get to buddy until the third Version where we started hosting events all over. It once lasted 17 days and we used to boast that this is how we would like to live every day.
Version is really five or six festivals combined into one ten day freak out. We have internationally curated video programs, our own version of an art fair featuring artist run spaces and groups, a great performance art program, incredible music, and works by over 350 artists displayed in our venues. This year we have artists hailing from Turkey, Germany, The Netherlands and of course many from our own back yard.
We like to concentrate our programming to reveal the diversity of tactics strategies and platforms used by cultural workers to expand our networks, distribute ideas, and show how incredible it is to live in this city. The festival is a completely open platform and each year it is created by a different cast of characters. Our role is to facilitate an realize what we think are some of the most exciting projects in the country. This make the festival very flexible and ensures that it will be a fresh (to us) experience each year. We are not stuck doing the same programming year after year and are able to initiate new platforms or initiatives at any time.
This year Version is going local and the festival is mostly taking place on the southside in Bridgeport and Hyde Park. We are hosting shows and exhibitions, live art, music, and some incredible projects at the ZHou B Center, Co-Prosperity Sphere, neighborhood galleries and a 100 year old community center and gymnasium called the Benton House.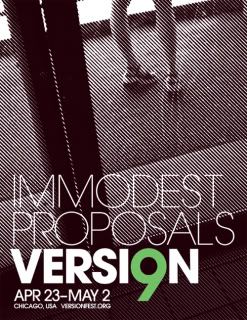 Could you talk a little bit about this years theme "Immodest Proposals"?
Each year we have an open ended theme to see what happens with the submissions.
This year we were into the idea of artists suggesting outlandish ideas that would probably not be realized. Fortunately for us many of them will be realized and initiated at this year's festival.
What is the Bridgeport WPA?
During the depths of the Great Depression of the 1930s and into the early years of World War II, the Federal government supported the arts in unprecedented ways. For 11 years, between 1933 and 1943, federal tax dollars employed artists, musicians, actors, writers, photographers, and dancers. Never before or since has our government so extensively sponsored the arts. – The National Archive
UNTIL NOW>>
We decided one immodest proposal we would like to see is the Obama Administration kick starting a 21st century Work Projects Administration that puts artists to work. The Bridgeport WPA is that pilot program
What are some of the highlights/ should not miss events for this years
festival?
OOO what a horrible question. For sure we are kicking ass all weekend
starting Thursday.
NOT TO MISS:
Thursday April 23 The Bridgeport WPA and Paul Sargents installation 5-
10pm
Friday April 24 : Our Audacity of Art group show and happening. *its our big
party) 7 – ?
Saturday April 26 All the programming arond the NFO XPO Our version of what
a dIY art fair should be.
1pm to 8pm
You should also attend: King Ludd's Analog Arcade at the Experimental
Station 2-8pm
Sunday April 27 if you didn't come Saturday to the NFO XPO you better come
Sunday.
May 2 : The first annual Chicago Art Parade. Bring your bunny costume.
For more information on Version 09 please check out their site.
---