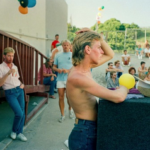 Work by Doug Ischar.
Night Club is located at 3325 N. Pulaski Rd. Reception Saturday, 6-9pm.
2. Grey Area at Western Exhibitions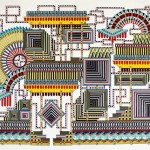 Work by Edie Fake.
Western Exhibitions is located at 845 W. Washington Blvd. Reception Friday, 5-8pm.
3. Suffocated From the Inside at Andrew Rafacz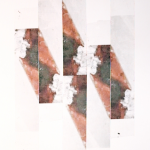 Work by Ivan Lozano.
Andrew Rafacz is located at 835 W. Washington Blvd. Reception Saturday, 4-7pm.
4. Roots at Linda Warren Gallery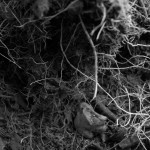 Work by Jason Brammer, Doug Fogelson, Carson Fox, Conrad Freiburg, Nicole Gordon, Michiko Itatani, Emmett Kerrigan, William Eckhardt Kohler, Brenda Moore, Judith Mullen, Joseph Noderer, Jennifer Presant, Nina Rizzo, Zach Taylor, Tom Torluemke, Chris Uphues, Tom Van Eynde and Matthew Woodward.
Linda Warren Gallery is located at 327 N. Aberdeen St. Reception Friday, 6-9pm.
5. How to Build Bars at PeregrineProgram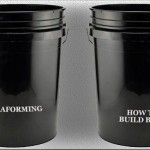 Work by Charles Fogarty.
PeregrineProgram is located at 3311 W. Carroll Ave. Reception Sunday, 1-4pm.
---
1. Boy, Pig, Power at PeregrineProgram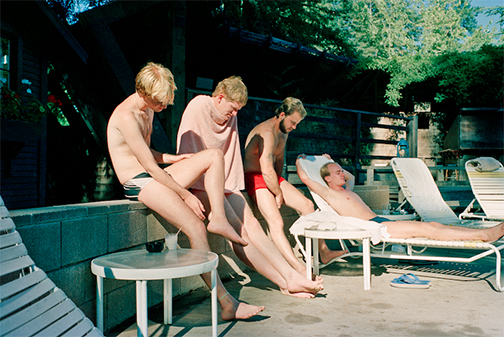 Work by Doug Ischar.
PeregrineProgram is located at 3311 W. Carroll Ave. Reception Sunday, 1-4pm.
2. THE COLLECTORS / VISITATION RITES II at The Franklin

The Collectors features work by Corinne Halbert, Chris Lin and Ryan Richey. Visitation Rites II is curated by Chris Smith and E. Aaron Ross.
The Franklin is located at 3522 W. Franklin Blvd. Reception Saturday, 6-10pm.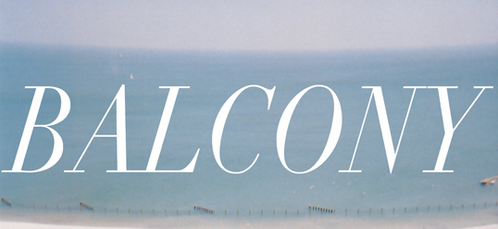 Work by Holly Murkerson and Neal Vanderbergh.
Roots & Culture is located at 1034 N. Milwaukee Ave. Reception Friday, 6-9pm.
4. Chicago Style at David Weinberg Photography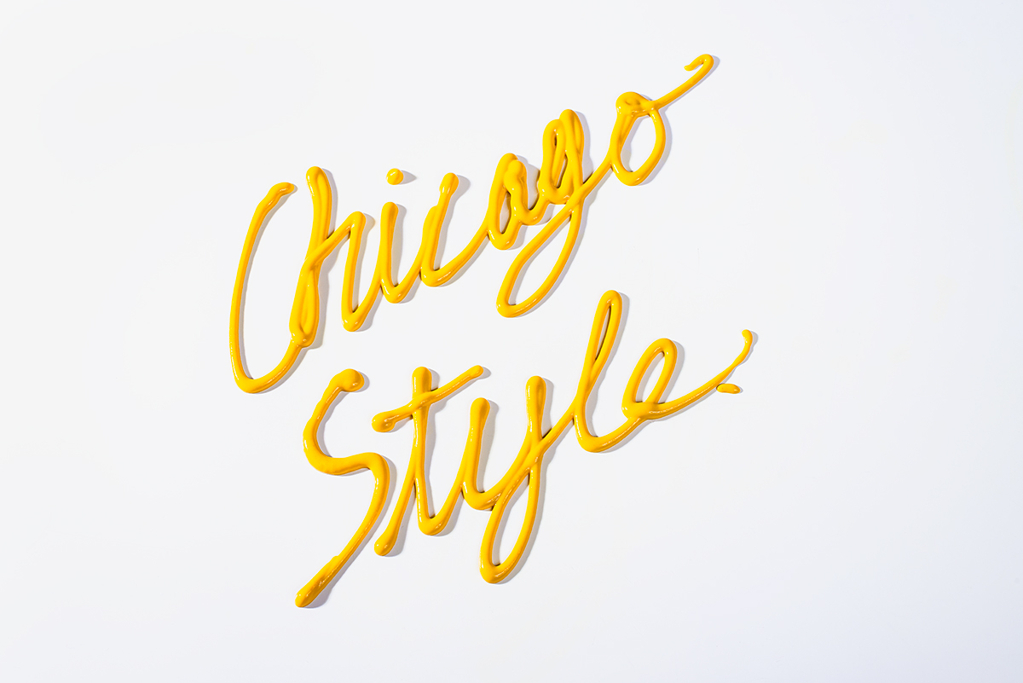 Work by Zacharias Abubeker, Matt Austin, Matthew Avignone, Clarissa Bonet, Kate Bowen, Dan Bradica, Molly Brandt, Billy Buck, Debbie Carlos, Claire Demos, KK Depaul, Todd Diederich, Thomson Dryjanski, Jackie Furtado, Daniel Hojnacki, Kelly Kristen Jones, Kimberly Kim, Natalie Krick, Megan Lee Miller, Meg T. Noe, Jessica Pierotti, Jonathan Pivovar, Josh Poehlein, Greg Ruffing, Justin Schmitz, Christopher Semel, Rafael Soldi, Sonja Thomsen, Michelle Wang, David Weinberg, Nicole White, Krista Wortendyke, Victor Yanez-Lazcano and Gurl Don't Be Dumb.
David Weinberg Photography is located at 300 W. Superior St. Reception Friday, 5-8pm.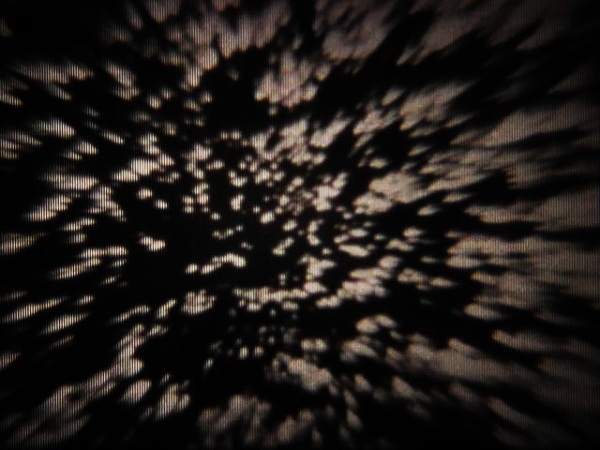 Work by John Marks.
Roman Susan is located at 1224 W. Loyola Ave. Reception Saturday, 7-9pm.
---
So, for some reason I thought the 2014 Whitney Biennial list was supposed to be revealed in December but instead it came out today!
Congrats to all our friends and the folks we do not yet know. We can't wait to see the show.
As curated by Anthony Elms, Stuart Comer, and Michelle Grabner:
Academy Records and Matt Hanner
Terry Adkins
Etel Adnan
Alma Allen
Ei Arakawa and Carissa Rodriguez
Uri Aran
Robert Ashley and Alex Waterman
Michel Auder
Lisa Anne Auerbach
Julie Ault
Darren Bader
Kevin Beasley
Gretchen Bender
Stephen Berens
Dawoud Bey
Jennifer Bornstein
Andrew Bujalski
Elijah Burgher
Lucien Castaing-Taylor, Véréna Paravel, and Sensory Ethnography Lab
Sarah Charlesworth
Yve Laris Cohen
Critical Practices Inc.
Matthew Deleget
David Diao
Zackary Drucker and Rhys Ernst
Paul Druecke
Jimmie Durham
Rochelle Feinstein
Radamés "Juni" Figueroa
Morgan Fisher
Louise Fishman
Victoria Fu
Gaylen Gerber with David Hammons, Sherrie Levine, and Trevor Shimizu
Jeff Gibson
Tony Greene curated by Richard Hawkins and Catherine Opie
Joseph Grigely
Miguel Gutierrez
Karl Haendel
Philip Hanson
Jonn Herschend
Sheila Hicks
Channa Horwitz
HOWDOYOUSAYYAMINAFRICAN?
Susan Howe
Jacqueline Humphries
Gary Indiana
Doug Ischar
Carol Jackson
Travis Jeppesen
Alex Jovanovich
Angie Keefer
Ben Kinmont
Shio Kusaka
Chris Larson
Diego Leclery
Zoe Leonard
Tony Lewis
Pam Lins
Fred Lonidier
Ken Lum
Shana Lutker
Dashiell Manley
John Mason
Keith Mayerson
Suzanne McClelland
Dave McKenzie
Bjarne Melgaard
Rebecca Morris
Joshua Mosley
My Barbarian (Malik Gaines, Jade Gordon, and Alexandro Segade)
Dona Nelson
Ken Okiishi
Pauline Oliveros
Joel Otterson
Laura Owens
Paul P.
taisha paggett
Charlemagne Palestine
Public Collectors
Sara Greenberger Rafferty
Steve Reinke with Jessie Mott
David Robbins
Sterling Ruby
Miljohn Ruperto
Jacolby Satterwhite
Peter Schuyff
Allan Sekula
Semiotext(e)
Amy Sillman
Valerie Snobeck and Catherine Sullivan
A.L. Steiner
Emily Sundblad
Ricky Swallow
Tony Tasset
Sergei Tcherepnin
Triple Canopy
Philip Vanderhyden
Pedro Vélez
Charline von Heyl
David Foster Wallace
Dan Walsh
Donelle Woolford
Molly Zuckerman-Hartung
PS. Thanks to Jerry Saltz's facebook for the list.
---
Ian Curtis had epilepsy, and this particular disorder of his perhaps only exacerbated that self-loathsome something inevitably experienced by us all: our need and sometimes drastic dependency on others to calm us, support us, and keep us alive. Peter Hook, Joy Division's bassist, was recently at MCA Chicago in support of his new memoir, Unknown Pleasures: Inside Joy Division, and in the book he describes Curtis' drive to keep playing shows despite knowing that doing so was, potentially, only worsening his illness. In interviews, Hook has stated that a major motivation to write the book was to better "humanize" the band, whose backstory (bookended with Curtis' suicide in 1980, on the eve of their debut American tour) is often over fraught with doom, gloom, and eventual decay when relayed by outside biographers. Indeed, Joy Division's dark, danceable post-punk rhythms and playful vocal intonations are, to my ears, incredibly sexy, and Curtis is as responsible for the music's peculiar buoyancy as he is for its solemn, industrial ennui.

Joy Division, Isolation, 1980
I dwell on Curtis and Hook's memoir because it helps make clear something sometimes difficult to admit; how darkness has sex appeal, how recognition of a mutual darkness in another can make us feel, in turn, recognized. I've recently become obsessed with the website SongMeanings.net, on which users can pontificate and extrapolate upon the lyrical content of practically any popular song ever recorded and released commercially. I adore this site because of the earnestness and tenderness with which users write; it is one of the only message boards I can think of where, instead of routinely attacking one another or a celebrity or whatever, people are vulnerable, and pensive, and surprisingly insightful.
The Desert from Jenny Vogel on Vimeo.
My all time favorite Joy Division song is "Isolation" from their second album, 1980's Closer, partially because of how Curtis appears to me in my imagination, spinning alone and manically happy. The song features Curtis repeating 'isolation, isolation, isolation' as the music builds its spanking beat and synthetic atmosphere, and I like to believe he's relishing this temporary escape or solitude – particularly when, for Curtis, being alone wasn't medically advisable. "For some reason,' writes SongMeanings.net user The1AndOnlyMe, 'I think Ian was also interested in classic literature, and having this sort of romantic-tragic affair was almost like a fulfillment." The1AndOnlyMe is referring to Curtis' love affair with a mistress and, indeed, how this may have allowed him some dramatic respite from the agonies and shame felt in 'real' relationships he had with his wife, his child, his mother, and his bandmates.
brb from doug ischar on Vimeo.
All of this is to say that isolation and promiscuity may be natural bedfellows. In his 1999 essay "Sex and Isolation," ex-hustler and American chronicler of all things sexually subterranean, Bruce Benderson, laments the migration of cruising or chance encounter off the streets and onto the internet, saying; "The abandonment of the body is isolation, the triumph of pure fantasy." Yet, fantasy wants to be recognized, and we depend on others for that. Dating or hooking up online is never really about getting to know someone, it's about the desire to be known. Furthermore, it's about the desire to be known as the person we're writing and editing and framing and Photoshopping and staging for others; about the fantasy we believe ourselves to be and depend on others to corroborate. For Benderson, wary of how American entrepreneurialism and the Protestant ethic (myth?) of self-reliance has led to the shrinking of the public sphere and the routinization of social encounters, the internet represents some vague final stage; "Our minds spit our longings and obscenities into the atmosphere. And media have ensured that these ejaculations are everywhere. The self is now nowhere in particular, and, depending upon how you look at it, we have everywhere, or nowhere, to go."

Akram Zaatari, Tomorrow Everything Will Be Alright, excerpt, 2010
Interspersed throughout these paragraphs, written late, are four videos by contemporary artists using internet fodder or found internet footage to translate something lonesome, and sexy, and humiliating, and hilarious, about desire and telecommunications. What struck me, in assembling these works (chronicling a decade's worth of technology), was how each artist respectively appeals to something antiquated, something empty, something romantic, in order to build visual atmosphere and erotic tension complimentary to the sexts around which their works, ultimately, pivot. Like the 'classic literature' The1AndOnlyMe accuses Curtis of reading, these four artists seem likewise drawn to the pompous big feelings of carefully composed love and lust, yearning for and incriminating those that feel similarly.

Brittany Southworth-LaFlamme, Thank You For Submitting, 2012
In The Desert (2002), German artist Jenny Vogel edits footage collected from webcams and surveillance cameras into a moody, expressionistic tale of grey-skied, bored longing reminiscent of early film. Chicago artist Doug Ischar's exquisitely paced brb (2007) overlays the devastating, self-annihilating or aggrandizing text of two lovers atop an empty desert landscape captured by moving car, soft string music and melancholic imagery of a gay street festival interspersed throughout. Similarly, Lebanese artist Akram Zaatari's Tomorrow Everything Will Be Alright (2010) – recently collected and currently on view at MCA, Chicago – features the pithy come-ons and reluctant evasions of ex-lovers typed with caution on an old typewriter, exaggerating the time of careful self-interest while conducting such affairs. Lastly, Chicago artist Brittany Southworth LaFlamme's recent work Thank You For Submitting (2012) stages eight men in a pale blue tableaux vivant reading 100 'penis poems,' often appealing to the effaced antiquity of iambic pentameter, that the artist requested and received via OkCupid from users everywhere, or nowhere.
Happy Valentine's Day.
---
1. Honor Among at Golden Gallery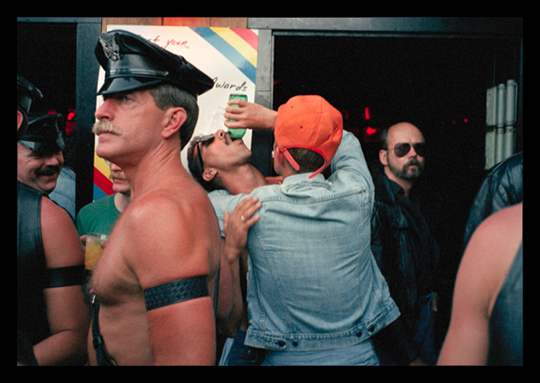 Work by Doug Ischar.
Golden Gallery: 3319 N. Broadway. Reception Friday 6-9pm.
2. In the Lining at Heaven Gallery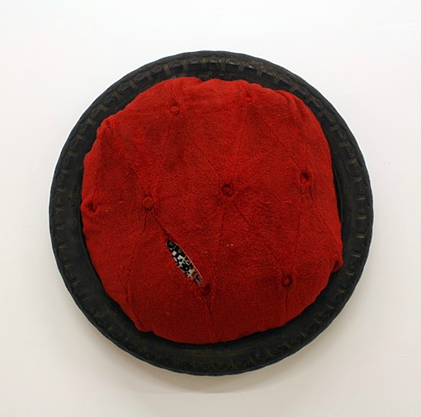 Work by Scott Jarrett.
Heaven Gallery: 1550 N Milwaukee. Reception Friday 7-11pm.
3. SAIC MFA Open Studio Night at School of the Art Institute of Chicago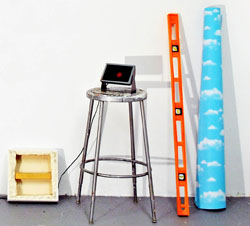 Friday Night: Columbus Building – 280 S. Columbus Dr, 4:30-5:30pm; MacLean Center – 112 S. Michigan Ave, 5:30-7:30pm; 116 Michigan Building – 116 S. Michigan Ave, 7:30-8:00pm; Sharp Building – 37 S. Wabash Ave, 8:00-8:45pm; Sullivan Center – 36 S. Wabash Ave, 8:45-10:00pm.
4. Pillow Talk at Peregrineprogram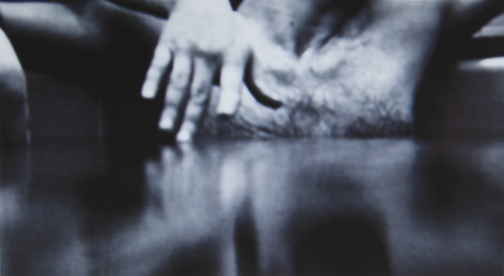 Work by Bridgette Buckley, Joe Cassan, Todd Mattei, and Danielle Paz.
Peregrineprogram: 3311 W. Carroll Ave. Reception Saturday 2-4pm.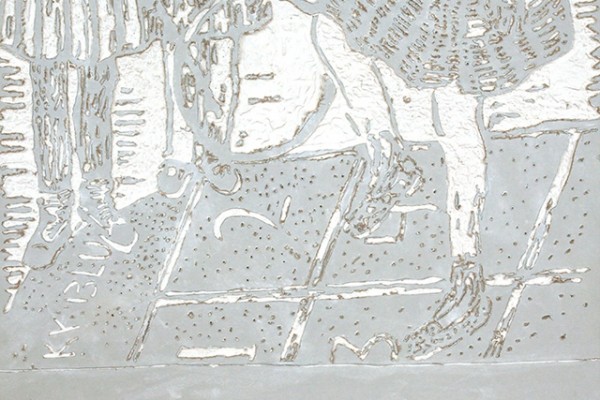 Work by Faheem Majeed.
Iceberg: 7714 N. Sheridan Rd. Reception Saturday 6-9pm.
---