Elaine Gan, Bettina Stoetzer, and Anna Tsing led "Feral Technologies: Making and Unmaking Multispecies DUMP!", a two-day seminar at the HKW's 2016 Anthropocene Curriculum: The Technosphere Issue. Tsing and Gan work together at Aarhus University's Research on The Anthropocene (AURA)'s in Denmark, exploring the potential of ferality and unintended landscape design. Of parallel interest, and in preparation for her forthcoming book, Ruderal City. Ecologies of Migration and Urban Life in Berlin (forthcoming) Bettina Stoetzer has been researching ruderal ecologies, examining urban life forms that emerge in inhospitable spaces. In the following conversation Gan and Stoetzer discuss the underlying principles of their seminar, including ferality, ruderality, and how those terms expand our concept of technology.
Caroline Picard: What are some key concepts from your seminar?
Elaine Gan: With the work of Anna Tsing and AURA, we are trying to think about what ferality is. That's one key concept. Another is, what is technology? What is Technosphere? How do we think about disconnections because of human made infrastructures? Also not to forget that technologies come out of multi-species life experience; machines don't grow on their own, but emerge out of different interactions to the environment. That is the second term we're trying to unpack—what is a technology? What prosthetics do humans make in response to other things going on in the world? As an artist and also a researcher, I'm also trying to play with making and unmaking, asking not just how we make, but how do we make critically? And how do we make in order to unmake long lineages of great violence? How do we make better? The forest term is "dumps." It's a figurate conceptual device that we use to think about this landscapes that are created in the Anthropocene. This is where Bettina Stoetzer's work on rubble and ruderal ecologies enters."
Bettina Stoetzer: "Ruderal" is a botanical term that comes from rudus, which is the Latin word for rubble. It refers to organisms that spontaneously grow in "disturbed environments" usually considered to be hostile to life—the sides of train tracks, for instance, or roads, waste disposal areas, or literally rubble. I draw on this term and develop it as a conceptual device for thinking about landscapes in the anthropocene in my forthcoming book, Ruderal City. Ecologies of Migration and Urban Life in Berlin. The interesting thing about ruderals is that they aren't really wild or domesticated; they are non-native species and they dwell in the gaps of urban infrastructures like invisible hitch hikers. If we follow their history, a "ruderal city" emerges within which nature is not "out there"—as a site to be managed or incorporated into anthropogenic urban landscapes via technology and infrastructure—but is rather an integral and unwieldy part of the city.
CP: I understand that you all went to a park?
BS: Yes. Rather than be distanced observers in the classroom, we wanted to ground our discussion in a particular site, to let our encounters with its materiality – its plants, the crumbling infrastructure, alongside its smells and sounds – guide our discussion. The so-called Schoeneberger Suedgelaende seemed like the perfect spot. It was an abandoned switch yard for trains during Berlin's division after the war, and then became a nature park in 1999. The site is full of ruderal ecologies and feral fauna and flora. We invited seminar participants to explore the entangled histories, encounters and ecologies that shape the train yard's landscape. Encouraging them to experiment with their own documentary practices, we asked what kind of story can we generate in a place like this?
EG: We'd been thinking through a short story that Ursula Le Guin wrote. It's a carrier bag theory of fiction. The part that I really like is, how do we tell new kinds of stories? In our seminar, we use a sense of play amongst different people coming together for a brief period of time—what is a story they can tell from going on a walk? We went to the park in the middle of a thunderstorm, so we could have created what Ursula Le Guin calls 'scullery stories.' Life stories that are really open ended. Stories about fungi that might hitch a ride on a leaf, that's fallen from a tree, that might be decomposing, but nonetheless that fungi is starting a whole new world. 
CP: Doesn't Shock and Awe (2004)—the book you co-edited, Bettina—look at how words build worlds? 
BS: Yes. Shock and Awe is a collection of essays and vignettes that provided something like a dictionary of the world in the post 9-11 Bush era. We were interested in exploring the political life of words. For example, the word democracy, or freedom, or terrorist: the different entries in the book explored how politics and language are deeply intertwined, how words change their meanings and have the ability to alter our experience of everyday life in a world that is marked by imperialism and global war, hence the subtitle "war on words." It also illustrates how words can be hijacked and reclaimed to enliven a different sense of the political. In other words, the question at stake there was also: what are the feral lives of words and how can we tell alternative kinds of stories about the political?
CP: I almost want to tie that into the idea of unintended design in landscapes, at AURA.
EG: Sure. AURA is housed within the Department of Anthropology in Denmark and grows out of a five-year Niels Bohr professorship awarded to Anna Tsing. It looks at unintended design in landscapes, or the idea that landscapes materialize because of a whole range of historical trajectories. They don't come out of human mastery or planning—that's human exceptionalism, actually.
BS: That is again, where the idea of ruderal ecologies comes in. What's interesting about Berlin's post-war ruderal plants and their larger ecologies is that they are the outcome of nationalism, war, environmental destruction, and trade. So there are all kinds of layers of the city's histories, its economic, political and economic conditions that have materialized in the actual ecology and flora of the city. On top of that we have making, unmaking, and above all, we have growing here. And growth, in the ecological sense, is always dependent on other factors and unanticipated variables—it's not a uni-directional, one-man, fully controlled, enterprise. Often there is unwanted growth and mutation.
CP: How does all this tie back into technology?
BS: By stressing the feral and ruderal, we ask: What happens if we don't imagine technology only in terms of human forms of externalization, but also of internalization and unexpected proliferation and growth? That's why Le Guin and feminist re-imaginings of technology matter: we want to get away from thinking of technology as the story of human omnipotence. Rather technology, the science of craft, is an open ended process and it's always embedded in a particular locale and multispecies worlds.
EG: Human intention is in a way an illusion, so our approach is coming out of an anarchist politics. It's an anarchist project to say, what if we decenter the role of humans in landscapes? That's not to say humans are not part of the picture, but what if they're one among many? What if we expand the notion of culture and nature and say that there are more than human socialities? What are those socialities? How do we combine multiple disciplines to find out, what are these new kinds of landscapes that are out there that don't arise from human mastery or human technologies, but rather emerge from the messes that humans have made and particular humans have made?
CP: Didn't you recently curate a related exhibition, Elaine?
EG: I'm actually the art director for AURA, which means I get to play with lots of interesting experiments and while I was in Denmark I proposed an art and science exhibition called DUMP! Multispecies Making and Unmaking at Kunsthal Aarhus. I co-curated the show Sarah Lookofsky and Steven Lam. DUMP! has a dialectical structure to it. One the one hand, we wanted to think about industrial ruin or the ruins of capitalism and specifically neo-liberalism. Second, we wanted to think about multispecies life that emerges, and how that might trouble this notion of a hero. A human hero that attempts to make the world. We brought together about 19 different artists, scientists, organisms, including self-healing concrete embedded with bacteria from researchers of Delft University. We also included Mycorrhizal fungi, which is based on the collaborative research between Anna Tsing anthropologist and Henning Knudsen. Basically the show was trying to explore the positive aspects of decomposition; without decomposing, we'd have a world stacked with rubbish, but because of other species, wood breaks down. We also featured Amy Balkin's ongoing project, Archive Of Sinking And Melting, where she asks anyone who happens to be in a landscape that will disappear through climate change, to send in an artifact from that place, creating an archive of future disappearances. They're a candy wrapper from Nepal. A discarded patch. Discarded ice shoes for example from somewhere. It's a feminist exhibition in the sense that we wanted people to look at lives that make and unmake the world.
BS: I see a lot of overlaps here. In my book, I am in a way, giving a "ruderal tour" of Berlin. This tour doesn't follow the neat lines of neighborhoods, communities, urban infrastructures, or institutions, but looks at what emerges in the cracks alongside or between them. What interests me is the unexpected neighbors, the things that may at first glance not have anything in common: what happens if we juxtapose different inhabitants of the city? What interests me is the unexpected neighbors, the things that may at first glance not have anything in common: what happens if we juxtapose different inhabitants of the city? For example, and this comes out of my fieldwork, how do Turkish barbecuers, rubble plants, German environmentalists, East German bunker enthusiasts, sunflower seeds, and East African refugees inhabit the city and connect or disconnect with one another in different ways? What are the material traces of various kinds of social interactions in the city, among both humans and nonhumans? I am excited about exploration and gathering—like Le Guin's story: you don't do the god trick of observation, but instead gather, and allow yourself to get a little lost while collecting things you find on the way. If we look closely, cities—and this is also true for the technosphere— are much more interesting and odd than we might think.
CP: What it's like work in such multidisciplinary modes. Like what's the difference between an artist and curator, for instance?
EG: Yes, this is the interdisciplinary question. It's always very hard to answer.
BS: I think, it's important to not get tied down to the dividing lines between art, curation, creative writing, and scholarly analysis. We re-assemble things as critics, we connect the dots and create new lines of inquiry, new modes of seeing and inhabiting the world. But I also believe it's essential to redefine existing standards of what constitutes "scholarly analysis" and rigor today. In the case of the ruderals that I mentioned earlier, and I think this is also true for all things feral, the interesting thing is that you often don't find them with the usual rules of (scholarly) structured observation—but rather, since they emerge by chance, you don't know exactly where to find them. The kinds of worlds we inhabit today—crowded with unexpected toxins and invisible forms of violence—therefore require us to sharpen our peripheral vision or to practice what the artist Lois Weinberger has called "precise modes of inattention": you see feral beings as you pass through a place, on the way to somewhere else,. We need to take these kinds of risks (of not knowing in advance where to look) and to engage with multiple things at once in order to understand the complexities of what is going on in the anthropocene.
EG: It parallels my work with rice, maybe. At the moment I'm researching six different types of rice, not to put rice at the center of each study, but to actually say, "What happens if we follow the world by looking for a specific type of rice?" The six different studies use rice as an entry point and then examine different companion species gathered around rice. What are these assemblages that come together because this kind of rice has to be cultivated and has to live in the world in a certain way? It's assuming that the local is always an already global. It's always an already historical, as well as emergent narrative. By looking at rice, you start to trouble or at least take a more expansive view on spaces and times.
CP: That makes me think about something you said earlier, Elaine, how you can look at technology as a kind of responsive prosthetic—like, human identifies a problem, say, the limit's of an average person's encyclopedic knowledge, and say the internet or Wikipedia emerges to expand that limit. I guess I wonder if, in the same way, one could look at social and political policy as a kind of technology too?
BS: Yes, absolutely, that's a great thought. That's also what I gestured at earlier when I said it's interesting to look at what emerges alongside institutions, infrastructures, and formal economies. It's the same with policy making: there is always an excess and unexpected outcomes that are not anticipated and cannot be fully governed. In the context of migration, we see this happening now in Europe and across the world: the scrambling to control national borders against so called "floods" of refugees and migrants (note that refugees in the much debated refugee crisis in Germany right now are likened to waves and tsunamis, and thus to natural disasters). And yet there is an excess of people's resilience, their desire to survive and make things livable. That is also the Anthropocene.
CP: Do you all think the Anthropocene is a fad? Of course I believe in the seriousness of our ecological times, but I also notice a high amount of fervor around the word. What is the world-building around that word?
BS: I think the Anthropocene is a tricky term. It's both good to think with but it also has its limits. It gets humans to reflect on their own accountability and pushes one to reflect on how we have gotten ourselves in this mess. We live in a world in which humans have so profoundly altered the geological and material development of the planet that its entire survival is at stake. But I also think there is a risk in the current proliferation of the term: First of all, the word "we" characterizes a lot of talk about the Anthropocene. Who is this we? Certainly not everyone is affected in the same way. So it's important to come up with alternative stories that don't gloss over power imbalances. Then there is also what Donna Haraway has pointed out: the Anthropocene easily turns into a very Christian narrative of "Man" contemplating his own death. It's capitalism that got us into this mess after all.
EG: I think we're still in the Holocene. Although there are many landscapes that are definitely in the Anthropocene, the Anthropocene is a proposed term. I want to say it's a conceptual device that allows us to say that human disturbances have reached such a massive scale that we're changing planetary conditions in very uneven ways, that there are what Rob Nixon calls, slow violences, and we need a way to tag them.
We need a way to mobilize around these huge destructive machines of neoliberalism. I think it's useful to call that the Anthropocene. People like Donna Haraway for example wants to think about the Capitalocene, Anna Tsing wants to say Plantationocene. There's also the Chthulucene. In all those terms I think there's an attempt to name how we got here.
There's an attempt to say, what is a dominant figure that might tell us more about our contemporary condition? Is that plantations? Is that capitalism? Is it the figure of Anthropos, which is the Greek word for human, but it's in a way making that figure visible, whatever it is so that we can unmake it, so that we can undo certain agencies that it's managed to unleash into the world.
In saying that it's Anthropos, in saying that it's the human that has caused planetary disturbance and it's basically knocked the earth off its axis, so that sunlight has changed, photoperiods have changed, wind directions have changed. We've changed the temperature of the earth. That's crazy. If it's a figure of a human that allows us to say, "How do we undo that?" Then become more human, then I think it's useful. I hope it's not a fad because we've heard these warnings since the 70s.
BS: Yes, I agree with Elaine: the potential of the term is that it creates the possibility to get out of former anthropocentric thinking and modes of being in the world. But we need to combine a discussion of the Anthropocene with a sensibility for the limits of human omnipotence and its colonial trajectories. And that's why ferality and ruderal ecologies are important.
EG: We've heard the warnings since 1920, so we can probably say we've been hearing about this for very long periods of time. We haven' heard them enough, and so we're in the situation. I think it's a useful term in that sense. My worry about is if we use it so much, we might stop hearing what is useful about it; we might get desensitized, though I hope we don't. I'd also add that the world has ended for many groups, depending on what point of view you have. The image of Earth Rise—from the Apollo missions—give us a sense of the blue earth. We're able to say we're in the Anthropocene because of that image, but for some groups, a river was the world, a forest was the world. For certain species, a leaf might be the world, and so we've ended those worlds many times before.
CP: Like, whose Anthropocene?
EG: Yes, definitely which is I think one really important seminar that's here. There's also a certain level of identity politics that invokes, as somebody in one of the input statements said, I think Lesley Green said, "How do you not go back to that, but then at the same time how do you have politics without that?"
BS: It's unsettling to see how easily earlier feminist and postcolonial critiques of identity politics and the nature culture divide seem to be forgotten in discussions of the Anthropocene. I think the key challenge is to reconnect these critical interventions with the concerns raised by the Anthropocene. The question is not simply a matter of standpoint of who is speaking. But who or what do we connect with and who gets represented and what bodies come to matter as we engage the Anthropocene?
This interview was conducted on behalf of Bad at Sports and the HKW.
---
Jeremy Bolen, Heather Davis, Emily Eliza Scott, and Andrew Yang pooled their efforts to lead Sensing the Insensible: Aesthetics In, Through, and Against the Anthropocene, a group seminar at the Haus der Kulturen der Welt's (HKW's) 2016 Anthropocene Curriculum: The Technosphere Issue. In the following conversation, I meet with three of the four conveners to explore how aesthetic and political concerns are embroiled in conceptions of the Anthropocene and how we determine it's origin.
Caroline Picard: It's the last day of the HKW's 2016 Anthropocene Curriculum and I am with three of four conveners from the Sensing the Insensible Seminar, Emily Scott, Jeremy Bolen, and Andrew Yang.
Andrew Yang: The fourth being Heather Davis. 
Emily Scott: The four of us met at the last Anthropocene campus in the fall 2014.
Jeremy Bolen: Andy actually came up with the title for this seminar proposal because Emily and I were working on some projects together. Then Andy and I were working on some projects together so it happened in a very organic way.
AY: Yeah, I mean [Jeremy's] artistic practice in photography combined with Emily's background in art history and critical studies, plus my own sort of scientific/art/whatever interests, and Heather's perspectives from women studies and literature: our collective fields gave us a unique way to consider what it means to represent something. In a visual or aesthetic sense of course, but also addressing the politics of representation, and visuality versus the many other ways that one might sense. We really wanted to also engage that possibility also.
ES: I actually remember a moment from the first campus during a really wonderful performance by the Otolith Group. At one point in this performative lecture, Kodwo Eshun mentioned, I think he was quoting Bruno Latour, though I bet others besides Latour have said this: Eshun made a link between aesthetics and sensitization. I remember thinking, "Oh I love this!" Their whole talk and art project—exhibited at the same time, Medium Earth—was about people who believe that they can sense or predict earthquakes by feeling it in their bodies, sometimes across the world. There was one woman in particular, Charlotte King, who had different parts of her body that tied to different geographies. There are actually a lot of people that believe that they can predict earthquakes. I thought that was an interesting way to think about embodied sensing. It wasn't until a bit later that we came up with this idea of taking up "aesthetics" and going back to its original Greek meaning: "to perceive or feel."
CP: Do you find the Anthropocene to be a useful frame for aesthetics?
AY: You can pose the question as you did, so that the Anthropocene is a frame for aesthetics, but we are also interested how aesthetics might be a framing tool for the Anthropocene. That also reveals my own background in the natural sciences, but assuming there is an Anthropocene condition, how does an aesthetic approach give you different access to considering that whole scheme, that whole concept, that whole material and temporal reality? My own view is that our cultural production, as well as the ways that we engage the world, should address "the reality of things." I was thinking more about aesthetics for Anthropocene as opposed to Anthropocene for aesthetics.
CP: Do you mean to say that shaping and developing the Anthropocene is an aesthetic question?
AY: I think both and that really came out of the seminar with some sophistication. The concept of the Anthropocene is premised on the fact that humans have been these causal agents on a planetary scale. The question is, given that we've had that effect, what kind of new causes can we be, what kind of agency can we bring to it? This question of understanding, of shaping the metaphor but also like shaping land, shaping the air, shaping our representations to ourselves and to each other about what all of those things are…We are at a stage now where images have a geological impact as far as I'm concerned and so everything kind of counts in that way. I think it's all the above.
ES: Yeah, I've thought a lot too about the term "Anthropocene" and a number of counter-terms, or terms that critique the Anthropocene—and what kind of work they do. In many cases because, the term itself has so many problems it's paradoxical; the term could either signify the ultimate centering of the human or the ultimate de-centering of the human depending on which perspective you come from. Then of course there is an obvious problem with lumping all anthropos into one and the flattenings that come along with that, and what kind of geographical biases might come up. The Anthropocene term becomes a key…It's a framing device for the world.
AY: Yeah, it's true. 
ES: It opens certain kinds of stories and I think a lot of people are very invested in what kinds of stories are being built. What the political material effects of those stories are and what the Anthropocene as a term either opens up or shuts down. Others have created the term "Capitalocene," for instance—Jason Moore's term originally, but Donna Haraway also took it up—which provides a different frame of course.
CP: Is the question of aesthetics related to how we decide when the Anthropocene officially began?
ES: Sure. One thing that Heather and I discussed is the considerable amount of weight on around dating the Anthropocene. This year the International Stratigraphic Commission will make a decision about whether or not it's an official term; they are also tasked with assigning a date. Whatever date is chosen will really inform what kinds of stories are told. There are a lot of people like Heather who—and I tend toward this direction as well—think framing the Anthropocene through colonialism would be an important designation.
CP: Wait, why?
ES: Because it would frame understanding about these complex, Anthropocenic interactions in a politicized way. If the officially-designated Anthropocene start date becomes the first nuclear explosion  in 1945, that offers a geopolitical and technological framing, one that opens up another particular set of narratives. Heather made a great point in her introductory input, which came straight out of the introduction to a book she co-edited with Etienne Turpin, Art in the Anthropocene. They argue that the Anthropocene is an aesthetic event.
JB: It's interesting to go back to the origins question in aesthetics. I agree with you, Emily, but the Stratigraphic Commission is also looking for a trace that impacts the entire earth at one moment and leaves a permanent trace. That's why 1945 becomes a strong contender. If we rely on their criteria, I wonder what role aesthetics play in deciding the origins.
AY: I suppose as a trace it has to be something that we can be aware of, that can be measurable not just for a snub of a minute but for the lasting future. Maybe as a corrective to what I said before, I think the Anthropocene is a concept but maybe more than that, it's fundamentally a story, it's real.  Because it writes human history into natural history and a human perspective into a geological, deep time framework. There are a lot of political stakes and importance for the term, but I also think there are metaphysical and existential ones; and those are political as well.
CP: I'm excited by how the constructed and agreed-upon narrative would be as important, somehow, as the material and scientific events themselves…
AY: A narrative gives you self awareness; it's the story you tell yourself. It is fundamentally an aesthetic proposition because it's creating a story for oneself that's built into another much, much deeper story.
ES: People want official determination to legitimize the Anthropocene, and although there's a feeling that stratigraphers have to find a material trace, that's nevertheless a very particular way of framing something. It emphasizes geologic matter as a determining factor, representing the way in which science is seen as the defacto authority. I think there a lot of people want to question that assumption. Is it stratigraphers that should be the ones to ultimately decide if the Anthropocene exists or not based on their material findings?
Our seminar explored questions about how the Anthropocene has, to a large extent, been imaged through or represented via a regime of data, scientific language, and a set of representations. Whether it's the hockey stick graph of climate change, or images of melting glaciers or lots of climate models et cetera, or the emphasis on this geological uniform kind of layer. A lot of people coming from art, culture, politics, or history backgrounds see their expert perspectives as equally important.
JB: This is relevant to the question of origins because it's become a truly extra-disciplinary investigation, where so many different fields of research are involved. I'm interested to see what they come with up for the origins and who exactly is involved in that decision when it's finalized.
AY: I think like the –cene in the Anthropocene, asserts a sense of recency, but you wouldn't know what's recent without first determining what's past. That deep past is structured around scientific sensing. I'm not saying that the past and the present—as science constructs them—is always the best approach, but that's the frame we know and use.
CP: It's amazing to recognize how deeply scientific thought is integrated with conceptions of past and present.  
AY: This new awareness about the true scale of impacts humanity is having on the planet are only sensible and could only be realized through scientific abstraction, reduction, remote sensing. I don't want to throw that out as if that's something that's overly reductive, and abstract and de-humanizing. I still want to defend the virtue of a scientific knowledge but it just can't be the end point.
JB and ES: Yeah, I agree fully. 
CP: Is there a difference between aesthetics and ethics in a way that you are thinking through cross-disciplinary, framing, and narrative?
ES: We didn't plan to talk explicitly about ethics but it's interesting how many of our discussions were absorbed by that question. How much can I do, what can I do, where should I position my work, what kinds of practices will lead to material effects in the world.
JB: I feel like we are at a such a different point today than we were two years ago. It feels like information about the Anthropocene has been metabolized; now there's a want for action more than just discussion. A discussion occurs but what comes up is what do we do and what are the ethics surrounding those actions? I think that overarching themes are the politics of whatever that action might be and the politics of sensing.
ES: Heather opened up her talk with something from Art in the Anthropocene which—I'm paraphrasing but—said that basically art offers a non-moral approach. The virtue in being non-moral is that allows one to hold contradictory perspectives. Her framing of the moral is that it's rule driven and prescriptive and it can define what's allowable and what's not.
That was a controversial statement and that led to this question about whether we want to distinguish morality from ethics and what kind of difference that was. That's a philosophical rabbit hole, but in her view, the moral was this space of basically hierarchical closing down of new and complex possibilities.
CP: Is an ethical space any different?
ES: I think we accepted that the ethical is the space of ongoing exploration that is not necessarily centered on what's right or what's wrong, but rather what's of value and how you determine or cultivate notions of value. In that regard, I think I would say inherently aesthetics is an ethical proposition because this is a question of why do you even bother to commit yourself in terms of awareness or in terms of representations. Because now, materially or otherwise, every artistic or aesthetic gesture is basically a gesture of production, whether it's physical, psychological, or energetic—those have real costs. They spend real energy, they absorb people's attention, sometimes away from things that they could do otherwise. I think for better or for worse it's fundamentally an ethical consideration for all fields now.
This interview was conducted on behalf of Bad at Sports and the HKW.
---
Zona MACO and Material, the fairs that ran more or less concurrently the first week of February here in Mexico City, helped synthesize a number of threads floating around in my mind since arriving here. Those threads: Boris Groys's essay "On Art Activism," published in e-flux shortly before I moved, a talk by Donna Haraway that a friend e-mailed to me, and the thought, in general: why do I give a shit about art? Do I even?
We arrived at Zona MACO an hour before it shut. I was surprised that I was there: a few days earlier, in an impassioned speech to Andrew Choate, I had said something like, you know, this fair is in this posh neighborhood that you have to own a car or a chauffeur or have a chauffeur who's driving your car or whatever to get to, it's only accessible to the very rich, fuck the rich and fuck their art, they can keep it. So anyway, there we were, at MACO, the phenomenal lighting making the average MACO-goer's Lacoste polo shit look gorgeous and my oil-stained clothes look ratty as hell. We moved fast, visiting only galleries where one of us knew somebody. I didn't think about anything or really look at anything: Maurício Ianês at Y Gallery was visually striking but maybe a little hamhanded, but then again given the subject matter maybe it's ok to be hamhanded, maybe nothing else will ever work; Debora Delmar Corp at DUVE Berlin was actually kind of beautiful in person, although I guess I can see why some jackass gave it "worst of MACO," because, I don't know, no marble? no expressionist lines? who cares, I'm sure that guy would prefer a show of staircase pineapples thickly streaked with paint or blood in a really emotional way; at Chert, Petrit Kalilaj was a little scattered, but also maybe hilarious and heartbreaking; I heard a funny story at Gaga and wondered how Labor won the 1800 Tequila prize and what that meant—how it would affect my life. Then we left past an army of art handlers ready to pounce.
A few hours earlier I had been at Material, the satellite fair that first happened last year. I had no thoughts at Material, either, I was too hung over and tired. I didn't have the coffee I needed until after I left. I talked to people, which I usually don't. I talked to Aaron Harbour and Jackie Im and liked how weird and gross but also really appealing Chris Hood's paintings were; I talked to Steve Kado at Kunstverein Toronto and was totally freaked out by how similar his speech pattern is to another Canadian I know; I talked to Travis Fitzgerald and Josh Pavlacky at American Medium, who were extremely congratulatory and very friendly about a performance I had done at Bikini Wax the night before, two stories above a great video by Skip Arnold—not the one below. It was also the only show/booth/experience I spent more than ten minutes in during the entire week. Anyway, I didn't talk to anyone at Queer Thoughts, but I wondered if their desk was intentionally positioned in their booth such that you couldn't really look at David Rappeneau's drawings without putting your ass in someone's face. Everybody I talked to, well not everybody but a sizeable sample, mentioned that both sales and attendance had been slow, and either Travis or Josh said something like, "I don't know why they even call this an art fair, they should call it something else." For this sizeable sample, it seemed like the opportunity and experience to meet other people interested in similar art, to talk and hang out and party or decide not to party, was as or more important than actually selling anything. Then again, everybody needed to sell things.
I guess it's kind of like how it's more fun to have a drink with your friends than go to your mind-numbing day job. Or how it's more fun to have a drink with your friends than stab yourself in the eye. How it's more fun to have a drink with your friends and talk with them like they're people you want to talk to than it is to have a drink with your friends and talk to them like you want them to buy something from you. People who I either knew or had established a friendly-level acquaintanceship with apologized for "giving me the spiel," which I identified with, having worked for a year selling wine, which involves a similar kind of activity.
Wine is vastly more enjoyable, or more able to be enjoyed, if you know what the hell is going on with it: where it came from, what grape(s) it's made out of, what year it's from, what things taste like from that place, from that grape, from that year. It helps also to know how it was made, using what process, where the winemaker used to work. You have to spend time reading, learning, tasting, feeling like an asshole for not knowing, feeling like an asshole for knowing, that kind of thing. It's certainly possible to have a good time with a glass of wine knowing nothing at all, but in order to have a great time, to have an interesting perceptual experience or a moment where you feel like you are suddenly the fucking king of everything, a feeling which wine is uniquely qualified to deliver, you have to know stuff. Sometimes it's also nice to know little narrative bits, too, you know, how these winemakers make a big deal out of paying their grape-pickers fairly, or how this is the only woman wine-maker in her region, so on and so forth, but this sort of narrative is usually reserved for the selling of wine, by winesellers like I used to be, and is usually delivered in the same tone of voice, with the same cadence, as the art spiel.
Which I guess is why I've been wondering: what differentiates a photograph from a bottle of wine? A painting from an antique chair? Why do I think that an artwork is different, exists on a "higher" plane, than a humidor? A year ago, I badmouthed an LA gallerist for having a side business selling antique furniture. I perceived the proximity of the antique furniture practice and the gallery practice as some kind of affront, some kind of insult to art. Like art belongs in a different moral/ethical universe than chairs, or wine, and treating it as if it were the same kind of lifestyle commodity is somehow dirty. Now I'm not so sure. Maybe it's a good dirty.
In "On Art Activism," Boris Groys draws a distinction between the aestheticization art performs versus the aestheticization design performs. For him, design takes the tools—a hammer, a speech, whatever—of the status quo and makes them more attractive, more usable. Now you, too, can get rich making videos on YouTube advertising our products! That kind of thing. Art, on the other hand, takes the status quo and presents it as a relic, as something already dead, useless. For Groys, this lends art a degree of political agency insofar as it treats the status quo, which is always impossible to imagine ending, as already over, a fossil. In Donna Haraway's conception of our current epoch, the "capitalocene," ruled and primarily defined by the processes and logics of capitalism, the production and exhaustion of fossils is paramount. What for Groys is the possibility of political action for art against the status quo, is for Haraway is the very fuel for the status quo. I'm tempted to believe them both: while art has the potential to cause problems within the status quo, it is ultimately an integral part of it, consumed, traded by, conferring status upon a small superrich class that controls the vast majority of the globe's wealth, right alongside furniture (also a part of Zona MACO), boutique alcohols (also a part of Material), and so on.
I'm wondering, actually, if maybe this idea that art has some kind of actual political efficacy, that it can "change the world," is maybe the last vestige of the sort of 18th/19th century romanticism that moved art somewhere—up, definitely—different than, say, furniture or wine, that it delivers something different, something more, something to do with morality, something to do with ethics in a conception of "the world" that assumes it to be homogenous, somehow able to benefit uniformly from a single given action or idea that moves—ineffably, certainly—from the particular to the universal, a movement governed by a set of rules, standards of taste, beauty, and judgment, that it was assumed every "good" work of art, or "good" person, could be shown to follow.
At the outset of "On Art Activism," Groys dismisses claims that activist art is bad because it is "bad art" — that is, it looks bad or doesn't exhibit technical mastery. "In the twentieth century," he writes, "all criteria of quality and taste were abolished by different artistic avant-gardes—so, today, it makes no sense to appeal to them again." If MACO and Material made me feel anything, it is that I hope that the avant-gardes of the twenty-first century can make equally obsolete the idea that an artwork can or should have some kind of ability to move itself and/or its viewers into some kind of universal realm of political agency, because there is no "universal" any more than there is "the world," and any politics that depends on the universal—"the world"—is necessarily self-defeating. I hope that we can forget the Enlightenment and become total fucking idiots or squids or cyborgs or really anything non-Enlightenment-human, and try something else, because that shit did not work at all.

---
A link to the following essay was sent to us in response to The Letter to Goldsmiths that I posted last week. I have only included the very beginnings of the post, but you can carry on reading the rest if you follow the link at the end, (before the end notes).
Sterling Crispin
2013
All of human culture competes for our limited attention and resources, evolving and mutating over time. Everyone plays a role in shaping this behavior, although its clear some key players have more control. Each observation and action is an opportunity to contribute to the reproduction or demise of a thing or idea. The observer changes what it observes, and moreso when content producer and consumer are one in the same.
The Internet has accelerated the pace of feedback between creation and response, and one of the results has been a continued embrace of novelty and irony. Capital, currency and power are running rampant without checks and balances from truth, knowledge and beauty. Its time to more fully embrace directness, earnestness and sincerity. This applies to not only what we make and do, but what we support indirectly through our actions.
The following essay is a deconstruction of, and argument against, the post-internet condition. Specifically, I want to address the over use of irony, novelty, attention as currency, persona as product and the embrace of the spectacle of society.
The first four sections are meant as an introduction to the core argument, and offer a broader context which is often overlooked in such discussions of the post-internet condition. Supplemental notes and sources have been included which provide clarification, tangental ideas and some quotes where appropriate.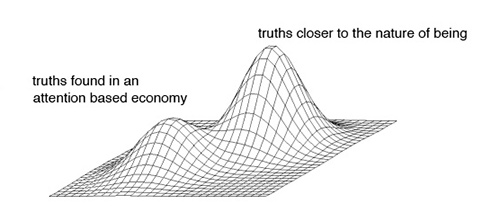 ///Deconstructing the Image-Object ///Wading in the Wake of Symbolization
1.
It's clear that our time and attention is limited, and there's too much going on in the world to pay attention to it all, especially now. Countless people are fighting for our attention and trying to convert this energy into political, social and economic power. Even inanimate things themselves can be thought of as competing for our attention (1)(2). This competition for attention has been turned into a highly skilled craft by plants, animals (1.5)and culture at large, which is especially evident in the battlefield of consumer products and advertisements.
This competition can be understood in terms of Attention Economics (A) which describes the finite nature of human attention in contrast to the vast and exponentially growing access to information. However, it may be more accurate to describe this situation as an attention based ecology rather than an economy. This ecology is an evolutionary system of richly complex interactions between limited resources (human attention), competing agents (corporations, other people, algorithms, ideas, aesthetic styles, cultures, objects themselves) and countless internal and external forces. The time between publishing information and audience response has nearly collapsed since the dawn of the Internet, further exacerbating this situation. The rapid feedback loop between production and consumption, when considered as a whole, can be thought of as vast synthetic brain evolving its ability to engage with humans and understand how we think (3). (read more)
____
END NOTES:
(1) This can be seen in the material-semiotics of Gilles Deleuze and Félix Guattari's (B) concept of the rhizome, the world as a horizontal networked structure of relations that seeks equilibrium and is constantly shifting. Michel Foucault, Donna Haraway and much of traditional 'eastern' philosophy also speak on this subject. The fields of cybernetics and chaos theory are scientific approaches to this subject, and I'll address them later on. (1.5) I'd also recommend Michael Pollans "Botany of Desire" regarding the coevolution of humans and plants.
(2)Also in Bruno Latour's Anthropological Matrix(C) which describes the world existing as a web of hybrid things that are both subject and object, between nature and culture, between agency and raw material. In the Anthropological Matrix all things are both real and imagined, both nature and culture. Latour has also extensively written about Actor-Network-Theory (ANT) (D) which describes existence as a network of 'actors' (human or nonhuman, essentially everything) engaged in a series of relationships. ANT disrupts the concept of differentiated individuals acting in the world and states that these things are really the sum of many other actors which reinforce each other.
(3) See Kevin Kelly's inspired book "What Technology Wants", and authors like Oliver Reiser, Buckminster Fuller, Dane Rudhayar, Sri aurobindo, N.A. Kozyrev, Teilhard de Chardin, Jose Arguelles, et al.
---
Tessa Siddle is a transgender video maker and performance artist based out of San Francisco. In her work she regularly embodies hybrid forms — bleeding her self between animal, human, singular and multiplicitous identities — in order to challenge a tidier, pervasive binary tradition. What I find particularly interesting about her work is the way in which it relies as much on the performative, physical body — make up and costume effects — as it does on technology advances, like the blue screen for instance. The effect is itself a hybrid of effects that coalesce to become an illusory, allegorical space. Tessa also organizes and curates an experimental film series, The MisAlt Screening Series, in the Bay Area.
CP: You often deal with hybridity often in your work — in your performances you sometimes embody animals, in other instances you are at once one person and two people at the same time. Can you talk a little bit about how you think of hybridity? 
TS: I feel like a lot of people in the arts are talking about hybridity using very different (and I think more or less equally valid) definitions which occasionally leads to a little bit of confusion. I have often heard the term "hybrid forms" applied equally to visual depictions of chimeras and other hybridized figures and to the use of organic forms, mixed-media, and composite materials.
My personal interests in hybridity comes out of the convergence of my life-long fascination with combined human/animal/machine forms (most notably the chimeras of ancient myth, anthropomorphized animals in children's literature, and human/machine/extraterrestrial hybrids of science fiction and UFO mythos) with my exposure to critics like Donna Haraway who use the figure of the cyborg and other hybrids to critique dualist social constructions and the idea of personhood and individual agency being bound within a unified and independent bodies. This exposure roughly coincided with the beginning of my desire to confront my long-time (and continuing) discomfort with binary gender and I was constantly on the look out for alternative theories of the body and I found the concept of cyborg bodies whose slippery existence is held together by constantly shifting relationships between humans, machines, animals, and institutions to be extremely exciting. It is largely in this spirit that I go about creating work in which I split
myself into various animal and plant versions of myself.
CP: It seems like there's a way that hybridity can question assumptions latent in, say, gender binaries or species distinction. Even in terms of what you're addressing with robotic/mechanical vs. organic/self-determined structures. It's like you're decentralizing ideas of self-hood and self-determination, while undermining traditional power structures. Having said that, I'm not really sure I know what I mean when I say "traditional power structures" except that I feel it manifests itself visually in my mind as a kind of monolith. A giant cultural pillar with neat and tidy assigned parts. Do you feel like your efforts are anarchistic? Or are you looking for a new kind of order? In other words, should the hybridity remain unfixed and unfixable? Or would do you aim to create a new kind of identity that is, say, part cheetah with human hindquarters and a robot arm?
TS: I feel that when talking about power structures it is important to distinguish between models of power (the ways of looking at power) and the organization of power into social institutions. I think that the traditional way of looking at power is the monolithic model of which you speak, in which power descends from a (often divine) pinnacle of authority on to the people beneath. There is also the bottom-up view of power, which is a democratic inversion of the monolithic model, in which the legitimacy of the authority on the top comes from the power of the people below. I subscribe to a model of power in which power is radiating from everyone, everywhere, in all directions — without a top, bottom, or center. I think that this is the structure of power regardless of the institutions and social constructions into which it is molded.
What the monolithic model and the bottom-up model share is that they are both preoccupied with the legitimacy of existing institutions and constructions. Things are the way they are, they say, because of divine (or scientific or natural) order or popular consensus. Under these models, binaries are presented as part of a natural or innate cultural order, part of the way things are.
I think that what hybrid figures do to binaries is to show that they are actually the way things are not (or that binaries, if they exist, are extremely rare). I think, for example, that the human/non-human binary falls apart as soon as we look really closely at the human body. A classical (humanist) reading of the body considers it to be a unified, holistic, 100% human form — the most human form — however if we take out our microscopes, look onto and beneath our skin, look deep into our guts (take a literally very close look) what we see is that the body is host to colony after colony of (mostly benign) bacteria, protozoa, viruses, very small animals, and fungi. From my limited understanding (I am not a biologist) the health of these colonies is essential for the health of the overall body to the point that we can look at the human body as already (and always) being inhuman.
I feel that in my own efforts, I am not trying to prescribe an anarchistic role to hybrids or to suggest a new world order, but rather I am attempting create semi-fictional realities in which the already slippery relationships between humans, animals, and plants are amplified in their slipperiness.



CP: Can you talk a little bit  about how that slipperiness plays out in some of your work?
TS: Â I think in a lot of my work I'm attempting to create situations/environments/performances that play with the boundaries between things that are frequently placed in opposition with each other. When I perform as a community of fox/people, a family of rabbits, a bouquet of flowers, or a forest ecosystem I try to borrow equally from scientific, mythological, historical, pop cultural, autobiographical, and autofictional sources to create the text, structure, and logic of my characters and the worlds they interact with. My hope, is that by fusing these elements together I can create alternate realities that feel natural, magical, confessional, and opaque at more or less the same time. I also try my best to give these worlds a logic that seems coherent but also transparently artificial and frayed around the edges.

 
 
---