What follows is an essay by John Preus, soon to be released in the next issue of Proximity :
ON LOVE AND LABOR-THOUGHTS THAT ACCOMPANIED THE MAKING OF AÂ TABLE
By John Preus
I recently joined a Jungian men's group…(pause for my academic colleagues to peel off).
On some occasions in the group, we go around the room and everyone says something they don't want anyone else to know about them. It's called the withholding exercise.
One man was sexually and repeatedly abused by his older siblings, one had an affair with his brother's wife and his brother has never forgiven him, one hates his job and is embarrassed that he can't leave it, a married man loves his wife but is also attracted to young boys and suffers from intense longing, one is embarrassed that his stomach is growling, one spends more time than he would like to admit looking at pornography and was discovered masturbating by his 9-year-old daughter, one loves his wife so much that he feels emasculated and jealous and is afraid he will disappear, and one is in the depths of financial ruin.
I find this all riveting. Despite trying to maintain my cherished neutrality, I divulge to a room full of strangers something I've never told anyone before because it feels disingenuous under the circumstances. The confession, and the resulting (asexual) intimacy I felt with a room full of men was like an electric charge that glowed in me for a couple of days, temporarily erasing my general social anxieties. Under certain circumstances, shared vulnerability invites trust.
Tables support activity. And when they are not supporting activity, they are ready-to-hand, expectant, loitering around waiting for something to happen.  The now traditional binary, form and function, addresses this dual role of objects in their identity as placeholders and actors.   They are supposed to look graceful in waiting, to redeem the embarrassing position of being un-engaged.  I am inclined to think that craft, like Glenn Adamson points out, is a way of thinking about what happens in the world, how to have some influence over it, your place in it, culpability and accountability.  But the history of craft is also a reflection of collective longing and anxiety, loitering on the banks of the Styx, barking at the thing moving in the bushes.
Patching, as an additive variant of repair, is a long-standing strategy for lengthening the lifespan of a well-worn object, taking a piece of something to cover a worn piece of something else. Pant knees are patched with denim, roofs are patched with tarpaper and shingles, streets with bituminous, yards with pieces of sod, tarps with duct tape, cars with Bondo, boats with fiberglass resin. A patch is used when the object still functions, but is not stable unto itself. A patch does not generally change what a thing is, but prolongs a thing's ability to be what it is, however temporary. A pair of pants could be patched with shirt material to the point of being more shirt than pant. While this may be problematic for an ontologist—assuming that the pants continue to be worn on the lower half of the body—most of us would be able to accommodate them without philosophical strain. At the same time, the identifying function, "pants" occupies a relatively short span of time on their material morphology.
Quilting, a designation generally reserved for things made of fabric, is the result of surplus parts. It is not quite an assemblage or collage, although that history certainly relates to what is interesting to me about the table. An assemblage has to incorporate disparate parts, disruptions, things that were not meant to be together, a forced marriage, so to speak. Being that all of the table parts are wood, it isn't suitable to describe it as an assemblage or a collage. And it is not marquetry, which is an image or pattern-making technique using veneers of different colors to develop a picture. Quilting takes parts of other things to make a new thing. I would venture to guess that it comes out of a utilitarian folk tradition in which materials were limited and people had to make do with what was around. That may have been true long ago, but I am sure that quilting happens now more among folks with time to kill, than among low income folks trying to save material, textiles being as inexpensive as they are.
The most apt description might be bricolage, or using what is on-hand. Levi-Strauss damned bricolage as mythological and irrational thought, in contrast to the engineer. Deleuze and Guattari described it as the general mode of thought for a schizophrenic. I prefer Jacques Derrida's statement: "If one calls bricolage the necessity of borrowing one's concept from the text of a heritage which is more or less coherent or ruined, it must be said that every discourse is bricoleur." Borrowing parts of other things to make a table strikes me as the most adequate expression of what a thing is in the broadest sense.    Within the table is another table, a futon frame, pieces of virgin plywood, parts from other projects, bits of a chair, and a panel from a stereo cabinet. Those identities have all been subsumed to become the "table" but they have not entirely given up their former character.
---
The following essay by Dylan Trigg was published by The White Review.

THE GHOSTS OF PLACE
'So I turned around for an instant to look at what my field of vision onto the sea had not offered up: the heavy grey mass where traces of planks lined up along the inclined ramp like a tiny staircase. I got up and decided to have a look around this fortification as if I had seen it for the first time, with its embrasure flush with the sand, behind the protective screen, looking out onto the Breton port, aiming today at inoffensive bathers, its rear defence with a staggered entrance and its dark interior in the blinding light of the gun's opening toward the sea.' – Paul Virilio, Bunker Archaeology
IT IS OCTOBER 2010 AND I AM IN THE KITCHEN OF AN OLD HOUSE IN SUSSEX. FROM THE KITCHEN, A DOOR LEADS TO THE HALLWAY. SUDDENLY THE DOOR BEGINS TO SWAY FROM SIDE TO SIDE. AT FIRST, I THINK NOTHING OF IT AND PUT IT DOWN TO A BREEZE FROM ANOTHER ROOM. BUT THEN THE SWAYING BECAME MORE DELIBERATE, AS IF A PRESENCE WERE TRYING TO COMMUNICATE FROM AFAR. THE DOOR MOVES TO ONE END, PAUSES FOR A SECOND, AND THEN PROCEEDS TO RETURN TO THE OTHER SIDE. TO AND FRO IT MOVES, UNTIL SUDDENLY, AND WITHOUT WARNING, IT STOPS. AS I STAND TO INVESTIGATE, AN IRIDESCENT LIGHT FILLS THE HALLWAY, AND A TALL SILHOUETTE CLAD IN BLACK SLOWLY CROSSES THE LANDING BEFORE DISAPPEARING INTO THE BRICK WALL. IN RESPONSE, THE SKIN ON MY BODY BECOMES CLAMMY WITH ANXIETY, WHILE THE HAIRS BEGINNING AT THE BASE OF MY HEAD AND EXTENDING TO THE LOWER REACH OF MY NECK RECOIL, AS IF THEY HAD GRASPED SOME KIND OF HORROR THAT I WAS STILL IN THE PROCESS OF EXPERIENCING. ONE MINUTE LATER, I AM ON THE STREET.
Disturbed by the vision, I look at the house from the vantage point of the outside. If the figure has come to me in a moment of private intimacy, then I am sure it would not follow me down the stairs and onto the other side of the street, and thereby expose itself to the public gaze. On the contrary, I am fairly convinced it is still inside, likely oscillating between the landing on the hallway and the kitchen, where – so I assume – it may have once encountered some kind of trauma that led it to being affixed to this place in time.
How many other people had seen the figure since the conception of the house in the fifteenth century? Numerous people no doubt through the centuries, each of whom will have had their own story to tell. In addition, all of these people will have had their own interpretation of the figure, from the seventeenth century interpretation of spectres as restorers of social injustices of the living to the nineteenth century interpretation of the such sights as a figure of death that refuses to die, thus offering hope that in an increasingly secularised age, life after death remains possible.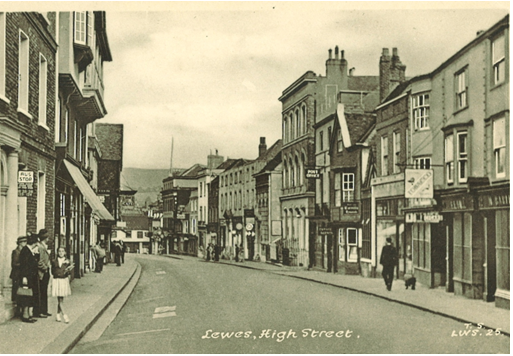 In all this, I may well form part of a historical community that will have encountered this vision in this particular place, 70 High Street, Lewes, Sussex. What did the figure want from us all: to testify to its mournful existence, to become its voice, or simply in the act of affecting another person, to remind itself that it still holds the power to form an alliance with the living? And why did it choose us? Are we in some sense more receptive to the troubled dreams of those who refuse to die than other people? Did the figure sense an anxiety within each of us that renders our senses more attuned to ambiguous forms of life?
***
What is a ghost? The question has gained a particular value in the last decade or so owing to the influence of Derrida's concept of hauntology, a pun on ontology referring to the spectre of Marxism. As it is understood in a post-Derridean context, the concept refers to a broad range of cultural phenomenon characterised, above all, by a certain collapse in the spatio-temporal order, signalling the radical collision of old and new. It is a Ballardian vision of time, in which the end has already occurred and we are now – perhaps unknowingly – living in its shadow.
The term figures in a variety of mediums, from the archival restoration of 'abandonware' and 'dead tech', to the music of both Caretaker and the retro pastiche of Belbury Poly together with the associated Ghost Box Music label. In films, the theme is evident in works such as Peter Weir's Picnic at Hanging Rock (1975) and Nic Roeg's Don't Look Now (1973). Alongside these mediums, the image of the urban ruin being reclaimed by wild mangroves, the drained swimming pool of an abandoned hotel, and the decommissioned remains of war bunkers would all be central motifs for the hauntologist. In each of these forms, the hauntological aesthetic plays out in terms of an appeal to the uncanny: that is, to the re-emergence of what was originally repressed, but only now—through an accidental rupture in the present – comes to light. Such an aesthetic has its roots in Freud, and can then be mapped out in the work of surrealists and their usage of anachronism, before then resurfacing in Walter Benjamin's philosophy of history, which will later re-appear once more in the works of W. G. Sebald, and in a contemporary guise, in artists such as Cyprien Gaillard and Gregory Chatonsky. (read more)
---
So this is it; the last entry of Thoughts from Across the Cultural Divide. It's appropriate that I'm writing it on a plane from New York to Milwaukee – that's where I wrote my first one and most of the ones in-between.
I boarded bent on finishing before landing in Milwaukee as a kind of ceremonial gesture, but I came down with a bit of writer's block. More like writer's diarrhea, really; I couldn't seem to reduce the last 26 entries into a succinct bite-sized wafer of truth fit to reflect what I've gleaned.
Fidgety, I reached into my pocket and pulled out a small piece of foil-covered hard candy and struggled over whether or not I should eat it.
I actually started unwrapping it, almost placing it on my tongue before rewrapping it and carefully putting it back in my pocket. The guy next to me must have thought I had a disorder. As I sat with the candy in my lapel pocket, I dwelled on this strange apprehension. Why did eating it feel so, well, unholy?
The candy in question was taken from a Felix Gonzalez Torres art piece, "Untitled (Portrait of Ross in L.A.)", from the Art Institute of Chicago, where I had taken a class on a field trip a few days prior. With my class in tow, I picked a couple pieces off the top of the pile, eliciting a hushed gasp from some onlookers. The security guard stood by stoically knowing very well the nature of the situation. Only after establishing that he was cool with the move did the rest of the visitors take their turn grabbing souvenirs. Did anyone get the wonderful metaphor? Did the sacredness of the context turn Torres's point into an object to be fetishized?
I explained the nature of the work to my students, how the dwindling supply of candy represented the fragility of existence and, specifically the disease that tragically took Torres's partner's life. They seemed moved, if still content to have a bit of insider material.
Only a week earlier I had gone to the Lutheran church in Cedarburg. I attended in spite of the fact that I'm not religious. My wife and her family have belonged to the church for years, and the pastor is surprisingly ecumenical. That day, when it came time to take communion, I hesitated. Somehow, watching from the back pews, faking my way through the Lord's Prayer and mouthing hymns I didn't know, seemed ok, but consuming a wafer and some wine that represented, or, depending on your level of devotion, actually WAS the body and blood of Christ, pushed it. But, still, I headed toward the altar.
His body tasted surprisingly bland; his blood vintage Franzia, and, though I didn't feel the prescribed transubstantiation, I did feel something more profound than indigestion.
This unexpected twinge reminded me of a piece by James Gleick that was in the "New York Time Magazine" a few years ago about the auction value of the Magna Carta. He describes a passage from Philip K. Dick's novel, "The Man in the High Tower", where two similar cigarette lighters are placed side-by-side, one owned by FDR and the other of no significance. One with 'historicity', the other without.
The narrator muses:
"Can you feel it? … You can't. You can't tell which is which. There's no 'mystical plasmic presence,' no 'aura' around it."
Or is there?
Though he doesn't invoke it specifically, Walter Benjamin's "The Work of Art in the Age of Mechanical Reproduction," seems to hover palpably over Gleick's analysis. Are there plasmic presences? Are there auras? No and yes. As Benjamin noted in the essay we all choked down in art school, auras are born from artifacts that derive power from ritual. And rituals require gangs of believers to endure. And most of us, wherever we locate ourselves geographically or metaphysically, happen to believe in something strongly enough to wring a little plasma from it.
So, Religion? Culture? Not so different from 38,000 feet above the earth. Both are terms ascribed to all those things we can't know for sure. And if you're familiar with Descartes, Montesquieu, Wittgenstein, Barthes, Derrida or even CNN, there's a LOT of things we don't and indeed can't know.
So what I've taken from 18 months of immersion in Wisconsin's more parochial precincts is that one person's "Light of Christ" might simply be another's frisson of energy evoked by a Richard Tuttle wire piece or a Donald Judd "Specific Object". Aren't we all looking for a little transcendence, never mind where we get it or what we decide to call it?
There's a lot of religion in a Tuttle and a lot of culture in a Lutheran pancake social.
It's funny when you can feel the antagonism about your remarks as soon as you utter them. Now is one of those moments. My friends are generally from the tribe that would side with the transcendence brought on by a great work of art, rather than a passage from the "Book of Job". Most of my acquaintances would probably claim that I'm making a false and probably dangerous distinction – the religious right influences politics, right? Indeed. They infringe on the civil rights of individuals because of a bunch of ghost stories in a book written millennia ago? Sure. They can't compromise because their truth is not based in reason, but in the supernatural, right? Sometimes.
But then again, I felt something like sacrilege eating a piece of candy that was only ever meant to be a metaphor. And it occurred inside the hallowed temple walls of an institution that kind of chooses to keep those metaphors hidden, and in turn, keeps their congregations beguiled and charmed, perpetuating the aura of the object. That institution has priests who anoint objects with quasi-spiritual value. They have groups that help to canonize object makers. Not as metaphor-makers but as spirits. They have rituals, liturgies and taboos. They have saints and they have sinners. They all contribute to creating cultural relics that are sold at auction for prices that dwarf that of the most sought after religious relics on earth.
So if it walks like a duck…
Felix Gonzales Torres might be my favorite artist in the world. And God or god or Donald Judd rest his soul, I don't think Mr. Torres ever wished for me to be spellbound by the aura of his art, only moved by the poetic truth it could impart by being an achingly wonderful metaphor for the sadness and confusion we all share in a world that overwhelms us.
So right now I will eat Felix Gonzalez Torres's candy as a metaphorical gesture recognizing the power of art over the supernatural and all that mystical plasma that charms us into thinking we have an answer of a higher power.
28 episodes of The Cultural Divide reduced to one wafer of truth.
Amen (ahem.)
---
"The fascination with monsters — that is, with human and animal oddities and hybrids — is as old as human civilization. Indeed, a history of the monstrous would constitute a veritable history of culture and civilization, for the monstrous marks the boundary of culture, where it shades off into nature or some other form of radical otherness against which cultural identity is defined. Though the discourse on monstrosity is wildly heterogeneous, this culture-defining property is constant from ancient Greek, Babylonian, and Roman reports of monstrous races to contemporary discussions of animal and human cloning, stem-cell research, and 'partial-birth abortions.'" from C.Cox's essay Becoming Animal 
Over the last several months, I have grown intensely interested in the relationship between humans and animals — this has, in no small part, inspired a number of interviews that have taken place on Badatsports. But  there has been a significant amount of bleed off into other areas of my writing, thinking and reading. As my research and interest deepens so does the seeming impossible task of defining, clearly and fixedly, the distinction between human and animal. A more interesting question begins to emerge, however:  how we do negotiate our own identity, and the identify of animals if such a differentiating border is impossible?
The question leads to subsequent  and necessary upheaval; our whole way of life as human beings is predicated on an ancient insistence of difference. Humanity considers it somewhere between the beast and the divine, yet we cannot define that difference with certainty. That insecurity has led to an insistent reiteration of human superiority. "However one interprets it, whatever practical, technical, scientific, juridical, ethical, or political consequence one draws from it, no one can today deny this event — that is, the unprecedented proportions of this subjection of the animal. Such a subjection can be called violence in the most morally neutral sense of the term and even includes the interventionist violence that is practiced, as in some very minor and in no way dominant cases, let us never forget, in the service of or for the protection of the animal, but most often the human animal."  (p.25, Derrida, The Animal That Therefore I Am.)
At the same time, our species shares a collective sense that we are capable of destroying, (no, are destroying) the environment by way of that very separate identity to which we cling. Our subjection of not just animals, but also the earth, our profound ability to produce waste (I sat in a class once where the professor singled out humanity as the "messiest animal") — an ability we seem incapable of controlling, makes the boundaries between human beings and "nature" impossible to support. Our sphere of influence underscores a deep and undeniable interconnectivity. Yet to accept, embrace, and work with such an integrated perspective requires a reorganizing a centuries-old hierarchy.
Certain artists face this predicament head on and make work about or around the upheaval of interspecies power dynamics. In an intriguing paper by Marie Laval-Jeantet, she describes her work with animals; under the moniker AOo, she and her partner Mangrin used prosthetic limbs, extending her neck to communicate with giraffes or wearing cat-like stilts to redefine her relationship with their cat. "It showed us the force of visual illusion which, irrespective of olfactory signs, was capable of transforming man into, if not exactly a deer, into a type of hybrid man-animal that was more acceptable to them [animals]" (Jeantet, Plastik: Art & Science).
In another instance, Natalie Jeremijenko created a series of sites that facilitate human/animal interactions called OOZ. Animals stay by choice, not because of cages. "OOZ is interactive  — it provides humans a set of actions, the animals provide reactions and these couplets add to a collective pool of observations. The human/animal interface has two components: 1) an architecture of reciprocity, i.e. any action you can direct at an animal, it can direct at you, and 2) an information architecture of collective observation and interpretation. OOZ addresses learning that reveals interconnections among complex natural systems and the ongoing political effect of changing someone's ideas about their role in the local environment." The first phase of the project is slated for the Netherlands, where humans can explore the possibilities of geese-communication. Here, they climb into a "goose chair" that communicates with a robotic goose on the water. By moving their body within the "chair," participants can manipulate the goose robot as it paddles through a pond full of geese. Meanwhile, pond animals learn to push certain buttons that will communicate phrases to human beings.

   

I read about Agnetha Dyck, a Canadian artist who has spent the last 14 years "collaborating" with bees to make sculptures. Through this work, she investigates interspecies communication. "[Her] research has included the bee's use of sound, sight, scent, vibration, and dance. [She is] studying the bee's use of the earth's magnetic fields as well as their use of the pheromones (chemicals) they produce to communicate with one another, with other species and possibly with the foliage they pollinate."
In each of these efforts, there is a sense that something might be learned from non-humans — furthermore, what might be learned is potentially personal, something that akin to the rewards of friendship wherein one is not simply a subject studying an object. Very likely suffer these interpersonal dynamics are prone to equivalent interpersonal complications.
What could this look on a larger scale? How might humanity's relationship to its environment change if it were to similarly give voice to the environment? At first glance Bolivia's Ley de Derechos de la Madre Tierre (Law of Mother Nature) looks like an exotic stunt. In December 2010, President Evo Morales presented a bill in which Bolivia granted Mother Nature the rights of a "collective public interest." Accordingly, Nature is granted the right to "not be affected by mega-infrastructures and development projects that affect the balance of ecosystems and the local inhabitant communities." This is another attempt to translate the environment into human terms. It's an effort to protect the natural world by giving it legal status. Individuals can become guardians of land in the same way that an adult might become the guardian of a child: protecting its human rights when it is unable to protect itself. Despite the initial sensation, the law is quite reasonable. Mother Nature is defined as "the dynamic living system made up of an indivisible community of all living systems and living beings, interrelated, interdependent, sharing one common destiny" (article 3). The implementation of "Nature's" right would curtail any singular self-determination in order to account for the impact one action might have on others. Corporate interest would have to accommodate local populations, which would also have to accommodate one another. The sticking point of the law is that, as yet, there is no built-in system to moderate the interests and impact of different groups. The inter-relatedness of self-determined capitalism goes dumb in the face of interrelation. Because much of Bolivia's GDP comes from the harvesting of its natural resources (and the fallout environmental destruction) it is both of utmost importance the Bolivia be at the fore of this popular reform; both its immediate livelihood and long term sustenance hang in the balance. Bolivia is a peaking reminder of our global situation.
---
There was a family in our neighborhood growing up and they always had the very same standard, gray poodle. It was always called Cooper and in every one of the family's Christmas cards, Cooper was present, represented at a variety of ages. You see because when one Cooper died, the family procured another, younger, gray poodle puppy, to whom they bestowed the same name. While each generation of Cooper possessed its own distinct characteristics — one more playful, another a nippy grump, another dedicated to one family member alone — over the course of time, and in the collective family memory, all Coopers blended together into an amalgam that was difficult to parse. People also clone pets (a more expensive means to the same end, perhaps) and here too an underlying question of "I"ness comes up which I find particularly interesting — especially when linking to last weeks' interview with Mary Jane Jacob and ideas of the Buddhist non-self, or even before that, the possible identities of objects, as described by João Florêncio. To further investigate ideas of self, I asked Meredith Kooi, an old friend who recently moved to Atlanta in pursuit of  a PhD. She is also the editor for Radius, an experimental radio platform based in Chicago and has a forthcoming paper in Contemporary Visual Studies Reader (Routledge). Her writing was also published in ASPECT: The Chronicle of New Media. We do not talk about the identities of others, however. Instead we talk about what constitutes the self and how autoimmune flare ups might discourage a cohesive understanding of "I."
Caroline Picard: How do you conceive of the self? Is it singular? 
Meredith Kooi: To answer your question, "How do I conceive of the self?" I need to clarify that I am not referring to anything necessarily related to "identity." In a previous work of mine from 2008, a zine called Clearing the Clutter: Losing the Self to Greener Pastures, my introduction included a list many different ways I could name my identity.  At the same time, I tried to distance myself from all of those identifying nouns. The piece fell short, though, because it did not address  some sort of transcendental self, some sort of essential essence that each person is and has. At the time, I was highly influenced by yogic philosophies of self, accounts of a self are inclined toward the sacred. I can't and don't know how to deal with them particularly at this moment. Maybe I'm too ignorant and cynical, not enlightened. I am, however, intrigued by the view that the entire universe exists within the self; this might be related to the microbiome in some way. But at the same time, there are these binaries used to explain the workings of the world. I'm not so into these binaries exactly, even though there is the notion that these are constantly in interaction with each other and need each other to make a whole.
My particular interests in notions of the self for the past few years have stemmed from experiences of autoimmunity. An autoimmune disease is one in which the self, meaning the patient's body, doesn't recognize some part of itself. It treats that part as if though it were a nonself or not-self, as other material foreign to the body: bacteria, viruses, identified cancers, and etc. My interests in this experience lie in both the biological/physiological processes of the autoimmune disorder and the way the patient internalizes and describes this condition to herself. I ask: "When the body treats itself as if it were not itself and works to 'destroy' it, what can that mean for the patient's understanding of self? Can there be an understanding of a whole, intact self?" These disorders have been historically psychologized and described as a result of not knowing oneself, one's enemies or friends, and one's role in the social order. This has led me to question broadly what is "self" and what is "other" in order to understand what these disorders have meant, mean presently, and can mean in the future.
The philosophical tradition of self and Other is rich and long; I am still working through a number of different schools of thought on the subject. I can't just align my thoughts with any one particular approach. There are important aspects from each that I've adopted in order to gain a better understanding of self, Other, nonself concepts. Jacques Derrida's writing on autoimmunity has been particularly influential for my thoughts on the relation between self and other, and leads me to wonder about the political nature of the autoimmune as it relates to the im-possible: that which "must remain (in a nonnegative fashion) foreign to the order of my possibilities, to the order of the 'I can' … of an unforeseeable coming of the other." (Derrida, Rogues, 84). However, in this "event," what does it mean for the self to present itself to the self as the other (a mouthful I know); as the "irreducible and nonappropriable différance of the other"? (Derrida, Rogues, 84) This formulation ultimately leads to questions of ethics and responsibility, which is also important to how I conceive of the self. And this kind of throws a complication into the mix of Emmanuel Levinas's ethics perhaps: where the Other that confronts us as Other is really one's own self. Though, I am not totally sure of this position, and won't try to pretend that I am.
So, to answer your question in other words, no, I do not conceive of the self as singular, though this is not necessarily related to multiple identities or hybrid identities. I believe there is a multiplicity of selves inherent to the self, and I arrive at this through a consideration of autoimmunity and the practice of making images, photographs, that I believe have an autoimmune logic worked into them. This intersects with my interests in the artistic and philosophic tradition of mimesis as well, but maybe that is for another question!
CP:Â Can you give some examples of works that possess an autoimmune logic?
MK: One way I've been thinking about autoimmune logic is through what I call an "autoimmune aesthetic," which in itself functions on multiple registers. Recently, I gave a conference paper titled "An Autoimmune Aesthetic," where I discussed the history of representations of disability, disability photography. The photographic work I am making currently comes out of that history. My photographic series titled Blurs/Blears (2010-11) is trying to "represent" autoimmunity without simply showing the audience an autoimmune body. Instead I'm aiming towards an affective register of autoimmunity through other spaces and objects, and I'm wondering whether a non-figurative image can in some way speak to the autoimmune condition. This would be one way of thinking about an autoimmune aesthetic: does the image itself have an autoimmune disorder? How does the content of the image express autoimmunity?
During an autoimmune flare, I argue the self and the body experience estrangement: the self from the self, the body from the body, the mind from the body, and etc. Strangely enough this has led me to Russian Formalism and Viktor Shklovsky's concept of ostraneniye, or "defamiliarization." I hadn't anticipated engaging in a formalist conversation at all, but in turning to abstraction in order to represent the disabled body, it seems like some of those ideas would be important. The form and structure of the work talking to each other in some way.
This is also extremely important to my ideas about mimesis – the philosophical concept of imitation, representation, resemblance… I see the relation between the original and copy in a similar way to the self and nonself. In the making of this series of photographs, I paid attention to the relation between the series in terms of what could/would be called the "original" image and the methods by which I "imitated," "copied," or "represented" it subsequently (excuse the scare quotes – I guess I'm pointing to some sort of distrust I have with these words). However, I'm not sure I can even call the first photograph the original because the body, my own body, my previous photographs of my own body, may be the original (but then this is also a complicated statement to make since that previous work came out of my research on the British socialist-feminist photographer Jo Spence's phototherapy work). This is another register of the autoimmune aesthetic: a particular attention to the mimetic activity of image-making that recognizes doubles within itself. I'm questioning whether the self experienced before an autoimmune flare or during remission is some sort of original self, both in terms of biology but also psychical understanding of one's bodily and mental states. (Further complicating this notion, however, is the microbiome: the microorganisms that inhabit the human body. I like to think of the microbiome in terms of estrangement and the shower bottles that inhabit my space: Untitled #1, Blemish #1, #1). The process of making these images is important to my notions of autoimmunity, mimesis, and the connections I see between them. What tools from art, literature, and philosophy can we use to think about autoimmunity, the autoimmune body, and the autoimmune experience? Do we necessarily need to see bodies to understand an autoimmune affect? Is it all a question of biology?
However, with that said, the autoimmune aesthetic does not necessarily apply only to illness, the body, or even visual art. Political notions of immunity and general theories of subjectivity are also important to the autoimmune aesthetic and the understanding of this condition. Autoimmunity isn't limited to the particular pathological occurrence in the body, and so thus, I don't see its representation being limited to a picture of a body, my body.
To give an example of another work that has an autoimmune logic: the play Helen by Euripides. The interesting thing in this play for me is the double Helen; she was the one who actually went to Troy while the original Helen was cast off and didn't go. I see the notion of the double in some way being related to the autoimmune and an autoimmune aesthetic as well. A double self perhaps. Or, Gertrude Stein's "Melanctha" in her book Three Lives. Literary texts have so far been my go-to in my formulations of an autoimmune aesthetic and the autoimmune writ large, and I attempt to take these ideas to image-making.
CP:Â  That makes me think about time, too: like somehow the idea of self is not only fluid in the present, but must also fluctuate over time (what your autoimmune "flare up" seems to suggest). Do you then have to address the idea of continuity somehow? And consciousness? On the one hand you're suggesting that an "I" exists, but that its bounds might fluctuate. Something endures, ("I") but that that thing is very much tied up to an enduring consciousness/sense of self. How does that work, for instance, with Battle Star Galactica (to use a concrete example) where the robot recognizes itself as human, having no recollection of itself as a robot?
MK:  Interesting that you mention Battlestar! (I forget if we've talked about it before…) I just worked on a paper titled "The Cylon's Body: Image, Imitation, Clone, Auto-antibody" that was about the figure of the Cylon, particularly Sharon "Boomer"/ "Athena" Valeri (in the Re-imagined Series: 2004-9), as a manifestation of a potential intersection between mimesis and autoimmunity. Obviously the show doesn't explicitly bring up autoimmunity, but I see the fear of the hidden and dangerous internal body within the overall body of the Colonial Fleet as an auto-antibody – a sort of "rogue" antibody the immune system creates that targets the body's own tissues.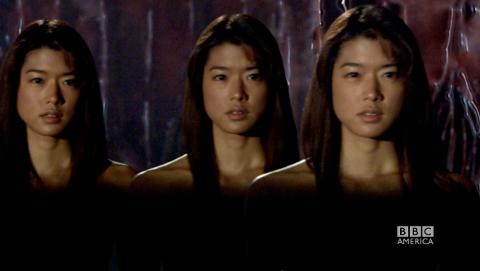 The case of Boomer and Athena is interesting because through an act of violence — the shooting of Colonel Adama — Boomer discovers the nonself. This nonself doesn't necessarily need to change the already perceived self, but in the show, Boomer is cast as a terrorist and is predetermined as non-human, fully Cylon. Athena, on the other hand, knows she is Cylon, but decides to act "human," thus conferring upon her the status of human; she is ultimately accepted as such when given the pilot call name Athena. The characters come into themselves through the relation to others; to quote Bakhtin (he's on my mind a lot right now): "The hero's attitude toward himself is inseparably bound up with his attitude toward another, and with the attitude of another toward him. His consciousness of self is constantly perceived against the background of another's consciousness of him – 'I for myself' against the background of 'I for another'" (Bakhtin, Problems of Dostoevsky's Poetics, 207). What becomes interesting for me here is the relation between "another" and "nonself." In the case of the two Sharons, the "I for myself," the question of human or Cylon, is bound not only to their own attitudes about their status of human or machine, but the attitudes of the rest of the Fleet. This is not to say, however, that their status/selfhood is determined by the rest of the Fleet.
This idea for me is also tied to Karen Barad's, a feminist physicist-philosopher, notion of intra-action: that entities are co-constituted through their intra-action with each other, as opposed to an interaction which presupposes their already being discrete objects. This has resonance in the development and functioning of the immune system. Immunology has gone through major developments since it's inception, and one idea that has been of focus is the recognition of self and the formation of antibodies: is it through the confrontation with the nonself that the self learns what it is, or is the self an already existing entity? How does this question translate to broader questions of selfhood? The relation is important, in terms of both biology and the broader conversation, but I don't necessarily want to go so far as to say that the self doesn't exist without the nonself, though I am floating this idea. I'm not so sure if the self is a vacuum or has an essence, and, to be honest, the idea terrifies me. Part of me wants to claim that the self is only constituted in discourse, or in power relations, or doesn't really exist. Part of me would like to believe that there is a continuous self that has an essence. I think that both of these options, however, may be too simple (they may try to answer something essentially unanswerable).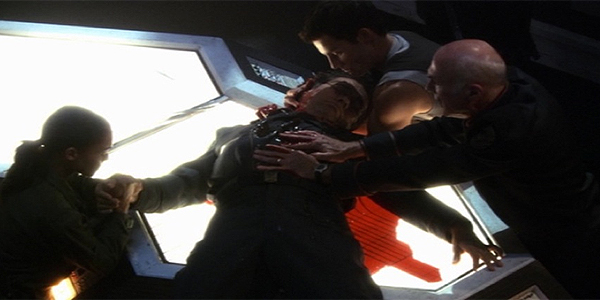 The temporality of this identification/consciousness/awareness is also important. The event of the shooting of Adama, or the event of an autoimmune flare, is a particular assemblage in time and space that demands action, a response, an explanation, a conceptualization. My thoughts currently are that the noneself presents us with a radical other to ourselves that is really the product of our own selves and bodies. When our own biology can't recognize itself, what can that mean for our self-definition? I'm not so sure I would use the word "fluid" to describe the sense of "self" or self-definition I'm trying to get at; however, I do like the sense of movement that it suggests. The self and the relation of the self and the nonself is subject to time, but fluidity implies an easier transition between states; my focus as of late is violence and pain, which I wouldn't claim is necessarily fluid … though maybe…
CP: I am struck by the appearance of a "hero" in our conversation. I can't help feeling like there is something old fashioned about a hero — perhaps because the hero-as-archetype feels so fixed, a static (and singular, enduring) identity…even the way you talk about the body, you imply an active interior life that you're trying to reconcile with a singular, external appearance/action. But you also mention the idea of an assemblage, and it seems to me the singular self could just as easily be framed that way: as a conglomerate. Isn't a "hero" at odds with an assemblage?
MK: The idea of "hero" I mentioned earlier is in the Bakhtinian sense of hero that he draws from Dostoevsky's works. The hero isn't a static entity created by the author; the hero herself/himself has a self-consciousness that exceeds the author's intentions or power position. Think of the Underground Man in Notes from Underground in particular. Bakhtin writes in Problems of Dostoevsky's Poetics: "The hero interests Dostoevsky not as some manifestation of reality that possesses fixed and specific socially typical or individually characteristic traits, nor as a specific profile assembled out of unambiguous and objective features which, taken together, answer the question 'Who is he?' No, the hero interests Dostoevsky as a particular point of view on the world and on oneself, as the position enabling a person to interpret and evaluate his own self and his surrounding reality. What is important to Dostoevsky is not how his hero appears in the world but first and foremost how the world appears to the hero, and how the hero appears to himself" (47).
This conception of the author/hero (character) relationship really intrigues me; I see this relation as a way to get at the autoimmune. Some of the prose writing I've been doing the past couple years or so tries to approach the dialogic relationship Bakhtin describes, or at least extreme self-consciousness. I'd say that Danielle Dutton's prose novel S P R A W L does this as well. As for visual art… in some way Felix Gonzalez-Torres's Untitled (Portrait of Ross in L.A.) does this. There is obviously a dialogue occurring between the piece and the audience, but within itself, I think there is some sort of internal dialogue; perhaps a hyper-awareness of self, body, and consciousness. The relations between the body's self and nonself is important to the piece too, especially in terms of the immune system's functioning during the condition of AIDS (let me mention that in immune system discourse, AIDS is a very prevalent concern; one complicated aspect of my research is acknowledging this literature and condition, but not conflating the autoimmune with immune deficiency – there are, of course, important political stakes and implications to address in this).
CP: I suddenly feel like we are talking about mortality: the absurdity of an end in being, how death-as-an-end is impossible to conceive. An autoimmunity flare up would be a parallel disruption perhaps, a kind of minideath, wherein the self cannot recognize itself. In that case, isn't the discussion located in continuity?
MK: I agree with you that maybe conceptualizing the autoimmune flare as a "minideath" could open up some space (interesting, too, how the "minideath," la petite mort, is used to describe orgasm – the jouissance and the experience of losing oneself – which Roland Barthes talks about in terms of reading literature…). However, I also hesitate with the term "minideath" if it is too dependent on notions of disruption. This would have a lot to do with the way death as an experience is conceptualized temporally: I don't exactly want to place it within a continuity per se, but I also don't want to categorize it as an ultimately disruptive event that separates time into discrete units (this would bring up issues of ghosts and specters, and I just don't have the competence to deal with that at the moment). Though to me, continuity suggests that there is some essence that endures even through what would be called disruptions. I wouldn't say this is exactly the case with how I'm trying to think about the configurations of self and nonself. If we think about that in terms of continuity, it seems that there would be a privileging of the self that is interrupted by the nonself, or vice versa, and I would rather not give one priority over the other. For me, the two are co-constituted and emerge through their intra-action. It is tricky to give this sort of movement continuity or linearity, though I realize that denying all continuity has its own important implications as well…
I feel that I haven't been able to sufficiently describe what I mean by the relation of self and nonself. I myself am frustrated at this moment about the condition of autoimmunity. I have a desire to say it relates to Derrida's notion of différance, but that term itself is, I think, so hard to deal with and I feel that there is a great potential to get stuck in some sort of tautology if I go there at this moment. How can we think about the autoimmune as a condition that is resistant to a synthesis of oppositions, and is in itself only difference? That is where all senses of continuity get lost on me and I fall into the nihilistic trap… which I don't want to do. I'm neither trying to say that the self doesn't exist, nor do I want to pronounce that it exists exactly…
---