Make sure and check out the Chicago Tribune today for an article about Deb Sokolow's current residency project with Daniel Boone Elementary School, which is part of Chicago Public School's "Crossroads" program. Sokolow is helping 3rd, 4th, and 5th grade students create a wall mural that will become a permanent part of the school's hallways. As is typical for Sokolow, the wall mural will contain a combination of text and images that tell the story of the school's 80 year history in an idiosyncratic and detour-laden fashion, including, for example, an account of the 1932 murder of Mabel Chenoweth, a woman who owned a candy shop a block away from the school. Read more
---
Here's our midweek summary of this n' that and other chit-chat happening in the world of art and beyond.
*Keith Olbermann gives Christopher Knight "Best Person in the World" status for pointing out potentially communist imagery in right-wing Tea Party poster art.
*Was overzealous corporate art collecting partly to blame for Lehmann Bros. fall? Former Lehman trader Lawrence McDonald speculates that indeed, it was, in his new book about the investment behemoth. Artnet fleshes out the issue in its latest report.
*Bill Viola rejects Vatican's invitation to a summit "aimed at bridging the gap that has developed between spirituality and artistic expression over the last century or so," reportedly because Viola disagrees with many of the Catholic Church's policies. No word yet on whether artist Robert Gober was invited, and if so, whether or not he'll attend.
*If you haven't already been following this issue, this L.A. Times article provides an excellent one-stop summary of the current controversy arising from the Obama administration's alleged attempts to "politically manipulate" the NEA and, by extension, the arts communities it serves.
*Tyler Green writes in defense of blockbusters, following Holland Cotter's article in last weekend's NYT calling on museums to "rethink the blockbuster phenomena."
*Wanna know what the Art Institute is deaccessioning this Fall? Read Green's roundup of what they're hoping to sell, here.
*Four Andy Warhol prints of famous sports stars stolen from Richard Weisman's L.A. Collection.
*Annie Leibovitz finally reaches an agreement with her creditors.
*C-Monster elegantly takes the piss out of Bruce Nauman's "LEAVE THE LAND ALONE" skywriting installation.
*Bob Dylan to exhibit nearly 100 of his paintings in a 2010 solo exhibition at the National Gallery of Denmark in Copenhagen. An example of Dylan's work heads this post. How will they stack up to Joni's, I wonder?
*Chicago artist and BaS fave Deb Sokolow interviewed in Beautiful/Decay magazine.
---
Hey look — a remake, or rather, a remix…or maybe it's more like a reinterpretation…or an 'enhancement'?? — of The Way in Which Things Operate, Deb Sokolow's large-scale drawing that was recently exhibited at the Spertus Museum. Whatever you call it — I kinda like it! The video is nicely edited, the voice characterizations are silly and great, and it plays up some of the inherent cinematic qualities of Deb's work. And of course, it was all done in fun, and with the artist's permission — in fact, the guy behind it is none other than Deb's cousin (who goes by the moniker Squirehogg on YouTube — sorry Sir, I couldn't find your real name anywhere to credit ya properly!).
I love the idea of a family member being so inspired by Sokolow's piece that he wanted to create an ancillary work to show how much he loved it. The audio track production reminds me a teeny bit of the hyped-up comic noir audio riffs Joe Frank was doing for So Cal's KCRW way back in the day.
Sokolow was interviewed on Episode 201 of the Podcast. Give it a listen if you haven't already! (Via Windy Citizen).
---
I had the opportunity for a brief (and I mean super quick) walk through with co-curator Rachel Kalom of this show this past week. It opens tonight, and it is definitely worth checking out. I harassed Rachel with some questions about co-curating a show, and will share those answers and some pics from the opening later this weekend. From the press release:
Zolla Lieberman Gallery proudly presents a group exhibition addressing art making in an era of tightened belts and pinched pennies. Curated by Brian Gillham and Rachel Kalom and with works by Sarah & Joseph Belknap, Tom Berenz, Michael Cheatwood, Garrett Durant, Lucia Fabio & Robert Andrew Mueller, Shannon Goff, Nadia Hotait, Natalia Ivancevich, Sam Jaffe, Mark Khaisman, Austin Knierim, Jessica Labatte, Jesus Mejia, Phillip Orr, Vijay V. Paniker, Miriam Slager, Deb Sokolow, Katherine Webb and Jake Wells.
Opening reception: Friday, June 19th, 5-9pm
Zolla/Lieberman Gallery
325 W Huron
Chicago, IL 60654
www.zollaliebermangallery.com
zollalieberman@sbcglobal.net
---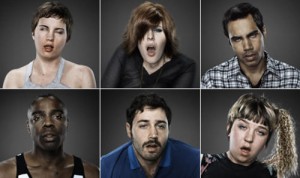 Special Art PrOn Edition!!
*Visitors to the Art Institute have a jaywalking problem (Chicago Tribune).
*Getty Research Institute to close Bibliography on the History of Art (BHA, IBA) (via CAA news).
*NEA Survey indicates arts audiences getting older, scarcer (er, more scarce) (CAA News).
* Top ten best Star Wars architecture. The comparisons to real-life buildings are fascinating. (via Culture Monster).
*Shady deal: Orange County Museum of Art sells much of its plein air painting collection to a private collector. Read about it at Culture Monster and Modern Art Notes.
*I like to watch: Robbie Cooper's Immersion: Porn (via boingboing).
*More pr0n: Russian Art Collective Voina (WAR) stages controversial exhibition (via boingboing).
*Even more pr0n!!: Highlights from the World Air Sex Championships (The XX Factor).
*Students design exhibitions that get people to talk to each other (talk! as in, 'in person'!) (via Tomorrow Museum).
*The drawings of Chicago artist Deb Sokolow featured on Beautiful/Decay.
*You are what you Tweet: Twitter Psychology Profiling (via Avant Chicago).
*Writer Dave Eggers tells those bummed about loss of print to buck up.
*Justin Wolfe at songsaboutbuildingsandfood covers Freebird, and it's lovely. (Thanks to Art Fag City for linking to this blog a few weeks back — I've been hooked ever since).
**(Image Credit: Robbie Cooper's Immersion: Porn).
---