The great part of the Art World is that it is in constant flux and endless energy. Artists and other members of the community create more commerce, impact, reach & community with $100 then most corporations can do with $1,000. The Art World cleans up and resets urban landscapes, moves when the price gets too high and then does it all over again. Lower Manhattan is a testament to the Art world and not anything City Hall has singlehandedly done. Yes there are aspects that can drive you mad; as in the endless herding of cats, debating fringe points of view that even Fox News would balk at and the deep seated hatred/fear of money or success. That said though, I would take a smart art world person over a smart MBA any day of the week. Ideas come and go but drive and tenacious originality/agility makes them a reality. Vegas was once a dream like that.
For good or ill there was once a dream to make Las Vegas an art capital. To make what was already a destination place for many into something that would include an art & culture discussion. During the time of the drive to reinvent Las Vegas as a family friendly, high culture venue, many casinos built collections and galleries to showcase great works for a small admission fee. Years later that proved to be a dead end. People didn't want to pay to see works that were not of the highest order of notoriety while in Vegas and even fewer would make the trip with that as a priority. The casino's multi-million collections now adorn the check-in areas and the galleries are reconstituted for other uses. Interestingly enough once again the poor artist comes along and is renting out the space to work in for later exhibitions in LA. You can read more here.
All in all though that is the Art World every day and the Business world every fiscal quarter. You dream what could be, do as much preparation as possible, swing smart and hard and hope at the end of the day you get your investors more then they paid and build an core infrastructure that can grow into something more. Something better.
You go out swinging every day, hoping that you can find that one idea that is better then the rest and you can gladly spend a lifetime building into something that brings joy, growth and money to all who enter it. You suffer the pain, the failure and the missteps knowing that she is out there just waiting to be found, that opportunity to plug in your skills and view with the needs of the community. Thats why we do this every day, that is the art world where dreams die daily so that other, better ones, might take their place for us all.
---
---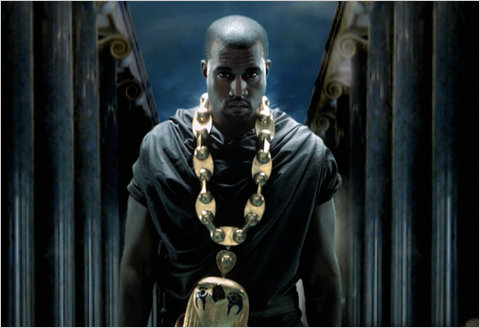 Power
The economy may be turning around again (what is it is now, the third time in a year or fourth?) but the Art world seems to be talking about nothing but death & loss.
First off you have the well publicized and it seems anticipated Kanye West music video for his single "Power" which is being described as "apocalyptic" "dark, personal conflict" & "beautiful death".  With the video directed by artist Marco Brambilla who has a habit of creating work with a strong bent towards monolitic, time lapse laiden video art with a dark dramatic stuttering low light quality it will be interesting to see how it turned out.
Audio clip: Adobe Flash Player (version 9 or above) is required to play this audio clip. Download the latest version here. You also need to have JavaScript enabled in your browser.
For me music videos have been on kind of a artistic hiatis since Chicago's own Mark Romanek moved to feature films. It seemed his departure timed well with the crash of the industry and music videos have been on a healthy but slow DYI recovery since then largely.
Requiem for Kodachrome
Kodak has been singing the executioners song for Kodachrome slide processing for some time but the last roll was made a while back and given to the well known photojournalist and National Geographic regular Steve McCurry. That roll is currently being processed in the sole remaining processing studio Dwayne's Photo Service in Parsons, KS. What will it have on it again no one know but if it is in style with the current visual theme for 2010 it will have a skull in it (skulls have been everywhere since Art Basel Miami Beach, more things change the more they stay the same). Read more here
Ellen Bows Out Of American Idol
I don't watch the show personally but I do know there are two things the art wold in general loves to do. One, bemoan the pointlessness of "Work of Art" on Bravo (as if an art reality competition ever had a hope at quality or legitimacy? seriously?) and Second talking about American Idol (two years ago it was Mad Men but no one seems to remember that show now?). So now that Simon has left Ellen is not reup-ing for a second year. Rumor is J-Lo will be on the table Read more here
That Dark Shadowy Figure Caravaggio Keeps Getting Press
For the last three years Caravaggio (who I admit I do love) keeps getting press touting his mastery and forward thinking when it came to composition and cinematic intimacy now is no different. Read more here
Jewish Art Gallery Puts On Crucifixion Show
[insert outrage here] garnish with 28 works by artists such as Tracey Emin, Duncan Grant, and Lee Miller Read more here
Ansel Adams Estate Fights Man Who Bought Negatives At Yard Sale
The estate of Ansel Adams (Adams' grandson Matthew Adams)Â contests that negatives are almost worthless unless the hand of the artist is used to make prints, so basically by that logic art restoration damages work since even though it continues the outline set by the artist it is not the true hand of the artist. Glad to see Matthew Adams isn't sour or anything. Read more here
---
Time like Ming the Merciless, tyrant of the doomed planet Mongo, catches up with everyone and not even Flash Gordon can rescue you from it's clutches. Al Williamson the Artist that helped bring more comic characters to fame then you can count passed away Saturday June 12th in upstate New York, his wife, Cori, recently released. He was 79.
Williamson the milti award, two time Eisner award winner (1996, 1997) worked from the 1950's steadily till his retirement in 1999 illustrating everything from Flash Gordon to Secret Agent Corrigan to what personally was my first comic his work bringing Luke Skywalker to the illustrated page. If Williamson wasn't making some of the best penciling even before there were such companies as Marvel or DC Comics he was inking the work of other great artists like Jack Kirby. While other artists were thinking about shadow, volume and representing the human figure in dramatic 2d space (even Kirby who's early work when compared to Williamson is dramatically different) Al Williamson was executing that with unparalleled skill and complex sensitivity.
"He was one of the more sublimely talented artists to work in mainstream comics, His men were handsome, his women were beautiful, and the landscapes he drew — alien or westerns or battlefields — always seemed lushly authentic. He made panels you could lose yourself in."
said Tom Spurgeon, editor of the online magazine Comics Reporter.
Alfonso Williamson born March 21, 1931 in Manhattan, one of two children of Sally and Alfonso Williamson. His Scottish father, was a citizen of Colombia, and soon after his son was born the family moved to Bogotá.
At the age of 9, his mother took him to his first movies which he saw a chapter in the "Flash Gordon Conquers the Universe" serial, was sold and immediately started sketching scenes from memory when he got home.
The family returned to New York when Alfonso was 13. He took classes at the School of Visual Arts (then called Cartoonists and Illustrators School in Manhattan), and was later hired by EC Comics.
Mr. Williamson's first wife, the former Arlene Sattler, died in 1977. In addition to his wife of 32 years, the former Cori Pasquier, he is survived by his sister, Liliana Gonzalez Williamson; a daughter, Valerie Lalor; and a son, Victor.
Al Williamson was a pioneer in countless ways in defining comics as we know them today and will be greatly missed.
---
Getty Trust President and former Art Institute of Chicago Director James N. Wood died late Friday night of natural causes. Mr. Wood, age 69, was reportedly in good health and his death was unexpected. Board chairman Mark S. Siegel announced Saturday:
We are deeply saddened to announce that J. Paul Getty Trust President and CEO James N. Wood has passed away suddenly of natural causes.

Jim was internationally recognized as a leader in the arts. His passion for the visual arts and quiet, yet firm leadership were a perfect fit for the Getty. We were able to entice Jim to come to the Getty out of retirement, after 25 years as the head of the Art Institute of Chicago, and in just a little over three years under Jim's leadership, the Getty moved forward in significant ways toward a renewed and strengthened mission.

Jim valued collaboration, and he reinforced that value at the Getty. Working with the Board, Jim led a strategic planning process that emphasized ways in which the Getty's four programs could work together to further enhance the institution's already strong worldwide reputation. He also saw the Getty as a catalyst to encourage Los Angeles' many outstanding visual arts institutions to collaborate, strengthening our region's stature as a major cultural center.

He was a private man, who acted with great kindness, strength, and dignity. The Board and the Getty's entire staff mourn his loss, and we extend our deepest sympathy to Jim's wife, Emese, their daughters Lenke and Rebecca, and their families.

Wood served as director and president of the Art Institute of Chicago from 1980-2004, after which he retired with his wife Emese to Rhode Island before his appointment as President and CEO of the J. Paul Getty Trust in December 2006. He assumed his position as CEO in February 2007, after an extensive search conducted by the Board of Trustees.

Prior to directing the Art Institute of Chicago, Wood was the director of The St. Louis Art Museum (1975-1980), an adjunct professor of art history at SUNY at Buffalo and associate director of the Albright-Knox Art Gallery in Buffalo, New York. He also held positions at The Metropolitan Museum of Art in New York. Wood sat on the boards of the Sterling and Francine Clark Art Institute, the Institute of Fine Arts at New York University, the Harvard University Art Museums, and the Museum of the Rhode Island School of Design. He was also president of the board of the Pulitzer Foundation for the Arts.
Wood, 69, received his B.A. with honors in Art History from Williams College in Williamstown, Mass. and his M.A. from the Institute for Fine Arts at New York University. He also holds a diploma from the University for Foreigners in Perugia, Italy. Wood's areas of specialization included European paintings and sculpture of the 16th to 20th centuries, American painting and sculpture of the 19th to 20th centuries, and photography.
Arrangements are pending.
---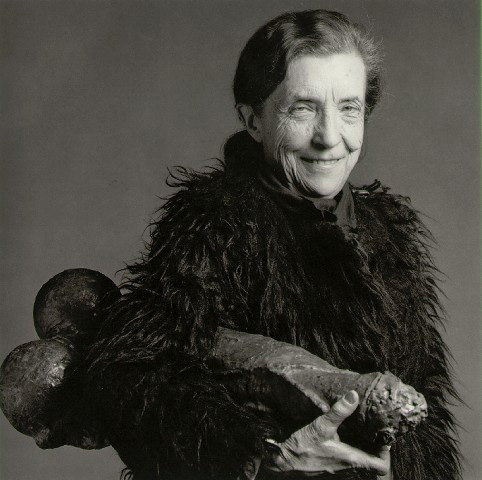 Louise Bourgeois passed away Monday in New York's Beth Israel Medical Center at the age of 98 two days after a heart attack.
Her collection of work is widely known, diverse, fun and she will be missed.
Louise who was inducted into the U.S. National Women's Hall of Fame in 2009 is survived by two sons, Alain & Jean Louis, as well as by two grandchildren and a great-grandchild. Her husband and a third son, Michel, predeceased her.
---