by Autumn Hays
Considered to be one of the most renowned performance artists, Ron Athey began his works in the 80s. They are notorious for including aspects of S&M culture and it's relation to the AIDS crisis. Athey's iconic pieces focus on a wide range of subjects including sexuality, religiosity, trauma, gay identity, loss, illness and ritualism. Raised with the expectation that he would become a Pentecostal minister, and after running away to L.A. and coming of age in the milieu of the punk rock underground, Athey's work grew out of a complex performativity that still informs his art practice today. In 2013 Ron's first book dedicated to his work was published entitled  Pleading in the Blood: The Art and Performance of Ron Athey, edited by Dominic Johnson. The book includes writings by peers and scholars such as Guillermo Gomez-Pena, Antony Hegarty, Robert Wilson, Lydia Lunch, Bruce LaBruce, Amelia Jones, Jennifer Doyle, Homi K. Bhabha and others. At the start of February, Chicago was host a legendary performance artist, Ron Athey visited Chicago. I was lucky enough to attend his performances, lectures and snag him for an interview. Here are some excerpts from our discussion.
—
AH: How it feels to be back in Chicago?
RA: I think I had more pre-anxiety about coming here, memories of staying here with Lawrence Steger and doing things with him. I was shocked and went into the shivers from the cold when got off the plane, not wearing long underwear. It's not like London is warm, it's moderate and miserable there. Where as here needing many layers, I dig it.
AH: Tell us about he last time you were here and the last performance you did.
RA: I had to look at my own notes, I was here twice in '99 doing Solar Anus so at Hot House and at Chris Kellner's gallery Hook Torture and I hadn't realized I haven't been here since then.
AH: Yeah it's been a while
RA:Yeah, I mean climates change. Randolph Street Gallery closed and all those places I would have went back to.
AH: I've actually been through the Randolph street archives and have seen videos of your work there and you really could feel its loss once it was gone here. I am interested as you are here working with Defibrillator a newer performance space what are the correlation and difference between these kinds of spaces in this new kind of art climate?
RA: I think it just takes energy to make things happen. It's not really that the climate is any different. A lot of spaces with the same history as Randolph Street that go back to NEA funded times, but really even before that these are artist run spaces and they don't, move with the times. So there was this gap and it takes someone high energy like Joseph (Ravens) to get people to work together. I mean even for these pieces I am doing this week and that he realized that Defibrillator itself would be a crunch and he found the right place off site, this is another way of working the art space because the space is so important. Some pieces I feel like I don't want to be in a place that shows work, like you know this site specific thing becomes a more neutral space than that black box or white wall hygiene kind of space.
AH: Your work is very versatile where you can perform in a lot of different kinds of spaces. I mean you can do that black box theater, the white-walled gallery, you can do performance art spaces or even S&M clubs so you have a versatility in where you can perform and also a little bit in your performativity, you engage various kinds of performance. What's the difference in working in these spaces? Is there a benefit to being flexible?
RA: Well, I wish I could still perform in clubs still, but I did evolve out of that scene. That allowed me to workshop before even any idea of funding to make the gig possible came up. For some pieces I think I might be precious about it being there. I tend, since I started doing the self-obliterations, I like being in with the audience. For the most controlling side of me, a perfect black box with the floors freshly painted and super duper lights, because you're not fighting the white wall sucking the light out from one minimal light that happens to be shining. It's a more controlled situation and I do work in lighting illusions and those sorts of things. So that's if I'm being precious but it's not necessarily the best feeling, the way I feel interactive with the audience or the space. But I think to get away from those white gallery walls I did start staging pieces in the middle of the room so that the people are the frontdrop and backdrop. You know I don't come out of this tradition of thinking of live art as an extension of gallery, my work doesn't come from there, I fully understand work that does but I'm not so keen on this… of course I love the perfect image, the perfect photograph but that's not the work. I'm always concerned with how many cameramen are in there. I thought we were watching a work.
AH: Especially nowadays with camera phones it's interesting to have that camera lens constantly there.
RA: I think you have to think about what you are not experiencing while looking for that shot and also, do you care about the work, or are you just documenting your own life?
AH: So we touched on your definitions of live art and performance art. There are always different definitions. What are your thoughts on that?
RA: I think you get this polarization. This is the gallery school, and this is the theater school, but actually my background was through the Pentecostal church, particularly woman evangelists who did illustrated sermons starting in the 20s with Amy Semple McPherson, who built Angelus Temple in Echo Park and later Miss Velma (Jaggers) who built the jeweled altar from the Book of Revelations and who would appear as the whore of Babylon swinging in on a crescent moon using all the 70s technology, like the echo box, strobe lights and fog machines. So, performance art is this other type of sacred theater without the belief system in it. In abstract terms I might still use a thing like the audience is the witness, and its not about second guessing what their boundaries are, what they will experience, what they come in the door with. It's impossible to know. It's a mix of things, which is what it should be.  Also it's about what mode you are in. It's obviously not acting, so it's just full of these triggers to go into, not an altered state where you look like your fitting or asleep but some heightened state. I like art that rides a line between art and not art at all.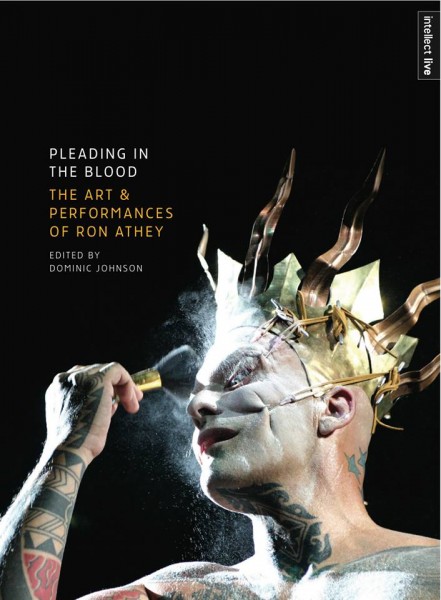 AH: I was wondering if you could tell us more about your book, "Pleading in the Blood", and your process of making it.
RA: To start out with the book, you have to open archives that you didn't even know existed. And here is where I have to give some kudos to social media. I am very linked in to people in LA, people from the late 70s and early 80s Goth and Punk scenes. So I was able to come up with materials, confirm dates, and stories through there, and then track down the photographers. All I ever had was the newspaper, the tabloids, the rough printed images, Xeroxed and scanned, you know that kind of thing. And then I started getting closer to the source of the original image. It felt like I was perusing someone from a David Lynch movie, you're in a hotel room with seven 5by7s in a brief case. So you track that down and try to flesh out some of those stories, which is a harder period for me to flesh out. And working with Dominic Johnson who is a young academic at Queen Mary University, London. He was clear about what heavy academics who we liked in common, but I was clear that I didn't want it to be one of those artist books with three academic essays in it and lots of pictures so that no one ever, except for people in school, ever read the writing because its inaccessible outside the bubble. I wanted to give it a testimonial voice not just an academic one.
AH: Do you have any advice for younger artists attempting to learn the craft of making performance art?
RA: The key element of making work is immersion. Rather than doing research as a strong guide, let it be something you soak up. There is nothing sane about making performance art.
—
Defibrillator, Hook Torture, and Mana Contemporary pooled their efforts to showcase Ron in Chicago this month. Each night was filled with a wide mix of viewers, from pierced punks and goths, old school Chicago underground, art students, and art academics, many eager to see Ron's work in person. He performed two works on two separate nights, "Incorruptible Flesh: Messianic Remains" and "Sebastian" featuring Jon John and Sage Charles.
Messianic Remains is part of Athey's Incorruptible Flesh series. The series started in 96' and references the dark reality of living with AIDS. Athey talks about the piece saying it stems from "still living but not living bodies". 10 years later in Glasgow, Athey did a solo individual piece, 6 hours long. The third part focused on the Mythological. Now this 4th and final chapter, was performed in Chicago at Mana Contemporary on January 31st. The work reveled in a religious grandiosity and explored Ron Athey's body as a post-AIDS entity: a survivor. The work also looks at Athey's own bodies ageing, and seems to shake hands with notions of death. The choreography is inspired by Kenneth Anger's short film, Lucifer Rising. 
The audience came in on to Ron laying down on ladder sitting on two wooden sawhorses with a baseball bat, swollen glands, and his head latched to a series of hooks in a crown of thorns style lining, his head connected to the wall. Though the preparations for this performance were not part of the audiences' viewing, many felt the preparations, though unseen, were a large part of the work. Clear gloves were handed out and the audience dipped their hands in a pale Vaseline before taking turns touching Athey's body as he laid on display. The offering of his flesh was both a gift and an obligation as viewers chose to experience the tension and pain up close. Ron than rises for a mythical, almost Egyptian dressing ceremony and moves to a new part of the gallery where he begins to read text from Our Lady of the Flowers, Jean Genet, specifically "Divine's Funeral."
The very next day Ron Athey, Jon John and Sage Charles preformed "Sebastian." While interviewing Ron I had asked him about Working with Jon John and Sage.
"We have this great chemistry where we trust each other, we don't have to plot out everything. You're going to do what you need to do with the goal of making this action happen. Easy directions within a choreographed frame. What is Sebastian? I don't know. I think that's where live work can be surprising. If you know what you want to prove rather than explore something you're just strong-arming a result. The potential of live experience is so beyond that outlined vision that I'm doing. It took me a long time to understand that."
In this work Athey is taking on the role of St. Sebastian, a saint that has also become a homoerotic icon. The event starts with Sage and Jon John making their way through the crowd in a procession towards Ron, who is already hung up on a ladder, tied with red rope. As Sage drums, Jon John climbs a second ladder to meet Athey and begins piercing him with arrows. Ron begins to scream and chant in performance's best ritualistic shamanism. Jon John then fills the role of St Irene and begins to heal Athey, spreading lotion on Athey's body, eventually removing the arrows and as Athey bleeds he helps him depose down from ladder and onto a table where they cover him in a white cloth. For the final and perhaps most touching part of the performance, one that had echoes of the NEA controversy, Jon John cuts sections of cloth-covered in Athey's blood and places them in tiny frames handing them to random audience members.
Ron Athey's work certainly isn't for the squeamish, but despite the inclusion of blood and body modification I didn't find the shock value of the work to be any kind of crutch or sympathetic tool. Rather is was a means of performativity that outwardly engaged Athey's body as a gay, post-AIDS, religicized, performative body. When looking at his work, the dense symbolism and actions, the controversy and the intense metaphoric value, I feel like ending this with one of my favorite quotes from my interview with Ron Athey that I feel addresses his work, process, and in a way the very practice of performance art.
"I'm actually at this place in performance art where I think everything is just an entry point. You can say this is about your mother, this is about this accident, this is about AIDS, but it's actually not what it's about. You don't know what it's about till you do it live, that's why it's live work. I have to bring something to life to make work. There has to be uncertain things within the framework of the piece that allow it to go as it will."
---
Audio clip: Adobe Flash Player (version 9 or above) is required to play this audio clip. Download the latest version here. You also need to have JavaScript enabled in your browser.

download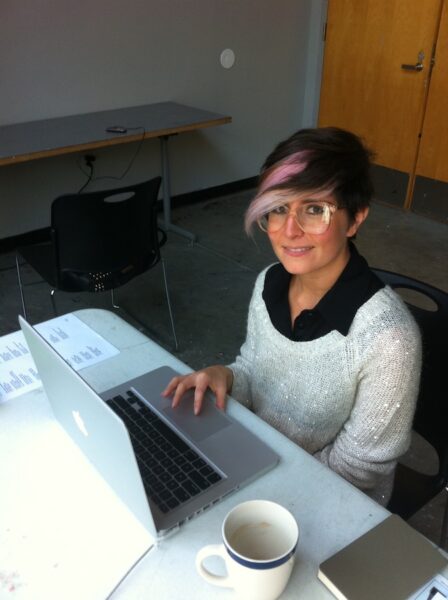 This week: BAS on the west coast! We talk to Adriana Salazar and John Spiak, director and chief curator of the Grand Central Art Center, which has an exhibition of Adriana's work up currently. Also, we talk to Sabina Ott about The Terrain Exhibitions Biennial which is this coming weekend!
Plan your life around seeing us at EXPO!!! You know you want to.
ADRIANA SALAZAR: NOTHING ELSE LEFT
2013 California-Pacific Triennial Partnership with Orange County Museum of Art
July 6 through September 22, 2013
Is there an end to our existence? Can we be separated from our bodies and be transformed into something else? Adriana Salazar's work has continued to revolve around these questions in different ways. This is why the realm of mortuary customs appeals to her: it presents numerous ways to approach the ultimate unknown.
Her past series of works have attempted to bring inanimate objects to life; crystalize human actions into mechanical devices; worked to blur the line that separates the natural and the artificial. Death has been an ever-present part of her work, understood in a broader sense, in her own words, "I want to address death as a dare to the certainties of knowledge, and as a challenge to deeply rooted traditions. Thus, my work has taken its course transforming mechanical actions, obsolete objects, fading plants and passing life into installations and objects that could become questioning situations themselves."
For this current series, created during a two-month residency at Grand Central Art Center, the artist desired to go deeper into that moment of transition between life and death, finding out as much as she could about what happens with our bodies, with our consciousness and with everything we build around the death of others. In her words, "I found, amongst other things, that there is an aesthetics of transition, that there are rituals trying to maintain life after death, and laws which govern our bodies, even when we are not fully present. I also found out that there are transitional techniques and an intricate industry around them."
Some of these techniques of transition have the purpose of dematerializing the body – its physical presence, associated to life and its impermanence – replacing it with a different kind of immaterial presence. In the crematory, a compartment ignites at a very high temperature until the body is almost entirely dissolved. In order to secure the transparency of this transition, all particles of bone are carefully separated from any other solid object that might exist in our remains. These foreign bodies – implants, replacements, metal bodily parts, and every sign of our artificial self – must be removed. All that is left are bones, which are then reduced to the size of grains of sand. These remains are kept in homes, spread at symbolic locations, interned at traditional burials site, or used in other creative manners. The artificial parts, on the other hand, are usually recycled for their metals or tossed away.
Salazar has decided to rescue as many cremated artificial body parts possible. These parts remain as solid as they were inside their bodies and are nevertheless considered residue. She found their value in this very ambiguity. They embody the question of the status of our own existence on a physical level: their materiality creates confusion between those objects as parts of a physical body and our own body, thus opening the gap between our certainties and uncertainties, beyond the matter of human death itself.
The simple presence of these objects puts the status of life into question, allowing us to see, on one hand, the death of usage and value as something applicable to our own bodies. They allow us to see, on the other hand, the possibility of our existence as purely impermanent, earthly and physical. They allow us to see our possible becoming.
Terrain Exhibitions Biennial
September 15 – October 19, 2013
Opening Block Party: September 15, 1 -10 PM
Utilizing multiple homes on the 700 Highland Avenue block, nine artists have created site-specific interventions for this month long event.
Exhibiting Artists:Â 
Alberto Aguilar
Stephanie Barber
Tom Burtonwood
Robert Gero
Gunnatowski
Ames Hawkins
Alexandra Noe
Megan Taylor Noe
Judy Rushin
Opening Block Party:Â 
Terrain artist Claire Ashley will produce an event featuring her inflatable sculptures. Ellen Butler, neighbor, will exhibit her paintings and Elizabeth Rexford's The Harmonia Quartet will play on the Longfellow Elementary school steps. A reading from Ames Hawkins' Paper Violets will be performed in addition to Paul Hertz conducting the interactive "Ignotus the Mage" at intervals throughout the afternoon. There will be a plethora of activities and constructive projects for the whole family, such as bookbinding, fluxkit exchanges, Exquisite Corpse drawing games, and a chance for all to participate in creating a surrealist poem imagined by Stephanie Barber. The Taco Bernardo Food Truck will be in Oak Park serving dinner from 5:30 – 8:00PM, an assortment of treats will be provided by neighbors and all are welcome to add to the potluck! The day's activities will be accompanied by the DJ styles of Rae Chardonnay then followed by neighbor Ryan Todd's band Officer Friendly. Terrain artist and Director of Aspect Ratio Gallery, Jefferson Godard, will wrap up the event with a curated video program that will be shown from dusk until 10PM.
---
Hello all,

Here is an update on Carissa Hinz and how you can donate money to her family to aid with the expenses related to this tragedy.
For those who missed the story yesterday, we reported the shocking death of artist Carissa Hinz, 21, last Friday as she was leaving Version Fest. She was killed by a hit-and-run driver who has yet to be apprehended.
Please make all donations to Jackalope
---
Youtube & The Guggenheim have released their short list for the "Play" Biennial and there is a God since my favorite art video not only is back from the dead but has a new work out. Strindberg and Helium at the Beach tell the tale of a fatalistic Swedish playwright and his best friend a bubble gum pink ballon named Helium. Even though Bad at Sports didn't make the short list if "Play" does nothing more then vault artist Eun-Ha Park and Strindberg & Helium back into production I call it a roaring success.
One more video from the "Play" Biennial, this is fun lol.
---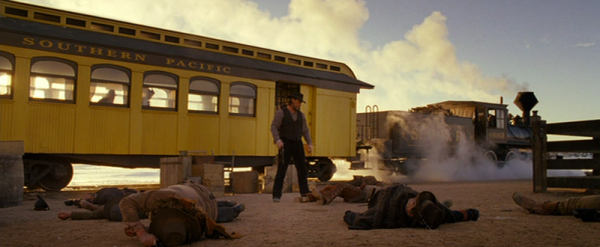 Ever had a week where you put too much on your plate? Only me? Well this weekend we can all take it a bit easier but in the mean time here are some things you might have missed while trying to be well rounded.
Lets start with Newcity (what no longer using my YCDToT green color scheme?, reds nice to I guess 🙂 who had a interesting article a while back about the Spice Barrel District in Near South Chicago being turned into a Creative Industries District for galleries, studios, fashion warehouses & other design/visual art incubator projects is getting more attention on many sites and news articles as the story continues to grow and is worth a look if you missed it. Read more here
Pantone releases next years designer colors for both Men & Women; seems Beeswax will be the hot word this spring lol. Read more here
Why no artist should underestimate the toxcisity of chemicals and value of good ventalation, even though I still refuse to wear gloves while I paint with Flake White or Cobalt Violet. What can I say I prefer to do it nude. Read more here
Swedish outfit called TAT (The Astonishing Tribe) made a highly believable video on portable media ID in 2014 (is it just me that finds it odd thats not far off?) which the least likely aspect isn't the mirror with email but that Apple still makes a non portable OS? Read more here
The Perfect table after a overly packed week for the person on the move, a zen water ripple table that you can drink tea on and the ripples are real, even in California. So lets say your a young British man who's been working on you house for some time, teaching classes and making art to pay the bills and trying to expand your art career all at the same time but just ran out of Tetley's well worry not atleast you will be relaxed while you struggle to swallow what passes for tea in the States. Read more here
---