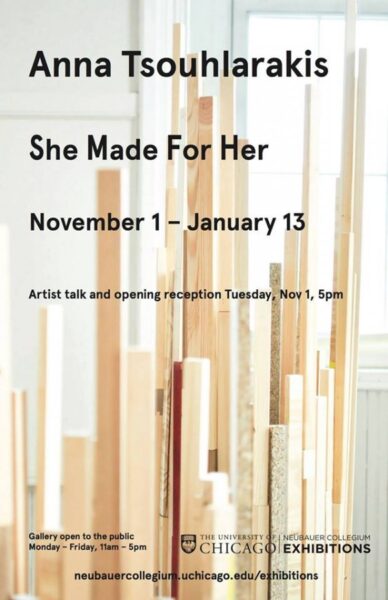 November 1, 2016, 5 PM
Work by: Anna Tsouhlarakis
Neubauer Collegium for Culture and Society: 5701 S Woodlawn Ave, Chicago, IL 60637
2. 40 Years – Part 2: Gender. Race. Identity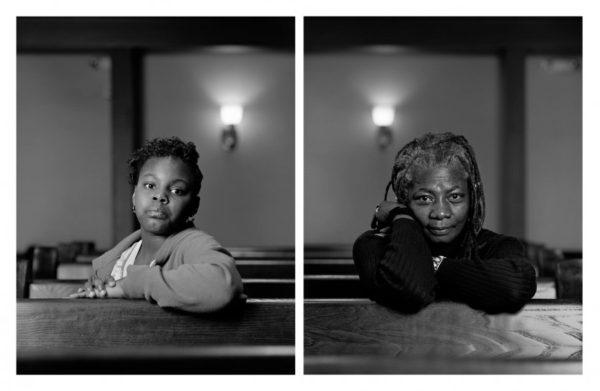 October 28, 2016, 5-7:30PM
Work by: Vito Acconci, Derrick Adams, Ghada Amer, Dawoud Bey, Richard Billingham, James Drake, Natalie Frank, Luis Gispert, Mike Glier, Susan Hefuna, Robert Heinecken, Deana Lawson, Judy Ledgerwood, Zanele Muholi, Nathaniel Mary Quinn, Cindy Sherman, Lorna Simpson, Kiki Smith, Michalene Thomas, Carrie Mae Weems, and Kehinde Wiley
Rhona Hoffman Gallery: 118 N Peoria St, Chicago, IL 60607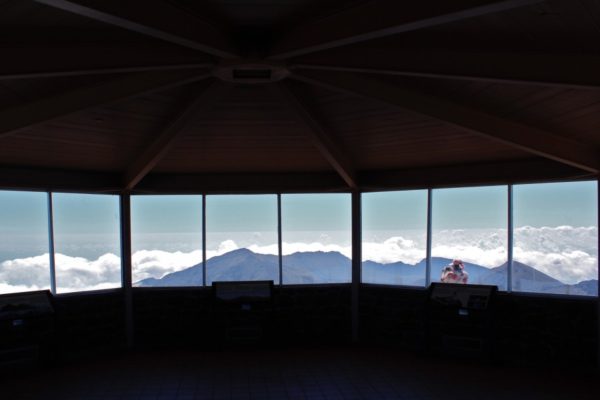 October 29, 2016, 6-9PM
Work by: Fidencio Martinez, Noël Morical, and Valentina Zamfirescu
Slow: 2153 W 21st St, Chicago, IL 60608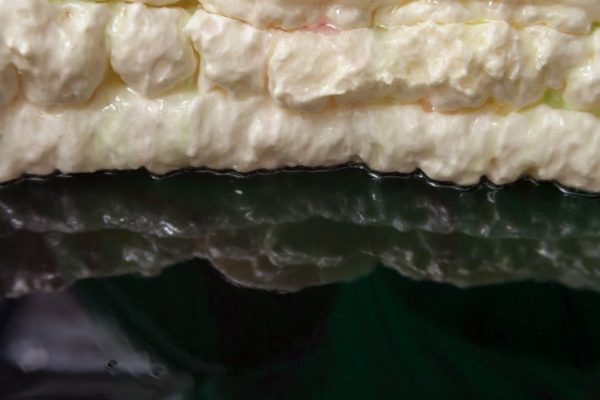 October 30, 2016, 4-7PM
Work by: Ellis von Sternberg
4th Ward Project Space: 5338 S Kimbark Ave, Chicago, IL 60615
5. BLACK BLOOD. BLACK TAR TRUTH. WHITE LIES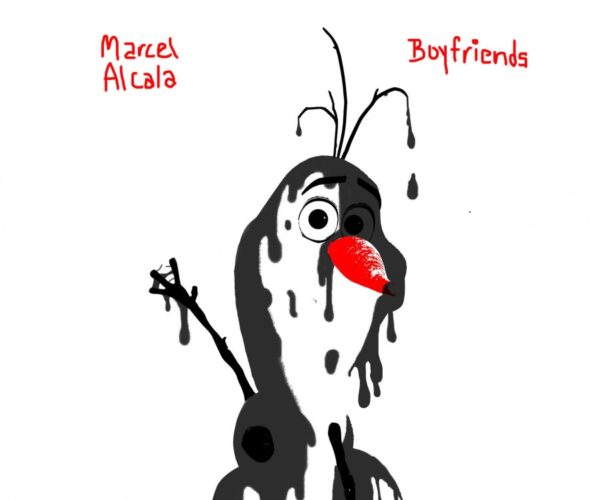 October 29, 2016, 7-10PM
Work by: Marcel Alcalá
Boyfriends: 3311 W Carroll Ave, Chicago, IL 60624
Hey Chicago, submit your events to the Visualist here: http://www.thevisualist.org
---
1. Ground Floor at Hyde Park Art Center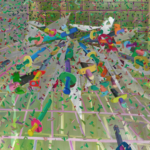 Co-curated by Dawoud Bey, Michelle Grabner, Caroline Picard, and Daniel Sauter, Allison Peters Quinn and Kate Lorenz, with work by Evan Baden, Hannah Barco, Greg Browe, Houston Cofield, Maggie Crowley, Barbara Diener, Assaf Evron, Andrew Holmquist, Kelly Lloyd, Jesse Malmed, Esau McGhee, Ben Murray, Celeste Rapone, Kyle Schlie, Tina Tahir, Keijaun Thomas, Daniel Tucker, Ramyar Vala, Julie Weber and Nicole Wilson
Hyde Park Art Center is located at 5020 S. Cornell Ave. Reception Friday, 6-8pm.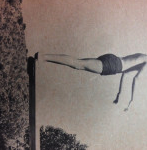 Work by Alex Chitty.
Adds Donna is located at 4223 W. Lake St. Reception Sunday, 2-5pm.
3. Double Cherry at Threewalls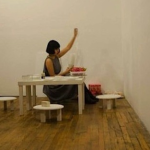 Curated by Katie Vota, Jonathan Kusnerek, Megan Cline, Abbey Muzatko, and Meredith Donnelly.
Threewalls is located at 119 N. Peoria St. Reception Friday, 8-11pm.
4. Hold Together at Johalla Projects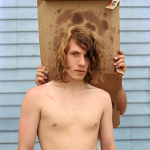 Work by Lisa Lindvay.
Johalla Projects is located at 1821 W. Hubbard St. Reception Friday, 6-9pm.
5. Effeminaries at Western Exhibitions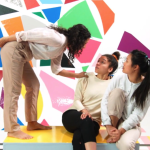 Curated by Matt Morris with work by Cameron Crawford, Danielle Dean, Chris Edwards, Greg Ito, Kacie Lambert and Joel Parsons.
Western Exhibitions is located at 845 W. Washington Blvd. Reception Friday, 5-8pm.
---
As thick as the phone book of the town I grew up in, the catalogue for the 2014 Whitney Biennial is a whopper, coming in at 419 pages. But seeing as how this year's Biennial was an impressive three floors, the attendant corridors, stairwells, random outside spaces, and more than 100 artists, maybe it's not so big after all. Like the Biennial itself, the body of the catalogue is dived into three sections, one for each of the three curators: Stuart Comer, Anthony Elms, and Michelle Grabner. Each of these sections contains a contextualizing essay by the respective curator. In an interesting formal note is that the three sections are printed on different paper, which has the effect of making each section literally feel distinct.
Evaluating a catalogue is difficult; the success depends on what the reader is looking for. As preparatory material for viewing the exhibition, the catalogue is perhaps most successful. I doubt I would have enjoyed the exhibition as much if I had not read all of the essays beforehand. These essays proved invaluable to my visit to the Whitney. I previewed the artwork and made notations about the works with which I wanted to spend a little time. This method is itself flawed, because we all know that seeing a work in person is a very different experience from looking at pictures, no matter how lovely. It also mostly rules out the element of surprise. But honestly, the Whitney Biennial is such a massive undertaking for me as a viewer; this seemed to be my only method of making sense of this large and incongruent collection of artworks.
As a thorough record of the exhibition, the catalogue also succeeds, which in this case is important because the Biennial is nearing its close. When I read a catalogue that is little more than reproductions of the art, with the wall text on the following page, I am disappointed. A person is lucky to view a show once, let alone twice, but a book is different. There's no end to a textual exhibition. We can visit anytime we want. This is where the catalogue succeeds. The 2014 Biennial contains a substantial amount of performance, audio, and video work. These are notoriously hard to capture on the page. Stuart Comer's section is rife with essaylettes on selected works. There are writings on the performance works, which is great because although I visited twice, I didn't manage to coincide with a single performance. Although all of the curators included text-based work, it is most noticeable in Anthony Elms' section. I missed much of this text during my visit. It was crowded. It was hard to see. Text takes a lot of time. At home with a book, I have all the time in the world.
As an accurate reflection of the 2014 Whitney Biennial, I am less sure of the success of the catalogue. In the introduction the authors state, "If there is any central point of cohesion, it may be the slipperiness of authorship that threads through each of our programs… In many ways, it has simply become inefficient to slow down and figure out who is responsible for a specific idea or action, opening up interesting areas of collaboration." While the authors are describing the discrete works in the show, perhaps this whole idea might be applied to the Biennial itself; it is very slippery. But the catalogue is intentionally less so, with its Roman numeraled sections, and three different paper stocks, the catalogue makes clearer distinctions than the curators do. The final section is by Michelle Grabner is marked by the inclusion of numerous conversations between artists, including Dawoud Bey, Christopher Williams, Rochelle Feinstein, Gaylen Gerber, to name a few. While all this focus on process seems as if it should make this section feel more slippery, it does the opposite—it concretizes the final section of the book. Real people, real artists, talking to other real people. The overall effect is humanizing, and intimate, a feeling that was impossible experience at the show.
Ultimately, I recommend this catalogue for those who want a serious look at the 2014 Whitney Biennial. This is not a coffee table book, nor is it a casual exhibition catalogue that one can leave on their bedside, to casually flip though before dropping off to sleep. No, this is the kind of catalogue you need to read while sitting up, with a cup of coffee. You might want to take some notes. If you have reading glasses, you better get 'em.
Whitney Biennial Catalogue 2014
paperback, 416 pages
Yale, $55
---
So, for some reason I thought the 2014 Whitney Biennial list was supposed to be revealed in December but instead it came out today!
Congrats to all our friends and the folks we do not yet know. We can't wait to see the show.
As curated by Anthony Elms, Stuart Comer, and Michelle Grabner:
Academy Records and Matt Hanner
Terry Adkins
Etel Adnan
Alma Allen
Ei Arakawa and Carissa Rodriguez
Uri Aran
Robert Ashley and Alex Waterman
Michel Auder
Lisa Anne Auerbach
Julie Ault
Darren Bader
Kevin Beasley
Gretchen Bender
Stephen Berens
Dawoud Bey
Jennifer Bornstein
Andrew Bujalski
Elijah Burgher
Lucien Castaing-Taylor, Véréna Paravel, and Sensory Ethnography Lab
Sarah Charlesworth
Yve Laris Cohen
Critical Practices Inc.
Matthew Deleget
David Diao
Zackary Drucker and Rhys Ernst
Paul Druecke
Jimmie Durham
Rochelle Feinstein
Radamés "Juni" Figueroa
Morgan Fisher
Louise Fishman
Victoria Fu
Gaylen Gerber with David Hammons, Sherrie Levine, and Trevor Shimizu
Jeff Gibson
Tony Greene curated by Richard Hawkins and Catherine Opie
Joseph Grigely
Miguel Gutierrez
Karl Haendel
Philip Hanson
Jonn Herschend
Sheila Hicks
Channa Horwitz
HOWDOYOUSAYYAMINAFRICAN?
Susan Howe
Jacqueline Humphries
Gary Indiana
Doug Ischar
Carol Jackson
Travis Jeppesen
Alex Jovanovich
Angie Keefer
Ben Kinmont
Shio Kusaka
Chris Larson
Diego Leclery
Zoe Leonard
Tony Lewis
Pam Lins
Fred Lonidier
Ken Lum
Shana Lutker
Dashiell Manley
John Mason
Keith Mayerson
Suzanne McClelland
Dave McKenzie
Bjarne Melgaard
Rebecca Morris
Joshua Mosley
My Barbarian (Malik Gaines, Jade Gordon, and Alexandro Segade)
Dona Nelson
Ken Okiishi
Pauline Oliveros
Joel Otterson
Laura Owens
Paul P.
taisha paggett
Charlemagne Palestine
Public Collectors
Sara Greenberger Rafferty
Steve Reinke with Jessie Mott
David Robbins
Sterling Ruby
Miljohn Ruperto
Jacolby Satterwhite
Peter Schuyff
Allan Sekula
Semiotext(e)
Amy Sillman
Valerie Snobeck and Catherine Sullivan
A.L. Steiner
Emily Sundblad
Ricky Swallow
Tony Tasset
Sergei Tcherepnin
Triple Canopy
Philip Vanderhyden
Pedro Vélez
Charline von Heyl
David Foster Wallace
Dan Walsh
Donelle Woolford
Molly Zuckerman-Hartung
PS. Thanks to Jerry Saltz's facebook for the list.
---
A historical piece which points towards exceptional moments observed directly by the writer, in Chicago, over the course of the previous calendar year. Alternative, NFP, and commercial galleries, as well as art centers, museums, and public spaces, were visited more-or-less regularly, according to the nature of their programming. All artwork copyright original artists; all photography copyright Paul Germanos.
---
Per convention,
"best of" lists and "year in review" articles are released late in December. And critics have tended to follow in lockstep. Yet such a schedule might be a cause for concern when one considers how little time in reflection is afforded the author of any such piece.
That said, it's the original scope of the critic's experience, and not the amount of time spent in reflection upon that experience, which is the greater issue in most cases. Readers have good reason to wonder about art writers: How much did he or she see in the first place? And what does it mean to be placed in a "top ten" list by a person who might have attended only ten events?
Of course, with regard to the utility of press, the writing itself counts for little; it's a publication's masthead and associated social connectivity which are really crucial. For whether the subject is artwork or the publicity related to it, heavily invested dealers, artists, directors, et al, labor to get the right bits in the right places, till the overall picture looks good–much like jigsaw puzzle work. The gaming of interpersonal relationships is, after all, the chief modality of the art world.
Let's try something different!
(1) Best Artist's Talk: "Andre Butzer @ Cochrane-Woods Art Center"

Forgoing the pretense of a rational narrative, German painter Butzer dryly delivered pre-Socratic fragments–first in his native language and then in English–alongside projections of his artwork. The audio and visual elements in combination, amounting to a performance, were, in fact, stronger than his show which followed at Rhona Hoffman Gallery.
Butzer became moderately excited when, after the lecture, I presented him with a question about Nietzsche.
6:30 PM, January 25, 2012
Cochrane-Woods Art Center, Room 157
(adjacent to the The Smart Museum)
University of Chicago
5540 S. Greenwood Ave.
Chicago, IL 60637
Runner-up: Karsten Lund's performance piece in Peregrine Program.
(2) Best Gallery Opening: "Short Court: Tropical Aesthletics @ ANTENA"


Above: Jake Myers at left, in glasses, on the court in ANTENA.

Curated by Jake Myers and Chris Smith, a/k/a "Tag Team," and featuring 19 artists (Adam Farcus, Adam Grossi, Alberto Aguilar, Alex Bradley Cohen, Angeline Evans, Brian Wadford, Caroline Carlsmith, Cory Glick, Edra Soto, EC Brown, Irene Perez, Jeriah Hildwine, Jim Papadopoulos, Kevin Jennings, Nicole Northway, Pamela Fraser, Philip von Zweck, Thad Kellstadt, and Vincent Dermody) "Short Court: Tropical Aesthletics" was dominated by Jake Myers' own performance in the center of the gallery.
There, Myers and company (including two professional players) offered to "take on all comers" in a high-spirited volleyball match. The boisterous physical competition which ensued was entirely contrary to the quiet struggle for rank which is usually present, if unseen, at such affairs. This was good. It's yet unclear to what degree Myers' work is ironic.
February 10 – March 10, 2012
ANTENA
1765 S. Laflin St.
Chicago IL 60608
(3) Best Art Writing: "Hamza Walker for The Renaissance Society"

With regard to the consistency and volume of his production, Hamza Walker has been exemplary: Every exhibition at The Renaissance Society is accompanied by a broadsheet containing one of Walker's companion essays. Curiously, these essays usually go nowhere. Are they not read? not understood? not thought to be of any value? Sunday attendance at The Ren is too often like unto church: orderly, solemn, performed for fear of damnation, and forgotten on Monday.
(Ongoing)
The Renaissance Society
Bergman Gallery
Cobb Hall, Room 418
University of Chicago
5811 S. Ellis Ave.
Chicago, IL 60637
Runner-up: Jason Foumberg, skyrocketing in 2013.
(4) Greatest Spectacle and Drama: "NON GRATA 'Force Majeure' @ New Capital"

The Estonian performance collective NON GRATA staged the destruction of an American-made sedan on the grounds of New Capital: outdoors, late-winter, encouraging audience participation in the act. No fig leaf of sport covered the aggression here; this was a naked, public display of violence hitherto latent in the community. And it was possible to read the event as a sort of response to the call made by Butzer a little over one month earlier.
7:00 PM, March 4, 2012
Hosted by:
Defibrillator Gallery
1136 N. Milwaukee Ave.
Chicago, IL
Co-hosted by:
New Capital
3114 W. Carroll
Chicago, IL 60612
Runner-up: Unsolicited letters from Wesley Kimler.
(5) Most Noteworthy Young or "Emerging" Artists: Sarah and Joseph Belknap, Tyler Blackwell, Robert Chase Heishman, Sofia Leiby, Jake Myers, Meg Noe, Danielle Rosen, Joseph Rynkiewicz, Etta Sandry, Vincent Uribe, and Nikki Werner.
Over the course of the previous year, some memorable artwork, conversation, or public engagement was initiated by each the people listed above. Further, as a result of the good attendance at gallery openings and other events which most displayed, their names were easy to learn and remember.
(6) Best Museum Show: "The Language of Less (Then and Now) @ MCA Chicago"


Above: Dan Flavin: Untitled (for you, Leo, in long respect and affection) 3, 1978; John McCracken: Untitled, 1967.


Above: Carl Andre: Zinc-Lead Plain, 1969; Donald Judd: Untitled, 1970.
Curated by Michael Darling, the "Dimensions of Space" gallery within "The Language of Less (Then and Now)" exhibition wasn't novel, or exciting, in the conventional sense. Rather, the thing had the appearance of being the logical conclusion of a long meditation upon the fundamental unit, or building block, of the works included, viz., the square. And this formal vocabulary hasn't disappeared. For example, in "Binary Lore," the most recent show local NFP threewalls, Edie Fake recalled Carl Andre.
Closed on April 15 , 2012
MCA Chicago
220 E. Chicago Avenue (MVDR Drive)
Chicago IL 60611
(7) Best Museum Opening: "Feast: Radical Hospitality in Contemporary Art"


Above: Michael Rakowitz' Enemy Kitchen, opening night.


Above: Sonja Alhäuser's butter buffet billy goat, opening night.
The Smart has made an effort to push its programming outward: into its lobby and courtyard. That physical movement runs parallel to the community engagement which has been a major thematic concern of several recent exhibitions. "Feast" wasn't solely a remembrance of the past by means of a presentation of artifacts; rather, "Feast" was a new sort of moment, available to be experienced via the socialization which was possible at its opening reception.
February 16 – June 10, 2012
Smart Museum of Art
University of Chicago
5550 S. Greenwood Avenue
Chicago, IL 60637
Curated by Stephanie Smith
Artists: Marina Abramovic and Ulay, Sonja Alhäuser, Mary Ellen Carroll, Fallen Fruit, Theaster Gates, Felix Gonzalez-Torres, InCUBATE, The Italian Futurists, Mella Jaarsma, Alison Knowles, Suzanne Lacy, Lee Mingwei, Laura Letinsky, Tom Marioni, Gordon Matta-Clark, Mildred's Lane, Julio César Morales and Max La Rivière-Hedrick, motiroti, National Bitter Melon Council, Ana Prvacki, Sudsiri Pui-Ock, Michael Rakowitz, Ayman Ramadan, Red76, David Robbins, Allen Ruppersberg, Bonnie Sherk, Barbara T. Smith, Daniel Spoerri, Rirkrit Tiravanija, and others.
(8) Best Performance: "Mikey McParlane @ Defibrillator"

Mikey McParlane's performance on April 1, 2012, was really something special. Relevant to contemporary gender issues (whether I'm able to tease-out any deeper meaning) McParlane presented ambiguously in the guise of a harlequin. Here, the choreography, costume, makeup, audio and lighting came together perfectly. It was weird and beautiful.
April 1, 2012
"Second Annual Lyp Sinc Show"
Defibrillator
1136 N. Milwaukee Ave.
Chicago, IL 60642
Performances by: Happy Collaborationists, Ben Foch, Sasha Hodges, Mikey McParlane, Sofia Moreno, Jillian Soto, Courtney Macandanz, Rosé Hernandez, Robin Deacon, Taisha Paggett, Jake Myers, Sharon Lanza, Monica Panzarino
Runner-up: Edyta Stepien & Ayako Kato @ Chicago Art Department
(9) Best Installation – "Jacob Hashimoto @ Rhona Hoffman"

Hashimoto's work was interesting in its own right. But, too, quite literally depending upon fiber, it recalled gallery artist Anne Wilson's past treatments of the space, and prefigured Fred Sandback's recent showing there as well. Politics aside, it's rare for a dealer (here) to survive long enough for such a formal thread to become evident–running through a succession of shows. Hashimoto was polite and professional, and he didn't need to be so.
September 14 – October 20, 2012
"Super-elastic collisions (origins, and distant derivations)"
Rhona Hoffman Gallery
118 N. Peoria St.
Chicago, IL 60607
Runner-up: "Lane/Sirianni" @ New Capital
(10) Greatest Wasted Potential: "Color Jam @ Chicago Loop Alliance"

76,000-square-feet of colored vinyl, with a 500,000 USD budget, whose real cost was the good will of its patrons.
June 5 – September 30, 2012
The Chicago Loop Alliance's "Color Jam" by Jessica Stockholder
State Street and Adams Street
Chicago, IL
Runner-up: "De-mystifying the Art Critic @ Chicago Artists' Coalition"
(11) Best Residency: "ACRE Projects"

Insofar as a tangible return on investment is concerned, ACRE stands head-and-shoulders above it's peers. Whether related to the residency, the sheer number of shows produced by ACRE has transformed the landscape of the Chicago art world.
(Ongoing)
ACRE Projects
Home office:
1913 W. 17th Street, 1F
Chicago, IL, 60608
Residency:
Steuben, Wisconsin
(12) Greatest Misses by Chicago's Critics: "Noelle Mason @ Thomas Robertello Gallery" and "Sheree Hovsepian @ moniquemeloche"


Above: Artist Noelle Mason explains the process by which the satellite-mapped US/Mexican border city "bird's eye perspective" textile in the foreground was fabricated; pinhole camera prints documenting her substantial skydiving experience are mounted on the wall in the background.


Above: Sheree Hovsepian with her artwork.
We all wonder why some shows receive press while others do not. Mason and Hovsepian "did everything right," and yet received scant critical attention.
Noelle Mason
"Blue Skies/Black Death"
September 7 – November 3, 2012
Thomas Robertello Gallery
27 N. Morgan
Chicago, IL 60607
Sheree Hovsepian
"Haptic Wonders"
February 4 – March 24, 2012
moniquemeloche gallery
2154 W. Division (@ Leavitt)
Chicago, IL 60622
(13) Best Painting: "Melissa Oresky @ Hyde Park Art Center" and "Davis/Langlois in Re:Chicago @ DePaul Art Museum"


Above: Melissa Oresky


Above: Robert Davis and Michael Langlois
These two (three) were interesting for the same reason: brush or roller "strokes" were applied directly to the walls of the exhibition site. "Painting," here, was no longer wholly a commodity but rather also a temporary transformation of the venue itself.
Melissa Oresky
"Trail"
May 6 – August 19, 2012
Hyde Park Art Center
5020 S. Cornell Avenue
Chicago, IL 60615
Robert Davis and Michael Langlois
"Living the Dream" in "Re: Chicago"
September 16 – March 4, 2012
DePaul Art Museum
935 W. Fullerton
Chicago, IL 60614
(14) Best Photography: "Dawoud Bey @ The Renaissance Society" and "Sade Kahra @ threewalls"


Above: Dawoud Bey


Above: Sade Kahra
Bey was exactly as expected; Kahra was wholly unexpected. Both photographers presented evidence of the human condition, the bodily circumstance, of their subject. Whether relatively conventional or experimental in its execution, the genre of social documentation is alive and well. Sincere, but not maudlin, the work in each case was a relief from the tide of irony here yet to ebb.
Dawoud Bey
"1975 to the present, a career survey"
May 13 – June 24, 2012
The Renaissance Society
5811 S. Ellis Avenue
Bergman Gallery, Cobb Hall 418
Chicago, Illinois 60637
Sade Kahra
"UV Portraits"
threewalls' artist-in-research residency
June 1 – June 30, 2012
threewalls
119 N. Peoria #2d
Chicago, IL 60607
(15) Best Public Sculpture: "Martin Creed 'MOTHERS' @ MCA Chicago"

After "Color Jam" and "Forever Marilyn" the bar couldn't have been much lower.
Installed in August of 2012; now closed.
MCA Chicago
220 E. Chicago Avenue (MVDR Drive)
Chicago IL 60611
(16) Hottest Chicago Artist Who's Not Theaster Gates: Heidi Norton


Above: Heidi Norton at the MCA.


Above: Heidi Norton and Geoffrey Todd Smith at EXPO Vernissage after party.
Norton's schmutzy floral collages incorporate all manner of found objects–cast or bound together with wax and resin. If her additive Ab Ex, Neo-Dada process might recall a male figure such as Rauschenberg, her palette and penchant for translucent materials are more distinctly feminine.
After showing at Johalla Projects and the late Ebersmoore, Norton graced the MCA in 2012. In 2013 she was hired by Northwestern University; and institutional connectivity is, we all know, key to longevity in Chicago.
August 7 – October 23, 2012
Curated by Karsten Lund
MCA Chicago
220 E. Chicago Avenue (MVDR Drive)
Chicago IL 60611
---
POSTSCRIPT
(I) The following errors were identified and corrected in the article above:
– "Sofia Leiby" was originally written as "Sophia Leiby"
– "Vincent Uribe" was originally written as "Vince Uribe"
– "Chris Smith" was not named as Jake Myers' partner in Tag Team
(II) Image of Jason Lazarus at ACRE Projects removed:
– On March 25, 2012, the author of the article above created a photograph of Jason Lazarus in the act of igniting fireworks in the alley behind ACRE Projects. Uploading said original digital image to Flickr, the author of the article above maintained the nomenclature which he received on-site at the time of said event: ACRE staff referred to said event as Lazarus' "Fireworks Extravaganza." Regarding that reference, for 16 months no complaint was made. Jason Lazarus saw said image on Flickr 16 months ago, left a comment on Flickr at said time, and therein made no complaint about the presence of the words "Fireworks Extravaganza" in said image's Flickr caption. After the publication of the article above a complaint was received by Bad at Sports, from ACRE, with regard to the use of the words "Fireworks Extravaganza" in said image's caption on Bad at Sports. The offending image and caption have been removed from the article above.
(III) No Endorsement:
– The author of the article above failed to clearly indicate that even as his viewing experience was his own, so too his conclusions were his own. No individual member of Bad at Sports, nor Bad at Sports collectively, ought to be assumed to endorse the article above, in part or in whole. Errors and omissions are the fault of the author of the article above, not Bad at Sports.
Likewise, with the exception of content which he has produced, the author of the article above endorses no content on Bad at Sports, whether said content is found in the blog, podcast, or in any other place.
(IV) Schmutzy:
– In the article above, an image of John McCracken's "Untitled," 1967, appears opposite Dan Flavin's "Untitled (for you, Leo, in long respect and affection) 3," 1978. Whether appropriate, McCracken has been associated with "finish fetish" artists: meticulous practitioners of craft, whose minimal objects are denominated by clean, smooth surfaces, illustrated by the mirror-like reflectivity of McCracken's piece in said image, above.
Heidi Norton, while having exhibited geometric figures in the same museum (MCA) in the same year (2012) as McCracken, is in no danger of being confused with him. Norton's work of late has been hallmarked by blobs, drips (see the image of Norton's work, above) and other surface irregularities.
The author of the article above chose to employ the word "schmutzy" to describe said formal qualities in Norton's work. "Schmutz," literally, means "dirt," though it's more broadly used to signify some foreign matter: possibly organic, probably only semi-solid, and definitely capable of making a mess. The primary meaning of the word cannot be overlooked.
Artists and critics, male and female, gay and straight, in contemporary Chicago, have set precedent for the descriptive usage. For example, the application of such material to a picture plane was the definition of "painting" provided by Vera Klement: "a mark with liquidy [sic] stuff…a recreation of the body in a way, it's the stuff that's in your body, sloshing around in there, that kind of feces, primal material," at 8:42 – 10:05, in the BaS podcast "Episode 214: Constellations: Paintings from the MCA Collection" October 4, 2009.
http://badatsports.com/2009/episode-214-constellations-paintings-from-the-mca-collection/
And prior to said statement by Klement, Jason Foumberg wrote: "paint flows expressively like an ejaculation," in his June 22, 2009, piece "Portrait of the Artist: Dutes Miller," in Newcity.
http://art.newcity.com/2009/06/22/portrait-of-the-artist-dutes-miller/
Bodily processes and sexuality might be hinted at by a word such as "schmutz" when used in relation to the appearance of Norton's work; but, the association is no more necessary than is forcing such a (bodily, sexual) reading of "finish fetish" in relation to McCracken's work. And it's wrong to conflate the artist and the artwork: a description of one ought not to taken as a description of the other. In no place has it been written that Norton is schmutzy, or is a schmutz.
Postscript above appended on July 21, 2013, by the author of the article above, subsequent to a letter received from the blog's editor.
---