Guest post by Damien James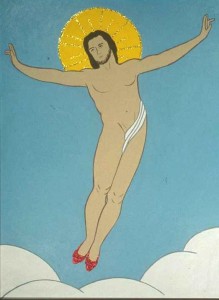 I walked into Woman Made Gallery on Wednesday, October 14th, to view and review the Beatrice Fisher retrospective, which surveyed fifty years of art making. Intrigued by the gallery's website, which noted that this was Fisher's first solo exhibition and that she had studied under such renowned Chicago artists as Karl Wirsum and Don Baum, for better or worse I had fairly high expectations.
Everything had just been hung, and the space was still a bit of a mess-the opening wasn't for two more days and I hadn't let anyone know that I was coming-then I realized that the mess consisted mostly of Fisher's work, of which there was just too much to fit on the walls. (I was told that Fisher had thousands of pieces in her Evanston studio. Thousands was later corrected to hundreds.) After a moment of orientation amidst the clutter, I was able to focus on the walls, on her art, and was instantly taken, overtaken, by not only the range of her work but its consistent beauty and energy.
Fisher's Attachment/Separation series focuses on divorce in the most physical terms; bodies in surreal Siamese union, some split apart by knives or attached by zippers rendered with a level of detail which brings the stark flatness of the paintings and their sharp lines into a kind of focused intimacy that looks cleanly through you. At least, they seemed to look through me. Some are paintings of women and men joined at the hips or shoulders, others of women joined to women, skin stretching into long bands waiting to be broken, their faces staring so pointedly, hypnotically. On another wall were military-themed works which dressed disembodied penises in camouflaged field gear, while across the room a group of small paintings of Jesus clad in ruby slippers and floating in the clouds shimmered. The slippers were glitter. Jesus had a beatific and tranquil face. Maybe it was the shoes.
Truthfully, there was so much work that this could easily have been a group show of six or seven entirely different artists, though it wasn't difficult to see the common thread-the unique handwriting as it moved through all the pieces; the tongue-in-cheek humor, the cultural critiques, the exploration of sexuality and religion-yet each period in her career seemed to point to the absolute need to make art, out of anything and everything available. It was without a doubt the life of an artist on the walls of Woman Made, not just her art. Read more
---