Having finished his speech to the visiting journalists, Christian Ringnes picks a beer from a large bucket of ice and retires to a chair. The bottle has his name on the label. And perhaps if it wasn't for his ownership of Norway's largest brewery none of us would be here. Indeed beer, and interests in restaurants and hotels, have allowed the Oslo businessman to amass one of the world's largest private collections of art. Just as they have allowed him to spend $70 million on the sculpture park that the UK press are here to see.
Ekeberg Park is on a hill to the East of the Norwegian capital. It commands views of the stunning modern opera house which sits on the edge of the nearest fjord. After lunch, Ringnes shows us round a few of his favourite pieces, a Dalí here, a Rodin there, a good showing from Scandinavia, a skyscape by James Turrell, a pavilion by Dan Graham. The philanthropist scrambles around the wooded hillside in suede shoes, oblivious to the drizzle, with evident glee about his collection. 
Some 40 miles north is sculpture park Kistefos, which is expanding at the same rate as Ekeberg. Two days after Ringnes unveils new work by Damien Hirst and the Chapmans, rival and friend Christen Sveaas, is cutting the ribbon on a monumental new piece of steel engineering by Philip King. The colourful arrangement of beams and struts may be symbolic of a family unit but there is nothing homely about its juxtaposition with the forested landscape of Oppland county.
Subsequent to the applause and the de rigeur gasps, the assembled crowd, comprising some of the wealthiest people in Norway, make their way to the complex of museum and gallery buildings for a charity auction. At this former mill, they are raising money for water supply in the developing world. A man from Sotheby's rattles through 49 lots while the guests drink prosecco and bid five figure sums, as if for fun. A smaller piece by Philip King goes for more than half a million Krone, almost $70,000. And when the final bid is sold, we are rewarded by a set from a local covers band.
Kistefos is another family business, an investment company which began life in the lumber business. Visiting their offices on the waterfront in Oslo, the contemporary paintings are wall to wall, all of them monumental. A suite of mirrored clouds by Tomas Saraceno has just been installed in the atrium. And the company employ a young man in an impeccable suit to direct the company's art holdings on a full time basis. We have been in Oslo for no more than 48 hours and already it is clear that wealthy collectors are thick on the ground.
A few hundred yards along the waterfront, Astrup Fearnley glitters in the sun: a private art gallery with a private beach. This space stems from a merger between two foundations, the founders of which both descend from shipping magnate Thomas Fearnley, born in 1841; his father, another Thomas, was one of Norway's preeminent Romantic painters and the family's chief love remains collecting art. Unprepared visitors may be surprised to find Jeff Koons' iconic statue of Michael Jackson and his pet chimpanzee has made it this far north.
Things get more unexpected in Asrtup Fearnley's temporary exhibition space. Here lie holdings by another magnanimous collector, Erling Klagge. This famous character has published his own book on purchasing art. It figures he is also a lawyer. You might just buy the fact he's a philosopher. But if you're not Norwegian, the fact that Klagge is a polar explorer to boot is fairly hard to swallow. No one in the UK is so adventurous and at the same time as discerning, as this additional Oslo player.
In short, the capital of Norway is rich and rich in art. There are collectors with money to spend, plus an educated audience with time to kill. At the Office of Contemporary Art (OCA) we even learn that, despite having less than a million inhabitants, Oslo has among the highest numbers of artist led spaces of any major city. As the National Gallery and Munch Museum move to larger premises in the city centre, they bring with them two versions of that famous scream. If Munch could see the city now, he might have had no complaints.
---
Mr Hirst spent the evening playing snooker, but on being told the sale figures, he pronounced: "I think the market is bigger than anyone knows. I love art and this proves I'm not alone. And the future looks great for everyone." (Economist, 2008).
1. FOR THE LOVE OF GOD
We arrived in Florence last February and stayed for about five days. It was cold and damp in the mid-50 degrees, reminding me of San Francisco. A friend we were visiting said the city was built on a swamp and we climbed up a hill to a Franciscan chapel where the original alabaster windows were still in place. Through the translucent stone, the light shone dark and brown and because it was colder inside than out, we didn't stay long but climbed back down the hill to wander through the city once more. During those five days I felt a little like a pinball bouncing around a Renaissance amusement park. A classy Medieval Times with boar instead of mutton. Regardless of our haphazard path we inevitably ran into something famous: Dante's church, for instance, or a squatting boar fountain—even those churches that hadn't made it on the map still contained gravestones embedded in their walls or floor—some of these dating as far back as the first or second century. History was everywhere and it was bigger than us.
On the third day a bus passed with an advertisement for Damien Hirst's bedazzled reminder of death. I burst out laughing.
The last thing I  expected to see was Hirst's glimmering, gaudy skull in a city that seems in constant worship of its past.  Nevertheless, the city seemed to love it. There were banners and posters all over the place. Everywhere it said, "For the Love of God," and why not?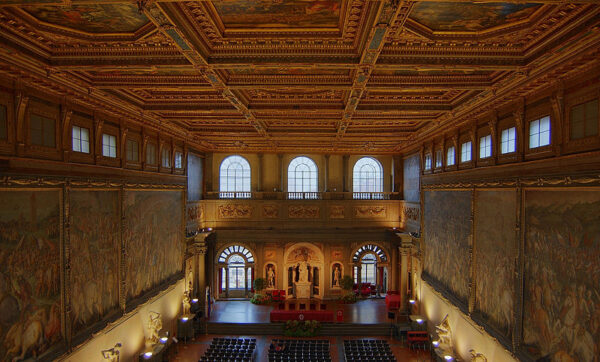 The skull was on view in the Palazzo Vecchio—an old city hall, adjacent to a square full of fountains and sculptures and ice cream shops. Walking past the David replica, we bought tickets and wandered upstairs to the second floor. There, we entered a giant ballroom. The dimensions of the room itself were astounding—170×75 ft—not to mention the similarly massive tapestries on the walls, or the several larger-than-life sculptures that lined the room. While the tapestries themselves are phenomenal, they are nevertheless replacements for work never made by Michelangelo and Leonardo DaVinci; both had been commissioned to make work for the room and both, for various reasons (Da Vinci's fresco allegedly melted when he tried to heat up the drying process with hot coals) were unfinished. In their stead, Giorgio Vasari's war paintings hang with astonishing authority, depicting a series of Florentine victories in battle. They are massive, complete with impeccable detail. Horses so plump they are cherubic, with lords in armor on their backs, holding spears as shorter personalities–midgets and boys–hustle at their feet replenishing arrows and running swords or torches every which way. In these tapestries everything is in focus, each curious figure serving its own distinct purpose that nevertheless reinforces a greater compositional whole. There is no focal point, rather the harmony stems from the a series of active constellations.
But of course, the room boasts even more cultural capital. The ceiling is indescribable. It's full of different panels of paintings and due to their detail it feels a little closer than it actually is. Additionally, larger-than life sculptures pepper the room.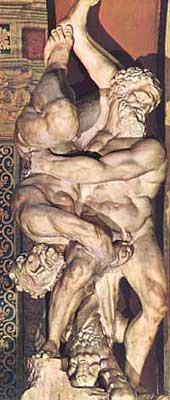 Among those sculptures, six statues by Vincenzo de'Rossi depict the Labors of Hercules. As the story goes, Hercules was enraged (by Hera) to kill all of his children. After waking from his madness and discovering what he'd done, he went to the Oracle of Delphi to seek atonement. There he was set to 12 impossible tasks. These he accomplished. He is also attributed with making the world a safer place, in that he killed all of its monsters.
All of these works and figures depicted in the ball room were larger than life for the feats they captured, the size of their depiction and their (to me extreme) historical vantage.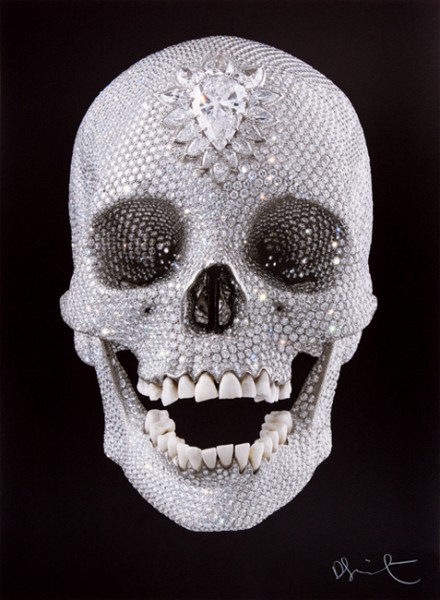 Two ticket attendants stood in the far corner of this room. They clacked our tickets and pulled back a velvet rope so we could step behind them and passing through a very narrow, subsequent room I had the impression  we were walking through an old fashioned toilet, or cloak room. Built-in benches lined the walls. Each surface of this wooden vestibule was also painted and close, so that I could have reached up to touch the ceiling with my hands. After no more than four strides, someone pulled back a velvet curtain. I could not make out this person's face, only their white gloves. Beyond the curtain lay another small, light fast room no more than 8ft squared. In the center of this room Damien Hirst's skull sat on a plinth encased in glass. Aside from the very small flashlight of the skull's attendant, the diamonds were the only thing illuminated in (and illuminating) the small cloak-and-daggers space. We were permitted to walk once around the glittering mask—enough that I could enjoy the diamonds in the roof of the skull's mouth, the curious third eye and the gritty unglittered teeth—before the same faceless attendant pulled back a second curtain and emphatically (as seen with the rigorous flash light motion) ejected us back into the grand ballroom.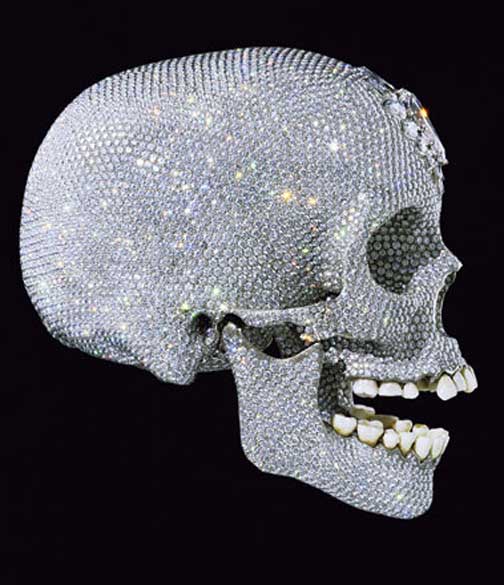 2. Hercules
A few weeks ago I found myself at the Lyric Opera House, on the third floor balcony watching Hercules; it was a pretty psychedelic experience. Tiny figures with massive voices paraded around a massive stage. Whereas in Italy I'd been small with respect to the work, here I could cover anyone's head with my thumb.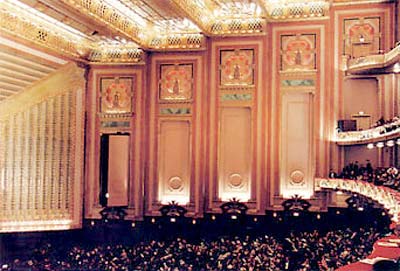 The opera is not personal, it's archetypal. The characters don't have personalities so much as they have roles and musical motifs to enact. Except for their voices, they might as well be cardboard cut-outs. In this instance Hercules has returned from war. Peter Sellars took Handel's four-hour opera and reduced it to 2 with one intermission. The libretto is full of repetitive phrases and the performers trilled through those like song birds. The set did not change shape; most of the stage contained a landscape of rock that no one walked upon with pillars and a pathway around it. Depending on the emotional tempo of the performers, the rocks gleamed in different colors. Sellars' interpretation pulls out a story of Post Traumatic Stress Disorder; the repeating phrases underscore that intent, as each character is constantly reliving their experience. Hercules has returned from battle with the spoils of war–including a young woman who just watched him kill her father. Hercules may or may not be interested in her and his wife, Dejanira, cannot connect with her husband; she remains perplexed and frustrated that, after so much waiting, she would remain alienated in her husband's presence. She is jealous of the young woman he brought back. They argue. She tries to win him back by dosing his coat with the blood of a centaur. The centaur told Dejanira that his blood was an aphrodisiac where it turns out to be an acidic poison. When Hercules puts the coat on, he burns alive.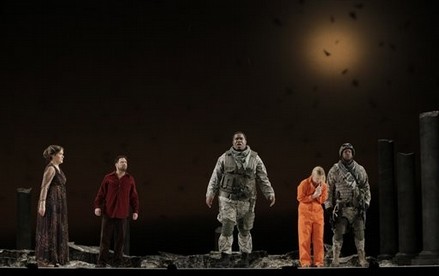 While I don't think about Hercules often, I think even less about his death. It seems that his death is the greatest problem, in a way. No one knew what to do with him once he had been admitted in Olympus. There is an awkward encounter between Hercules and Odysseus, for instance, when Odyseuss has to differentiate between Hercules the God and Hercules' ghost.
"And next I caught a glimpse of powerful Heracles—
His ghost I mean: the man himself delights
in the grand feasts of the deathless gods on high…
Around him cries of the dead rang out like cries of birds
scattering left and right in horror as on he came like night…"
Somehow these thoughts coalesced then. I started thinking about how one must be large when facing the death of heroes; how the import of these legacies is both essential and arbitrary. Hercules is part of a scaffold that makes meaning. Florence is an early pillar in that scaffold; its Renaissance established a criteria that is still resonating today–whether under Sellars' directorial agenda (during which one can experience over and over and over again the death of Hercules), or in Hirsts' work, where, it seems, the hero is dead and the market remains.
"The speech of an elder in the twilight of his life is not his history but his legacy; he speaks not to describe matter but to demonstrate meaning. He talks of his past for purposes of his future. This purpose is the prejudice of his memory. He remembers that which has been according to what could and should be, and by this measure sifts the accumulation of his memory: he rejects the irrelevant event, elaborates the significant detail, combines separate incidents of similar principle. Out of physical processes he creates a metaphysical processional. He transposes the chronology of his knowledge into a hierarchy of meanings. From the material circumstances of his experience he plots the adventure for the mind which is the myth," (Divine Horsemen, Maya Deren).
3. History
The diamond: something that has been marketed to represent eternity, who's value is based almost exclusively on market control. Until 1870, diamonds were rarely found in South American riverbeds. Thereafter they discovered huge diamond mines in South America. In order to protect the value of the diamond, these jewel harvesters had to band together to "perpetuate the illusion of scarcity" (Atlantic Magazine, Edward Jay Epstein,February 1982). This is where the value of Hirst's skull comes from, which is interesting given his consistently unconventional use of auction houses as primary exhibit halls.
The focus of Hirst remains fast on the potentials of an immediate future. He has utilized the auction house as a kind of performance filled with its own intrigue. In one article, there was a mysterious Russian who participated by phone. Everyone is complicit in the staging of this wealth. "Sotheby's was keen to build its own brand around a celebrity artist rather than the usual assortment of inanimate objects. The sale was marketed on YouTube and through the media around the world, part of a conscious effort to broaden international demand for the work. Sotheby's filled its exhibition rooms with Hirsts. Never had so much of his art been seen in one place. Many art-world insiders saw the sale as an artistic event," (Economist, 2010). And of course, like diamonds, the value of the work lies in the demand.
In some way, I want to posit the idea the emphasis is on the market because, contextualized by such predecessors, it is impossible to participate on their terms. If Hercules can die, what is there? I have heard that Hirst has a storeroom of corpses with which he can replace deteriorating sculptures. I have also heard, in response to the suffering market, he has considered opening his own museum, to house his own work. Those are unfounded rumors, but I like them. In the context of that great hall, Hirst's skull struck me like a peep show at a carnival; it was gaudy and feeble and small. Titillating because of its impeccable surface of expense. A trashy sex kitten with black teeth: perhaps the perfect face for death. Yet here too, we've seen the market is not "bigger than anyone knows." If anything the last couple of years have demonstrated real limits to capital.
---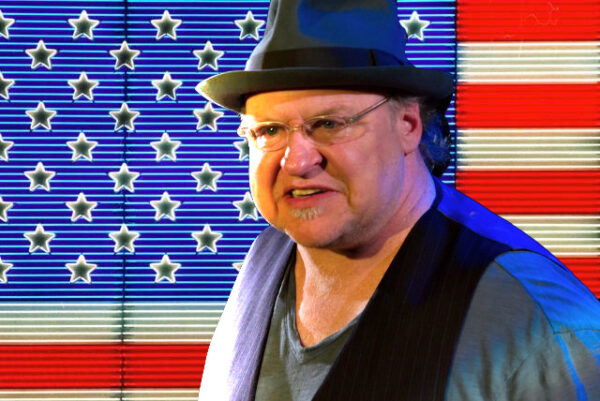 Artist Tony Fitzpatrick Runs for Mayor of Chicago
Read his facebook postings to follow the story but with Daley stepping down after 21 years the race begins and Tony Fitzpatrick has some fun points to be made. read more when someone makes a website for him?
British Artists Protest 25% Cut in Arts Spending
In hopes of bridging the substantial budget deficit Brittan faces the coalition government is proposing a max 25% cut in Arts spending. Damien Hirst, Anish Kapoor and David Hockney, counter that "radical cuts to current levels of arts funding will decimate what has been one of the U.K.'s chief success stories over the past 20 years, and will bring an end to the U.K.'s reign as a global capital for culture." read more here
Ansel Adams Story Continues, With a Showdown
A new gallery showing is opening now with 20 prints — hand-developed and signed by Adams himself and guaranteed to be authentic by the Duncan Miller Gallery in West Los Angeles, which is putting on the show, shown side by side with prints from the embattled garage-sale find of Rick Norsigian, the Fresno resident who believes he has find of 65 negatives shot by Adams next to the more famous "Uncle Earl" Brooks, the previously unknown photographer they contend is the man who actually shot the pictures in the Norsigian find. If your a fan of Adams this would be a one day chance to make the decision for yourself. read more here
Interesting Tale of Dan Colen's Career From Gagosian Gallery Bathroom to Solo Show
Read more here
Ireland Sparks  Controversy Over Venice Biennale Choices
Emily-Jane Kirwan, a director at the Pace Gallery in New York, has been chosen as a commissioner for the Irish Pavilion in 2011, while Corban Walker, who belongs to the same Manhattan gallery, is Ireland's official artist in Italy next year. The fight begins in 3….2…..1….. Read more here
Charles Saatchi's Gift of His Gallery & Many of His Works to British Government an Offer too Good to Refuse or Trouble in the Making?
Charles Saatchi announced in July that he was in talks with the government to create a Museum of Contemporary Art (MoCA) for London. Turning over his Saatchi Gallery and 200 works of art worth a reported £25m to the British public. The offer which has been reported as a suprise to the goverment is now raising concerns about financial stability. Read more here
Danish art pranksters mock Spain's royal family
The provocative Danish artist group Surrend have placed posters around Barcelona that mock Spain's censorship laws as applied to the Spanish royal family. The posters depict several drawings that have been made unrecognisable by being painted over. A slogan at the top of each poster says: "Things we are not allowed to draw". Next to each obliterated image is a sentence such as "The Royal Family having a lunch nap" and "The Royal Family having sex". Read more here
Chicago Typefaces, Unlike Anywhere Else
The NPR picture show name dropped a blog that showcases the comercial typefaces that pepper Chicago, both new and old, and give the city some of it's unique character. I am a bit biased but having visited/worked/lived many other places I can agree that when it comes to Architecture & public graphics Chicago is on a level of it's own especially in the States. read more here
---
I am in Denver at the moment watching my sister box in the US National Championships. I am heading over to the MCA Denver to check out their Damien Hirst and Anthony Goicolea shows. For Tuesaday's pick I chose Anthony Goicolea's Act of Contrition.
---
Am I alone in thinking that whole Susan Boyle thing was a setup? Everyone's "surprise faces" looked sort of fake to me. ANYWAY, here's an otherwise Boyle-free, purely subjective round-up of art-world events, news stories, blog links and other stuff in Chicago and beyond that got me thinkin' this week….
* Literary theorist Eve Kosofsky Sedgwick dies of breast cancer at 58 (New York Times Obit.).
*In latest round of filings, Shephard Fairey turns tables on AP, accuses news organization of copyright violation. (Culture Monster).
*Ellsworth Kelly to install "White Curve," his largest wall sculpture to date, in the Art Institute's new Modern wing next week. The Art Institute will also add Kellys' "Tableau Vert" (a gift from the artist) and "Red Diagonal" (gift of Chicago collectors Howard and Donna Stone) to its collection (New York Times).
*"Class Pictures: Photographs by Dawoud Bey" opens at Milwaukee Art Museum.
*Gearing up for Art Chicago: Buckminster Fuller's Fly's Eye dome now on view at Merchandise Mart (no admission fee required). (The Skyline).
*Skip this page: a retrospective of Rhizome's splash page internet art now on view at Rhizome.org. (Art Fag City has a typically thoughtful review of it here).
*Across the board, museums face worsening crises. Artinfo.com has created a handy timeline of Museums and the recession (this last via Art21 blog; but, as blogger Kelly Shindler points out, the stats in the timeline need verification).
*Another walk-in pantry at Chicago's mini dutch takes place this Sunday from 12-3 (email Lucia to let her know you're coming). BYOB, $3 donation. What's on the menu? Quiche!
*All four seasons of PBS series Art21: Art in the 21st Century can now be viewed on Hulu. Also free for the grabbin': The Tate's media library on iTunesU.
*More "free" stuff: Sweepstakes contest for Damien Hirst lithos and "the chance" to win his original album cover painting for The Hours (via Animal). Now point me in the direction of the Ayn Rand compound, please.
---