Timur Serebrykov, 27, of Pittsburgh, a guard at the Carnegie Museum of Art has been charged with slashing Vija Celmins' "Night Sky .12″ a painting he apparently didn't like, damaging it beyond repair.
The museum's surveillance camera caught the vandalism on May 16, police said Thursday.
The 31-by-37 ½-inch oil-on-canvas painting of a black starlit night had a large vertical gouge in the middle and was damaged beyond repair & valued at $1.2 million according to a police affidavit.
Court documents indicate Serebrykov used a key or other implement to damage the painting because he disliked it.
---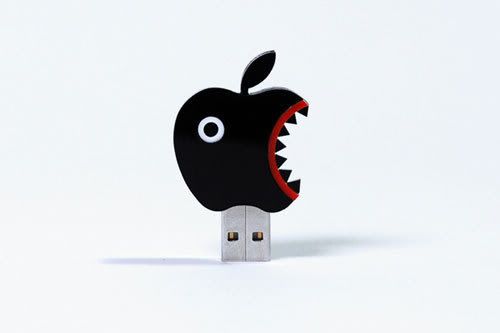 Artist/design collective Troika has a pretty awesome virus that will introduce gravity to you Mac's desktop. When the virus is activated at random your desktop icons will fall down as if they have been affected by gravitational pull.
"In the beginning were harmless computer viruses. Viruses born out of the wit of early computer adopters, viruses whose sole purpose was to surprise and amuse. A non-destructive form of artificial life.
We wanted to revive this golden era, and went on to create our first computer virus. We chose to do it for mac as the platform is still a virgin territory 😉
Newton Virus comes on a USB key for manual infection. Simply plug the key into a computer and the virus will automatically copy itself on the hard drive.
The virus will then hit at random, but only once. It will not replicate itself, mail itself to your friends or destroy any of your files, but instead provides you with moments of blissful surprise and magic.â"
Watch the video here.
---

Pop artist Claes Oldenburg best known for his simple and iconic works of 4 story clothes pins and cherry laden spoons is appearing in court as one of the defendants in a lawsuit placed by the House of Mouse.
Back in 2003 the Disney Co. contracted Mr. Oldenburg, his manufacturers Carlson & Co (a San Fernando art fabrication company best know for building Jeff Koons "Balloon Dog") and his partner Coosje van Bruggen to build a metal statue of a black bow and tie surrounded by a white wing collar to be placed outside the newly constructed Walt Disney Concert Hall in Los Angeles; a building which was designed by friend of the artist Frank Gehry.
Gehry personally promoted the idea of Oldenburg doing the peice and thought that a swanky collar and tie, looking as if they had been tossed on the sidewalk by some colossus, would sound a playfully artful keynote for concert goers and passersby. "Collar and Bow" as it would be called was contracted in May of 2003 for $2.2 million and scheduled to be delivered by Aug. 15, 2004. Donations of $1.85 million from Music Center patrons Richard and Geri Brawerman and $1 million from the J. Paul Getty Trust were expected to cover the cost.
Read more
---
Rindy Sam, the 20 year old Cambodian artist living in France that was in the news back in July has had her day in court and the judge has fined her accordingly:
1euro goes to Cy Twombly for symbolic reasons
1,000 euros ($1,425) to the painting's owner
486 euros ($713) to the Avignon gallery where she planted the kiss
Also 100 hours of community service after convicting her of "voluntarily damaging a work of art."
$2,139 in damages was far below the $2.8 million in damages the owner Yvon Lambert had originally requested – the full value of the painting.
He claimed it cost more than $45,000 to restore the work because the lipstick could not be easily removed.
During the trial, Sam stated continuously: "When I kissed it, I thought the artist would have understood,"
Cy Twombly has yet to comment……….
---

Rindy Sam a french artist has taken it upon herself to add to the Cy Twombly cannon by placing a deep red lipstick kiss on an unnamed 9'x6′ painting valued at more than $2m (£970,000). Ms Rindy has been charged with criminal damage after kissing it and told reporters afterwards while leaving the local police station.
"I left a kiss, A red stain remained on the canvas… This red stain is testimony to this moment, to the power of art."
"Cy Twombly has left this white for me."
She then went home and placed a check mark on her lists of lifetime accomplishments where it said abandon any real artistic contribution in life and get arrested & fined around $10,000 for kissing a $2m painting just so the name Rindy gets in the newspaper for a week.
---