by Jen Delos Reyes
Two countries. Five conferences. Seven years. 14 partnerships. Over 700 presenters. Over 1600 attendees. Since the first Open Engagement conference in 2007 this event has become a key meeting point for people interested in socially engaged art. Open Engagement: Art After Aesthetic Distance began as a hybrid project that used a conference on socially engaged art practices as its foundation and incorporated elements including workshops, exhibitions, residencies, pedagogy, curatorial practice and collaboration. I wanted to foster a different kind of conference—one that worked in the way I wanted to see it work: with a sense of togetherness, putting emerging and established voices side by side, highlighting different ways of knowing and learning, and serving as a site of production, as well as reflection. I wanted to contribute to the discourse on socially engaged art in a meaningful way. When Open Engagement began it was a student project. I was a graduate student. The conversations that I wanted to engage in were not happening at my school in Saskatchewan, so I decided to create the situation that would allow for me to have these discussions with people doing similar work. Open Engagement was the basis of my education, and now is a major foundation of my work as an educator.
This year as in most years my experience of Open Engagement happens mostly in the lead up—in conversations with students to determine the themes of exploration for the year, in the selection of keynote presenters, in the scheduling, planning, writing, partnerships, and all things organizing. In the day to day of the event itself I get to attend very few sessions, usually only the opening and closing sessions, keynote events, and a hand full of other projects and for a limited amount of time. My time during Open Engagement is mostly spent assisting and making sure things are running smoothly. But in that way of moving through the conference I intersect with people all throughout the day that I ask what they have attended, and what their thoughts are on the experience at the conference so far. This idea of needing to talk to others to fully experience the conference is intentional. Because of the parallel programming no one person can take in all of the projects and sessions that form the event on their own. We need to work together, and see from multiple perspectives to get a full sense of the field.
In 2010 at Open Engagement Pablo Helguera said that he had always heard that a conference is meaningful in as much as it generated new questions to follow up. If you didn't find new questions then maybe it was not successful. I had a similar feeling about conferences, and it had been one of the ways I was measuring outcomes. The conference begins with a series of calls and questions, and throughout the course of the event and the conversations there are undoubtedly more that are generated. At OE 2013 we were making a concerted effort to capture that questioning throughout the weekend, and on Sunday before Tom Finkelpearl's keynote talk were reminded by Michelle Swineheart of one of Sister Corita's "quantity assignments" of generating 100 questions when embarking on intensive work and research. With this in mind, as well as earlier feedback from the day at a session between the Creative Time summit and OE where I heard from many participants that they wanted to work together to generate something during the conference and that in general there was a desire for sessions that allowed for formats other than being talked at, I decided that the final event would be an opportunity for just that.
For the closing event of Open Engagement 2013 instead of having a panel discussion between only keynotes and curatorial representatives we instead set out to collect 100 questions generated by the group assembled to further get a sense of what is emerging, what people are thinking, and where this conversation is going. The Sister Corita assignment felt fitting for a group of presumably invested individuals, who wish to continue to be involved in research and practice, to take this on together. It was a hope that as we would move out into the world after the conference that we could then reflect on this list of the questions we are currently asking ourselves about socially engaged art. The format was that each of our six panelists joined one of six seated groups that each had about 40 chairs (based on past years we were planning for between 200-300 people at the final panel), and we then had about 35 minutes to work together and for each group to write 17 questions and then we reconvened and the panelists shared the group work. After the instructions were given, at least 20% of the assembled group left instead of joining the break out groups. As I stood at the front of the room watching people choose to stream out, I wondered if I had made a mistake. The people that remained formed groups and were led in discussions to generate questions. There was one group in particular that voiced resentment, yet not enough resentment for them to have just left. This all came out in sharing of the questions at the end of the session. After many weeks I heard from someone who was part of that dissenting group how difficult it was to contribute questions, to have a discussion, and to feel like they could share. Days after the conference I heard some thoughts from Michael Rakowitz (who was the person facilitating that group) on the conference and the final event in general and he said, "You created a space for people to get upset, and that opens up possibilities for things that haven't been done yet." While I had no doubt that we had created a place for people to get upset I wondered what else the space was a possibility for. I thought of other conferences and their goals, Suzanne Lacy's City Sites: Artists and Urban Strategies (1989), and Mapping the Terrain: New Genre Public Art (1991), the Creative Time summits that began in 2009, and the more recent Homework conferences organized by Broken City Lab. Lacey was trying to create a space to develop language for socially engaged art that went beyond the limitations of forms like performance and conceptual art, and with the latter intended that the activities of Mapping the Terrain would come together as a publication. The most simple way to describe the Creative Time efforts is an attempt to become the TED talks for socially engaged contemporary art. The latest incarnation of the Homework conference takes a similar approach to Mapping the Terrain with a end goal of a collectively generated publication, and a similar format to Open Engagement with three keynote presenters and framing devices.
My last memory of Open Engagement took place at Boxxes, the club that hosted the wrap party for the conference. I showed up after a late dinner and took a seat behind the DJ booth where Paul Ramirez Jonas was virtually spinning tunes for the party. I was approached by a woman I met earlier in the day who is a funder at an arts organization dedicated to supporting socially engaged art. I found myself captive behind the DJ booth during a moment of celebration hearing out her frustrations with the conference. The parts of her dialogue that rang out the loudest in my mind were, "I am not here to learn with you, I am not here to generate your content." I nodded throughout, and thanked her for so openly sharing her criticisms. I meant it. I still do.
This encounter made me think of who was present Open Engagement, and what they expected, and how at least for this person how much of a radical departure it was from what I thought people were there for. I revisited some writing from 2007 that I had done after the conference:
What does it mean to be open? What does it mean to be engaged? What if one were to be both open and engaged simultaneously? Openness is honesty, generosity, a sense of possibility, freedom, free of boundaries and restrictions. To be engaged is a promise. It is a commitment, an obligation. It is also a sense of involvement and participation. To have an "open engagement" implies a commitment that is potentially limited or short lived. But what if the two terms once united could keep their respective definitions making openly engaged a term that would embody an obligation to honesty, sharing and possibility? 
It happened, we did create a place of possibility, a place for honesty and sharing, one where many boundaries and expectations were crossed and left behind. What should Open Engagement be? Who should it be for? How can we adequately capture what is generated? Over the last few days I have been thinking about the possibility of an online community archive for Open Engagement that would be a collective effort that would be open for all to share their documentation, writing, thinking, and stories related to the conference.
I had always seen Open Engagement as a site of learning. In an online video conference with Ren Morrison from the Atlantic Center for the Arts weeks following the conference he off handedly referred to Open Engagement as being his "education". The conference has for the past four years been a site of convening for many of the MFA programs with a focus on publicly/socially engaged art. The fact that this conference is so embedded in the structure of an MFA program makes the very nature of it educational, as well as the fact that even the very beginning was in an educational framework. In my mind we were all working together, learning together, and teaching one another. How we organize this conference collaboratively echoes the spirit of our program and our approach to learning. An education in our program is emergent, unorthodox, and at times unruly. This translates into Open Engagement feeling slightly unkempt, and in flux. And while this might be a point of criticism for some, I would not trade this instability for rigid professionalism or a set structure. It is important that we remain open to this conference and this conversation shifting and developing in unexpected ways. It is also important that we remain open to the realization that this may no longer be a site that is necessary, or that it might need to take a completely new form and possibly a new grounding. I hope that whatever becomes of it, that Open Engagement can be a site to work together, learn together and see what we are contributing to the field of socially engaged art from multiple perspectives. I am open to whatever comes next.
Jen Delos Reyes-Â Assistant Professor, MFA Art and Social Practice Program Chair

Jen Delos Reyes is an artist originally from Winnipeg, MB, Canada. Her research interests include the history of socially engaged art, group work, band dynamics, folk music, and artists' social roles. She has exhibited works across North America and Europe, and has contributed writing to various catalogues and institutional publications. She has received numerous grants and awards including a Social Sciences and Humanities Research Council of Canada Grant. Jen is the founder and director of Open Engagement, a conference on socially engaged art practice and herself speaks widely on Art and Social Practice at conferences and institutions around the world. She is currently an Assistant Professor at Portland State University where she teaches in the Art and Social Practice MFA program.
---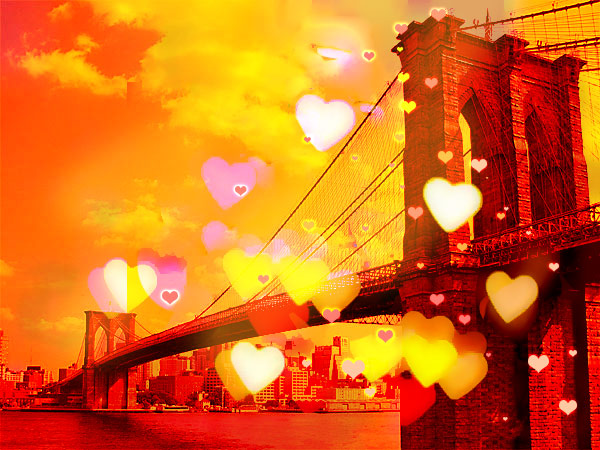 Back in the beginning of June, Creative Time and artist Paul Ramírez Jonas set up a kiosk in New York City's Times Square and gave away free keys to the city to groups of two. Keys that would enable the duos to see rarely visited or in some cases previously unacessable areas in all five boroughs.
Places such as:
The awarding of the keys has a small amount of built in pomp and circumstance requiring there to be two and that each oratorically awards the key to the other declaring why that person has earned this right.
None of the destinations are life altering or that exclusive (some are just dressed up marketing attempts) but it is a wonderful treasure hunt of sorts even if at times we do not like treasure hunts and an excellent artiface or conceit to excitingly get people to venture out into the city beyond the usual commercial destinations. To see the romantic corners & rooms of NYC so to speak.
The Art project was a kind of API but instead of allowing computers to share data or tools it empowered people with the theater, opportunity and open ended purpose to expand on it if they so desired, a Art Project Interface of sorts. Many have built other projects on top of it from bike routes, water gun assassinations to interestingly extending the romantic couple metaphor into literal dates.
Thats what Lauren Burke, a 26-year-old Manhattan lawyer, art reporter and photographer decided to do. Turning each of the locations into a date with the following statement:
Take one single girl, the most inspiring public art project yet, and summer in New York City and you have the idea for a perfect blog:

After being presented with the key to the city and now having the ability to unlock 24 secret sights around all five boroughs, 24 dates will be had throughout the summer, seeing if both love and intrigue can exist in the city where no one sleeps.

The rules:

1) Every first date this summer must somehow incorporate a key to the city site

2) Each sight can only be visited once before another sight is visited.

3) Men or women may be repeated before sites, meaning that a site may be visited on a second date if the man or woman warranted a second visit.

4) No ex-boyfriends allowed as sight visits unless they too are warranting a second visit.

5) As the key to the city project is to expand our city horizons, each site visit date must also incorporate a food or drink spot never before tried.

5) Whoever wins my heart also wins my second key to the city.

6) Have fun, love life, love NYC, love love.,
So with summer approaching, 4th of July celebrations this weekend and a economy/job market that just keeps going down like it was from Jersey and in The Situation's room (not you Blitzer) find that special someone and explore the little known hidden free gems of your city or town with them. I have every intention to.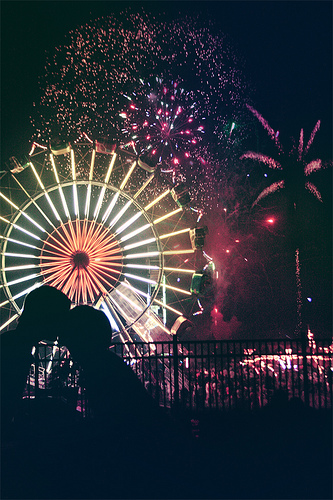 ---
This week's pick is not for everyone. Clocking in at about 20 minutes we bring you Sharon Hayes' keynote address for the Creative Time Summit: Revolutions in Public Practice.
via Creative Time
"Sharon Hayes discusses how moving to New York City in the early 1990s and witnessing the AIDS crises and artistic community has forever affected both her life and artistic practice during her keynote address at the 2009 Creative Time."
---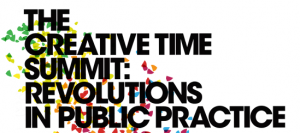 In a piece titled Public Opinion written late last week for Artforum.com, Claire Bishop reports on Creative Time's Summit on "Revolutions in Public Practice" held at the New York Public Library a few weeks ago. The summit presented an overview of current practices that encompass "everything from participatory performance to allotment squatting to socially conscious photography," as Bishop described it. At the summit, artists such Vic Muniz, Harrell Fletcher, Tania Bruguera, Rene Gabri (hey Rene!), Dara Greenwald, Thomas Hirschhorn, Maria Lind, Francisca Insulza, Liam Gillick and numerous others (including this week's podcast guests Temporary Services) made short presentations of current works and related projects.
Bishop offered a somewhat skeptical and occasionally snarky take on the proceedings. In particular she questioned the Summit's use of the word 'revolution,' given that many of the practices she observed were in her opinion not exactly new. She argued,
There was a striking similarity between many of the presentations and 1970s gestures of institutional escape, as well as to early-'90s "new genre" public art (the term coined by artist Suzanne Lacy, who also spoke at the summit). The big difference between then and now was the staggeringly dry and soulless language deployed by many of today's artists who took to the podium. At countless points in the day, my eyes glazed over to the sound of earnest monologues announcing, "My practice is about creating platforms for a critical interface with overlooked spaces, networking with local communities to provide self-organized resources and coproducing social relations . . ." Aaagh!
Bishop summarily dismissed the projects presented by Vic Muniz and Harrell Fletcher "for their reality t.v. sentimentality" while chiding the Summit for its "predominant tone of collective agreement" and overall lack of "friction." She concluded:
"At its best, the "Revolutions" summit offered an immensely valuable overview of a wide range of engaged practices otherwise lacking visibility in New York, while the discursive format provided an appropriate alternative to the exhibition as a means of presenting this often visually evasive work. Socially, it was dynamic-and in this respect, it had much in common with the energy of Hans Ulrich Obrist's marathons. On the other hand, the summit was only an overview and did nothing to problematize "public practice" as a direction in contemporary art. It assumed (along with many of the positions presented) that art as a discipline can and should be marshaled toward social justice. I would have liked to see more pondering of the specifically artistic competences that can be deployed toward these ends."
In the Talkback section, Muniz, Fletcher, and several others weigh in with dissenting assessments of the Summit – and here is where the topic gets truly interesting. Creative Time curator and event co-organizer Nato Thompson offers a particularly thoughtful and measured rebuttal which, among other issues, questioned the usefulness of Bishop's approach to the event– an approach that, in this instance, at least, may have missed the point entirely. Thompson explained,
We chose this format so that the work could speak for itself and the audience would be left to consider all the problems and solutions they provide. Another motivation was simply to provide a platform in NYC for this type of work. Certainly, there is much more to be said, and we intend to provide more spaces for this work. Ultimately, we need to re-engage the critical project of thinking through culture's relationship to the issues and concerns of everyday life. We must stop this antipathy for thinking and market friendly pseudo-populism that has swept the critical stage (while admitting the disaster that jargon-laden Marxist art criticism has wreaked on political art) and instead, take seriously the potential for the arts to participate in the concerns that actually matter in the world. From this difficult vantage point (that is how projects actually transform the social landscape), the discussions around political public practice may possess an urgency capable of pushing the discussion beyond the prescribed domain of art."
Go read the article and subsequent exchanges for yourselves, if you haven't already. The discussion has generated some real heat, and should be of particular interest to artists and other cultural workers who frame their work as a form of "public practice" rather than as art with a capital A.
---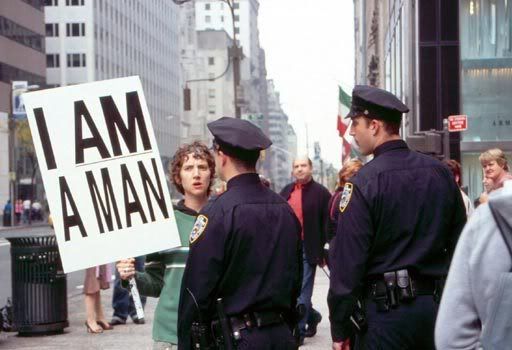 Creative Time's DRINK THE NEW WINE:Exquisite Dialogul
I haven't checked out Creative Time's website in a very long time. Since my last visit they have posted a series of interviews with a bunch of artists. The interviews feature: Malcolm McLaren, David Byrne, Matthew Buckingham, Sharon Hayes, Mark Tribe, Mike Rottenberg, Malclm McLaren, Genesis P-Orridge, Mika Rottenberg,Mark Tribe,and Susanne Oberbeck.
via creative time
"Here's how it worked: the artists engaged in a volley of two to three e-mail correspondences with each of two other artists we matched them with. Each artist instigated one conversation and was on the receiving end for the other. They were each provided with brief information on their partners' recent work and upcoming projects with Creative Time, but were encouraged to talk about anything of interest-related or unrelated to their projects, and from the politically important to the scandalous. As you'll soon read, they all took this to heart, and the conversations touch on the ideas that inspired their work, politics, sex, music, and even the sausages in Basel. "
Check them out here
Performa's Metal Ball
Last year while I was doing a residency program in New York I was able to check out a few performances from Performa 07. Performa is a non-profit organization that is "committed to the research, development, and presentation of performance by visual artists from around the world." Proceeds from the ball will go towards Performa 09
"The Metal Ball is inspired by the Bauhaus' Metallic Festival, when the famous school was decorated entirely in metallic colors and substances and guests reveled in an exuberant festival of music, light and action. Following the enormous success of Performa's 2006 White on White Party, The Metal Ball will once again feature an exciting line-up of art and musical performances presented on multiple stages throughout the evening. " For more info pleas visit Performa's site.
Have a good weekend everyone.
---