It's that time again. This was another week full of many worthy options for viewing. I'll be going to quite a bit more than just these five, but these looked particularly interesting:
1. You Can Lose Your Balance at 65 Grand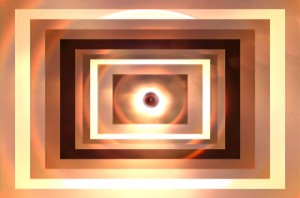 I've been a fan of 65Grand for quite a while. I am not terribly familiar with Scott Wolniak, but I took a trot over to his website, and it looked like interesting stuff.  Corbett vs Dempsey or Noble and Superior are both close by, so why not go for a two- or three-for-one? See ya'll at the top of the stairs.
65Grand is located at 1378 W. Grand Ave. Reception is Friday from 7-10pm.
2. Sarah Best: Daily Photos at Antena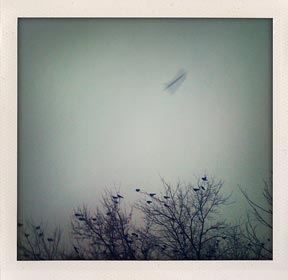 There are two shows opening at Antena this Friday, and this is actually the smaller of the two. The premise involves cell phone pictures, a medium that I still find dubious, but which I need to see more of, so as to fully form my opinion. The one image available is beautiful, as you can see.
Antena is located at 1765 S. Laflin St. Reception is Friday from 6-10pm.
3. UnCommon Territories at Heaven Gallery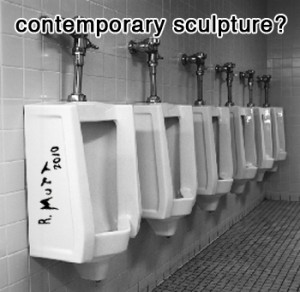 A group show of (primarily) SAIC sculpture kids, including: Marissa Benedict, Christopher Bradley, Scott Carter, Lauren Carter, Younghwan Choi, Colleen Coleman, Allison Fall, Elise Goldstein, Katya Grokhovsky, Samantha Hill, Holly Holmes, Scott Jarrett, Selena Jones, Maya Mackrandilal, Lisa Nonken, Luis Palacios, Ben Stagl, Stephanie Victa, Andrew Norm Wilson. Come spend an evening in Heaven.
Heaven Gallery is located at 1550 N Milwaukee Ave. Reception is Friday from 7-11pm.
4. Duncan R. Anderson at Kasia Kay Gallery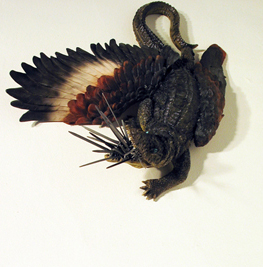 The best exhibition I ever saw at Kasia's place was Anderson's previous exhibition. I'm super excited to see that he's back, and I can't wait to see what new craziness he has on display. This dude's work is friggin' awesome.
Kasia Kay Gallery is located at 1044 W. Fulton Market. Reception is Friday from 6-8pm.
5. Room-a-Loom at Swimming Pool Project Space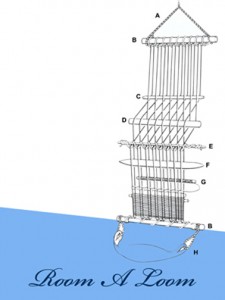 Come see the spectacular culmination of the Room-A-Loom! People have ween donating their blue weaveable material for almost a month now. It is time now to experience what a giant loom and a giant room can make together! It's gonna be fort-tastic!
Swimming Pool Project Space is located at 2858 W Montrose Ave.Reception is Saturday from 6-10pm.
---
Hey ya'll. I'm back from my Kentucky adventures, and I'm going back out this weekend. I did manage to make it to Packer Schopf for 39 Verbs on Sunday, and glad I made it (even though I was still a bit muddy and got a touch of the culture shock). I'd never heard of Industry of the Ordinary (the organizers of 39 Verbs) but I'll be keeping my eye on them in the future. This week I've got three relatively traditional (relatively being the operative word) venues, a 2-for-1, and a closing reception (get them while supplies last!). Without further ado, my 5 picks, in chronological/alphabetical order:
1. The Murmur of Pearls at Corbett vs. Dempsey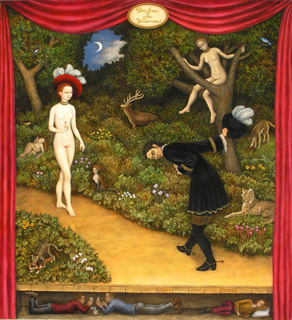 Truthfully, I like this work because it reminds me of the work of a friend of mine, Justin Storms. Now, I know, no one ever wants to be compared to anyone else, because we're all unique and individual snowflakes, but WTF? I like the work 'cus I like Storm's work. Being somewhat obsessed with The Unicorn Tapestries as a kid probably didn't hurt. Paintings by Gina Litherland, the show opens Friday from 5-9pm.
Corbett vs. Dempsey is located at 1120 N. Ashland, 3rd fl.
2. Cline Ave & Front Porch Disasters and Other Open Secrets at Linda Warren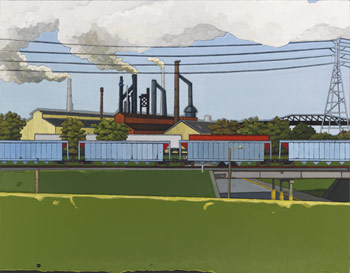 I guess this is also a bit of a 2-for-1, though not the one I was referring to in the introduction. I'm generally a fan of Linda's gallery, and this round is not exception. Cline Ave, a series of paintings by Emmett Kerrigan, may appear benign, but the industrial/living-space rendered a bit cartoonishly is strange, if not instantaneously depressing (in the best possible way). Wow, I'm good at run on sentences. In the back room, AKA the Project Room, Front Porch Disasters and Other Open Secrets, work by Lora Fosberg adorns the walls. The two shows are in one of the best dialogs I've seen in a while at Linda's place, I look forward to seeing it all in person. Reception is Friday, from 6-9pm.
Linda Warren Gallery is located at 1052 W. Fulton Market St.
3. Public Spaces at Stephen Daiter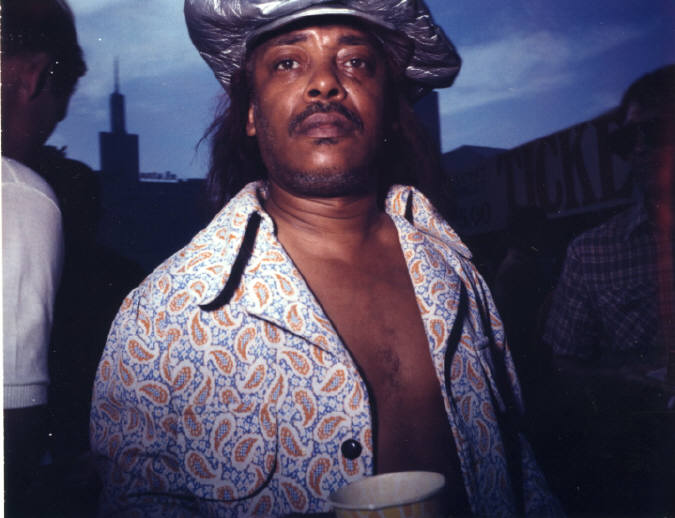 Stephen Daiter is a bit of a hidden gallery. Unlike Edelman, the other major photo gallery in River North, Daiter is hidden upstairs, past an elevator that is incredibly slow and smells a bit of burnt plastic. Dont' let this deter you, however, because Dater is a place, especially if you're into photography, that you need to get to. For this round at Datier, Private Views – Public Spaces, work by Barbara Crane is on display. Awkward Polaroids of 70s people? Why not? Crane does a variety of work, so this isn't the most contemporary, but good none the less. Reception is Friday, from 5-8pm.
Stephen Daiter is located at 311 W. Superior St. #408
4. 2-for-1: ThreeWalls and Western Exhibitions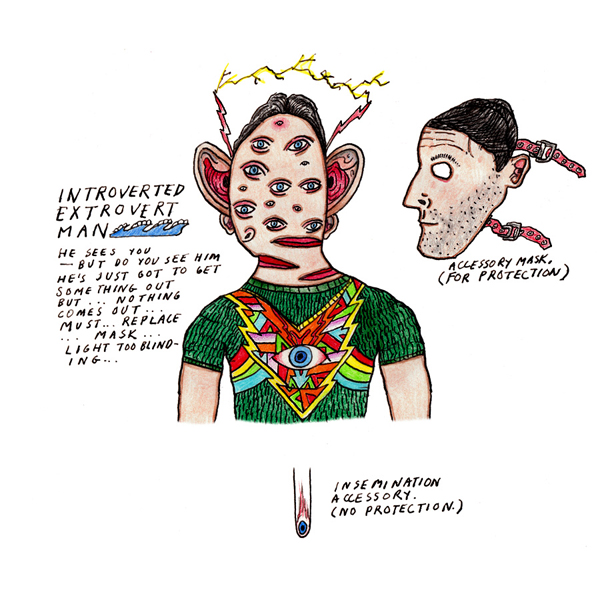 Both these venues are having entertaining events on Friday, and since they are literally down the hall from each other, I figure, go to one, go to both. I'd start at Western Exhibitions, which is showing Superfreaks, work by Eric Lebofsky & A Wildness of Edges, work by Melissa Oresky. When you're done gawking at that, head for ThreeWalls for New Knowledge, a trivia night that is going on as part of In Search of the Mundane, a collaboration with Randall Szott and InCUBATE. Weird-ass paintings and drunken trivia? How could such a thing ever be wrong?
ThreeWalls and Western Exhibitions are both located on the 2nd Floor of 119 N. Peoria St.
5. NOTICE – CLOSED at Heaven Gallery
NO PICTURE AVAILABLE! DON'T BLAME ME!
This is the closing reception I was talking about. Co-sponsored/co-produced by Heaven and Spudnik Press, the show features a bunch of work by Jeremy Lundquist, along side a group exhibition, A Unique Marquee, that was co-curated by Lundquist and Angee Lennard, the Director of Spudnik Press. Again with the run on sentences. A good nightcap if you ask me.Reception is Saturday from 6-9pm.
Heaven Gallery is located at 1550 N. Milwaukee Ave, 2nd Fl.
---
Thursday
Albert Oehlen: A Vanguard With Decorum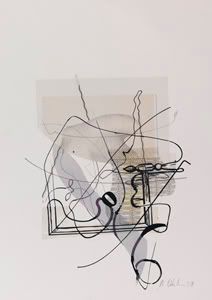 Opening!
May 14 5-9pm
May 14-June 27, 2009
Corbett vs Dempsey
1120 N. Ashland
Chicago, IL 60622
"This show will unveil Oehlen's stunning new series under the banner A Vanguard with Decorum. The exhibition will include 15 intimate, graceful drawing-collages on paper, a huge drawing based on the title of the show, and a spectacular new painting. Clearly related in their reduced palette and graphic quality to the computer works, these new pieces introduce an unforseen modernist architecture while amping up the looping, curvaceous, linear intensity." via the website
Friday
Manifest Urban Arts festival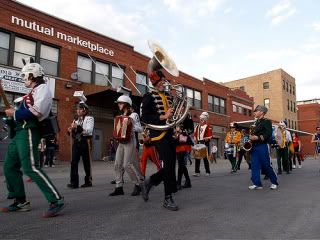 Various locations, between Roosevelt and Congress and State and Michigan. Map it here.
11am-10pm
Circus punk marching band Mucca Pazza kicks off the event at 640 S Wabash Ave at noon!
"Experience Manifest. Columbia College Chicago's urban arts festival celebrates the work of seniors and graduate students from every department on campus. Manifest 2009 will feature an artwalk & sale, music on four stages, screenings, readings, live radio, Web casts, the TICTOC Performance Art Festival, the Transmission art car exhibition, Spectacle Fortuna's parade of creativity." via the website
Check out the insane schedule of music, workshops, performances and exhibitions here. Get a pdf version of the schedule here.
Saturday
Weiner Takes All: A Dogumentary
Chicago premier!
Friday, May 15, 6:15 pm
Saturday, May 16, 5:45 pm
Monday, May 18, 8:15 pm
Gene Siskel Film Center
164 North State Street
Chicago, Illinois 60601
"The little-known world of wiener-dog racing is investigated with humor and charm in a film that appears to have (ahem) legs, based on the ecstatic audience response generated by its numerous festival screenings around the U.S." via the Gene Siskel website
You can check out the trailer here.
Grand opening of the Art Insitute's Modern Wing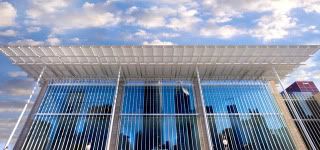 Free admission May 16–22
Grand opening May 16, 9am-5pm
Art Institute of Chicago
111 S Michigan Ave
Chicago, IL
"Celebrate the Modern Wing's public unveiling with AIC on Saturday from 9 a.m. – 5 p.m. Good times include a dedication with architect Renzo Piano at 9 a.m., a ribbon-cutting ceremony at 10 a.m., and live music/dancing from acts like Swing Gitan, Maxwell Street Klezmer Band, and Hubbard Street Dance Chicago. The grand opening exhibit is Cy Twombly's "Natural World", which will be on display through September 13 at The Abbott Galleries—the Modern Wing's special exhibition space located on the first floor." via the chicagoist
---
"Harry who?"
While a lot of the art featured in the booths on the 12th floor of Art Chicago wasn't really my cup of tea, I did like all of the special exhibition projects, especially Lynn Warren's side-by-side presentations of "The Hairy Who and Imagist Legacy in Contemporary Art" and "The Hairy Who and Chicago Imagists." These small-scale exhibitions were extremely well executed — curated at just the right size to capture the momentary attention span of passing fair-goers, and providing just the right amount of information for those who are unfamiliar with this generative period in Chicago's art history. Hopefully, visitors to the city who saw the show will be encouraged to seek out more while they're in town (two places to start: Corbett vs. Dempsey gallery, which has a strong focus on Chicago painting and works on paper, and Russell Bowman Fine Art, which has a Roger Brown exhibition up through May 16th ). Below, a few pics from Warren's Art Chicago shows:
Images From "The Hairy Who and Imagist Legacy in Contemporary Art" at Art Chicago:
Images From "The Hairy Who and Chicago Imagists"at Art Chicago:
The exhibition is located on the 12th floor of the Merchandise Mart, I'm pretty sure it's next to the MCA Bookstore display.
---
A rarely seen collection of Robert Lostutter's watercolors, dated 1968 – 1973, are on view at Corbett vs. Dempsey. They will be for some a sharp departure in Lostutter's oeuvre, considering he is far better known for his images of male figure sheathed in masks made of bird feathers.
I had to see this show in order to satisfy my juvenile curiosity about the pre-homoerotic Lostutter, and fantasized that in seeing it I would be able to smartly delineate the transition in his work. I would be able to tell, I supposed, exactly when Lostutter turned his back on the exaggerated form of the emotionally detached female subjects of the earliest work and ushered in the arrival of the fierce, clandestine, and virile male figures that would populate his work forever thereafter.
It turned out not to be so sudden. In many of the works during this time, men and women inhabit the same surreal space, facing off amidst geometric zaps and zig-zags. The bodies share not only the space, but also a similar predilection for corsetry and what looks like highly refined, custom S&M wear. Their bodies are also rendered akin, like personalized sensory homunculi, with each the most crucial sexual elements bulging and ballooning with proportional importance according to the artist. In the ladies, elephantine thighs protrude from giant granny panties tightly clinging to barely concealed pudenda. (That's right, I said "pudenda"). In the men, sturdy, block-like torsos are supported on huge square asses and trunk-like legs, nipples featured prominently and treated occasionally with garments that further accentuate their central role. Now, this might be where I go too far in acting like I see Lostutter's transition on paper as a time-line mirror of his transition in real life, but I am pretty sure I can parse in many of the works the way in which the male figures begin to assert their dominance. In 1969 for example, a female figure, shown in profile, sports a dog's elongated face as a protrusion from the groin area through her skirt. But by 1970, who's wearing the strap-on dog? Big Daddy, that's who. (Okay, I'll quit with that, but it does bear examination if you're interested in such things.) From that year forward, the fecund, monumental females are encroached upon by men with jutting chins in trench coats, mostly tucked subserviently into the scene- emerging from the edge of the picture or hiding behind curtains and camouflaged by graphic elements. This goes on for a few years until, at the turn of the 1970′s, Lostutter dispenses with the gals altogether and trains his vision on more and more intense psychological renderings of vulnerable bird-men.
While not officially a member of the "Hairy Who?" group of Chicago artists, Lostutter existed on the fringe of all the Imagists' sub-groups and is often mentioned in the same breath. Like them, he eschewed prevailing trends in New York and focused on a tightly rendered, highly illustrated surrealist vision of the figure in space. His work has been remarkably consistent in its passion for precision over the years, even as his figures have softened and relaxed. In these early works, his expert handling of the watercolor medium is shown off in both broad fields of delicately managed color as well as areas where it is fit within tightly knit abstract elements and illustrative details. These flower petals and energetic zig-zags found in the early works would later metamorphose into the brilliant feathers adorning the artist's more recent work.
This early body of work will be a welcome respite from the obsessive detail that emerges in the work as the years go by (and as fewer bristles remain on Lostutter's paintbrush, seemingly). If you find some of the more recent work cloying in it's florid detail and color, the broads in these early watercolors will give you an opportunity to see a more tortured and terse version of the artist's fetishistic renderings.
---