Off-Topic invites artists, curators, writers, and cultural workers to discuss a subject not directly related to the practice of making art. We would like to welcome Elijah Burgher as our latest guest. Earlier this week Elijah participated in the magic-themed Cabinet of Curiosities at the MCA, hosted by Bad at Sports' Duncan MacKenzie.  His Off-Topic post takes the form of a narrated YouTube tour of his favorite group Coil.
COIL ARE MY FAVORITE
Elijah Burgher
On November 13, 2004, Jhonn Balance died after falling from a second floor landing in his home. His death effectively ended the mighty Coil, which he had founded in 1982 with Peter "Sleazy" Chistopherson. Along with Psychic TV and Chris & Cosey, Coil rose from the ashes of Throbbing Gristle—Sleazy is a member of TG, who recently resurrected—and, with Current 93, Nurse with Wound,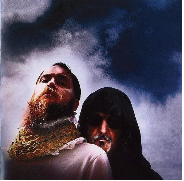 Death in June, plotted a new course for the various strains of experimental music that issued from the first wave of industrial music in the mid-to-late 70s. For more information about the band's history and recordings, look at the Threshold House site, Brainwashed's Coil page, or the brief entry on them on the Disinformation site.
Coil are also my favorite. I love a lot of things, and have named possibly hundreds of artists, bands, filmmakers, books, etc. as my "favorite" at one time or another. When Claudine asked me to write an Off-Topic post for the BaS blog, I knew I wanted to write about something that I loved, and considered Swans' Children of God, Dennis Cooper's George Myles cycle, and Pasolini's Salo, the latter of which I've seen too many times to justifiably claim anything resembling mental health. But Coil really are my favorite. They are what I listen to when I work in my studio. And I have a Coil t-shirt that I consider a good luck talisman and wear when I feel particularly stressed out or sad. They inspire exactly this type of ecstatic, pathologically intense fandom in their followers. For this blog post, I'll be leading you through some of my favorite songs by the band.
Balance had long suffered from alcoholism and drug abuse, which contributed to his untimely death. Since we started with news of his death, here is "Heartworms," where he reflects self-deprecatingly on his addictions, intoning "there's too much blood in my alcohol." (Also I stole the name of my drawing blog from a lyric in this song: "Ghosts vomit over me.") An enterprising YouTuber has added a super 8 short by Derek Jarman for visuals:
I first heard Coil when I was a teenager and a big fan of industrial music. I loved Ministry, Revolting Cocks, Pigface, and My Life with the Thrill Kill Kult. Originally, I had picked up their cd, Love's Secret Domain, because I'd buy anything Wax Trax put out. It came out in 1991, so I must have been 13 or 14 since I didn't buy it too long after it had been released. That record soundtracked much of my high school years, from toothy teenage blowjobs to acid comedowns watching the dancing patterns of my bedsheets, and numerous late night sessions hunkered over my journal writing bad poems and drawing cute boys. I remember playing their track "The Snow" on repeat. It is now a veritable classic of early 90s house music, albeit still somewhat anomalous for the genre. Here is the "Answers Come in Dreams II" remix from "The Snow Ep": Read more
---