Thursday of this week will mark an important moment in the history of digital art. Although the long and fruitful history of this medium will hardly be brought to a close, an important chapter in its narrative is about to unfold through the first ever digital art auction hosted by Phillips. The auction, entitled Paddles On!, Â is of particular significance because it is not only the first auction for Phillips, but also the first primary market auction to occur at any major international auction house to only feature digital art works.
When I had first heard the news that Phillips was teaming up with Tumblr to host an auction a couple of months ago, I was a bit skeptical. After hearing that Lindsay Howard (co-director of 319 Scholes and former Eyebeam Fellow) was coming on board to advise and curate the works for this sale, some of my reservations started to dissipate. But I didn't fully come around to appreciating this auction until I got a sneak peak of the exhibition and had a chance to sit down the three organizers of this project: Ms. Howard, Megan Newcome (Phillips Director of Digital Strategy), and Annie Werner (Arts Evangelist at Tumblr).
During my visit last Friday, I got a chance to see the final moments of installation, and was also given a guided tour of the broad yet considerate exhibition of the works on sale. The diversity of the work was not only presented in a near flawless manner, but it also showcased the breadth of pieces that all can directly and loosely be identified as digital art. I found myself "checking boxes" as Ms. Howard led me around the exhibition, noting familiar faces like Rafaël Rozendaal, Kate Steciw, and Alexandra Gorczynski. But as my tour continued, I was confounded when my curatorial and critical presumptions quickly dissolved upon noticing that the collection of makers presented in this auction was not pandering to a specific audience or community. Of course I wasn't expecting anything less of the organizers, but there was a part of me ready to criticize the exhibition for neglecting to include digital artists that otherwise wouldn't associate with one another. Instead, I found this group of artists to appropriately reflect the many facets of digital art – an assortment that all too often is presented in separate digital fiefdoms. Later, Ms. Howard commented that her intentions with this auction were to bring in as many voices within this sphere as possible:
When I'm curating in general – not just in this particular auction – I'm looking [at] who the nodes are in the network that are actually creating fresh work or creating fresh ideas. So I looked for artist for this auction who were nodes and are representative of larger movements in the field.
To that effect the artists represented do constitute many different subsections within the digital art moniker – interactive sculpture, generative code-based works, netart, webcam performance, experimental video, etc. But what surprised me the most was the way in which these different "nodes" seamlessly come together in the space. This is not to say that the artworks appear "samey" by any measure, but instead it is to comment on how these works share a common thread of turning contemporary technological experience into a refined aesthetic statement.
Perhaps part of this comes from the fact that I haven't seen many of the artists in this auction shown in spaces equal to the Phillips standard – often I've only experienced this work either on my personal computer or in artist run galleries operating on a shoestring budget. In a strange way, the pristine presentation of these works alone makes them appear worthy of sale. It was at once startling and refreshing to see work that I had admired for so long presented in the same way as a work for sale by an old master.
This being said, my admiration for the participants in this exhibition made me reflect on the content of these works in a way that I would otherwise take for granted in other contexts. I subsequently contended with the organizers that the look of these works shouldn't be their only selling point, and I pressed them to talk to me more about why this collection of artists seemed fitting for this auction. Ms. Werner responded by talking about how Molly Soda was a particularly fitting example to rebuke my inquiry:
While Molly [Soda] is obviously very important to tumblr – I think she's one of the first tumblr famous it girls – I think that she as an artist didn't really come into [her own] until someone was like "you're an artist." But I think for a longest time she was really a user that really informed the way that our platform grew and developed. [The auction] kind of elevates that entire culture that I think others felt was a little small or diluted. People didn't take it seriously but it's so huge and so vibrant. Molly's piece really gives a voice to this generation.
Although this specific work – a reading of letters and comments posted to her blog in a marathon 8 hour recorded performance – is indicative of a very contemporary conversation occurring through social media, the question kept arising regarding why this moment in particular seemed ripe for having an auction for this kind of work. Part of my initial skepticism came from observing the many previous attempts to sell digital art either going awry or else backfiring. In the past, the idea of taking online media and putting it into private collection has seemed rather antithetical to the ethos of the very platform that made their work possible (or else made the distribution of their work that much more accessible). But more recently, the thought of selling digital art has become more popular as the market seems better equipped to present these artists to collectors. I asked the organizers to talk about why this moment seemed most fitting, to which Ms. Newcome responded:
When I had first started talking to Lindsay, she asked me what was the Phillips angle in the auction world, and it is what is now? This is what Phillips sells, and I think that was inspiring for Lindsay. Once that was established that that's where we wanted to go – the vibe of the whole event – that became a point of no return… For this particular auction, Phillips couldn't have done this without Tumblr and Lindsay, and Lindsay couldn't have done this without us, and so on. We three together was what was so essential, and without one component… this auction would not be a reality.
All coincidence of overlapping interests and timing aside, what Paddles On! presents to audiences – both familiar and new – is that artwork made and distributed through digital networks must now become more vocalized and represented within a contemporary art market. Many recent signposts have been pointing to this moment – the heated conversation around Rhizome's booth at the Armory in 2011, the outrage of artists and academics railing against Claire Bishop's misinformed "Digital Divide" essay in Artforum, the development of the Art Micro Patronage project by The Present Group, the selling of digital art by AFC at NADA this past year, just to name a few. But now it is happening, and already over half of the works have been bid on through Paddle8 – a sign in and of itself that now seems to be the time.
But then what? Let's say a majority of the work sells at or above its reserve, what does this signal for both contemporary art and digital artists hoping to bring their work to a larger audience? My initial doubts and concerns for this auction is that it might shape a future aesthetic, or else inadvertently dictate a kind of digital art that is only interested in going to market. I realize that this concern cannot be reserved just for this medium, and instead should be a broader reflection on the ways in which market politics and finance can and will always influence the strategies of emerging artists. However the artists in this exhibition were specifically selected not only because of their contribution to the field, but also due in part to understanding their longevity within an ongoing conversation of art making beyond digital media. Again, my fears are further appeased by Ms. Newcome in reference to a studio visit she recently had with contributing artist Mark Tribe:
We don't call digital cameras, digital cameras anymore; we don't call digital watches, digital watches anymore. One day, we won't call digital art, digital art anymore…
Although I initially felt that this auction might seem somewhat opportune, the three organizers of this exhibition suggested that the more important consideration must come from how this auction will – at its heart – help bring digital art to an audience wanting to participate in a conversation that for too long has stood at the periphery. The resounding "finally!" that has come from many artists, curators, gallerists, and academic is a testament to Paddles On! working towards an overall positive goal. Although I hesitate to defend the auction based upon my own knee-jerk reaction against commercialization of work made online, I do laud the participants and organizers for putting their absolute best foot forward. It is a rare instance that many people get to witness a community come into its own, and I felt that when I walked through the exhibition of the 20 lots for sale on Friday that I was indeed witnessing an important moment for all those involved in this endeavor.
To that end, I feel as though Ms. Howard put it best when articulating her excitement for this event to unfold:
Even if no piece has sold, or if we got no bids… having all these people rally up support, educating collectors, having the conversation, bringing in more people into the loop, makes this all a success.
In this spirit I wish all the artists the best of luck on Thursday when the live auction kicks off at 8pm at Phillips' gallery on Park Avenue. I hope that the success of the event – as Ms. Howard eloquently suggests – will mark a new beginning for an ongoing relationship between the digital art community and the contemporary art market.
---
Guest Post by Robert Burnier
I once had a penchant for the obsessive, compulsive traditions of certain Dutch painters like Paulus Potter, Adriaen van der Spelt and Jan van Cappelle, so whenever I was in an encyclopedic museum, I would always make my way toward those galleries. Afterward, however, I would go straight to where the modern art was and stand in front of a Cy Twombly or some other such work. In 2002 the Gerhard Richter retrospective, 40 Years of Painting, came to the Art Institute of Chicago. One salient aspect of this was to witness a similar kind of range more or less present in one artist; one who held up Reading, Grey Mirror, and 256 Colors as artistic statements of the same order. I see these memories as analogies for the way I continue to approach works of art, especially – though in a limited sense – when it comes to issues of craft.
When I look at art today, I would say my taste still involves a dialectic similar to my earlier favorites. I can appreciate artists like Roxy Paine and Mari Eastman, Nicole Eisenman and Richard Rezac. With Paine, we have someone creating sculptures by a distribution of expertise among multiple minds through the idiosyncratic use of high-tech machines and processes, producing objects of a mysterious and alien ilk. Eastman at once shows her knowledge and understanding of painting while withholding some obvious trappings of virtuosity in favor of revelations of a seemingly more personal sort, which are then often further complicated by some borrowed subject or motif. Eisenman is commingling many ideas of painting together with the understanding of craft necessary to put them in conversation with each other, adapting them to her subjects. Rezac makes highly resolved and technological constructions that are nonetheless very slippery to our perception and suggestive through their careful arrangement. In all cases, the individual hand moves, sometimes at a distance, even if only to turn the knobs so that the machine overruns its target output.
Of course, for many reasons – call it the loss of center [1], bourgeois democratic/market forces, technology, transportation, and communication – our era is splintered artistically. It is apparent in public collections where many eras are present at once, creating a stacking effect of latent visual experience. Our perception of space and time are compressed. It isn't really possible to point out what to do or not to do because no one person can index all of it. Technology is of little help. It only reminds us of our difficulties even more. But we can reach into this heap of history, as I like to think Robert Smithson might have put it, for resources, touchstones, and questions unanswered. [2] We can look for ways and means that might yield new meanings or recuperate older ones in new ways. Not only does this apply to the mode and medium, but also to the work, effort, or craft involved.
The degree of facility is linked to the effectiveness of the artistic statement, with the critical caveat that it is for something and not self-reflexive. I often find myself saying to people that craft is only craftiness when facture overtakes ethos. If you paint the sides of a stretched canvas because you want it to look "finished" the painted side remains a superficial garnish; if the painted side reinforces the conceptual aspect of the object, it can serve the work intrinsically. We could get into semantic questions of intent here, but I think if you really know it and mean it, it has a greater chance of seeming to be true, or we have a greater chance of becoming involved in the work on a deeper level. A specific example would be the vast difference between Karthik Pandian's recently exhibited sculpture at Rhona Hoffman, I Am My Own Wife – a highly polished construction in steel and industrial-grade color – and any number of sculptures that are often sprinkled along Navy Pier or grace the ad pages of a major art magazine, aspiring to a similar finish. Pandian's work perhaps takes us a distance toward examining issues of gender while the other sculptures too often don't take us anywhere in particular beyond the awareness of their often massive size and tired formalism. Another successful example would be the work of an artist like Alicja Kwade, whose phenomenological sculptures and installations can cause a shift in our basic understanding of the elements of experience. Works such as Andere Bedingung (Aggregatzustand 6), 2009, toy with assumptions of objecthood in terms of weight, substantiality and permanence. So what I'm saying is that with our incredibly intense media saturation, I turn to usage before material specificity for what I get out of seeing a work of art. I want to try to not judge a book by its cover; to allow the myriad options to play out; to remain variable, accepting and catholic in my assumptions about material and craft. Here I am reclaiming the non-religious sense of having a catholic attitude, which simply means to be open to a wide range of tastes.
Alternatively, the work of an artist can be de-skilled either in the sense that he does not concern himself personally with technique or high craft, or he transfers it to an outside technician (or even leaves it to chance). But if this becomes too dominant to the meaning of the work, then the lack of facility or personal involvement may fall into banality. For example, I've found it hard to pay attention to very much "glitch" art. This has surprised me somewhat since it seems to go against my own extensive background in computer science. However, much of it seems to stop at the glitch itself, piling one glitch on top of another. Aside from the sense that I think glitch art may be claiming a little too much for itself anyway [3], I just can't be too impressed by the mere malfunction of a computer, even though I'm fully aware of the potential auratic qualities of such failure. [4] It just stops too soon. That said, I really liked Christopher Meerdo's recent show at Document. What separates his work is not only a very careful selection of some of the more uncanny images and a spectacular transformation into the medium of print, but also the stress laid on the origin and the process of exhuming source images: discarded vacation photos on found memory cards. Meerdo's exhibition really reflects on the medium, its relationship to our human lives, and our capacity for recording and forgetting through the usage and leveraging of those very same auratic tendencies of malfunction. I draw a similar conclusion about the difference between some of the stacking and leaning of things we are seeing today [5], and the output of an artist like Felix Gonzales-Torres, some of whose best work relies utterly on stacking and piling for it to function.
So there is a kind of competence I see that has to do with an investigation within an artistic practice and through the artist's level of experience with it. This most often involves objects and materials, though it could also be bodies and spaces or something else. The artist grows a micro history of production, a personal academy and repertoire. The depth of the work emerges from the depth of the investigation and the shape of the path walked by the artist. She can come to know quite well what she is doing, while avoiding the twin pitfalls of connoisseurship and disinterestedness. This is about studio time. [6] The artist may find it better to reflect on what she did rather than what she thought, or accept what happened over what she intended. This doesn't involve the rejection of purpose, but the acceptance of things that come into view. For example, looking at R.H. Quaytman's work for the first time a few years ago, I felt initially that the pieces functioned like works of art as essays in the sense put forward by Art & Language [7]. But even as they projected a kind of ultra-intellectual air they had a resolve and physical quality that drew me in. From subsequent lectures and artist talks, I learned about the experiential origins of much of Quaytman's work. [8]  A frequent refrain I remember in her talks went something like "… after I did that, of course I thought it worked because…" In the end, the body of work she's constructing is one of thoughts and contexts, but also of trials, errors and discoveries.
What kinds of experts do these artists become? All of them possess expertise in the statements they want to make in relation to their own concerns and toward the historical context. But in the same way that de-skilling was a term borrowed from economics, I want to say that these works have been "right-sized" in their respective areas of making. Pretty close to the mark from my perspective is a relatively recent piece by Claire Bishop where she says, "Some will say that skills no longer matter, that the artist today should be fully 'spectralized,' because the truly emancipatory position is to erase the line between professional and amateur. […] That said, the best forms of de-skilling evoke in the viewer something of this spectralization: Such works generate in us not a disdainful 'I could do that' but the generative energy of 'I want to do that!'" [9] If I ever get that kind of energy from viewers of my work, then I have probably done my job.
NOTES:
[1] I saw this phrase in Christine Mehring, Jeanne Anne Nugent, Jon L. Seydl, Gerhard Richter: Early Work, 1951-1972. J. Paul Getty Museum, 2010.
[2] http://www.robertsmithson.com/drawings/heap_p104_300.htm
[3] What I mean here is that glitch is a breakdown, a misuse or a chance process. Not a new idea, though consistent with a medium specific conversation, the fact that it is a computer malfunction makes it a contemporary concern. It's a concern that is, of course, worth examining, but the question is how to approach it.
[4] See, for example, Martin Dixon, The Horror of Disconnection: The Auratic in Technological Malfunction, Transformations Journal, http://www.transformationsjournal.org/journal/issue_15/article_06.shtml
[5] Robin Dluzen, https://twitter.com/RobinDluzen/status/324255330265595904/photo/1
[6] For a fascinating read on contemporary issues regarding studio time and its effect on the production of art, try Dieter Roelstraete, The Business: On The Unbearable Lightness of Art, http://www.e-flux.com/journal/the-business-on-the-unbearable-lightness-of-art/
[7] Such as in Charles Harrison, Conceptual Art and Painting: Further Essays on Art & Language, MIT Press, 2003.
[8] Society for Contemporary Art lecture, The Art Institute of Chicago, March 15, 2012 and The Opening Reception Artist talk at The Renaissance Society, January 6, 2013.
[9] http://www.brooklynrail.org/2011/12/art/unhappy-days-in-the-art-worldde-skilling-theater-re-skilling-performance
ROBERT BURNIER is an artist and writer who lives and works in Chicago. He is an MFA candidate in Painting and Drawing at The School of the Art Institute of Chicago and holds a B.S. in Computer Science from Shippensburg University of Pennsylvania. Recent exhibitions include The Horseless Carriage at Andrew Rafacz Gallery, Salon Zurcher at Galerie Zurcher, New York, the Evanston and Vicinity Biennial, curated by Shannon Stratton, and Some Dialogue, curated by Sarah Krepp and Doug Stapleton, at the Illinois State Museum, Chicago.
---
Some of the best known theorists of social practice published or toiled away at new books in 2011. Although I haven't read them yet, I'd bet that this fresh wave of ink will churn the debate within this always contentious art sphere all the way through 2012.
With their dust-up in Artforum five years behind them, Claire Bishop and Grant Kester have each written books that we might assume articulate their positions in far more nuanced ways than a few magazines pages provide for.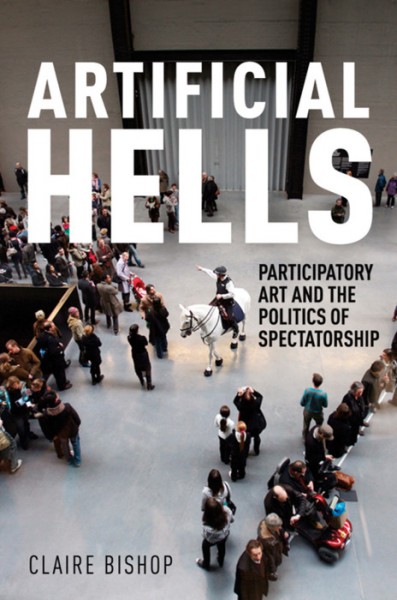 Claire Bishop, Artificial Hells: Participatory Art and the Politics of Spectatorship, (Verso)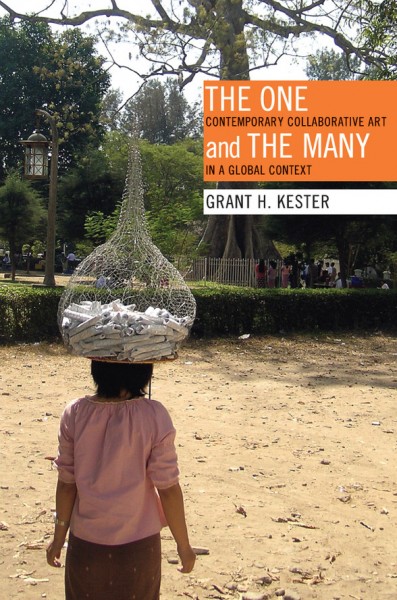 Grant Kester, The One and the Many: Contemporary Collaborative Art in a Global Context, (Duke)
Nato Thompson also has a book coming out this year. He also organizes the Creative Time Summit, fast becoming an annual gathering point for social practitioners from around the globe.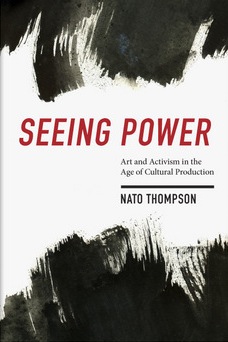 Nato Thompson, Seeing Power: Art and Activism in the Age of Cultural Production, (Melville House)
Pablo Helguera, the only one of these authors who is also an artist, has produced a pedagogical manual for socially engaged art that will surely make its way into the handful (and growing) of social practice MFA concentrations in the US.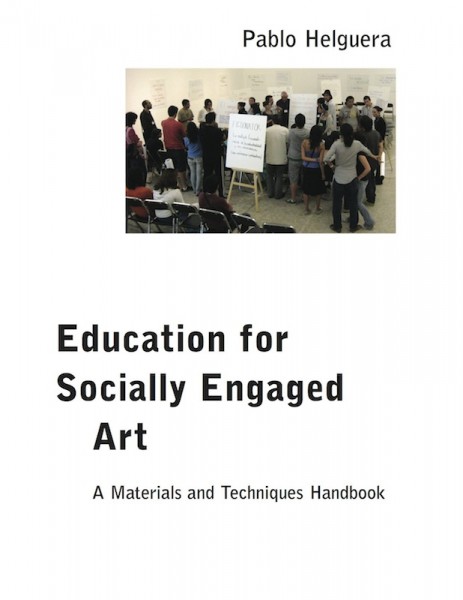 Pablo Helguera, Education for Socially Engaged Art: A Materials and Techniques Handbook, (Jorge Pinto)
In her book Social Works, Shannon Jackson brings a perspective from performance studies to the debate on social practice.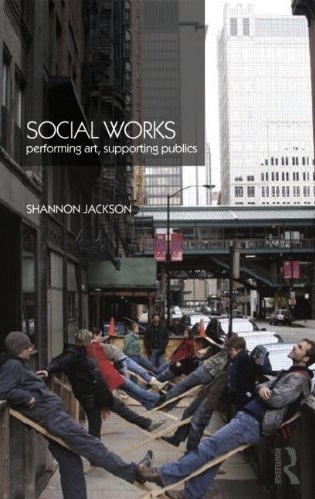 Shannon Jackson, Social Works: Performing Art, Supporting Publics, (Routledge)
And finally, while he has written about art before, Brian Massumi wades directly into theorizing the "ephemeral arts" in Semblance and Event.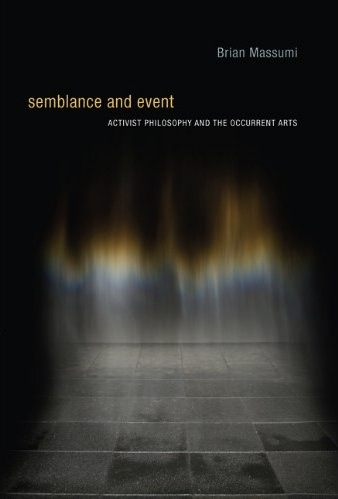 Brian Massumi, Semblance and Event: Activist Philosophy and the Occurrent Arts, (MIT)
---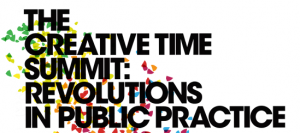 In a piece titled Public Opinion written late last week for Artforum.com, Claire Bishop reports on Creative Time's Summit on "Revolutions in Public Practice" held at the New York Public Library a few weeks ago. The summit presented an overview of current practices that encompass "everything from participatory performance to allotment squatting to socially conscious photography," as Bishop described it. At the summit, artists such Vic Muniz, Harrell Fletcher, Tania Bruguera, Rene Gabri (hey Rene!), Dara Greenwald, Thomas Hirschhorn, Maria Lind, Francisca Insulza, Liam Gillick and numerous others (including this week's podcast guests Temporary Services) made short presentations of current works and related projects.
Bishop offered a somewhat skeptical and occasionally snarky take on the proceedings. In particular she questioned the Summit's use of the word 'revolution,' given that many of the practices she observed were in her opinion not exactly new. She argued,
There was a striking similarity between many of the presentations and 1970s gestures of institutional escape, as well as to early-'90s "new genre" public art (the term coined by artist Suzanne Lacy, who also spoke at the summit). The big difference between then and now was the staggeringly dry and soulless language deployed by many of today's artists who took to the podium. At countless points in the day, my eyes glazed over to the sound of earnest monologues announcing, "My practice is about creating platforms for a critical interface with overlooked spaces, networking with local communities to provide self-organized resources and coproducing social relations . . ." Aaagh!
Bishop summarily dismissed the projects presented by Vic Muniz and Harrell Fletcher "for their reality t.v. sentimentality" while chiding the Summit for its "predominant tone of collective agreement" and overall lack of "friction." She concluded:
"At its best, the "Revolutions" summit offered an immensely valuable overview of a wide range of engaged practices otherwise lacking visibility in New York, while the discursive format provided an appropriate alternative to the exhibition as a means of presenting this often visually evasive work. Socially, it was dynamic-and in this respect, it had much in common with the energy of Hans Ulrich Obrist's marathons. On the other hand, the summit was only an overview and did nothing to problematize "public practice" as a direction in contemporary art. It assumed (along with many of the positions presented) that art as a discipline can and should be marshaled toward social justice. I would have liked to see more pondering of the specifically artistic competences that can be deployed toward these ends."
In the Talkback section, Muniz, Fletcher, and several others weigh in with dissenting assessments of the Summit – and here is where the topic gets truly interesting. Creative Time curator and event co-organizer Nato Thompson offers a particularly thoughtful and measured rebuttal which, among other issues, questioned the usefulness of Bishop's approach to the event– an approach that, in this instance, at least, may have missed the point entirely. Thompson explained,
We chose this format so that the work could speak for itself and the audience would be left to consider all the problems and solutions they provide. Another motivation was simply to provide a platform in NYC for this type of work. Certainly, there is much more to be said, and we intend to provide more spaces for this work. Ultimately, we need to re-engage the critical project of thinking through culture's relationship to the issues and concerns of everyday life. We must stop this antipathy for thinking and market friendly pseudo-populism that has swept the critical stage (while admitting the disaster that jargon-laden Marxist art criticism has wreaked on political art) and instead, take seriously the potential for the arts to participate in the concerns that actually matter in the world. From this difficult vantage point (that is how projects actually transform the social landscape), the discussions around political public practice may possess an urgency capable of pushing the discussion beyond the prescribed domain of art."
Go read the article and subsequent exchanges for yourselves, if you haven't already. The discussion has generated some real heat, and should be of particular interest to artists and other cultural workers who frame their work as a form of "public practice" rather than as art with a capital A.
---