Audio clip: Adobe Flash Player (version 9 or above) is required to play this audio clip. Download the latest version here. You also need to have JavaScript enabled in your browser.

download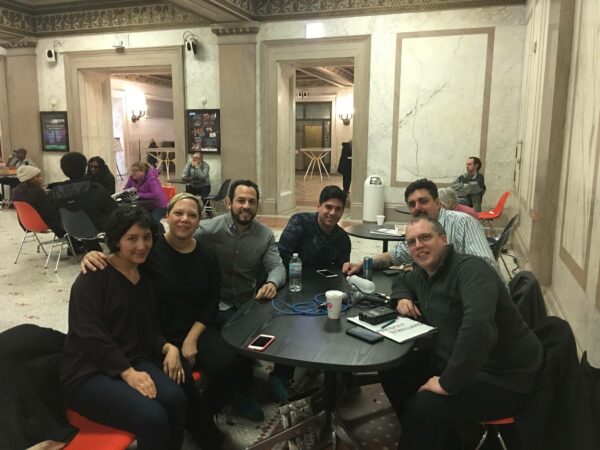 This week: Richard and Duncan talk to the curators and artists of Present Standard!
Guest curated by Edra Soto and Josue Pellot, Present Standard features 25 contemporary artists with Latino Chicago connections. Their works that play with the manifold meanings and forms suggested by the "standard" – as either a flag or a pennant, a measuring tactic or a guiding principle, or a potent symbol of national identity.
---
Audio clip: Adobe Flash Player (version 9 or above) is required to play this audio clip. Download the latest version here. You also need to have JavaScript enabled in your browser.

download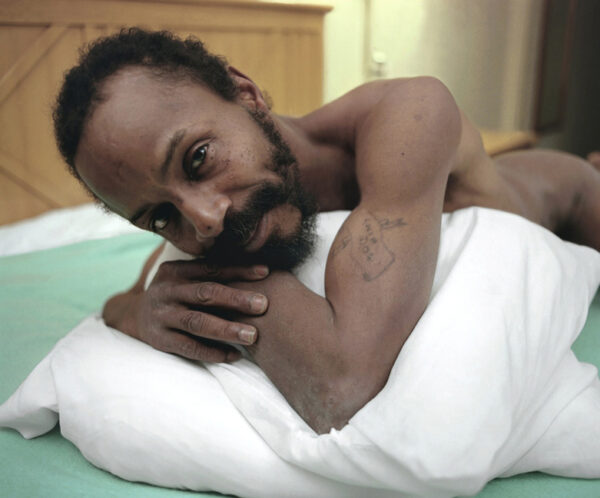 This week: About a year and a half ago we mourned the passing of a true Chicago legend. Barbara DeGenevieve was an epic instructor, a committed boundary tester, and an enthusiastic gender warrior. Lisa Wainwright did a great job memorializing her on our site and this September Iceberg Projects mounted the first exhibition in honor of her legacy. Dr. Dan Berger, David Getsy, Doug Ischar, and our own Duncan MacKenzie gathered to discuss her exhibition, her story, and what made her the force she was.
Yes. Four white men whose names all begin with D got together to discuss a great woman. Yes we know. Take your fingers away from your keyboards.
Iceberg – http://icebergchicago.com/barbara-degenevieve-medusa%E2%80%99s-cave—iceberg-projects.html
David Getsy Just dropped a new book and announced another. Check it out…
http://www.amazon.com/Abstract-Bodies-Sixties-Sculpture-Expanded/dp/030019675X/ref=sr_1_2?ie=UTF8&qid=1454291662&sr=8-2&keywords=David+Getsy
http://www.amazon.com/Queer-Whitechapel-Documents-Contemporary-Art/dp/0262528673/ref=sr_1_1?ie=UTF8&qid=1454291662&sr=8-1&keywords=David+Getsy
Our initial Memorial…
http://badatsports.com/2014/barbara-degenevieve-irrepressible-irresistible-irreplacable/
---
By Kevin Blake 
The front tire wobbles as the weight of the planking jerks the fork of the bicycle from side to side. It will take rhythm to get anywhere. It will require a centering–a perfect distribution of the unbalanced load. The salvaged wood scrap stretches across the handlebars, bending under its own heft as it distances from the bicycle on both ends. There are bricks in the back basket–a milk crate strapped with rope to the frame. It rubs the back tire like an out-of-place brake pad…the every-other-rotation kind of rub. The tires have the pancaked look of low air where the rubber meets the road. Conditions are ripe for an array of potentials.
This is a moment in a story. It is not necessarily the beginning, the climax, or the end. It is a picture of a picture–the recollection of an unclear memory, that morphs into clairvoyance only as it is repeated and deployed situationally. It is the word made flesh, and the flesh made word. It is the construction of one's identity from available material–material that is both tangible and ethereal.
As I walked through Kati Heck's inaugural exhibition, "Ins Büro!" at Corbett vs Dempsey, I found myself thinking about my own life as a scavenger–hoarding all the potential I could carry. I was seeing similar moments described in Heck's images–potentials picked out of the mundane, or the recently discarded, and harvested to distribute into complex riddles with seemingly endless possibility. On the canvases, I could see the dialogue between the painter and the thinker. Between the subject and the object. Between the story and the fragmented reality in which it exists.
These concurrent and perpetual dialogues in Heck's work are best understood through their relationships with the paint itself. For example, in the faces of central figures, there appears to be a deeply personal connection–not just to the sitter–but also to the technical precision by which she chooses to treat the face. Where there are sections of amplified care–smaller brushwork, attention to detail, and range in palette–there also seems to be amplified metaphor, or keys to following the artist's inner dialogue.
"Alles-Mehr," which google translated for me as "everything-more," exemplifies this notion. In "Alles-Mehr," one can follow the hierarchy of paint distribution–from the face, down to the jar of pickles, to the fabric, to the wood of the chair, to the skin, and to the wall. To me, the smaller marks represent larger roles in the image's story. The larger marks are painting maneuvers. Small is big. Big is small. All are equally important to its existence as a painting–or as an aesthetically considered object of contemplation.
Here, a man appears to be in a pickle–as they say–four fingers deep. This idiom becomes the bedrock of the painting and it places the character in an air of mischief with an assuming look of low-cunning. The disappearing arm holds the glowing decoy–the legerdemain of the common wizard.  Admittedly, this is merely one possible thread in a heap of narrative grist, but my guess is as good as the next viewer, and it doesn't matter much if anyone gets it "right."
In the painting, "Der süssliche Erinnerungsmehrwert," Heck introduces a sculptural element to the painting by sewing canvas to the bottom of the frame where it becomes an extension of the painted fabric–it literally flows off of the rectangle and spills onto the floor. This move is indicative of Heck's unflinching intuition–uninterrupted by any hesitation from exterior pressures. She doesn't make decisions based on how it will be received, (see the velvet frame around the bad girl, "Petit Pity," in the corner of the show)she responds directly to the impulse. Directly to the vision. Anything that is susceptible to transformation, is transformed. There is no shelter for this nomad–and although her work pulsates with influences from the establishment, she cannot be pinned down. She emerges with a triumph, or at least the execution and invention of something that could not be made by anyone else.
In an interview for the exhibition catalog, Heck tells gallerists John Corbett and Jim Dempsey, that the title of the show, "Ins Büro," means "go to the office" and for her, the office is the bed she keeps in her studio. It is a factory of dreams from which she extracts and deploys content, stamping them with her industrious logo before they leave the warehouse.  In a fractal universe fragmented further by processes of the human mind, it is no wonder that  Heck turns to her dreams as a means of deciphering any truth from the ether. The result may be a world without language. A visual world. A world seen and understood simultaneously.
The compulsion to realize this utopia is undeniable. It wants to be seen. It wants to be described. It is on the tip of your tongue too–the cusp of your visual field as you lay in the darkness and attempt to solve the world's puzzles in the most quiet of spaces–the safest of landscapes–your dreams. However, it never quite satisfies. It never quite gives you the tools to see that place and how it works. It appears partial. As disconnected. As unimportant. It appears as meaningless potential–a moment frozen until it is thawed and put to work. Kati Heck in her Antwerp studio, attempts to bring that flight of fancy out of the castle in the sky and into her own reality. Whatever is constructed there–out of whatever material is available to revolutionize–may not be true, but for the maker, it is true enough.
If I were you, I'd go have a peak at her temporary office.
Corbett vs. Dempsey
1120 N. Ashland Avenue 3rd Floor
Chicago, IL 60622
Kati Heck
December 11-January 26, 2016
Tuesday-Saturday 10am-5pm
      and by appointment
---
Audio clip: Adobe Flash Player (version 9 or above) is required to play this audio clip. Download the latest version here. You also need to have JavaScript enabled in your browser.
This week we are totally ashamed of Chicago and are collectively horrified by the tragic death of Laquan McDonald. #blacklivesmatter
We are joined by venerable Dread Scott to talk through the problems and possibilities that exist in contemporary America with thanks to the DuSable!
---
Many of us have at least once known the feeling: Am I being too loud? Am I yelling right now? Can everyone hear me chewing? Is the sound of moving my chair along the floor driving everyone else into a steaming rage? You pull out your headphones or look up from your work and glance around, anticipating dirty looks from officemates or strangers. Our sense of sonic etiquette is based in substantial part in the assessing of external responses to our behavior. But imagine now, if it requires imagining, that you have never been able to hear yourself. That your sense of which sounds are too loud or too soft, which sounds are good and not good, which sounds are deemed appropriate for which situations, has been determined by the reactions and standards of people whose experience of the world is radically different from your own.
Christine Sun Kim is a sound artist who has been deaf since birth, and who uses the medium to question "the ownership of sound". She uses myriad forms (performance, drawing, painting) to explore her relationship with sound and its role in social behavior and spoken communication. Earlier this fall, I had the delightfully grating experience of Kim's Fingertap Quartet at Links Hall, presented by Illinois Humanities. Fingertap Quartet engages with the social valuation of sound through a play on Harry Roseman's contribution to Draw It With Your Eyes Closed: The Art of the Art Assignment. Replacing Roseman's use of "a work [of art]" with "a sound" yields the quartet of prompts in the piece:
1. A sound that you like and think is good.
2. A sound that you don't like and don't think is good.
3. A sound that you like, but suspect might not be good.
4. A sound that you don't like but have to admit is good.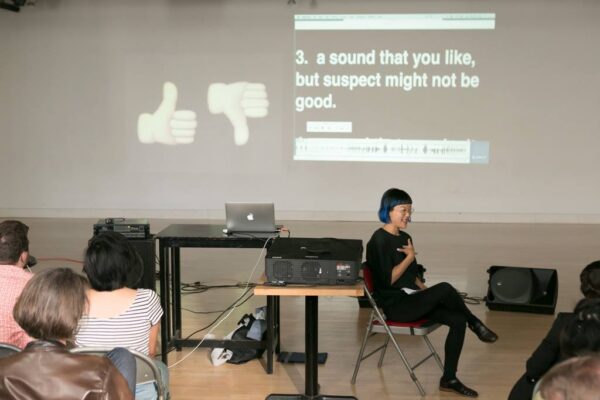 Christine Sun Kim. Photos by Claire Britt, via Illinois Humanities.
Just prior to the performance, I had the opportunity to participate in a Master Class with Kim and Danielle Linzer (Director of Access and Community Programs for the Whitney Museum of American Art), as a part of the Elective Studies series. (If you aren't familiar with Elective Studies, it's a fairly new and truly special bit of programming from Illinois Humanities that provides unique educational opportunities for artists. I heartily recommend keeping an eye on it.) Kim's professional practice is somewhat two-pronged; in addition to her personal art practice, she is also an active educator. Kim and Linzer have been working together for years on something called The Vlog Project, a video series created by the Whitney Museum to provide inclusive access to contemporary art. The videos feature a mix of American Sign Language and visible text, and Kim and Linzer have been experimenting throughout the process to find the right blend of techniques to yield the best results. In addition to hosting the master class, Illinois Humanities also worked with Kim, Linzer, Jennifer Hart, and Matt Dans to film two new vlogs in Chicago, which should be available online soon.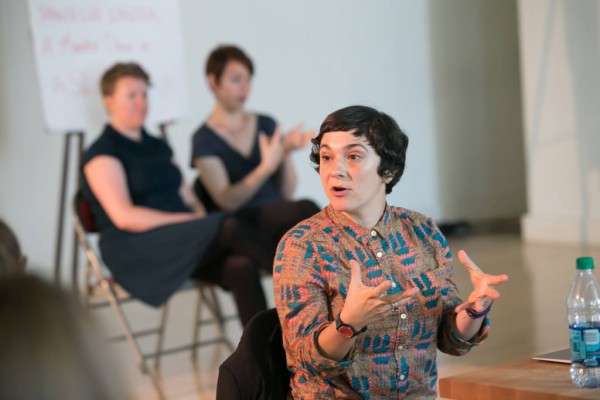 Danielle Linzer.
These vlogs are also certainly accessible to hearing viewers, and are listed amid other content on the Whitney website, so while they are searchable under the "Access" tab, they can also be stumbled upon by visitors to the site. More than merely comprehensible to a hearing audience, they are interesting to watch, providing information not only about a specific exhibition or artwork, but also giving a glimpse into the personality of the individual, and the unique expressive qualities of ASL. For example, in this video, Kim discusses the Whitney exhibition Singular Visions, with particular attention to Paul Chan's 2005 piece 1st Light. You can really see here, especially in her description of the exhibition layout, the spatiality of ASL.
The master class was largely a discussion of best practices and lessons learned as they've developed this initiative. The range of attendees was fairly broad within people working in the arts and/or accessibility, including representatives from large, established institutions like the MCA to more DIY endeavors like the Chicago Home Theater Festival, as well as individual artists and professionals. Perhaps more importantly, the range of familiarity with Deaf culture and access initiatives was vast. Some of us knew little beyond perhaps the ASL alphabet and a general awareness that ableism is an issue in the art world. Some were professional ASL translators, some were deaf artists, educators, and other professionals.
While the class was at times a bit dry for someone already somewhat experienced in video, and not necessarily planning to generate this specific kind of content in the future (which was, after all, what everyone was there to learn to do), this was a really illuminating experience. In addition to providing me with a bigger picture understanding of Kim's practice, the workshop allowed me to witness conversations around the culture and concerns of certain deaf individuals and of Deaf communities as relates to media production. For example, content created by hearing people for deaf people can sometimes miss the mark on how much visual information is occurring at once. A one-shot video of someone standing still signing in front of a single image or blank background feels like a dry PSA, but a video with signing, captions, infographics, jump cuts, and other complexities may be too dense to really be absorbed. (Which isn't to say hearing people creating content for hearing audiences don't often hit the same stumbling block.) It was getting the sense of the personalities and interests of particular individuals in the room, however, which contributed most to my appreciation of the performance afterward.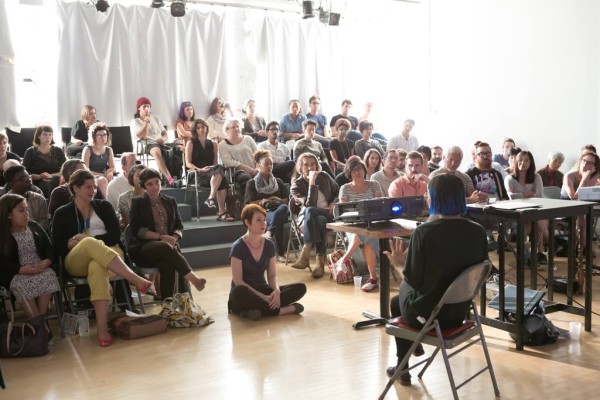 Kim, smiling at you from behind a laptop, begins Fingertap Quartet by addressing the audience without the use of ASL or an interpreter, as you watch her typing and scrolling projected live behind her. Her voice–her unique personality in communicating–comes through clearly in the timing of her typing, her facial expressions, her sense of humor. She introduces you to the project, explaining the four prompts that led her to create the Quartet. The sound files within the performance were created through collaboration with Dev Hynes of Blood Orange, (another compelling artist, whose media presence often engages with other activist issues). Kim used her voice, transducers, and recording equipment to create audio recordings, as well as textual descriptions to use in working with Hynes on the compositions.
When we were seated, a section at the front to one side was reserved for audience members who would need ASL interpretation. This was not, however, a simple facilitation of access, but a fundamental part of the performance. As each of the four sound sequences was played, the hearing members of the audience experienced a high-volume audioscape of Kim's good and bad sounds. ("Sorry!", Kim typed after seeing me put in my ear plugs–not to keep the sounds out, but to reduce them to a volume I could more comfortably understand. My hearing difficulties are the self-imposed result of youthful foolishness and noise bands.) The deaf members of the audience, however, had a totally different experience. Kim sat near them, and held an animated conversation in ASL about (I think) what kinds of experiences she was alluding to in her texts and recordings. There are sounds that are pleasing to make, but seem to bother the people who hear them: a sound that you like, but suspect might not be good. I found myself bouncing my attention between the sounds and attempting to understand snippets of the conversation, several of the participants of which were people I had spent the prior hours with, but now without the intervening speech of the interpreter. Despite my understanding of facial expressions and body language, and a slight familiarity with the conversationalists, this was something I could not be a part of. This was not something I could even fully comprehend. This part was not designed for me, just as the auditory part of the performance was not designed for some of the others. But all parts were necessary for the event to take place.
After all the dialogue about inclusivity, about how to invite larger populations into something shared, here was a great example of the power of having totally different experiences running parallel to each other as a part of the same piece. We all could see the visual representation of the sound file, the peaks and valleys of the .wav as we moved along its timeline, and could read Kim's typed text, but for much of Fingertap Quartet each audience member was on one of a few possible tracks. Not everyone was at an identical performance, but I suspect the salience of that fact was a part of all of them. The sounds were certainly not all sounds most people would like, and the inability to access an aspect of the performance was potentially frustrating, but the overall experience was challenging in a pleasing way. An attempt to categorize it into one of the four prompts brought me to this compromise: A sound you don't like, but that you enjoy.
Experiences are always tempered by the bodies in which they occur. Sometimes an increased awareness of this fact results in efforts to produce content that can be accessed by a larger percentage of those bodies. Another approach, as found here, is to create work that weaves those very difference into the fabric of the art itself.
---