I want to use the example of Jay-Z's performance at Pace Chelsea last week as a case study for something more encompassing, without getting into all the details since it was meant as a location for a music video shoot and not as an art work. (At least, I'm hoping) So just as a recap: Jay-Z performed "Picasso Baby" from his new album "Magna Carta…Holy Grail" for six hours to a packed and rotating crowd of art world insiders, celebrities and fans last Wednesday.
A celebrity's presence in our space, instead of the media version we tend to see them as confirms our own existence. At the same time, it complicates that existence. We are seen by those we have saw but here unto unseen by. I see (consume one's image) therefore I am, but when I am seen, what am I? It is mindfuck of Turrell like proportions, as we lose our sense of up and down, left and right. We choke on our own vomit, we are paralyzed. In exchange, or maybe as a symbiotic response, we return them to a mediated image from our cellphone capture. Shrinking them to a 2.5" x 3.5" format, moving at a mere 16fps, they are more manageable as a digital apparition.  With Jay-Z rapping in our face – a desire of many to be that close to a living legend, to be acknowledged by He who hath created the current state of Hip Hop – we are quickly overwhelmed, and thus respond with our cell phone's sad idea of video to return to a sense of normality. It helps us relate to his intangible nature. It is in this way that we treat the celebrity both as a solar eclipse and a stripper at a gentlemen's club. At at least one point during "Picasso Baby", a tight circle forms around Jay-Z. We see his professional camera crew which is typically meant to be invisible. They are anything but in the many cell shots taken, reminding us that this is a planned operation, to be dissected and re-edited later.  However, their visibility being an anomaly, suggests a future that is somewhat less imminent than the rapidity of the cell phone.
The shifting of time is the next big thing here, as the immediacy of cell video to internet upload has a tendency to further define the Present. This is congruent with the very sense of the 21st century that the Future is a finite entity, that one day, and one day soon, we will run out of Future. The speed of life itself is steadily increasing thanks to the plethora of communication technologies available, more immediate global awareness and the loss of physical frontiers and the tightening of borders. Every summer blockbuster movie (EVERY) of the last ten years has dealt with some sort of social horror of apocalyptic proportions or post human mutants, all of which signal a cataclysmic shift in life as we know it. THE END IS NEAR has returned to our minds (though it has rarely left us) with a vengeance and we are responding by trying to do as much as we can as fast as we can. And that means celebrities having completely proven themselves in one field must try other, usually related fields. (We will exclude Terminator X's Ostrich Farm for this reason of "related") For Jay-Z  to stage a music video shoot as a performance in an art gallery is not a huge stretch, yet it is breaking new ground from the stand pint of those who were quick to critique it as art. Increasingly, there comes the Nike spirit of "Just Do It", though oftentimes of DIY immediacy. (thats the cell phones, not a fully planned Jay -Z event). Complicating matters is the six hour duration of the performance. Somewhere in the preface of the "Performance Artist Handbook", Jay must have read that 6 hours is the minimum duration of a performance work. At the same time, a music video shoot is an all day affair or more, and most galleries are open for about 6 hours in a day. BUT, looking at it through my single minded viewpoint, a 4 minute song performed repeatedly for 6 hours, starts to mess with our perception of time, by looping it, putting us in a casual Groundhog's Day Lite scenario (if only Bill Murray was in the audience!) where we can start to see the future and we lose our sense of the past, ever so slightly, for as long as an audience member may choose to stay. We can clock time in 4 min. increments instead of seconds. And every moment sounds the same (looks different, but in a bare white walled gallery, not too much different). Stuck within a seemingly never ending 4 minute sequence, we have found a loophole in time, thus gaining an extra 5 hours and 56 minutes of life. What to do with this extra time? Upload crappy video from our cells to the internet and listen to the dumbest song of the summer seems to be the only option. Sounds like we've just entered purgatory.
I'd like to thank "A Private View: American Paintings from the Manoogian Collection" by Yale University Art Gallery and the Detroit Institute of the Arts for providing me with a surface to write on while preparing this text, as well as the ACTUAL audience members of Jay – Z's performance for showing me in their YouTube video uploads that despite his admirably true giving to his audience, I didn't miss anything.
---
This Friday, Steve Seeley's painting show opens at Rotofugi (who not too long ago moved to Lincoln Park, so check the website for their new address if you're unsure). Seeley's figurative work often features the juxtaposition of human bodies and animal limbs, or heads. Sometimes alien parts make an appearance as well. He integrates old and new surfaces, incorporating the nostalgia of his childhood into a present assemblage. I grew more and more interested in something we didn't talk about, namely the idea of the hero and how it charts through these visual, narrative landscapes. Seeley's icons adopt the iconography of saints and superheros with all of the mystical proportions childhood bears with them. To re-erect and reexamine the Gods of childhood in effort, perhaps, to examine those ancient power structures. In Seeley's case, they often become hybrid.
Caroline Picard: I'm really interested in the way you combine natural elements with mythical ones: for instance, the way your work often offers a kind of misty (and almost traditional-painterly) background with a vibrant superhero, or animal, alien or hybrid in the foreground. It kind of reminds me of old cartoons; in the Smurfs, for instance, you could tell the background was fixed to one surface, and moving figure(s) interacted on a clear gel over top. How did you come upon this strategy in your own work? 
Steve Seeley: The backgrounds for me are definitely an homage to animation cels. I'm a child of the 80s and I grew up on cartoons; He-man, Thundercats, Thundarr, and the like, so that sort of nostalgic animation occupies a huge section of my creative mind.  I started the "delicate matter" body of work in 2004 with the backgrounds being multi-layered and muted, almost ghost like, paintings, and at some point maybe three years ago, I transitioned to printed matter. I have always integrated things I collect into my work, I guess in a way bowing to my inner nerd. Thus the action figure-y, comic book-y and taxidermy look and feel. I also happen to collect antique chromolithographs. Mainly landscapes. So it was only natural for me to eventually  incorporate/appropriate these into the work. The process involves buying a lithograph, scanning it in, messing around with it, and printing it out to paint on. By printing them out (opposed to painting directly on the print) I can control overall scale, color, direction and halftone size. And after all the other elements are painted, I get that stark dichotomy with the digital print and the paint, given that animated feel I grew up on.

CP: Your use of the bear, the deer, and the wolf feels very iconic, somehow, especially in those places where give your figures gold-plate halos. Can you talk about how your engage the animal world? Is the ram-figure any different from superman's figure? 
SS:Â Again, a great deal of my work ideas come from a nostalgia. The animals are a nod to growing up in the sticks of Wisconsin. I use animals that I used to see everyday (the deer and specific birds) as well as the animals my brothers and I feared when we played in the woods (the bear and wolves). I grew up in the super small town of Ringle which happened to be home to one of the largest wild dog packs in the state of Wisconsin. So I incorporate any number of dogs that I saw or that may have survived to be part of the wild pack (sorry chihuahua and pugs, I love ya but I you wouldn't have made it).
As for the difference between man and animal, there isn't a huge difference for me. In the "delicate matter" series, the story so far is that man has left earth for outer space because he becomes enamored with something he can't comprehend, something that is entirely different from what he knows. He leaves earth on bad terms with the animals and while he is gone animals become what they were destined to be, a transformation per se, into heavy metal loving, super power using, pop culture loving creatures. When man gets to space he finds it to be less than he had hoped, and he tries to come back but the animals refuse. So man is stuck in space while animals take he's place back on earth, essentially filling his old shoes, and becoming the new "man."
There were a few years when I only painted animals (except in the "segue" paintings) but currently man has started to reappear. But only under the guise of a superhero since generally that means your true identity is hidden. Oh yeah and celebrities have always remained on earth, which is why the animals often chill with Miley Cyrus and let Sasha Grey ride around on their backs.


CP:Â At the same time, your figures are basically anatomically correct, and feature studied detail. Then of course there are places and points where you interrupt our expectations, creating a hole inside a bear's chest for instance. Or giving a human torso a wolf head: how do these interruptions come about?
SS:Â The holes (along with the halos) are meant to lightly symbolize a religion, rather literally. The holes become an extreme stigmata of sorts. I am not necessarily a religious person but I am fascinated by what religion does to societies. It causes rifts and causes people to take sides, which can result in conflict… which is something for years I didn't have in my paintings. Everything and everyone peacefully coexisted. It was thru adding the religious aspect that I was able to split the world I had created.
The head swapping was a way for me to even more-so humanize the animals. Initially all the human body, animal headed figures in my paintings were referred to as "saints", figures that were idolized by the other animals and which usually also adorned halos. But once Saint Sasha Grey and Saint Cringer (from He-man) got introduced, I began to play with the animal headed figures as not only religious icons but also celebrity icons. For my upcoming show at Rotofugi there are 25 animal/alien/monster headed human figures all imagined as boxers or wrestlers.  My intention is to make them a whole new breed of celebrity within the world they exist, at the same time causing additional rifts. Sport is such an easy way for people (or animals in this case) to turn on one another and choose sides.
see more of Seeley's work by going here.
---
Audio clip: Adobe Flash Player (version 9 or above) is required to play this audio clip. Download the latest version here. You also need to have JavaScript enabled in your browser.
This week: One of our favorite artists, Jason Lazarus is a slightly odd interview where we talk in a cave surrounded by SAIC students.
You can read more about Jason in a interview he gave to Caroline Picard in January.
---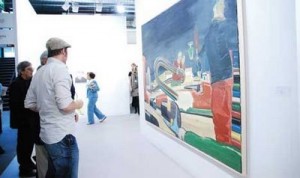 Wonder what the painting Brad Pitt bought looks like? Well search no farther, the Oil on Canvas by Neo Rauch entitled "Etappe" which sold for just under 1 Million USD is pictured below. I know there are strong feelings on either side of the fence with this but the early narrative on Basel this year seems to focus on "Buy! Cause everything's on sale and Europe hasn't seen a fire sale like this since Dresden." This only continues that take.
Read more everywhere but also here Also thanks to Britton Bertran for the heads up, Perez Hilton though? Really? 😛
---