1. Trialogues at The Plaines Project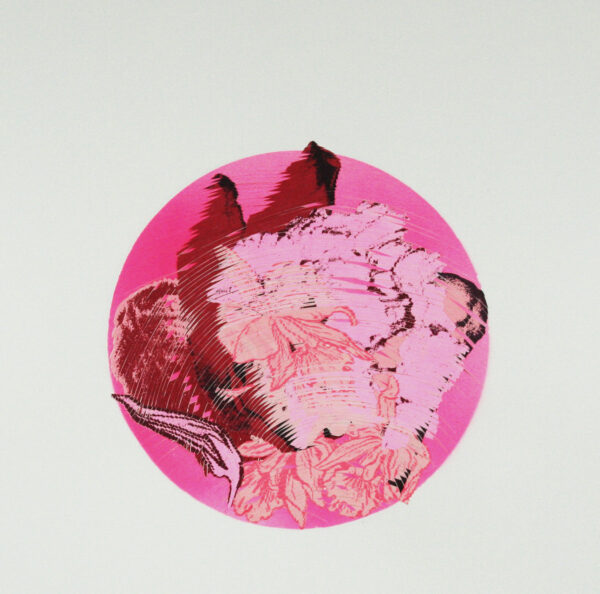 Work by Polly Yates.
The Plaines Project is located at 1822 S. Desplaines St. Reception is Friday, 7-10pm.
2. Danse Macabre: Death and the Printer at the Chicago Printmakers Collaborative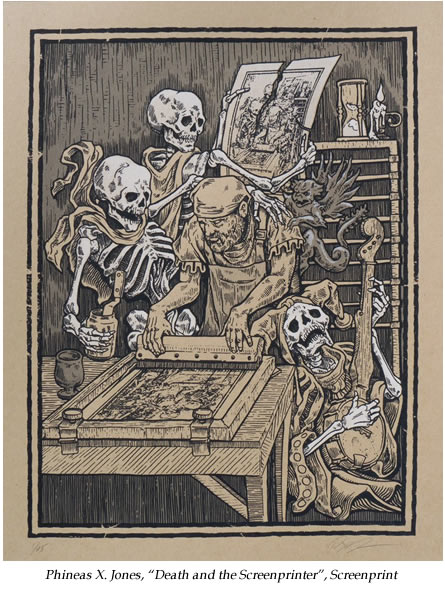 Work by Maggie Marlin, Michael Thompson, Jim Lloyd, Megan Sterling, Sanya Glisic, Phineas X. Jones, Maria Sanchez, Bobby Garro Sutton, Catherine Jacobi, Kim Laurel, Artemio Rodriguez and Joel Rendon.
Chicago Printmakers Collaborative is located at 4642 N. Western Ave. Reception Saturday, 5-7pm.
3. Public Storage at Beauty and Brawn Art Gallery and Think Space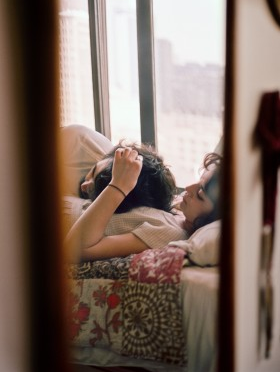 Work by Steph Davies, Sophie Goodwin and Jessica Yocherer.
Beauty and Brawn Art Gallery and Think Space is located at 3501 W. Fullerton. Reception Saturday, 6-10pm.
4. All Hallow's Eve at Gallery 27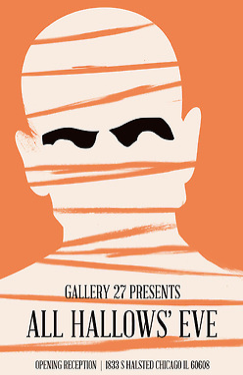 Work by Epyon5, Bearhead, Adam DeVarney, Danielle Herrera, k.hawk, and more.
Gallery 27 is located at 1833 S. Halsted St. Reception Friday, 6-10pm.
5. You Can Never Go Back at Eyeporium Gallery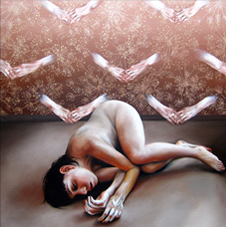 Work by Julia Haw.
Eyeporium Gallery is located at 1431 N. Milwaukee Ave. Reception Friday, 6-9pm.
---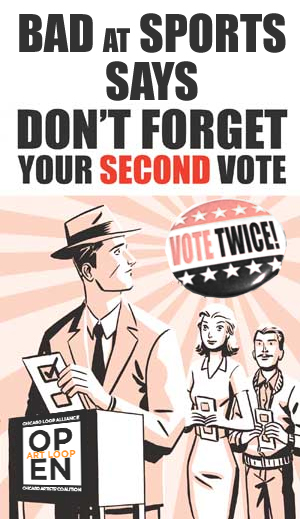 The Chicago Loop Alliance has announced their short list of 10 artists to win the $50,000 in cash prizes for the inagural Art Loop Open.
All of the Artists on the short list have done amazing work and many that were not included deserved to make the final but this isn't really about awards its about engaging the public. To that end Bad at Sports has officially come off the bench to support one canidate to win and that would be Steve Hamann's History of 'Bad at Sports' (Work on Paper).
I know reading that you might think we are biased but that could not be further from the truth; I hate Steve Hamann. He is an annoying artist that has been the bane of my existance for longer then I would like to admit so when I ask you to vote 6 or 7 or even 10 times for his work at theWit Hotel (hell get a room and just vote everytime you cross the lobby) you will know that I do so on the merits of the work and no other reason. How great must that work be for me to ask the thousands of readers of Bad at Sports to reward a man that reads dead baby jokes in nursery wards. I may not love the artist but I salute the art.
Now having established that we will all vote for Steve "The Ego from this point out" Hamann to win lets spend some time on the great artists that should get second and third. They are hard working artists the lot of them and deserve more attention then even this is giving them, starting with a old friend Bernard Williams.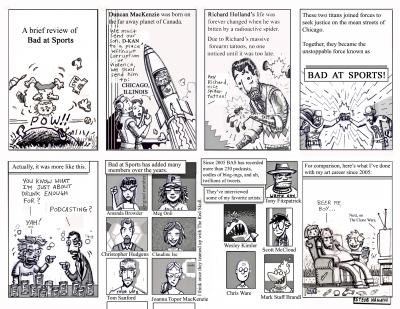 Bernard Williams: Buffalo Chart (Installation)
Block 37
Catherine Jacobi: Forgetting (Sculpture)
Block 37
Daniel Lavitt: Till We Meet Again (Sculpture)
Chicago French Market – MetraMarket
Giovanni Arce: Bush (Painting)
Block 37
John Dempsey: "The Great American Landscape" (Painting)
Macy's
Joseph Ivacic: Staying Connected (Sculpture)
Hotel Burnham
Lauren Brescia: Surprise… (Installation)
Block 37
Len Upin: Helen (Work on Paper)
theWit Hotel
Yva Neal: WAKA: Wall Altat of Kismet Abundance (Installation)
W Chicago – City Center
---
This weekend is making up for the last couple slow ones. In all, 35 openings, with shows in all the standard art districts, a few museum events, and an awesome array of shows at the weird-ass venues that make Chicago such a vibrant art scene. Here's my picks:
1. Living Treasure at Pentagon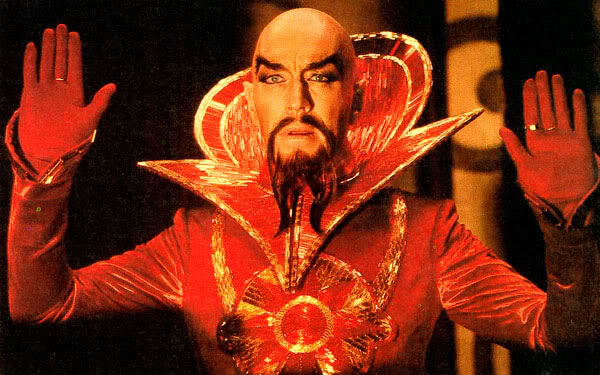 "Living Treasure is a shadow of Pentagon Gallery's first opening Nemesis, A show that engaged cultural others and darkness in music, film, literature and athleticism. Living Treasure attempts to take note from Nemesis but focuses on current global issues and America's involvement with in them. Each artist transforms ideas of violence, destruction, environment, religion, and sexuality by utilizing different mediums and engaging the viewer to be critical of their own social nature. The show it's self might seem sinister but stays satirical with subject and matter." Work by Carl Baratta, Carolina Wheat, Montgomery Perry Smith, Theodore Darst, Ryan Ingebritson & Flash Gordon (1980).
Pentagon is located at 961 W. 19th St., 1F. Reception is PLEASE NOTE: Saturday from 7-10pm.
2. Younger Than Janis at Noble & Superior Projects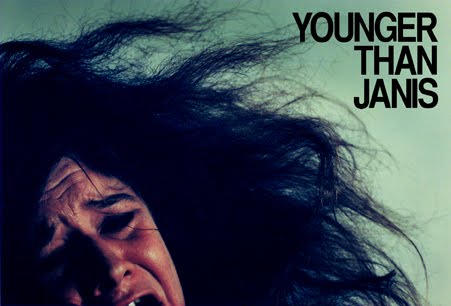 "The work of all of these artists (who together cover film, sculpture, sound, food, printed matter, painting, photography and video) considers the ephemeral nature of youth and beauty. The work ranges from musings on death to pursuit of an infinite youth, covering all the fleeting affect in between." Work by Marcel Alcala, Ryan Barone, Lucas Blair, Patrick Bobilin, Connor Camburn, Kevin Clancy, Adam Cruces, Cara Anne Greene, Eliza Koch, Andre & Evan Lenox, Vanessa Macholl, Celia Marks, Ross Meckfessel, Michael Morris, Erin Nixon, Michael Radziewicz, Anna Rochinski, Steve Ruiz, Liz Rugg, Hannah Verrill, Blair Waters, Ali White, Andrew Norman Wilson, and Travis Wyche.
Noble & Superior Projects  is located at 1418 W. Superior St. Reception is Friday from 6-10pm, film screening is Saturday from 7-10pm.
3. A Packer Schopf 3-fer: "South County Scrapbook", "Gleaners, Hawkers, and Reapers" and "Skivery"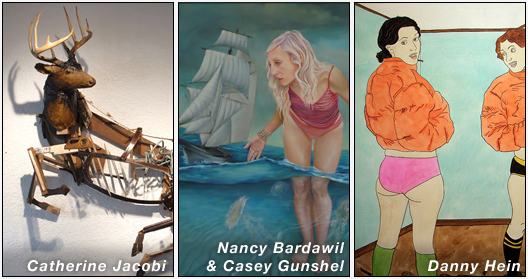 Danny Hein: South County Scrapbook – "My drawings are inspired by romantic memories of growing up in rural Indiana. I always felt there was a lot of mystery there. The figures here represent the land. I think of them as corn-fed-ghosts."
Catherine Jacobi: Gleaners, Hawkers, and Reapers – "The Histories of Objects are platforms from which Jacobi starts her pieces – considering a narrative that has already existed and one that she will have imagined existed. The novelty of form is that it leads you to believe it will endure. Look at a body, her body – immortality it seems is mortal."
Nancy Bardawil & Casey Gunshel: Skivery – "Nancy Bardawil started her art career as a painter and a sculptor, but for the last twenty years she has been working in film as a director. Although she's been painting since she was six-years-old, this is the first time she's shown her paintings in public. As a child, Casey Gunschel learned to draw by way of National Geographic and Dungeons and Dragons monster manuals. That introduction has inspired a lifetime fascination with animals, creatures and all things wild."
Packer Schopf Gallery is located at 942 W. Lake St. Reception is Friday from 5-8pm.
4. Action! at Chicago Art Department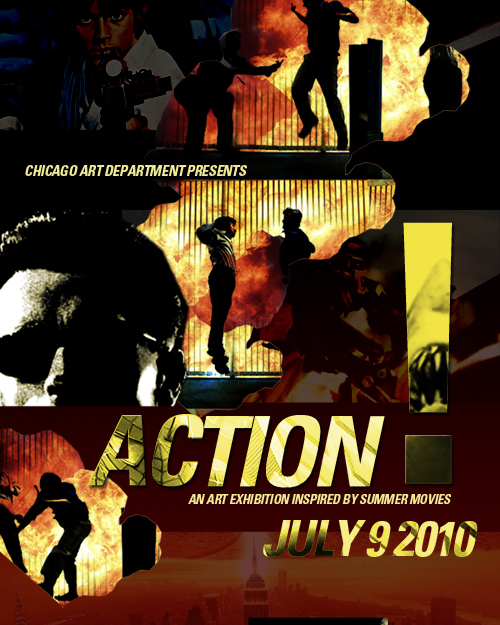 "ACTION! is a Chicago Art Department exhibition themed around the idea of the Hollywood summer blockbuster movie.  Since the release of Jaws in 1977, the summer movie season has, for better or for worse, become characterized by over the top, big budget, action, special-effects laden movies that we now know as "the summer blockbuster".    The art in this exhibition looks at the summer movie as cultural phenomena and symbol, as nostalgia and memory, and yes even simple, mindless fun." Work by Ryan Roberts, Christophe Roberts, Clare Rosean, Nat Soti, Jim Jeffers, Ali Serradge, Sarah and Joseph Belknap, Kayce Bayer, Chris Lin, and Kerry Flaherty.
Chicago Art Department  is located at 1837 S Halsted St. Reception is Friday from 6-10pm.
5. Visible City: Map Room at Fill in the Blank Gallery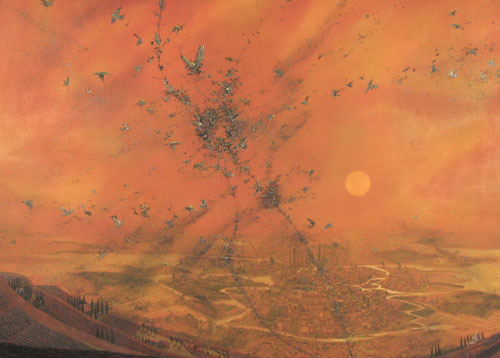 "Visible City: Map Room is part of an ongoing body of work by Aaron Delehanty in which painted images and drawn maps work together to build a mythos of a nonexistent place called Visible City. This exhibition highlights two features of this city—its urban physical space and its mental space—by showing scenes of the city as being designed in harmony with its surroundings. The maps of Visible City are strange and unique, different from your usual map because Visible City is a different kind of human settlement."
Fill in the Blank Gallery is located at 5038 N. Lincoln Ave. Reception is Friday from 7-11pm.
---
Alright, so last week was slow. This week is quite the opposite. There are a bunch of things going on. Because of that, I have decided, in response to my Top 4 of last week, to do a Top 6 this week. Don't like it, well, then you can just get out! For the rest of you, here it goes…
p.s. don't mind the pics, sometimes I have to make my own
1. The Chicago Project III at Catherine Edelman –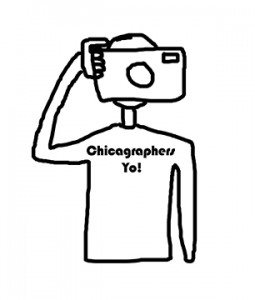 I generally avoid River North. Not because it's bad, per se, but simply because most of what I see there is somewhat boring and repetitive. Edelman is one of the exceptions (there are a few) that keep me coming back every now and again. Her fare is photo, and only photo as far as I've seen. I have yet to see something there I didn't like, and this upcoming show is no exception. On top of that, you probably know people in the show! Everybody likes seeing their friends work up in a nice gallery, right? Opening this week is The Chicago Project III. The Chicago Project is an online gallery Edelman runs of Chicago artists. Each year she selects work from it and puts on a live exibition. Selected artists this round include: Shannon Benine, Philip Dembinski, Bill Guy, Eric Holubow, Julie Meridian, Jason Robinette, James Rotz, David Schalliol, Daniel Shea, Sarah Stonefoot, Leasha Overturf and Alan Thomas. Friday night, get there early though, she closes her doors promptly at 8pm.
Catherine Edelman is located at 300 W. Superior St.
2. Size Matters!!! at Packer Schopf –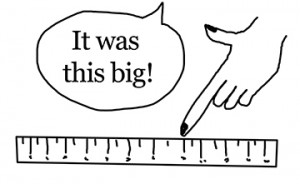 Huh huh…huh huh…ok, now that that's out of the way. Good old Packer's done it again. I like it when he does group shows from his stable. Most of what he shows there appeals to my taste, so going to a group show is like being a kid in a candy store. Or, in this case, an elephant store? Packer shows a lot of huge work, so for his, as his website says "Summer Group Show," he's trotting out the biggies for us to feast out eyes on. Featured artists include: Rebecca Ringquist, Mark Crisanti, Laurel Roth/Andy Diaz Hope (collaboration), Victoria Fuller, Jenn Wilson, Michael T. Rea, Jud Bergeron, Renee McGinnis, Don Cameron, Catherine Jacobi, David Hooker, Doug Smithenry & Krista Wortendyke. Stop by while you're in the West Loop Friday, opening's from 5-8pm.
Packer Schopf is located at 942 W. Lake St.
3. In Memory Of…A Love Story at Spoke –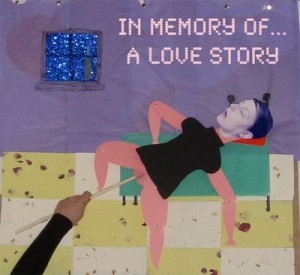 Hit number two for the West Loop. While you're hiking up the stairs at 119 to ThreeWalls, make sure you make it all the way to the top floor and head for Spoke. This tiny gallery, in (I think I'm remembering this right) the space formerly occupied by GardenFRESH, has been putting on exhibitions and durational performance pieces for about a year now. This round, they are hosting Karolina Gnatowski, who is performing In Memory Of…A Love Story. Pulling from Spoke's own website, the event is described as "an evening of classic rock, whiskey, puppetry and bitter sweetness as K.G. performs a tragic tale of romance." How could you possibly go wrong with that? Spoke is open Friday night from 6-9pm, the performance starts at 7pm. Again, be on time, that place is tiny, and it sucks having to listen to performances from the hallway.
Spoke is located at 119 N. Peoria St.
4. Dogcat: FBI (Feline Behavioral Institute) vs. Canine Fashion at Swimming Pool –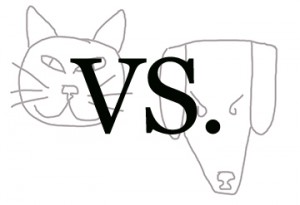 Now you can finish of Friday night with some good old feline (or canine) fun up at Swimming Pool. Located in Albany Park, it can be a bit of a trek from down town, but this show is probably going to be worth it. It is time for the ultimate battle between the self proclaimed "cat" people and "dog" people. Well, maybe not that, but get ready for a truck load of cat themed art, and a doggie fashion show. Now, I know what you're thinking: "a doggie fashion show?" Well, this is a doggie fashion show put on by pooch, and presumably, booze loving artists (pronounced ar-TEE-sts). Just watch your ankles, you don't want someone begrudgingly lifting their leg on your shoe while you admire the pretty kitties. Open Friday, from 8-10pm.
Swimming Pool is located at 2858 W. Montrose Ave.
5. Selections From the Fabio-Mueller Collection at Mini Dutch –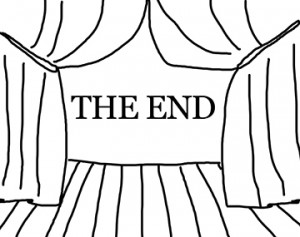 Saying good bye is always hard, and this is the last goodbye for Mini Dutch. Owner Lucia Fabio is shutting down and moving back to So. Cal, so this is your last time to check out this well-known apartment gallery. For her final show, Lucia will be showcasing work from her own collecting that she has acquired over the course of Mini Dutch's run. Artist work included in Fabio-Muller collection that will be on display: Daniel Anhorn, EC Brown, Blazo Calovic, Peter Hoffman, Andrew Holmquest, Mathew Paul Jinks, Carol Jackson, Stacie Johnson, Chris Millar, Liz Neilsen, Vivien Park, Caroline Picard, Mark Porter, Renee Prisble Una, Chris Shaefer, Shane Swindler, Matthew Whiting. This is a one night only event, Saturday night from 7-10pm.
Mini Dutch is located at 3111 W. Diversey Pkwy.
6. Nah Pop No Style at Roots and Culture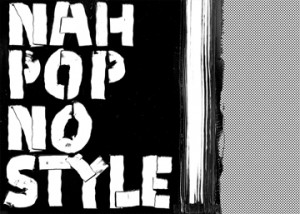 This is purely an allegiance to where I've lived selection. The subtitle of the show is Work by painters from Baltimore and Providence. My husband went to grad school at MICA, so I lived in Baltimore for a year. Weird-ass place, but there are defiantly a lot of good artists from there. I don't recognize any of the names, but I'm hoping I recognize some of the work. And hey, maybe they'll be serving Carmen corn again. B-more and Providence artists strutting their stuff at R&C include Lucy Campana, Chris Day, Alex Griffith, Andrew Goett, Thomas Harrington, Annabeth Marks, Clay Schiff, Quinn Taylor, Chloe Wessner, Kandis Williams and Blade Wynne. Show opens Saturday from 6-9pm.
Roots and Culture is located at 1034 N. Milwaukee Ave.
---