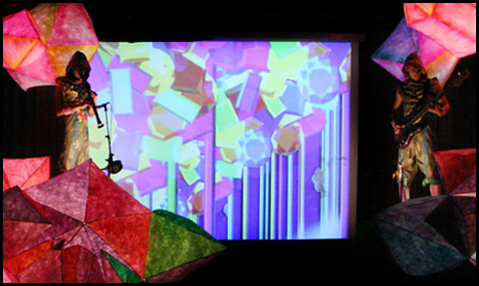 I met Peter Burr and Christopher Doulgeris for the first time about five or six years ago. "Hooliganship," the name of their performative duo, was on tour with the second issue of a DVD cartoon compilation called Cartune Xprez. They came to do a screening/performance at the old Green Lantern Gallery. Cartune Xprez is Peter Burr's curated compilation of independent, short animation—sometimes I think of it as an animated equivalent of an intensely gratifying literary magazine, or portable gallery exhibition. The biannual DVD is an event of imagination that colludes and clashes on the brink of psychedelic experience, precisely because it celebrates the idiosyncratic visions of its participants. As is often the case with non-commercial media, my appreciation for the project serves as both a reminder and a relief, reminding me that the larger behemoth of mainstream culture is not the only world of creative insight. When Hooliganship arrived, we set up couches for audience members while Peter and Christopher inflated neon crystals that glowed in the dark. We couldn't plug them all in, because we kept blowing the fuse. We projected the video on the street-side window, so pedestrians outside would have another experience in reverse. Christopher and Peter both wore tight fitting neon yellow sweat suits and when the screening began, they rose—aside from the crystals, the room was otherwise dark—playing instruments (a clarinet and a guitar). Meantime, these very idiosyncratic cartoons by various artists screened in the background. It's probably one of my favorite experiences from running a space. The habitat of the cartoon-world had been built out into our literal experience, lending additional form to the 2-d and sometimes crude projected imagery. As I said, that was years ago—at that time they were traveling with their first 2006 video. Since then Cartune Xprez has released two additional DVDs and, having recently seen the 2011 edition, I wanted to ask Peter Burr some questions about how he curates, what he loves about the project and how he situates his practice in relation to the more commercial television outlets we are accustomed to.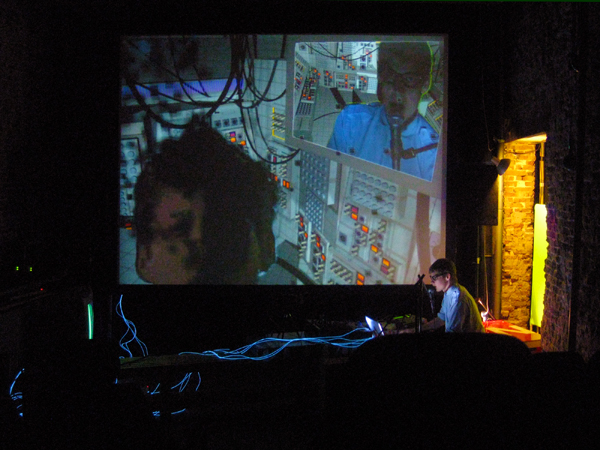 Caroline Picard: Where does your love for cartoons come from?
Peter Burr: I can't entirely say I LOVE cartoons across the board. I love the way an individual's spirit is captured when making a motion picture, especially an animated one. It takes such tenacity to produce anything of substance in cartoon form. There's this sweet spot for me where the cartoon balances the energy and ideas and images so casually and confidently that takes my cake. A large number of commercial productions and studio jobs lose my interest in the way things get overwrought. I think that's where CARTUNE XPREZ emerged for me…… as a platform to showcase those sweet spots in one place.
CP: It's interesting to me that you wouldn't boast an unequivocal love for cartoons given that you must dedicate so much time curating work for CX. Can you talk a little bit more about that sweet spot? Is it a sweet spot peculiar to the cartoon genre? And what do you mean by 'overwrought?'
PB: Perhaps on point, my day-job is making children's cartoons which, as I reread my last response (and your follow-up question), probably colors my approach to CARTUNE XPREZ. As with any medium, I believe, our ability to accept creative work with 'unequivocal love' is challenged when market forces dictate the decisions behind the practice. This feeds my desire to give life to CX, creating a platform outside the commercial industry that holds a space for ebullient animated spirits. There's a bravery behind a lot of the work CX shows that just doesn't exist in most main-stream cartoons I come across. I guess that's part of that sweet-spot you're asking about….bravery, independence, risk, failure. It's work that is not outright trying to appeal to a mass which in turn yields really strange, really personable results.
CP: Do you have a sense of the community of contemporary cartoonists?
PB: I can't keep up! Sometimes I feel like I could be surfing around the Internet 8 hours a day, 5 days a week and still never have a clear sense of what animation artists are out there. When I was in university back in the 90s I started to explore independent animation for the first time, searching blindly with vague keywords like 'animation + art' or 'cool + cartoon' and it ultimately just tired me of the web. Granted, I was learning how to use search engines for the first time and YouTube didn't exist, but still;Â in the course of that year I think I only ever found one artist (mumbleboy) who clicked into my sensibilities. In subsequent years of peeling my eyes for this kind of work I've found that most of the work that gets integrated into CX emerges when I go on tour and just talk to people. It's a lot more fun than sitting on my computer trolling the net, but of course it also keeps my vision somewhat limited to the countries/cultures I visit.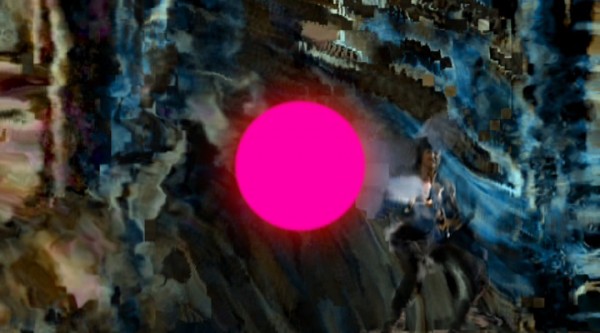 CP: What would you say your aesthetic is? (that thing you're looking for in independent cartoons) and how does it differ from your commercial work?
PB: That's a tough question! I can't really speak to a single aesthetic, but I can talk about some of the core values that we try to put forth with the project.
Let's see……the boundary for work that comes into the CX world outlines a quest for independent, mostly single-artist productions. This means that we exclude music videos and other types of work that could be construed as 'selling something.' Studio productions tend to get left out too, mostly because I find a special magic imbued in single-artist or small collective projects that comes from a tenacious, intuitive, working process. Rarely does work we show seem storyboarded or acutely planned (even though some of it, in fact, is). Takeshi Murata is a great example of this. Take a video like PINK DOT…… It comes across as a crazy compression error that coalesces around some striking images from Rambo. Of course, these aren't straight accidents, which becomes especially clear if you compare Takeshi's work from this period (2005-2008) with other datamosh videos on youtube. The means of representation here feel glued to the topical concerns. I suppose this is the 'aesthetic' CX gravitates towards.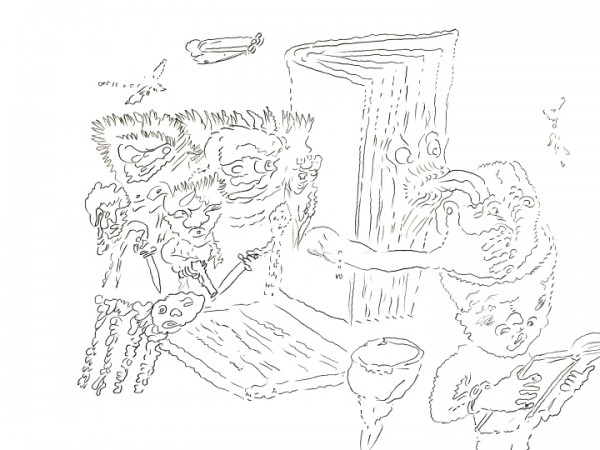 Another great example of this can be found in the work of Bruce Bickford, an older gentleman whose work is mostly known from his days as Frank Zappa's in-house animator. Like Murata, his work is baffling on both technical and conceptual levels. I've watched some of his pieces hundreds of times and I still read new ideas in them each time I watch. Part of this comes from Bruce's utter dedication to his practice. He lives alone in a dreamy complex outside Seattle where his art practice is the focal point of everything including house chores. (There's a great doc called MONSTER ROAD that you can watch to see what I'm talking about). Anyway, it's this commitment to a practice that I really admire and like to put forth with CX.
CP: It's interesting to hear you talk about the way you research cartoons, the way you follow artists and their various practices. It seems like that must be an integral part to your administration-life with CX. What kind of other duties would you include in that? What does it take to put out one of your compilations?
PB: I think about my 'research' as a way to put framework between my consumer interests and my desire to produce.  Yesterday this meant watching a couple hours of cartoon network before and after Ben Jones' PROBLEM SOLVERZ to see what cable TV is nesting around some of the artists CX has affiliated with. Day-to-day, these research duties are a lot more casual (I haven't owned a TV in about a decade so it took some work to find a place to watch cable for a few hours). Thanks to the fact that I live in New York City, freestyle conversation with wonderful artists/critics/organizers is quick to come by. Going on tour provides a similar stimulation. One of my favorite research paths in recent times came when I was in Riga, Latvia with our FUTURE TELEVISION tour. I spent a week there after our show, which gave me time to learn about the cartoons my friends there grew up on. I was blown away by the trove of Soviet animation that had been produced in the 80s. For months afterwards I dug through Russian-language video databases, finding some gems like Captain Pronin and Pereval. This kind of exploratory work is so much fun!
The heavier administrative duties are a bore to talk about…… emailing venues, learning new video compression techniques, managing boxes of amaray-cased DVDs, etc. Its like an episode of "The Office" without the employees.
CP: What is your vision for CX? To me, it kind of seems like it's fulfilling itself as it is. I mean, I so love and enjoy each of the DVDs you've already put out, I'd be psyched if you just did that forever. That said, I can imagine you think about the project differently, or imagine moving in different directions, or presenting the work in different ways. Can you talk about that a bit?
I think my fundamental vision for this project has a lot to do with integrating youthful dreams with my adult experiences. This certainly IS fulfilling in itself! Its also really squirrely and challenging. The biennial compilations feel like a good way to bring some permanence to our activities and touring has been a sweet way to stir up the project's spirit (bringing new energy and voice).  You're right, though….. in tandem with what we have now I DO envision the project working in different directions. I think about LIQUID TELEVISION, POSTERDISC, RAW MAGAZINE, CHOOSE-YOUR-OWN-ADVENTURE, THE EXPLODING PLASTIC INEVITABLE and still watering the plants at home.
---
Jason Dunda's work is impeccable. Each mark he lays down is precise, predetermined and, really, perfect. He paints wood grains, anthropomorphic hummocks, death chairs and wheelbarrows. Over the course of our friendship, I have remained intensely interested in his process, both as curator, as artist and publisher. In part my fascination stems from a sense that his work is a testament to the impossible. He paints towers that could not stand up, even if they appear to have structural integrity. Or, in another instance a fabricated tree made of smaller pieces of wood, appears to be trying to hang out with "real" trees; the fake tree obviously fails, yet it is also more interesting as a tree and diminishes the others which fade into the background. All of these pieces are made in gouache and a couple of years ago Jason told me he was going to start making giant, wall-length works. He was making them for a show in Dubai. He would ship them in giant, construction-site-sized tubes. It was all planned out. He was excited, I couldn't wait to see how it worked and I realized as I went home there were so many impossible things in that equation: first off, you can hardly breathe on gouache without leaving a mark. Secondly, Dubai is a massive massive distance. Thirdly, the city itself sounds like a cartoon, a monument to human enterprise in impossible conditions: I've heard, for instance, it boasts a building with a ski hill. It's all impossible and, for that reason, amazing. But all this strikes me as a perfect metaphor for what it means to create work in the first place. There is an idea that making work supplies a certain posterity. It is a vehicle to outlast one's own lifespan. Despite the ageless popularity of this idea, the life of a painting is full of hazard. Historic works get lost on boats, burned in fires—you name it. It's remarkable that anything stands the test of time. Dunda's work faces off with that issue. His paintings are materialistically vulnerable, capable of reflecting our own existential fears. Thankfully, each one has a sense of humor about itself—what's even more remarkable give the precision and time the work demands.
Caroline Picard: Can you talk a little bit about gouache? When and why did you start working with it as a primary medium? What is most difficult about it and how do those challenges complement your own artistic goals?
Jason Dunda: Gouache is a very opaque type of watercolour.  It's been used in the past in design and animation—any backgrounds in pre-digital age cartoons are probably painted with gouache.  I began using it about five years ago to make some quick works on paper to help me compose my oil paintings.  I ended up enjoying my experiments in gouache a little too much and my work on paper became the central focus of my studio practice.  Gouache isn't the most spontaneous medium—just like watercolour, once it's down on the paper there's no changing it so you have to be very confident and sure of what you're doing when you're working with it.  The paint is also very matte and chalky—a quality I love—so if you lay it down too thick it cracks and/or dries very inconsistently and looks horrible.  Basically, it's a very delicate and precise material to work with.  I often approach my work with a cautious delicacy and I really like to master a medium so I like the challenge.
CP: How do you choose your color palate? Do you mix colors before starting a piece?
JD: I mostly paint images of wooden objects, so I have a lot of yellows and earths but I mix it up with the occasional dull turquoise or cool grey here and there.  Because my subject matter is pretty consistent, I've been able to develop a central colour palette over the last few years.  There's a couple dozen colours I work with regularly and I'm constantly adding to it and changing it.  I choose and modify the colours in order to have a wide range of contrasts in temperature and value but maintain a limited, harmonious intensity.  The colours are pretty dull and work well with the colour of paper I choose a ground for most of my paintings.
CP: That leads me to another question about the way you make a piece. As I understand it, and partly because gouache so fussy, you plan out a painting before sitting down to paint it. Will you talk about what that process is like and how your foreseen vision matches its end result? How do you translate an idea into a visual structure? Does the idea occur visually in your mind's eye? Or do you execute a kind of transcription, translating the idea into a visual language?
JD: That's a great and huge question and I'll try to answer it as best I can.  I do a lot of research—both visual and academic—and do a lot of really quick messy image-making when I plan out a piece.  So yes, there's definitely a translation that occurs.  The initial image in my head almost never turns out to be the end result and I think that's a good thing.  Filtering thought through imagery and materials is a tricky thing and needs a lot of fine tuning if it's going to work.
CP: Do you ever run into limitations within your visual language?
JD: Some days I feel there's nothing but limitations.  You can interchange 'limitations' with 'structure,' though, and in that sense it creates possibilities and propels my thinking and making.  When I'm feeling particularly limited, though, I'll declare to myself that my day in the studio is going to be different from the usual—I'll spend the day with the expectation that I'll have no usable material results and all I'll do is experiment.  I've recently gone back to oil painting partly for this reason.  I can mess around and translate my ideas into a different set of materials.  My new oil paintings are really terrible.
CP: How do you anticipate scale?
JD: I never go bigger than my apartment door.  I learned that the hard way, seriously.  Scale occurs to me most profoundly as the relationship between the viewer and the piece.  There's a sense of intimacy and humbleness in small works and a more aggressive, public presence in large scale works.  I tend to go to the extremes of this spectrum.  Gouache is a really difficult material to work with in large scale— the surface can be really inconsistent over larger areas—so there's a particular challenge I like about large-scale gouache paintings.  I love antagonizing the intended use of a material.
CP: Sometimes you create sculptures as well—what I feel is like an almost traumatic transition, to move from a single-dimension surface to a three-dimensional physicality. When do you chose to work in three-dimensions? What is it about a given idea that moves you to break (if you'll grant me this) a kind of third-wall of the art object?
JD: I'll certainly grant you that and I think you've got it absolutely right.  The tangibility of an object is really different from the illusion of form and space in painting and that's what led me to make the first and so far only object I've ever made for exhibition.  It's that trauma as you call it—that fight between the illusory and the tangible that I wanted to conjure up when I used a large-scale painting as a sort of backdrop for an object.  I paired a painting of a dilapidated pulpit with a fancy wheelbarrow I custom built and had upholstered.  I used the opposition of image and object to highlight certain elements of my ideas—the conflation of the utilitarian and the ceremonial and a parody of cultural structures.
CP: What is your experience of surface?
JD: Surface and I get along very well. Â No matter the medium or imagery of the project, my work over the past several years relies upon a thorough consideration of surface. Â Because I'm a painting dork, I have to learn everything possible about the materials I'm working with. Â I have a tremendous amount of patience when experimenting with materials and it's really important to me to show a certain amount of that mastery in the work I make. Â I also think that it's really important to me use the materials in the wrong way but still make it look good. Â Most of my oil paintings look like they're painted on some kind of plastic but it's a concoction of walnut oil and wax. Â Similarly, my big gouache paintings involve a process of staining nine-foot tall pieces of paper in order to transform its colour and surface. Â I know when a surface is working when another painter can't figure out how I've done it.
CP: Recently we've had conversations about how you feel somewhat restricted by the predetermined nature of your current approach. Do you feel like that sense has to do with gouache? Or perhaps a shift in what you want to get from of an act of painting?
JD: Both, definitely. Â I think the busy work of planning, testing, and preparing when using gouache forces me to slow down and think a lot more while making. Â This can be a great thing or a very bad thing – I've felt stuck many times recently because the next move I need to make presents such a risk, but then again there's something very satisfying about meticulously constructing an idea while I meticulously construct a piece. Â So yes, I want to get something different out of the process of painting but I'm not ready to quit gouache. Â Ideally, I'd like to get reacquainted with oil paint while continuing the trajectory of my gouache paintings. Â There's something very interesting to me about working across media and showing the results together. Â Incidentally, I've done a couple of oil paintings recently and they're really awful. Â It's like I've never picked up a brush before and I really haven't got a clue.
CP: Although this wasn't my first thought in relating to your work, there was a certain point that I suddenly made a connection between your paintings and cartoons/comic books. Could you talk a little bit about that relationship?
JD: Oh man.  Well, it's no secret that I'm a comic book and cartoon dork and have been since I bought a copy of The Incredible Hulk #238 after a swimming lesson in 1978.  About ten years ago I began incorporating a linear, graphic approach into my work and I thought it was really successful.  I've gone back and forth between painterly and graphic over the years and I find the most satisfying paintings to me are the ones that balance those two qualities.  The thing that's most interesting to me about the aesthetics of comics is colour related to surface.  Today, comics are printed on super glossy paper and computer coloured and it's spectacular but it's not what I was immersed in visually as I was growing up.  Comics used to be printed on a pretty low-grade paper and the ink would just sink in to that surface.  The quality of colour in my work is directly related to this effect.   I mix colours that are relatively dull and I often make the contrast between the paint and the colour of the paper pretty low.  It's a nostalgia thing for me that's turned into a subtle narrative choice.  Right now I'd define my work as being less cartoony and more graphic—I'm looking at Disney all the time but it's in concert with Ukiyo-e prints, illuminated manuscripts, and early Renaissance painting.
CP: I suppose in some way, I think it's really interesting because cartoons tend to undo a certain gravitas that is pervasive in the rest of the world. Wylie Coyote falls off ten thousand cliffs with comedic survival. Superheroes are constantly being resurrected and, by virtue of that resurrection, become even greater. What I find interesting is that painting affords its own gravitas. The weight of its canon, for instance, or the way that (at least when I was in art school,) people always ask why something is painted rather than being photographed or manifested more directly. I just wonder what happens for you, when you start to incorporate that cartoon language as a stylistic tool? Particularly when, as in the gallows for instance, you're painting "serious" objects, while also employing very technical strategies —there is still a palpable sense of humor…
JD: Wow, that's a mouthful but you've hit the nail on the head.  There's a sense of detachment both in my work and in comics and cartoons.  In comics it's a result of these adolescent power fantasies (among other things) and in my work it's an impulse to not be so heavy-handed in my politics.  I'm not nearly  informed enough to make specific social or political statements, so I'm not interested in resolving anything.  Instead, I want to imply a narrative that embodies a particular and often fucked up set of social values.  Hence the gallows that can double as a vaudeville stage set or a sentry tower with a quaint aluminum awning.  I've always thought the images that I make in gouache are the evidence of some other civilization that exists parallel to our own—parallel universe narratives in sci-fi are also a current love of mine.  In my world, though, instead of granting wild canines the ability to mail-order anvils I simply gussy up the instruments of control.  Either way, it's a happy place in which you don't quite notice how desperate the situation is.
Jason Dunda has a show coming up with Laura Davis called "Lock the Doors."
Slow
Opening reception, Saturday, April 2, 6-9pm
2153 W 21st Street
Chicago, IL
---
Guest Post by Julia V. Hendrickson
Notes on a Conversation.
With—Mark Pascale (Curator in the Dept. of Prints & Drawings at the Art Institute of Chicago, and Adjunct Professor of Printmedia at SAIC)
In—the Prints & Drawings Study Center
Commenced—on Thursday, February 17th, 2011, 4:15–5:15pm
"It's a dream job. It's great place to work. Even under great pressure, when people are at their most difficult, there is still a lot of love here and we all know it. We give each other a lot of space, there's a tremendous amount of collaboration here, and people supporting everybody when they need the support. I think it's very collegial."
— Mark Pascale
In a curious corner of the Art Institute, beyond the lions and the ticket booth; through the first gallery on your left (filled, currently, with John Marin's watercolors); past a large glass door; and adjoining a nondescript long white hallway, lies a room full of natural light and very busy people. Dedicated to public inquiry, the Goldman Study Center in the department of Prints & Drawings is one of this city's quiet treasures. Open to the public by appointment only (available to classes in the mornings and to individual researchers in the afternoons), since the 1940s the department has made available over 80,000 works on paper that are part of the Art Institute's collection. Staffed by hard-working curators, collection managers, researchers, administrators, and interns (as well as its own paper conservation department), the study center serves as a visual library; it offers the rare opportunity to examine a small selection of major works of art in person, without the distancing of glass or display.
However, one of the most invaluable treasures in Prints & Drawings is not actually on paper. It is, in fact, embodied in a living, breathing, wise-cracking person: a curator, Mark Pascale, who is celebrating his 30th year with the Art Institute. I first knocked on Mark's door over two years ago, armed with the brazen assumption that he would meet with me based on a shared love of comic art and his connection to Ohio (he went to graduate school at Ohio State University). Since then, Mark has proved to be an encyclopedically resourceful, tirelessly supportive, always kind mentor and friend.
While visiting the study room last week, we looked at one of my favorite recent departmental acquisitions, a bequest from the estate of Sylvia Sights: a small collection of envelopes and ephemera illustrated by Edward Gorey (who was born in Chicago in 1925). Sylvia Sights and Gorey were childhood friends and Lakeview neighbors. Gorey attended SAIC for one semester in 1943, and after he left Chicago he wrote to Sights frequently. Many of the envelopes are from his time at Harvard (1946-50), and were often sent under fantastic pseudonyms like "Childeric Drool" and addressed to "Fascia Scorch." You can see more photographs of the collection in an album here.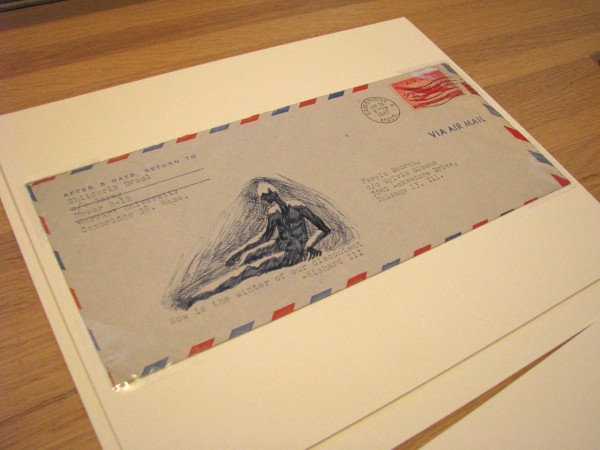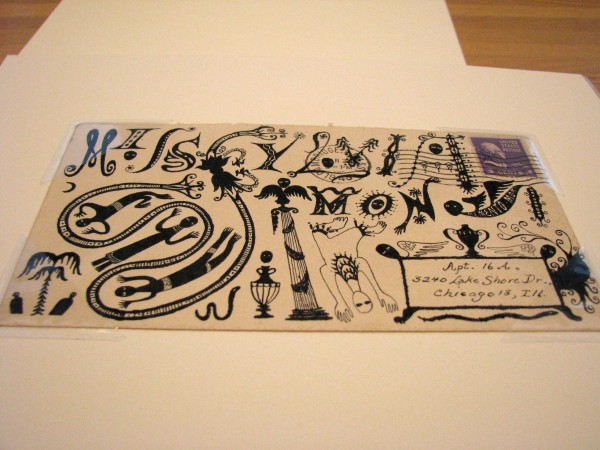 PAST PROJECTS:
I asked Mark about print-related shows he is proud of being involved with during his time at the Art Institute. He spoke of the intense research and collaboration that goes into major museum exhibitions:
"Being involved in the Jasper Johns: Gray show [in 2007] was a career changing moment for me. He was an artist that I had admired, as an artist, and I especially had admired his printmaking. It was hugely inspirational and instructive to me. It was a frightening prospect because he's very judgmental, and he is not known for his generosity. But I was asked to join the team and I did. […] That experience, working with James [Rondeau] and Douglas [Druick], Harriet Stratis, Christine Conniff-O'Shea, and Maureen Pskowski, having a cross-departmental experience was fantastic.
The other show that I've done that I'm extremely proud of is the one that was called After the Crash: Picturing the U.S. 1930-1943, which I did [in 2000] in conjunction with a curatorial assistant in photography and the special collections librarian in Ryerson. We incorporated prints, photographs, and texts from the Depression, [about] the Depression.
We used our WPA [Works Progress Administration] and FSA [Farm Security Administration] holdings, and it was based upon my question: 'If so many of the artists who worked for the WPA were urban, why are there so many farm images?' So, [we were asking] whether or not the FSA photographs played any role in what got depicted in printmaking. To some degree we found evidence that it definitely was true, and there were quite a few artists that worked both on the FSA project and the WPA project. […] The crowning moment for that was, even though we didn't get to do a book, we had a panel discussion that was chaired by George Roeder, who created the Visual and Critical Studies area at SAIC (now sadly deceased), and included Studs Terkel, who was still really sharp, he really had his wits about him, and the photo historian and photographer Naomi and Walter Rosenblum, respectively."
— Mark Pascale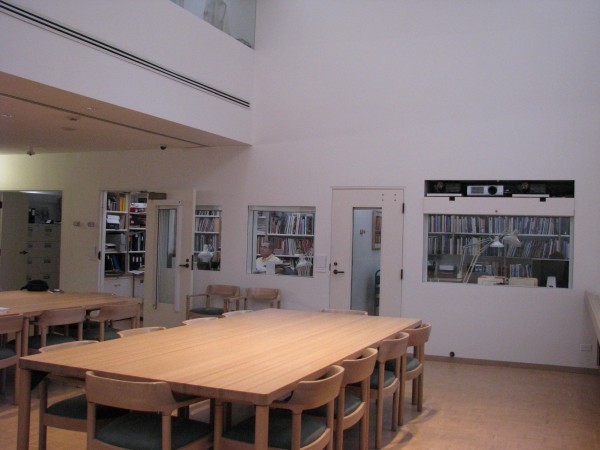 Mark also collaborates across the city with other museums and galleries. In the mid-1990s Mark was an advisor and catalogue contributor to one of the definitive Chicago print shows, Second Sight: Printmaking in Chicago 1935-1995, a survey exhibition at Northwestern University's Block Museum of Art. When I mentioned that show, he sighed and said, "I wish I could redo it because I've learned a lot more about the history of Chicago printmaking since then. But I covered some of it in the Chicago Stories exhibition."
(Chicago Stories is Mark's most recent departmental exhibit from the summer of 2010, an historical survey of local printmaking called Chicago Stories: Prints and H.C. Westermann's 'See America First'. While I served as an intern in the department with Mark, fellow intern Andrew Blackley and I collaborated with him on the research, writing, and exhibition planning for Chicago Stories.)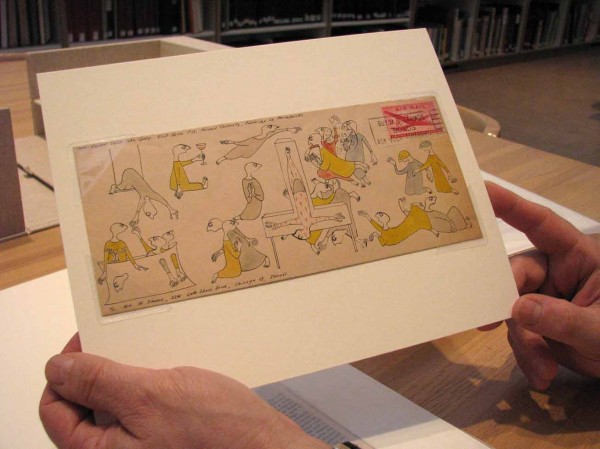 CURRENT PROJECTS:
Although Mark rarely has the time to advise or organize more than one show a year outside of the department, he is often asked to judge exhibitions. This year he selected a members exhibition for the upcoming Southern Graphics Council Tempting Equilibrium conference in St. Louis (March 16th-19th, 2011). At the Art Institute, Mark is currently working on a departmental exhibit showcasing a promised gift of over 100 contemporary drawings from a private Chicago collection. He notes that the museum recently has received a lot of criticism for doing private collection shows, but that it's simply a way to honor and celebrate the major support of private collectors:
"We're often accused of being an island, and we're not. To some people we might be.  We don't buy that much art. We spend a lot of time engineering gifts. […] The people who are quick to criticize the museum don't seem to know of the long and distinguished history of giving that Chicago museums enjoy, and don't seem to know that we don't receive much public money. There's a limit to what we can do, and a high expectation for what we put out. My feeling is that they should be excited and happy that this art stays in the city forever."
— Mark Pascale
The other big show Mark has been working on for the last few years, scheduled for 2013, is a Martin Puryear retrospective, focusing on Puryear's printmaking processes.  Although much of Puryear's early work was destroyed in a fire, Mark has been able to find a number of working and state proofs for his more recent editions. The exhibit will highlight Puryear's etchings from Paulson Bott Press (Berkeley, CA), and a major work from Arion Press (San Francisco, CA): illustrations for Cane, a 1923 novel by Harlem Renaissance writer Jean Toomer.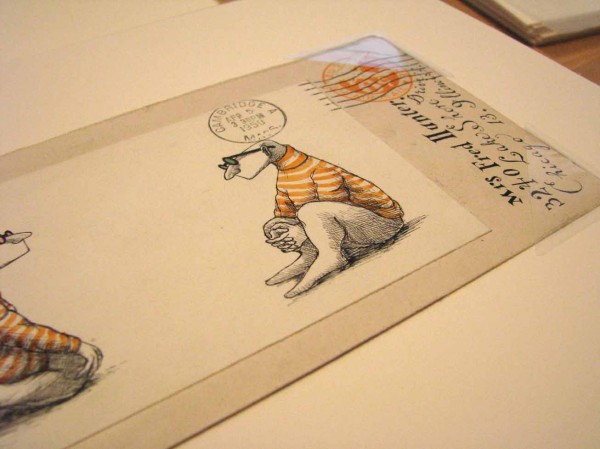 PASCALE'S PICKS:
Above and beyond his knowledge of modern and contemporary art, Mark also knows a thing or two about good food in the city. At the end of our conversation, Mark humored me with a list of a few of his favorite places to eat out.
"Any opportunity to eat badly, I will accommodate it. I have a very high threshold for people's hot dogs and fries, because it's such a Chicago thing. Chicago-style hot dog joints are not like what I experienced growing up. It's local, and I love local."
— Mark Pascale
1.) Hot dog and fries at Gene and Jude's Red Hot Stand (and many other places, but G&J is the best) (2720 River Road, River Grove, IL)
2.) Tom Yum Koong (shrimp soup) and Pad Ped Pla Dook (spicy catfish) at Opart Thai House (4658 North Western Ave., Chicago)
3.) Enchiladas Mole at La Oaxaqueña (3382 North Milwaukee Ave., Chicago)
4.) Bhendi Masala (okra curry) at Hema's Kitchen (2439 W Devon Ave., Chicago) or Udupi Palace (2543 W Devon Ave.)
5.) Hungarian Potato Pancake at Smak Tak (5961 North Elston Ave., Chicago)
6.) Chicken Fatoush Salad at Pita Inn (Skokie, Wheeling, and Glenview, IL)
———————————————
ABOUT:
Julia V. Hendrickson is a native of eastern Ohio who lives and works as a visual artist, writer, and curator in Chicago, Illinois. In 2008 she graduated with a B.A. in Studio Art and a minor in English from The College of Wooster (Wooster, Ohio). Julia is currently the gallery manager at Corbett vs. Dempsey, as well as the office manager and design assistant for Ork Posters. She is a teaching assistant at the Marwen Foundation, an active member of the Chicago Printers Guild, and has taught at Spudnik Press. A freelance art critic and writer for Newcity, Julia also keeps a blog called The Enthusiast, a documentation of the daily things that inspire, intrigue, and inform. She is currently exhibiting at Anchor Graphics (Columbia College Chicago) in a solo show titled FANTASTIC STANZAS, on view through March 26th.
---
Audio clip: Adobe Flash Player (version 9 or above) is required to play this audio clip. Download the latest version here. You also need to have JavaScript enabled in your browser.

download


This week: Duncan and Richard are extremely excited to talk to legendary cartoonist Chris Ware!
They discuss Chris's work and career and much, much more. Duncan pokes fun at Richard for being a dork! Much mirth, music, and mayhem is had by all. This show is not to be missed!!!
Photo by Tom VanEndye. Read more
---
Audio clip: Adobe Flash Player (version 9 or above) is required to play this audio clip. Download the latest version here. You also need to have JavaScript enabled in your browser.
First, Duncan sleepily laments about Richard waking him up at 1 in the afternoon, as this is "early" in McKenzie.
Next: FIGHT NIGHT IS ON PEOPLE!!!! Start training now. Bad at Sports calls dibs on Tony Fitzpatrick to be our collective trainer, you can't have him.
THEN the main event: This week Anna Kunz drops in to aid Duncan in interviewing Ivan Brunetti about his works (Misery Loves Comedy, Haw, Schizo…) and the collections that he has been publishing with Yale University Press (An Anthology of Graphic Fiction, Cartoons, and True Stories:Volume 1 and 2.)
Read more
---