My late-night Bushwick experiences over the past seven years have merged into a single composite memory: I get dropped off by a gypsy cab on a dark street named after a Dutch aristocrat, search for a DIY gallery-opening in the basement of a basement of an abandoned warehouse that I heard about from a friend who heard about it from an art handler at his LES gallery, and afterwards I head to Kings County Bar and continue to drink Yuenglings until early in the morning and then walk back to Greenpoint along Morgan Avenue avoiding shadowy drunk strangers and feral dogs.
Given this surreal recollection, it felt very strange to go to an opening last Friday night in Bushwick at Luhring Augustine Gallery, held in a large, manicured, out-in-the-open building. The blue-chip Chelsea mainstay recently joined the East Brooklyn slummer party by opening a spacious franchise at 25 Knickerbocker Ave.
The venerable gallery hit the party scene running by hosting a blow-out opening reception of Charles Atlas video projections that was almost like watching Darren Aronofsky's "Pi" minus Clint Mansell's score. As I milled about on the sidewalk I saw the the well-heeled segment of the art world having a midlife crisis. This was its Fiat convertible and the cool young mistress with forearm tattoos riding shotgun.
Bellwether or Outlier, one couldn't help wonder. My friend and I considered the dissonance between the gallery clients' Citarellas on the Upper East and the Dominican bodegas dotting the streets around us.
"Does this move mean that Chelsea is the new 57th Street; the Lower East is the new Chelsea; Bushwick is the new Lower-East and Ridgewood is the new Bushwick?"
"What would the New Ridgewood be?"
"A pile of bedbug infested mattresses behind a KFC in Hollis, Queens."
"Maybe a sinking trash barge in Long Island Sound. Extra exclusive because the whole abject scene would be time sensitive; if you got there too late you'd be both out-of-the-know AND dead."
"Funny because it's not that far off."
I didn't end up at Kings County until 3 AM that night because I had to fly back to Wisconsin early the next morning to attend an art opening of a family friend at the Cultural Center back in Wisconsin. My mother-in-law was helping out with the decorations for the Medieval-themed art exhibition, complete with barrels of mead, monks, minstrels, and, despite my warnings that they were New World animals, oversized turkey legs.
Unlike most galleries in Bushwick, merely finding the Cedarburg Cultural Center isn't edifying; It's intentionally easy to locate and its target audience is anyone who can fit through its well-decorated doors with close-toed shoes. It has a large sign out front and amply distributed posters at every diner, curio and fudge shop letting everyone who passes through town, young and old, square and hip alike, know when a spectacular cultural event will take place.
That evening I headed from my in-laws house to the Cultural Center – not a three-minute walk even if I was obstructed by rogue dogs and drunken streetwalkers. When I arrived I chatted up several of the volunteers who were still prepping for the opening, rolling antiqued, walnut stained wine barrels and draping tables in scorched burlap to give the Sheetrocked and acoustic ceilinged interior the patina they must have imagined glazed the Middle Ages. It all seemed a bit like a stage production or scene from a Monty Python movie; even so, it was such an earnest and unpretentious spectacle that Guy Debord himself might have granted them amnesty.
Drinking from flagons and picking turkey from my teeth, I had to wonder whether such a charade, especially one which professed to be art, was without pretense. If pretense is false display, this exhibition was both pretentious and spectacular by Guy Debord's own standards about represented reality. High crimes in some high-cultural precincts.
Throwing back the last of my grog and adjusting my coffee filter hat, I wondered whether it was more pretentious to prove how resistant one is to the spectacular by entering a race to the obscurest of bottoms, or to have an art exhibition in 2012 based on a theme lifted from a Bugs Bunny cartoon, especially when art has suffered through a 150 years of modernist purification and 75 of Frankfurt School warnings about the implications of received culture.
When the antiqued barrels were finally emptied of their spiced wine and the turkey legs were gone, me, a jester and a monk headed out for a nightcap. Looking down Main Street our choices were illuminated in the night: "C. Weisler's" "R.J. Thirsty's" and T.J. Ryan's." Their signs radiated like supernovae, practically beseeching our company. No secret doors, no back alleys. I imagined how weird our motley cast of bouzingots would have looked shuffling down a desolate Bushwick street searching unmarked doors for the one opening to a secret demi-paradise of artfully crafted drinks and conversations.
With all this on my mind I dropped a joke. "How many hip intellectuals does it take to screw in a light bulb?"
A collective head shrug.
"It's an obscure number you've probably never heard of!"
A collective 'huh?'
Dave the monk ended the radio silence, "Did you hear about the artist who starved to death?….He didn't have enough MONET to buy food."
Harmonious laughter.
So obvious, I thought. So obvious, indeed.
A monk, a jester and an artist walk into a bar…
---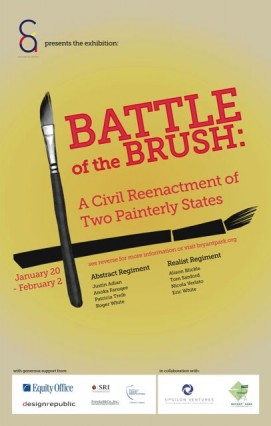 This event looks like a lot of fun. Those of you in the NYC-area should definitely check it out! Bad at Sports' own Tom Sanford has a painting entered in the fray, which is reason enough to brave the chill. THE BATTLE OF THE BRUSH is  a group show of paintings organized and curated by Alex Glauber.  Tom tells us there will be a reception, and though will  be cold in the park, there will be hot coco and heat lamps provided.
BRYANT PARK – JANUARY 20th thru FEBRUARY 2nd (24 hours a day)
OPENING RECEPTION (with heat lamps and lots of hot chocolate) THURSDAY JANUARY 20th 6-8PM on the Southwest porch on the 6TH Avenue side of the park.
They are hoping to organize artist tours of the work on SAT JAN 22 & SAT JAN 29 – details TBA
Corporate Art Solutions in collaboration with Bryant Park and Upsilon Ventures is pleased to present "Battle of the Brush: A Civil Reenactment of Two Painterly States," a contemporary painting face off between realism and abstraction on view in Bryant Park from January 20th – February 2nd. Utilizing the existing template of Upsilon Ventures' kiosks from The Holiday Shops at Bryant Park, two of the booths will be retrofitted with the help of painting conservators into temporary climate-controlled exhibition vitrines. These vitrines will be used to exhibit paintings for the first time ever in Bryant Park and in the process reveal how public art can be innovated through the creative adaptation of existing resources.
In an attempt to playfully reconsider the historic painterly debate between realism and abstraction, "Battle of the Brush: A Civil Reenactment of Two Painterly States" draws upon Bryant Park's history as an encampment for soldiers during the Civil War. In using this little known historical fact about Bryant Park as a conceptual theme, the exhibition takes a tongue-in-cheek look at how one of the painting community's most persistent antagonists in the 20th century was itself; specifically, the aesthetic and ideological divide between realist and abstract painters. More than just a question of style, this polemic has historically symbolized the tension between tradition and innovation. One such example was the boycott of the Metropolitan Museum's 1950 exhibition titled "American Painting Today – 1950" by eighteen abstract painters who claimed the show's jury was "hostile to advanced art." Their ardent opposition earned them the name 'Irascible Eighteen.' These days, we are much more civil than irascible. Therefore in the same way that Civil War Reenactors come together to imitate a moment in history when they stood apart, so too does this exhibition in order to reveal some of the more interesting directions realism and abstraction are being taken today.
Participating artists include:
REALISM REGIMENT: Alison Blickle, Tom Sanford, Nicola Verlato, and Eric White
ABSTRACT REGIMENT: Justin Adian, Anoka Faruqee, Patricia Treib, and Roger White
---