On my first day of class in Wisconsin, I dropped a "Breakfast Club" reference that thudded like Judd Nelson's career after "From the Hip." And I immediately felt a compulsion to familiarize myself with contemporary popular culture.
A man in my upper 30's, my touchstones for affective metaphorical connectivity seemed to be mossy and only getting mossier, so I set out on a mission to brush up on my understanding of Rihanna, Drake and to discover what the heck Aeropostale is, through a strict regimen of MTV and regular trips to Brooklyn's Fulton Mall.
I think this is a pretty common anxiety for professors who try to relate knotty concepts to their students by drawing from more familiar examples. I begin every Contemporary Art class by comparing art to fashion, and knowing fashion beyond what I might have worn to a Temple of the Dog show in 1993 would certainly behoove me.
I showed my class an image of a guy in a fine suit and asked, "If you were raised by English-speaking wolves, and encountered this person, would you know what he was trying to express through his choice of clothing?"
A resounding "no."
The students agreed that the English-speaking wolves wouldn't know that suit to be any more fashionable, or business-like, than a banana leaf loincloth. I suggested that works of art often function like fashion, though hopefully not always. I said that the best works, as Peter Schjeldahl has noted, communicate ideas, while the vast majority merely occasion them. In other words, less successful work needs to manufacture meaning, and thus should be understood within a self-enclosed system of signs, rooted in the history of art and ideas rather than in experience.
This held their attention for a moment, but I lost it again when I showed one of Anna Betbeze's tattered wooly rugs and a Tom Friedman sculpture of accumulated pink eraser shavings. I got a version of the 'anyone could do that' complaint from a hockey player in the back of class. I usually match such pat resistance with a line from a comedian in order prove that a simple, elegant observation can ring as legitimate as a baroque painting that took weeks. I performed a clumsy version of the Jerry Seinfeld bit about how if someone from another planet saw humans cleaning up after dogs they'd naturally assume the dogs were in charge.
I think my problem was that I went for the whole impersonation in addition to the joke, and impressions aren't my strong suit. Either way, they didn't relate. I imagined my class as me, and me as my dad recounting Klinger jokes from M*A*S*H on a morning in 1979. Eyes rolling back.
This second thud, compounded by the "Breakfast Club" dud, sent me poking even harder for common ground.
So I finally broke the fourth wall, and asked directly what they found amusing.
"Chris Rock?"
"John Stewart?"
A collective "meh."
"Whatta about music. What do you listen to when you hang out and study?" I kind of felt like a viral marketing specialist conducting a focus group for a new energy drink.
"How about Beyonce..is she still big? I saw her at the Deuce in Miami two years ago and she looked pretty FINE." Trying to seem cool.
"What do you do to waste time when you're sitting in your dorm rooms when you're not reading your art history book?"
I told them that in undergrad I used to sit around eating Chef Boyardee ravioli and watching "Real World" marathons when I should've been studying. I also had a roommate that watched this movie called "Army of Darkness" over and over and over and that I couldn't stand it because it was like a watching a video game without having the pleasure of interactivity.
And then I caught a twinge in my audience. A spark of vitality. A flicker in an eye in the back of the room; a twitch of a thumb in row two.
Video games. Yes!
Most of the class, including the girls, lit up when I mentioned video games. And someone exploded giddily that the game "Call of Duty" was going on sale at midnight, and it was quickly clear that most of my class would be in line to purchase it. A major event in a world I didn't know anything about. Before I could get dismissive, I recalled waiting in line outside at Kieff's Music in Lawrence, KS at midnight to purchase R.E.M.'s "Automatic for the People."
I haven't played a video game since a stand up arcade version of Karate Champ in 1985. So my mission to relate to my students would prove far more complicated that laundering old Seinfeld jokes through a newer and more relevant comedian. I'm up against a behemoth. A new paradigm that I don't understand.
Considering now all the Johnny Depp and Major League Baseball and James Patterson Books I've dropped as relatable examples, I can't help but wonder how much pedagogical ground I would've gained if I would've known anything about the game "Halo." If I could only trade all of what I know about Seinfeld for a vague knowledge of which video game console is which. You're never too old, right?
Maybe sometimes you are.
As the last few minutes of class melted away, I had a revelation. What these millennials need is a video game that bridges the gap between alternative visual culture and first-person shooter. A video game with substance. A video game that matches its phenomenological impact dynamic graphics with hearty intellectual concepts. What these millenials need is a video game about contemporary art.
And as a man already on a mission, I pledged in that moment to bring it to the world. Stay tuned for what will be my greatest masterpiece: "Bruce Nauman: Call of Duty" – A first person shooter game where the act of shooting turns into a feedback loop of self-awareness, making the player uncomfortably self-conscious and forcing them to stop and do something else after a few minutes.
---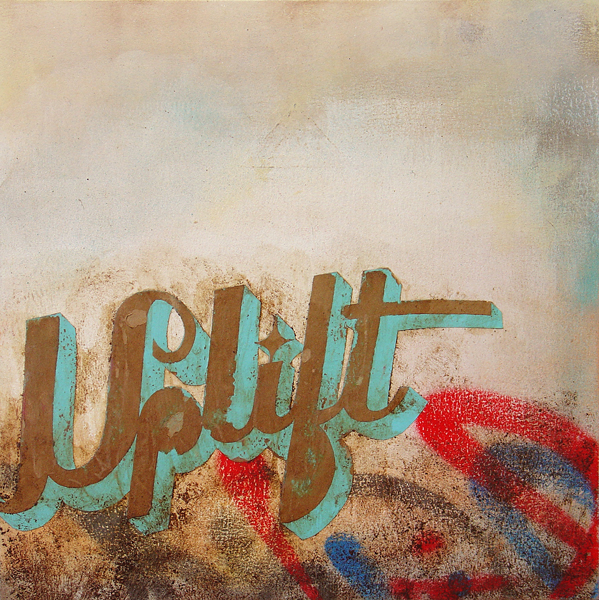 Work by work by Anthony Lewellen, Beth Pearlman, Chris Silva, Doug Fogelson, Eric Mecum, Jourdon Gullett, Justus Roe, Kim Frieders Tibbetts, Lauren Feece, Liza Berkoff, Matthew Hoffman, Renee Robbins, Robert Stevenson, Ruben Aguirre, and Tom Torluemke
Believe Inn is located at 2043 N Winchester Ave. Reception is Friday from 7-10pm.
2. "Just Breathe Normally" at Autumn Space

Work by Brian Hubble
Autumn Space is located at 1700 W Irving Park Rd. Reception is Saturday from 6-9pm.
3. FLAT 10 (FBI 3) at Floor Length and Tux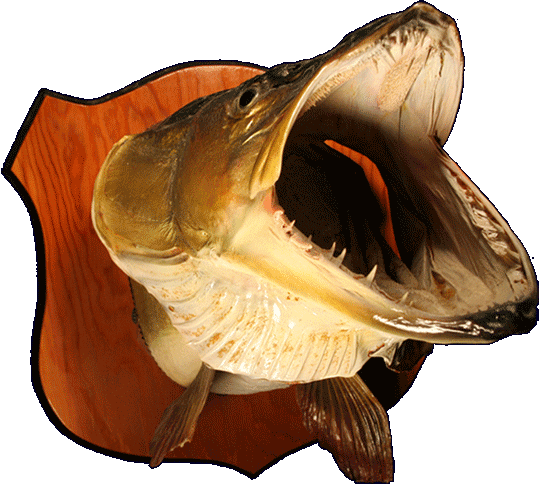 Work by Edra Soto, Jon Bollo, Liz Nielsen, Erik Wenzel, Catie Olson, and EC Brown
Floor Length and Tux is located at 2332 W. Augusta #3. Reception is Saturday from 7-10pm.
4. CLUB HELTER SKELTER at Manifest Exhibitions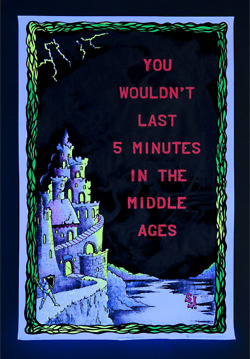 Work by Stephen Collier
Manifest Exhibitions is located at 2950 N Allen Ave. Reception is Friday from 7-10pm.
5. Combinations Described at Donald Young Gallery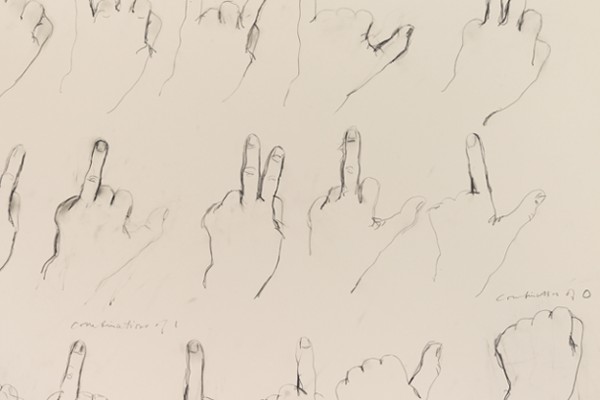 Work by Bruce Nauman
Donald Young Gallery is located at 224 S. Michigan Ave., suite 266. Reception is Friday from 5-7pm.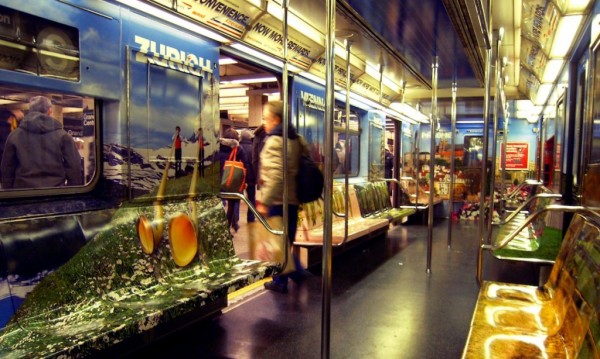 Curated by Jessica Cochran and Mia Ruyter, with work by Joseph Grigely, Mark Booth, Alex Valentine, Karen Reimer, Jason Pickleman, Stephanie Brooks, Steven Miglio, Robert Ransick, Rachel Foster and Rebecca Foster.
What It Is is located at 1155 Lyman, Oak Park. Reception is Sunday from 3-8pm.
---
GUEST POST BY ELIZABETH CORR
A few weeks ago, some friends and I attended the opening of Twice Removed: A Survey of Take Away Work at Golden Age. I was excited to see a show entirely dedicated to this concept, a concept that one of my favorite artists, Félix González-Torres, explored throughout his career.
Curator Karly Wildenhaus requested submissions of take away art from the personal collections of individuals, and not surprisingly, she amassed a great set of work hailing from places as far away as London and Antwerp, in addition to more local pieces from Chicago, Minneapolis, and Brooklyn, to name a few. (You can read the full exhibition description here and see additional images from the show.)
I've always been intrigued by the idea of audience participation and multiplicity in art – two ideas which take away art knowingly references, but then pushes to a new level by creating an entirely removable installation.
What's so compelling about the take away object is that audience participation is fundamental to the pieces' meaning as a whole. The viewer, at zero cost, leaves with a multiple, and at the artist's encouragement, is sent out into the world to re-appropriate the object in whatever way they see fit. This element of freedom, and the open-ended nature of the artwork's new life, is both exciting and disruptive to the ways in which people traditionally experience art (i.e. in an institutional setting).
As an integral component of the work, viewers are invited to step into the role of collector, a role traditionally inaccessible to the masses for a variety of reasons. And for this particular moment, the "new collectors" dictate the rules of the game by choosing when, where and how to display their newfound pieces, all the while challenging the idea that increased production (many multiples) devalues artwork both in a market sense and in an ideological sense.
Twice Removed draws attention to all of these issues, bringing together an impressive selection of work from well known artists such as Félix González-Torres, Bruce Nauman and Adrian Piper, while also including the work of lesser known artists such as Rivane Neuenschwander (I'm still regretting not having a chance to see her show at the New Museum this past summer).
Walking through the show, I found myself not necessarily thinking about what it meant for these objects to be literally "twice removed" (initially from the museum or gallery, and then yet again by Karly for the purposes of this show), but instead lost in thought about the period in between – what life was like for the object inside the collector's home. Sure, displaying the work as individual pieces this second time around reinforces the transient nature of take away art, and highlights how insubstantial the materials actually are (candy, postcards, pins, ribbon etc.). But, the pieces I was most drawn to were those that the collector had personalized, imbuing the object with an additional layer of meaning and sentimentality.
One great example came in the form of a homemade candy box. This particular collector visited the Guggenheim numerous times to see Félix González-Torres' piece Untitled ("Public Opinion"). Each time he went, he gathered a piece of black licorice candy, and once happy with the quantity accumulated, created a display case for them. I loved seeing the transformation from the original installation to this collector's interpretation, although it definitely made me wish that I hadn't just haphazardly eaten my Félix González-Torres candies.
It's been weeks since I saw the show, and I really haven't stopped thinking about it since. The weather is starting to improve, so make the trek to Golden Age to see Twice Removed before it's over. If for some reason you can't make it, there will be an accompanying website and pamphlet published by Golden Age after the show's run.
Elizabeth Corr received a bachelor's degree in Psychology and a master's degree in African Studies from the University of Illinois at Urbana-Champaign. Her graduate work focused on contemporary African art in post-apartheid South Africa. She lives in Chicago and works at NRDC, an environmental nonprofit.
---
Here's our midweek summary of this n' that and other chit-chat happening in the world of art and beyond.
*Keith Olbermann gives Christopher Knight "Best Person in the World" status for pointing out potentially communist imagery in right-wing Tea Party poster art.
*Was overzealous corporate art collecting partly to blame for Lehmann Bros. fall? Former Lehman trader Lawrence McDonald speculates that indeed, it was, in his new book about the investment behemoth. Artnet fleshes out the issue in its latest report.
*Bill Viola rejects Vatican's invitation to a summit "aimed at bridging the gap that has developed between spirituality and artistic expression over the last century or so," reportedly because Viola disagrees with many of the Catholic Church's policies. No word yet on whether artist Robert Gober was invited, and if so, whether or not he'll attend.
*If you haven't already been following this issue, this L.A. Times article provides an excellent one-stop summary of the current controversy arising from the Obama administration's alleged attempts to "politically manipulate" the NEA and, by extension, the arts communities it serves.
*Tyler Green writes in defense of blockbusters, following Holland Cotter's article in last weekend's NYT calling on museums to "rethink the blockbuster phenomena."
*Wanna know what the Art Institute is deaccessioning this Fall? Read Green's roundup of what they're hoping to sell, here.
*Four Andy Warhol prints of famous sports stars stolen from Richard Weisman's L.A. Collection.
*Annie Leibovitz finally reaches an agreement with her creditors.
*C-Monster elegantly takes the piss out of Bruce Nauman's "LEAVE THE LAND ALONE" skywriting installation.
*Bob Dylan to exhibit nearly 100 of his paintings in a 2010 solo exhibition at the National Gallery of Denmark in Copenhagen. An example of Dylan's work heads this post. How will they stack up to Joni's, I wonder?
*Chicago artist and BaS fave Deb Sokolow interviewed in Beautiful/Decay magazine.
---
This week's video pick is Bruce Nauman's Walking in an Exaggerated Manner around the Perimeter of a Square (1967-68). Paul Garcia of Not Coming to a Theater Near You has a piece about it. You should also check out their blog to see some of the other films and video art they have written about.
"Walking in an Exaggerated Manner Around the Perimeter of a Square represents a microcosm of the fundamental themes rooted in Bruce Nauman's colorful aesthetic: circularity, repetition, minimalism, body awareness, and post-structural linguistic theory. These themes are ingrained into what is essentially a ten- minute performance of epic banality; : Nauman deliberately traipsing foot over foot along the perimeter of a makeshift masking tape square several times, alternating between forward and backward movements. It's anti-film in a sense, the camera reductively operating only as a simple recording device, stripped of its power to manipulate the image and pared down to its base function as a dispassionate observer. All pertinent information is laid bare from the start; the title of the piece describes the entirety of the task that Nauman rigorously performs ad nauseam, simultaneously giving and taking instruction…"
Read the rest of Paul's article here.
---