Audio clip: Adobe Flash Player (version 9 or above) is required to play this audio clip. Download the latest version here. You also need to have JavaScript enabled in your browser.

download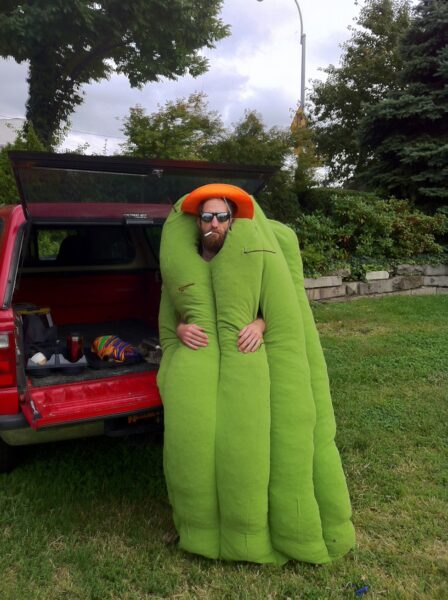 This week: This show has everything, the Amanda Browder Show, Justin Cooper, Richard finally records a new outro, and some of the most annoying music ever used on BAS!!
NYC/Browder talks to Brooklyn based artist Justin Cooper. Post a few deadpan jokes, and moments of spacing out…(edited of course)  we discuss his history of his work, and his installationSpreadsheet, and performance Mowers of Ten presented by the Art-In-Buildings program, and Monique Meloche Gallery. The project is in conjunction with The Armory Show that is going on next week.
Employing a strategy of "endless introducing," Cooper plays both host and hosted, in an effort to eradicate the line between these two states. With the classic Charles and Ray Eames film, Powers of Ten, as inspiration, and Cooper's installation, Spreadsheet serving as a backdrop, the performance aggregates comedic bits, routines, acts, sound fragments, free floating signifiers, and chains of non sequitors systematized into miniature narratives, into a simulation of comedy. Like "Friends" minus the laugh track or AstroTurf as a surrogate for suburban lawn, Mowers of Ten, highlights the impossibility of reconciling the intellectual with the visceral. "I know this isn't funny…and yet." "I know this isn't grass…and yet."
http://moniquemeloche.com/artists/justin-cooper/
SHOUT OUT TO AMANDA:
Art Fair weekend is next weekend in NYC! The Armory, VOLTA, Scope, etc. etc.
BUT Time to go see the SPRING/BREAK Art Fair. Amanda Browder and a ton of very cool artists in NYC will be showing at this fair in the abandoned section of the Post Office on 33rd Street between 8th and 9th. It is a fair of guest curators who are bringing their collection of artists to each room in the massive office space.
Look for her on the 4th floor with curators Jacob Rhodes of Field Projects and Jen Schwarting.  You can also find: Adam Parker Smith, ESP TV., Siebren Versteeg, Julia Oldham and Trish Tillman
---
Audio clip: Adobe Flash Player (version 9 or above) is required to play this audio clip. Download the latest version here. You also need to have JavaScript enabled in your browser.

download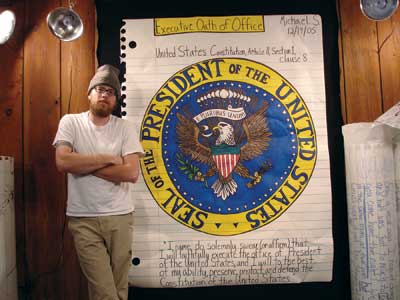 This week: The Amanda Browder Show rolls back into town! Amanda talks to artist Michael Scoggins.
Michael Scoggins was born in Washington D.C. in 1973. Growing up in Virginia and relocating later to Savannah, Georgia where he gained an MFA in painting from the Savannah College of Art and Design in 2006. In the summer 2003 he attended the prestigious Skowhegan School of Painting and Sculpture in Skowhegan, Maine. He has shown extensively, gained international recognition and has gallery representation in Atlanta, Miami, New York, San Francisco, Vienna and Seoul. Michael currently lives and works in Brooklyn, NY.
---
Culture's a funny thing; so many of us accept it as a ubiquitous and powerful force, yet we tend to undervalue the level to which it influences our choices. Cognitive dissonance of the highest magnitude.
I've seen this in high-relief over the last 18 months, commuting between Wisconsin and Brooklyn. From television to cuisine to high-art, culture seems bent on sanding us down even as we strut about thinking of ourselves as unique splinters in the side of society. And me too, flying back-and-forth, literally feeling above the fray in mind and distance. But with my family settled safely in Wisconsin, all that commuting ends soon. At which point I'll be back on the ground, in the fray, trying to protect my nose and exposed fingers from the ever-normalizing orbital sander of prevailing culture.
April 8 will by my last Thoughts from the Cultural Divide from the trenches.
Speaking of rugged individuals and sandpaper, today I showed my class the famous photo of 'The Irascibles' along with segments of Hans Namuth's videos of Jackson Pollock in East Hampton. The imagery seemed especially dated this time around. So musty and conservative. I had to work harder than usual to remind myself that the New York School once represented a viable avant-garde. One woman. All white and self-satisfied. All in suits and clean-shaven, though Theodoros Stamos has a mustache in the photograph that would humble the most pretentious Brooklyn bartender.
As mothballed as the New York School seemed this morning, the contemporary alternative as described in Randy Kennedy's New York Times article about contemporary social practice didn't seem any more promising when I read it tonight.
The piece, "Outside the Citadel, Social Practice Art Is Intended to Nurture" describes a movement of art centered on affecting social change rather than making objects for the marketplace. All fine; fighting for a good cause is hardly something to root against. But the quick rise of this approach to art feels somewhat overt to me. My suspicion is that social practices, like much art throughout history will end up sacrificing content on the altar of self-conscious form. Form that will become apparent only after the initial seduction of the movement has evaporated. Or to paraphrase Roland Barthes from Mythologies, "a little formalism turns one away from History, but a lot of it brings one back to it."
Even more to the point, and to my skepticism, Michael Kimmelman from a piece called "DIY Culture", in the New York Times a few years back:
"The myth of an avant-garde serves the same market forces avant-gardism pretends to overthrow. Art may challenge authority; and popular culture (this includes clownish demagogues like Glen Beck) sometimes makes trouble for those in charge, the way Thomas Nast's cartoons did for Boss Tweed in Tammany Hall. But art doesn't actually overthrow anything except itself, and never has, not in 19th-century France or 20th-century Russia or 21st-century China or Iran. Even when it manages to tilt popular thinking, it still ends up within the bounds of existing authority, and there has never been a true "outside" that really stayed outside: public consumption, by definition, adapts to the change, co-opts and normalizes all culture."
The pop analogy I often use to explain this phenomenon is the life cycle of a fashionable name. Take, "Jennifer" over the last 50 years. Not biblical and of obscure origin, the name just kind of tipped over into the popular consciousness in the 20th century. It went from the 20th most popular name in 1965, to 10th in 1966. It was the single most popular baby name from 1970 through 1984, but by 2000 it had fallen out of the 25, usurped by all the Abigails, Brianas and Madisons. While one can't determine which mothers were channeling popular consciousness and which were drawing from their own independent creative sources, the numbers suggest most are a case of the former.
Like Jennifers, art come in waves that build, crest and crash. This might all sound a bit cynical, but it shouldn't. It's not the name "Jennifer," nor that my neighbor here has a Green Bay Packers flag mounted to his house, nor making art as social practice that pricks me, it's that the numbers, the movements and the waves all suggest that culture is shaping us while we think we are in control. That we picked 'Jennifer', and the handlebar mustache, and the social practice, and the DIY collective gallery space in Ridgewood, when in fact, they probably picked us. And, who knows, maybe you were inspired, but we should have some humility because the numbers show that you and I aren't as fiercely independent as we might think.
I've also gleaned via crude armchair sociology over the past year-and-a-half that, yes, it's probably true that Brooklyn gets bartenders with handlebar mustaches a year or two earlier than Wauwatosa, Wisconsin, but being the first to start a wave of pretentious affection is a dubious distinction, and simply more proof of cultural homogenization, not individuality. And we should make doubly sure that our art doesn't follow the same trend psychology that our facial hair does.
So I suggest we leave the handlebar mustaches to Theodoros Stamos and try to avoid being battered and worn down by the relentless waves of culture.
---
I left New York City for Wisconsin just as hurricane Sandy was barreling up the East Coast, and I returned in the middle of the nor'easter that came to salt the wounds that hadn't yet healed.
That means I was in Wisconsin to observe the aftermath of both the election and the hurricane. It was the first election I spent outside of New York in over a decade, and, despite being in a place that rallied behind a lesbian senator and prides itself on its artisanal cheeses and beers, the sense that I wasn't in Brooklyn was palpable.
Romney/Ryan signs dotted most of the manicured lawns of the bedroom communities in Ozaukee County, one of the most republican enclaves in the state, indeed the country. Cedarburg, where I stay with my in-laws sits smack in the center of the county, and happens to be the place where John McCain and Sarah Palin chose to launch their 2008 presidential campaign, which didn't even think about coming close enough to Brooklyn to see its forearm tattoos.
When ensconced inside Cedarburg's city limits one begins to understand why its citizens gripe about the federal government. Look around and you'll see a community that seems from every vantage to have figured things out. Not in some kind of sinister, Ayn Randian, elitist disengagement either, but in a real, communitarian, bucket brigade, do unto others way. A way that leads many of those who don't leave the place to wonder why a bunch of bureaucrats 1000 miles away should be shaking them down for money to pay for social and cultural programs that they manage just fine on a community level.
In Cedarburg, if you needed food, you could walk up to any restaurant and they'd give you a meal. That's welfare. If you were sick, the doctor would see you. That's medical care. If you were pregnant and 16, the community would politely shame you and gossip about you for the rest of your life, but would also see to it that your child was cared for. That's social services. That's also the police.
My dad-in-law – who happens to be named Sandy – is one of a majority in his community who if allowed would shrink the entire federal government into a 24-hour help desk whose phone number was buried so deep on the website that you'd have no choice but to use the on-line chat to reach them. But as he watched New Jersey and New York plunge into darkness and not immediately light back up, I watched his conviction waver. And as he watched his beloved Chris Christie lay olive branches in front of Barack Obama, I thought I saw a little pan-American Esprit de corps bubble up from inside and pierce his usually impenetrable exterior.
Seeing Christie and Obama together, he muttered, "This must be a dire situation because it's not easy for someone that big to kiss an ass."
We stayed up late talking about Jacksonian versus Hamiltonian democracy as the disaster unfolded over cable news. We didn't agree on everything, but it was wholly amicable. I gave him a copy of Naomi Klein's book "The Shock Doctrine" which he didn't immediately throw into the fire or back at me, a gesture as tender as a hug if you knew the man.
He liked it when I riffed about how the media's job is to locate scapegoats where they can and to create them when they can't. I did a shtick about natural disasters in Chris Rock's voice and then played him Rock's bit about why people blame music and video games when kids go on shooting rampages at public schools.
"What ever happened to CRAZY!!??"
"What ever happened to BIG, POWERFUL, IMPLACABLE, UNAVOIDABLE, NATURAL FUCKING DISASTER!!!?"
He roared like a kid telling dirty jokes on the playground. He said all journalists were like hyenas but with less loyalty, and then told me an old one about a blind stewardess and a couple of donkeys for good measure.
Sometimes it takes a catastrophe to galvanize people.
The day after the election, I caught Sandy out in the front yard taking down the Romney/Ryan and Tommy Thompson signs. He like the rest of the town was emotionally hungover from the political orgy of the past few nights. In fact, earlier in the day I actually saw a guy crying at the gas station about the election. It could have been for other reasons, but I assumed he was pissed about either Romney or Paul or Tommy. After gathering and tossing the campaign signs in the trash we went inside where the 24 hour news droned on. It was Fox News and the subject was the fiscal cliff and the end of the Bush tax cuts.
Sandy  yelled over one the pundits, "BE AFRAID, BE VERY AFRAID!!"
"Of the host's hair?" I added sarcastically.
"Of the SOCIALISTS!!"
"You mean of our democratically elected federal government whose taxes are roughly a quarter of its gross domestic product?"
"A quarter given is a quarter wasted and redistributed!! Protect my shores, deliver my mail, and get the hell out of my life!! And don't let the door hit you on the way out!!"
Hurricane Sandy was back and no bucket brigade could stop it.
---
Audio clip: Adobe Flash Player (version 9 or above) is required to play this audio clip. Download the latest version here. You also need to have JavaScript enabled in your browser.
download
This week: A BAS bureau twofer!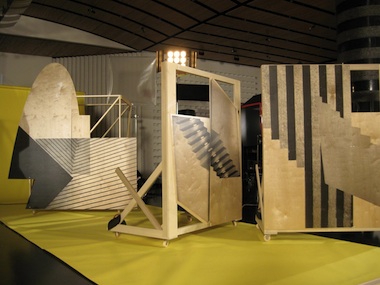 First Patricia talks to Mika Tajima.
This week, Patricia Maloney chats with artist Mika Tajima at the San Francisco Museum of Modern Art just before the opening of the exhibition Stage Presence, where her collaborative film, performance, and sculptural project, Today is Not a Dress Rehearsal, is currently on view through October 8, 2012 .
Mika Tajima, was born in Los Angeles, and lives and works in Brooklyn. She earned a BA from Bryn Mawr College in 1997, an MFA from Columbia University in 2003, and attended The Fabric Workshop and Museum Apprentice Training Program in 2003. Her work has been included in the exhibitions The Pedestrians, South London Gallery, London (2011); Transaction Abstraite, New Galerie, Paris (2011); The Double, Bass Museum, Miami (2010); Knight's Move, Sculpture Center, Long Island City (2010); Today is Not a Dress Rehearsal, San Francisco Museum of Modern Art (2009); The Extras, X Initiative, New York (2009); Learn to Communicate Like a Fucking Normal Person, Art Production Fund, New York (2009); Deal or No Deal, Kevin Bruk Gallery, Miami (2008); 2008 Whitney Biennial, Whitney Museum of American Art, New York (2008); Mika Tajima: Broken Plaid/Holding Your Breath (taking the long way), RISD Museum, Providence (2008); The Double, The Kitchen, New York (2008); Sympathy for the Devil, Museum of Contemporary Art, Chicago (2007); Music Is a Better Noise, PS.1 Contemporary Art Center, Long Island City (2006); Grass Grows Forever in Every Possible Direction, Walker Art Center, Minneapolis (2005); Echoplex, Swiss Institute Contemporary Art, New York (2005); and Uncertain States of America, Astrup Fearnley Museum, Oslo, Norway (2005). She is part of the music-based performance group New Humans.
The following is part of the ongoing collaboration between Bad at Sports and Art Practical. You can read an abridged version of the interview here.
Next: New India correspondant Tanya Gill goes to the India Art Fair!
Tanya Gill, a Chicago artist living in New Delhi, wanders through the India Art Fair of 2012. Over the course of four days she spoke to Gallery owners and artists, and found a surprising number of Chicago connects. Recorded here are her conversations with Kiran Chandra, Renuka Sawhney of The Guild, artist Vibha Galhotra, artist Ram Rahman from The SAHMAT Collective, Laura Williams of Art 18/21, artists Joan Livingston and Katarina Weslien from the School of the Art Institute of Chicago, Ritika Baheti of the Autonomous Public Laboratory Project, and four living works of art by Preeti Chandrakant.
---