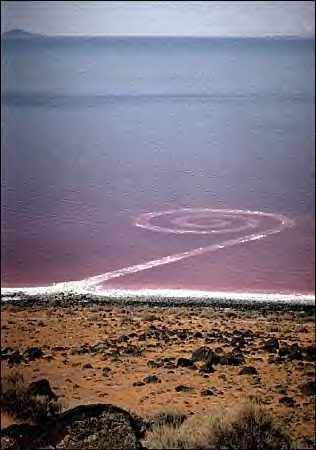 Robert Smithson's widow Nancy Holt sent a letter out today to notify people that his masterwork Spiral Jetty is in jeopardy of being destroyed due to oil drilling.
Here is Holt's full letter and a way for people to voice their concerns.
Yesterday I received an urgent email from Lynn DeFreitas, Director of Friends of the Great Salt Lake, telling me of plans for drilling oil in the Salt Lake near Spiral Jetty. See Attachments. The deadline for protest is [today] Wednesday, at 5PM. Of course, DIA has been informed and are meeting about it today.
I have been told by Lynn that the oil wells will not be above the water, but that means some kind of industrial complex of pipes and pumps beneath the water and on the shore. The operation would require roads for oil tank trucks, cranes, pumps etc. which produce noise and will severely alter the wild, natural place.
If you want to send a letter of protest to save the beautiful, natural Utah environment around the Spiral Jetty from oil drilling, the emails or calls of protest go to Jonathan Jemming 801-537-9023 jjemming@utah.gov. Please refer to Application # 8853. Every letter makes a big difference, they do take a lot of notice and know that publicity may follow. Since the Spiral Jetty has global significance, emails from foreign countries would be of special value.
They try to slip these drilling contracts under the radar, that's why we found out so late, not through notification, but from a watchdog lawyer at the Southern Utah Wilderness Alliance, the group that alerted me to the land leasing for oil and gas near Sun Tunnels last May.
Thank you for your consideration of this serious environmental matter.
---

In February's edition of Chicago Magazine ( soon to be on newsstands ) they rate the top websites that are Chicago focused and/or based.
Bad at Sports was kindly named and showcased in the Art & Culture category along with other Chicago resources as Sharkforum, Chicago Artists Resource & Paul Kline's Artletter. Not to forget the personal writings of Edward Lifson, cough, cough.
We thank every listener that has made this possible for the last 2+ years & the editorial staff of Chicago Magazine for recognizing the hard work of a handful of Chicago street punks like us.
In true form we take the recognition with one hand and flip off the establishment with the other hand (minus a few fingers). At least thats what I think the artist handbook decrees, who knows we were never good with rules.
Read more
---

After almost 3 years of operation Chicago gallery 40000 is closing its doors starting December, 29th 2007. Below is the press release giving the details.
Read more
---
Rindy Sam, the 20 year old Cambodian artist living in France that was in the news back in July has had her day in court and the judge has fined her accordingly:
1euro goes to Cy Twombly for symbolic reasons
1,000 euros ($1,425) to the painting's owner
486 euros ($713) to the Avignon gallery where she planted the kiss
Also 100 hours of community service after convicting her of "voluntarily damaging a work of art."
$2,139 in damages was far below the $2.8 million in damages the owner Yvon Lambert had originally requested – the full value of the painting.
He claimed it cost more than $45,000 to restore the work because the lipstick could not be easily removed.
During the trial, Sam stated continuously: "When I kissed it, I thought the artist would have understood,"
Cy Twombly has yet to comment……….
---
Chapman Kelley calls the Chicago, IL Grant Park wildflower garden he created more than 20 years ago "my Mona Lisa."
The 66,000-square-foot plot of 45 different kinds of species splashed yellow and purple when in full bloom was once called a "magnificent piece of art." by then Mayor Harold Washington.
But is the garden — or was it, before the Chicago Park District halved it — art by legal definition? Can you own art, does the buyer/commisoner own it and therefor destroy it when it sees fit to? Those questions and more go before a federal judge today in regards to the lawsuit filed by Mr. Kelley.
In consideration is the federal Visual Artists Rights Act which protects the destruction or alteration of works of art of "recognized stature". The city posits that the law awsa created to protect outdoor paintings, murals & sculpture and not to protect gardens. Mr. Kelley is stating that his garden is an environmental sculpture.
Kelley is a painter, but his garden in Daley Bicentennial Plaza, just east of Millennium Park, brought him his greatest praise. It appeared in travel guides. And at one point, the district compared Kelley to other "heroes of Chicago landscape" such as Frederick Law Olmsted, who designed Jackson Park.
Is it protected art, what is the right of the artist, what is the right of the commissioner, if artists can not get longevity and recognition from public work will they continue to do it? If cities have to fear lawsuits and damages in the 6 figure or higher level when they redesign city areas will that put a freeze on public art commissions?
---