Guest post by Hannah Verrill
Michal Samama is a performance artist and choreographer from Israel.  She recently came to Chicago by way of New York to begin her MFA in studio art at The School of The Art Institute of Chicago. She is now focusing on the research and creation of movement based solo performances and multidisciplinary collaborations. A couple of weeks ago I spent time in the studio with Michal as she prepared for an upcoming performance at Northwestern University.  The following dialogue ensued:
Hannah Verrill: I'm thinking about a solo performance practice, and if it is distinct in the sense that you as the maker can never fully step outside of the work in order to witness it.  I am curious about how you come to 'know' the work that you are making as you are making it.  Do you use video as a reflective surface to see what you are making?
Michal Samama:  Now I find myself using video, but it didn't start that way.  I became so interested in the images, in creating images and then of course changing the images, transforming them into other images.  So in a way I feel that I have to see it. I guess I started to use video at some point, but before video I was using the mirror.  Over the past few years I've also started to take photos of my body and my movement in the studio.  I have tried to direct my body to a specific image but at the same time to be in the movement, or the position, or the expression while taking the photo.  Those moments that I've captured have helped me to develop the visual aspect of the performance.
So it starts from a visual image that I have, that I imagine, and then I start to explore it, to transform it, to do this whole research in the studio.  Video can tell me if the image or sometimes also the timing is right.  My question is what is that 'right'?  What is the right image?  What is the right timing?
HV: For me, time is something where video and live don't match up.  I can be watching a video of performance and something feels distinctly too long, but if I were with that body in space I could be having a completely different temporal experience of that same action occurring. 
MS:  It's interesting because when I look at the video, and again, it's a tool, it always seems for me that I don't take enough time.  That in live I push myself too fast, that it actually needs to be slower.
HV:Â  Right, and video helps you see that or know that.
MS:  Yes, even though it can be very boring to watch this stillness, but the way I sense the timing of my body through video is usually that I need to slow down and take more time.  It's something I'm trying to work on right now, but it can be very scary for me not to just move on and go to the next image.
So when it comes to performing in front of an audience there is this internal thing going on.   This other layer, the negotiation between the way I build or shape the external image with what's going on inside, and there is the encounter with the audience.
I remember the moment when I started look out.  I think there's a difference between this external artificial gaze into the audience versus really looking.  Of course it's a solo, like I am the performer and you are looking at me, but then I'm looking back at you and maybe you feel awkward or embarrassed, but maybe you are thinking about your next doctor's appointment or your surgery.
HV: Would you say that there's a kind of feedback loop in place? A set of information that you receive from your audience by way of their presence, in a specific sense, that comes to influence how you are performing?
MS:  Yes, or you could think of it as a dialogue. It's about questioning this idea of me as the performer being the authority.  Or it's also about questioning what is your (the audience's) role here.  I started to think more of this idea of performance as a collective event or social event. This is what is unique for performance.  It puts into a laboratory this idea of the social event.
I do remember one work from a few years ago when this question came up of if I wanted to take my gaze out into the audience or still be in this internal dance-y gaze, and at that point I chose not to.  I was too afraid or I didn't know what to do with it.  But now it's different, and I've started to make it more and more what I do.  I'm interested in this kind of transformation of images happening during the performance.  Part of the transformation of course is the homework that I worked on in the studio—the choreography—but of course part of it is like what you're saying, the feedback.  So in the end there are many more transformations than what I initially thought of because of the presence of the audience.
HV:  I wonder if you could talk about the process you're engaged in currently with this upcoming performance. 
MS:  In some ways this is the most difficult process to speak of because it is happening right now.  I'm working on this piece for a conference and the name of the piece is What Am I Paying You For? With the last few pieces I was more and more into this negotiation between the abstract of the body and the concrete of the body, and the idea of looking closely at body parts, zooming in on body parts.  But of course in performance you can't really do it.  I mean that's what I'm trying to do, but there is always the body as a whole.
HV: Right, and the space that the body is in.
MS:  The space, and the sound, and everything.  But the space and the sound are there in video, but in video we try to ignore it.
HV: But with video, with an actual zoom or various editing functions we can actually direct or focus attention.  I mean, with performance we can too, but it's very different. 
MS:  Yes, you can zoom in with a camera and show just this part, but how do I do it when my whole body is there, when the audience is there?  So I went into the studio taking this bag with me, with all of my materials in it. The rule that I set up for myself recently is that I don't do this theatrical thing of having a set stage, and then I perform, and then someone cleans it up.  I do it all myself as part of the performance, I guess to kind of blur this line between performance, life, when does it begin when does it end.  So I said OK, I'll just go to the space with the materials in my bag, but then I thought well this is not interesting enough. And then I decided to put the bag on my head.  I'm naked also.  So now I think that seventy percent of the performance is with the bag balanced on my head.
HV:  So you came to the studio with your bag of materials.  How is it that you decided to put the bag on your head? Is that an impulse or is that an example of an imagined image?  How did that happen?
MS: So that maybe was not an image, I mean when I did it I felt that maybe it could be an interesting image.  Putting the bag on my head immediately calls in a set of associations, connotations – I would like to play, at the same time, with the balance, the physical 'risk' or challenge but also with the associations, mine and those of the audience, sometimes they can also be risky especially when it comes to nudity… so I am on my knees, trying to balance the bag on my head, but I'm also a naked women on her knees.  You have to decide what to look at or what draws your attention. But I guess initially that gesture came from my desire to put myself in an uncomfortable or risky situation.
HV:  It's also a precarious situation because the bag could fall.  Does the bag fall?
MS:  It can, and in that sense there is a really different quality to rehearsal and performance, because things happen in performance because of the anxiety or excitement.  New things can happen.  For example I was working in an earlier piece with rocks, holding seven rocks.  During the first performance one of the rocks fell and it had never happened to me before, and it never happened after.  Just that first performance.  And yesterday my husband came to the studio to see this current piece for the first time, and I'm there standing with the bag on my head and I felt the weight of it on my neck and the tension in a way that I had never felt before in rehearsal.
HV:  Going back to the internal experience of the performer, and then there is the external image that you are creating with your body and various materials.  It occurs to me that the external image aside, you wouldn't know what's risky or vulnerable without feeling it, that it's a felt thing.  It's not exactly conceptual, but rather it seems as though it would need to feel legitimately risky for you. 
MS:  There is something very clear about the images, but then the risk is in the movement.  Otherwise it would be just like a photo.  A static image.
HV:  Does risk and vulnerability enter into the audience's experience of your work?
MS: Â We spoke about the gaze and how at a certain point in my work my gaze started to be directed out into the audience, and that is something I am working on, going more and more towards the audience and really bringing them into the situation.
But the whole idea of audience participation is such a cliché now.  It's a question of how to work with it.  With my body I try to ask: what are the possibilities of the body, what can the body be and how do we read each image that can be created with the body, or with the movement?  In working with audience, I want to give them a chance to respond in different ways, or to offer something that is a little disturbing maybe. I think no matter what you are always asking something from the audience, sometimes you are asking them to be very passive.  In my performances I think in a subtle way I try to ask them to be active.  What I don't want to do is to give instructions, this is not my way, I like that the way is more hidden.  To give more space, to create the space for negotiations.
HV:  And choice making as well, your audience can choose how and to what degree to participate.  But you're not letting them off the hook either. 
MS:  Yes.  This may be a solo, but don't be mistaken, you are here and you are apart of it.
For me, because I grew up on a kibbutz, I have these collective issues, and there is no solution for that, no answer.  It is just apart of what I am thinking through, or working through; this idea of performance as a collective experience, and creating space for individual responses. It's your choice, and it's a moment between us, and intimacy is a big word but I feel like there can be a kind of intimacy, something can happen there.
For example when I did the orange thing again at Judson Church, the first person was trying to take the orange from me, so it became this fight.  And then almost with everyone else they were imitating this.  So there's this kind of peer pressure, or how we follow what our peer just did.
HV:  It makes me think about what you were speaking to earlier, about how the presence or the feedback from the audience is a way to make the work improvisational to a degree.  It occurs to me that you cannot rehearse this aspect of the work, the interaction between you and your viewer(s).  So you are leaving space for your viewer to enter into the work, and also to determine the work, perhaps even make the work with you. 
MS:  That's the thing. I'm not so much into this idea of a closed production.  It's not just this thing where you come, and you see something, and you stay out of it.  It's more like a social experiment.  Of course I'm leading it and bringing the materials, the proposal.  I'm proposing something, and then it can change.  Parts of the work are very choreographed—there is a choreography in place—but still it is changing all the time.  There is an ongoing influence between you and I.
 
Hannah Verrill is an artist living and making work in Chicago, Illinois.
---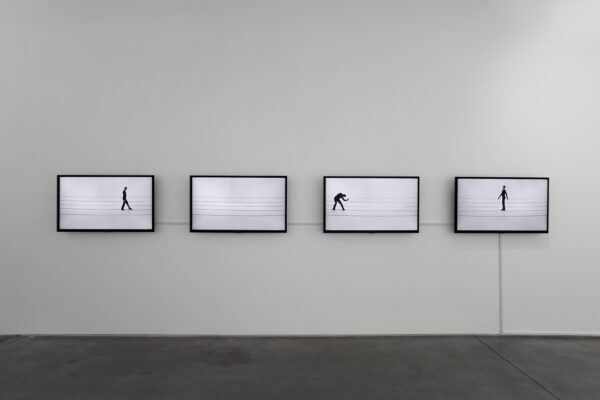 I am accustomed to diminishing the importance of an individual dancer's history in the course of a staged performance. Unconsciously, it's as if I imagine performers congealing for a moment on a stage in order to manifest the agenda of an invisible author. For dancers, especially, it is always about the body — the body as a structure capable of grace and choreographed strength. Over the last month, artist Jaye Rhee debuted a 4-channel video piece that engages the body as a minimalist structure, while emphasizing the dancers' previous life in The Merce Cunningham Dance Company. The Flesh and the Book places these figures in a musical score of five rubber bands, flattening a three-dimensional space into an illusion of two. The bodies enact a series of choreographed gestures, who's style and form evoke a Cunningham past — like moving archives of embodied knowledge. The Flesh and the Book, closes tomorrow at Doosan Gallery, 533 West 25th St. in New York.
Caroline Picard: How did you first conceive of The Flesh and The Book? 
Jaye Rhee: In 2007, I made the work called "Notes." At that time, I was interested in re-producing two things: a popular children's play called "Rubber Band Play," and re-staging visually resembling it as musical notes. It is also known as "Chinese Jump Rope" in America.
The rubber band play requires memorizing all the steps and jumps from the beginning till the end as rules with repeated practice. That, I think, is methodologically similar to learning playing music instrument in a way because learning a musical instrument also requires both brain and body memory. So the Chinese Jump Rope Play and leaning a musical instrument become parallel. I wanted to re-produce both events at the same time.
Rules and regulations often governed my childhood and I couldn't help but think of that when I worked on the Notes.
When I worked on Notes, I knew that it would become the mother piece of another work.  One art work often yields another work. Even though I am the one who creates the work, it is as if the work has a life of its own, one more quick-witted than me. In other words, many times, art works are a lot smarter than I am.
I was sure of two things when I worked on The Flesh and the Book: 1) I am going to play with space more, for example, three-dimensional space transformed into two-dimensional space. Only the size of the figures and trace of the movements will allow viewers to feel the space. 2) I want to work with mature dancers.
I did not have title for the new work. While pondering that, I happened to think of the poem Brise Marine by Stephane Mallarmé, and the first line reads, "The flesh is sad, Alas! and I have read all the books."
I wrote the sentence down on my sketchbook.  And after some time, especially when I started to meet dancers for the project, I realized that my knowledge of dance and dancers did not come from direct bodily experience, but had been learned through books. It is completely out of context of the poem, but the words flesh and book  stayed in the title. Also, it is hard not to think of book as music sheets, flesh as body, and dance.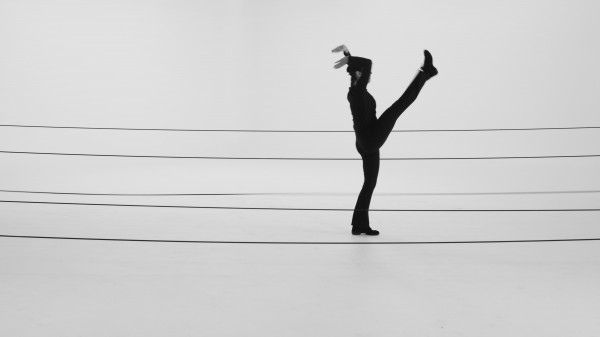 CP: What is like working with the dancers that used to work for Merce Cunningham? Did you spend a long time developing the piece with them? 
JR: It took a long time to find dancers. When I started to search for dancers, I looked for dancers who had gone through the transitional stage in their career as dancers.  Many dancers face career changes early in their lives compared to other profession. And being a dancer is not just a profession but is also an identity. Thus I didn't want to work with dancers who were physically young. I searched  for dancers who already experienced the high peak of their physical youth, in other words, someone who has already been there.
While I was still searching for dancers in 2011, Merce Cunningham company disbanded; that event made me wanted to work with them even more. I always liked the geometric quality that Merce Cunningham company had and was excited to work with them. They seem to embody a reminder — something that was once there. We know what they were, we will remember it. It's like a once-young body, or the idea youth.
It took a while to meet Cunningham's dancers.  In the beginning, I attended Merce Cunningham dance workshops and met many great modern dancers who were not necessarily Cunningham's. Then again at the Cunningham's technique classes in Fall of 2012, I met original dancers of Merce Cunningham with a help from Robert Swinston.
The dancers I worked with are great. Â Once I met them, I knew that it was going to be great. Everything went very rapidly.
CP:Â You also had another collaborator with this work, Elliott Sharp. How did you all work together? What were the dynamics like?
JR: I asked Elliott to come up with specific sound that I can use for the project, and he gave me 67 sound files. I selected ones that are appropriate for the dancer's movements.  Communicating with other artists is not always easy. Art is abstract, concept is abstract, and language itself is abstract. But then there is a moment that everything intersects. That's when the magic happens.

CP: I feel like you're interested in the body as a unit, of some kind. Everyone wears black, standing in relation to the same 5-line structure in an otherwise white space. In your case, however, you platform the dancers' history. Do you feel like something of that history with Cunningham is ghosted into the viewers' experience? What happens to the dancers' history with Merce Cunningham in The Flesh and The Book?
JR: I was more interested in the character and history of individual dancers under the umbrella of Merce Cunningham Company. Cunningham dancer's movements are Mercified but individually they all have different characteristics. We all have different history as individuals, but there are also larger histories which a family shares as a smallest unit of the society, then there are larger groups and larger groups…..and so on. Merce Cunningham dancers make up another kind of familial unit. Even though the dancers' movements were different, a few audiences actually recognized that the dancers somehow evoke Merce Cunningham's style.
CP:Â Thinking about the work asa 4-channel piece, and then seeing framed stills from the video, I wanted to ask you about movement and how that ties in. In other words, does the piece change for you if the "movement" (which refers I think to music and dance) is extracted? How do you think of your photographs as compared to your video?
JR: I consider these mediums separate, with different approaches for both. It's like siblings with same parents. Each medium has its own life. Different mediums show different aspect of one thing. I use the photographs because they capture the 2- dimensional representational quality.
CP: How does this piece ties into some of your other work? I noticed that you have done a number of works that play with the idea and structure of environment. I was thinking about Bambi, for instance, or Polar Bear, Swan, Cherry Blossoms, Niagra; really so many of your works seem to juxtapose a still tableau with a playful in-time interaction. Is The Flesh and The Book on a similar tip?
JR: For The Flesh and the Book, the performers held a string (thick black rubber band) between them.  The strings were at least 3 meters away from each other. I really wanted to expand the idea of transforming 3-dimensional space into a 2-dimensional tableau look. So that a viewer can only feel the space by following the dancers' movements very carefully and watching the body scale change. The Flesh and the Book is a special work which is leading my interest into working in 3-dimensional space. I think I can say, the lines between performers sort of played the role of a tableau – an invisible and flexible tableau.

---
Guest Post by Jane Jerardi
Miguel Gutierrez comes to the Museum of Contemporary Art, Chicago this weekend with one of his newest works, And lose the name of action.  The evening-length piece features a striking cast of note-worthy performers – Michelle Boulé, Hilary Clark, Luke George, Miguel Gutierrez, K.J. Holmes, and Ishmael Houston-Jones. Inspired by Jørgen Leth's film The Perfect Human, the elusive logic of dance improvisation, philosophical quandaries about the brain, and the 19th century spiritualist movement, the piece draws connections between the analytical and the unexplainable, grappling with the limits of language and the ever-present spectre of death. It features music by Neal Medlyn, lighting design by Lenore Doxsee, and film/text by Boru O'Brien O'Connell.
Often cited as a provocative voice in the contemporary dance and performance scene, Gutierrez — like many in his generation — works across mediums.  His poems appear as published performance texts and he designs solo performance works as well as projects with collections of performers and collaborators under the moniker the 'Powerful People.'   A Guggenheim Fellow, his work has appeared as such venues as the Festival D'Automne in Paris; the TBA Festival/PICA in Portland, OR; the Walker Art Center in Minneapolis, MN; UNAM in Mexico City, and ImPulsTanz in Vienna, among others. Equally admired as a teacher, he has built a following for his improvisation/choreography classes as well as his 'DEEP Aerobics' workouts. In mid-January, I met Miguel Gutierrez at the Abrons Arts Center amidst the first weekend of the American Realness Festival – an annual festival of contemporary dance and performance in New York. We chatted in a quiet spot near the dressing rooms about his upcoming engagement at the MCA – including the powerhouse cast performing, the ghost hunt they went on during a residency to build the work, and the limits of language when it comes to dance.  Here are some excerpts from our conversation…
Abrons Arts Center, New York, NY, January 13, 2013
Jane Jerardi: Maybe first we should start first with you just talking a bit about the genesis of the project you'll be performing at the MCA, And lose the name of action?
Miguel Gutierrez: Sure.  I think I'm going to paint my nails as we do this [pulls out two shades of blue metallic nail polish] if that's okay with you.
JJ: Sure.  Talk about mind and body…!
MG: It feels like the right question to paint your nails to…  Well, the piece really came out of a couple of things.  In some ways it was an extension of Last Meadow [Gutierrez's previous piece], which is unusual for me, because usually when I finish a piece I want to change gears.  But, by the time we got around to finishing Last Meadow, I realized I was only beginning to understand what I was doing.  Towards the end of the project, I was introduced to this book The Meaning of the Body, by Mark Johnson, which calls for getting rid of the mind/body split, once and for all.  It's beautifully stated, but reading it as a dancer, there was a moment where I thought, "This seems fairly obvious."  For a person who has any kind of relationship to somatics, you of course recognize that the mind and body are connected; that perception is an embodied practice, and that all contexts are experienced through a sort of corporeal interaction. I thought to myself, This sounds like a contact improv class. And I thought, why is this new? I think it was that initial indignation that led to the piece. I felt like why isn't this something that is known?  The second impulse for the work, was my dad.  My dad had a series of neurological problems in 2008.  He had a series of blood clots in his brain that were note properly diagnosed for several years. He had stroke-type things and then seizures, which then progressed during my research for And lose the name of action.
JJ: That sounds scary.
MG: Aside from the fact that it sucked, I think a couple of things came out of it. Here was a person I knew in a certain way, and suddenly he was changing. It sounds sort of basic, a basic experience of change. I say basic, but it was a quite radical. Suddenly, I was subjected to doctors telling me, This is what's happening, This is what's not happening – but no one knows what's happening. Everyone is guessing.  You start to see that that the way we constitute a sense of self and reality are deeply subjective. And, out of your control. You're in the hospital with your dad and there's nothing you can do, aside from being present.  At the time I was thinking, "What is it that I can offer here? As a dancer? As a person with some naïve study of somatic practices?" I can be present.  I can be an emotional support. I can be resonate and present in a way that is specific to what I do. It felt clear, but I felt very conscious that I don't share a language with these doctors.  I can't assume they know of specific somatic practices or say, "Hey, have you heard of the Feldenkrais Method?" or "Do you know about Body Mind Centering?"
JJ: You realize how marginalized some of these movement practices are.
MG: Absolutely. I mean marginalized isn't even the word.  They're invisible. I started to see how when people talk about brain, they are talking about mind. Lots of words are being used interchangeably.  There's a lot of lack clarity in definition between disciplines.  How is it that we have the same vocabulary but we aren't using words in the same way?  I started to examine the value system around my teaching and practice.  What is valuable about an improvisational performance practice?  It is a kind of knowledge and a way of knowing, but quite different than other modes of knowing.  And I though about Why am I so invested in this 'unknowing knowing'?  Why am I so mistrustful of alleged truths? That was all the stuff that led me into And lose the name of action. Then, I started thinking about ghosts and the paranormal. What about an immaterial body?  What about a discipline of study that doesn't even presume that the body has to be tangible anymore? When we had our first residency we went on our first ghost hunt.
JJ: Tell me about that.
MG: We went on this ghost hunt with paranormal investigators–crazy ladies in Tallahassee, FL…  which sounds funny, but are these 'paranormal investigators' wrong?  For them, it is true.  If they see a ghost or hear a voice, if they're having that experience, then that's their embodied truth.  That's what's going on here in this conversation of perception and truth. If I experience my father as my father even if he's in a coma, is he not my father? If I feel that this is blue [pointing to his nail polish] and this is a lighter blue than the other blue [pointing to another bottle of darker blue nail polish] and I have a certain feeling about it. Am I wrong? Because there's actually no way for me to definitely know how blue this is.   It's all these kinds of…
JJ: Big questions.  Really big questions.
MG: So, yeah [laughing] that's what the show is about.  [Joking] It's just about a couple small things…
JJ: So how did this all play out in your explorations in the studio?
MG: A lot of talking, a lot of improvisational exploration… In the piece, the bodies are the proof of themselves.
Because of the way that the piece exists – even though the audience is onstage, even though people are really close to us – it feels like something is at a distance. I had originally thought it would be really great to make a piece that didn't involve bodies at all.  I mean why do there have to be bodies?  It's so weird and silly – why are there bodies on stage at this point in history?  Can't we just go…
JJ: Totally virtual?
MG: Yeah – not even virtual or holograms – but… there are people that are doing that – work that's about post-human bodies – but, I am still invested in the interpersonal dynamics of being in the room with people. That's what keeps me interested in my work.
JJ: I think it goes back to the value thing.  What's at the core of what you do?
MG: And where do you build knowledge? Where do you build a sense of how you understand things and how you perceptively locate yourself in the world? When I look at dance, I can understand it. What does that mean? Not one specific, concrete meaning.  Rather, as I'm watching the dance, I am understanding it and grappling with comprehension.  And that perceptual act becomes a way to construct meaning.  That doesn't necessarily translate easily into language. I mean I like words. I can talk. But, dance actually offers another perceptual experience in time. I don't think this is exclusive to dance, either. Mark Johnson argues that reality is actually an aesthetic experience. He doesn't use this exact language – but we're choreographing our way through our lives. And, that feels really powerful in relationship to what performance or a body in action can do. It doesn't always happen. Most of the time, dance is written about exclusively as a visual rendering but, that's not the whole picture…
Working with Deborah Hay was pretty instrumental for me.  Something she would say is, "The movement is just a costume for perception."  And, I feel that's really true. That's my experience of dancing actually…  So much of what intrigues me about dancing is about contending with myself in the moment.  And all the fucked-up-ness of that question.
JJ: "Contending with things in the moment" is the way that people talk often about improvisation. You're working with a pretty incredible set of improvisers as collaborators performing in the work.  I wondered if you wanted to talk a little bit about that?  I mean it's a very diverse, powerhouse group of people.
MG: Yes.  I wanted to have a group – well first, that weren't all young 20-year olds.  I wanted a diverse age range for this piece.  I hadn't worked with a group of people who were older than me before.  And, I wanted a group of improvisers who could own themselves in a very clear way. I wanted to work with people who seemed restless or curious.  And, I feel like that's pretty true of this group!
JJ: So, you're working with Michelle Boulé…
MG: Hilary Clark, Luke George, KJ Holmes, and Ishmael Houston-Jones.  At first, I was a little like – oh my god, who am I to tell these people what to do? It really did feel that way.  Which was great, because I wanted to be challenged directorially.
JJ: It seemed to make a lot of sense to me because you're dealing with a kind of big existential topic – life and death, philosophical truths such as 'person-hood' and 'being.' It requires a certain maturity.
MG: Yes.  It feels important that the audience is looking at people who have contended with things. I also think that I was going through something about casting in general. This thing that often happens in the dance field is people don't take into consideration the representational value of the bodies that are there.
JJ: Which is kind of saying, maybe the visual does matter.  The way that we read bodies matters.
MG: Absolutely.  Bodies come marked. But, it feels like often the problem with the visual rendering thing is that people ignore it in the most important aspects in some ways.  Because they think "I'm dealing with abstraction." Or, something neutral. I know that when I first went into dance as an adult, I was excited about how it contrasted to theater, because I didn't feel like I could get type-cast in the same way. I didn't have to audition to fulfill just one thing. It wasn't like – "Oh, I'm that Latino kid." So, it's funny to have come full circle and now become hyper-conscious about who is on the stage.  But also, I think now more than ever – the way artists work – you'd be hard-pressed to find a choreographer whose not working explicitly collaboratively with their dancers. Although, I sort of suspect that's always been true.  There's a real thought around how you have people involved in your process.
JJ: I wonder if we could talk about some of the other collaborators involved and, some of the sources because in a way you could think of sources as collaborators.
MG: Somewhere towards the beginning of the process I read Freedom, by Jonathan Franzen. I realized that writers give themselves permission to do so much.  You really can go there.  You can interrelate different things.  A novel – or that kind of novel let's say – doesn't aspire to be minimalist. Certainly there's editing. But it doesn't see reduction as the only compositional value to explore.  As someone who has struggled with living in an aesthetic climate where minimalism is privileged above all else, I'm excited to encounter work that deals with interrelating or association. I started to realize that what we were making – in a sense – was a novel. For example, each dancer wears multiple costumes in the piece – I'd never done that before.  Or, even having people leave [the stage space].
JJ: By having people leave and re-enter there could suddenly be chapters.
MG: Yes, I really feel like the piece does unfold in that way.
JJ: Even though a lot of the piece comes from the idea of embodiment, you're also using text in the piece. Could you could talk a little bit about how the text figures into the work? What drew you to using text?
MG: The bulk of the text it written by Boru O'Brien O'Connell (who also collaborated to create video projections).  Some of the text is an appropriation of George Berkeley's writings.
Text is often used as the locator of meaning. And, if it exists in a performance – that's when we're like – there's the meaning!  That definitely happens in this piece. But, it also functions as a texture. It functions…almost like a kind of perfume….
JJ: That's a nice image.
MG: …A kind of experience that's not even exclusively about it being attached to understanding.
And lose the name of action appears at the MCA, Chicago January 31 – February 3, 2013.  For more information and tickets: http://www.mcachicago.org/performances/now/all/2013/884 This performance is part of the IN>TIME Festival. http://www.in-time-performance.org/
Jane Jerardi is an artist working in the media of choreography, performance, and video installation.  Currently based in Chicago, her work has been presented at such venues as Transformer and The Warehouse (Washington DC), Defibrillator (Chicago IL); Danspace Project at St. Mark's Church and the LUMEN Festival for Video and Performance (New York), among others.  She is one third of the cohort that runs Adult Contemporary, an alternative art space in Logan Square.  She teaches at Columbia College, Chicago, where she is also on staff at the Dance Center.
---