"If you build it, they will come," lows a voice to Ray Kinsella in the film "Field of Dreams." Incredulous but faithful, Ray, played by Kevin Costner, obeys, carving a baseball diamond out of his Iowa cornfield and,after some plot twists and life lessons, they do in fact come.
In Fond du Lac last week the Thelma Sadoff Center for the Arts opened to the public. A hybrid of contemporary architecture and a Masonic temple that had previously housed the Windhover Art Center, the Sadoff Center is an impressive specimen: granite topped bars; a spacious terrace for live music; two large and gloriously lit art galleries, classrooms, workshops and a hall for lectures and performances. It's a cultural diamond in the heart of a pragmatic industrial town – an only slightly less quixotic enterprise than trying to lure the ghost of Shoeless Joe Jackson out of a cornfield.
Its opening was marked by two moving and exceedingly complementary exhibitions.
The title of sculptor/ceramicist Novie Trump's show "the Weight of Air" perfectly captures the dreamy intimacy evoked by the delicate objects comprising it. Her work is somewhat insistent at first, but ultimately lets us find our own way through the mysterious and meditative imagery.
A row of gentle white bird nests cast crisp shadows on the floor; a series of white branches dangle lightly from filament; a wall of black ceramic butterflies elevates toward the skylights. All incredibly suggestive, literally and visually, but, in the end, just out of reach. As intangible as air itself. The most exquisite and suggestive of these airy sculptural vignettes are two small white reliquaries filled with fragile artifacts. Her work recalls Christian Boltanski, but where he chooses to reveal the painful truth, Trump conceals, and lets us sift through our own memories and associations.
Trump's quiet theater is enhanced by the ample light that pours into the third floor gallery. Cast shadows in the show become as much a part of the works as the ceramic objects themselves.
Equally dependent on light and shadow but to entirely different effect is the work of Hap Tivey. The impact of his work is most profound when descending the stairs directly from Trump's show upstairs. Her blue-tinged natural light scheme is interrupted by the sour yellow haze of his work "Sodium Exchange." It's a relatively abrupt transition, but still Tivey's work is light and quiet.
At the opening I overheard several viewers questioning what "to do" with the "Sodium Exchange". At one point Hap came in and told them to "not to do anything" and to "let go." Indeed they did, and the environment overcame them.
"Sodium Exchange" essentially creates two experiences on either side of a  fabric membrane. The south side offers a trip through a spectrum of diffuse atmospheric light. Soft, tonal shadows cast by the viewer dance almost imperceptibly on the scrim bisecting the room. The north side bathed in harsh sodium light, reveals a more distinct cast shadow of the viewers on the opposite side, setting up an anxious, jarring and voyeuristic experience.
Tivey is a veteran light-and-space artist whose aim, as he mentioned in a lecture Wednesday night, is to "create experiences that an individual can't not have anywhere else." It's a simple but profound conceit that his work lives up to, especially when the viewer yields control.
Though experience is primary for Tivey, the interactivity in "Sodium Exchange" happens to be a living metaphor for how human nerve cells transmit information, and by extension, how one perceives the very light that is functioning as the metaphor in the work itself.
The relationship between the works and the new space is exceptional. A literally brilliant way to inaugurate the Thelma Sadoff Center for the Arts.
Today at the Center they're having a screening of Baz Luhrmann's "Great Gatsby" down the hall from Trump's and Tivey's wonderful environments. It seems an almost perfectly cheeky choice by comparison. I can't imagine anything less slow and subtle than Luhrmann's movies. Maybe an actual car crash. I hope everyone who attends the screening goes from the green light beyond Gatsby's dock, toward the sodium and sunlight in the galleries. Their minds just might get blown.
Blown minds or not, my guess would be that such outrageous variety will be a necessary recipe for the Thelma Sadoff Center for the Arts in Fond du Lac. So far it's an ambitious and well-executed endeavor, especially the delicately curated art work. With a smashing public opening on Thursday, it seems the public is on board so far.
If you build it, they just might come.
---
Alexandra Seno takes a good look at the coming third year of Magnus Renfrew's Art Hong Kong (art HK 10) which opens this week (May 27 to 30) and tries to push the idea that Hong Kong not Singapore & it's Art Singapore sets the beat for Art Culture in Asia by showcasing 150 from 29 countries (out of allegedly 300 applications).
With artists that include Filmmaker Baz Luhrmann, British sculptor and Turner Prize winner Antony Gormley, Guggenheim Museum curator Alexandra Munroe, Japanese contemporary artist Takashi Murakami and Tokyo Museum of Contemporary Art curator Yuko Hasegawa.
Atendance is expected to be high considering there was a 30% jump last year to 28,000 visitors. Still small by international standards London's Frieze Art Fair for instance, draws over 50,000 visitors but a interesting fair to keep an eye out for. More can be read here
In Mini News: The Museum of London reopens it's modern galleries after a £20.5m refurbishment
---
OK, so here's the deal for right now. Every week (well almost every week) I do a pick of shows that I think are most likely worth seeing (I am often wrong). The problem is that I sometimes don't get to go to all the shows on my list (I generally see art on the weekend and usually just go to openings, I don't have the "it's so crowded in here, I can't see the art" issue, I just shove my way through and look, but I digress). So this week I am giving y'all a list of where exactly I am going. I chose this route because I noticed something odd this weekend, there are seven apartment gallery show openings and closings in the next three days. I figured, what the hell, I'm going to be out, some of these places I like, some of them I don't really like, some of them I've never visited, why not make a circuit of them all, a selection of this Chicago art institution known as the "Apartment Gallery" and see the "State of the Apartment" so to speak. And (this was added after the list was mostly done), I like openings that go till 10 or 11 at night, you can cram a lot more in that way.
APARTMENT GALLERY OPENINGS (AND CLOSINGS) THIS WEEKEND:
1. Australia at Concertina Gallery
And I quote, "Acting as a springboard for works by both Anthea Behm and Aron Gent, Baz Luhrmann's 2008 movie Australia provides loaded content for each artist to pick apart and reconstruct. Though the artists work off the same source material, they diverge in form and intention. Triggering questions of cultural ownership and responsibility, Behm and Gent address the cultural transmission between those represented and those representing." This is how the gallery describes the show. I'm most interested in going to see Anthea's work, she's a friend of mine and I'm curious to see what she's been doing.
Concertina Gallery is located at 2351 N. Milwaukee Avenue, 2nd Floor. Opening Reception: Friday 7-10pm
2. Double Fantasy at Noble & Superior Projects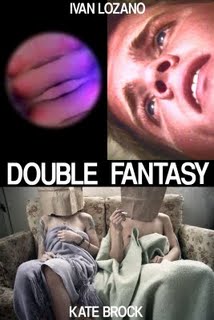 So this place is brand-spankin'-new. I don't even know if it is actually an apartment gallery, though all indicators point to that (especially the directions that once you get to the address, "Rear House, Through The Gate!!!"). As you can see by the ever-so-informative card-announcement-thingie, the show features the work of Ivan Lozano and Kate Brock. I can't find a website for Kate Brock, guess you'll just have to go to the show.
Noble & Superior Projects is located at 1418 W. Superior St. #2R. Opening Reception: Friday 6-10pm
3. 2-for-1: After Effects at secondBEDROOM and Side Effects at Medicine Cabinet.
A two for one in Bridgeport. For those of you who haven't been there, these two "galleries" are both part of the same apartment, secondBEDROOM located in, you guessed it…and Medicine Cabinet is the name for the installation space/bathroom.
In the secondBEDROOM: "Thad Kellstadt's After Effects attempts to explore the possible afterlife of objects, once dependent on human touch, now neglected but possessing a new presence. Some believe that the breaking of a mirror brings a lengthy stint of bad luck due to the soul confiscating power of the mirrors reflective surface." Yep.
and in the Medicine Cabinet: "Pharmaceutical marketing strategies and scenic nature photography combine to serve up a warning: Don't get too comfortable on that plateau. While the view is spectacular there are other forces at work, just out of earshot and bubbling their way toward the placid peaks." Uh huh.
secondBEDROOM and Medicine Cabinet are located at 3216 S. Morgan Street Apt. 4R. Opening Reception: Saturday 7-11pm.
4. The Trunk Show at Barbara and Barbara
Barbara and Barbara do love you, as their web address so astutely says. For this round the Barbara-ganza is putting on a show dealing with the idea of travel.The show includes the work of a crap-load of people, incuding: Sierra Berquist, Ben Bontempo, Peter McLean-Browne, Evan Burrows, Pete Cuba, Fred Frederick, Julia V. Hendrickson, Landon Manucci, Colin Nusbaum, Emma Powell, Scott Reinhard, David Schalliol, Elizabeth Stoutamire, Christopher Sykora, Sean Sykora, Jessie Vogel, Kelly Wallis, Rustél Weiss, Hannah Zurko
Barbara and Barbara is located at 1021 N. Western Ave. Opening Reception: Saturday 7-10pm.

5. Exhibition 2. 10242009 at MVSEVM
Ok, so I'm a bit confused as to who exactly MVSEVM are and whether or not there are two of them. So, instead of linking to the blog that seems like it might be theirs but says they are on vacation, I'm linking y'all to the On The Make (another wonderful site) page about the show and gallery. And I quote, "For its second exhibition MVSEVM invites eight diverse artists to contribute site specific works and installations that address the ambiguity of the space as both domestic and professional, private and public, as well as external concerns. In Exhibition 2.10242009 these inquiries manifest in an interrogation of social paradigms, raising questions pertaining to human relationships filtered through biological and technological themes." Artists in the show: David Brooks, Joe Cruz, Chris Cuellar, Szu-Han Ho, Jesse Vogler, Gabriel Martinez, T UM', Andrew Yang and Harley Young.
MVSEVM is located at 1626 N California Ave. #2. Opening Reception: Saturday 6-10pm.
6. Deedee Davis and Casey Roberts at Home Gallery

Less of an apartment gallery and more of, well, a home (go figure), Home Gallery is located down in Hyde Park and run by Laura Shaeffer. For this round of exhibitions, Home will be featuring the work of Deedee Davis and Casey Roberts.
Home Gallery is located at 1407 E. 54th Pl. Opening Reception: Saturday 6-9pm.
7. Marginal Waters at Golden Gallery
So, this isn't and opening, it's a closing. Golden is also, like Home, on the edge of the "apartment gallery" definition, but what the hell. For this round of Golden-tastic-atude, they are closing out Marginal Waters, work from the 80s by Doug Ischar. And I quote, yet again, "Ischar will exhibit a body of photographs from 1985, never before seen in its entirety, taken on the now defunct Belmont Rocks in the city of Chicago, and a new single-channel video work." The closing is also rolled together with the catalog release, and there'll be an interview with John Neff.
Home Gallery is located at 816 W. Newport. Reception/Catalog Release: Sunday 3-6pm.
---