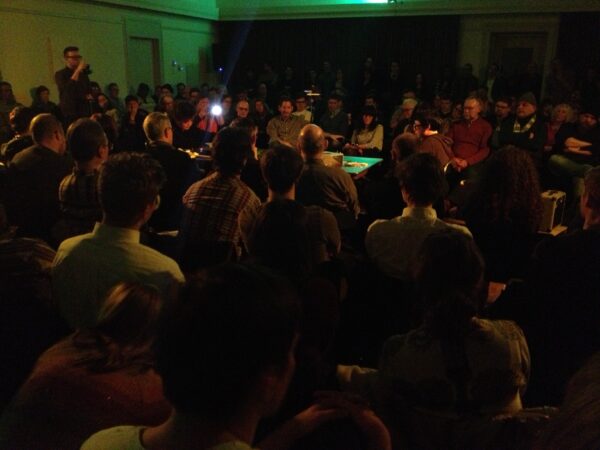 By the time I got there, it was standing room only. Everyone crowded around two small tables under minimal but nevertheless theatrical light. We stood this way, waiting for Korean sound muscians Hong Chulki and Choi Joonyong to play their experimental music sets. We stood in the converted ball room of a once-great mansion in Old Town. Of course the mansion is still grand, but instead of providing residence to humans it is the home base for The Graham Foundation — an organization that dates back to 1956. Dedicated to the architecture and its role in the arts, culture, and society, The Graham Foundation offers "project-based grants to individuals and organizations" while producing public programs. I had come to see one of LAMPO's productions — one of many in an on-going experimental sound series; in order to access the ballroom, however, I had to pass through a stunning exhibit of Soviet Modernist Architecture installed in the rest of the mansion's first and second floors. The buildings in this series are so strong and immovable in their position against the sky — and would prove to be an excellent foil to the immaterial, unfolding sequence provided by Chulki and Joonyong.
Choi Joonyong and Hong Chulki have been pioneers in Soel's emerging experimental music scene for the last 15 years. Choi Joonyong started Astronoise — South Korea's first noise group — with Hong Chulki in 1997. Later in 2000, the pair co-founded an experimental record label, "Balloons and Needles;" they have released a number of records since . Together, this collaborative duo embody a nexus being both community advocates and practitioners who have been called "acoustic explorers" in a "Bermuda Triangle of Sound," creating "non-conformist, post military service" music. 

They sat on either side of two respective tables. Chulki played a record player without a cartidge, running different materials along the player's sides from what I could see  — a legal-sized piece of what looked like metal, for instance — in order to create a small variant whine. Meanwhile, Joonyong used portable music players in unconventional ways — he set up two or three open Discmen and placed small pieces of tape on the spinning, exposed discs. These small tape pieces clicked against one another intermittetnly, until one finally spun off, returning the room to soft discmen whirs. At such times, Chulki's record player manipulations would emerge as the focal point, underscoring the way these two composers wove a sonic tapestry between them, organically alternating which devices were more prominent. Chulki and Joonyong made use of one another while engaging the spatial acoustics of a given room. Chulki never got up from his seat; he remained like the grounding line or backbone throughout both sets while constantly modifying the sounds he created. Joonyong on the other hand regularly stood up from his seat to relocate sound makers in other parts of the room. It was as though he was building a low-fi surround-sound system. He set up four exposed Discmen with bits of tape on them in the four corners of the room. He unwrapped a spool of tin foil while walking around the perimeter of the room as well, fixing the ends of the foil to speakers with tape. In another instance he pushed amplifiers on wheels down one side of the room, then opened a door and placed the amp on the other side of that door, or rolled a second amp, as it sputtered mechanic drones, down a flight of stairs. Each and every sound — the sound of tape unwinding, foil unwrapping, the sound of footsteps, the gutteral amplifiers, the whine of Chulki's ongoing centrally located soundscape — heightened my awareness of the room. Although we were all in the same room, the strangely muted affect of this improvised composition created the illusion of distance and depth. Chulki's manipulations reminded me of a distant construction site (the whizzing of concrete getting sliced by an electronic, saw) heard through the window of a sky scraper. Joonyong's flicking bits of tape stuck to the portable CD players clicked against the strips of foil he had laid out, conjuring for me a a nearer sound like that of a half-broken fan. I began to get an acoustic map of a space that did not physically exist but was conjured by their audio web. Its delicate detail heightened by the overall nonchalance of the performers themselves. Chulki took out three electronic hand massage devices and first set them up on his table, until one pushed a Discman onto the floor before falling to the ground itself. He then walked these small, plastic vibrators around the room, tucking one in the space between an inner and outer window, or behind a door. These vibrations, muffled though they were, emanated into the main space, adding another layer of depth. I found a video of this moment, and the friend who posted it referred lovingly to the duo as "The Bas Jan Ader of Korean experimental music," what likely sums up the embrace of failure, or in this case the pratfall of an electric masseur.
---

We still have no real idea what the narwhal horn is for. Of course it isn't really a horn, either. It's a tooth or a tusk like that of a walrus or elephant. It grows up and out in a spiral. At first they supposed it might be use to break holes in the ice, or spar with other whales. Because female narwhals don't often have these protruding teeth (though some do, and some rarer males have two), they are believed to be "secondary sexual characteristics" used to woo and impress prospective mates. That said, in 2005 scientists discovered narwhal tusks are opposite to our own: whereas our teeth have a hard protective enamel that covers the softer, nerve-ridden pulp, narwhal tusks are hard on the inside with 10,000 nerves worth of sensitive soft stuff exposed to atmosphere. This, combined with the acknowledgement that no one had ever seen such behavior, discouraged the tusk-as-rapier idea. It was thus concluded that the sometime 10-foot tooth might serve as a thermometer/barometer/measurer-of-salt. It's possible this tusk is used to communicate, bringing to mind an antenna. Nevertheless it's speculative. We still can't say why this whale, as opposed to others, would have such a specific tool. In Mark Booth's exhibition, God is Represented by the Sea, a wall drawing tastes the tusk, as though to unlock its mystery that way. Three of the four walls are covered in a narrative that includes, "I attempted to trace one furrow from the horn's root to its tip with my tongue. During this process of investigation my taste buds became inflamed and swollen, calling to mind an undulating colony of sea anemones."
ADDS DONNA is a long, narrow gallery with high ceilings. At first glance, Booth uses the space economically. There is nothing on the floor. Rather, smaller paper works hang near and above the door; like Hair Isthmus (above), these drawings are spattered, star-like reliefs of text—written in the same font as the text that lines the walls. On the wall, gray-blue vinyl letters describe the narwhal tusk, the way the narrator accessed it through "a purveyor of experience" and the narwhal's curious smile. At first I didn't see the inconsistencies in the font, assuming it, like most institutional lettering, was created by a computer. But slowly, as I stood letting my eyes wander over the letters, I couldn't place the font. The O's were curious, octagonal blocks and, like the A's, B's & D's, did not have central holes. I then noticed that the octagon's corners were not all at the same angle. It dawned on me then that every letter had been cut by hand.
Accompanying this work is an overhead audio recording of substitution, "Shimmering stars are represented by a milk-filled breast……A milk filled breast is represented by a river through a country in darkness……A river through a country in darkness is represented by sirens keening across a city……Sirens keening across a city are represented by women, men and children……Women, men and children are represented by  argon gas……Argon gas is represented by a petrified tree……A petrified tree is represented by a physical gesture…" It is Booth's voice, leading us through a  curiously poetic equation, one that wanders to through dreamy conclusions, convincing for the gentle tone of Booths' voice—easily presumed to be the same first-person in the text. Through that tonal repetition, bouncing as it does against the letters on the wall, the room starts to fill with an intuitive architecture. One in which the sea, with its sea urchins and narwhals and overhanging navigational stars is both central and ineffable.
The final piece in the last corner features more text, with curious shapes patterned beneath it in a cluster. The narwhal story ends under this last wall drawing. This time the text is a little darker and reflective; Â thinking through the sea urchin and sailors lost at sea, it conjures the mythic properties of their absence and the way we feed upon it. These anecdotes create an experience of wonder, a fetishitic curiosity. Perhaps because we live in a landlocked city, they are almost erotic.
…
It used to be that people hunted narwhal tusks for Kings and Queens, as evidence that unicorns existed. It was so much more plausible to imagine a horse with a horn than a whale, the idea of unicorns persisted. Can you imagine? Someone says to Another, "Unicorns don't exist." The Other, "Where do those horns come from?" The First, "Whales." The Second, "Shut the fuck up." But this is the way of the sea as it always has been. A dark, intemperate body, full of mystery: a field that woos the Romantic.
Perhaps it is true, the only way to comprehend it—even slightly—is to ingest some part of it.
…
Text has authority. The codified system of communicative terms is an institution; it parses our experience, mapping a common ground that necessarily diminishes the importance of what cannot be conveyed in order to protect its own cohesion. An inherited legacy, like any other culture, cheese, bread, alcohol, yogurt : these things propagate meaning by facilitating relationships and values. They are nutritious, while themselves evidence of sophistication and art. Perhaps we could add to these, myth and ritual, as we focus on the way in which these artifacts of tradition are nevertheless dynamic and alive. They are not static as institutionalized text-on-a-wall might have you think. The hand-cut quality of each letter reminds us that this is a story; it could be a dream or it could be autobiographical, historical or fictitious. It could be a long lie. The potency of this category lies in its reproduction. The bacteria of a particular cheese is given as a gift in order to be reproduced in some other country. At a party none of us are invited to, someone retells Booth's story, as though it was a personal experience. These tales can be repeated and through repetition they can change. The elemental letters that comprise their content are themselves dynamic and unstable. God is Represented by the Sea investigates text as it undermines the authority of language, where ideas hang like balloons to be consumed, sometimes on paper , sometimes on the wall and sometimes in the air.
…
First the guess artist told a story about a man-faced fish that lived in a green pond on a large estate during the Napoleonic Wars. Napoleon's army happened to pass through that part of the world and he used briefly that estate as a command post before one or another of the famous battles in which he refused to take anyone's advice and went his own implacable way.

While out for a walk on the estate, considering the best way to array his troops along the lines of battle, Napoleon passed by the pond in which the man-faced fish lived. Being a man who was fond of green ponds and private moments before battle, Napoleon lingered by the pond and stared down into its depths. The man-faced fish saw him and swam up to the surface.

— Good day, said the man-faced fish.

— Bonsoir, said Napoleon.

— Below, said the man-faced fish, it is neither day nor night.

The Way Through Doors, Jesse Ball
The quoted passage above is told from within a labyrinth underground. The characters are about to take a rest for the night. The literal labyrinth they are in mirrors the narrative labyrinth Ball leads us through. The Way Through Doors world is not stable, but constantly shifts as in a dream.
Booth's world is similarly shifting. As the cadence of his voice bears us along illogical conclusions, the path is nevertheless pleasing and so you drift along, without necessarily having to take responsibility for the consequence of your passage. But of course this show is also about Art. The tasting of the narwhal tusk takes place in a Zoological Museum. It is about the authority of spaces and texts and contexts. It is about our relationship to history, evoking, perhaps, the delight gleaned as we eat the myths of our predecessors, draining their nourishment in order to fuel our own expressive desires. The sequence of cannibalisms, so far taken for granted, as to remain dreamlike, impalpable, labarynthian.
…
The name "narwhal" comes from the Norse word "Nar" which means corpse. Literally translated they would be "Corpse Whales." Contemporary peoples have looked back on this, supposing the whale's propensity to float, unmoving, on the ocean's surface for endless hours as well as their discolored, spattered skin inspired the name. It is likely that, when found in the middle of nowhere on a flat, frigid ocean, days away from land and wind, these creatures astonished mariners as monstrous ghosts, gripping their hearts with uneasiness. However, on closer inspection instead of finding horror they found the narwhal's habitual smile. "Even in death, this enigmatic smile reflects the narwhal's reception of continual, unexpected pleasures," (Booth).
…
The final piece in the last corner:
It is commonly known that when the sea urchin resembles the texture and flavor of a drowned sailor leading the superstitious belief that the sea urchin is the repository for the souls of mariners reaped by the sea.

— God is Represented by the Sea, Mark Booth
…
Bas Jan Ader disappeared in the sea while searching for The Miraculous.
Perhaps in this dream, you are eating Bas Jan Ader.


---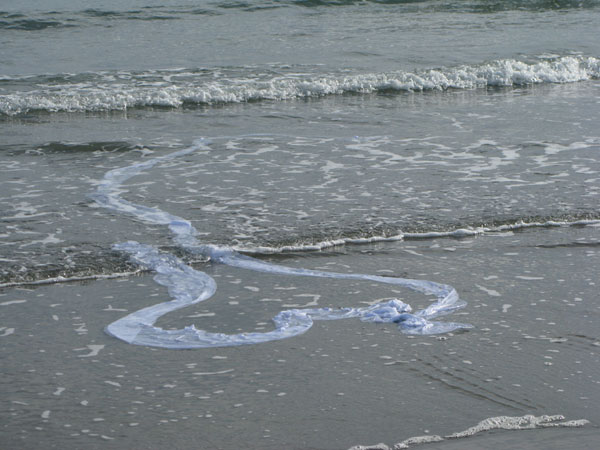 I first met Rebecca on Milwaukee Ave. I think we were at a gallery opening. I had been talking to a friend about The North Georgia Gazette, an Arctic newspaper originally published in 1821; I wanted to reprint it somehow. At the time the project was a pipe dream and when my friend saw Rebecca, she ushered her over and said, "You should talk to Rebecca. She's all about Arctic exploration." At the time, I think I stuttered through the introduction. Like many encounters, the virtue of our handshake was not in what was said but a recognition of friendliness. Since then I've followed Rebecca's work pretty closely. We put the Gazette together and even travelled to Philly at one point to put up an art show. We share a number of interests in book making and comics; her work has inspired my own in different ways. I've always appreciated its tactile honesty. There is something defiant about the unslick-ness of her tone, the efficiency of her energy. If she wants to illustrate a relationship with the ocean, she literally draws with it, or swims in it, or writes it a letter. She makes illustrated chapbooks connecting geographical exploration with a romantic biography. Or, upon recognizing weakness creates a ritual of exercise-as-performance. In everything there is a direct connection between the gut of her impulse and the resulting aesthetic experience. The distilled object–a photograph, a sculpture or video–is the result. Given her interest in exploration, it makes sense she would approach her practice so efficiently–it is as though she must employ economy in order to anticipate unknown distances ahead, in order to conserve energy and resources. Each piece is evidence of  a new discovery within an interior landscape–a place that could be a country or a poem.
Caroline Picard: What does it mean to explore something? What is your relationship to the iceberg?
Rebecca Mir: When I was a kid, I spent a lot of time scrambling over seaweed covered rocks and investigating tide pools by the beach, or building fairy houses in the roots of spruce trees on Monhegan Island. I channel some of that excitement when I'm walking through a new place, or building something in my studio. Exploration is partly about the physical space of exploring, and then it's all the pieces of the story surrounding the exploration. Some of my projects rely more heavily on the actual journey, to the water, or mountain, or the preparations for this journey. Getting directions from a deck of tarot cards for instance. Or the journey takes place entirely on paper. In a comic about exploring the sea floor and bumping into perished explorers.
Icebergs are explorers too. They break off of a glacier and set out a trip through the ocean. Sometimes they stop in shallow water and become an island. They are beautiful, but sometimes dangerous, to us. I am attracted to cold places and large bodies of water. It's only fitting really that I think icebergs are sexy and fun to draw.
CP: How do you relate to the mediums you employ? How do you chose, for instance, whether something is made out of paper, or bound in a book, or constructed with plywood?
RM: When I first decided to be an artist, (somewhere around fourteen?)  I was very old fashioned. I wanted to carve women in stone. I think this might be directly related to watching a film on Camille Claudel. I had a very romantic sense of the artist studio. Romantic and dramatic and devastating. I quickly gave up on figure drawing and sculpture for less figurative sculpture projects in fiber and ceramics. But I've returned to working with the figure and stone. I started drawing again, about five years ago, with comics. And I've been working with rocks again, in sculptures and drawings. It's sort of tying up the loose ends of my roots.  Choosing materials is sometimes a game. Figuring out how to build/draw/capture this idea with what is directly around me. Similar to the fairy house building in the woods. And sometimes this is just where it starts, and then I realize that I have to go seek the right paper, or wood, or rock. Or that I need to go make a photograph. Or find a video camera.
Plywood is great for making rigid things like ice floes and mountains. Paper is great for making water. I like the way crinkled paper makes me think of water stopped in motion; the light hits the crinkles in a similar way to it reflecting on the wavy surface of water. Paper is also great for writing on. When I want to tell a more linear story, I always go back to pen on paper. I turn them into books when there seems to be a group of stories, or a longer one. Books are easier travel companions. I can send them easily in the mail. They take up less space, but require more time.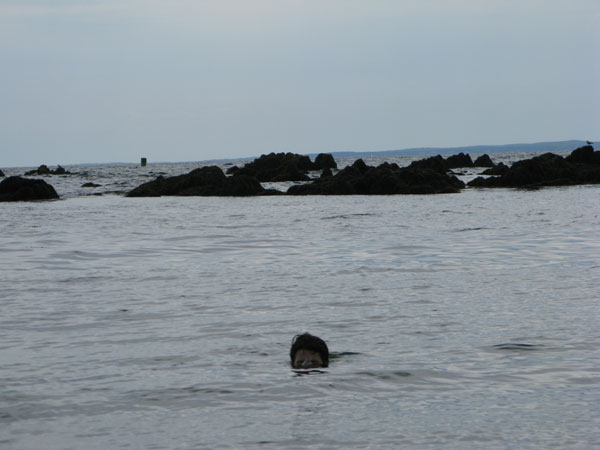 CP: Do you feel your work is contingent on others? I suppose I am thinking of the photograph you took, where you are swimming in the ocean in the winter. It looks like you are utterly alone, but of course the photograph was taken by someone. I ask because I feel like there is an idea about exploration that it demands a kind of alone-ness—i.e. you are going into unknown territories without being positive that you can return—yet in the action of performing that exploration, or making an art object, or taking a photograph, it seems to me there is an implied 'you' or witness…?
RM: Explorations aren't always alone. Often there are expedition teams. People who help you get to the cave entrance, or carry supplies up the mountain.
I have always been interested in solo adventures. I've read a lot of books of solo sailing trips around the world, solo flights etc. I am always curious about some of the worst moments. They seem small on the page, and in the past, but I'm sure they were huge in the moment.
My particular brand of exploration is about being alone. The photograph that you mention, was taken during a walk that I took with my sister, mother and aunt in Maine. We passed a rocky point with a stone church, that I've driven by a thousand times. It's a popular spot to get married. There was a small rocky beach nearby, that I'd never been on before. We walked down and I decided to get in the water. I passed the camera to my sister with some instructions. I was most definitely alone in the water. But I was there to be with the water. So I was alone with the water. And now I'm sharing a racy photograph with you.
CP: All this talk of exploration and solo journeys, and of course, the devastating romanticism of the artist–are you into Bas Jan Ader at all? What do you think of his final boat trip, In Search of the Miraculous?
RM: Yes, totally have a soft spot for Bas Jan Ader. A friend told me to look at his work when I was an undergrad. There weren't as many books in print of his work then, but I found a description of his boat trip and thought it was the coolest and most poetically self destructive art project I'd ever heard of. Still, I didn't really think about the size of his boat much til last year. It was only 12 or 13 feet long. That is like paddling a canoe across the Atlantic. I just finished reading Susan Casey's book about rogue waves (100+ foot waves, more common than you think…..and an awesome read), so I'd prefer a much bigger boat if I sail across the Atlantic.
I also really like his piece I'm too sad to tell you.
CP: What about Buffy? She seems like another hero in your work. I was thinking of the project you did where you did pilates while watching all the episodes. How did you come up with that as a project? How do you feel (if you do) like she fits into your artistic mythology?
RM: Yes Buffy is a hero. Super strong girl kicking lots of supernatural ass with total lesbo best friend – what is not to love? During the last episode of the show, Willow (Buffy's best friend, conveniently a witch) casts a spell that gives all the potential slayers the super strength that Buffy has. And then they head into battle. There are lots of portals in the Buffyverse (as it's sometimes refered to). So I started thinking about the TV as a portal to the Buffyverse. And if I had a ritual to do while watching the show on TV, then I might be able to access it/enter the portal via this repetition. So I had a pilates routine that I would every day in front of an episode of Buffy. The fight scenes were usually at the end of each episode, so I would also fight along with my punching bag at the end. For five months I had slayer training with Buffy every day, in my apartment/the Buffyverse. At the end I was indeed stronger. I also immediately noticed that my dreams were less insanely violent. And I stopped getting a cold every other week. The spell/ritual worked.
CP: How would you characterize your relationship to Chicago?
RM: Well, if the ocean is my lover, then Chicago is a great housemate. We get along really well.
I really like the city, and the people here. I've been here for almost ten years though, and I still get homesick for a rocky coast. But I realized a while back that if I left town every couple of months, and visited the ocean at least twice a year, that I could really be happy living in the Midwest.
CP: What is the handmade book for?
RM: Handmade books are friends. If you take care of them, and they stick with you and make you feel better.
CP: Will you talk a bit about the project/video where you walked around the lake with a homemade telephone?
RM: I have this thing for long distances. I think about them often.
In part because a lot of good friends live far away. And I had been in a series of relationships with people who lived elsewhere. (The romantic relationships didn't survive the distance.)
I wanted to put a ridiculous amount of effort into talking to someone. I wanted to physically cover a fraction of the distance that we frequently communicate across. A tin can telephone seemed to be the right tool for this exercise. I needed a length that was both daunting (for this specific task) and nearly insignificant these days. I picked a mile. And began making the phone.
My friend Dan lives near the beach in Indiana, and I always remembered from visits that the beach was rather empty in the off season. The beach didn't curve too much either, so it seemed like it would be ideal for unwinding a mile long tin can telephone. I drove out to Miller Beach with two friends, two video cameras, and some audio recording equipment. Andrea, Aay and I set everything up right in front of the path from Dan's house. Andrea stayed with the two cameras at the starting point. Aay and I began walking away from her, and each other, unwinding the telephone as we walked.
The goal was to have a conversation with a mile of beach in between us. And if it worked, record it. It was a lovely walk for a while. A warm and windy and sunny April day. And then there were lots and lots of knots and tangles in the string. At first just a few. And then I got stuck and I couldn't go any further. Apparently Aay had lots of knots in the beginning but then it was smooth unraveling. So Aay and I never got to talk on the tin can telephone. Which was okay. I was mostly interested in the experiment, and the walk. And the videos of Aay and I walking away from the camera (there were two cameras, one on Aay and one on me) and disappearing into the distance captured these sort of quiet adventurers off seeking a conversation.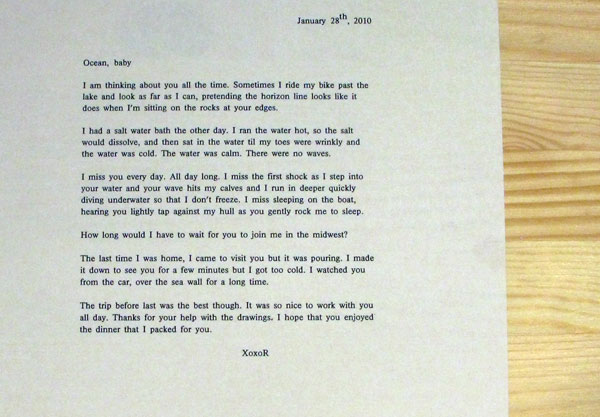 CP: Another thing I notice is how you characterize dynamic and personal relationships with traditionally inanimate things (like books, for instance, or Chicago, or the Ocean)–I'm particularly struck by how that characterizations relates to your description of the failed conversation with Aay–the contraption of the phone seems as alive and integral as Aay, or Dan, or the beach. In other words, you seem to describe a deep feeling connection to your environment and the things that occupy that environment. I'm curious about what role you see your work playing in that equation?
I absolutely have a deep connection to environments. Partly because when I was growing up in Maine, the ocean was such a calming force for me. Environments have a strong effects on their inhabitants. And we effect our environments. (This is where I tell you that global warming is real. And I admit that I am a nerd.) I meant it before when I said icebergs are sexy. A lot of my work is about romantic relationships with the environment. The romantic sense of adventure and conquest, and also heartache (a.k.a. natural disasters, glaciers melting)
One of my ongoing projects is about my long distance relationship with the ocean (which is why I was in the ocean by myself for that photo, I was visiting her). I joked once in a love letter (sent by bottle via the Mississippi river) that if I waited long enough in the Midwest the ocean would make it to me. Seriously, global warming is real.
CP: Rubaccaquon! I can't believe I forgot to ask about that–I just thought about it, because it also, as a project, seems to relate to the personal dynamism I mentioned before–in so far as you are defining a personal country, right? And then also how that reflect on the power and idea of naming something. Could you talk a little bit about that?
RM: I have a lot of nicknames. Rubaccaquon is one. (I believe Aay Preston-Myint is responsible) I started using it as a website name, an alter ego/placeholder name, since I had been toying with the idea of changing my last name. And when I decided to swap Grady for Mir, I started to think that maybe Rubaccaquon was really a place after all. I was thinking a little bit about Yvette Poorter's backyard Canadian soil residency project. If she could bring Canada with her to the Netherlands, then I could certainly date the ocean and have my own country. So Rubaccaquon became a nation/notion.
Discovering things and places is fun. Naming them helps with the storytelling that comes after the discovery.
CP: What have you been working on lately?
RM: I've been thinking a lot about space recently. Thinking and reading and doodling about space. Both outer space and the space in my apartment. I am making some directional and time devices/sculptures out of wood, metal, paper and stones. I've also been looking at a lot of Victorian acrostic jewelry. I want my next love letter to the ocean to be in stones.  A large scale series of stones set in sand instead of gold.
I'm making a mountain range for my apartment, out of plywood. And I've been making a lot of books. Some have been edits of things I've worked on in the past. I have an unpublished comic kicking around, that I'm finally going to print. And I made a new zine called SHE IS RESTLESS for the Chicago Zine Fest last month.
See more of Rebecca's work by going here.
---
This is a very late video pick this week. I honestly couldn't make up my mind what to post. I watch so many videos a day but I had hoped for the TVP to be artists talking about their work or video art. This week's pick, I'm too sad to tell you (1971), comes from the late Bas Jan Ader.
---