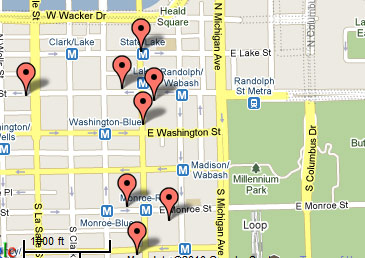 From October 15th, through October 29th, the Chicago Artists' Coalition and the Chicago Loop Alliance will transform the historic Loop neighborhood into an interactive, multi-venue public art museum. Art Loop Open invites the public to "Visit, View & Vote!" at over a dozen venues throughout the Loop and not only admire local artists' works but also interact with them and each other via cutting edge technology and public programming.
With the addition of Tony Tasset's installation in the loop, the Pop-Up Art Inititive currently underway & the upcoming Art Loop Open it is good to see the Chicago Loop Alliance getting some traction and note for their work, here is hoping it can survive as annual events.
ALO wants all of Chicago's diverse and talented visual artists to apply, potentially win $50,000 in prizes and have the opportunity to reach new and coveted audiences from around the world.
"The work of Chicago artists is our city's tapestry. Art Loop Open will be a unique opportunity for visitors and residents to celebrate our rich art, showcase our amazing downtown artistic attraction, and offer a platform for local artist to shine. Art Loop Open will be a interactive, cultural experience bringing everyone together to enjoy and admire great works of art."
-Richard M. Daley, Mayor of Chicago
---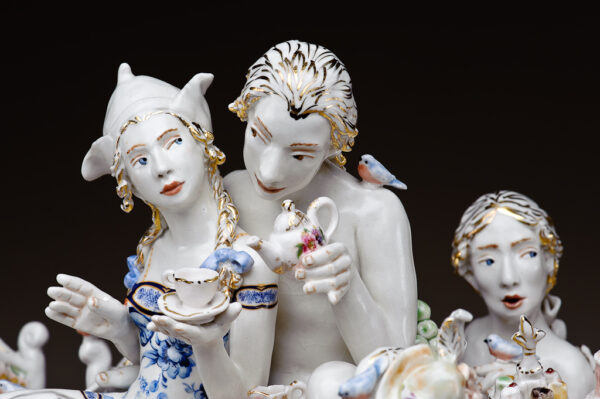 Sculptor Chris Antemann will receive the first prize grant award of $35,000 from the Virginia A. Groot Foundation offered since 1988 to artists working in 3D.
Antemann, a sculptor creates contemporary erotic works in porcelain dealing with intimacy, love, and power in post-modern relationships.  Inspired by 18th C. porcelain figurines, their place in the home, and the social contexts that are inherited by such materials & history.
Represented by Ferrin Gallery, Antemann is exhibiting recent sculpture and photography from her series "Battle of the Britches" at Art Chicago through Monday, May 3.
---
Audio clip: Adobe Flash Player (version 9 or above) is required to play this audio clip. Download the latest version here. You also need to have JavaScript enabled in your browser.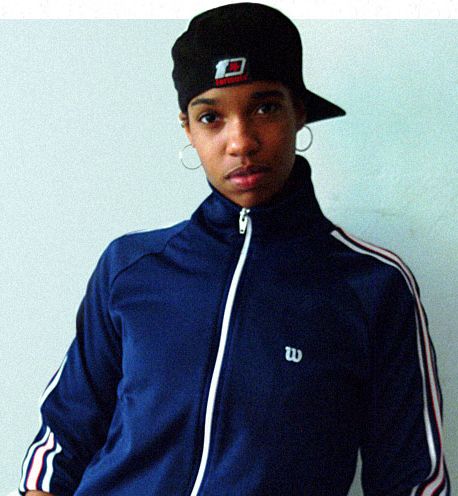 The grand prize winner of the CHIPUBLIB "Sound Off" Music Contest has been announced. The winner is Englewood's own Christalle Bowen better known as Psalm One. A mp3 of the winning song "My Bucket Song" can be heard in it's entirety above.
She will be performing the winning song along with a set of her other music, live at the CHIPUBLIB Sound Off concert at Pritzker Park, located at 344 S. State Street across from the Harold Washington Library Center, on Thursday October 22nd; doors open at 5 p.m. and admission is free.
Judge & Chicago-based Alarm Magazine publisher Chris Force called Psalm One's entry a "shoulder-shaking salute to her hometown of Chicago, [that] stood out among the surprisingly creative and talented submissions to the Chicago Public Library's "Sound Off" contest."
---
For three consecutive days (March 26-28, 2009), three internationally prominent jurors-Jeffrey Grove (Wieland Family Curator of Modern & Contemporary Art, High Museum of Art, Atlanta), Clara Kim (Gallery Director and Curator, REDCAT, Los Angeles) and Hamza Walker (Associate Curator and Director of Education, The Renaissance Society, Chicago)-conducted studio visits with 15 short-listed artists drawn from nearly 300 applicants throughout Greater Atlanta (23-county area) for the inaugural Artadia Awards in Atlanta. The awards range from $15,000 to $3,000.
The Artadia Awardees 2009 Atlanta at the $15,000 level are: Don Cooper and Jerry Siegel. The five recipients of the $3,000 awards are Tristan Al-Haddad, Ruth Dusseault, Fahamu Pecou, Larry Walker, and Angela West. In honor of Atlanta arts patron Judith Alexander, Don Cooper has been named the Judith Alexander Artadia Awardee.
Artadia Founder and President Christopher Vroom said of the inaugural program in Atlanta, "The vibrancy of any creative community relies upon a network of committed individuals, institutions, foundations and others, working together to ensure that cultural legacies are not only celebrated but extended. Artists, situated at the foundation of creative production, play a critical role not only in their unique ability to help us see the world in new ways but also in their capacity as educators, mentors and civic leaders. Artadia is thrilled to add Atlanta's thriving community to our growing national network of support for artists. The city's cultural institutions, schools, foundations, non-profit spaces, galleries and arts patrons have nurtured a terrific artistic community. We are proud to be a part of it and to extend the visibility of its institutions and artists across the country."
Local juror Jeffrey Grove stated: "I am always supportive of programs that provide direct grants to individual artists to enable them to do what they must do. The Artadia Awards program in Atlanta provides local artists with national recognition for their achievements, access to internationally recognized curators from other cities, and an ongoing network of new connections and opportunities."
Hamza Walker added, "For a town whose arts community prides itself on self-reliance, Atlanta is giving Chicago a run for its money. The panel process was a terrific opportunity to meet these very talented Atlanta artists. Having known Artadia well from Chicago since 2001, it is exciting to be part of adding this important city to the national network."
Applications for the Artadia Awards were open to visual artists in all media and at any stage of their career working and living in Greater Atlanta, GA. The application was available online for three months from September 1 to December 1, 2008. The three first round jurors-Naomi Beckwith (Assistant Curator, Studio Museum Harlem, New York), Lisa Cremin (Director, Metropolitan Atlanta Arts Fund), and Jeffrey Grove (Wieland Family Curator of Modern & Contemporary Art, High Museum of Art, Atlanta)-reviewed 292 applications and selected the finalists in New York February.
Artadia is grateful for the visionary support of the Atlanta program from the Common Good Funds of The Community Foundation for Greater Atlanta, the Judith Alexander Foundation, and many generous individuals.
---
Audio clip: Adobe Flash Player (version 9 or above) is required to play this audio clip. Download the latest version here. You also need to have JavaScript enabled in your browser.
THIS WEEK: Patrica and Brian round-table with Apsara DiQuinzio and Alison Gass, Assistant Curators at SFMoMA about the 2008 SECA award. Apsara and Alison let us in on the unique curatorial process of the SECA award, including leading tour buses of museum patrons through rapid-fire studio visits.
SECA, the Society for the Encouragement of Contemporary Art, is an auxiliary group of SFMoMA and has honored bay area contemporary artists since 1967. The 2008 winners are Tauba Auerbach, Desirée
Holman, Jordan Kantor, and Trevor Paglen, whose work will be on display at SFMoMA beginning February 12, 2009. Read more
---