Introduction: Laying the Floor
This July, I participated in the gloATL Summer Intensive. gloATL is an Atlanta-based dance company that creates physical installations for the public. During the Intensive, there were six of these installations that focused on the concept of utopia for a series of "utopia stations" that was part of its series Liquid Culture: a collection of gestures and sensations from an asphalt perspective that had occurred during the summer for the past few years; this summer was the last of these installations. Lauri Stallings, the choreographer and founder of gloATL, considers these performances installations – physical and public installations; the series is described as "physical installations [that] are unveiled as public utopia stations for arriving, leaving, and staying for awhile." [1]
During the first weeks of the Intensive, Stallings described to us her interest in utopia, referencing Thomas More's book Utopia (Of a republic's best state and of the new island Utopia (De optimo rei publicae statu deque nova insula Utopia)), published in 1516. What seemed to be impelling Stallings to the notion of utopia is that the word utopia has multiple and somewhat contradictory meanings. The statement for this summer's series of utopia stations describes that "[t]here is a double-meaning in the term "utopia," being both a good place (eutopia) and a no place (outopia)." [2] The perplexing concepts of "good" and "no" together propelled me to enter the work. During this discussion with Stallings, the company, and fellow intensive participants, I mentioned that it seemed that "no place" had to be impossible. Wherever there is being, there is movement. Even between two atoms, there is an ever-so-slight vibratory motion. Animate form, or life, is exactly that, animate. It moves. [3] If "no place" cannot possibly exist, then what of the "good place"?
All of the installations involved swings, swing sets, and the encouragement of public engagement with the swings. For Stallings, this is a gesture of ultimate freedom; the ability to partake in the childlike joy of swinging within public space. Each installation also had blue astro turf designating a stage of sorts that at most times separated the dancers from the public. However, Stallings said that even this space should not be maintained as an eternal divider. She keeps in mind that a member of the public could always step over the edge of the floor and enter the space of the stage.
In looking back on this Intensive experience and observing the installations while reading Plato's Republic for my PhD comprehensive exams, I find myself in a rather perplexing state of body-mind. Both Thomas More's Utopia and Plato's Republic describe a space where all would be good – proper governance, happiness, order, common property. Both of these spaces are fictional, however, and cannot possibly exist in the real world; a confluence of the double-meaning – a good place that is no place. In encountering a work that attempts through dance to create a utopian space in the current world we live in, the troubling passages in Republic become more clear instances of the perceived dangers of artistic freedom. [4] However, maybe the utopian installations illuminate these same passages in terms of a Platonic sarcasm; since the idea has been so pushed to the edge, it has become ridiculous.
Being There
As a participant in the making of the work and also as a viewer, my experience of the series of installations straddles multiple spheres of engagement, perception, and bodily recognition. I have to admit that those three weeks of July were among the hardest I have lived yet. The physical exertion of dancing for hours six days a week was taxing. The emotional investment was more than I had expected. The mental exercising was beyond what I had encountered before. Being in a PhD program at Emory, I don't often have the opportunity to use my body as the material of my thought and production of work, so putting myself in the mode of bodily "thought" was an exercise in mental gymnastics.
Inhabiting another's work was something I had not experienced before. Taking on someone else's idea as my own and incorporating it into my own body was more of a challenge than I could have imagined. The ability to fully take on the choreographer's concept as inspiration for one's own bodily experience is a skill that I fully respect. It amazes me to see gloATL dancers express these concepts with their whole bodies; each finger is doing something special; each facial twitch is a culmination of an entirety of being. As Stallings says, "the movement is in your fingers."
Stallings process is an incredible one to witness. Starting with an idea, it traverses into often unexpected territory, blossoming into full body expression. This part of the process, called "Process" by gloATL, usually came after a warm-up led by Stallings or other gloATL dancers. This wasn't any sort of warm-up though. Called "Tools," it was an exploration of internal bodily connections that make movement manifest externally. All movement generates from the inside and radiates towards an external form that can be witnessed. Coming out of a Gaga tradition, a dance technique and vocabulary formulated by Israel choreographer Ohad Naharin, "Tools" is a way to connect to the pleasure of movement. Even when difficult, the ability to move is a pleasure in and of itself. One of the goals is to constantly search for the unexpected places in the body that initiate movement. Stallings often said that if you feel you are comfortable with a particular movement, it's time to move towards something previously undone, unthought, un/not-moved.
After finishing the intensive and going back into my usually more stationary world of reading books and writing words on a screen, I feel that the world of movement has infiltrated my world of stationary contemplation. I realize that the movement was there all along and that it's just that I have begun to accept it more fully into the life I am living.
Swinging Release
During the last installation I participated in with gloATL, I felt something inside come up into my throat. Maybe a purely physical experience, but something tells me that it was more. At the end of the installation, we invited the audience into the middle of the blue astro turf floor by leading them using our elbows as the anchor for them to hold onto. There, after looking into each other's eyes, we decided as a group to speak: "You have only to say yes." With childlike wonderment and excitement, about the beautiful swing sets, about the blue of the astro turf, about being there moving, the group performing in the installation let go with screams, laughter, and every other kind of expression that erupted from the core. At this point, something inside my body crept up to the top of my throat, something was attempting to escape through my mouth. I stopped still. If I moved anymore, that thing would exit my body onto the astro turf. I couldn't fathom that happening. It was a purging that I couldn't handle happening at that time.
I went home that night after the installation and tried to process what had happened to me. The next morning during process, we went over that moment. The same thing kept happening. Whatever was in there wanted to be let go, but, for some reason, I couldn't let it. I sat down in the hall outside the studio. My body couldn't accept what it was saying. The connections between my body, my mind, and my internal emotional existence were confused with each other. It seemed that my mental thoughts couldn't keep up with the internal movements of my emotions and body. I couldn't keep it together. I couldn't participate in the last installation. Of this, I am deeply regretful. I wish I could have made it through, but something, I'm not sure what exactly, kept me back.
Maybe it was the thought of utopia, a freedom I couldn't comprehend. That feeling deep in my belly that rose to my throat threatened me simultaneously with the "good place" and the "no place." Something in my unconscious body-mind didn't understand what that even could mean. How could I occupy that position of "good place" and "no place" at all, let alone at the same time? Maybe this is what Plato was warning against: a radical disorder. If the body, mind, and soul cannot be easily divided and categorized, what happens to that being and the rest of the world she inhabits? Music and gymnastic together as dance brought be to that precipice of disorder that was begging to erupt. This eruption of bodily order holds within it the potential for ultimate freedom from restraint, but also ultimate devastation of a creeping chaos.
This is the experience that Stallings created – for me, for the public, maybe for the other dancers themselves. Though these installations are meant for public interaction, it is rare that you see an audience member claim the space as her own. The dance floor remains a dance floor for most of the time until glo explicitly invites the public to join them. There is a timidity to dance and art viewing even with the explosion of socially-engaged and participant-driven art. However, during one of the performances at The Goat Farm Arts Center, one of the participants decided to take control of the space. He took on one of the swings hanging from the rafters as his own. He did not want to get off the swing, even when approached by glo dancers that needed the swing to perform the choreography. Eventually, with some silent, eye coaxing he got up and off the swing. In the public sphere, it is impossible to claim a particular space as purely your own. Part of the freedom the series of installations points to is the freedom to not grasp so tightly.
During the ending section performed at The Goat Farm Arts Center and The Woodruff Arts Center, we played a game of switching and racing for swings. It was so satisfying to attain the glory of the swing, but at a certain point, while swinging with pride, watching the other dancers in the middle of the floor fidget with anticipation and wide eyes, I decided to jump off the swing, give it over to another to enjoy. That might be the space of utopian contradiction – both the "good place" and the "no place" together; the space suspended in air where you joyfully float, exiting the swing in order for another to occupy it.
For more images of the installations, check out BURNAWAY's flickr sets for gloATL's Liquid Culture installations at Historic Old Fourth Ward, Goodson Yard at The Goat Farm Arts Center, and Woodruff Arts Center.
For a great review/write-up of the 2013 Liquid Culture series, check out Cynthia Bond Perry's article "gloATL's "Liquid Culture" series finds breath, simplicity, and freedom" published on Arts ATL.
Notes:
[1] Statement for Liquid Culture: a collection of gestures and sensations from an asphalt perspective, gloATL, http://gloatl.org/upcoming/whats-next/ (accessed 8.21.2013)
[2] Statement for Liquid Culture: a collection of gestures and sensations from an asphalt perspective, gloATL, http://gloatl.org/upcoming/whats-next/ (accessed 8.21.2013)
[3] Maxine Sheets-Johnstone, The Primacy of Movement, 2nd edition (Amsterdam and Philadelphia: John Benjamins Publishing Company, 2011).
[4] See for example Plato's treatment of music and gymnastic as the best tools for educating the body and soul to be temperate, courageous, and good. However, there are stipulations attached to these training methods; no innovation is allowed. Since music is claimed to be the most mimetic art, it comes with a certain power that must be controlled. I don't think it is surprising that this art form is paired with an art of the body, gymnastic. (Plato, Republic, Book II, 376; Book III, 410; Book IV, 424; and etc.) Also consider the discussion of music and gymnastic in relation to the proper form of narrative in poetry, pure third person narration, which does not inhabit the person of a character and speak through him or her. In Book II, section 377, Plato asks whether music also includes literature, and further, whether this literature is true or false. This leads the members of the dialogue to a discussion of what stories should be allowed to be told and which ones are dangerous to the ears – too influential.
---
Introducing Essays
Atlanta-based idea collective John Q premiered its work The Campaign for Atlanta: an essay on queer migration at the Atlanta Cyclorama on Friday, May 17, 2013 and Saturday, May 18, 2013. The performance, an essay as John Q calls it, insists on exploring the phenomenon of queer migration into urban spaces, Atlanta being one of them. Using the space, movement, and pictorial qualities of the Cyclorama along with archival materials of queer filmmaker Crawford Barton, native to Resaca (about an hour north of Atlanta), later based in San Francisco, John Q essays (used here as a verb) a narrative of history, creative production, queerness, and geography.
In the broadsheet for the performance, John Q lists the definitions for essay as a noun:
"1. a short literary composition on a particular theme or subject, usually in prose and generally analytic, speculative, or interpretive. 2. anything resembling such a composition: a picture essay. 3. an effort to perform or accomplish something, attempt." [1]
Used as a verb, essay can mean: "to try; attempt" and "to put to the test; make trial of" [2] or "to put to a test" and "to make an often tentative or experimental effort to perform" [3]. Derived from Middle French noun essai, derived from the verb essayer, which comes from Late Latin exagium which means an act of weighing, the word "essay" refers to something active, performative. [4]
Similar in roots to "essay," "assay," as a noun refers to
 archaic: a trial, attempt
the examination and determination as to characteristics (as weight, measure, or quality)
analysis (as of an ore or drug) to determine the presence, absence, or quantity of one or more components;Â also: a test used in this analysis
a substance to be assayed;Â also: the tabulated result of assaying [5]
As a verb:
a. to subject (a metal, for example) to chemical analysis so as to determine the strength or quality of its components; b. to bioassay

to examine by trial or experiment; put to a test
to evaluate; assess
to attempt; try [6]
The two words, though originating in similar if not same roots (assay originates in Anglo-French), now aren't used interchangeably (in a simple online search, I came across forums discussing if the two are interchangeable – this is a big deal). At some point, the Latin word which expressed the action of weighing and measuring was split into the action of weighing in thought and weighing concrete objects. How are these two distinct from each other, though? Does the decision to weigh a concrete object necessarily come from a weighed thought experiment, or vice versa? John Q's weighing of the Cyclorama, the site of the performance, a 42 x 358 foot panoramic painting of the Civil War's Battle of Atlanta, a complex of history, politics, and space, straddles multiple methods of investigation and examination, perhaps similar to the divided essay/assay. Paired with the Cyclorama is the weighing of Crawford Barton's archive. As Wesley Chenault of John Q states:
In some ways, the provenance of the Crawford Barton collection did similar work as the Cyclorama in that it allowed us to think about his life in other ways, as patterns of movements and migrations between rural and urban spaces, not primarily as it related to San Francisco. Through letters, films, and more, Barton's personal papers document his connections to Resaca and Atlanta, archival traces that map over the military campaigns that occurred in both areas. Atlanta, as Sherman understood over a century before, is a city defined by its relevance as a transportation hub in the Southeast. For many, it has long served as a nexus, where motilities of bodies, desires, and histories converge.  Crawford's correspondence from his time in the city, for example, illustrates how one young gay white man navigated the sexual landscape of the mid-to-late 1960s. Placing Crawford in the Cyclorama, then, allowed the collective to attempt – thus the essay form – to explore not just notions of movement and migration, but also the ways in which they relate to identity, place, archives, and memory. [7]
Description
The performance can be broken down broadly into three parts:
Beginning: the standard Cyclorama narrative while the audience goes through the standard revolve around the painting

John Q takes over the narrative, delivering its essay while the audience continues to revolve in the space while the programmed lights highlight particular aspects of the painting
John Q's members, one by one, leave the theater and move into the auditorium, inviting the audience members to join them for screenings of Crawford Barton's films.
The ending space of the performance (the auditorium) is generally the starting point for a tour of the Cyclorama: a video presentation of a Civil War reenactment. In the script of the essay, John Q states: "During a regular visit to the Atlanta Cyclorama, the presentation would begin with an interpretive film in the auditorium and then move here into the space of the painting. Tonight we ask you to navigate the space of the Cyclorama backwards with us, moving metaphorically against the grain of history and exploring, perhaps for the first time in public, a sampling of the film work of our current queer subject, Crawford Barton." [8] Later, John Q states: "Instead of following Crawford's biography to its end, we bring you back to his migrations." [9]
The films present the Castro, the famous queer district in San Francisco, and of travel. Minimal in their composition and editing, the films are observational in nature; unedited,  perhaps unscripted, they seem to hold the lives of those featured in the films. Resaca, GA, Barton's hometown also happens to be "the site of one of the first battles in the Civil War military Atalanta Campaign." [10] What seemed to draw John Q to Barton's work was the potential to examine his migration to the Castro from rural Resaca in a larger phenomenon of migration, queer migration, and differentiations of space. One of the films depicts men running through golden fields, bare-chested. While watching this moving-image, I was struck by a deep-seated fear – something that causes one to run, to run fast and far away. Especially after witnessing a scene of carnage, destruction, and death represented in the Atlanta Cyclorama, the potentially and possibly joyful images of rural play take on a more morbid atmosphere. Are these fields that of "amber waves of grain" – fields that speak to the national project of America; the fantastic golden countryside? I have to ask then, if these fields aren't filled with joy, what then are they filled with and why are these men running? Is this moving-image representative of the larger phenomenon of queer migration that prompted John Q to realize this project? What does this mass movement to urban centers mean for America's rural spaces?
The essay John Q presented during the second turn of the painting starts with General Sherman's ability to really see geography and an aside about Napoleon's extensive map collection, both juxtaposed with Borges' map the size of the place it represents, an absurd exercise of cartography. At one point, John Q points out to the audience that how the painting is viewed is highly controlled:
"In the first turn around the Cyclorama, controlled light directs your attention to the scenes under discussion. The seating apparatus itself takes you on a turn that controls what spaces draw your attention and when. The narrative is set. Your gaze over this space has been determined in advance. It is a visual, pre-cinematic form, which presents the unfolding of geography and history as seemingly inevitable.5 You are a witness to History.6" [11]
One thing to consider, however: can my experience be completely controlled by another, unseen forces, or composition? Do the spinning gears and directed lights completely focus my attention to the spot I'm supposed to? Can I close my eyes, turn my head – experience this painting differently from the way it's presented to me? This ability, to close the eyes, refuse to look at the space indicated, has much to offer the archival work that John Q does in its public projects and the ways in which they invite the audience to engage with the particular archives presented. In an interview with Julia Brock for History@Work: A Public History Commons from the National Council on Public History, they describe the way they view their work as public scholarship and what this means for its reception, particularly what their take on "public interventions" is. Joey Orr explains that "The learning that takes place in a publicly constructed project is not unidirectional and can never be predicted in advance, so I do not assume our job is to wake people up. I do hope some of our work intervenes in a more street-level, quotidian way into the spaces where people are carrying out their everyday lives." [12] Andy Ditzler further adds: "I don't think any of us see ourselves as 'educating the public,' partly because we're members of the public as much as anyone else, and as much as we're artists or scholars." [13]
Experiencing Medium(s)
One aspect of John Q's performative project is to examine the ways in which we experience painting, video, and installation: how we see; how we navigate the space that shapes and contains them. The painting, though it may appear to be a static entity that can be simply viewed and understood from any time or perspective, is shown to be extremely vulnerable to time and space, the order in which it is viewed in relation to the re-enactment video that is usually shown to the audience before moving into the space of the Cyclorama, facing the gigantic circular painting. When asked further about their take on intervening in a "normal" visual experience, Orr explained that the project is interested in
"how might we visualize the past in ways that foster different kinds of relation to place and history. How might we deal in fragments, the quotidian, memory, and weak theory instead of proliferating the kinds of power that seem structurally reinforced by forms like battle paintings and cycloramas … We understood from the outset that many people would not be familiar with the visual culture theory we were invoking, and this might mean that the connection between how landscape is visualized in cycloramas and how it is visualized through the lens of Crawford Barton's camera would somehow seem strange. These two very different modes of visuality begin to reflect one another, though, in the context of a critical contemplation of how we do the work of invoking the past." [14]
In Husserl's essay "The world of the living present and the constitution of the surrounding world external to the organism," he writes that space is a "system of places." [15] In the case of the space of the Cyclorama, there is a multitude of places that coalesce in this one site. It is the site of John Q's performance, the place of itself in this present moment, the place of the Civil War Battle of Atlanta, Illinois' cornfields where it was commissioned, Resaca – where the Atlanta Campaign began and the birthplace of Barton, the migration telos for a queer community of which John Q speaks, a pre-cinematic place that records the history of technology in its 360o turn. The Cyclorama itself and its revolving proscenium seating affords the audience explicitly multiple perspectives; an exaggeration of the way we perceive and make sense of the world: "The entire present world which appears as actual is rather a totality of perspectives for me." [16] For Husserl, there is phantom space, a transcendent space that gives space itself while still being able to change through time and with our changing orientations and perspectives, thus perceptions. The Cyclorama is constituted by this phantom space, but also by a plethora of phantom bodies: soldiers, civilians, slaves, Crawford Barton, migrating queer individuals and communities.
Underlying this space is the seemingly coincidental, the encounter that occurs during times of travel. John Q arrived at the Cyclorama and Barton through what would seem to be mere coincidental experiences that then led them down particular paths, which were manifested in the performative essay. Following the notion of "intervention" mentioned above, the surrealist found object presents itself as a model of surprise, the uncanny, and coincidence. Resaca, GA, only about an hour's drive away from Atlanta, becomes an uncanny figure – simultaneously familiar and strange. One of the films of Crawford Barton's John Q presented is of a car journey, passing by signs that advertise Georgia Peaches. The passengers of the car smile and look into the camera.
Ross McElwee's film Sherman's March follows a different path than General Sherman's March to the Sea, begun in Atlanta, which is the end point of the Atlanta Campaign and the site of the Cyclorama. [17] Initially a project that intended to follow Sherman's destructive path, McElwee ends up following women he becomes intrigued with and attached to; a journey back home to the South. Desire, violence and war, and geography become entangled in the movement through the space of the South. Ross McElwee is attempting, trying, experimenting with what love may be for him in a time of nuclear proliferation, the subtitle of the film and recurring theme that continues to creep into his thoughts and dreams. Pat, the woman introduced to him by his parents who becomes somewhat of an obsession for him, an ambitious actress who is herself searching and trying to become what she wants to be, takes McElwee to Atlanta. There, McElwee describes Atlanta post-Campaign; it was a city composed of children, women, and elders – supposedly a weakened and helpless place without its male influence.
What are cities, urban spaces? What do they mean to us? What are we to make of Atlanta? A southern metropole, remnant of war? What of the space surrounding the city? The space between Atlanta and other US cities? John Q's use of the Cyclorama signals the ways in which urban space becomes a nexus of lives, loves, losses, and travels. Not only does the performance question who is allowed the position of contemporary flâneur, [18] but also who must take up this position and where. The performance shows us that the metropole and its varying representations hold within them an entanglement of histories, memories, and modes of visuality and experience. 
Notes:
[1] John Q Broadsheet
[2] http://dictionary.reference.com/browse/essay
[3] http://www.merriam-webster.com/dictionary/essay
[4] Ibid.
[5] http://www.merriam-webster.com/dictionary/assay
[6] http://www.thefreedictionary.com/assay
[7] Personal interview with John Q, June 16, 2013
[8] John Q, The Campaign for Atlanta: an essay on queer migration, 2013.
[9] Ibid.
[10] Personal interview with John Q, May 30, 2013.
[11] John Q, The Campaign for Atlanta: an essay on queer migration, 2013. Here, they footnote [5] Jonathan Crary's Suspensions of Perception: Attention, Spectacle, and Modern Culture and Anne Friedberg's "The Mobilized and Virtual Gaze in Modernity: Flâneur, Flâneuse" and [6] Alison Griffiths' Shivers Down Your Spine: Cinema, Museums, and the Immersive View.
[12] http://publichistorycommons.org/library/brock-john-q-interview/
[13] http://publichistorycommons.org/library/brock-john-q-interview/
[14] Personal interview with John Q, June 3, 2013
[15] Edmund Husserl, "The World of the Living Present and the Constitution of the Surrounding World External to the Organism," trans. Frederick Kersten and Lenore Langsdorf, in Husserl: Shorter Works, eds. Peter McCormick and Frederick A. Elliston (Notre Dame, IN: University of Notre Dame Press, 1981), 250.
[16] Ibid., 239.
[17] Ross McElwee (dir.), Sherman's March: A Meditation on the Possibility of Romantic Love in the South During an Era of Nuclear Weapons Proliferation (1986).
[18] Susan Buck-Morss, "The Flâneur, the Sandwichman, and the Whore: The Politics of Loitering," New German Critique, vol. 31, no. 2 (April 1989): 217-236.
---
Introduction
Full Radius Dance, a physically-integrated dance company based in Atlanta, premiered its work Touch in January 2013. The piece was inspired by executive director and choreographer Douglas Scott's decision to retire from professional performance, causing him to feel depression, which he realized was the result of no longer having physical contact everyday in the studio. He began to ask himself why touch, the physical act of making contact, was so important to him. What does it mean to touch and be touched? What does it do physiologically to the body? What does touch mean in gaining understanding of one's own body and the bodies of others?
Touch, in its multiple parts involved dancers of varying bodies and abilities. As a physically-integrated dance company, Full Radius' dancers are both abled and disabled, some use wheelchairs in their everyday lives. Scott first became engaged in this practice through a workshop offered at the Atlanta Civic Center where he realized that all bodies do not move the same way that his does and that there was opportunity to explore the "limits of physicality" with various bodies. [1] He now teaches classes and workshops at the Shepherd Center, a hospital and rehabilitation center located in Atlanta that specializes in medical treatment, research, and rehabilitation for people with spinal cord and brain injuries.
Watching Touch
The theater is dark and quiet. A rustling begins to grow louder. Shapes of bodies start to come into focus in the dark as they move across the stage. It sounds as if someone is sliding across the floor. Music begins. Light, pouring in from stage right, begins to grow brighter, illuminating the mass of bodies arranged organismically stage left.
When the lights are finally up, I see three of the dancers seated on the ground, two of which were in wheelchairs in the previous piece. This piece, titled There Is No Such Thing As Mistakes and choreographed by Lori Teague, explores "the situations we find ourselves in and the situations we put ourselves in." The dancers in this piece arrange themselves almost as if they are part of one body, one organism, with interrelated parts; the mass of bodies on the stage writhes and moves together. As the dance progresses, the breath of each dancer becomes more audible, another rhythmic element to the accompanying music. Teague explained that her interest in this piece was reaction time; how does the body respond in the moment of contact or confrontation? While watching the piece, a growing sense of physicality presents itself. While watching the bodies roll across the stage, one of the dancers gets up and staggers toward another dancer, using the other's body for stability, resting her weight on his shoulders, my body began to move itself. I noticed my feet were responding to these movements; during tense moments, my leg would extend outwards toward the stage; during moments of relative calm, I was able to relax my feet to the ground. This aesthetic experience not only registered in my eyes, but my muscles registered the movements of the dancers.
In this aesthetic experience, my body phenomenologically responds. This response, though potentially activated through mirror neurons, may lead to particular perceptions of the body that carry with them particular associative meanings. If my body can "feel" the weight of the other's body on me for support, or if my body can "feel" the need to rest upon another, does this experience open possibilities of bodily awareness?
Does this awareness carry forward after I leave the theater? Edward Warburton, a dance theorist writes about what happens when we observe another's movement. He describes it as "observing others' actions involves both a covert simulation of the very same action—a process crucial in imitative motor learning—and a modulation of resonant action systems that seem to be important in superior perceptual abilities" [2]. Interestingly, during the section the "Science of Touch," Scott is on stage with the dancers and describes some of the physiological mechanisms of touch, including that of mirror neurons. In some way, the attention to mirror neurons allows for an empathic response to even the viewing of someone being touched.
In watching dance, the viewer's visual experience coalesces with a visceral experience, but is opticality necessarily primary in the "viewing" of dance? If the dancer's body does not reach out and make contact with my skin, is it possible for me to still feel her body? In the dance, can I begin to "know" the dancer's body as it moves across the stage, at times making contact with other bodies? Erin Manning, a cultural theorist and political philosopher who writes on tango as a cultural practice, writes that "movement can be felt before it actualizes." [3] In order to view a dance as dance, a piece that uses bodily movement as material, the viewer has to come to the performance with an understanding of her own sense of bodily movement. For the philosopher Maxine Sheets-Johnstone, movement is the primary vehicle for sense-making and knowledge-making of our world. In her book The Primacy of Movement, Maxine Sheets-Johnstone writes:
"In making kinetic sense of ourselves, we progressively attain complex conceptual understandings having to do with containment, with consequential relationships, with weight, with effort, and with myriad other bodily-anchored happenings and phenomena that in turn anchor our sense of the world and its happenings and phenomena." [4]
Other bodies are included in this world's happenings and phenomena.
During the final piece of the performance, the featured piece titled Touch, there were moments when dancers in chairs would balance their weight on an edge of one wheel over dancers lying underneath the chair. Hands reached out to grasp each other, distributing the weight through the arm muscles, from one shoulder to the next. Watching the performance, I was sitting in anticipation of a sudden shift in gravity, a moment of almost catastrophe. Reflecting on the piece now, I ask myself, how am I supposed to see these bodies that were moving before me?
In the case of Full Radius Dance, which presents the viewer with bodies that she does not typically see in a dance performance, what does the viewer and the viewer's body learn? I leave the theater and the reverberations of rhythm remain. What do these vibrations unhinge within my body? Are they making new connections with any of the mixed-up material that was disturbed by the vibrations? Making sense of the dancers' movements and bodies requires me to make sense of my own – this is a reciprocal movement. The question remains whether the origin of this movement and knowledge exists in myself or in the dancer's body that I watch roll across the floor.
– Meredith Kooi; meredith [dot] kooi [at] gmail [dot] com
Notes:
[1] Personal conversation with Douglas Scott
[2] Edward C. Warburton, "Of Meanings and Movements: Re-Languaging Embodiment in Dance Phenomenology and Cognition," Dance Research Journal, vol. 43, no. 2 (Winter 2011), 72.
[3] Erin Manning, Relationscapes: Movement, Art, Philosophy (Cambridge, MA and London: The MIT Press, 2009), 6.
[4] Maxine Sheets-Johnstone, The Primacy of Movement, 2nd Ed (Amsterdam and Philadelphia: John Benjamins Publishing Company, 2011), 118.
Images:
DANCE informa. danceinforma.com. Photos by AMN photography. http://www.danceinforma.com/USA_magazine/2013/01/20/full-radius-dance-premieres-three-contemporary-works/
---
There was a family in our neighborhood growing up and they always had the very same standard, gray poodle. It was always called Cooper and in every one of the family's Christmas cards, Cooper was present, represented at a variety of ages. You see because when one Cooper died, the family procured another, younger, gray poodle puppy, to whom they bestowed the same name. While each generation of Cooper possessed its own distinct characteristics — one more playful, another a nippy grump, another dedicated to one family member alone — over the course of time, and in the collective family memory, all Coopers blended together into an amalgam that was difficult to parse. People also clone pets (a more expensive means to the same end, perhaps) and here too an underlying question of "I"ness comes up which I find particularly interesting — especially when linking to last weeks' interview with Mary Jane Jacob and ideas of the Buddhist non-self, or even before that, the possible identities of objects, as described by João Florêncio. To further investigate ideas of self, I asked Meredith Kooi, an old friend who recently moved to Atlanta in pursuit of  a PhD. She is also the editor for Radius, an experimental radio platform based in Chicago and has a forthcoming paper in Contemporary Visual Studies Reader (Routledge). Her writing was also published in ASPECT: The Chronicle of New Media. We do not talk about the identities of others, however. Instead we talk about what constitutes the self and how autoimmune flare ups might discourage a cohesive understanding of "I."
Caroline Picard: How do you conceive of the self? Is it singular? 
Meredith Kooi: To answer your question, "How do I conceive of the self?" I need to clarify that I am not referring to anything necessarily related to "identity." In a previous work of mine from 2008, a zine called Clearing the Clutter: Losing the Self to Greener Pastures, my introduction included a list many different ways I could name my identity.  At the same time, I tried to distance myself from all of those identifying nouns. The piece fell short, though, because it did not address  some sort of transcendental self, some sort of essential essence that each person is and has. At the time, I was highly influenced by yogic philosophies of self, accounts of a self are inclined toward the sacred. I can't and don't know how to deal with them particularly at this moment. Maybe I'm too ignorant and cynical, not enlightened. I am, however, intrigued by the view that the entire universe exists within the self; this might be related to the microbiome in some way. But at the same time, there are these binaries used to explain the workings of the world. I'm not so into these binaries exactly, even though there is the notion that these are constantly in interaction with each other and need each other to make a whole.
My particular interests in notions of the self for the past few years have stemmed from experiences of autoimmunity. An autoimmune disease is one in which the self, meaning the patient's body, doesn't recognize some part of itself. It treats that part as if though it were a nonself or not-self, as other material foreign to the body: bacteria, viruses, identified cancers, and etc. My interests in this experience lie in both the biological/physiological processes of the autoimmune disorder and the way the patient internalizes and describes this condition to herself. I ask: "When the body treats itself as if it were not itself and works to 'destroy' it, what can that mean for the patient's understanding of self? Can there be an understanding of a whole, intact self?" These disorders have been historically psychologized and described as a result of not knowing oneself, one's enemies or friends, and one's role in the social order. This has led me to question broadly what is "self" and what is "other" in order to understand what these disorders have meant, mean presently, and can mean in the future.
The philosophical tradition of self and Other is rich and long; I am still working through a number of different schools of thought on the subject. I can't just align my thoughts with any one particular approach. There are important aspects from each that I've adopted in order to gain a better understanding of self, Other, nonself concepts. Jacques Derrida's writing on autoimmunity has been particularly influential for my thoughts on the relation between self and other, and leads me to wonder about the political nature of the autoimmune as it relates to the im-possible: that which "must remain (in a nonnegative fashion) foreign to the order of my possibilities, to the order of the 'I can' … of an unforeseeable coming of the other." (Derrida, Rogues, 84). However, in this "event," what does it mean for the self to present itself to the self as the other (a mouthful I know); as the "irreducible and nonappropriable différance of the other"? (Derrida, Rogues, 84) This formulation ultimately leads to questions of ethics and responsibility, which is also important to how I conceive of the self. And this kind of throws a complication into the mix of Emmanuel Levinas's ethics perhaps: where the Other that confronts us as Other is really one's own self. Though, I am not totally sure of this position, and won't try to pretend that I am.
So, to answer your question in other words, no, I do not conceive of the self as singular, though this is not necessarily related to multiple identities or hybrid identities. I believe there is a multiplicity of selves inherent to the self, and I arrive at this through a consideration of autoimmunity and the practice of making images, photographs, that I believe have an autoimmune logic worked into them. This intersects with my interests in the artistic and philosophic tradition of mimesis as well, but maybe that is for another question!
CP:Â Can you give some examples of works that possess an autoimmune logic?
MK: One way I've been thinking about autoimmune logic is through what I call an "autoimmune aesthetic," which in itself functions on multiple registers. Recently, I gave a conference paper titled "An Autoimmune Aesthetic," where I discussed the history of representations of disability, disability photography. The photographic work I am making currently comes out of that history. My photographic series titled Blurs/Blears (2010-11) is trying to "represent" autoimmunity without simply showing the audience an autoimmune body. Instead I'm aiming towards an affective register of autoimmunity through other spaces and objects, and I'm wondering whether a non-figurative image can in some way speak to the autoimmune condition. This would be one way of thinking about an autoimmune aesthetic: does the image itself have an autoimmune disorder? How does the content of the image express autoimmunity?
During an autoimmune flare, I argue the self and the body experience estrangement: the self from the self, the body from the body, the mind from the body, and etc. Strangely enough this has led me to Russian Formalism and Viktor Shklovsky's concept of ostraneniye, or "defamiliarization." I hadn't anticipated engaging in a formalist conversation at all, but in turning to abstraction in order to represent the disabled body, it seems like some of those ideas would be important. The form and structure of the work talking to each other in some way.
This is also extremely important to my ideas about mimesis – the philosophical concept of imitation, representation, resemblance… I see the relation between the original and copy in a similar way to the self and nonself. In the making of this series of photographs, I paid attention to the relation between the series in terms of what could/would be called the "original" image and the methods by which I "imitated," "copied," or "represented" it subsequently (excuse the scare quotes – I guess I'm pointing to some sort of distrust I have with these words). However, I'm not sure I can even call the first photograph the original because the body, my own body, my previous photographs of my own body, may be the original (but then this is also a complicated statement to make since that previous work came out of my research on the British socialist-feminist photographer Jo Spence's phototherapy work). This is another register of the autoimmune aesthetic: a particular attention to the mimetic activity of image-making that recognizes doubles within itself. I'm questioning whether the self experienced before an autoimmune flare or during remission is some sort of original self, both in terms of biology but also psychical understanding of one's bodily and mental states. (Further complicating this notion, however, is the microbiome: the microorganisms that inhabit the human body. I like to think of the microbiome in terms of estrangement and the shower bottles that inhabit my space: Untitled #1, Blemish #1, #1). The process of making these images is important to my notions of autoimmunity, mimesis, and the connections I see between them. What tools from art, literature, and philosophy can we use to think about autoimmunity, the autoimmune body, and the autoimmune experience? Do we necessarily need to see bodies to understand an autoimmune affect? Is it all a question of biology?
However, with that said, the autoimmune aesthetic does not necessarily apply only to illness, the body, or even visual art. Political notions of immunity and general theories of subjectivity are also important to the autoimmune aesthetic and the understanding of this condition. Autoimmunity isn't limited to the particular pathological occurrence in the body, and so thus, I don't see its representation being limited to a picture of a body, my body.
To give an example of another work that has an autoimmune logic: the play Helen by Euripides. The interesting thing in this play for me is the double Helen; she was the one who actually went to Troy while the original Helen was cast off and didn't go. I see the notion of the double in some way being related to the autoimmune and an autoimmune aesthetic as well. A double self perhaps. Or, Gertrude Stein's "Melanctha" in her book Three Lives. Literary texts have so far been my go-to in my formulations of an autoimmune aesthetic and the autoimmune writ large, and I attempt to take these ideas to image-making.
CP:Â  That makes me think about time, too: like somehow the idea of self is not only fluid in the present, but must also fluctuate over time (what your autoimmune "flare up" seems to suggest). Do you then have to address the idea of continuity somehow? And consciousness? On the one hand you're suggesting that an "I" exists, but that its bounds might fluctuate. Something endures, ("I") but that that thing is very much tied up to an enduring consciousness/sense of self. How does that work, for instance, with Battle Star Galactica (to use a concrete example) where the robot recognizes itself as human, having no recollection of itself as a robot?
MK:  Interesting that you mention Battlestar! (I forget if we've talked about it before…) I just worked on a paper titled "The Cylon's Body: Image, Imitation, Clone, Auto-antibody" that was about the figure of the Cylon, particularly Sharon "Boomer"/ "Athena" Valeri (in the Re-imagined Series: 2004-9), as a manifestation of a potential intersection between mimesis and autoimmunity. Obviously the show doesn't explicitly bring up autoimmunity, but I see the fear of the hidden and dangerous internal body within the overall body of the Colonial Fleet as an auto-antibody – a sort of "rogue" antibody the immune system creates that targets the body's own tissues.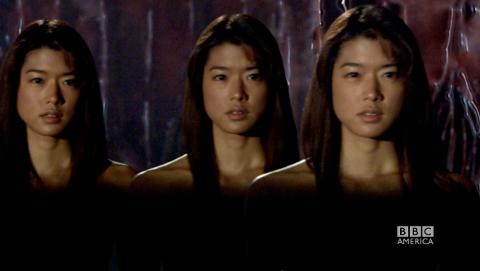 The case of Boomer and Athena is interesting because through an act of violence — the shooting of Colonel Adama — Boomer discovers the nonself. This nonself doesn't necessarily need to change the already perceived self, but in the show, Boomer is cast as a terrorist and is predetermined as non-human, fully Cylon. Athena, on the other hand, knows she is Cylon, but decides to act "human," thus conferring upon her the status of human; she is ultimately accepted as such when given the pilot call name Athena. The characters come into themselves through the relation to others; to quote Bakhtin (he's on my mind a lot right now): "The hero's attitude toward himself is inseparably bound up with his attitude toward another, and with the attitude of another toward him. His consciousness of self is constantly perceived against the background of another's consciousness of him – 'I for myself' against the background of 'I for another'" (Bakhtin, Problems of Dostoevsky's Poetics, 207). What becomes interesting for me here is the relation between "another" and "nonself." In the case of the two Sharons, the "I for myself," the question of human or Cylon, is bound not only to their own attitudes about their status of human or machine, but the attitudes of the rest of the Fleet. This is not to say, however, that their status/selfhood is determined by the rest of the Fleet.
This idea for me is also tied to Karen Barad's, a feminist physicist-philosopher, notion of intra-action: that entities are co-constituted through their intra-action with each other, as opposed to an interaction which presupposes their already being discrete objects. This has resonance in the development and functioning of the immune system. Immunology has gone through major developments since it's inception, and one idea that has been of focus is the recognition of self and the formation of antibodies: is it through the confrontation with the nonself that the self learns what it is, or is the self an already existing entity? How does this question translate to broader questions of selfhood? The relation is important, in terms of both biology and the broader conversation, but I don't necessarily want to go so far as to say that the self doesn't exist without the nonself, though I am floating this idea. I'm not so sure if the self is a vacuum or has an essence, and, to be honest, the idea terrifies me. Part of me wants to claim that the self is only constituted in discourse, or in power relations, or doesn't really exist. Part of me would like to believe that there is a continuous self that has an essence. I think that both of these options, however, may be too simple (they may try to answer something essentially unanswerable).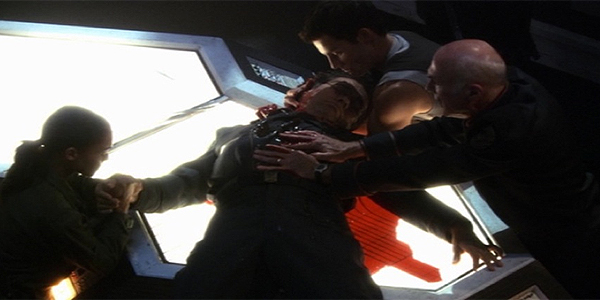 The temporality of this identification/consciousness/awareness is also important. The event of the shooting of Adama, or the event of an autoimmune flare, is a particular assemblage in time and space that demands action, a response, an explanation, a conceptualization. My thoughts currently are that the noneself presents us with a radical other to ourselves that is really the product of our own selves and bodies. When our own biology can't recognize itself, what can that mean for our self-definition? I'm not so sure I would use the word "fluid" to describe the sense of "self" or self-definition I'm trying to get at; however, I do like the sense of movement that it suggests. The self and the relation of the self and the nonself is subject to time, but fluidity implies an easier transition between states; my focus as of late is violence and pain, which I wouldn't claim is necessarily fluid … though maybe…
CP: I am struck by the appearance of a "hero" in our conversation. I can't help feeling like there is something old fashioned about a hero — perhaps because the hero-as-archetype feels so fixed, a static (and singular, enduring) identity…even the way you talk about the body, you imply an active interior life that you're trying to reconcile with a singular, external appearance/action. But you also mention the idea of an assemblage, and it seems to me the singular self could just as easily be framed that way: as a conglomerate. Isn't a "hero" at odds with an assemblage?
MK: The idea of "hero" I mentioned earlier is in the Bakhtinian sense of hero that he draws from Dostoevsky's works. The hero isn't a static entity created by the author; the hero herself/himself has a self-consciousness that exceeds the author's intentions or power position. Think of the Underground Man in Notes from Underground in particular. Bakhtin writes in Problems of Dostoevsky's Poetics: "The hero interests Dostoevsky not as some manifestation of reality that possesses fixed and specific socially typical or individually characteristic traits, nor as a specific profile assembled out of unambiguous and objective features which, taken together, answer the question 'Who is he?' No, the hero interests Dostoevsky as a particular point of view on the world and on oneself, as the position enabling a person to interpret and evaluate his own self and his surrounding reality. What is important to Dostoevsky is not how his hero appears in the world but first and foremost how the world appears to the hero, and how the hero appears to himself" (47).
This conception of the author/hero (character) relationship really intrigues me; I see this relation as a way to get at the autoimmune. Some of the prose writing I've been doing the past couple years or so tries to approach the dialogic relationship Bakhtin describes, or at least extreme self-consciousness. I'd say that Danielle Dutton's prose novel S P R A W L does this as well. As for visual art… in some way Felix Gonzalez-Torres's Untitled (Portrait of Ross in L.A.) does this. There is obviously a dialogue occurring between the piece and the audience, but within itself, I think there is some sort of internal dialogue; perhaps a hyper-awareness of self, body, and consciousness. The relations between the body's self and nonself is important to the piece too, especially in terms of the immune system's functioning during the condition of AIDS (let me mention that in immune system discourse, AIDS is a very prevalent concern; one complicated aspect of my research is acknowledging this literature and condition, but not conflating the autoimmune with immune deficiency – there are, of course, important political stakes and implications to address in this).
CP: I suddenly feel like we are talking about mortality: the absurdity of an end in being, how death-as-an-end is impossible to conceive. An autoimmunity flare up would be a parallel disruption perhaps, a kind of minideath, wherein the self cannot recognize itself. In that case, isn't the discussion located in continuity?
MK: I agree with you that maybe conceptualizing the autoimmune flare as a "minideath" could open up some space (interesting, too, how the "minideath," la petite mort, is used to describe orgasm – the jouissance and the experience of losing oneself – which Roland Barthes talks about in terms of reading literature…). However, I also hesitate with the term "minideath" if it is too dependent on notions of disruption. This would have a lot to do with the way death as an experience is conceptualized temporally: I don't exactly want to place it within a continuity per se, but I also don't want to categorize it as an ultimately disruptive event that separates time into discrete units (this would bring up issues of ghosts and specters, and I just don't have the competence to deal with that at the moment). Though to me, continuity suggests that there is some essence that endures even through what would be called disruptions. I wouldn't say this is exactly the case with how I'm trying to think about the configurations of self and nonself. If we think about that in terms of continuity, it seems that there would be a privileging of the self that is interrupted by the nonself, or vice versa, and I would rather not give one priority over the other. For me, the two are co-constituted and emerge through their intra-action. It is tricky to give this sort of movement continuity or linearity, though I realize that denying all continuity has its own important implications as well…
I feel that I haven't been able to sufficiently describe what I mean by the relation of self and nonself. I myself am frustrated at this moment about the condition of autoimmunity. I have a desire to say it relates to Derrida's notion of différance, but that term itself is, I think, so hard to deal with and I feel that there is a great potential to get stuck in some sort of tautology if I go there at this moment. How can we think about the autoimmune as a condition that is resistant to a synthesis of oppositions, and is in itself only difference? That is where all senses of continuity get lost on me and I fall into the nihilistic trap… which I don't want to do. I'm neither trying to say that the self doesn't exist, nor do I want to pronounce that it exists exactly…
---
For three consecutive days (March 26-28, 2009), three internationally prominent jurors—Jeffrey Grove (Wieland Family Curator of Modern & Contemporary Art, High Museum of Art, Atlanta), Clara Kim (Gallery Director and Curator, REDCAT, Los Angeles) and Hamza Walker (Associate Curator and Director of Education, The Renaissance Society, Chicago)—conducted studio visits with 15 short-listed artists drawn from nearly 300 applicants throughout Greater Atlanta (23-county area) for the inaugural Artadia Awards in Atlanta. The awards range from $15,000 to $3,000.
The Artadia Awardees 2009 Atlanta at the $15,000 level are: Don Cooper and Jerry Siegel. The five recipients of the $3,000 awards are Tristan Al-Haddad, Ruth Dusseault, Fahamu Pecou, Larry Walker, and Angela West. In honor of Atlanta arts patron Judith Alexander, Don Cooper has been named the Judith Alexander Artadia Awardee.
Artadia Founder and President Christopher Vroom said of the inaugural program in Atlanta, "The vibrancy of any creative community relies upon a network of committed individuals, institutions, foundations and others, working together to ensure that cultural legacies are not only celebrated but extended. Artists, situated at the foundation of creative production, play a critical role not only in their unique ability to help us see the world in new ways but also in their capacity as educators, mentors and civic leaders. Artadia is thrilled to add Atlanta's thriving community to our growing national network of support for artists. The city's cultural institutions, schools, foundations, non-profit spaces, galleries and arts patrons have nurtured a terrific artistic community. We are proud to be a part of it and to extend the visibility of its institutions and artists across the country."
Local juror Jeffrey Grove stated: "I am always supportive of programs that provide direct grants to individual artists to enable them to do what they must do. The Artadia Awards program in Atlanta provides local artists with national recognition for their achievements, access to internationally recognized curators from other cities, and an ongoing network of new connections and opportunities."
Hamza Walker added, "For a town whose arts community prides itself on self-reliance, Atlanta is giving Chicago a run for its money. The panel process was a terrific opportunity to meet these very talented Atlanta artists. Having known Artadia well from Chicago since 2001, it is exciting to be part of adding this important city to the national network."
Applications for the Artadia Awards were open to visual artists in all media and at any stage of their career working and living in Greater Atlanta, GA. The application was available online for three months from September 1 to December 1, 2008. The three first round jurors—Naomi Beckwith (Assistant Curator, Studio Museum Harlem, New York), Lisa Cremin (Director, Metropolitan Atlanta Arts Fund), and Jeffrey Grove (Wieland Family Curator of Modern & Contemporary Art, High Museum of Art, Atlanta)—reviewed 292 applications and selected the finalists in New York February.
Artadia is grateful for the visionary support of the Atlanta program from the Common Good Funds of The Community Foundation for Greater Atlanta, the Judith Alexander Foundation, and many generous individuals.
---