Audio clip: Adobe Flash Player (version 9 or above) is required to play this audio clip. Download the latest version here. You also need to have JavaScript enabled in your browser.

download
This week: Amanda talks to Taylor McKimens!!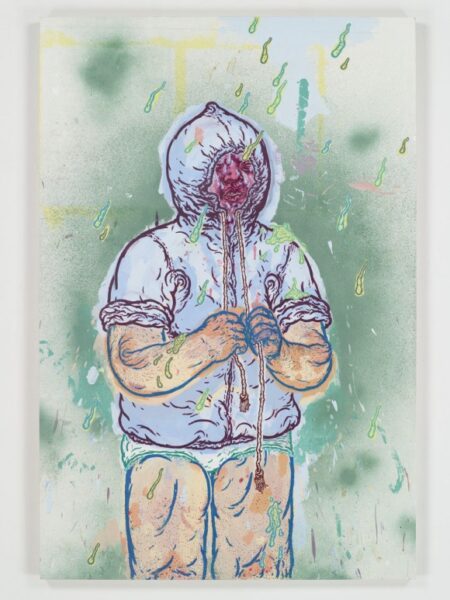 Taylor McKimens was born in 1976 in Winterhaven, California and lives and works in New York. He studied at Art Center College of Design in Pasadena, CA. McKimens has exhibited extensively and notably at Deitch Projects, NY, Macro Museum, Rome, The Hole, NY. Most recent exhibitions include: Studio d'Arte Raffaeli, When Things Get Back to Normal, Galerie Zürcher, Paris (solo 2011), New York Minute at The Garage Center, Moscow, curated by Kathy Grayson (2011), Spaghetti and Beachballs, curated by Donald Baechler, Studio d'Arte Raffaelli, Trento, Italy (2011) and Facemaker at Royal T, Los Angeles (2011).
Taylor McKimens initiates us in the suburban desert of the contemporary American wild west, portrayed as an extended backyard calling to be explored. Drainage ditches, weather-worn palm trees, dusty trucks make up the playing field where young characters embark on brave endeavors in an almost Edward Hopper-esque solitude.
McKimens is completely unperturbed by the messier side of things and in fact revels in the drips and oozes that are the traces of life. In one of the show's major works, Knee Deep, the bright, acidic-colored canvas shows a young, baseball-capped girl stymied in a ditch.
McKimens creates a certain sense of no-time as if she has always been there and will always be there, contemplating her next move. Alternating between loose areas of color with atmospheric gesture and dense areas of confident line quality where even the slightest details, a fly on a shoe, a piece of trash in a puddle, are given equal stature on the canvas.
---
Audio clip: Adobe Flash Player (version 9 or above) is required to play this audio clip. Download the latest version here. You also need to have JavaScript enabled in your browser.

download



This week: Giant of consciousness, living legend of mischief, artist, and all around great guy Vince Dermody, co-founder of Law Office.
April 23rd, 7:00pm, Apple Store on Michigan Avenue in Chicago. Come check us out!!
---
Audio clip: Adobe Flash Player (version 9 or above) is required to play this audio clip. Download the latest version here. You also need to have JavaScript enabled in your browser.

download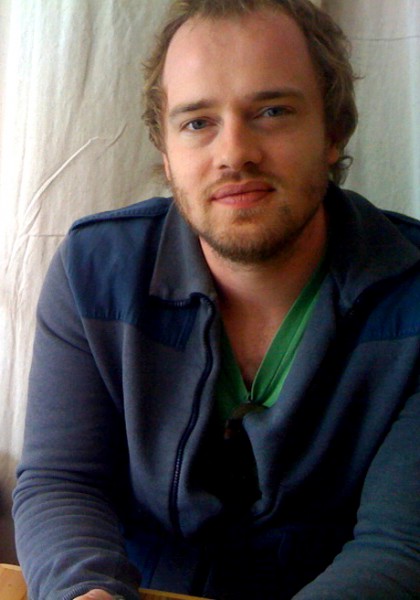 This week: From OxBow, Duncan, along with with Abigail Satinsky and Elizabeth Chodos, sit down for a chat with Hesse McGraw.
Hesse is a curator and writer and is Vice President for Exhibitions and Public Programs at the San Francisco Art Institute. At SFAI he directs the Walter and McBean Galleries, and oversees SFAI's public programs, visiting artists series and public education programs for youths and adults. From 2008 to 2013 he served as chief curator at the Bemis Center for Contemporary Arts in Omaha, Nebraska, where he developed an exhibition program focused on site-specific, immersive, cross-disciplinary, and socially engaged projects. At the Bemis Center he produced two-dozen exhibitions, including major public projects with artists Theaster Gates and Michael Jones McKean.
McGraw was formerly associate director of Max Protetch gallery in New York, and was the founding director and curator of Paragraph, which operates under the non-profit Charlotte Street Foundation in Kansas City, Missouri. He lectures widely and his writing has recently been published in Afterall, Art Papers, Outpost and in diverse exhibition catalogues. Recent awards and grants include an Andy Warhol Foundation Curatorial Research Fellowship, an ArtPlace America grant, a Robert Rauschenberg Foundation Artistic Innovation and Collaboration Grant, an NEA Our Town grant, and a Harpo Foundation grant.
---
Just over 6 months ago, after 8 years of being a practicing contemporary artist, I graduated with my MFA. Though I knew my post graduation time would be full of unexpected ups and downs, and the struggle would be trying, I still had little idea of what it be like. Here I am with my degree, job hunting, making work and participating in the arts community like I knew I would, but there were a lot of things I was unprepared for. One of those things is just how shocking, depressing, uplifting, relieving, trying, exciting, lost, hopeful, and full of opportunity it would all feel. I know I'm doing well and trying as hard as I can, but it's still hard to keep afloat.
So I think what I'm writing about is something that is not openly talked about. How when grad school is over, even though you get a lot out of the experience, somehow you're also hitting the reset button and starting the climb all over gain. It's a love/hate experience. I was even hesitant to write about it because maybe if I admitted it hasn't been that great it will reflect poorly on me. But I was also lucky to have mentors to talk to who know there are many like me, struggling to get by in a depressed economy where the rules just aren't the same as they used to be. It seems like every job is something I am not experience enough for, or too experienced for, Its like being stuck on a bridge in a traffic jam. I'm going to a place I can't get to, leaving a place I can't go back to and the bridge is packed with cars all going the same way.
Many in our modern era look at the pursuit of art practices as selfish, and worthless endeavors. If you went through college as an art major, you've already had to face it over and over. The same friends and family that encouraged you to be creative, expressive and a follower of the obscure thing called "your dreams," then cringe when you tell them you are an art major. You are told that you better make a back up plan, and you'll never make a living as an artist. Yet I can't help but wonder, perhaps if we felt more supportive of the arts there would be more support there. The student studying to be an entrepreneur is often told what a brave contributor they are while the artist students are often told what a mistake they are making. To get through it, no matter who you are, you had to face discouragement from friends, family, teachers, councilors, bosses, the government, and in general the world is just not invested in you. Yet despite continuous discouragement for this hugely impactful and important cultural force we call art, you became an artist.
Part of the reason this post-school transition becomes such a struggle is the ever-present stigma of a successful artist. What exactly is the benchmark for being successful as an artist? Others often remind me that the probability of becoming a famous artist is very low. I respond by saying I never want to be a famous artist; I want to be renowned in the art world for what I do in a way where my practice is accepted but not famous. On some level my disinterest in fame has to do with a paradox that affects an artists once they rise to a certain level of fame.
Once in my undergrad while taking an honors art class with Haim Steinbach we were critiquing work and he said we needed to keep experimenting and not get stuck in one way of making. He explained that we were lucky, because he was now what he called a "dead artist" and we were not. As he was a famous and active artist, at first this first seemed like an impossible thing to say. He explained that once your artwork is found, the public/art market begins to push you towards remaking that one piece you became famous for. That even when you want to explore different avenues, it's very difficult as a famous artist to get shows, funding or acceptance if you aren't in some way reproducing the work you have become known for. And this is the moment, he explained, when you become a "dead artist". By achieving the fame his work became constrained to it's own commodification, killing his practice and in turn his art.
So what do we do when trying to forge our own way and build our careers after school? There are answers out there if you keep talking about it, and I am thankful for those out there who will discuss this openly. Understanding it takes time. You really are beginning again, but know that you are better off than where you began before. Plant seeds everywhere. You never know what is going to sprout and where it will lead. Say yes to everything you can, as you never know where it will go. Keep yourself humble, you're not too good for any job. Keep yourself proud, no job you take is a shame to have as long as you are keeping your practice up. Keep moving forward every day. Make plans, improvements and goals. Know you are not alone and you are doing the right thing. And how do you measure your success? I've got to say when I take everything into account, knowing of course that success is a very personal reflection, I do think there is a clear way to know if you are a successful artist. That after all the pressure, aversions, and struggles you still keep making art. No matter how your practice changes, or where you are, or what job you have, or how stable you are financially, or wherever your life may lead: being a successful artist has nothing to do with that, but rather with you staying an artist. The continuation and advancement of your artwork and practice itself is the mark of a truly successful artist.
Special thanks for thier support and inspriation: Charles Rice, Mark Jeffery, Bradley Litwin and Haim Steinbach
---
Audio clip: Adobe Flash Player (version 9 or above) is required to play this audio clip. Download the latest version here. You also need to have JavaScript enabled in your browser.

download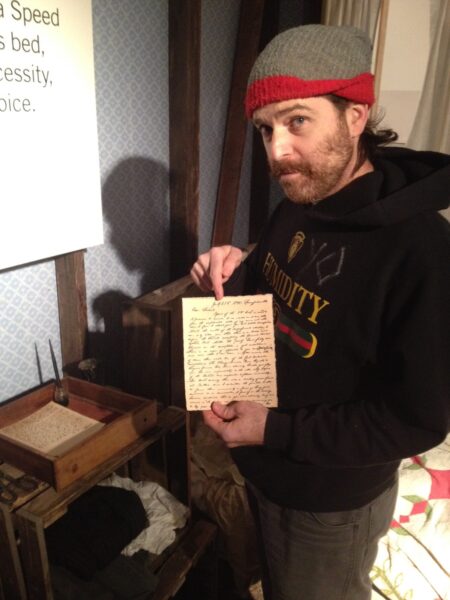 Skylar Fein was born in Greenwich Village and raised in the Bronx. He has had many careers including teaching nonviolent resistance under the umbrella of the Quakers, working for a gay film festival in Seattle, stringing for The New York Times and as pre-med student at University of New Orleans where he moved one week before Hurricane Katrina hit.
In the wreckage of New Orleans, Fein found his new calling as an artist, experimenting with color and composition of the detritus of Katrina. His work soon became known for its pop sensibility as well as its hard-nosed politics. After a few starring roles in group shows, he had his first solo show in May 2008 at Jonathan Ferrara Gallery in New Orleans.
In the fall of 2008, his Prospect.1: Biennial installation, "Remember the Upstairs Lounge," shined a spotlight on an overlooked piece of New Orleans history: a fire that swept through a French Quarter bar in 1973, killing everyone inside. The worst fire in New Orleans history has never been solved. His installation walked visitors right through the swinging bar doors, and offered visual riffs on politics and sexuality circa 1973. The piece was praised in Artforum, Art In America, The New York Times Magazine and The New Yorker, among others.
In late 2009, Fein had his first solo museum show, "Youth Manifesto," at the New Orleans Museum of Art. The exhibition was an ode to punk rock as a force for social and cultural upheaval. True to form, the opening reception was shut down by police responding to the look of the unlikely art-going crowd.
In March 2010, Jonathan Ferrara Gallery presented Fein's solo installation, "Skylar Fein: Rise of the Youth Front" at VOLTA Art Fair in New York during Armory Week. This installation drew thousands of people and delved into revolutionary politics past and present, a continuing theme in Fein's work.In May 2010,Fein was invited by the New York curatorial project No Longer Empty to recreate his "Remember the Upstairs Lounge" installation in a vacant Chelsea space.The exhibition, once again, drew thousands of visitors and sparked renewed interest in this piece of history. In September 2011, Fein exhibited over eighty new works in his solo exhibition Junk Shot at Jonathan Ferrara Gallery, New Orleans. This exhibition embodied this artist's turn towards formalism and art historical reference while maintaining Fein's iconic sensibilities and aesthetic.
Skylar Fein was the recipient of a 2009 Joan Mitchell Foundation Award and his work is in several prominent collections including The Whitney Museum of American Art, The Brooklyn Museum, The Frederick R. Weisman Art Foundation, The Louisiana State Museum, The Birmingham Museum of Art, the New Orleans Museum of Art and collectors Beth Rudin DeWoody, Lance Armstrong, and Lawrence Benenson.
---