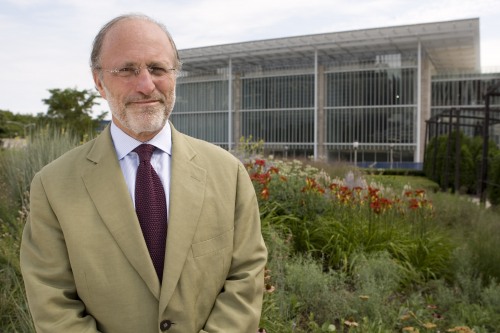 James Cuno has been named President and CEO of the J. Paul Getty Trust, it was announced today. He will leave his post as Eloise W. Martin Director of the Art Institute of Chicago at the end of June and assume his new position on August 1st.
An excerpt from the press released issued by the J. Paul Getty Trust this morning follows:
LOS ANGELES—The Board of Trustees of the J. Paul Getty Trust announced today that James Cuno, recognized both nationally and internationally as a noted museum leader and scholar and an accomplished leader in the field of the visual arts, has been named president and CEO of the J. Paul Getty Trust. Dr. Cuno, who comes to the Getty after serving as president and Eloise W. Martin Director of the Art Institute of Chicago since 2004, will assume his position August 1.
Prior to directing the Art Institute of Chicago, one of the world's leading encyclopedic art museums, where in 2009 he presided over the opening of the museum's Modern Wing, Dr. Cuno was the director and professor of the Courtauld Institute of Art, University of London, from 2003-2004; the Elizabeth and John Moors Cabot Director of the Harvard University Art Museums and professor of the history of art and architecture at Harvard from 1991 to 2003; director of the Hood Museum of Art, Dartmouth College, from 1989-1991; director of the Grunwald Center for the Graphic Arts, UCLA, from 1986-1989; and assistant professor of art, Vassar College, from 1983-1986.
Dr. Cuno, 60, received his A.M. and Ph.D. in the History of Art from Harvard in 1980 and 1985, respectively; an M.A. in the History of Art from the University of Oregon in 1978; and a B.A. in History from Willamette University in 1973.
A Fellow of the American Academy of Arts and Sciences, Dr. Cuno is a prolific author and lecturer on museums and cultural policy. His most recent book, Museums Matter: In Praise of the Encyclopedic Museum, will be published by the University of Chicago Press later this fall.
Mark S. Siegel, chair of the Getty's Board of Trustees said, "Jim's background as a scholar and arts leader, and as a proven executive at major arts institutions in the United States and Great Britain, made him an ideal candidate to lead the J. Paul Getty Trust."
"The Getty operates locally through its highly regarded Museums at the Getty Center and at the Getty Villa, and globally through the work of its four programs.  The Getty needs a leader with an understanding of all aspects of the visual arts, who is known and respected around the world for intellectual curiosity and achievement.  But the Getty also needs an experienced executive who has the managerial and strategic skills needed to lead a complex organization.  Jim's proven record gives our Board confidence that he, working with our outstanding management team, will be able to lead the Getty to ever greater accomplishments," said Siegel.
The Board of Trustees selected Dr. Cuno after an extensive international search that began in July 2010, shortly after the untimely death of James M. Wood, who also had come to the Getty after a distinguished career that included serving as the president and director of the Art Institute of Chicago.  Dr. Deborah Marrow, who has been serving as interim president and CEO, will resume her position as director of the Getty Foundation following Dr. Cuno's arrival in August.
Dr. Cuno said, "I am honored to have been invited to serve the Getty Trust as its next president and CEO.  I have the highest regard for the many contributions the Trust has made to the presentation, preservation, and study of works of art and architecture in Los Angeles and around the world.  There is no other institution like it.  Its staff, facilities, and collections are justly renowned and I look forward to working with the Board and senior staff to advance the Trust's important, groundbreaking work."
Mark S. Siegel said, "The Board thanks Dr. Deborah Marrow for her commitment and her outstanding management and leadership during this interim period.  Deborah, who has a well-deserved international reputation as a leader in the arts, also served with distinction as interim president and CEO during the search for Jim Wood.  Her knowledge of all aspects of the Getty and its programs and her devotion to the institution as a whole make her an invaluable asset."
"Jim Cuno is a longtime friend and a former Getty Foundation advisor.  I look forward to welcoming him back to Los Angeles and to the Getty," said Dr. Marrow.  "I also want to thank Dr. Joan Weinstein, who while simultaneously leading the Pacific Standard Time initiative, did a superb job as interim director of the Getty Foundation during this period."
Dr. Cuno plans to conclude his work at the Art Institute at the end of June, and following a brief vacation, move to Los Angeles where he will begin the process of integrating himself into the work of the Getty Trust and its four programs.
---
The Art Institute of Chicago's Free Thursday evenings (sponsored by Target) will end after May 26th. I read about the change earlier this week in a post by Time Out Chicago's arts writer, Lauren Weinberg. I didn't link to her post here at the time because Weinberg's criticism of the AIC for this move didn't seem entirely justified, to my mind, given that the Museum was not cutting free hours altogether, only changing their dates and times (which, for some, makes them less convenient). This morning, I was happy to read a lengthier piece posted by Weinberg that contained a fuller explanation of the Art Institute's decision after speaking with its director of public affairs Erin Hogan. Although Weinberg asserts that her larger critique of the Institute's move was fair, she adjusts some of her facts surrounding the public's overall access to free admission – and that seems fair enough to me. I like that Weinberg is taking such a strong stance on this issue. I also think Erin Hogan rocks for being forthright and available to address any and all arguments against the AIC's decision. Read all the details in Weinberg's interview with Hogan and decide for yourself. And, you know, this should go without saying but, if you can afford to become a member of the Art Institute, the MCA, and other local Chicago museums – you should dole out the cash and do so. These cultural resources need it just as much as WBEZ does.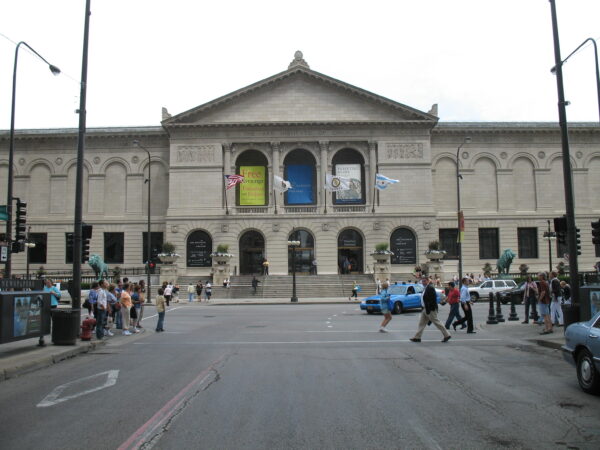 ---
There's been a second round of layoffs at the Art Institute of about 65 employees, the Chicago Tribune reported yesterday. The first round of layoffs occurred approximately one year ago, when 22 employees lost their jobs. According to the Tribune, of the 65 layoffs, 50 are security managers.
That the majority of cuts are in the area of security shouldn't come as a surprise, given that in March the Art Institute cut some of its gallery hours, closing some galleries for one to two hours a day in an effort to cut costs. At the time these "rotating closures" were described as an experiment that could potentially save the Museum $150,000 annually if continued. The cuts in security last week are probably a signal that fewer open hours in some galleries, on a rotating basis, are here to stay.
The other 15 positions cut include staff from the museum education department, retail operations, and the facility/physical plant department.
The Trib says the latest round of layoffs are due to the Art Institute's "massive budget deficit" resulting from endowment losses of the type that have also been experienced by major U.S. museums such as the Getty in Los Angeles and the Met in New York.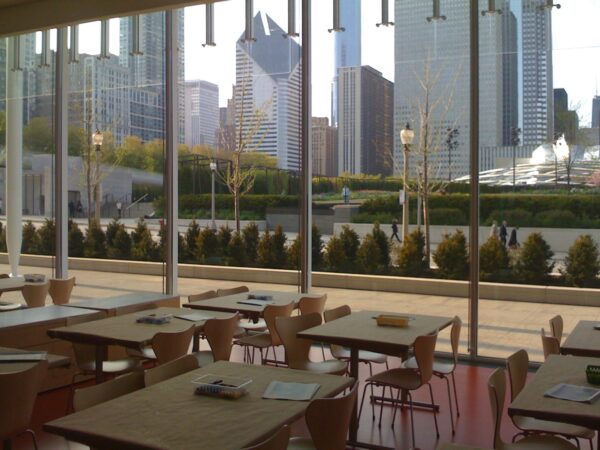 ---
Not acquainted with the work of Robert Overby? Here's a chance to start. If you live in Chicago you can currently see two stunning examples of this still under-appreciated artist's work (which isn't surprising, since not only did Overby die in 1993, he stopped showing his artwork in commercial contexts early on in his art career). Concrete Screen Door, 1970, now part of the Art Institute of Chicago's permanent collection, is now on view in the Modern Wing, and Two Window Wall Map, 1972 has just been installed as part of a group show of gallery artists in the back half of Rhona Hoffman Gallery in the West Loop.
Born in 1935 in Harvey, Illinois, Overby attended the School of the Art Institute in Chicago in the mid-1950s and later moved to Los Angeles, where he worked as a graphic designer and taught advertising and graphic design. Whereas artists like Gordon Matta Clark took a surgical approach to architectural materiality, slicing into buildings in order to unearth new and previously impossible perspectives, Overby focused on the outer layer: making latex casts of building facades and canvas "maps" of building interiors that functioned simultaneously as images and recordings. In a 2000 Freize review of Overby's retrospective at the UCLA Hammer Museum, Charles La Belle described the artist as "specializing in a brand of corrupted (he called it 'Baroque') Minimalism." Writes La Belle:
"He instilled a highly personal, poetic, and social content into what were basically reductive, process-oriented works; marrying pure materials such as rubber, lead, canvas, concrete, resin, and wood to banal objects and abject spaces. All manner of crappy, dirty, broken things formed the subject of his work: socks and handkerchiefs, shattered windows and splintered doors, bondage masks, beaver shots, coat-hangers, cans, belly-buttons, and man-hole covers all cropped up during the high point of his production in the 1970s. With his been-down-so-long-it-looks-like-up-to-me sensibility Overby wasn't afraid to crawl in the gutter and the resultant work refused to accommodate itself to the expectations of market or spectator."
Overby's 2000 Hammer retrospective generated lots of attention and several follow-up exhibitions at galleries and smaller museums over the following couple of years, but for now, those who wish to learn more about Overby's work will have to check with their local museum to see if any of this artist's works are in its collections. Chicagoans have an opportunity to see two very good examples on public view right now; hopefully one day the Art Institute or the MCA may acquire one of Overby's more spectacular (if such a word can be applied to this low-key grunge minimalist) latex pieces as well.
---