First things first kiddos, have y'all gotten in your Ox-Bow and ACRE applications? It was sixty degrees today! The summer is pending. Get in on that dreamy Michigan/Wisconsin landscape. (My apologies to the jury committee.)
Also, The Art Institute of Chicago is looking for a new Associate Photography Curator.
THE ART INSTITUTE IS OF CHICAGO IS LOOKING FOR A NEW ASSOCIATE PHOTOGRAPHY CURATOR.
That being said, they will probably hire within… but regardless, join the masses and apply!
Details for all below. As always, good luck!
___
Ox-Bow residency for MFA/Arts Faculty application time is coming to a close as April 5th keeps creeping up. Info Here
(psssst, if you're a normal human who isn't all up in that institutional drama, consider their Fall Artist Residency, which I will talk about a little later)
___
Acre Residency, featured here, there, and everywhere, is accepting applications until April 15th.
___
Associate Curator, Photography /// Art Institute of Chicago
Duties:
At the direction of the Department Chair, is responsible for conceiving permanent collection and loan exhibitions; researching and proposing acquisitions for the collection; researching the collection and contributing to scholarly publications; working closely with donors, scholars, dealers, and artists; supervising volunteers and special project staff; and contributing to fundraising activities. Â Serves as coordinator or local curator for traveling exhibitions. Â Develops relationships with artists and galleries that can guide future exhibition projects. Â Conceives of appropriate programming and conducts gallery talks. Â Takes an active role in conceiving and preparing the biannual Photography Gala.
Qualifications:
Must have a Master of Arts in Art History, preferably with a concentration in a photographic subject. Â Must have at least 3 years of experience with exhibition projects, preferably involving photographic objects and preferably living artists. Â Strong writing skills are highly recommended. Â Foreign language abilities are encouraged.
All info, including the online application submission, here via the AIC employee portal.
---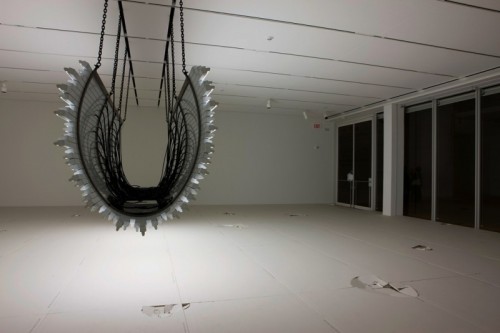 This week, we pull Duncan and Richard's 2009 interview with Monica Bonvicini from the archives, conducted during Bonvicini's exhibition Light Me Black at The Art Institute of Chicago.
"I think that perception goes through the body. I want people to come into the space not knowing how to walk, and get blinded by the work…I kept reading about Renzo Piano saying [the Modern Wing] is a temple of light. Walking around I see there are so many windows everywhere, but they're all covered up. What is all that light for?" – Monica Bonvicini interviewed by Bad at Sports.
Click here to listen to the podcast.
---
Audio clip: Adobe Flash Player (version 9 or above) is required to play this audio clip. Download the latest version here. You also need to have JavaScript enabled in your browser.

download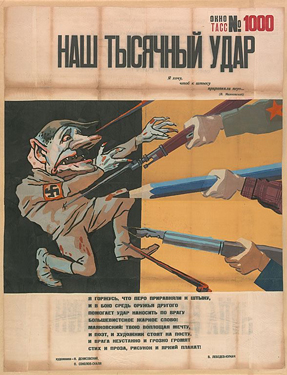 This Week: Has it really been 6 years? Really?
Wow. Duncan and Richard have a rambling bout of personal abuse as the intro and then get on to the good stuff.
Richard talks to Peter Zegers and Jill Bugajski about their work on the stellar new show at the Art Institute of Chicago Windows on the War, Soviet TASS Posters at Home and Abroad, 1941-1945, and on the accompanying catalog.
Overview: During World War II, the Soviet Union's news agency, TASS, enlisted hundreds of artists and writers to bolster support for the nation's war effort. Working from the TASS studio in Moscow, these artists and writers produced hundreds of storefront window posters, one for nearly every day of the war. Windows on the War: Soviet TASS Posters at Home and Abroad, 1941-1945 is a monumental exhibition centered on these posters, which have not been seen in the United States since the Second World War.
Impressively large, between five and ten feet tall and striking in the vibrancy and texture of the stencil medium, these posters were sent abroad, including to the Art Institute, to serve as international cultural "ambassadors" and to rally allied and neutral nations to the endeavors of the Soviet Union, a partner of the United States and Great Britain in the fight against Nazi Germany. In Windows on the War, the posters will be presented both as unique historical objects and as works of art that demonstrate how the preeminent artists of the day used unconventional technical and aesthetic means to contribute to the fight against the Nazis, marking a major chapter in the history of design and propaganda. While the exhibition's focus is primarily on the posters, viewers will also find their rich historical and cultural context revealed through photographs and documentary material illuminating the visual culture of US-USSR relations before and during the war.
Windows on the War is not only a fascinating glimpse into one of the most significant government-sponsored cultural efforts of the 20th century but also a major scholarly undertaking that brings these posters into the public eye for the first time in six decades. Catalogue: The exhibition is accompanied by a 400-page catalogue featuring essays by Peter Zegers, Douglas Druick, Jill Bugajski, Konstantin Akinsha, Adam Jolles, and Robert Bird as well as by an extensive online initiative that will bring hundreds of these unique works to the public for the first time since the war.
---
Today seems like an appropriately rainy day to discuss Pae White's Restless Rainbow (2011) at The Art Institute of Chicago, which I saw and photographed about a month ago, on a day when it was pouring rain. I've been mulling over the piece ever since. Restless Rainbow is a site specific installation created for the Art Institute's Bluhm Family Sculpture Terrace, a public space which features stunning views of Chicago's Millennium Park (visitors do not have to pay admission to access the Terrace). Unlike previous pieces exhibited here, such as Roger Hiorns' Untitled (Alliance), 2010–a pair of Boeing surveillance plane engines into which the artist claimed to have inserted drugs, or the vertical abstract forms of Rebecca Warren's small group of bronze sculptures–White's piece does not directly engage the Terrace's famed skyline views. Or rather, it engages the skyline by blocking a large portion of it out, save for a small porthole window cut into the center of one of its facades.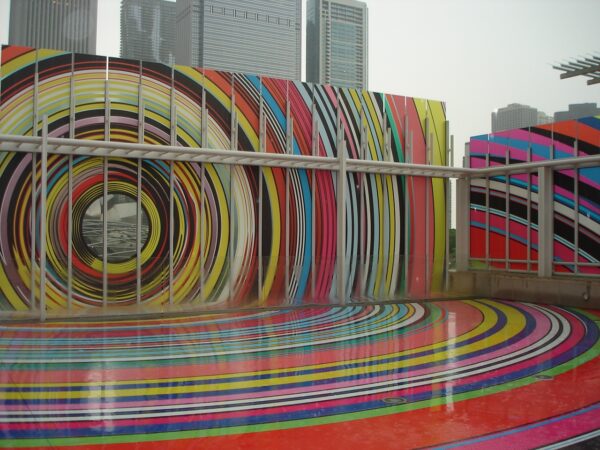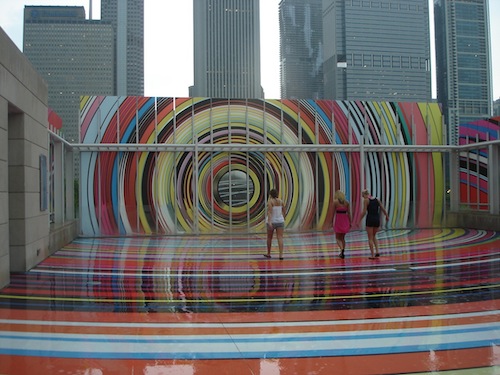 The same week that White's installation was unveiled, the Chicago Tribune ran a story–I think it would fall under the 'human interest' category–about some early reaction to the artwork with the headline "Art disrupts wedding plans at Chicago's Art Institute." The sub-heading explained, "A new installation will block views from the outdoor terrace, upsetting couples." Not surprisingly, the article came to be known as the "Bridezilla story" among some of us who read it and had a laugh over it. There's no doubt the story has colored the subsequent reception of White's piece, and has probably made a lot of people view the piece more favorably than they might have otherwise. After all, who wants to take a Bridezilla's side in this kind of debate? And yet, to be fair, the brides-to-be quoted in the article seemed well aware of the risks they were taking when they contracted the Terrace for their wedding, and seemed to relish the notion that the works of art installed there would provide them with–irony of ironies–readymade centerpieces. They just weren't expecting the "clown's nightmare"–the quoted bride-to-be's description, not mine–within which their dream-day setting was ultimately stuck.
But let's bracket off the wedding issue for a moment to look at how White's Restless Rainbow functions as a site specific art installation.  The AIC's online exhibition description notes that White's impetus for the project stems from her own musings about the open-air setting: "What would happen if a rainbow became disorganized—would it fall from the sky? What if a rainbow misbehaved, causing its color spectrum to take on new order? Would it include black, as rainbows in comic books often do?" Indeed, White's palette of eye-popping yellows, oranges and black evokes vintage Batman comics, (pre-Dark Knight), although White's inclusion of bright pink bands within this comic-style rainbow works to fuck that recognizable color scheme up in a way that I quite liked.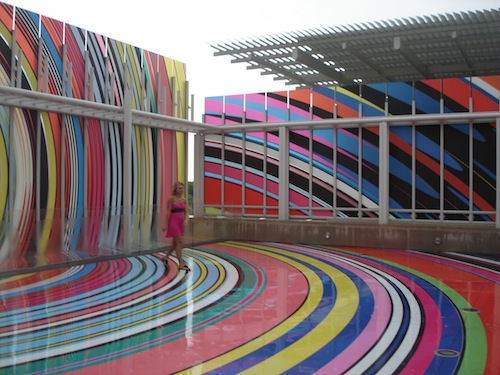 Still, the installation as a whole doesn't work for me — something about it feels off. The parts don't add up to any kind of satisfying whole, I definitely don't get "disorganized rainbow" from the way White's paintings occupy the space, and I am slowly coming around to the conclusion that that may not have been the point. In person, White's installation feels very much like a three-walled stage set slapped up on the balcony walls as opposed to an immersive environment.  It doesn't enhance your experience of this public space (which is all about picturing Chicago) — it looks and feels like what it is:  a temporary facade constructed from two mural-scaled vinyl wall paintings and a floor painting installed in the out-of-doors.
White wanted to bring out the unique spatial dynamics of the Bluhm Family Terrace, dynamics which are typically ignored in favor of the impressive views the Terrace offers. As it turns out, however, the spatial dynamic of what is essentially a large, rectangular, concrete balcony is not all that interesting in and of itself. Indeed the Terrace's whole reason for being is to function as a frame for Millennium Park, a frame which simultaneously acts as a mirror that reflects one of the most prized aspects of Chicago's cityscape — its famous skyline — back to museum-goers, who can be wowed by it, take photos of themselves leaping in front of it, and, if they're locals, take pride in it and by extension in themselves. By blocking off a huge portion of that view, White–like one of those rubbery-faced DC villains who wreak havoc on Batman's Metropolis–has effectively destroyed this neatly self-reflexive dynamic. The terrace's vertical bars only emphasize the sense that we are looking out at the city from within some kind of cartoon prison — its vastness diminishing before our very eyes within an hysterical, spinning vortex of eeeeviiiiilll.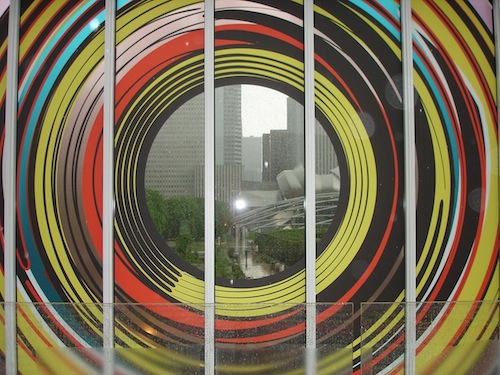 It's not like Pae White stole the skyline from Chicago, of course, but I do think those who criticize the Art Institute's decision to exhibit this piece during the summer months have a point. In Southern California, where White grew up, summer is…well, okay, it's not exactly endless, but it does last a looooong time. They have summer to spare there. That is not true in Chicago. Summer means something very different here — it's more valuable, for one thing, because there's less of it to enjoy. As a result I don't think it's possible to experience White's Rainbow as something other than a revocation of vista because vista is precisely what that Terrace is all about. White's Restless Rainbow transforms the Terrace's famous view into a reverse-spectacle of pleasure denied, a perversely controlled "point of view" dictated not by the wandering eye, or even architect Renzo Piano's knowing framework, but by the artist's own willful design. Does this make White's Restless Rainbow into something that's ultimately really brave and smart and even kind of brilliant in an evil mastermind kind of way (as in, "I'm going to take away the view that the people think they own, in order to make them see that they never really owned it"), or is it merely an example of artistic hubris (as in, "My painting will be more interesting to look at than the great Chicago skyline!").  I still can't decide, but I'm pretty sure I can hear the Joker laughing right now.
---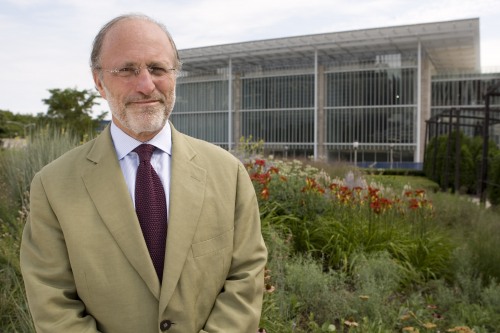 James Cuno has been named President and CEO of the J. Paul Getty Trust, it was announced today. He will leave his post as Eloise W. Martin Director of the Art Institute of Chicago at the end of June and assume his new position on August 1st.
An excerpt from the press released issued by the J. Paul Getty Trust this morning follows:
LOS ANGELES—The Board of Trustees of the J. Paul Getty Trust announced today that James Cuno, recognized both nationally and internationally as a noted museum leader and scholar and an accomplished leader in the field of the visual arts, has been named president and CEO of the J. Paul Getty Trust. Dr. Cuno, who comes to the Getty after serving as president and Eloise W. Martin Director of the Art Institute of Chicago since 2004, will assume his position August 1.
Prior to directing the Art Institute of Chicago, one of the world's leading encyclopedic art museums, where in 2009 he presided over the opening of the museum's Modern Wing, Dr. Cuno was the director and professor of the Courtauld Institute of Art, University of London, from 2003-2004; the Elizabeth and John Moors Cabot Director of the Harvard University Art Museums and professor of the history of art and architecture at Harvard from 1991 to 2003; director of the Hood Museum of Art, Dartmouth College, from 1989-1991; director of the Grunwald Center for the Graphic Arts, UCLA, from 1986-1989; and assistant professor of art, Vassar College, from 1983-1986.
Dr. Cuno, 60, received his A.M. and Ph.D. in the History of Art from Harvard in 1980 and 1985, respectively; an M.A. in the History of Art from the University of Oregon in 1978; and a B.A. in History from Willamette University in 1973.
A Fellow of the American Academy of Arts and Sciences, Dr. Cuno is a prolific author and lecturer on museums and cultural policy. His most recent book, Museums Matter: In Praise of the Encyclopedic Museum, will be published by the University of Chicago Press later this fall.
Mark S. Siegel, chair of the Getty's Board of Trustees said, "Jim's background as a scholar and arts leader, and as a proven executive at major arts institutions in the United States and Great Britain, made him an ideal candidate to lead the J. Paul Getty Trust."
"The Getty operates locally through its highly regarded Museums at the Getty Center and at the Getty Villa, and globally through the work of its four programs.  The Getty needs a leader with an understanding of all aspects of the visual arts, who is known and respected around the world for intellectual curiosity and achievement.  But the Getty also needs an experienced executive who has the managerial and strategic skills needed to lead a complex organization.  Jim's proven record gives our Board confidence that he, working with our outstanding management team, will be able to lead the Getty to ever greater accomplishments," said Siegel.
The Board of Trustees selected Dr. Cuno after an extensive international search that began in July 2010, shortly after the untimely death of James M. Wood, who also had come to the Getty after a distinguished career that included serving as the president and director of the Art Institute of Chicago.  Dr. Deborah Marrow, who has been serving as interim president and CEO, will resume her position as director of the Getty Foundation following Dr. Cuno's arrival in August.
Dr. Cuno said, "I am honored to have been invited to serve the Getty Trust as its next president and CEO.  I have the highest regard for the many contributions the Trust has made to the presentation, preservation, and study of works of art and architecture in Los Angeles and around the world.  There is no other institution like it.  Its staff, facilities, and collections are justly renowned and I look forward to working with the Board and senior staff to advance the Trust's important, groundbreaking work."
Mark S. Siegel said, "The Board thanks Dr. Deborah Marrow for her commitment and her outstanding management and leadership during this interim period.  Deborah, who has a well-deserved international reputation as a leader in the arts, also served with distinction as interim president and CEO during the search for Jim Wood.  Her knowledge of all aspects of the Getty and its programs and her devotion to the institution as a whole make her an invaluable asset."
"Jim Cuno is a longtime friend and a former Getty Foundation advisor.  I look forward to welcoming him back to Los Angeles and to the Getty," said Dr. Marrow.  "I also want to thank Dr. Joan Weinstein, who while simultaneously leading the Pacific Standard Time initiative, did a superb job as interim director of the Getty Foundation during this period."
Dr. Cuno plans to conclude his work at the Art Institute at the end of June, and following a brief vacation, move to Los Angeles where he will begin the process of integrating himself into the work of the Getty Trust and its four programs.
---