I'm always really pleased but also sort of baffled, too, when an artist invites me over for a studio visit. Once, when I had an institutional career, it was pretty obvious why an artist would want me in his or her studio, and what the stakes were: at minimum, the promise to 'keep them in mind' for some vague something in the future, and the best outcome, definitive inclusion in an upcoming exhibition I was planning. Now, not so much. I don't have anything to offer an artist other than my words, so I'm all the more touched when they make the effort to invite me over.
This morning I was musing about the different forms of engagement that a studio visit versus an art review or some other type of written assessment represent. For me, not for the artist. I can't speak for the artist. Which is why I think that studio visits are such charged experiences for me. I have to warm up for them – not by reading up on the artist's work or anything (although I guess that would be nice, huh?)—but by getting into a certain kind of flexible brain state of mind. I have to start stripping away at some self-protecting and thus extremely comfy walls around myself, and that takes work.
Studio visits require me to be even more open and in-the-moment and attuned to the kinds of all-body awareness that every instance of looking at art requires, but since I'm also being watched by someone else and engaging in a conversation with them, I need to be equally open to the experience of radical vulnerability. When I write, I'm alone, and I can compose and then revise my opinions until I think they're ready, or ready enough, for public viewing. When I'm in the studio, face to face with an artist, I don't have the luxury of crafting my words. Since I almost always have no idea what I'm going to see when I get there, a studio visit means I'm going to have to think on my feet. But since I don't really believe that an artwork has an essential "meaning", only meanings (and, old-fashioned though it now may be, I retain much suspicion about the whole authorial intent thing too), I also have to be willing to say lots of things that, were I writing about this work instead of talking about it, I would have eventually come to erase or re-word or recalibrate.
The most intimidating thing about studio visits for me is that sometimes, the artist seems to be expecting me to respond to something on the spot. It takes me days to write an art review, days of slapping little black symbols onto white space (because that's how most of us write now—I don't inscribe my thoughts with pens and paper, it feels more like conjuring: I think, my brain makes my fingers jiggle and jerk, tiny words appear on the big, blindingly white screen before me, I look at those words and sit back and try to figure out if they work. If they do the work they are supposed to do. And if one or more of those words doesn't, if it's being stubborn or recalcitrant, I need to sit back somehow and figure out why not, why isn't that word saying what it's supposed to, god dammit, is it because it's really supposed to be this, not that, or maybe it's more like that, not this?
From that place, for me, meaning arrives. If I'm lucky. Sometimes, pretty rarely now but still sometimes, I am not so lucky, and everything falls apart.
Things are always falling apart in the studio, though, and that's what I find so exciting and energizing about engaging with artists and their work in that space. Conversations can flow between the artist and myself as if we were old friends, even though we're not; they can also be halting or spurting or circuitous and even more meaningful because of that. Sometimes there's that panicky feeling you get when it sounds like you're engaging in a conversation, one where we think that we understand what the other person is saying, and vice-versa, but then you start to realize that perhaps this is not at all what is happening, that you're actually speaking two different languages that sound alike but are, in fact, nothing alike.
In the artist's studio, I have to be willing to grope for words and say the wrong thing and/or be misinterpreted and just generally come off as totally stupid – and hey, let's face it, not just to look stupid, but to actually reveal myself as the stupid human being that I am. This is easy to do but hard to accept. I take a certain amount of pride in the fact that I have managed to be stupid successfully, over and over, actually pretty much every time I have visited an artist's studio. I think that's something. Maybe it's everything. Right?
---
Hello again – I'm back with another quick plug for y'all. Tomorrow night, Chicago arts writer/administrator/curator Thea Liberty Nichols has organized a panel on the "form and content" of arts writing as part of Nomadic Studio, which is presented at DePaul University Museum and organized by the Stockyard Institute for the yearlong collaborative Studio Chicago project….jesus I can't keep up with it all. Anyway…here is the pertinent who, what, whys and whens of this particular panel, which I think should be really interesting and if it isn't I will be partly to blame because I will be on it, along with Patrice Connolly, Abraham Ritchie, Bert Stabler and the aforementioned Ms. Nichols, who IMHO has the one of the best names in the world.
Come see us discuss, and participate in the discussion! Also, please check out the whole slate of programs that are part of Nomadic Studio at the Stockyard Institute! And you can read more about the Nomadic Studio project on ArtSlant, right here.
6-8pm –Thursday, September 23rd
DePaul University Art Museum; 2350 N. Kenmore Ave., Chicago IL 60614 | 773-325-7506 | Directions |
Form and Content of Writing w/ Thea Liberty Nichols, Patrice Connolly, Claudine Ise, Abraham Ritchie and Bert Stabler
Panelists will engage in a casual discussion that examines the form (newsprint, published monographs, online journals or blogs) and content (criticism, interviews, exhibition re­views, press releases or scholarly essays) of their writing. Their individual practices, including the texts that inform and inspire them, will be examined alongside the colleagues and organizations with which they collaborate. In conjunction with Studio Chicago, the ways in which their studio environment, and indeed the city itself, contextualizes their practice will also be explored.
Abraham Ritchie is a writer as well as the Editor for ArtSlant: Chicago, the creator and administrator of The Chicago Art Blog on the Chica­goNow network and WordPress, and also writes for NewCity. He has previ­ously written about art for Madison Newspapers, Inc.
Thea Liberty Nichols is an arts administrator, independent curator, and writer who lives and works in Chicago. Along with managing Intuits Study Center, she also acts as Co-Director of 65GRAND
Patrice Connelly is the Curatorial Associate for BMO Financial Group's Corporate Art Collection where she crafts catalog texts describing and contextualizing the art works in their holdings. She has been contributing freelance art exhibi­tion reviews to Newcity since 2008.
Bert Stabler is a teacher, writer, curator, and artist living in Chicago. He feeds on the living.
Claudine Isé has worked in the field of contemporary art as a curator and writer. Isé was Associate Cu­rator of Exhibitions at the Wexner Center for the Arts in Columbus, Ohio. Assistant Curator at the Hammer Museum in Los Angeles and an art critic for the Los Angeles Times. She currently writes for artforum.com, art:21 blog, ARTnews, New City, and badatsports.com.
---
This week New City published an essay by its arts editor Jason Foumberg on the state of art criticism amidst the rise of blogging, online websites, and other forms of interactive media titled The State of the (Visual) Art. I didn't read this as a piece on the status of art criticism in Chicago per se, as I think some may have, but rather as about the difficulties of defining (much less practicing) this thing called 'criticism' at all in online, social-media driven contexts. Foumberg's essay is part of a larger series of articles at New City that are exploring the state of criticism in the age of Yelp!,  Amazon book reviews, and other online social feedback devices. The other pieces can be found here, here, and here (this last one is about Yolp!, a Jersey Shore parody of Yelp that's really funny). The comments that ensue are interesting, but there aren't a lot of them and there's not too much back-and-forth…yet. But today Christopher sent me a link to Michael S. Thomas' blog Stagnant Vowels, in which he's posted a response, of a sort, to the New City article, which immediately bumped Mr. Foumberg's piece up to "hot topic" status in my mind. (Thomas' response might itself almost qualify as a good old-fashioned Rant, and as I've said before, I am to rants as a moth is to a flame….Jason, in contrast, doesn't rant: he muses.).
In his post, Mr. Thomas, who was the director of the well-respected and now defunct Dogmatic Gallery in Chicago, calls us out over here at Bad at Sports for basically being slutty opinion mongers on a par with t.v. talk show pundits. He writes:
"The flux or crisis isn't with experts or authority per say, its in the distribution of opinion as though it were reasoned discourse. It's in the ongoing creation of model's for the dissemination of hyperbole without rational checks or balances. Whether it's Glenn Beck, or Jon Stewart, or Bad at Sports these models can do much to obfuscate legitimate dialogue if not entirely cripple its formation."
I have to assume he's talking about our blog in particular, as the podcast's one-on-one interview format is pretty much the antithesis of opinion journalism. But I want to know — where is all this 'legitimate dialogue' (emphasis on the word 'legitimate') that we in particular are guilty of obfuscating? Tell me where it's happening, and I'll gladly get the hell out of its way!
In all seriousness, though, I don't at all disagree with Thomas on his larger point. In fact I think most of his post hits it right on the mark, particularly in his assessment that lack of editorial oversight might be precisely what makes online art criticism so problematic (I'm paraphrasing his argument, but that's what I took away from it). Thomas finds fault with the recently launched Chicago Art Magazine for precisely these reasons, and although I shall remain neutral on the matter of his specific target, I tend to agree with many of the larger arguments he's making. Such as this one:
"But I would argue that without editorial oversight or a progressive long term vision for growth, an endeavor such as this one is hopelessly mired. After all criticism and opinion are not the same. Amateur criticism is little more than the ALL-CAPS and bold fonts version of a comment roll, and paying said amateur is in no way a transformation of this reality. So what makes a misinformed critic not, a knowledgeable and, or an opinionated amateur? Time, energy, condensed thoughts, research, an apishly large library surrounded by lovely black and white photographs of water fowl, and other bric-a-brac? No its constancy and persistence in the pursuit of understanding and conveying the qualities that define the arcane and metaphorical reality of objects and their surroundings."
---
Last week was, by many accounts, a humiliating one for Chicago, ending as it did with the announcement that the Second City had been knocked out of contention for the much-coveted 2016 Olympics–in the first round, no less. Given that Chicago had already beaten out numerous other international contenders to reach the final four in the first place I don't exactly see why it's considered such a crushing embarrassment to have come in fourth but, whatever…I have no dog in that fight. It's probably just one of the many "Chicago things" that I'll never fully understand. As an art person, however, I'm far more interested in looking at the blows to civic pride that were delivered earlier last week in the wake of the Tribune's story on the positive public reaction to J. Seward Johnson Jr.'s outdoor sculpture "God Bless America." Yeah, you know the one. This one: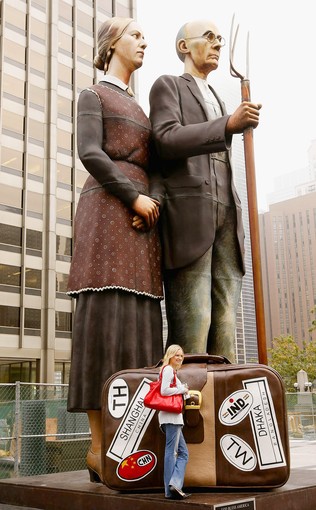 Written by Trib reporter Steve Johnson, the article was framed by this headline: "What does popularity of God Bless America sculpture say about public art in Chicago?" This, I think, was precisely the wrong boldfaced header to attach to an article about a sculpture that has been borrowed from the Sculpture Foundation and is not, in fact, meant to be a permanent part of the city's landscape of public art. Although the Trib's article does make passing reference to this fact, the headline seems to imply that "God Bless America" somehow holds similar status as the Picasso, Calder or Kapoor pieces do in the city's world-class lineup of public art.
For better or worse, Steve Johnson's story gained a degree of national attention, not as much from Chicago's art crowd as from arts writers elsewhere in the country. On September 30th the L.A. Times' chief art critic Christopher Knight linked to the Trib article on his Twitter feed with the comment: "Is J. Seward Johnson trying to be America's Worst Artist?" A few days later Paddy Johnson of Art Fag City wrote a post titled "Bad Public Art Finds Audience in Chicago" containing a point-by-point takedown of Steve Johnson's main arguments, which he set up as follows:
"Critics can wag fingers at it — and some do — but God Bless America meets some of the fundamental tests of public art. It is noticed, it is appreciated, and, in many cases, it provokes reflection on what makes an art work original."
I drove by "God Bless America" last week. Parking is monstrous downtown so I couldn't stop to get out and walk around it, which is too bad, since public art–like all art–needs to be experienced in situ in order to be fully understood and appreciated. Nevertheless, I can't offer any viable counter-arguments to Knight and Paddy Johnson's assertions that the sculpture makes for some pretty bad art. Sure, I could attempt some sort of cultural studies-style analysis of how people actually relate and respond to the sculpture in real life (a more populist form of which Steve Johnson was basically attempting in his Trib article) but my heart wouldn't be in it. Knight's snarky question was a valid one, and Art Fag City's post was in keeping with its editor's ongoing deconstructions of the more egregious myths about contemporary art and its reception–the Trib's article, sadly, providing a prime example of just the sort of superficial arguments that so often inform those myths.
As far as I know the Trib's Steve Johnson isn't an art critic or an arts journalist. He's a thoughtful and smart culture reporter who was interested in the popular reaction to a popular work of public art in his city. My beef certainly isn't with Mr. Johnson or with the quality of the article he wrote. It's with the fact that Johnson's was one of the rare "news" stories about art in Chicago that the Trib has published over the past few months. And I straight-up disagree with that particular choice of story.
I've said it before and I'll say it again, even though I'm not saying anything everyone who lives here doesn't already know: it's a damn shame that a city of the size and cultural prominence of Chicago does not have a national voice for its art scene, a newspaper art critic of the stature of Christopher Knight who could have written about Seward's sculpture from a critically informed art historical viewpoint as well as the more straightforwardly populist one put forth by the Trib (or, better yet, would have chosen not to make this into a story at all, given that there's nothing particularly timely or newsworthy about it).
This is not a city of people who know nothing about art and architecture, nor do Chicagoans evince a "fear" of the rigorous discourse that often accompanies discussion about those subjects. So why does the Trib cover art as if it its readership needs hand-holding and spoon-feeding via articles that essentially give us permission to look no further than a work of public art's most spectacular effects?
Chicago needs at least one real art journalist with a national platform to represent this city to the rest of the country, if not the world (and by "art" here I mean fine art, not theater, dance, music, etc. if that's not already obvious). Clearly, other arts writers across the country are still paying attention to the Trib's art coverage and looking specifically (and exclusively) to that paper for news and insight into Chicago's art scene and its art public. The problem is that the Trib is relying on reporters who have no in-depth art backgrounds to cover art news in this city–no dog in the fight, as it were–and frankly I find the effects of this to be somewhat humiliating.
Chicago needs a high-profile newspaper writer who is both a critic of and an advocate for the city's art; not a booster but a person who will draw attention to bad decisions and art world folly while at the same time placing new developments within a larger cultural and historical context. Chicago's art bloggers simply aren't able to bear that responsibility, not because of a lack of talent but from a serious lack of time, money and resources. My advice to the Trib: get freelancer Lori Waxman on staff and make her a reporter or something–I don't fucking care, but Chicago needs to cultivate its own Christopher Knight some way or another. Until we do, we risk letting writers from other cities steer the discourse on Chicago art. We owe it to ourselves not to let that continue.
---
Breaking news: Art Criticism lives on at the Chicago Tribune! Yes, you heard that right, and Bad at Sports' own longtime contributor Lori Waxman (who reviewed several Chicago-area shows for last week's big #200 podcast) is leading the way as the Trib's new freelance art critic. It is with great pleasure and hearts swelling with pride that we post links to her first two reviews, here and here. You can also listen to an interview with Lori, and learn more about her project "The 60 Word a Minute Art Critic," on an episode of Studio 360 here. Go Lori!
---