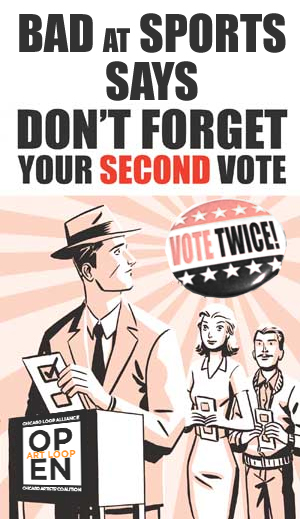 The Chicago Loop Alliance has announced their short list of 10 artists to win the $50,000 in cash prizes for the inagural Art Loop Open.
All of the Artists on the short list have done amazing work and many that were not included deserved to make the final but this isn't really about awards its about engaging the public. To that end Bad at Sports has officially come off the bench to support one canidate to win and that would be Steve Hamann's History of 'Bad at Sports' (Work on Paper).
I know reading that you might think we are biased but that could not be further from the truth; I hate Steve Hamann. He is an annoying artist that has been the bane of my existance for longer then I would like to admit so when I ask you to vote 6 or 7 or even 10 times for his work at theWit Hotel (hell get a room and just vote everytime you cross the lobby) you will know that I do so on the merits of the work and no other reason. How great must that work be for me to ask the thousands of readers of Bad at Sports to reward a man that reads dead baby jokes in nursery wards. I may not love the artist but I salute the art.
Now having established that we will all vote for Steve "The Ego from this point out" Hamann to win lets spend some time on the great artists that should get second and third. They are hard working artists the lot of them and deserve more attention then even this is giving them, starting with a old friend Bernard Williams.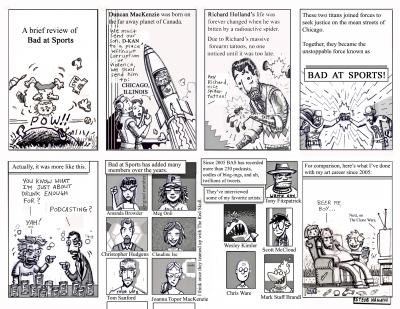 Bernard Williams: Buffalo Chart (Installation)
Block 37
Catherine Jacobi: Forgetting (Sculpture)
Block 37
Daniel Lavitt: Till We Meet Again (Sculpture)
Chicago French Market – MetraMarket
Giovanni Arce: Bush (Painting)
Block 37
John Dempsey: "The Great American Landscape" (Painting)
Macy's
Joseph Ivacic: Staying Connected (Sculpture)
Hotel Burnham
Lauren Brescia: Surprise… (Installation)
Block 37
Len Upin: Helen (Work on Paper)
theWit Hotel
Yva Neal: WAKA: Wall Altat of Kismet Abundance (Installation)
W Chicago – City Center
---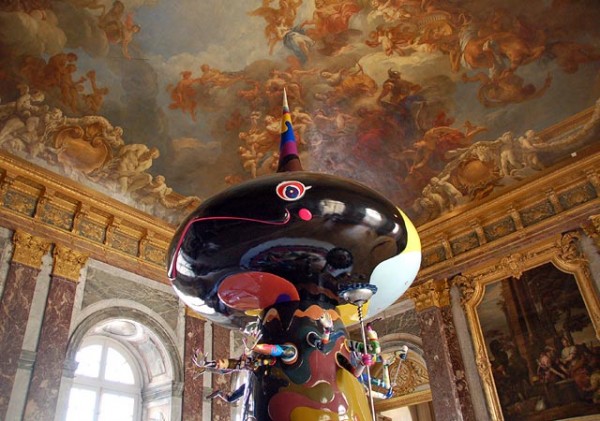 Takashi Murakami at the Château de Versailles
Takashi Murakami's new exhibit in Versailles has recently opened (closes December 12th if you are of the jet set type) and from what I have heard and seen it is a show not to be missed if for no other reason then it's striking contrast and humorous seemingly paradoxical existence. read more here
Inaugural Art Loop Open Competition Begins
From October 15-29, Art Loop Open—Chicago's new art competition (presented by the Chicago Loop Alliance)—will transform ten venues throughout Chicago's Loop into interactive public art exhibits (200 artists in total) having the public voting on the winner with 1st receiving $25,000 2nd: $15,000 & 3rd: $10,000. It looks to be a fun and smart program to engage the general public (which I still think we could do oh so much more in terms of) but sadly haven't given it much promotion due to not knowing exactly how to aproach it. I will be looking forward to seeing how it plays out and more so to year two.
From what i can gleam the jury process was pretty solid and most of the artists involved I have either seen, worked with, known or interviewed so I wish them all good luck and more so remind them to forget the prizes this is a great opportunity to rewrite the image of the Chicago artist with the general public so in short "don't be obtuse, rude, impatient or a douche" also Check out Tom Burtonwood and Pamela M Johnson's work here & here respectively. Read more here
Banksy does the Title Sequence to the Simpsons

Interesting Video on How Printing Ink is Made
Having been a child in the heyday of Mister Rogers'Â Neighborhood I grew up with a love of lilting jazz music & seeing how everyday items are made (plus hand puppets but thats private) so it's interesting to watch just how what I spend most of my money & art career touching plus half of my business career fighting with is made. watch it here
Race & Ethnicity Mapped By Block
As a footer for this week there is a visual map done by Bill Rankin using dots to show the more subtle changes across neighborhoods in Chicago using block-specific US Census data. Called a "taxonomy of transitions" it is quite interesting both visually and mentally but then again I am a data & logistics wonk so might just be me. read more here or even read about music preferences on Last.fm by gender here if you are so brave.
---
Please inform any art students you know about this free to enter competition. It involves $16,000 in cash prizes.
First Prize:$5000 for undergraduate student, $5000 for graduate student
Second Prize:$2000 for undegraduate student, $2000 for graduate student
Third Prize:$1000 for undergraduate student, $1000 for graduate student
Myartspace recently launched a student art scholarship competition for undergraduate and graduate students. The competition is free to enter and is open to art students throughout the world. In order to enter and submit a portfolio/gallery students must be a member of the myartspace community.
Membership is free.
The scholarship program is intended for students who exhibit exceptional artistic excellence in their chosen medium. Including photography and video, both contemporary and traditional in nature. Myartspace is providing 3 scholarship prizes for undergraduate students and separately 3 scholarship
prizes for graduate students. Creating a portfolio and gallery is quick and easy using the Gallery Wizard on the site.
The deadline for submission is November 21, 2008. Scholarship winners are announced on December 19th, 2008. Students interested in signing up for the myartspace scholarship competition can find out more details by clicking visiting– www.myartspace.com/scholarships
---