Ahoy everyone! It's that time again, the weekend is almost here. In the relentless march toward Art Chicago, there are another slew of TTF (through the fair) shows opening this weekend, primarily concentrated in River North. This weekend I also have work in VideoStore7.375x4x1 at The Op Shop in Hyde Park, which, by the way, has one of the creepiest basements in the entire world. But none of that is on the Top 5. Here's what is…
1. Hagia Sophia at Spoke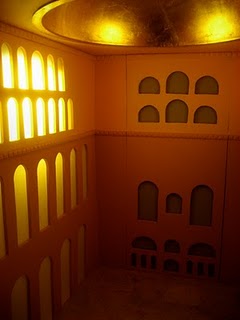 Go and hang out inside a miniature model of the Hagia Sophia. Just think of it as your "safe place." Hagia Sophia (the model at Spoke, not the Basilica in Istanbul) was created by Gwendolyn Zabicki. This is the closing reception, and your last chance!
Spoke is located at 119 N. Peoria. Closing reception is Saturday from 6-9pm.
2. The Last Unicorn Art Show at The Tattoo Factory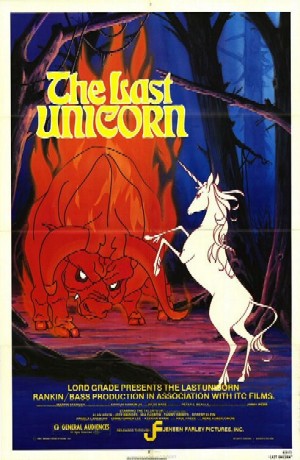 Ok, so, I haven't seen any images from the show, but how can I not pick this? An entire show that exists solely as a tribute to the Last Unicorn? So awesome. Watch out for the Red Bull, and stay away from the sea shore, if you know what I mean.
The Tattoo Factory is located at 4441 N. Broadway. Reception is Friday from 7-11pm.
3. Printervention: Printing for the Public at The Chicago Tourism Center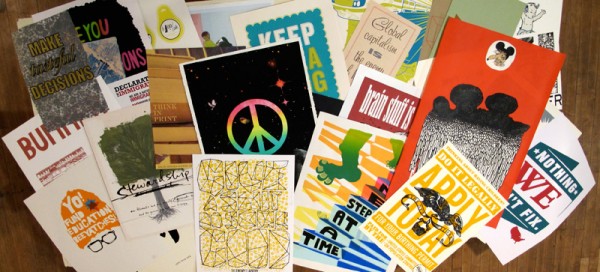 Version Fest is back my friends. This yearly art-stravagaza organized by Co-Prosperity Sphere will be popping up all over in the next couple weeks. Head on down and check out this WPA-inspired print event.
The Chicago Tourism Center is located at 72 E. Randolph St. Reception is Friday from 5-7pm.
4. Night Painting 1995-2010 at Peregrineprogram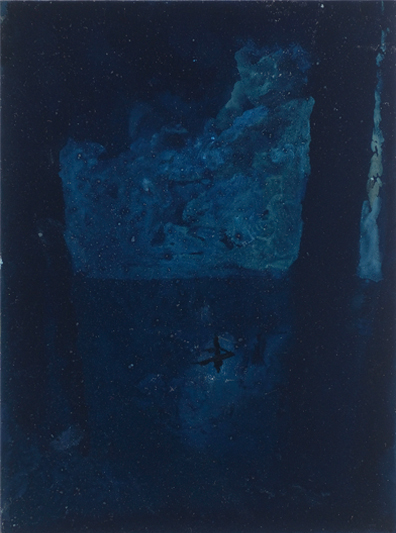 Paintings by Susanna Coffey that aren't self portraits? That's right. Stop on by Edmund's place, but be sure to write down the number (#727), it can be a little are to find, as the building is HUGE.
Peregrineprogram is located at 500 W. Cermak Rd., #727. Reception is Friday from 6-9pm.
5. In a Paperweight & Home for Hobo Too at Tony Wight Gallery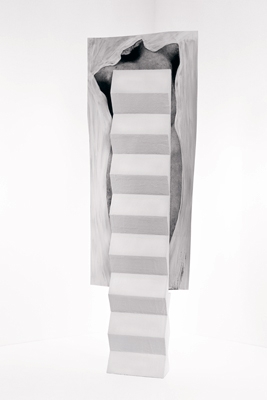 If you haven't already been to Tony's new place, here is another opportunity with a star line-up: Walead Beshty, Sebastiaan Bremer, Daniel Gordon, Tamar Halpern, Barbara Kasten, Sara VanDerBeek, and James Welling in In a Paperweight. In the South Gallery: Home for Hobo Too, work by Allison Schulnik.
Tony Wight Gallery is located at 845 W. Washington Blvd. Reception is Friday from 5-8pm.
---
Or my posts on it, anyway. A few more passing images from the second day I spent at NEXT….I apologize for not linking directly to any artists or galleries here–I'm having trouble getting the WordPress desktop to align images and text properly and I can't figure out a way to insert links into captions at the moment.
---
Goffo, the show of prints, multiples, artist's books and editions at NEXT, was terrific. Lots of affordable art, presesented in a casual, laid-back, communal atmosphere. My favorite part of the Fair.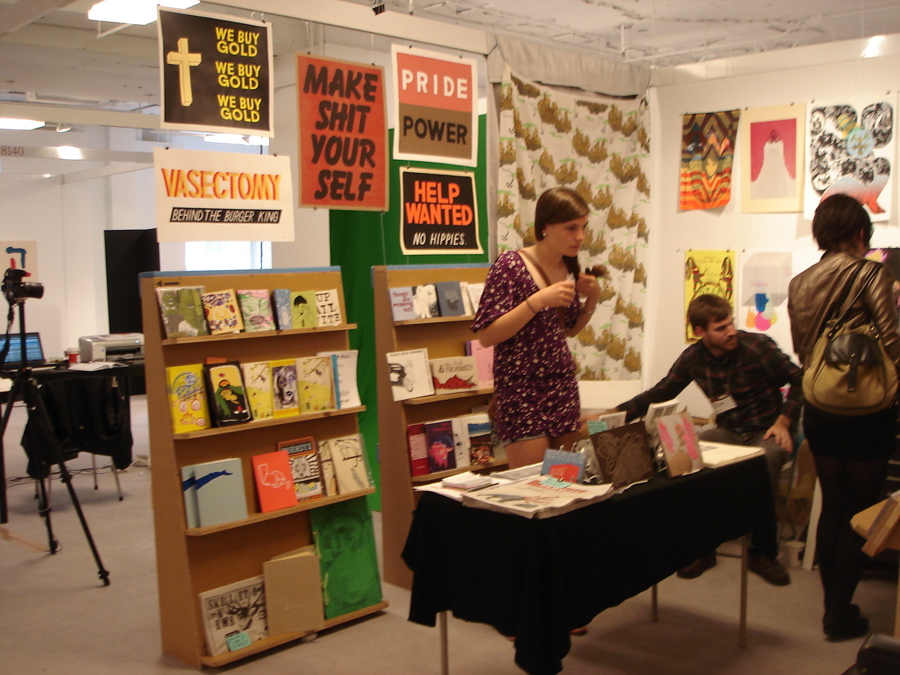 ---
oh-so-soft t-shirt, by artist Erin Allen at Maniac Gallery. Seriously, the thing is super-soft, I'm not usually a t-shirt wearer but I love this and it fits me perfectly and I haven't wanted to take it off since I bought it. Which could spell trouble for me at my kid's school picnic, but I'll deal with those issues later.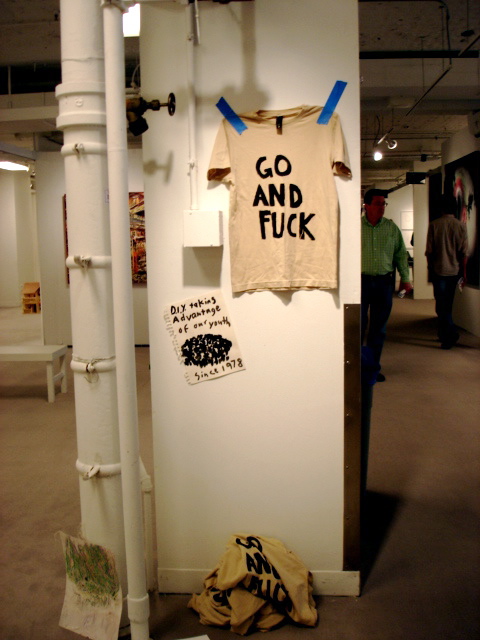 ---
Today I'll be posting some images and brief commentary on this past weekend's Artropolis/Art Chicago/NEXT fairs. There was a lot to see and unfortunately I couldn't adequately document it all, so consider these posts in terms of what they're meant to be:  snapshot images of work that intrigued me, some of which has stayed with me long enough to want to find out more about the artist in the future. In a number of instances the pictures I took were poorly lit or otherwise crappy, and it would have been a disservice to the artist to post them,  so take this as a partial and anecdotal summation, not as some sort of Top 10 -type list which I pretty much detest anyway.
All of the Special Exhibitions were very well done, although I think calling out certain works in the booths as part of the Fair's so-called "Salute to Realism" was a bit strange. As I mentioned in a previous post, I personally liked Lynn Warren's Hairy Who presentations the best, but I learned something from every exhibition on view and in general thought they all worked pretty well in an art fair context. There was a lot to see, and my picture-taking skills are at level zero, but here's what I was able to capture while on the 12th floor.
New Insight (I think this was actually at NEXT, on the 7th floor, but whatever): This was an exhibition of  MFA students from some of the country's top graduate art programs, curated by Renaissance Society director Susanne Ghez. The pool of art schools included Cal Arts, Carnegie Mellon, Cranbrook, Hunter, Maryland Institute College of Art, Rhode Island School of Design, School of the Art Institute of Chicago, San Francisco Art Institute, UCLA, University of Illinois at Chicago, University of Illinois at Urbana, and Yale. Some interesting work here; ironically I never got a photo of Jesse Mclean's 6 min. video of reality show losers "Somewhere Only We Know," although I think it was probably the best work in that show.
Society for Contemporary Art's Acquisition Selection for 2009
Members of the
Society for Contemporary Art of Chicago
met last Sunday to choose from works by Paul Chan, Rebecca Morris, Nancy Spero, Matt Mullican, and Martin Barre. Apologies, but I could not get a half-way decent shot of Barre's "76-77-C," oil on canvas painting, nor could I find an image of it online.
Partisan: Another special exhibition was the Mary Jane Jacob-curated Partisan, a group show of work selected from galleries exhibiting at Art Chicago "dedicated to the artistic exploration of social and political ideas." You know, take what you will from a show of political art at an art fair. It's a brave thing to attempt and I respect the effort, I'm just not sure how much attention viewers are willing to pay to a show like this one when there's so much distraction surrounding them.
---