By Kevin Blake 
The front tire wobbles as the weight of the planking jerks the fork of the bicycle from side to side. It will take rhythm to get anywhere. It will require a centering–a perfect distribution of the unbalanced load. The salvaged wood scrap stretches across the handlebars, bending under its own heft as it distances from the bicycle on both ends. There are bricks in the back basket–a milk crate strapped with rope to the frame. It rubs the back tire like an out-of-place brake pad…the every-other-rotation kind of rub. The tires have the pancaked look of low air where the rubber meets the road. Conditions are ripe for an array of potentials.
This is a moment in a story. It is not necessarily the beginning, the climax, or the end. It is a picture of a picture–the recollection of an unclear memory, that morphs into clairvoyance only as it is repeated and deployed situationally. It is the word made flesh, and the flesh made word. It is the construction of one's identity from available material–material that is both tangible and ethereal.
As I walked through Kati Heck's inaugural exhibition, "Ins Büro!" at Corbett vs Dempsey, I found myself thinking about my own life as a scavenger–hoarding all the potential I could carry. I was seeing similar moments described in Heck's images–potentials picked out of the mundane, or the recently discarded, and harvested to distribute into complex riddles with seemingly endless possibility. On the canvases, I could see the dialogue between the painter and the thinker. Between the subject and the object. Between the story and the fragmented reality in which it exists.
These concurrent and perpetual dialogues in Heck's work are best understood through their relationships with the paint itself. For example, in the faces of central figures, there appears to be a deeply personal connection–not just to the sitter–but also to the technical precision by which she chooses to treat the face. Where there are sections of amplified care–smaller brushwork, attention to detail, and range in palette–there also seems to be amplified metaphor, or keys to following the artist's inner dialogue.
"Alles-Mehr," which google translated for me as "everything-more," exemplifies this notion. In "Alles-Mehr," one can follow the hierarchy of paint distribution–from the face, down to the jar of pickles, to the fabric, to the wood of the chair, to the skin, and to the wall. To me, the smaller marks represent larger roles in the image's story. The larger marks are painting maneuvers. Small is big. Big is small. All are equally important to its existence as a painting–or as an aesthetically considered object of contemplation.
Here, a man appears to be in a pickle–as they say–four fingers deep. This idiom becomes the bedrock of the painting and it places the character in an air of mischief with an assuming look of low-cunning. The disappearing arm holds the glowing decoy–the legerdemain of the common wizard.  Admittedly, this is merely one possible thread in a heap of narrative grist, but my guess is as good as the next viewer, and it doesn't matter much if anyone gets it "right."
In the painting, "Der süssliche Erinnerungsmehrwert," Heck introduces a sculptural element to the painting by sewing canvas to the bottom of the frame where it becomes an extension of the painted fabric–it literally flows off of the rectangle and spills onto the floor. This move is indicative of Heck's unflinching intuition–uninterrupted by any hesitation from exterior pressures. She doesn't make decisions based on how it will be received, (see the velvet frame around the bad girl, "Petit Pity," in the corner of the show)she responds directly to the impulse. Directly to the vision. Anything that is susceptible to transformation, is transformed. There is no shelter for this nomad–and although her work pulsates with influences from the establishment, she cannot be pinned down. She emerges with a triumph, or at least the execution and invention of something that could not be made by anyone else.
In an interview for the exhibition catalog, Heck tells gallerists John Corbett and Jim Dempsey, that the title of the show, "Ins Büro," means "go to the office" and for her, the office is the bed she keeps in her studio. It is a factory of dreams from which she extracts and deploys content, stamping them with her industrious logo before they leave the warehouse.  In a fractal universe fragmented further by processes of the human mind, it is no wonder that  Heck turns to her dreams as a means of deciphering any truth from the ether. The result may be a world without language. A visual world. A world seen and understood simultaneously.
The compulsion to realize this utopia is undeniable. It wants to be seen. It wants to be described. It is on the tip of your tongue too–the cusp of your visual field as you lay in the darkness and attempt to solve the world's puzzles in the most quiet of spaces–the safest of landscapes–your dreams. However, it never quite satisfies. It never quite gives you the tools to see that place and how it works. It appears partial. As disconnected. As unimportant. It appears as meaningless potential–a moment frozen until it is thawed and put to work. Kati Heck in her Antwerp studio, attempts to bring that flight of fancy out of the castle in the sky and into her own reality. Whatever is constructed there–out of whatever material is available to revolutionize–may not be true, but for the maker, it is true enough.
If I were you, I'd go have a peak at her temporary office.
Corbett vs. Dempsey
1120 N. Ashland Avenue 3rd Floor
Chicago, IL 60622
Kati Heck
December 11-January 26, 2016
Tuesday-Saturday 10am-5pm
      and by appointment
---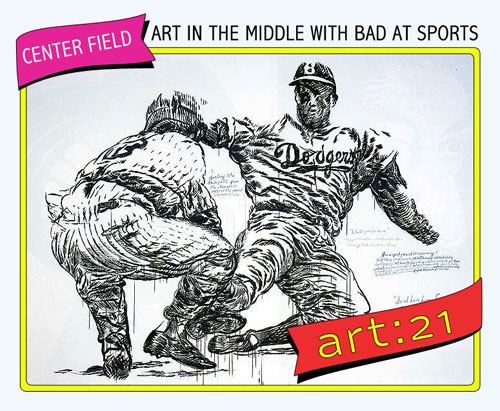 The latest episode of "Fielding Practice," the Chicago-centric podcast/gabfest featuring Duncan MacKenzie, Dan Gunn and me has just been posted on the Art21 Blog as part of Bad at Sports' ongoing Centerfield column.  This week, regular panelists Duncan MacKenzie, Dan Gunn and I discuss the demise of Next/Art Chicago–which up until last week had been the US' longest-running art fair –and the subsequent rise of Expo, a new Chicago-based art fair slated to debut on Navy Pier in September 2012. We also review current exhibitions by Laura Letinsky at the Museum of Contemporary Art, Chicago, and Molly Zuckerman-Hartung, whose show Negative Joy is on view at Corbett vs. Dempsey gallery, plus we offer some "best bet" picks for the coming month in Chicago. As an added bonus, this week we keep the conversation blissfully short, at a running time of approximately 38 minutes — as always, thank you so much for tuning in!
Click here for Fielding Practice Episode 12 on the Art21 blog.
---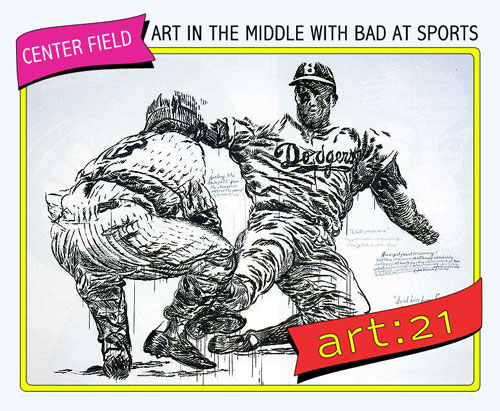 It's time once again for Fielding Practice with Bad at Sports, a special podcast produced for the Art21 blog. On this month's episode, Duncan MacKenzie, Dan Gunn, and I are joined by Abraham Ritchie, Chicago editor of ArtSlant, to delve into the wild world of art in Chicago and beyond. April was art fair month in our fair city, with the Merchandise Mart's Art Chicago and NEXT fairs taking place over the April 29-May 1 weekend and the upstart MDW Fair organized by threewalls, Roots & Culture, and Public Media Institute rolling out the weekend prior to that. We debate the pros and cons of both fairs, which–although polar opposites to one another–seem somehow to embody the strengths and weaknesses of Chicago's own art scene at this particular moment. Next, we move on to a more theoretical, and certainly more speculative, discussion of an early Modernist revival among some of the artists we've been looking at recently: from Ruby Sky Stiler, Mark Grotjahn, and Ryan Fenchel (artists who are featured in exhibitions this month at The Suburban, Shane Campbell Gallery, and Dan Devening Projects + Editions, respectively), to L.A.-based artists Amy Bessone, Aaron Curry, Thomas Houseago, and others. Click here to be taken to Art21 blog, where you can listen to the podcast and check out examples of the artists we discuss during the episode. Thanks for listening!
---
Over the last few years, Community Supported Agriculture (CSA) has exploded in popularity. When I moved to Chicago in 2000, there were only a handful of CSAs available to Chicagoans. Now there are dozens. CSAs have become so popular that The New York Times frequently runs articles about what to do with your seasonal surpluses. CSAs work in an interesting way—customers "subscribe" or buy "shares" in a farm's yield. In this way, farmers know in advance their minimum sales and also have money upfront to purchase supplies. For the buyer this means excellent, seasonal produce (or fruit, meat, dairy) that is usually organic and always high quality. But CSAs are about more than just yummy, healthful food. CSAs are a way for non-farmers to support an activity they find valuable, like independent farming.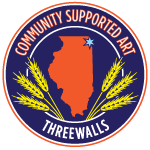 Three Walls is applying this same idea to art. Their Community Supported Art program offers six artworks by six different artists, all for the reasonable price of $400, or $350 if you act before April 30th.  Various arts groups have done this before. In the 80s, SubPop had their Singles Club whereby each month subscribers received a fresh-off-the-press single right to their mailbox. More recently, I was a subscriber to Featherproof Press's Paper Egg, a subscription book service. Sadly, Paper Egg didn't really work out for the folks at Featherproof, but that doesn't mean it was a failure. People want to support artists. Buying art is hard, though. It's expensive and often it is hard to know where to spend your hard-earned dollars when you do finally decide to buy an artwork. But this is where the subscription, the food-type CSA model does its best work. Just as we are not exactly sure what each CSA box might yield, neither do we know the contents of a Three Walls CSA box. I mean, anything could be in there. [UPDATE: Okay, so not anything could be in there. There are 12 works in total of which each subscriber will receive 6.]
While not exactly common, Community Supported Art programs are springing up around the country and are a fresh way to explore alternative methods of connecting artists and those who buy art. Do listen to Claudine Ise, Duncan MacKenzie, and Dan Gunn discuss this on the Art:21 Centerfield podcast. The official launch of the 2011 Three Walls CSA is on April 30th from 6 to 9, in conjunction with Art Chicago/NEXT.
---