Audio clip: Adobe Flash Player (version 9 or above) is required to play this audio clip. Download the latest version here. You also need to have JavaScript enabled in your browser.

download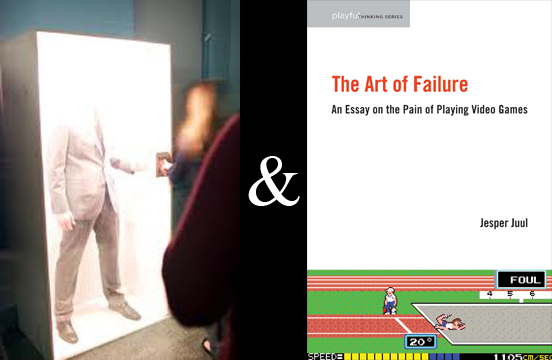 This week: Video games. Amanda talking about porn and boobs. People behaving badly. Oh, yeah, some art. It's after 3 AM.  I'm tired you aren't getting a huge, organized note, go and google stuff, you can do it. I am even more nasally than normal in the audio, damned airplane petri dishes.
This is a show for the ages.
Jesper Juul is an assistant professor at the New York University Game Center. He has been working with the development of video game theory since the late 1990's. His publications include Half-Real on video game theory, and A Casual Revolution on how puzzle games, music games, and the Nintendo Wii brought video games to a new audience. He maintains the blog The Ludologist on "game research and other important things". His most recent book is The Art of Failure: An Essay on the Pain of playing Video Games. http://www.jesperjuul.net
Oliver Warden (b. 1971, Cleveland, Ohio) is a multidisciplinary artist, working both in the realms of contemporary art and technology. When online, he goes as his avatar name, ROBOTBIGFOOT. The majority of his body of work is inspired by and culled from his experiences in the virtual world, as he spends about 40 hours a week inside the realms of Counter-Strike, Left 4 Dead, and various independent titles. It can be said that Warden essentially, and by 21st Century definition, lives in two worlds: online and off. His paintings, ranging in size of 1 ft to 21 ft canvases, are made by a unique process of pouring Galkyd onto canvas laid horizontally in his Bushwick studio. The semi-transparent and glossy layers build over each other in intricate and elaborate geographies, creating an effects-driven and technologically mediated super-world. His cameraless-photography is created on his computer, in virtual spaces. One series that I find especially innovative shows the "edge of world" in the video game Tribes; Warden literally played the game until there were no more challenges or objectives to complete, and after reaching the literal end of the map (where the playable area stops), he took thousands of screen shots. The results are works on paper, presented as pixelated photographs.  His performance pieces are the third factor of his work, creating a complete balanced and intentional body. Inspired by his interactive experiences, he built a body of work around notions of privacy, voyeurship and control.  Stalking people in Central Park at midnight and "capturing" them on video, living in a school wall for a week and pulling covert ops at night and sitting inside a chair as unknowing sitters sat on his lap, all challenged and occasionally broke the rules of engagement and participation.
---
One thing that remains true across most markets is that its all about the buzz, so I feel compelled to weigh in on my experience at this years Armory and satellite fairs.  Perhaps ironically, I appreciate the crass commercialism of art fairs for the discussions and contextualization they bring about.  Hypothetically, one doesn't even need to see the work in the gallery booths to get the most out of the fair.  The difference between a worthwhile contemporary art fair and a superfluous one is their ability to provoke conversations around art, and that often comes down to programming, programming, programming, (the same often remains true for contemporary art museums).  With this in mind, I made it a point to check out the two Open Forum discussions at the Armory and Volta on Friday, making these the main event and lofty excuse to visit these otherworldly candy stores in downtrodden times.
The first of the day at Pier 92 in the Armory was "Museums Speak! Funding, Exhibitions, Collecting and the Future" featuring Arnold Lehman, Director of The Brooklyn Museum of Art, Thelma Golden, Director and Chief Curator of the Studio Museum in Harlem, and Claudia Gould, The Daniel W. Dietrich, II Director, Institute of Contemporary Art, University of Pennsylvania.  Of course the obvious topic of conversation was the economic recession's effect on museums large and small.  This amounted to amplified fretting and hand wringing about poor endowment returns, staff cuts, and pressure to sell off artworks for those collecting institutions.  Ultimately this inside baseball failed to peek my interest as the average art enthusiast, but by no fault of the participants or others whose jobs might depend on the future funding of museums.
Next up was Volta, a more engaging fair simply for its concentration on individual artists.  Part of the same Open Forum programming was the panel "Re-Inventing Non-Profits in NYC" featuring Anne J. Barlow, Executive Director of Art in General, Mary Ceruti, Executive Director of Sculpture Center and Gianni Jetzer, Director of Swiss Institute.  The discussion was far more reaching in its implications for the future of artist, which automatically perked up my ears as the tendency in these circles is to forget that without artists there is no art.  Again the discussion was set to the doom and gloom tune of economic woes, but fortunately geared towards adjusting and moving forward.  Artists take note, it appears these non-profits are foregoing extravagant exhibitions in favor of funding and facilitating projects that might not otherwise be feasible for emerging artists.  The level of success for these spaces is refreshingly difficult to quantify relative to the museums — which ultimately just want to get bodies through the door —  but issues such as branding still came up as a strategy of shear survival.  Gianni Jetzer seems to think the Swiss Institute has no branding, but he fails to notice that Switzerland itself is a brand, and a damn good one as his performance confirms.  Of the three non-profits, SI seems to be the most willing to take chances and perhaps it's that godmother country's loose purse strings on top of her sex appeal that keeps SI not truly in any position to worry.
A closing note from this last discussion was the divisive question about whether tough economic times will be good for art, as some have suggested.  There seemed to be some consensus that any such idea is a myth, but I have to say I'm not quite convinced.  My hunch is that the playing field is a little more level and its hard not to notice the change in the air that has inevitably come from the powerful having a little less power.
---