Full press release below: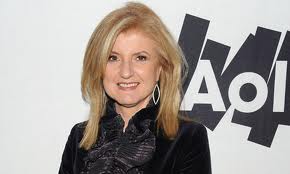 San Francisco, CA March 31, 2011 – AOL Inc. [NYSE: AOL] today announced that it has agreed to acquire BadatSports.com, one of the nations leading Contemporary Fine Art & Culture commentary/interview programs based out of Chicago, IL. Bad at Sports is well known throught the world for its fresh take on the current Fine Art scene and will make a strong cornerstone to the growing AOL Culture Network while retaining their editorial independence and unique voice that has proven so successful over the years. Further bolstering AOL's position as one of the world's leading providers of high-quality & timely commentary and insight into everything from technology & politics to art & culture.
Founded by Duncan MacKenzie and Richard Holland, Bad at Sports which has operated on a minimal budget and office of dedicated staff has over 5 years grown into a site that reaches millions around the world and has archived over 300 hours of one on one interviews with some of the art worlds most notable up in coming art creators, curators, historians, educators, business insiders and collectors.
AOL's Editor in Chief Arianna Huffington singled this out as one of the main reasons Bad at Sports was one of the first aqqusitions under her direction. "The work that Holland & MacKenzie and everyone at Bad at Sports has done over the years is close to amazing and shows a level of care and dedication that you need to succeed in the long term in both the publication business and Art/Culture world and made bringing them into the larger portfolio an obvious decision." she said.
"Engagement with thought leaders, tread setters and those that create the culture of tomarrow is as important to AOL's growth as is the engagement of our established audience and having spoken with Operations Manager Christopher Hudgens at length about the ideas he had for the role Bad at Sports in expanding the art & culture division of AOL under the supportive hand of our new Editor in Chief will only continue to show AOL's commitment to quality and a greater conversation on the internet. I look forward to what they can produce with the full support and resources of AOL behind them." said David Eun, President of AOL Media and Studios.
This acquisition will further AOL's strategy to become the global leader in sourcing, creating, producing and delivering high-quality, trusted, original content to consumers. Bad at Sports will remain headquartered in Chicago,IL, as a wholly owned AOL unit. Deal terms were not disclosed.
Forward-Looking Statements
This press release contains "forward-looking" statements within the meaning of the Private Securities Litigation Reform Act of 1995 regarding business strategies, market potential, future financial and operational performance and other matters. Such forward-looking statements include, but are not limited to, statements regarding the anticipated benefits of the transaction and other statements identified by words such as "may," "will," "intend," "should," "expect" or similar expressions. These statements are based on management's current expectations and beliefs, and are subject to uncertainty and changes in circumstances, including, but not limited to, the satisfaction of the closing conditions to the transaction and the parties' performance of their obligations under the agreements; changes in our plans, strategies and intentions; the competitiveness and quality of our products and services; our ability to retain, hire and develop key employees; and the intensity of competition. Any forward-looking information is not a guarantee of future performance and actual results may vary materially from those expressed or implied by the statements herein, due to changes in economic, business, competitive, technological, strategic and/or regulatory factors, as well as factors affecting AOL's operations and businesses. More detailed information about these factors as they relate to AOL may be found in the section entitled "Risk Factors" in AOL's Annual Report on Form 10-K, filed with the Securities and Exchange Commission. AOL is under no obligation to, and expressly disclaims any obligation to, update or alter the forward-looking statements contained in this press release, whether as a result of new information, future events or otherwise.
About AOL
AOL Inc. (NYSE:AOL) is a leading global Web services company with an extensive suite of brands and offerings and a substantial worldwide audience. AOL's business spans online content, products and services that the company offers to consumers, publishers and advertisers. AOL is focused on attracting and engaging consumers and providing valuable online advertising services on both AOL's owned and operated properties and third-party websites. In addition, AOL operates one of the largest Internet subscription access services in the United States, which serves as a valuable distribution channel for AOL's consumer offerings.
About Bad at Sports
Bad at Sports located at badatsports.com and based in Chicago, IL is one of the worlds leading contemporary fine art commentary/60 minute art interview programs. Founded in 2005 as a podcast by co-hosts Duncan MacKenzie and Richard Holland, Bad at Sports has grown into a website that is read and listened to by people  in every major metropolitan city around the globe. With over 300 60 minute episodes with leading art world over a thousand posts Bad at Sports has and continues to document the Art world from within with a unique and valuable position of insight.
——————————————————-
Update
Art Practical releases a more up to date statement read here
---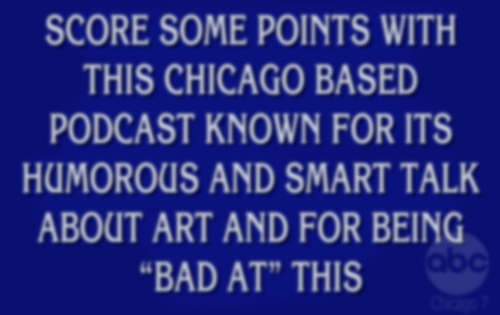 In yesterdays Jeopardy episode #5887 for Tuesday, March 30th during Double Jeopardy contestants Manny, Stacy & Emily were presented with a category titled "Podcasts" in which the $1200 question was:
Score some points with this Chicago based podcast known for its humorous and smart talk about art and for being "Bad at" this
Sadly neither Manny, Stacy nor Emily could correctly guess "Sports" but it was worth it to hear Alex Trebek say with that part sad & lightly condecending tone "The correct answer is Sports, What is Bad at Sports. I am sorry, Emily it is your board please pick again."
From everyone here at Bad at Sports we would love to thank Alex Trebek, the writting staff & crew that have continued to produce the last bastion of intelligent daytime television for the past 26 years. Being name dropped with the likes of Diggnation, The Podfather Adam Curry, Mugglecast , Brian Ibbott's Coverville & Leo Laporte's This Week in Tech is a great honor.
The timing couldn't have been any better with the Bad at Sports gallery opening at Apex Art in NYC next week titled "Don't Piss on Me and Tell Me It's Raining". This honor has really made our April 1st, 2010 a memorable day. You haven't made it till you have been name dropped on Jeopardy & satirized on SNL (looking at you Bill Hader). One down, one to go.
---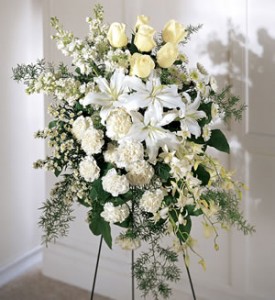 Yoko Ono while returning to Montreal on Tuesday to unveil an art exhibit celebrating the week 40 years ago she famously stayed in bed with her husband John Lennon in a hotel room high above downtown Montreal and slept in about peace died of massive trauma to the head when the "Yes Painting" complete with ladder & magnifying glass fell on her.
Ono was in the city for the anniversary of the 1969 bed-in, which is being marked by an exhibit at the Montreal Museum of Fine Arts, titled Imagine: The Peace Ballad of John & Yoko. The exhibit would have opened Thursday.
"Montreal means very much for me because it was a place where John and I created a very important statement," the 76-year-old artist told reporters at the museum on Tuesday right before saying "Oww oww that ladder is crushing my bones, get it off get it off, I have brittle bones from Coprophagia so this really hurts"
That went on for 30 minuets while local pedagogues and reporters documented and critiqued the latest and unbeknownst to them final performance art work by Ms. Ono.
Montreal's city coroner ruled that it was an accident but Mark Kostabi is wanted for questioning in relation to the event since as the Police Chief said:
"This seems like the kind of shameless promotional work that he would do" and followed up with "Plus I always wanted to meet him, I have one of his paintings over my desk, you know the one with the gray androgynous human figure in a empty room holding a odd but ironic object that fits nicely with the title, he's so handsome too."
Kostabi's lawyers have released a statement that he has a solid alibi since he has been in Rome for almost a decade doing nothing.
More to come as it unfolds this sad sad April 1st, 2009.
---