As thick as the phone book of the town I grew up in, the catalogue for the 2014 Whitney Biennial is a whopper, coming in at 419 pages. But seeing as how this year's Biennial was an impressive three floors, the attendant corridors, stairwells, random outside spaces, and more than 100 artists, maybe it's not so big after all. Like the Biennial itself, the body of the catalogue is dived into three sections, one for each of the three curators: Stuart Comer, Anthony Elms, and Michelle Grabner. Each of these sections contains a contextualizing essay by the respective curator. In an interesting formal note is that the three sections are printed on different paper, which has the effect of making each section literally feel distinct.
Evaluating a catalogue is difficult; the success depends on what the reader is looking for. As preparatory material for viewing the exhibition, the catalogue is perhaps most successful. I doubt I would have enjoyed the exhibition as much if I had not read all of the essays beforehand. These essays proved invaluable to my visit to the Whitney. I previewed the artwork and made notations about the works with which I wanted to spend a little time. This method is itself flawed, because we all know that seeing a work in person is a very different experience from looking at pictures, no matter how lovely. It also mostly rules out the element of surprise. But honestly, the Whitney Biennial is such a massive undertaking for me as a viewer; this seemed to be my only method of making sense of this large and incongruent collection of artworks.
As a thorough record of the exhibition, the catalogue also succeeds, which in this case is important because the Biennial is nearing its close. When I read a catalogue that is little more than reproductions of the art, with the wall text on the following page, I am disappointed. A person is lucky to view a show once, let alone twice, but a book is different. There's no end to a textual exhibition. We can visit anytime we want. This is where the catalogue succeeds. The 2014 Biennial contains a substantial amount of performance, audio, and video work. These are notoriously hard to capture on the page. Stuart Comer's section is rife with essaylettes on selected works. There are writings on the performance works, which is great because although I visited twice, I didn't manage to coincide with a single performance. Although all of the curators included text-based work, it is most noticeable in Anthony Elms' section. I missed much of this text during my visit. It was crowded. It was hard to see. Text takes a lot of time. At home with a book, I have all the time in the world.
As an accurate reflection of the 2014 Whitney Biennial, I am less sure of the success of the catalogue. In the introduction the authors state, "If there is any central point of cohesion, it may be the slipperiness of authorship that threads through each of our programs… In many ways, it has simply become inefficient to slow down and figure out who is responsible for a specific idea or action, opening up interesting areas of collaboration." While the authors are describing the discrete works in the show, perhaps this whole idea might be applied to the Biennial itself; it is very slippery. But the catalogue is intentionally less so, with its Roman numeraled sections, and three different paper stocks, the catalogue makes clearer distinctions than the curators do. The final section is by Michelle Grabner is marked by the inclusion of numerous conversations between artists, including Dawoud Bey, Christopher Williams, Rochelle Feinstein, Gaylen Gerber, to name a few. While all this focus on process seems as if it should make this section feel more slippery, it does the opposite—it concretizes the final section of the book. Real people, real artists, talking to other real people. The overall effect is humanizing, and intimate, a feeling that was impossible experience at the show.
Ultimately, I recommend this catalogue for those who want a serious look at the 2014 Whitney Biennial. This is not a coffee table book, nor is it a casual exhibition catalogue that one can leave on their bedside, to casually flip though before dropping off to sleep. No, this is the kind of catalogue you need to read while sitting up, with a cup of coffee. You might want to take some notes. If you have reading glasses, you better get 'em.
Whitney Biennial Catalogue 2014
paperback, 416 pages
Yale, $55
---
So, for some reason I thought the 2014 Whitney Biennial list was supposed to be revealed in December but instead it came out today!
Congrats to all our friends and the folks we do not yet know. We can't wait to see the show.
As curated by Anthony Elms, Stuart Comer, and Michelle Grabner:
Academy Records and Matt Hanner
Terry Adkins
Etel Adnan
Alma Allen
Ei Arakawa and Carissa Rodriguez
Uri Aran
Robert Ashley and Alex Waterman
Michel Auder
Lisa Anne Auerbach
Julie Ault
Darren Bader
Kevin Beasley
Gretchen Bender
Stephen Berens
Dawoud Bey
Jennifer Bornstein
Andrew Bujalski
Elijah Burgher
Lucien Castaing-Taylor, Véréna Paravel, and Sensory Ethnography Lab
Sarah Charlesworth
Yve Laris Cohen
Critical Practices Inc.
Matthew Deleget
David Diao
Zackary Drucker and Rhys Ernst
Paul Druecke
Jimmie Durham
Rochelle Feinstein
Radamés "Juni" Figueroa
Morgan Fisher
Louise Fishman
Victoria Fu
Gaylen Gerber with David Hammons, Sherrie Levine, and Trevor Shimizu
Jeff Gibson
Tony Greene curated by Richard Hawkins and Catherine Opie
Joseph Grigely
Miguel Gutierrez
Karl Haendel
Philip Hanson
Jonn Herschend
Sheila Hicks
Channa Horwitz
HOWDOYOUSAYYAMINAFRICAN?
Susan Howe
Jacqueline Humphries
Gary Indiana
Doug Ischar
Carol Jackson
Travis Jeppesen
Alex Jovanovich
Angie Keefer
Ben Kinmont
Shio Kusaka
Chris Larson
Diego Leclery
Zoe Leonard
Tony Lewis
Pam Lins
Fred Lonidier
Ken Lum
Shana Lutker
Dashiell Manley
John Mason
Keith Mayerson
Suzanne McClelland
Dave McKenzie
Bjarne Melgaard
Rebecca Morris
Joshua Mosley
My Barbarian (Malik Gaines, Jade Gordon, and Alexandro Segade)
Dona Nelson
Ken Okiishi
Pauline Oliveros
Joel Otterson
Laura Owens
Paul P.
taisha paggett
Charlemagne Palestine
Public Collectors
Sara Greenberger Rafferty
Steve Reinke with Jessie Mott
David Robbins
Sterling Ruby
Miljohn Ruperto
Jacolby Satterwhite
Peter Schuyff
Allan Sekula
Semiotext(e)
Amy Sillman
Valerie Snobeck and Catherine Sullivan
A.L. Steiner
Emily Sundblad
Ricky Swallow
Tony Tasset
Sergei Tcherepnin
Triple Canopy
Philip Vanderhyden
Pedro Vélez
Charline von Heyl
David Foster Wallace
Dan Walsh
Donelle Woolford
Molly Zuckerman-Hartung
PS. Thanks to Jerry Saltz's facebook for the list.
---
Good news for long time friend of Bad at Sports, Anthony Elms, he is heading to Philadelphia to curate for the Institute of Contemporary Art!
We say Hell Yes!
Anthony's departure will be a major loss to this community but our loss, is there gain and it is nice to know that the Philadelphia recognized what we had. We are sure that this is just the beginning of some fabulous things for our friend and regular contributor, Anthony.
Well done.
INSTITUTE OF CONTEMPORARY ART
FOR IMMEDIATE RELEASE: OCTOBER 24, 2011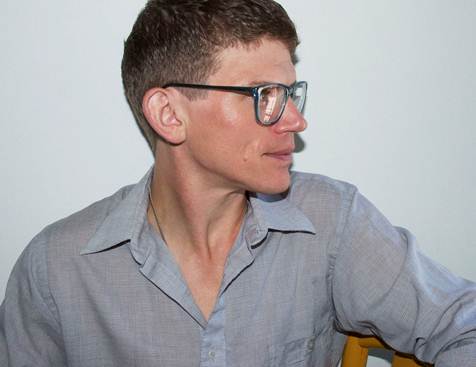 Photo: Erin Leland
INSTITUTE OF CONTEMPORARY ART APPOINTS
ANTHONY ELMS AS NEW CURATORÂ Â 
 
PHILADELPHIA, PA
The Institute of Contemporary Art at the University of Pennsylvania, is pleased to
announce that Anthony Elms will be joining the ICA as Associate Curator. Anthony
has worked as an independent curator and writer, and he was Assistant Director
of Gallery 400 at the University of Illinois at Chicago for six years. He edits and is
the curator of WhiteWalls, an alternative space for artists' publication projects
founded in the 1970s. Anthony is just completing work as part of the organizational
team behind this year's PERFORMA visual art performance biennial in New York.
"It is common to think of museums like the ICA as non-collecting, but that isn't true,"
Anthony said. "They do not have art objects, but they collect histories and
experiences with the artists that have exhibited. In that sense, I could not be
happier to join a museum with the distinguished and energetic collection of the ICA."
"I am looking forward to having Anthony's vision, and his passion for publications,
enrich the work of our stellar curatorial team," says Robert Chaney, Interim Director.
"We met Anthony when he co-curated the Sun Ra exhibition that ICA hosted,
organized by Hyde Park Art Center," adds Senior Curator Ingrid Schaffner. "This is a
wonderful outcome to our first collaboration," adds Senior Curator Ingrid Schaffner.
Anthony's recent projects include Blast Counterblast; More Alive Than Those Who
Made Them; Glenn Ligon / A People on the Cover, and Unicorn Basking in the Light
of Three Glowing Suns. He was a co-curator of Pathways to Unknown Worlds: Sun
Ra, El Saturn and Chicago's Afro-Futurist Underground 1954-1968, which enjoyed
enormous success when it traveled to ICA in 2009. His writings have appeared in
Afterall, Art Asia Pacific, Art Papers, Artforum, May Revue, Modern Painters, New
Art Examiner, and Time Out Chicago, and he has also written essays for numerous
catalogues. He received a BFA in painting from Michigan State University and an
MFA from the University of Chicago, and he continues to exhibit as an artist. In
addition, Anthony is an enthusiastic drummer and record collector. He is also
interested in ghosts. 
---
Guest post by Thea Liberty Nichols
Email interview conducted with Steve Ruiz
Steve Ruiz is an artist and writer from Chicago. He is the Managing Editor of Chicago Art Review (.com) and has contributed to a number of publications including Jettison Quarterly, NewCity Magazine, and Proximity Magazine. Information on his artwork can be seen at steveruizart.com.
TLN: Can you start by telling us a little bit about Chicago Art Review? I'm especially interested (as a former participant) in the audio component you have on there, which, as far as I'm aware, is unique to your site as a listings format.
SR: I started Chicago Art Review in April 2009, right around the time I was graduating from college. The blog started as a joke (I'd told my former professor, Geoffrey Todd Smith, that I would write a gonzo review of his show) but I quickly realized the project's potential as a way of engaging with the Chicago art community, which I was pretty unfamiliar with after spending five years studying elsewhere. Chicago Art Review became a reason to get out to shows, meet artists, and know about their work. My idea was to learn in a public way and IÂ think people appreciated the effort, especially as I didn't really know anything or anyone and was writing from the hip on first impressions.
Stylistically, I've tried to be as professional as is fair to the artists I write about while reserving a lot of the freedom being an independent writer affords me; I can be entertaining, a little partisan, troll with decimal ratings, experiment with content, take two months off and still call myself a writer, put in thirty pictures with a review, edit posts six months later, etc. My studio background is in painting, so I tend to write more about painting and write about everything else as if it were painting. I have tried a lot of things with the site that didn't work out, such as the Art Phone call-in press releases and a studio visit chain that dropped off after a while, but part of the fun of Chicago Art Review has been making a soft space to fail.
I think some of the best content has come from guests, especially Anthony Elms' book reviews, Ryan Travis Christian's Seven Artists of the Week (which I now organize with the help of guest editors), and the opportunities I've had for collaborations with others like Pedro Valez, Erik Wenzel, etc. I also depend a lot on the efforts of Karly Wildenhaus and Stephanie Burke for my event listings research. It would be a much less interesting website without these individuals and others.
TLN: On that note, since several of the folks you just mentioned also have blogs or websites of their own, or contribute to other publications online or in print, can you tell us a little bit about how you expanded your network to include them? And do you feel like more an editor (vs. a writer) because of it?
SR: I My approach to involving other writers with Chicago Art Review is pretty casual. I don't have any regular contributors, but I try to involve other people when I think they have an interest in writing something that I'd like to read but wouldn't otherwise have a place to read it. The loose format on the site allows me to publish writing that wouldn't fit elsewhere for whatever reason, and sometimes the appeal of "do whatever you want" is enough to get contributors on board. But no, I don't think I work hard enough to feel like a Managing Editor.
TLN: It sounds like Chicago Art Review takes a very experimental approach to things and is happy to evolve by recognizing what works best for it– knowing what you know now, do you ever wish you could go back and take a different tact? Like do you feel the internet is written in stone or invisible ink? And where do you see Chicago Art Review going next– anything interesting in the hopper?
SR: No, I don't think I'd change anything I've done, but I'd like to have done more of it. But its early, we've got time.
If anything, I'm happy to have established a sort of authoritative sounding brand based on formal experimentation and stubborn amateurism. Not to flatter the context here, but a lot of my ideas about art criticism were informed by seeing how the Bad at Sports podcast could deliver rich critical content in form based on the unlikely combination of a lack of claimed authority, persistant volunteerism, over-education, topical expertise, conversational tones, and alcohol. That relationship with criticism feels much more appropriate for this city's community. I'm interested in finding a written form and style that reflects the culture here, and that serves our needs and demands for writing, which are very different than in other cities. Some things are valued less, some more, and I feel like that should be taken into consideration.
As for going forward, a few months ago I started – but do not claim any ownership of – a Facebook group called #chiart for art writers and artists to talk to each-other about art in Chicago. The name comes from a slightly problematic twitter hashtag I'd got going, but which was hard to use for bigger conversations. The Facebook group has worked much better, and I've been amazed at the quality of conversation there and at the ability for a certain number of engaged individuals to generate high-value critical dialog while essentially slacking off at work. Its easily my primary resource for almost all the tasks I'd previously have gone to didactic journalism for, making it harder to justify writing that kind of thing. I'm fascinated by the idea of body surfing legitimate critical discourse on crowds of distracted experts, and am looking for ways to turn that kind of conversation-based model into something that can produce discrete pieces of writing for us to print for binders and to cite on our CVs. Doesn't that sound fun?
Thea Liberty Nichols is an arts administrator, independent curator and freelance writer. To listen to an excerpt from the "Form and Content of Writing" panel she moderated as part of Stockyard Institute's exhibition at DePaul University entitled Nomadic Studio, please click here. (Featuring commentary from Patrice Connolly, Claudine Ise, Abraham Ritchie and Bert Stabler)
---
It's framing up to be an interesting weekend, here's my top 5 recommendations, chronological order:
1. Proof at Catherine Edelman Gallery
I'm actually really excited about this show. Being a photographer myself, who was worked in film for many years and still does so, I am intimately familiar with the selection process that happens whe you look over a contact sheet. They are amazing story tellers that few ever have the chance to see. This is a unique opportunity not to be missed.
Proof opens Friday, from 5-8pm. Catherine Edelman Gallery is located at 300 W. Superior St.
2. The Art of Touring at Johalla Projects
Selected images from the book "THE ART OF TOURING," images from the road. Ever wondered what a van looks like after 6 unwashed boys have spent 8 weeks crisscrossing the country in it? Do you already know and what to revisit it? This is your show. Work from tons of musicians and music biz people.
The Art of Touring opens Friday, from 7-11pm. Johalla Projects is located 1561 N. Milwaukee Ave.
3. Quarterly Site #3: Stay in Your Lane! at Swimming Pool Project Space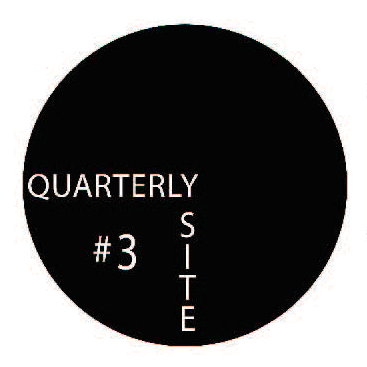 They say it better than I could myself, and I quote, "Quarterly Site #3: Stay In Your Lane! is hosted by Swimming Pool Project Space. Using the theme of direction, three curators conceptualize their various interpretations of the word by dissecting the gallery into physical lanes." Curated by Anthony Elms, Katherine Pill, and Philip von Zweck.
Quarterly Site #3: Stay in Your Lane! opens Saturday, from 6-10pm. Swimming Pool Project Space is located at 2858 W. Montrose Ave.
4. The Humboldt Moving Picture Show at the Richmond Manor
The second round of the Humboldt Moving Picture Show. I went to this last year and it was FANTASTIC. This year they've gone international with artists from the US, Egypt, Kosovo, Palestine, Germany, and Mexico. It's $5 donation, but totally worth it.
The Humboldt Moving Picture Show begins at sundown on Saturday. The show will happen in the Sideyard at Richmond Manor, located at 1625 N Richmond St.
5. James Elkins Lecturing at The Art Institute of Chicago
James Elkins lectures on "Beyond the Aesthetic and the Anti-Aesthetic" at the Art Institute of Chicago as part of the annual Stone Summer Theory Institute.
James Elkins will be lecturing at 1pm in the Morton Auditorium at AIC. The Art Institute of Chicago is located at 111 S. Michigan Ave.
---