The Mark Moore Gallery is having a solo exhibition of the work of Allison Schulnik open January 9th. Showcasing her second solo show there and her latest series of Hobo Clown inspired works. Below is a stop motion animation work done by the artist for Grizzly Bear's latest music video. Enjoy.
---
On this week's pick we bring you James Blagden's animation "Dock Ellis & the LSD No No".  The short film chronicles Ellis' infamous game where he pitched a no hitter while on LSD. Although the animation is entertaining, Ellis' own account of the historic event is what really makes this video work.
via No Mas:
Sadly, the great Dock Ellis died last December at 63. A year before, radio producers Donnell Alexander and Neille Ilel, had recorded an interview with Ellis in which the former Pirate right hander gave a moment by moment account of June 12, 1970, the day he no-hit the San Diego Padres. Alexander and Ilels original four minute piece appeared March 29, 2008 on NPRs Weekend America. When we stumbled across that piece this past June, Blagden and Isenberg were inspired to create a short animated film around the original audio.
For more information please chec out No Mas.
Got a response to this post? Let us know! Email your comments to  mail@badatsports.com. We'll feature thoughtful responses to issues generated by our posts in our Letters to the Editors Feature on Saturdays.
---
A little mini brush-up on color theory and its uses in animation, by way of Bill Melendez' beloved 1966 TV special It's the Great Pumpkin, Charlie Brown: this essay, written by L.A.-based animator Justin Hilden, contains a scene-by-scene analysis of the use of color on the special, focusing particularly on its emotional and dramatic effects. Read more
---
---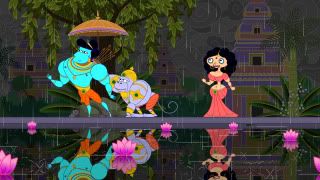 This morning I found an email from Richard Holland that simply stated "utterly awesome" with a link. I clicked on the link and found myself at the home page for the film Sita Sings the Blues. I had seen the movie poster while I was at the Gene Siskle Film Center and had thought about seeing it based on the animation. But as usual I was too lazy and forgot about it. On the front page you are greeted with a letter to the audience: "I hereby give Sita Sings the Blues to you. Like all culture, it belongs to you already, but I am making it explicit with a Creative Commons Attribution-Share Alike License. Please distribute, copy, share, archive, and show Sita Sings the Blues. From the shared culture it came, and back into the shared culture it goes." The film came about when Nina Paley was dumped by her husband after he had moved to India via e-mail. The film is a recreation of the Indian story The Ramayana.
Wired has a great interview with Nina Paley:
Wired: What is your movie about?
Nina Paley: Sita Sings the Blues is a musical, animated personal interpretation of the Indian epic the Ramayana. The aspect of the story that I focus on is the relationship between Sita and Rama, who are gods incarnated as human beings, and even they can't make their marriage work [laughs].
Wired: And that ties in with the film's second narrative.
Paley: Right, and then there's my story. I'm just an ordinary human, who also can't make her marriage work. And the way that it fails is uncannily similar to the way Rama and Sita's [relationship fails]. Inexplicable yet so familiar. And the question that I asked and the question people still ask is, "Why"? Why did Rama reject Sita? Why did my husband reject me? We don't know why, and we didn't know 3,000 years ago. I like that there's really no way to answer the question, that you have to accept that this is something that happens to a lot of humans.
Wired: And this whole movie was rendered on a laptop?
Paley: I started on a G4 titanium laptop in 2002. I moved to a dual 1.8-GHz tower in 2005, moved again to a 2-by-3-GHz Intel tower December 2007, with which I did the final 1920 x 1080 rendering.
view the entire interview here.
I just downloaded it and am looking forward to watching it after the Blackhawks play the Red Wings tonight. Yeah, I like sports.
---