Herewith, Amanda Browder presents three Art Review Haikus of shows that are currently on view in New York. Art critics, note the concise blend of poetic word-play and to-the-pointness; this is how it should be done. Read more
---
New Yorkers: Tonight, make sure and check out this show that features our own Amanda Browder from 7-9 pm. Full details below!
Culturefix, an alternative and multidisciplinary gallery, presents "Opening Reception". This exhibition presents a series of one night solo shows by artists who work in alternative mediums. As a gallery and event space it is only during opening events in which the audience is acutely conscious of the artwork that our installation possibilities display. The five artists in this exhibition: David J Merritt, Audra Brandt, Stephan Moore, Amanda Browder, and Joe McKay will each take over the gallery for a one night and one day solo exhibition which utilizes the entire space, a feat which is impossible amongst our regular programming. Surrounding these temporary solo exhibitions will be 2 dimensional works created by the participating artists representing their process, exhibiting preliminary sketches and documentation of the 3 dimensional works. To fully represent alternative mediums, the 5 artists showcased each represent a different alternative medium: sculpture, new media, film, installation, and sound art.
Through the mediums each artist uses, the space will be transformed. David J Merritt's mass of tactile sculptures reminiscent of amulets and idols will be scattered among the space. Stephan Moore's ephemeral sound installation of oscillating fans and other junkyard objects creating a cacophony of broken down technology will fill the space from a set of 6 speakers. Amanda Browder will transform the physical space using a mass of brightly covered cloth leaving little trace of the gallery environment. Joe McKay's interactive game of killing virtual cockroaches will cover the gallery walls. Audra Brandt will be projecting a series of super 8 films whose mechanisms will become structural, causing a multi- sensory and non-traditional experience of film viewing.
This constant evolution of the culturefix gallery parallels its mission of allowing inhabitants to define the culture of its space. Over a twelve day span, culturefix gallery will host 5 opening receptions, one from each participating artist. Between one-day exhibitions, the gallery will be open to the public to peruse the group exhibition on the walls of the gallery. By exhibiting the sketches and documentation of the pieces being showcased, Opening Reception also explores ideas of time – exposing the past, present, and future of an artwork.
Friday 29th of July 7-9pm
CULTUREfix – 9 Clinton St. between Houston and Stanton, NYC
enjoy a picnic and beverages…
---
Some exciting news for fans of Tom Sanford and Amanda Browder of The Amanda Browder Show…both have new exhibitions opening in New York this weekend. Oh shit, I just realized Amanda's show opens tonight — she will be unveiling a new, large-scale painted fabric piece! And New York is an hour later than Chicago! So those of you in NYC,  gotta get your asses down there NOW! Full deets for both shows below…
curated by David Gibson
Thursday, April 7th 2011 – Art Jail Space NYC –
7-10 PM
50 Eldridge Street, 6th floor
Featuring: Margie Black, Sarah Bliss, Marcy Brafman, Amanda Browder, Elisabeth Condon, Vince Contarino, Beata Drozd, Gabert Farrar, Sophia Flood, Alicia Gibson, Chambliss Giobbi, Rachael Gorchov, Susan Hamburger, Deb Karpman, Yuliya Lanina, Liz-N-Val, Paul Loughney, Cybele Lyle, Norma Markley, Christina Massey, Joel Morrison, Mary Murphy, Guy Nelson, Jeremy Olson, Steve Page, Leemour Pelli, Lilliana Pereira, Mary Pinto, Mark Po…wer, Grace Roselli, Hagar Sadan, Pierre St. Jacques, Meghann Snow, Claudia Sperry, Ginna Triplett
This exhibition explores the use of collage as an artistic medium, dissecting its impulses and agendas while providing a wide cross-spectrum of its usage in contemporary art. It addresses the role of material culture in mediating our shared view of reality, the notion of a borrowed aesthetic, and how specific visual agendas express differing cultural attitudes. It includes a variety of mediums and aesthetic agendas, presenting not only traditional collage, but works which establish a collage mentality in the liminal forms of photography, video, digital manipulation, painting, sculpture, printmaking, children's books, commercial signage, portraiture, and others. In the end, it will posit collage as a cause, rather than a symptom, of both artistic style and generational meaning.
SICK!
April 8- May 31st
Misc.
Suite 702, The Fuller Building
41 East 57th Street, New York, New York 10022
Ion Birch, Steve Budington, Steven Charles, Steve DiBenedetto, Dawn Frasch, Aaron Johnson, Eddie Martinez, Tom Sanford, Peter Saul, Michelle Segre, Joceyln Shiipley, Kelli Williams, Jeremy Willis
Misc. is pleased to announce the opening of a new group exhibition, Sick!. This selection of works by 13 artists examines how artists give particular shape to abject feelings and fantasies. Surrealism, and later, nineteen-seventies postmodernism encouraged an active engagement between art practice and the unstable. The works in Sick! continue this dialogue by exteriorizing psychological tension as a crucial component in each artwork.
The exhibition aligns a fluid iconography, but it is the abject, or the sick, as cultural criticism, thoughtful structure and subtext that relates the work to each other.  Through a variety of methods, Sick! artists articulate personal interpretations about anxiety, clutter, suffocation, and other unpleasant feelings that suggest a fractured, but whole experience. Steadfast repudiation of the decorative and/or decorum ranges from malevolent to punch-drunk to pathos. This sensibility serves as a control-factor in a showcase of work that does not behave.
The artists are as at ease in blending categories of art history as they are with handling their visionary trajectories. In keeping with an overwhelming suspicion that human beings are as much propelled toward primordial, amorphous states as they are of achieving Organizational Man, these works have mastered their conditions by surrendering to that ancient urge rather than trying to escape it.–Elizabeth Sapperstein
---
Artist and Bad at Sports podcastress extraordinaire Amanda Browder is participating in a project that sounds so good, I wanted to share. "Out of Bounds" is a new, permanent group exhibition installed at Barrier Free Living Transitional Housing Program. The exhibition was curated by Ryan Russo in conjunction with Art Connects New York, an organization devoted to making original artwork more available in non-traditional settings. Right on! This show will have its opening tomorrow night from 6:00 to 7:30pm at Barrier Free Living. If you're in the NYC area, go on over, check out the art, and take the opportunity to learn more about the great organizations that worked in partnership to make this happen.
TUESDAY FEBRUARY 1
6PM-730PM
BARRIER FREE LIVING, 270 EAST 2ND STREET, 4TH FLOOR
LIGHT REFRESHMENTS
GUIDED ART EXHIBIT TOUR BY PAUL FEUERSTEIN, Barrier Free Living  PRESIDENT/CEO
PERFORMANCE BY THE BARRIER FREE LIVING RESIDENT/STAFF RAISING VOICES CHORUS
Lead by chorus director Nancy Shankman
"This artistic self-liberation (of this exhibit) is consistent to the mission of individual empowerment that Barrier Free Living positively promotes among its consumers," Ryan Russo (Excerpt from an article in BFL's January Breaking Barriers Newsletter).
Please RSVP by calling Scott Hess at 212 677 6668 Ext. 177.
**Featured Artists: Aimee Burg, Marcy Chevali, Hannah Lamar Simmons, Michael Perrone, Amanda Browder, Rachel Frank, Mary Pinto, Angela LaSalle, Julie Egan, Andrew Prayzner, Socrates Marquez.
---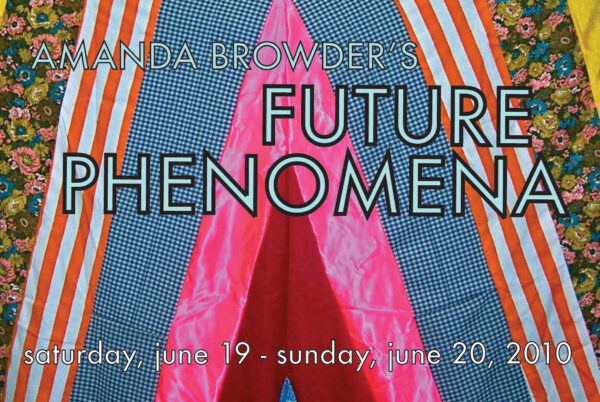 Bad at Sports own Amanda Browder (the hardest working artist in designer glasses) unveils this Saturday June 19th a large-scale fabric sculpture that will blankets the façade of a Greenpoint, Brooklyn building.
The outdoor installation presented in partnership with the North Brooklyn Public Art Coalition (NbPac) will be presented to the public at 3pm on June 19th with a opening celebration roof party at:
The Ceeflat
988 Manhattan Avenue (at Huron)
Greenpoint, Brooklyn
We hope everyone can make it out to celebrate the work and hopefully a great beginning of Summer day.
---