Audio clip: Adobe Flash Player (version 9 or above) is required to play this audio clip. Download the latest version here. You also need to have JavaScript enabled in your browser.

download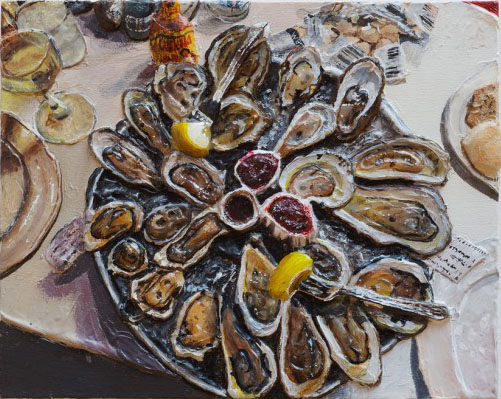 This week: Amanda is back! The Amanda Browder Show talks to artist Gina Beavers.
---
Three Art Review Haiku's for three of the artists at The Hole Gallery in NYC.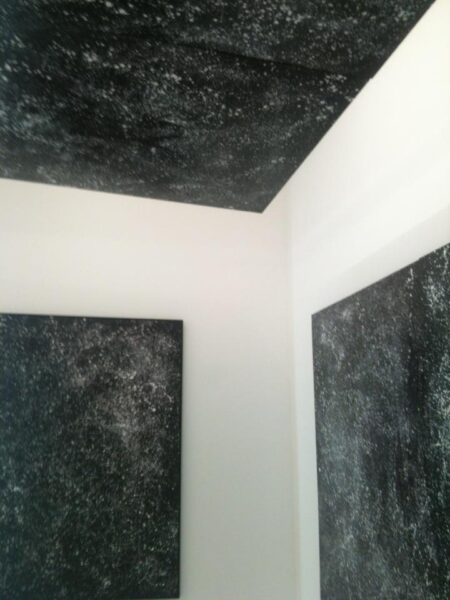 Matt Jones
Solar pleixs edge
Sneezed stars with tomb resonance
Square held universe
Kadar Brock
Pretend depth via,
skimmed surface deconstructed
Each hole dripped with sharp
Scott Reeder
Uh, Seriously!!!
A tape worm home kit is good
Food removed with glee
The exhibition they participated in was called "…"
http://theholenyc.com/2011/12/09/1407/
---
It is easy to conceptualize of something incorrectly and not even realize it until faced with the reality. This is what happened to me last week when I was lucky enough to see the Maurizio Cattelan exhibition All at the The Guggenheim just days before it closed. I'd read a bit about this show, which is all of Cattelan's tangible work hung (or perhaps strung-up) in the atrium of the museum. Considering what I'd read, I was thinking of this as a swan song of a retrospective, but the reality is that All functions as an exciting, unified single piece.
A few individual sculptures stood out, not just to me, but the hundreds of other viewers who were there with me. Possibly it was the adrenaline rush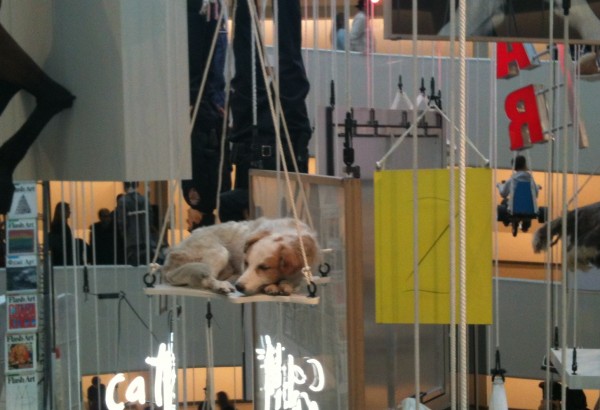 of staring death in the face, or even the perverse thrill of eluding the reaper, because by far the works that drew the most attention were the taxidermies. Squirrel, horse, cow, donkey, rabbit, pigeons (lots and lots of pigeons), and quite a few dogs. The first dog I came across startled me. So lifelike, yet obviously dead. Hanging from the ceiling, there is no way to mistake it for a living dog as might happen in previous gallery installations. As I stood looking down on it, trying to overcome the ick-factor, people passed by, stopped, and then talked fondly about their own dogs both past and present. Instead of reminding people of the lurking nature of death, Cattelan's dogs reminded people of something they loved, perhaps even evoking life. (Pictured: Stone Dead, 1997)
Lingering in the middle of the mobile is a large, black granite tombstone, that references a wartime memorial. The catalog likens Untitled (1999) to Maya Lin's memorial for those killed in The Vietnam War, but to me it echoes the memorial for The Great War that stands in front of City Hall in the town where I grew up. I expected to see names of soldiers engraved, but instead there is a list of all of the matches in which the English national football team was defeated. I have no idea what Cattelan is attempting to provoke from his viewer with this, but I immediately thought, These are men's things. War. Football. Sometimes they are even treated as equals, but their losses, they are not equal. Both war and football delineate a place free of women, though sometimes we are allowed to trespass. Men's conflicts. Men's defeats.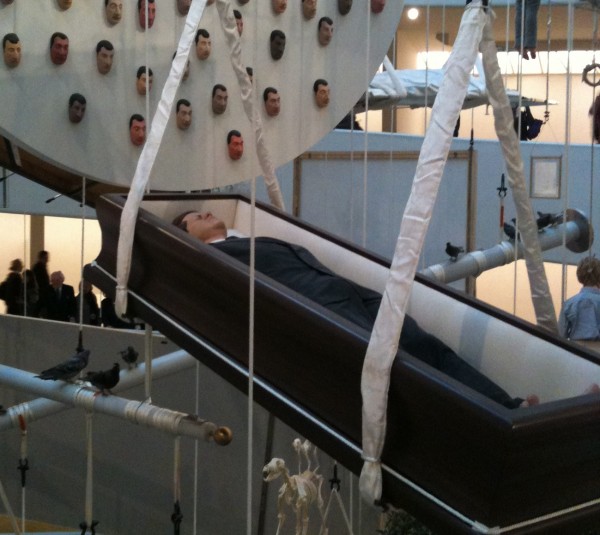 Near to the bottom of the massive installation hangs a casket. Although I could see the casket from nearly every vantage point, what I couldn't see was its resident. When I finally made my way down, there was a crowd gathered 'round. The security guard stepped aside and took me by the elbow to get me a better spot, which I've never had happen before. There in the casket lay Kennedy, looking as perfect as if he had never been shot. Put simply, it was strange to see Kennedy there. I had to ask, whose loss was this? Kennedy's? The nation's? Now was made in 2004, but I wondered if Cattelan could see into our future eight years later. Here we are as a nation fetishizing this moment in history, arguably, one of our nation's most devastating moments. But unlike today, it was a moment that was simple. Grief is simple.
For those who couldn't make it to the show, The Guggenheim website has much to offer. There is a great time-lapse video of the installation, which is as laborious as any I can imagine. There is a reprint of the article from the brochure, by Nancy Spector. If you're inclined, an "interactive, multi-platform app" for 4.99. Still, after shelling out for admission and fifty bucks on the catalog, somehow another five seemed steep. It looks great, though, with John Waters hucking it. Call me old fashioned, but when I want to re-experience an exhibition, I turn to the catalog for that.
The catalog for All requires special mention. This is written by Nancy Spector, Chief Curator. It is effectively a catalogue raisonné, but I wouldn't count my chickens before they're hatched in that regard. The book itself is lovely, and looks like an old encyclopedia volume. It is worth purchasing, or at least borrowing from the library. However, presenting the works individually does undo the singularness of All, transforming a unified whole back into discrete works. Still, All was a rousing salute to a life's work and the catalog reflects this.
Finally, for a good time, do check out Amanda Browder's previous Haiku Review of All.
---
Herewith, Amanda Browder presents three Art Review Haikus of shows that are currently on view in New York. Art critics, note the concise blend of poetic word-play and to-the-pointness; this is how it should be done. Read more
---
New Yorkers: Tonight, make sure and check out this show that features our own Amanda Browder from 7-9 pm. Full details below!
Culturefix, an alternative and multidisciplinary gallery, presents "Opening Reception". This exhibition presents a series of one night solo shows by artists who work in alternative mediums. As a gallery and event space it is only during opening events in which the audience is acutely conscious of the artwork that our installation possibilities display. The five artists in this exhibition: David J Merritt, Audra Brandt, Stephan Moore, Amanda Browder, and Joe McKay will each take over the gallery for a one night and one day solo exhibition which utilizes the entire space, a feat which is impossible amongst our regular programming. Surrounding these temporary solo exhibitions will be 2 dimensional works created by the participating artists representing their process, exhibiting preliminary sketches and documentation of the 3 dimensional works. To fully represent alternative mediums, the 5 artists showcased each represent a different alternative medium: sculpture, new media, film, installation, and sound art.
Through the mediums each artist uses, the space will be transformed. David J Merritt's mass of tactile sculptures reminiscent of amulets and idols will be scattered among the space. Stephan Moore's ephemeral sound installation of oscillating fans and other junkyard objects creating a cacophony of broken down technology will fill the space from a set of 6 speakers. Amanda Browder will transform the physical space using a mass of brightly covered cloth leaving little trace of the gallery environment. Joe McKay's interactive game of killing virtual cockroaches will cover the gallery walls. Audra Brandt will be projecting a series of super 8 films whose mechanisms will become structural, causing a multi- sensory and non-traditional experience of film viewing.
This constant evolution of the culturefix gallery parallels its mission of allowing inhabitants to define the culture of its space. Over a twelve day span, culturefix gallery will host 5 opening receptions, one from each participating artist. Between one-day exhibitions, the gallery will be open to the public to peruse the group exhibition on the walls of the gallery. By exhibiting the sketches and documentation of the pieces being showcased, Opening Reception also explores ideas of time – exposing the past, present, and future of an artwork.
Friday 29th of July 7-9pm
CULTUREfix – 9 Clinton St. between Houston and Stanton, NYC
enjoy a picnic and beverages…
---