It has been one year since I left Chicago for Flagstaff, Arizona, after accepting a position as a full-time lecturer of foundations at Northern Arizona University. Many other Chicago-based artists and educators, some with roots and connections to Chicago's art scene far deeper and stronger than my own, have made the same choice. Some leave for personal reasons, but for the most part, artists leave Chicago to find work, or, more accurately, they leave as I did, to accept an offer of employment from a college or university located elsewhere.
Most recently, Chicago painter Molly Zuckerman Hartung announced (on Facebook) that she's leaving Chicago: first to Knoxville, TN, to teach for the fall semester, then to Miami for a residency for the spring, then back to Chicago to teach next summer, and finally, fall of 2015, to New York City for, presumably, all the usual reasons that artists go there. Molly cut her way through everything that stood in her way to get where she is, left an indelible mark on Chicago, and if anybody can pull the rock star Hail Mary of the New York scene, it's her. I wish her all the luck in the world, not that she needs it.
Earlier this year, Tony Fitzpatrick closed up shop in Chicago to head down to New Orleans, a place that had been dear to his heart for many years. I remember him telling a story once, I hope he doesn't mind my repeating it, about how he used to fly down to New Orleans all the time, and he used to carry a gun. He'd just mail it to himself. So one time he was walking along the levee in the French Quarter, gun in his shoulder bag, and a couple of teenagers who looked like trouble walked up on him, maybe said something, asked what was in his bag, whatever. Tony put his hand in the bag, on the butt of the gun, and told the kids to walk on. I guess they figured he was serious, because they did as he asked, walked on. But then Tony's thinking about it, thinking about if they hadn't, and then Tony'd have shot the kids, and he'd have that on his conscience, all for what, his wallet? Nothing, to Tony's mind, worth shooting a couple of kids over. So after that he stopped carrying a gun. In my memory, the story ends with him pitching the gun into a canal, but I'm probably mapping that over from another story another guy told me about accidentally flying to Germany with his dad's forgotten pistol in a pocket of a suitcase he'd borrowed from his dad. Anyway, Tony's in New Orleans, but Tony can do anything, anywhere, and he surely will.
Adam Benjamin Fung, a painter who shows with Zolla-Lieberman Gallery in River North, left last summer to teach at Texas Christian University. Sweet gig, good for him. Amy Mayfield, another Zolla-Lieberman painter, returned to her home town of San Diego, I think more for family reasons than for a job. This was a couple years ago I think. Photographer Adam Ekberg, who I worked with at Hyde Park Art Center, moved to Florida to teach, along with Noelle Mason, who continues to show with Thomas Robertello. Liz Nielson and Carolina Wheat, artists who formerly ran Swimming Pool Project Space, moved to New York for a job; Stephanie and I adopted Carolina's son's ball python, Homestar Runner, whom we immediately renamed Snake. Dayton Castleman moved to Arkansas. And many more.
The reason these artists keep leaving, with one or two exceptions, is almost always employment. Chicago generates an amazing diversity of artists, not just SAIC kids, but Columbia, Northwestern, UIC, and of course the self-taught, the non-academic, and the artists who, like I did, move to Chicago after school and set up a practice. But Chicago can't keep these artists, because it can't afford to feed them. Some move to other metropolises, and do very well for themselves as exhibiting artists: Chicago's loss.
Others move for a teaching job and do well for themselves in that regard, and hopefully (I'm hoping for myself here) can maintain something of a practice. But it's a challenge, that last bit, one that I've been wrestling with for the past year. A lot has happened, I've got every excuse in the book, but the fact is, in some ways it's been a pretty dry year for me, as far as painting goes. The move and the job are part of it, but honestly buying a house and fixing it up was the bigger part. I got some stuff done, did the Walking to Mordor project, that was pretty sweet. Did a few paintings but honestly none that are any good. I've got some ideas but they're slow in getting going.
The gallery thing is rough out here. There's one gig in town, Beaver Street Gallery, that's pretty legit. If I play my cards right, make some decent new work, I've got a shot at showing there, I'd bet. And I'd love to. But, if you think Chicago lacks collectors, you should check out Flagstaff. The occasional Phoenician rolls through, but they mostly buy plein aire landscapes, or the kind of silver coyote regionalism that's all over out here. Maybe things are better down in Phoenix. I've got some work up in a restaurant called The Bordello of Jerome, in the little town of that name, not far from here. Maynard from Tool has a winery out there; maybe he'll buy a painting. We have another ball python named (by his previous owner) Maynard, in his honor.
Of course one hopes to leave Chicago with some connections intact, and I've been back and done a few group shows in the past year. The big deal of course is still the idea of having gallery representation in the city. I'd bet most of the artists I named above held on to their Chicago gallery connections. I think I pretty much shit the bed on that one. I had a solo show at Linda Warren Projects back in May of 2012, and was stoked to do another one. I had some good work going in the studio in Chicago. I made it back a few times, worked on the paintings a little. We kept trying to schedule a studio visit to line up the next show, shit kept coming up, it never happened. Why? Well, it's tough when I'm only in town once a month or so. So I just picked up the last of my work from the gallery, packed up the studio, and drove it all down here in a Uhaul. I'm still hoping to do another show with Linda in the future, of course, but again, it's tough to do, long-distance like this. It's not all bad, of course. The job is decent, full time at least, though not tenure track. I've got a pretty sweet house I bought, nice yard, garden, bird feeder, all that. I've got a good studio space in what used to be the garage, all finished now, carpet and a wood stove and all. Of course it's pretty full of stuff from the move, got to get it cleared out a bit, so I can maybe make some damned work again. So we'll see.
And that's what happens. That's what's waiting for you, on the other end of all those teaching job applications you fill out. Maybe. Depends where you end up, I guess, and your attitude, and your work ethic. But a new job and a move like that can really knock the wind out of you. A year without making a decent painting really does a number on your pride. So you get up, you get back on the horse, and hope for the best.
---
1. Histories/Photographies at DePaul University Art Museum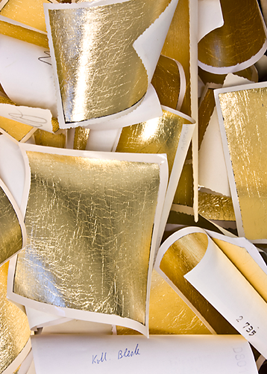 Work by Jeremy Bolen, Alan Cohen, Adam Ekberg, Myra Greene, Shane Huffman, Barbara Kasten, Jason Lazarus, Aspen Mays, John Opera, Jason Reblando, David Schalliol, Matthew Schlagbaum, and Adam Schreiber.
DePaul University Art Museum is located at 935 W. Fullerton Ave. Reception Friday, 6-8pm.
2. Ghosts Don't Burn at SideCar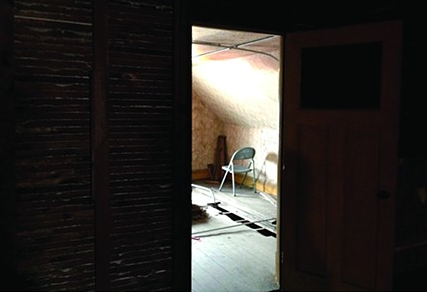 Curated by Lucas Bucholtz with work by Carl Baratta, Zack Wirsum, Lauren Ball, Nathan Carder, Mariano Chavez, Karolina Gnatowski, Pedro Munoz, and Mindy Rose Schwartz.
SideCar is located at 411 Huehn St., Hammond, IN. Reception Saturday, 5-10pm.
3. Of Walking at the Museum of Contemporary Photography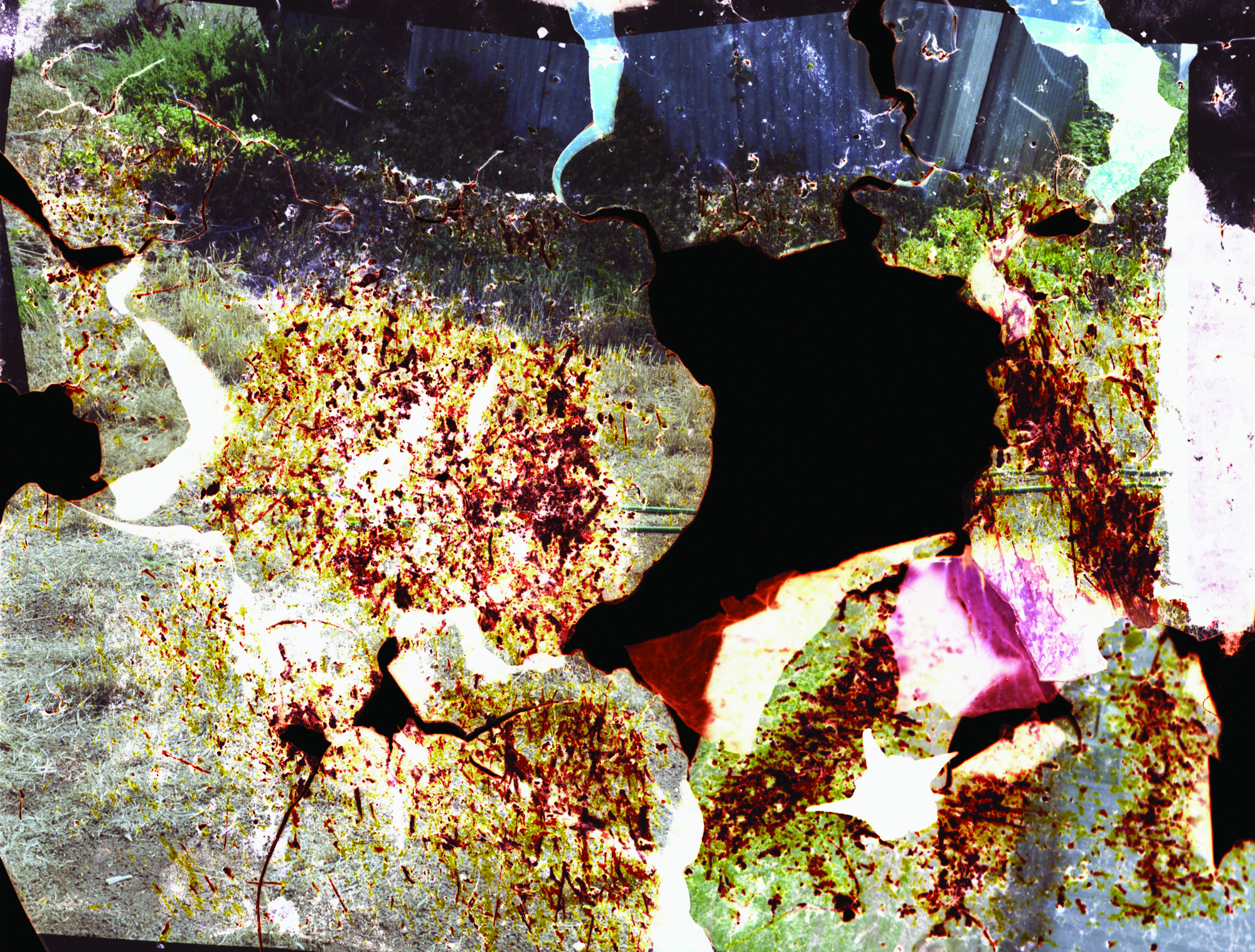 Work by Paulien Oltheten, Odette England, Atget, Garry Winogrand, Sohei Nishino, Simryn Gill, and Vito Accondi.
Museum of Contemporary Photography is located at 600 S. Michigan Ave. Show opens Friday.
4. 1st Annum-Hurrahs Lorry Celebration at TRITRIANGLE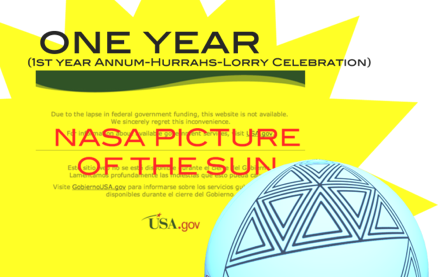 Work by Harvey Moon, Nick Briz, Yaloo Pop, Jason Soliday, William Robertson, Daniel Rourke, Incidental Music, shawne michaelain holloway, Kevin Carey aka Yung Pharaoh, and Chris McLaughlin.
TRITRIANGLE is located at 1550 N. Milwaukee Ave. Fl. 3. Reception Saturday, 7pm.
5. Paint, Paste and Sticker: Chicago Street Art at Chicago Cultural Center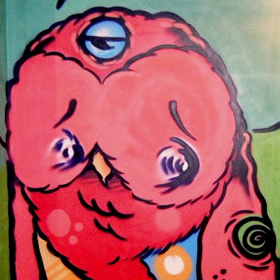 Work by Slang, Zore, Ish Muhammad, Hebru Brantley, Uneek, Statik, Brooks Golden, Chris Silva, Your Are Beautiful, Oscar Arriola, and more.
Chicago Cultural Center is located at 78 E. Washington St. Reception Friday, 5:30-7:30pm.
---
1. Transmissions From The Outpost at Thomas Robertello Gallery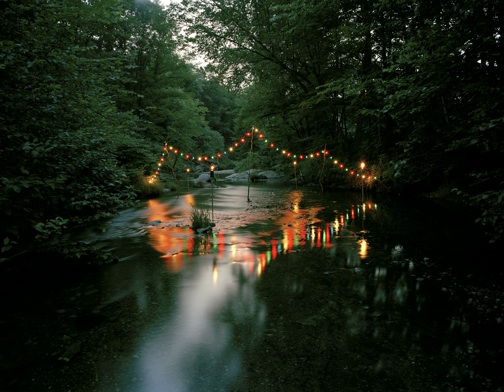 Work by Adam Ekberg. In the project space: I Believe in Harvey Dent or Three Months in Valparaiso, work by Jason Robert Bell
Thomas Robertello Gallery is located at 27 N. Morgan St. Reception Friday, 6-8pm
2. Future Perfect at Co-Prosperity Sphere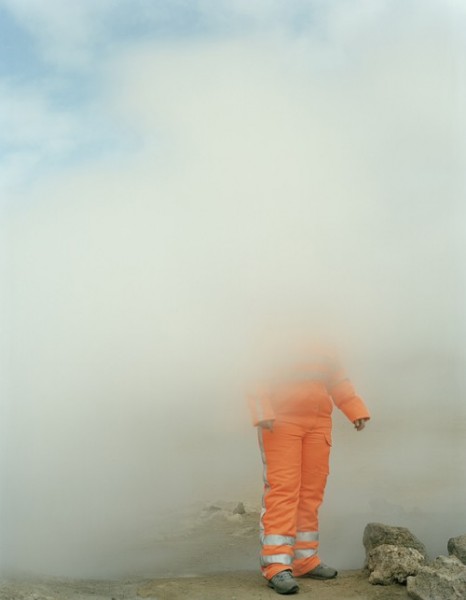 Work by by Judy Natal.
Co-Prosperity Sphere is located at 3219 S Morgan St. Reception Friday, 6-9pm.
3. Rodney Graham at Donald Young Gallery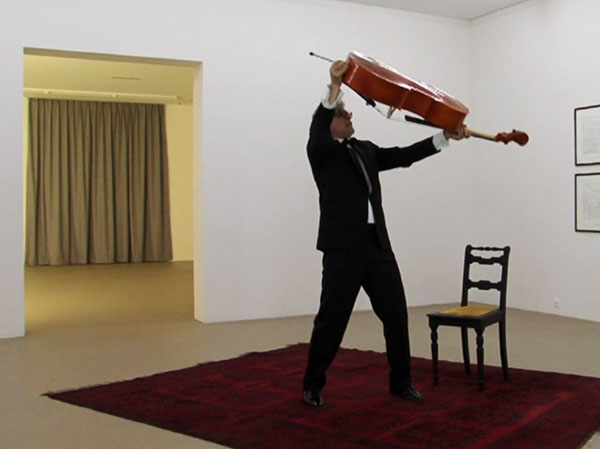 New photographs, sculptures, and paintings.
Donald Young Gallery 224 S. Michigan Ave. #266. Reception Friday, 5-7pm.

Release Party for PHONEBOOK 3
Threewalls is located at 119 N. Peoria. Party Saturday, 8-11pm.
5. The River Rats at Western Exhibitions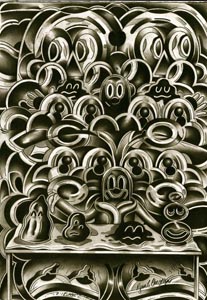 Work by Ryan Travis Christian, with collaborative work in Gallery 2.
Western Exhibitions is located at 119 N Peoria St, 2A. Reception Friday, 5-8pm.
+1 – The MDW Fair at GeoLofts, opening Friday at 8pm. Open to 11pm. $5, free beer.

Participating curatorial groups and galleries: 2612 Space, 65GRAND, ACRE, Alderman Exhibitions, antenna, ANTIDOTE, Bad at Sports, Chicago Artists, Coalition, BOLT Residency, Chicago Urban Arts, DEFIBRILLATOR, Devening Projects + Editions, Document, Drawn Lots, Green Gallery, Happy Collaborationists, Harold Arts, High Concept Lab, The Hills, Hinge Gallery, Hungryman, Iceberg Projects, Itsa_pony, LVL3, Trevor Martin, Abr Gallery, North Branch Projects, Nudashank, Old Seoul, Packer Schopf Gallery, Peanut Gallery, Pentagon, portage ARTspace, Reference, Reuben Kincaid, Roots & Culture, Sixty Inches From Center, Small Space, Spudnik Press, threewalls, Uncle Freddy's Treats, Linda Warren, Western Exhibitions, What It Is, and Propeller Fund grantees 2010.
GeoLofts is located at 3636 S. Iron At. The MDW Fair will continue through Saturday and Sunday, noon to 6pm.
---
Adam Ekberg has a lovely exhibition of new photographs up at Thomas Robertello Gallery that closes Saturday, February 6th — that's tomorrow people! — so if you haven't seen it, you should do the proverbial rush right out and see it thing before it closes. After that, get yourself over to the MCA, where Adam's work can be seen in the group show Elements of Photography, up through April 6th. I had a brief virtual chat with the very busy Mr. Ekberg this week, and am most appreciative of him for taking the time to answer my questions.
CI: In the brief statement that accompanies the portfolio of images on your website, you mention 'lens fallibility' as one of the means by which you activate otherwise ordinary environments. Could you elaborate a bit on how the notion of fallibility operates in your process?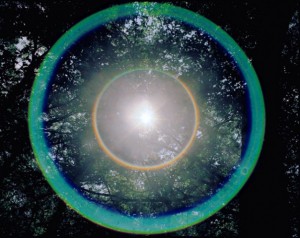 AE: These pictures have been discussed as referential to spirit photography but I like to think of them more in terms of the camera malfunctioning due to misuse. Pointing the camera at the sun is generally recognized as a bad idea on the level of putting balled up tinfoil in the microwave. If you are to go to a camera shop you can even purchase a variety of lens shades that prevent this effect from happening. I love the mistakes within images, Diane Arbus had a tendency to have vignetting in her prints and Nan Goldin always used flash in an elementary way which made her work feel even more personal and intimate.
---
Hooray!
1. Dialogue: Presented by IRUS art (an intercultural collaborative art show between artists in Iran and the U.S.) at Co-Prosperity Sphere –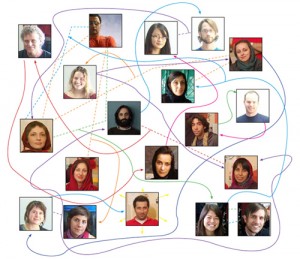 The crew down at Co-Pro are always working hard to put on events that are relevant withing AND beyond our little world of art. This is obviously no exception. And I quote, "Two teams of artists, one in Tehran and another in Denver have assembled under one name: IRUS (Iran – United States). Starting with our mutual respect for art, we have established collaborative projects between our groups." Friday night is the show reception, and Saturday is the discussion panel.
Co-Prosperity Sphere is located at 3219 S Morgan St. Reception is Friday from 7-10pm. Discussion is Saturday from 5-7pm.
2. M155 4m3r1c4 at Noble & Superior Projects –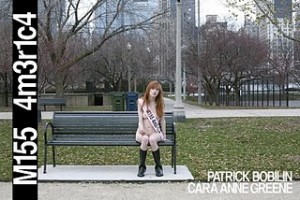 Now, I will admit, I am rather partial to Noble and Superior Projects already, but that said, this show absolutely deserves a place in this weekend's Top 5, regardless of my previous experience with 'em. This show is a double whammy with Patrick Bobilin and Cara Anne Greene. Patrick's work, and I quote, "M155 4m3r1c4 (Miss America), is a loose narrative which uses documentation and fiction together to create a broad self-portrait doubling as cultural commentary," and involves video, photographs, and documents relating to the M155 4m3r1c4 narrative. And Cara Anne Greene, beautiful, beautiful Cara Anne Greene will be serving up culinary complements to the story of M155 4m3r1c4. AWESOME!
Noble & Superior Projects is located at 1418 W Superior St 2R. Reception is Friday 6-10pm.
3. Closing Reception for Byron Roche –

Byron was one of the first gallerists I met in Chicago, and he set the bar high. He is endlessly knowledgeable and endlessly kind. It is, therefore,with a sad heart, that I make this addition to the Top 5. After 16 years with a public gallery, Byron is closing his space. He will continue to operate as a private art consultant, but no longer will there be that comforting island of Byron Roche Gallery in River North. No more box wine, no more Sweetheart Jewelry. So come down and say goodbye, this is your last chance.
Byron Roche is located 750 N. Franklin. Closing reception is Saturday from 11am-6pm.
4. Artist Talk with Adam Ekberg at Thomas Robertello Gallery –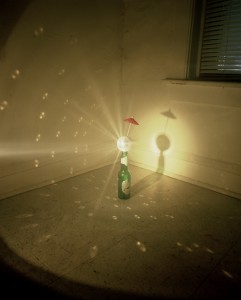 The first of two not-to-be-missed artists' lectures happening this weekend. The be-bearded countenance of Mr. Ekberg will be discussing his work at Thomas Robertello Gallery, amid his wall mounted work. And I quote, "continuing with the use of lens-based phenomena, humble celebratory gestures, and primitive constructs, Ekberg further develops two distinct bodies of work; images created in the woods or nature, and images using his apartment as stage set." Be there or be square!
Thomas Robertello Gallery is located at 939 West Randolph St. The artist talk begins at 3pm.
5. Artist Talk with Aspen Mays at HPAC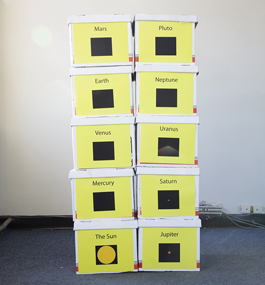 The second not-to-be-missed artists' lecture this weekend. Aspen Mays will be discussing works from her From the Office of Scientists exhibition currently on display at HPAC. And I quote, "Mays activates the office cubicle as a site for information production and general inquiry where "big ideas" are generated." Sweet!
Hyde Park Art Center is located at 5020 S. Cornell Ave. The artist talk begins at 2pm.
---