By Kevin Blake 
This is a recurring dream.
I am suspended over an in-ground pool of which I can only see a portion. The pool juts out of the bottom left corner of the frame–a rectangular frame. The edge of the pool makes an L shape–horizontally to the middle of the frame and at a right angle to the bottom boundary. The negative space is a surrounding sun-bleached concrete–an infinite wall contained only by the imaginary frame of the image. My limbs are sprawled out as if they are tied to an invisible force that keeps me from retracting. I lay idle just inches from the water, but I cannot touch. I cannot feel the textures. I cannot sense the temperature, though it appears to be warm–it appears to be late afternoon. It appears to be desert-like. Arid. Crisp. Cloudless. Stark.
The same external force that keeps me afloat, pulls me wildly in a spinning motion to an extreme height where I can see the pool in its entirety. As I reach the apex of this pull, it allows me a brief pause before dropping me and stopping me just inches before I hit the water. It leaves me there, in what feels like dangerous proximity to a glass-like surface. I have no physical control. No power. I can only wait to be pulled from idle and dropped again. As I plunge toward the pool, the water disappears, and I break through the powerless dream–returning to a powerless reality. I wake up with the feeling of being dropped that often plagues the dreams of many. That uneasiness. That bubble in the stomach. That rush to the brain.
The value of a dream is only quantifiable in the mind of the dreamer. It becomes something more than a dream only when a metaphor is established–and thereby attached–as the answer to an otherwise abstract experience. Like spinning around with a blindfold and trying to find people in the dark, the recurring dream becomes something more, when anticipatory and imaginative thinking creates an alteration of behavior, a change in consciousness, or a way to find things in the dark. It can become the blueprint for an artistic practice.
In Tom Torluemke's latest offering at Linda Warren Projects, Blind Man's Bluff, the artist seems to be fueled by the necessity to communicate his ideas–both to himself and to a perceived audience. Here, metaphors(capitulated by the title of the exhibition) are born in cultural experience, unadulterated thought, and dreams–they are the conduit by which this artist transmits his signals in this densely populated exhibition.
The main gallery is filled with paintings, mostly executed with acrylic paint on irregularly shaped MDF panels. This device is useful. It appears to extend his metaphor. To exemplify the oddity that is his commodity–his ideas. Torluemke's ideas may be his bread and butter, but his ability to execute and transmute his thoughts into compelling objects, is equally evolved.
Torluemke's metaphors come alive in works like Day Dream 2015. This decisively cut panel adopts the profile of a man–a shape that is repeated again and again to develop the edge of the painting. A surreal landscape occupies the mind. Faces form the face. Dark matter makes the shadowy abyss beyond the dream. Paint is liberally applied to these slick surfaces, making it a joy to discover the miniature paint galaxies in the depths of the work.
In the smaller gallery a more intimate but more direct version of Torluemke's metaphor adorn the walls. The drawings are made while blindfolded, with one continuous line–details are added later. What is interesting to me about these works is less the product(though I like the drawings), and more so, the idea of creating an action born in metaphor.  If Torluemke feels like his artistic process is often like doing a frankenstein walk blindfolded in the dark, as a child does in Blind Man's Bluff, then it is this thought, this metaphor, that has driven him to thoroughly explore and excavate this idea and all of its potential. As a dream only becomes understandable by way of syntactic dissection and cultural grounding, so too must a metaphor be broken down into its component parts for reassembly as something new. Something learned. Something useful to the pursuant.
There is a multiplicity in these works that contextualize the conditions under which these objects are made. I can sense an urgency. I can feel the excitement. I can see ideas mutate on the surfaces. The work seems to be in constant transition–from panel, to sculpture, to blindfolded drawing and back again. Torluemke's process plays out like a dream as he traverses from one unexpected place to the next. There are no answers here, only snippets of dreams. Remnants of action. Links to a lineage of ideas that are constantly evolving.
By following the hunch, pursuing the dream, and unraveling the metaphor, Torluemke seems to have developed a method for finding his way in the dark.
Linda Warren Projects
327 N Aberdeen Suite 151
Chicago, IL
Gallery Y & Gallery X: Tom Torluemke, "Blind Man's Bluff"
April 17 – June 13, 2015
Opening Reception: Friday, April 17, 2015, 6-9pm
Artist Talk: Saturday, May 16, 2015, 3-5pm
---
By Kevin Blake
I drift. A good drift. A perfect drift. One that will catch a nice trout. I swing my rod overhead and flick the tip upstream. Mend. Mend. Recover and drift….fish. My memory takes me downstream and the water sweeps my feet from underneath me. I allow the current to drag me away from here.
As I rush past the shores of my recollection, I realize that it may take a lifetime's worth of attention to learn the secrets of the river. I realize that each section of the stream requires a different understanding and consequently, a different approach, to unlock the mysteries of each pool, eddy, and riffle. I'm reeling but not too aggressively. I don't want to lose this fish.
Fly fisherman, like painters, have an uncanny ability to liken any conversation to their pursuits with a rod or paintbrush, on the theory that the essence of anything is in how it relates to their quests. In Kim Piotrowski's show, Catch and Release at Linda Warren Projects, this perpetual metaphor is alive and well and permeating from the walls of the gallery. The rush flows from one piece to another. The fish spook and swim under rocks and stay there until I walk away, only to emerge again as I distance myself from the work–forcing me to return and throw another glance at the image. These are freshwater works(predominately made with water-based media), bottomless and infinite–their currents creating a generative energy for their creator that seemingly erodes her immediate boundaries and transforms those limits into the conditions upon which the next work is made.
I lodge the toe of my boot underneath a submerged log as to brace myself for another run. It's trying to get away from me. I hold my rod high and behind me with my left hand and keep my right hand on the reel. My body twists to make the position possible. I'm adding line as fast as the fish rips it off. The cold water makes new seams around my legs, adapting to my temporary damn. I watch my line tighten. The fish changes direction–and once again–I'm reeling.
I stand suspended in the gallery, surrounded by effort–large and small. Piotrowski has transformed the space to not only display her achievements, but to advance her inquiry. In her debut exhibition with LWP, Piotrowski casts her lines in every direction. Her massive site-specific painting done directly onto a gallery wall that spans 43 feet, is a glowing example of her fearless attempts to allow opportunities to be the source of her invention. She has titled the piece Tide Tango and in her words, it represents "the dance we do with the rush of thoughts as life runs over and through us."
Like the river, Piotrowski's paintings meander, dash, swirl, and coalesce in spaces that cannot be confined by the limits of the page. She recognizes the necessity to expand the space into different formats(see Corner Lot, 2014), providing new borders to break free from and allowing new puzzles to emerge.
Piotrowski's paintings remind me of Matthew Ritchie's complexly scaffolded spaces that find organization in chaos. The ability of arbitrarily small occurrences to greatly affect the outcome of a painting is particularly present in both artist's works. Though Piotrowski seems to be making the paintings with much less discrimination. Less rules. Less fuss. More risk. Yet, in both artist's work, there are common mark-making strategies, similar viscosities in paint applications, and there is an ever present familiarity in the natural locomotion of fluids on the surfaces they paint on.  While Ritchie seems to be interested in corralling those fluids to work within his system, Piotrowski seems to let paint go where it wants, and her next move is a response to its uninhibited resting place.
I'm bringing him afoot. The line is tight but loosening. As the fish lays down, I pull him softly toward my free hand. In an instant, before I could grab him and at exactly the moment our eyes meet, he gives one last fit of terror and snaps free of the fly.
Fishing and painting are matters of timing in a changeable universe, and even when one returns to a place or moment of success, its doubtful that it will be under the exact conditions. Having broken the rhythm of a brilliant performance, it's possible to never go back at all, and one shouldn't go back–forward is the only worthwhile direction. The next hole upstream holds a trophy too, and its there that Piotrowski seems to be constantly aiming.
Life is a dangerous and unmanageable mess, but somehow these paintings have achieved a different description. Piotrowski's description of life and linear time, is something much more approachable. Catchable even. As life runs over and through her, Piotrowski stands in the river waving a stick, trying to catch the catchable and upon success, immediately releases it back into the water for the next fisherman to stumble upon.
---
Audio clip: Adobe Flash Player (version 9 or above) is required to play this audio clip. Download the latest version here. You also need to have JavaScript enabled in your browser.

download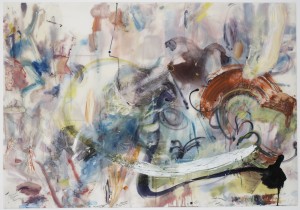 This week Mark Staff Brandl interviews ex-pat artist Leonard Bullock.
Originally from North Carolina and New York City, Bullock has lived in Europe for the last 15 years, frequently exhibiting in Switzerland and Germany. He was often involved in significant events of the artworld in important locations, including starting an artist run gallery in the 80s in NYC, assisting Leon Golub and more, thus making him the source of a wealth of interesting anecdotes and unique criticisms.
Bullock is a painters' painter especially in his mark-making; his direct facture has influenced many better-known contemporaries. He often paints on surprising surfaces such as fiberglass or silk and includes text and images with pure abstraction.
In the "outro" to this weeks show, Duncan defends the good name of Joseph Mohan, against Richard's inappropriate commentary. Read more
---