By Kevin Blake
"Four score and seven years ago," is how my mind tells me to start every essay I sit down to write. This is my memory at work. I remember the tone of the words that follow in Lincoln's famous Gettysburg Address. I remember the cadence. I remember that it was taught as a triumph. As a novel speech from a novel man. I can see the address in a block quote in a semi-thick American history textbook. It was highlighted in blue with Lincoln's portrait in the top right corner of the elongated box, at the right side of the page, and at the end of a chapter covering the Civil War. I was given the task of memorizing the words and reciting it to my classmates, but all that remains are the first words. The image of the words. The feeling of time passed.
When I am staring beyond my computer screen–perhaps out the window–searching for the right words to begin with, Lincoln's words make up the phrase that my mind tells me to jot down. It seems as much a method of mocking myself for my own distrust in my ideas and the effectiveness of recording them in this way,  as it is a natural beginning. A way to set the tone. A point of abstraction. Only now am I realizing that the attention I have paid to it–in this introduction–may either eradicate its insistence in my writing regiment, or forever disturb any ingenuity it may have had. Today, the words are there and I'm responding to them.
I recently admitted to a habit of writing my articles the day before the deadline, and since then, I have been stewing over the probability of procrastination. I've been questioning my routine and routinely questioning the validity of the way I think, rationalize, and project my ideas. I am forever convincing myself that my ideas are valuable and that the time I have spent Not preparing this article, has been used to decompress the information that has consumed me in the month prior. I am often successful in my persuasion, however, there also exists an acute awareness that convincing is essential. Therein lies the paradox. Therein lies the necessity for crackerjack acumen–or the ability to form enterprise with intuition and memory despite one's rational concerns that may encourage otherwise.
I'm constantly waiting for a bolt of lightning to electrify my thoughts–to send a signal from brain to stem which results in an action–in this case writing. Molly Zuckerman-Hartung revealed to me the genesis of the lightening bolt as Hans Hartung's signature. He believed the lightning bolt was especially for him, and that its form (the zig-zag) represented spontaneity in a way that was true to the idea of what spontaneous action might look like–erratic pivot points descending from above a surface it will eventually contact. It will be surrounded by other bolts (they come in storms), and will offer the conscience a choice at every zig and every zag, eventually determining where the bolt will be grounded.
Last week I was struck at Devening Projects by the drawings of Monika Bartholomé. Before reading any literature about the work, I felt the drawings had allowed me to access very intimate spaces that were not only intimate in their portrayal of domestic interiors. Though there is ample information to suggest that these drawings are simple representations of the artist's habitation, a closer look reveals imaginative brushwork, a keen understanding of light, and most importantly, an uncorrupted investigation of memory.
My memory of the Gettysburg Address and the application of it,  is a corrupted memory in the way it has manifested in this piece of writing. It was stimuli that has since been captured, dismembered, and postulated as metaphoric reasoning. We reason from metaphors in our attempts to make sense of ourselves, our actions, other people, and the physical world around us. We engage in metaphoric thought processes simply because much of our experience is metaphorically structured, and it is from our experiences that we reason. It is through this type of reasoning that I have abstracted more rigid or formal strains of logical connections to perpetuate my ideas, and to understand Monika Bartholomé's drawings through my own narrow framing device.
When I visited Devening Projects, Bartholomé's drawings had the zigs and the zags of the lightning bolts. I could see choices being made. I could see the movement of the brushes as well as her hand, and I felt a connection to the impulses that drove those decisions. I envisioned the way the  brushes moved across the drawing surface and quickly made jagged sloping turns to radiate in a resting place. In each conglomeration of intuitive marks, a space would emerge. These spaces are ultimately derived from memory, but are defined by the hand's memory rather than metaphoric representations of existing places. The work seemed to be about the impulse to move the hand from one place to the next using a tool that makes a mark on paper and leaves a trace that creates a dilemma for the maker. This dilemma and the response to it, is how her images are made. Everything else is corruptible. Every attempt to create, rather than respond, would be a false step in the process of creation.
Looking at the drawings that materialize as living spaces, one can see how the hand's memory is as familiar as the mind's. Bartholomé makes repetitive decisions in similar situations. When she reaches an edge, one can see the pressure applied to the brush gradually subside. As the hand recognizes its place in space, it makes adjustments to the tool. The tool, in turn, responds with a trace of that impulse–a mark of muscle memory and the basis for the next drawing move.
Bartholomé has an incredibly efficient economy in her mark-making strategies. However intuitive it may be, it is also learned. The labor and reduction required to arrive at such simple, yet elegant, descriptions of space doesn't occur on a whim. In her essay, "The Eyes Following the Hand," Bartholomé describes the marks she makes: "…they do condense into pictorial language by means of abstract abbreviation…The lines bring something into the open that I once perceived, for the most part unconsciously and incidentally, and that is recorded here in whatever form. To be able to get what has been recorded, to the connections that the perceived thing entered into, and then create a place for it and be surprised by it–this is what interests me, among other things, in the medium of drawing."
Bartholomé's drawings seem to posit that metaphor is a pervasive, yet indispensable structure of reasoning that calls into question some deeply rooted views about the nature of knowledge and understanding. This balancing act is at the heart of her work. The artist is both visible and absent. The spaces are both intimate and ordinary. Recognizable and abstract. Reductive and chock full of imagery. These drawings are easy to get lost in, but only a few steps backwards will bring your eyes back to a reasonable place.
I'm at that place of reason right now after having written this piece. I'm standing in a place that is far enough from the image I have created, and it seems to make plenty of sense–at least to me. My distortions of Baratholomé's work are my attempt to regurgitate her production schematic–letting memory serve as the metaphor that describes the process.
---
By Kevin Blake
I drift. A good drift. A perfect drift. One that will catch a nice trout. I swing my rod overhead and flick the tip upstream. Mend. Mend. Recover and drift….fish. My memory takes me downstream and the water sweeps my feet from underneath me. I allow the current to drag me away from here.
As I rush past the shores of my recollection, I realize that it may take a lifetime's worth of attention to learn the secrets of the river. I realize that each section of the stream requires a different understanding and consequently, a different approach, to unlock the mysteries of each pool, eddy, and riffle. I'm reeling but not too aggressively. I don't want to lose this fish.
Fly fisherman, like painters, have an uncanny ability to liken any conversation to their pursuits with a rod or paintbrush, on the theory that the essence of anything is in how it relates to their quests. In Kim Piotrowski's show, Catch and Release at Linda Warren Projects, this perpetual metaphor is alive and well and permeating from the walls of the gallery. The rush flows from one piece to another. The fish spook and swim under rocks and stay there until I walk away, only to emerge again as I distance myself from the work–forcing me to return and throw another glance at the image. These are freshwater works(predominately made with water-based media), bottomless and infinite–their currents creating a generative energy for their creator that seemingly erodes her immediate boundaries and transforms those limits into the conditions upon which the next work is made.
I lodge the toe of my boot underneath a submerged log as to brace myself for another run. It's trying to get away from me. I hold my rod high and behind me with my left hand and keep my right hand on the reel. My body twists to make the position possible. I'm adding line as fast as the fish rips it off. The cold water makes new seams around my legs, adapting to my temporary damn. I watch my line tighten. The fish changes direction–and once again–I'm reeling.
I stand suspended in the gallery, surrounded by effort–large and small. Piotrowski has transformed the space to not only display her achievements, but to advance her inquiry. In her debut exhibition with LWP, Piotrowski casts her lines in every direction. Her massive site-specific painting done directly onto a gallery wall that spans 43 feet, is a glowing example of her fearless attempts to allow opportunities to be the source of her invention. She has titled the piece Tide Tango and in her words, it represents "the dance we do with the rush of thoughts as life runs over and through us."
Like the river, Piotrowski's paintings meander, dash, swirl, and coalesce in spaces that cannot be confined by the limits of the page. She recognizes the necessity to expand the space into different formats(see Corner Lot, 2014), providing new borders to break free from and allowing new puzzles to emerge.
Piotrowski's paintings remind me of Matthew Ritchie's complexly scaffolded spaces that find organization in chaos. The ability of arbitrarily small occurrences to greatly affect the outcome of a painting is particularly present in both artist's works. Though Piotrowski seems to be making the paintings with much less discrimination. Less rules. Less fuss. More risk. Yet, in both artist's work, there are common mark-making strategies, similar viscosities in paint applications, and there is an ever present familiarity in the natural locomotion of fluids on the surfaces they paint on.  While Ritchie seems to be interested in corralling those fluids to work within his system, Piotrowski seems to let paint go where it wants, and her next move is a response to its uninhibited resting place.
I'm bringing him afoot. The line is tight but loosening. As the fish lays down, I pull him softly toward my free hand. In an instant, before I could grab him and at exactly the moment our eyes meet, he gives one last fit of terror and snaps free of the fly.
Fishing and painting are matters of timing in a changeable universe, and even when one returns to a place or moment of success, its doubtful that it will be under the exact conditions. Having broken the rhythm of a brilliant performance, it's possible to never go back at all, and one shouldn't go back–forward is the only worthwhile direction. The next hole upstream holds a trophy too, and its there that Piotrowski seems to be constantly aiming.
Life is a dangerous and unmanageable mess, but somehow these paintings have achieved a different description. Piotrowski's description of life and linear time, is something much more approachable. Catchable even. As life runs over and through her, Piotrowski stands in the river waving a stick, trying to catch the catchable and upon success, immediately releases it back into the water for the next fisherman to stumble upon.
---
By Kevin Blake
Abstract painting is coming off the walls. It is evolving. Zoe Nelson talks with Bad at Sports about her engagement and participation in the evolution of abstraction, which appears in her work, to be a deconstruction of traditional painting parameters. Through a physical dismantling of the images' supports, Nelson blurs the boundaries between painting and sculpture, creating perpetually shifting spatial dynamics.
Kevin Blake: Chicago artist Sophia Leiby recently turned me onto an essay in the Brooklyn Rail, Worlds With Us by Katy Siegel, in which she suggests, "In terms of art, unthinking the opposition between representation and abstraction is particularly vital to understanding art objects and practices afresh." I'm wondering how you have arrived at abstraction. It seems to me that artists arrive at abstraction out of some sort of necessity that is the resultant of a struggle with conceptual as well as formal frameworks. As I was looking through your archives on your website, I could see a departure from representation, and it occurred to me that this was a relatively common evolution for abstract painters. Abstraction does not seem like something you just set out to do one day. I'm wondering if abstraction, for you, has been a product or a solution to struggling with the idea of representation and abstraction as polar opposites.
Zoe Nelson: When I started grad school at Columbia University in 2007, I was working on a series of portraits of friends with their demons. Imagining what my friends' (and my own) demons might look like if they were externalized allowed me to begin to think about the entire space of the canvas as a loaded psychological space, with all parts of the canvas (foreground, background, demon, person etc) having the potential to be equally descriptive of the psychological state of the person. It was at this point that a shift occurred and I started to become more interested in the potential of the "background" or psychological space around the person than in the portrait. As a challenge to myself, I decided to try to remove the figure from the work, while continuing to make an interesting painting. I'd say that my first conscious plunge into abstraction occurred with this initial act of negation–the negation of the figure. Absence and negation continue to be strong conceptual and formal frameworks for my work, as you can see in my current body of cut-out paintings. What is cut-out or not depicted in my work is often defined by- and defines- the form and content of the painting.
Going back to your Katy Siegel quote, I would agree on the importance of deconstructing a binary understanding of abstraction and representation in painting. I arrived at abstraction through representation, and in some ways one could say that I am currently working through abstraction to arrive at a type of active, moving representation: a representation of liminal psychological spaces and shifting states of being.
KB: Literally cutting sections out of the painting seems like an almost radical action against representation–in the sense of negating recognizable imagery–and simultaneously, it might be seen as a way of evoking a discussion about the state of being represented. Opening the canvas to view the guts of a painting, so to speak, allows the viewer to look past the painted surface and into the physical space behind it, calling attention to its objecthood. In your recent show at Western Exhibitions, some of the paintings protrude from the wall rather than hanging flush on it, further interrupting the spatial dynamic while creating a dialogue with it. Can you talk about the paintings existing in the third dimension and how do these issues perpetuate this idea about abstraction and representation being more of a consequence of one another rather than visually articulated opposites?
ZN: As I cut into the canvas, I uncover parts of the stretcher bar support, which inevitably opens up a whole chain of questions regarding the relationship between support, canvas and the physical space behind and around the paintings. Each painting deals with this relationship in a different way, I believe, and the double-sided paintings evolved as a natural extension of the work becoming more sculptural. When the frame is exposed, all of the sudden there are edges and different physical planes to consider, and the next logical step was to consider the "back" of the painting as well. Through privileging all sides of the painting, I hope to destabilize the hierarchy of front over back, and hanging the work perpendicular to the wall is a playful invitation for the viewer to walk around the paintings and take part in this process.
The paintings and installation at Western look completely different depending on where you stand in the room, and these shifting states are integral to the form and content of the series. If multiple people are in the room, you might see a hand or head or shoulder through the cuts in a painting, and these people (or body parts) momentarily become a part of the work as well. Blurring the lines between artist, painting, and viewer in this way is conceptually exciting for me, and I think circles back around to how the current work still references back to my initial interests in representing the body and psychological states of being, albeit in a performative way, and while operating within a realm of abstraction.
KB: The first time you cut a painting, was it due to what you perceived to be a mistake? Looking at the evolution of your work, I sense a strong influence of painter Amy Sillman whose work seems to depend on the occurrence of mistakes and even more so on the corrective production emerging from those mistakes. Does your work engage with that dialogue?
ZN: Whenever I move to a new location, or even a new studio, I find that my practice often shifts with the move. After graduate school, I spent a year working on a series of process paintings about the idea of unwinding. It wasn't until a year later, when I moved to Chicago, that I was able to take the project a step further and actually start to undo the surface of the painting through cutting into the canvas.
Although my initial cuts into the canvas were not exactly a mistake, they did stem from a place of anxiety and fear. When I moved to Chicago in 2010, I didn't know the city at all, barely knew the art community, and only had a couple of names of friends of friends to contact. Everything around me seemed unstable, unknown and overwhelming that year, and the studio was the one place that I was able to channel all of that anxiety and fear into artistic risk-taking.
I worked with Amy Sillman in grad school, and she continues to be a huge influence for me–both her work and in the smart discourse that she engages in around her practice and painting. I've noticed in my own practice that if I have an idea for a painting, and I execute that idea really quickly, the work often doesn't hold up a few days later. I think this failure ties back to the importance of the mistake: perhaps the reason that these paintings often don't hold up, is because that struggle–of making, identifying, and working-through the mistake–hasn't yet occurred. When the work falls short like that, there is often a part of the painting that has seduced me, and it's only through literally cutting out or removing the seductive part that I am able to rework the painting as a whole, rather than as a showcase for one special element.
I think that the importance of the mistake also ties into the importance of feeling and intuition. Amy Sillman has an awesome zine, the O-G v3, in which she challenges the hierarchy of mind over body when discussing and making paintings. At the end of the zine, Amy advocates for the conceptual possibilities of painting specifically through "the radical merging of mind and body!" While it is often easier to talk about formal or conceptual concerns in painting rather than trying to find a smart way to talk about intuition, I am of the mindset that the two are not mutually exclusive. In my practice, intuition, feeling, mistakes, and elusiveness are just as important to the process of painting as the formal painterly concerns that I am also responding to.
KB: When I listen to other artists talk about their work, I always look for a takeaway-something useful to apply to my own practice or in this case regurgitate as a means of preserving the idea in my frontal lobe. I recently listened to artist Cesare Pietroiusti speak in Boston, and of the many things I retained from his talk, he said something profound that resonates in relation to our conversation. He said, "when there is discomfort, fear, and anxiety-go there." It seems you have intuitively done just that and this impulse has yielded some positive results. Have you been able to abandon these themes as you have gotten settled into Chicago and more so into the community? Or do they continue to be the driving force of your work?
ZN: Anxiety and discomfort continue to be strong themes in my work, though the driving force (or one driving force–there are definitely many) has become the work itself. I have grown to love living and working in Chicago, and have met fantastic artists and worked with great galleries here, such as Roots & Culture, Lloyd Dobler, and most recently Western Exhibitions. I think that anxiety, fear, and crisis are all incredibly powerful emotions (or psychological states), and they hold an equally powerful potential for risk-taking in an art practice. That said, I also think that it can be hard to issue rigor and restraint in a place of real anxiety or crisis, as everything has such urgency and there is a lack of control. Thankfully, I am more settled now and I find that the work is organically building on itself. Each painting opens up a new set of questions and formal challenges, which lead to new decisions and new paintings. Right now I am in the exciting place where I have a number of ideas for new paintings and specific installations, and am juggling these different trajectories in my practice. I am able to continue to explore themes of anxiety and crisis while mitigating those states with humor, play, and pleasure in the work. Of course waves of anxiety, failure, and fear play a part in this process, and no matter how thoroughly I conceptualize a painting before I start it, the beginning almost always feels like a shot in the dark.
KB: The end result being a complete departure from the pre-conceptualized form makes me think about conflicting loyalties. You have loyalties to your methods which allow all the nuances and intuitive moments to take place within the process of making a painting, and being loyal to yourself in these allowances is an important if not essential part of your practice. However, you also have a loyalty to what you might still do, or what the painting might still become, which always seems to be connected to the pre-conceptualized form. How do you negotiate conflicting loyalties in this sense? Are your sketches or ideas of a final product just a jumping point or do you struggle to maintain those forms throughout the process of making a painting?
ZN: When I start a new painting, I usually try to either identify a psychological state, or a feeling attached to a specific moment, that I want to articulate. I then respond to this initial idea by imposing a set of formal parameters on the work, which also define the subject matter. For example, the painting "Skype Breakdown" started with an idea to make a painting about frustration, blocked communication, and distortion. I made the painting (and most of the work up at Western) this past fall, while I was at a wonderful six-week residency called the Lighthouse Works. The residency was on a small island off of NY with spotty internet connection, and after looking at my partner's frozen and pixilated face on the computer screen for the umpteenth time, I decided to channel my frustration (and objective interest in the abstracted image on my screen) into a painting. Using the idea of arrested communication and distortion as a starting off point, I began the painting by first making mask-like cuts into the top layer of canvas. Any discernible figure or face is cut-out and totally abstracted, and this act of negation also becomes subject matter.  Circling back to you initial question about juggling pre-conceived concepts with method and intuition, I'd say that I try to stay true to the initial motivation and abstract idea behind a painting, while being open to chance, intuition, and the unknown in the process of making a painting.
KB: Speaking of making new paintings, what are you currently working on, and do you have any upcoming exhibitions we should know about?
ZN: I am working on a few different projects at the moment, including a nascent but exciting collaborative project with a composer, and paintings for a couple of installation ideas. Just a few days ago I was asked to take part in an artists lecture series called "Artists Now" at the University of Wisconsin-Milwaukee next spring, which should be a lot of fun, and I am working on an exhibition proposal for the fall of 2014 at the moment. Having the show at Western has allowed me to take some time to reflect on the work, and see the paintings in a different context. I am particularly excited to hole-up in my studio as the show comes to a close, and make some new work!
---
By Kevin Blake
Josh Reames makes smart paintings. Whether he is deliberately utilizing painting tropes, such as the dripping brushstroke, or deploying obvious geometric abstraction, Reames' work acknowledges his awareness of the painting vocabulary while creating his own grammar from canvas to canvas. Reames aligns his understanding of painterly tradition with his interpretation of contemporary experience that speaks directly to the viewer through text, emoji, palm trees, and anything that seems fitting in the moment of creation. As Reames carves out his own space in the painting world, he wittingly nods his head to a history he  knows well.
Kevin Blake: You have an interest in the escapist ideal, and while those ideals are more overtly addressed in your multimedia constructions, I think your paintings, at times, depart from those ideas and allow for a more eclectic read. Can you talk about your modes of production and how those different methodologies have different relationships to your conceptual framework?
Josh Reames: Sure, I think the paintings lend themselves to an eclectic read, but only as a group. I try to keep individual paintings focused on specific ideas. I think all of the work addresses escapism, just in varied ways. The tropical imagery and psychedelic drug references are just as involved with escapism as the act of painting is. The eclectic read is a product of my scattered focus, which is probably a product of internet culture. My conceptual framework is pretty broad; if I had to describe my intentions with painting it would be to use painting as some sort of filtration device for cultural bi-product. I mean, I'm super into the idea of relativity (cultural, moral, etc.), and painting has this ability to literally flatten images and references into a rectangle. By pushing images together and composing them into a painting, you can flatten the references and remove the hierarchy of importance. So Abstraction, palm trees, emoji, drippy brushstrokes, dollar signs, cigarettes, and the Sphinx can all be flattened to the same level – composition. Either nothing is really dumb anymore, or all of it is, it's getting hard to tell.
KB: You make pictures that perpetuate your grasp of the canon of abstract painting, and I wonder if there is any escape from those parameters. When you are making paintings, how do you filter your knowledge of abstraction (historical and contemporary) to maintain something that is your own? Can artists escape the initiated forms they supersede? Can painting ever escape from itself?
JR: Maybe I'm wrong, but it seems like the need for iconoclasm is outdated. I think the idea of superseding or escaping abstraction comes from some need for a linear narrative of "this became that, then that became something else" which I think has been a legit way of understanding a progression of artists, at least for the past few hundred years. But now I think it's a little different; sampling, re-sampling, homage, and straight plagiarism are all viable forms of historical awareness in art. The drippy brushstroke has historically been an abstract tool, meant to express the presence of the artist – a remnant of the physical self. But over time, that becomes a trope, a symbol separated from it's original context. I think this is liberating in a way. It's sort of like Tarantino using the tropes of old kung-fu films like Zatoichi and Lady Snowblood; he takes an outdated thing and makes it fresh. In that sense, Robert Motherwell or Franz Kline didn't have the internet, so I have a fresh set of tools to play with.
KB: Is sampling, re-sampling, homage, and straight plagiarism unavoidable at this point?
JR:Â  I mean, all the best artists have stolen, it's just easier now. When you are completely inundated with images on a daily basis there becomes this subliminal pool of imagery and information that seeps into the studio. I don't think it's completely unavoidable, but if you are like most artists with access to the internet, it is pretty difficult to avoid. That being said, I don't think there is anything wrong with it.
KB: Your paintings reference artists like Charline Von Heyl and Christopher Wool among others and I am curious as to how you think you arrived at those influences?  What I am trying to understand from your perspective, is how you feel about so many artists drawing from the same well. The internet provides an infinite range of source material, yet the pool of imagery that seeps into your studio, seems to be oozing into everyone else's simultaneously. Fortunately, you are distilling it all in an interesting way. It is a pattern in art history for contemporary artists to be in dialogue with one another. How do you negotiate those terms and demands?
JR: I love Wool and Von Heyl, I think they are some of the most important living painters. I relate to how Wool handles abstraction, especially with the screen prints, in an almost hands-off kind of way. He takes abstraction, historically an emotionally charged way of painting, and filters it through a Warhol-ian process that removes the hand. I think there is a lot of humor there, super dry though. So good! There are only so many ways to make paintings; different combinations of styles, tropes, paint handling, tools, etc. Eventually it's not difficult to take a step back and see artists doing similar things. I'm not sure it matters though, as long as the thing being made is interesting and has some connection to the artist. After that it's all personal taste.
KB:Shifting gears a bit, I was hoping to talk to you about text in your paintings. Often times, text is integrated into the image and sometimes the text appears to be squeezed out of the tube on top of an abstract composition–your paintings "YYY" and "Land Grab" come to mind. How does text operate for you in your paintings?
JR:Text is a way to guide the viewer, to give some sort of context to an otherwise abstract painting. I always integrate the text so that the letters or symbols double as marks, either sprayed or squeezed in the same way any other mark would be made on the canvas.
KB:I'm interested in your word choices and how, if at all, you see them as a personification of yourself. Or are the words derived from language you see fitting into your escapist trajectory?
JR:I keep a running list of text ideas in my sketchbook and on my iPhone. The word combinations that get used are usually really open ended, allowing for specific/individualized reads, but also have a specific connection to me. Sometimes it fits the escapist trajectory, but others will be references to books I'm reading or words that I came across that stuck with me.
KB: Can you talk about how the array of non-traditional painting materials have made their way into your painting practice? Spray paint, airbrush, and fluorescents, to name a few, seem to be the rage. Are these materials and/or high key palettes coincidence or do you think they reflect something more concrete?
JR:In a broad sense I think non-traditional painting materials, usually applied to abstraction, are a way to make abstraction relatable. Matias Cuevas' poured paintings on carpet, or Andrew Greene's glass abstractions are good examples; they bridge the gap between a messy abstraction which really just exists as a historical trope, and everyday materials, which pulls the trope into something new. I don't think my work really fits in this category,  I think using airbrush and fluorescents aren't that uncommon; I started using the airbrush because I have no patience with paintbrushes. I'm a pretty shitty painter if you put a brush in my hand, I can never make it do what I want it to do! The airbrush is different, it's way more versatile, and quick. As far as the high-key color palette's go, I'm sure there's some coincidence there, maybe trends – personally I just like shiny things…
KB:I think you are right, these techniques are becoming more and more common in contemporary painting practices.  Maybe it relates to a culture of instant gratification, immediacy, and even escapism.  Does the pace of everyday life influence your material applications and the speed at which you make your work?
JR:I agree, I think people (artists included) generally have a short attention span and as a result, a lot of impatience. I know I do. I am always able to look at a painting that took months to complete and think "wow, that took a lot of time". But I don't think the amount of time something takes makes it any better than if it was quick. Again, my use of the airbrush is entirely about speed and impatience. I want the paintings to look meticulous, with slick surfaces and plenty of precision – but I want to make a lot of paintings, so speed is key! The pace of everyday life probably has an indirect influence on that.
KB:Speaking of the pace of everyday life, how do things look in your studio right now as you prepare for your solo exhibition at Luis De Jesus in Los Angeles this January? What do you plan to show?
JR:It's crazy in here, I just got back from an 11 day trip to NYC where I saw some pretty rad shows (Josh Smith, John McCracken, Joshua Abelow, etc.). It's great to be back in the studio working on some new paintings. I think I'm going to make a handful of emoji paintings and text paintings with text-message shorthand. The working title is THE INTERNETS. Time is such a luxury though, I've been considering hiring a studio assistant so I don't have deal with those pesky tasks like stretching and priming canvases… we'll see!
Kevin Blake is an artist and writer working in Chicago.
---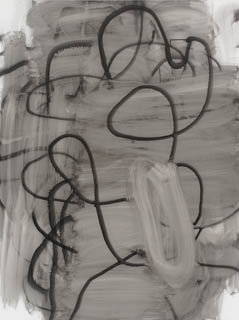 There is nothing I enjoy more than the intersection of musical performance and visual work. At Sound on Sound, a Christopher Wool exhibit at Corbett vs. Dempsey, I watched Joe McPhee activate that intersection. As stated in the CvD press release, "the title of [Wool's] show comes from a 1968 recording of [McPhee's] that has never been issued," a gesture that echoes in Wool's wall-length abstractions which play with what is, is not and what was there. With those paintings as a backdrop, McPhee 's performance created a touchstone of literal, temporal experience–a positive reminder that history is not simply a spectral projection.
Wool's larger abstracts pay homage to modernist painting just as they undermine that homage. The focus is on surface rather than paint. The paintings are flat and slick. The action of the paint appears to have taken place behind the surface–an implied, impossible-to-reach space. A space the viewer can never touch. These paintings ask you grasp for an idea–to strain through the mark-making, and parse their accumulated gestures. While the more obvious marks are high contrast–blocks of white paint that seem applied with a paint roller, or finer snaking black lines that seem straight from a can of spray paint–the meat of the work is behind those singular pronouncements. The meat of the work is the background wash, variant erasure-marks where singular phrases might have existed before. It is about what Wool erased–a project of deduction for any viewer bordering on a Rorschach print: while some of those deductions are accurate, any number of personal associations come into play, disguising the process. Looking at Wool's work is like shadow boxing–what becomes a metaphor for his project of painting abstracts at all.
The contemporary abstract painter must account for The History of Painting. Wool seems to suggest, via these spectral works, that history is impossible to grasp, elusive in it's Truth, unstable, even, as it is reliant on a present's interpretation. History becomes more an image of one's self than any real vision of what was. The viewer parses Wool's process, (or the history of each specific painting) just as Wool is reflecting and parsing the history of painting. In either case the result is subjective and, even, maudlin. It will never be requited. There is no true history.
Images of Wool: The giant bare room with countless paintings lined up along the walls. The boxing bag hanging on the periphery of a studio shot. Photographs of broken-down cars. Artist in a El Paso tank top with a breathing mask and paint gun. Wool is a painter's painter; in a frieze article his nose is discussed at length as an ideal, "A seriously tremendous nose, something a rock climber would gaze at in awe, especially if it were on the scale of Mount Rushmore. How would one begin to climb it?" All of these images, both self-created and perpetuated by others amount to a decidedly male tradition; it echoes of Pollack and yet, as one of many in a patriarchal succession: how to fill the shoes of a predecessor? How to achieve some recognition? Especially when the death of said predessor boasted a simultaneous "death of painting." A death no one really believes in, but nevertheless enjoys to bat around. (An article I read years ago, I wish I could remember suggested that every ten years we exume the body of painting to see if, indeed it is dead, before reburying it). Wool is not asking if painting is dead or alive, instead he presents ghost-paintings: after-images created out of smoke. He admits the smoke-and-mirrors archetype, while nevertheless being married to its tradition.
Last Saturday, McPhee served as a kind of in-between orator, one who played directly with the Wool's themes while creating a connection between Wools contemporary-image-of-the-past and the present moment. There was something grounding about McPhee's presence–a positive gesture on this side of the paintings. McPhee is real. He is not a ghost. His relationship to history, while profound (he came on the scene in the 60s and 70s and boasts a significant reputation as one who integrated emotional content with experimental improvisation), is nevertheless active, contemporary, literal. At the same, his work with recording equipment–particularly this devise of "sound on sound"–speaks directly to Wool's process, wherein an improvised (and emotional) recording of gesture is layered on top of other temporal gestures to create unpredictable layers.
McPhee stood between the work and the audience–a man of medium height. He wore a baseball cap and carried a soprano saxophone. The beak of his saxophone was dressed in a little furry hat–a fake animal head with two plastic yellow eyes. I liked imagining the saxophone, animated with this "hat" and McPhee in his basement, staring at the yellow eyes: no doubt they have a deep relationship. He carried the audience through a range of sounds, using the saxophone's percussive potential with windy toots and bellows; sometimes it sounded like he was blowing through a large metal pipe.
At the beginning of the performance, he called the thought of Houdini into the room, mentioning his name and encouraging the audience to close their eyes: he promised to make sounds about illusion and suggested a literal connection between himself and Wool. "We are both interested in illusions," he said. He played the saxophone and, with my eyes closed, the notes seemed to come from various directions at once despite his standing in one place the whole time. In other instances, McPhee played two songs at once, blowing through the reed just as he hummed simultaneously; eliciting a crying underbelly-sound that followed the upper sax-melody. These discordant melodies struggled to overcome one another other;Â neither one strong enough to do so. Like Siamese twins sharing a heart, the melodies shared one finite breath. Then this too would break off into a new song with sometimes sharp and shrill passages of music, like a fast forward bird–McPhee activated my inner ear, so that I heard the notes occurring outside of me, while experiencing an interior wiping sensation/sound inside of your head. And suddenly I recognized a passage–he played God Bless The Child, with some trembling, discordant defiance, pleasing in it's surprise. He took us on abstract tangents only to return in time to rescue any listener from doubt with the refrain. He then read a poem.
Joe McPhee at Corbett vs Dempsey video by Angeline Evans
I think it's important to remember any abstract improvisation can illicit a insecurity–the viewer/audience can't know where it is going. It's a little like going on a hike as a kid and not knowing where you'll end up, only that you're supposed to follow and trust the adult ahead of you. Here again there is an image of the Elder, the person showing you the steps, the person you must trust. Whether it's the history or experimental jazz, or the history of painting, we are walking down a familiar path, trying to contextualize ourselves to that history, to understand where the contemporary "I" fits in it and figure out what the next step is. Part of learning that history is falling in love with that history, just as one must recognize a life in the present, where that history is only a shade. Like Christopher Reeve's character in Somewhere in Time (1980), one must, in the end, let go old ghosts.
---