Polly Ullrich's service will be held Saturday August 6 at 11:00 am at Wellington Avenue Church, 615 West Wellington Ave. in Chicago. Parking will be very difficult, so public transit, taxi, bike, or walking is recommended.
It is with great sadness that we recognize the passing of a friend and stalwart of the Chicago art world, Polly Ullrich.
Polly was amazing and her passing is a loss to our art world and local community. She was kind, thoughtful and often set an example that was so blindingly hopeful that it was hard not to follow. I will forever remember her curiosity, interest, enthusiasm, and commitment to fostering a critical community.
She will be missed by all of us that knew her and by this community.
The following shared thanks to her husband David Ullrich.
In lieu of flowers, David has asked donations to be made in Polly's memory to the Wellington Avenue United Church of Christ. 
POLLY H. ULLRICH
            Polly Ullrich died suddenly on July 6, 2011, in Woodruff, Wisconsin, from injuries suffered in an automobile accident.  Polly's life was a relentless and intense search for meaning and beauty in art, literature, music, and most of all, in relationships with people.  She had the unique ability to capture the meaning and beauty in words in a way that helped others understand.  She brought insights and boundless joy to every life she touched.   She was the dear spouse and friend of her husband David and loving mother of their son Eric.
            Polly was born in Wisconsin Rapids on July 27, 1950 to Phyllis and the late William Huffman.  She was an outstanding student and excelled in journalism, forensics and theater productions at Wisconsin Rapids Lincoln High School, where she graduated in 1968.  A significant experience during her youth was at Camp Manitowish in Boulder Junction, WI, where over six years she developed her personal strengths and love of the outdoors.  She went on to the University of Wisconsin, where she majored in journalism, receiving a bachelor of arts in 1972 and a master's degree in specialized reporting in 1973.  During college, she was an active member of Kappa Kappa Gamma sorority and served as a page in the Wisconsin Assembly.  She also wrote for the Daily Cardinal in Madison and for Time magazine.
            She and her husband moved to Chicago in 1973, where she continued her writing, starting with United Press International and moving on to do stories for the Milwaukee Journal-Sentinel, Chicago Sun Times, and New York Times.  Her writing moved more and more toward the art world.   In 1980, she stopped writing and decided to learn ceramic art and developed her skills to a point where she was showing her work in Chicago, Milwaukee, St. Paul, Florida, and New York City. 
            With the birth of their son in 1990, Polly pursued both being a mother to Eric at home and her love of art at the School of the Art Institute, where she received a master's degree in art history, theory and criticism in 1994.   She expanded her writing to include all of the arts, with a special emphasis on crafts as an art form.  She lectured and served on panels widely, including at Cranbrook Academy in Michigan, Haystack in Maine, and Art Chicago, as well as writing for a number of national art publications.  She also taught at the School of the Art Institute.  Polly was active at Wellington Avenue United Church of Christ in Chicago for over thirty five years, where she served as a liturgist for many years and currently as Chair of the Worship Committee.         
In addition to her husband of 39 years and 21 year old son, Polly is survived by her mother Phyllis, sister Claire (Hackmann), and brothers Tom and Joel.  In lieu of flowers, contributions in Polly's memory may be made to Wellington Avenue UCC, 615 West Wellington, Chicago, IL, 60657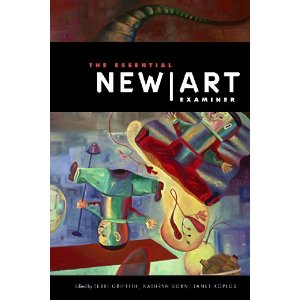 Ah yes, it's that time again! Time for another panel discussion on art criticism in Chicago. Luckily for y'all, this one is filled with great folks who really know their stuff. AND: it's been organized in celebration of The Essential New Art Examiner, a compendium edited by our friends Kathryn Born and Terri Griffith of the best writings from the venerable Chicago-based art journal. Born and Griffith will appear on tonight's panel, along with BAS' fabulous pal and dapper man-about-town Abraham Ritchie (Chicago editor of ArtSlant), Lori Waxman (Tribune), Jason Foumberg (New City), Steve Ruiz (The Visualist) and Ann Wiens, former New Art Examiner editor, all of whom represent different yet equally vibrant aspects of the Chicago critical scene. The whole shebang is moderated by critic and SAIC faculty member James Yood. So there you have it! Go go go! The panel takes place tonight, Tuesday, November 22nd at  6-8 pm in the Second Floor Ballroom of the MacLean Center (112 S. Michigan Avenue). The full, official-like press release info follows below.
The panel discussion "Art Criticism in Chicago: Past, Present, Future" will occur 6-8 pm on Tuesday, November 22 in the Second Floor Ballroom of the MacLean Center (112 S. Michigan Avenue). Organized in memory of distinguished art critics Kathryn Hixson and Polly Ullrich (both SAIC faculty and alumna), this wide-ranging investigation into the challenges and triumphs in art writing in Chicago also honors the recent publication of The Essential New Art Examiner, a compendium of essays originally printed in the most significant Chicago-based art publication of its era (1973-2002).  The panel will move forward from that to assess the current state of art criticism in Chicago, both print- and web-based, and analyze the rapidly changing milieu for arts conversation in Chicago.

The panelists are Kathryn Born and Terri Griffith, editors of the "The Essential New Art Examiner", Jason Foumberg of Newcity, Abraham Ritchie from ArtSlant: Chicago, Steve Ruiz from visualist, Lori Waxman from the Chicago Tribune, Ann Wiens, former editor of the NAE, and James Yood, moderator of the panel and former editor of the NAE.  (Griffith, Waxman, and Yood are members of the SAIC faculty, and Foumberg, Griffith, Ritchie, Waxman and Wiens are SAIC graduates.) The event is free and open to the public, and is supported with the assistance of Lisa Wainwright, Dean of Faculty, Paul Coffey, SAIC Vice Provost, and Candida Alvarez, Dean of Graduate Studies.
Here is just a slice of what I'm planning to see at this weekend's Artropolis/Art Chicago events. There is so much going on, make sure to click through to the Fair's website to check out everything on offer for yourself.
At NEXT, The Invitational Exhibition of Emerging Art:
GOFFO
"GOFFO, a special section that debuted at NEXT 2008, focuses on multiples, editions, artist books, prints and handmade objects. GOFFO returns to NEXT 2009 with an exceptional curated selection of presses, artist collectives and small galleries. Find it on the 7th floor of the Merchandise Mart."
At Art Chicago:
Partisan
"Curated by Mary Jane Jacob, executive director of exhibitions at the School of the Art Institute of Chicago, Partisan is a special exhibition of works culled from Art Chicago galleries that are dedicated to the artistic exploration of social and political ideas. With hopes of initiating dialogue about art, activism and social change, Partisan provides a critical and challenging space of thought provoking and project-oriented works within an art fair context."
The Hairy Who and Imagist Legacy in Contemporary Art
"To honor Chicago's legendary Hairy Who and Chicago Imagists, artists best known for a colorful and subversive aesthetic, Art Chicago will present an exhibition of works by contemporary artists whose work demonstrates an Imagist influence, whether it is for an unusual approach to representation, rebellious technique or link to the Imagist lineage. This exhibition, featuring work by artists represented in the fair, will be curated for Art Chicago by Lynne Warren, curator at the Museum of Contemporary Art, Chicago and expert on the history of artistic practice in Chicago. The Hairy Who and Imagist Legacy will be accompanied by a display of works by original Hairy Who and Imagist artists including Roger Brown, Ed Paschke, Karl Wirsum, Barbara Rossi, Gladys Nilsson, Art Green and others."
New Insight
"An exhibition of top MFA students from some of the country's most influential graduate art programs, New Insight is curated by Susanne Ghez, director of the Renaissance Society at the University of Chicago. A platform for new talent and innovative ideas, New Insight provides the opportunity to view work by some of the brightest young minds working in diverse graduate programs across the country."
JELLY ROLL : The Spectacle
An ongoing performance presented by Tara Strickstein of Bloodshed Event.
Artropolis Panels/Discussions/Talks:
There are also so many good panels planned for Art Chicago Speaks that I'm worried I won't have enough time to see all the art; these are just a few of the many talks I'm hoping to attend, but make sure and click the link about and check out the full diverse roster of conversational topics, it's really pretty incredible.
11am – 12:30pm: Friday, May 1
Crisis and Opportunity: Programming and Exhibitions in the New Economy
A CONVERGE Chicago: Contemporary Curators Forum program
In recent months, museums and art centers have been forced to shave budgets, reduce programs and exhibitions, and even cut hours and staff. Many curators, however, are successfully and creatively mounting ambitious and well-executed projects. In this panel, curators discuss innovative uses of the exhibition space and fresh approaches to programming that are fueled by big ideas rather than big budgets. Moderated by Brian Sholis, Artforum, this panel includes Ruba Katrib, Museum of Contemporary Art, North Miami, Dean Sobel, the Clyfford Still Museum and Benjamin Godsill, The New Museum.
Location: NEXT Talk Shop
2:30-4pm, Saturday, May 2
Museums on the Line: Cutbacks, Closures and Opportunities
A CONVERGE Chicago: Contemporary Curators Forum program
Michael Rush, director of the Rose Museum of Art at Brandeis University, a discussion about how recent and dramatic shifts in the economic and political climate have profoundly affected virtually every aspect of museum practice. Panelists include Anthony Hirschel, director of the Smart Museum of Art at the University of Chicago and artist Mary Lucier. Using Rose Museum de-accessioning controversy as a starting point for an extended dialogue, this panel will address museum de-accessioning practices; the symbolic value of public collections; institutional transparency; and the role of the museum in tough times.
Location: Merchandise Mart Conference Center
11-12:30pm: Sunday, May 3
Art and the New Economy
Presented by ArtTable
Join Paul Morris, Vice President of the MMPI Art Group, for a discussion about art and the changing economy. Focusing on positive and effective ways to navigate challenging times, this discussion will explore funding, collecting and the market. Panelists include Sarah Herda, executive director of the Graham Foundation, Rhona Hoffman, Rhona Hoffman Gallery, and Dominic Molon, MCA Chicago.
Location: Merchandise Mart Conference Center
1-2:30pm, Monday, May 4
Response: Art and the Art of Criticism
Presented by I Space Gallery, University of Illinois at Urbana Champaign in conjunction with the Chicago Art Critics Association
This panel addresses art criticism as the center of a resonant, disorderly and critical cultural conversation that fosters dialogue about the place of visual art in the contemporary world. Based on a related exhibition at I Space, this panel will feature Chicago-based critics from the show hich includes Fred Camper, Janina Ciezadlo, Alicia Eler, Jason Foumberg, Claire Wolf Krantz, Corey Postiglione, Lane Relyea, Polly Ullrich and Lori Waxman.
Location: Merchandise Mart Conference Center
This is a slightly abbreviated edition of our weekly post, due to the craziness that is VersionFest happening all weekend long. So much to see/do!
Thursday: (tonight!)
The Society for Contemporary Art presents: Cameron Jamie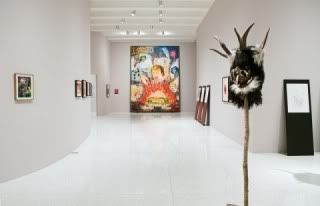 Artist Talk
April 23, 2009 6-7 p.m.
Price Auditorium
The Art Institute of Chicago
(312) 443-3630
$20/$15 for Society for Contemporary Art members, free for staff and students. Please call for more information.
From the press release: "Cameron Jamie investigates ritualistic practices, mythologies, and folkloric traditions that lie at the fringe of popular culture. Best known for his films, Jamie works across media, incorporating drawing, sculpture, photography, and performance in his exhibitions."
Friday:
Response: Art and the Art of Criticism
Opening!
Friday April 24th 5-7pm
I space
230 West Superior St.,
Chicago, IL 60654
Work by Fred Camper and Adelheid Mers; Janina Ciezadlo and Silvia Malagrino; Alicia Eler and Carrie Schneider; Jason Foumberg and Carol Jackson; Claire Wolf Krantz and Claire Prussian; Corey Postiglione and Duncan MacKenzie with Christian Kuras; Lane Relyea and Conrad Bakker; Polly Ullrich and Christopher Meerdo; Lori Waxman and Dianna Frid.
Sunday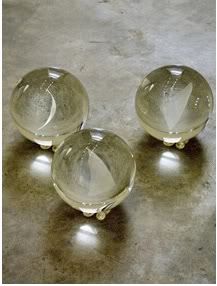 Opening!
April 26th, 2009 at 4 pm, discussion from 5-6pm
Renaissance Society
5811 S. Ellis Avenue
Bergman Gallery, Cobb Hall 418
Chicago, Illinois 60637
Via the Ren's
website
: "Titled after an essay by the late philosopher and literary theoretician Jean-Francois Lyotard, Several Silences is a group exhibition exploring various kinds of silence. As a discourse, the aesthetic of silence has been thoroughly domesticated within the visual arts. Although silence as a discourse in art arose out of conditions calling for the negation of art, it has subsequently become familiar subject matter no longer operating as the avant-garde ideal it once was. This is not to say silence has lost significance. If anything, it has become a more potent antidote to a culture of distraction. Silence, however, is not the absence of communication. It is dialectically opposed to communication, so that one sustains and supports the other. Inextricably bound to communication, which it tacitly evokes, silence itself is a form of communication with many meanings. There are voluntary and involuntary silences–some comfortable, others not. There is Cage's silence, which calls for the distinction between clinical and ambient silences. There is silence as conscious omission or redaction. And then there is memorial silence."
There will be a talk between Hamza Walker, curator of the exhibition, and Thomas Trummer, curator and Project Manager for the Siemens Arts Program, Munich, Germany, from 5 – 6 pm.