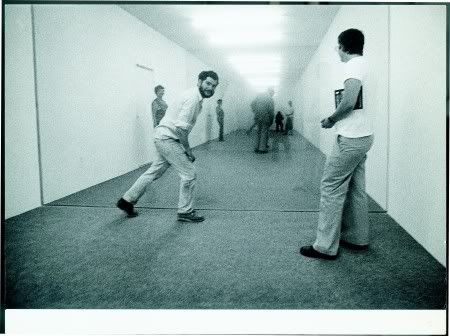 Guest post by Jen Gillespie
Walker Arts Center October 31, 2009- January 24, 2010
The Show was also at the Whitney and the MOCA
Opening Lecture Saturday October 31st with the curators from all three galleries as well as the band Japanther.
Last weekend I made a pilgrimage to see Dan Graham's first retrospective in the United States, in its third and final destination, the Walker Arts Center.  The Walker is in Minneapolis, and if you're from Chicago and you haven't been, you really should make the trip. Dan Graham's exhibition Beyond earlier this year was shown at the Whitney in New York (June 25 – October 11, 2009) and the Museum of Contemporary Art in Los Angeles (February 15 – May 25, 2009) and was co-curated by Chrissie Iles (Whitney) and Bennett Simpson (MOCA).  Beyond traces Graham's influential body of work highlighting his mirror and video installations as well as his conceptual work.  Graham's work, though over time has changed in its physical product, or the method of his conceptual delivery is tweaked, the work consistently deals with subject-hood, identity, duration/distance and the interconnectivity of environment/subject/object relationships.    Graham's discussion that took place at the Walker last weekend with the co-curators of the exhibition as well as the band Japanther was a fantastic one.  In this instance it was a rare example of three discordant aspects of the art world making the sweet, sweet music of politely agreeable disagreement.  Each with their own agenda, the curators, Dan Graham, and Japanther, these separate entities all contributed their perspective on Graham's work, though certainly Dan Graham got the final word. It is after all, his, that's only fair.  Check out the link to view this discussion, Dan Graham is absolutely a legend and shouldn't be missed.  I highly recommend the journey before the show comes down in January.
Guest post by Jen Gillespie
I am headed out of town for the Halloween weekend, a trip you will undoubtedly hear about next week. I am headed to Minneapolis to see Dan Graham speak at the Walker Art Center.  Though I am extremely excited about this mini-break holiday weekend I am experiencing some pangs of regret, or perhaps just longing for the things I will be missing out on in Chicago.  There are, as always far more things going on this weekend than any one person could hope to do, see, or experience.  Though Halloween is often a time for mischief, costumes, and toying with fear, my suggestions are all to do with participating, since Halloween is also a time to get out and be part of the community.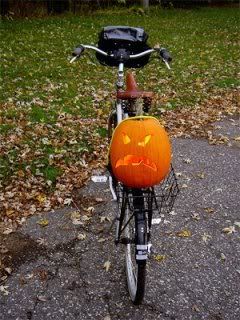 Chicago Critical Mass If you have never been part of their monthly ride its likely you've at least seen them, the hundreds of cyclists clogging the streets that have come together to ride into the night… hard to miss.  The last Friday of every month bicyclists meet at daily plaza and ride throughout Chicago.  Critical Mass happens all over the world and Chicago's turnout, especially for the ride this weekend, is definitely one to be a part of.  The Mass always has a tinge of a political presence that reminds the public to be aware of cyclists by presenting an army of bicyclists coming together in their shared passion and support for biking in whatever role it takes in individual lives and greater civic culture. This ride, the Halloween ride, each year though it is festive with the spirit of Halloween throughout the crowd, it is also a memorial to those that have been injured and killed in bicycle related accidents.  Everyone is welcome, costumes are encouraged, and the only thing you need is your bike.
5:30pm Friday, October 30
Chicago Critical Mass bike rides start from Daley Plaza, Dearborn & Washington at 5:30 pm on the last Friday of each month, regardless of season or weather. They are free and fun.
For more info:
http://chicagocriticalmass.org/about/newbies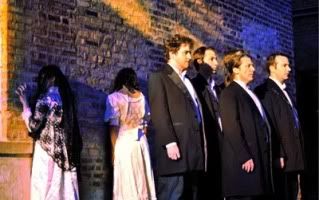 Neo-Futurarium- An Andersonville safe-haven for a unique experimental theater project that has been around Chicago for nearly 20 years. Built on such platforms as "just when you thought we couldn't neuter anymore dogma" and "theater that signs your yearbook with a puffy silver pen and promises never to seduce your brother again."
Neo- Futurists- A local theater collective best known for their production of Too Much Light Makes The Baby Go Blind: 30 Plays in 60 Minutes.  This fall they present their Halloween performance:
"Fear"
Last shows- Friday October 30th and Saturday October 31st 7:30 pm
Conceived and curated by Noelle Krimm.  The Neo-Futurists call this performance art tour "a thinking man's haunted house."   Comprised of vignettes including, but not limited to, one with a creepy serial killer about fetishes and violent impulses, to do with Edgar Allen Poe and all things terrifying.  As with all Neo-Futurist performances the 'now' is not evaded or ignored, they don't go for the 'suspension of disbelief' gimmick. The Neo-Futurists' 'Fear' should not be missed. At the Neo-Futurarium, 5153 N. Ashland Ave. $15; T: 773-275-5255
For more information about this show or others by the Neo-Futurists: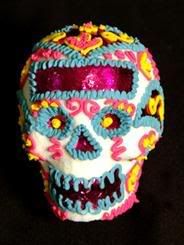 National Museum of Mexican Art
Day of the Dead is this Monday November 2nd; every year this museum puts together a solid exhibition with a cultural education bent that is lovely.  I've been several times over the years, if you haven't been, you should visit this year.
Camino a casa: Day of the Dead
Exhibition runs through December 13, 2009
Museum Hours 10 AM – 5 PM 
Tuesday – Sunday
The National Museum of Mexican Art's 23rd annual Día de Muertos exhibition, the largest annual Day of the Dead exhibition in the Nation, featuring more than 20 artists from Mexico and the U.S., a special ofrenda (offering, usually made on or of an altar) created for Arturo Velasquez Sr. (1915-2009) and an ofrenda created by the acclaimed author Sandra Cisneros as a tribute to her parents.  The National Museum of Mexican Art is the largest Latino cultural organization in the country and the only Latino museum accredited by the American Association of Museums. The Museum is located at 1852 West 19th Street, Chicago, IL 60608 in the Pilsen neighborhood, adjacent to Little Village. Closed Mondays. Admission is FREE for exhibitions. Performing Art events are subject to ticketing. Donations are graciously accepted. Contact Phone 312.738.1503 Museum Hours 10 AM – 5 PM 
Tuesday – Sunday
For information on this exhibit:
http://www.nationalmuseumofmexicanart.org/dod09.html
I hope you have the very best Halloween, and if you can, try to support a local arts organization or participate in an event in your community in the process!
Guest Post by Jen Gillespie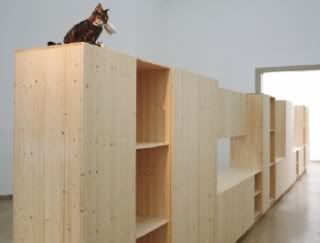 Last week I visited the Museum of Contemporary Art to see Liam Gillick's near retrospective, which the MCA is calling a survey and is really sort of a sample, of Liam's work. Titled Liam Gillick: Three perspectives and a short scenario. This work typifies his interest in social idealism, the interplay of architectural constraint on psychological conditions and playful imagery or colors to punctuate and sustain an exaggerated tension throughout the space of the installation.  The exhibit is up from October 10, 2009 – January 10, 2010. Though it is now old news, to an uncertain extent, Gillick's project for the German Pavilion for the Venice Biennale is what I really wanted to share.  I am in love with this talking cat project. Titled, How Are You Going to Behave? A Kitchen Cat Speaks the installation of a cat atop a maze of cabinetry with audio of Gillick's voice speaking as the cat.  The audio narrates a story of the speaking cat as the only one of its kind, it is both novel and wise.  It is a thing unlike anything else and so is able to cause a new social interaction, though that newness is both guiding and constrained the speaking cat is therefore limited and doomed to loose its first blush of novelty within the narrative of the hypothetical interplay of cat and society. Gillick's reference to hybridity and fragment as well as the banal loneliness inherent to being the only of a kind and to serve no purpose other than as a cultural or social fulcrum reminds me of Kafka's A Crossbreed (A Sport) a very short story starring a lambcat, its owner and some children.  I am intrigued by the similarities of the narratives so very relevant in their times of authorship yet separated by nearly a century.  I am struck by the repetition.  Check out Liam Gillick's show at the MCA, this audio image of a Kitchen Cat that speaks and this very short story by Franz Kafka
Liam Gillick: Three perspectives and a short scenario
October 10, 2009 – January 10, 2010
http://www.mcachicago.org/exhibitions/exh_detail.php?id=193
Liam Gillick: How are you going to behave? A kitchen cat speaks
www.deutscher-pavillon.org image and audio
http://farimani.info/forum/?p=2724
http://www.lespressesdureel.com/EN/ouvrage.php?id=1608&menu=
A Crossbreed (A Sport)- Franz Kafka
http://www.serelsnauw.nl/users/marcel/kafka/acrossbreed.html
Bad at Sports is pleased to present our second guest blogger this week, Jen Gillespie. Jen is a local Chicago artist. She enjoys a thirsty mind with a taste for critical theory, diagrammatic oversimplification of narrative, heartstrings, and the uses for Lacanian psychoanalysis in explaining identity relationships. She also likes how the harmonium sounds like the accordion in such a way as to cause a physical experience of the synonym in the root terms: accord and harmony. If you have yet to check out guest blogger Damien James be sure to see his preview of the Chicago Humanities Festival.

With Halloween nearly upon us, I am often thinking of costumes and lately most disruptively of clowns. I've been surprised how readily my mind keeps returning to clowns. How they have figure into costumes for hundreds of years that we know of and are still a prominent if somewhat nostalgic theme in entertainment and fantasy. Clowns have been on my mind since coming across an installation of clowns in an unlikely shop window. Though I don't suffer to any degree from coulrophobia, I can't seem to shake the image of terrible clowns in torn-up designer clothing.
The Marc Jacobs Halloween window display is haunting my thoughts. I first saw this window display on a recent walk down Damen Ave., in the Bucktown neighborhood, where Marc Jacobs Chicago is located. Occupying the whole front corner of the store are 7 of the most decrepit yet best dressed clowns I've ever seen seeming to mill about a dilapidated carnival ground, a partial Ferris wheel painting completes the setting. None of the clowns in the display are friendly or silly or even sweetly sad, these clowns are the scary kind the ones we make horror films about and read biographies of John Wayne Gacy to better understand. They are truly creepy. Choosing to dress-up mannequins to seem as people dressing up as designer clad clowns is a fantastic, seemingly self-conscious, nod to self-reflexivity from a place of authority in fashion and retail capitalism. Though window displays don't usually rank in my visual and intellectual experience this one sparked a little curiosity into some of the examples of artists using clowns in their work.
Though the place for clowns in art is often right next to the velvet paintings and kitsch collectibles. Clown Torture a video installation by Bruce Nauman, in the Art Institute of Chicago's Modern Wing, where the clown is not something that comforts or entertains but berates himself from all angles at loud volume obsessively repeating and correcting jokes. In 2003 Cindy Sherman started using clowns in her portraits, they are eerie images with extremely saturated colors. Sherman posing as an elaborate clown in each image, it is much the same as her other work with portraiture and in many ways a surprising continuation of her previous themes rather than the startling change it at first seems when, as the viewer I was first confronted with these antagonizing yet bright, almost playful images. That same year, 2003, the Andy Warhol Museum in Pittsburgh devoted an entire exhibition to clown paintings from the collections of Diane Keaton and Robert Berman.  Between them they have amassed thousands of clown paintings that typify this genre. The show met with mixed reviews and I have not been able to find an instance of its duplication. Since 2003 there are fewer major instance of clowns being used in contemporary art, but to my mind the Marc Jacobs window installation supplies a fantastically creepy visual experience. If you have not been past the Marc Jacobs window I highly suggest the field-trip.