This article is part 3 in a series of stand alone kvetching about the state of the artworld. The opinions expressed within are held by a big baby, and not the blogs they are found on. There is no need to read them all, but if your beverage of choice is Haterade, then part 1 can be found here, while part 2 can be found here.
…And if you don't like Haterade, then this one is totally positive, dude.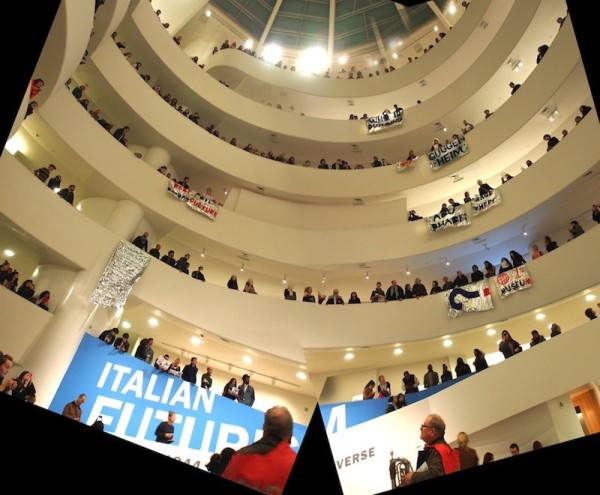 G.U.L.F. (Gulf Ultra Luxury Faction) protestors intervention in the Guggenheim, February 22, 2014. With intrepid planning, the coalition drew attention to the Guggenheim's direct, yet denied involvement to the promotion of debt bondage in the Middle East.
"Art is an antidote to consumerism…. At a fair, art is connected to the weakest part about it… the fact that it has to sell." — Matthew Collings, during a the Saatchi Gallery Debate: Art Fairs Are About Money Not Art  (billed as a partisan debate by one of the biggest money making galleries in the world, whose namesake gained his fortune in advertising, and whose moderator, Simon de Pury, is both chairman and co-founder of the art auction house Phillips de Pury & Company, one of the largest in the world. Just sayin.)
We have become so obsessed with the money revolving around art that it has become a part of contemporary art. Often, when writing about art, we are writing about money. We look at art and we are looking at someone else's accumulated wealth. Art no longer expresses ideas and possibilities, but also speculations and commodities. We exist in a system that exchanges money for services and goods for money. To say art must be free from the trappings of money says that artists should never get paid for their work. Art and money will always be connected in a capitalist system, and even most artists would not have it any other way.
But what happens when, increasingly, the art work loses its meaning and autonomy and becomes a status symbol for the rich and uber rich? It turns the artist into a stock which can be dumped at any time at the whim of a few collectors. It can draw hundreds of thousands or even millions of dollars overnight. Most of the money does not go to the very few artists showing at this capacity, but towards the building of worldwide art institutions and vanity museums, promoting the monumental legacies of a few rich douchebags. The bulk of the cash stays circulating in the hands of the super rich, like a global game of Keep Away, where Big Money always wins. The few artists that can participate in this market become instant celebrities — images of people instead of actual people — their art, no longer truly representing anything other than the continuation of extreme capitalism, becomes the measure to which all other contemporary artists must relate their work to, and the greasy environment where art exists.
We tolerate these excesses and abuses within the art world because we see it to be the defender of the truth — the faith that is art history; a white male dominated Eurocentric history that means nothing at all in the real world. Denying the importance of Germany invading Poland in 1939 would be criminal, as arguing the importance of Jackson Pollock creating Action Painting would be just as ridiculous. That Pollock revolutionized Painting, or that Marcel Duchamp did the same for the object, matters little in understanding the world. What is part of art history is as much anthropological as it is a collection of tastes and values by those with the money and moral authority to maintain such collections, further edited by subsequent generations of taste. Every artwork must position itself somewhere among all other "important" art of all time, even though this is an incomplete picture built on the individual and collective tastes of the past. A past that is far removed from our present. It is beautiful, rich and moving for sure, but is just one purposefully incomplete story, and so is just fiction.
We will not be able to erase Art History, nor would we really want to, as we come to art in seriousness drawn by its history. Gaining the title of artist takes for granted the likelihood of a degree or multiple degrees in the practice, so the academic, by definition, relies on history — separating this is impossible. Instead, what I imply is a freedom to move alongside the history, conventions, dealings, markets, establishments and modes of art. Because if art history, no matter how grand, doesn't matter, then neither does the rest.
While Social Practice is often some white asshole trying to help minority communities by their assessment of what "these communities" need to relieve their own guilt (liberal imperialism). But there is something within Social Practice that still offers a possibility of a freer art, a freer artist and a more inclusive public. It is within its socialist spirit, within a redefining of ownership, and the fluctuation of time and space. To be clear — there is nothing wrong with objects or images. To describe my love for a perfectly strange object or image as anything less then every neuron firing at once, effectively liquidating my brain, so that the pink goo drips out of my skull, down my spine and into my feet; the tingling sensation of this confused with the pissing and shitting of my art pants, while my eyes bug out and tongue extends to the floor, drooling like a cartoonish wolf over abandoned lambs; time stopping as I am taken out of my mortal body and able to claw at some other realm beyond comprehension just to be thrown back into reality– still does not adequately state my feelings towards the visceral power in the physicality of art. I am fortunate that I am consistently in the presence of great art, from established to emerging artists, who create work in this form. These are visceral responses we have to color, form and composition, becoming even more meaningful in their cultural context. The sprawling utility of much social practice tends to ignore aesthetics or, at the very least, subjugate them to the back burner. (Not that all art need be aesthetic.)
A revolutionary tool of Social Practice has quickly been diffused by the art establishment — that art can exist outside of the constructs of a capitalist white walled art environment — quickly became subjected to the art environment in order to give the work authority. No longer a revolutionary tool, it is instead a case study. Why can't the next wave of Social Practice address this need for object and image? Completely within its reach, it has not through its determination of institutional critique while trying to court the institution. Socially engaging works with more interesting stand alone artifacts, not documents, may provide this. Keeping to the revolutionary fervor within the core of Social Practice is really what allows for its potential, and that is why, in general I am so frustrated by it. The key to this new art world may lie there: an art world with a stronger relationship between artist and audience, both able to fluctuate to the needs of the work.
Instead of molotov cocktails, what is needed is backroom maneuvering for the proletariat. Like minded collectives with a purpose. Alternative spaces without fixed addresses. Fine art blending with design and craft and consumer objects. Price ranges for the masses, marketing at a small scale. More art shares, art lending libraries. Personal networks that build the backbone of a new art community. Community involvement and investment through education, public programming, parties, entertainment. Invest in audiences if you want them to invest in you. Realize that you are going to be turned into a product against your will in the art world so you should brand yourself instead. Stage your own biennial. Crash fairs. Create new art spaces, like The Suburban was or Good Weather is, both suburban garages which bring great art to the average person. Trunk Shows, internet only galleries existing on facebook, and other ephemeral spaces that question the nature of art space and geographic space in the 21st Century.
If we can even make small advances with the public, we'd gain more viewers and supporters. We would find new markets and create new demand. We would sell more modest priced works more frequently. Instead of the nearly impossible goal of selling in the 5 and 6 digits exclusively, we'd find the more attainable goal of being able to put food on the table and clothes on our backs from the sale of our art, instead of a job we don't care about. It would offer younger critics and curators to gain recognition for their work. Art would still be a joy, but it would be a joy shared by many instead of the few. Perhaps this art would look vastly different than art today. Perhaps this more democratic art would present new alternatives, new perspectives and new ideas, perhaps its influence could extend into politics and social justice. How much effect can art have in a closed off niche group being bought by the people within power in order to control its ideas and subvert them in to a high end commodity? The spectacle that is swallowing the art world could start to disappear. Money would still be a part of art in this alternate art world, but it would spread out a little more evenly with a lot less glare distracting one from the work. It would actually address some of the real debt that most artists have found themselves in, instead of floating around the Blue Chip Gallery satalite branches showing the same product worldwide. Maybe I'm just dreaming, but it seems to me that it is time to affect real meaning in art.
The Art Market is inflating out of control, making all but the wealthiest few cry foul. Like it or not, this is affecting the way contemporary art is viewed and thought about. Meanwhile, Jeff Koons continues to be the perfect Poster Boy for the inflation, and it just so happens he has work depicting the nothingness inside the bubble. Simultaneously, Banksy goes for a stroll in New York's neighborhoods proposing a different model. Is this the beginning of the end of the glutonous market? Or is this merely a long beginning?
Don't make the mistake of trying to analyze the Jeff Koons album cover work for Lady Gaga as if it were art. Think of it instead as a publicity stunt to drum up hype for his upcoming retrospective at the Whitney this summer. On the day the album cover was released, mtv.com ran a story with the headline: "Lady Gaga is Jeff Koons' Biggest Fan…But Who is He?" This collage of leftover studio remnants and a Botticelli print gets him access to a generation of people who are not likely looking at a lot of contemporary art, beefing up his celebrity status which he craves, at the same time adding to ticket sales. This, and the animosity from art enthusiasts will help make his retrospective THE BEST EVER!! Just a couple weeks before the Lady Garbage cover, T magazine – the glossy pulp supplement in the NY Times – had a stereotypically vapid conversation with the artist about his recent commission from Dom Perignon to made a limited edition DNA – shaped champagne bottle. Low end and high end commodity containers from ol' Koonie Balloonie. Not too different from anything he has done in the past, but the labeling becomes ever more irksome. Consider his output for the last decade, where most of his work is sold before its finished, and may only show at auction instead of a gallery or museum. Not that this is such a terrible thing. What has basically become a high end boutique practice is frustrating mostly because it is helping fuel the glut of the art market, and then regurgitated into the art world as important to the production and dissemination of art, to negative affect. As long as we wallow in the crystal palaces of Koons, Hirst and Murakami, we'll think that art is as uninspired as Gormley, Marden and  Whiteread.
Koons is in this rare position of being accessible to everyone but only collectable to a small handful of the richest in the world. As Carl Swanson recently stated in Vulture: "Koons can be the art world's great populist artisan, even as he operates as its most exclusive salesman."  Everything about the work is right there, so there's nothing to get. It is perfection and simplicity, the kind of thing that mocks you for looking too hard at it. Since critics are trained to look hard at things, they tend to hate Koons. And its boring to write about art just by describing what it looks like, so people tend to write about his career, his collectors, his record breaking prices at the market, his studio and the process of making his work. This only helps to build a persona around the artist, giving him the superstar flair that these major collectors are after. (And with this week's art fair, London's Frieze officially bigger and more bloated than ever, superstars have never been more in vogue.)
Both interesting and frustrating is how Jeff Koons' rise to the art commodity machine that he is may have helped shape the way the art market is an increasingly insiders game of fewer and fewer players more knowledgable about trading commodities than how to tell good work from bad. And with the auction prices soaring, the big named galleries just keep getting bigger in a kind of go-for-broke mentality* (not breaking them, just the artists they rep, in less of a financial type of broke and more of an artistic quality and integrity type.)
[*for a throughly depressing take on this, see Jerry Saltz's article on Vulture this week.]
At the same time all the grumbling about Koons' latest fart hit the web, Banksy has been doing a residency in NYC, creating work in the city in his typical fashion – covert and unannounced – the opposite of how you're supposed to make art. While seemingly on the other side of the art world, there are a lot of similarities between the two artists. Maybe Banksy isn't able to sell his graffiti work for 33 mil, but he is still operating inside the art market, selling regularly and at high prices. Lately, his work is often either garishly covered by a piece of plexiglass bolted to the wall he painted it on or is removed and sold, either way being seen by an enterprising public as separate from graffiti art and reborn as high art/commodity. His work is no stranger to auctions, museum and gallery shows, while being loved by mainstream society. His imagery is understood at first look, you don't need to read into it, and if you are, then you probably don't get it. Also like Koons, art critics hate writing about Banksy, saying there isn't enough to write about, because it is too surface and he isn't playing the game. But this game is being co opted by the wealthiest of collectors who have realized there is a market that won't burst and can't crash, so they've taken advantage of it. Buying a Koons gets you a ticket into  a very exclusive club. Buying the Banksy at auction though, means that you probably don't get it, because his work is to be freely viewed and is mocking the very lopsided system of capitalism that allowed you to buy it at auction in the first place. Getting it, though, is no longer important. Its having it.
As his position in the art world becomes more clear, Banksy's art frequently criticizes the market, and the latest example of this was a street sale of many of his iconic works on white canvases for $60 on the sidewalks of NYC. The work and the sale later appeared on his website, which is his way of providing provenance. These single color spray painted politically charged images lost all meaning shoved within the borders of these small store bought canvases, sold on the street among vendors hocking watercolors and prints of impressionist styled paintings. Subverted now to talk about the politics of class, taste and accessibility in a market that is more often hurting artists and keeping way too many people out of collecting art. It stifles artistic creativity to the point where every idea is either a recombination of greatest hits by the artist or an experiment to see how much money can prop up a bad idea. Artists start to flounder when they should be thriving. Shows are created for the specific tastes of the market and of a few clientele. Everything becomes dross and it feels like you are wading through a lake of effervescent puke whenever you go to a big exhibition, and anymore, they're all big. 'Cause if not, they may as well not happen at all. More and more, it sucks harder and harder to be a practicing artist in this climate. Unless, of course, you're Jeff Koons.
Theatrical sets allow for the real world to be transformed into the internal world. Against complete darkness, imagine a stage light illuminating one room within a house. Walls, hallways and exterior walls of the house are constructed out of the absence of light, while the walls of the living room are constructed out of illumination. The darkness hides the coming scenes from view, while the illumination presents furnishings in the current act – a sofa, table and chairs, a domestic preparation. This fabrication of a living room provides a model for the following stagings.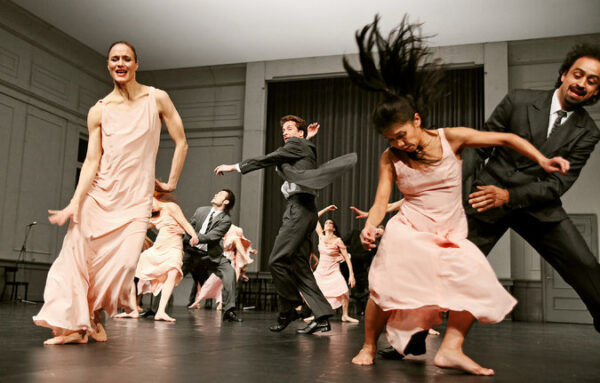 Kontakhof, Pina Bausch, performed at Brooklyn Academy of Music, 2014, photo credit: Oliver Look
"Is there anything deeper than surface?" I wondered, looking at one silken dressed dancer adjusting her dress, facing the audience as if they were her mirror. Having gotten herself together, she approaches with her dance partner, a suited suitor, whose arm she twists. The pair of dancers appear to be a couple, and the actions public humiliations, in as much as one dancer pulls the hair of the other, pokes the partner in the nose, bites the other's shoulder. In Pina Bausch's Kontakthof, dancers perform in a stage set as an empty hall with a window and door and row of chairs against three walls and small inset stage along the back wall facing the audience. Theatrically, the set is all that it needs to be, as minimally decorated as to provide a room inside of which action takes place.
On the other hand, it is a grand room.
The twenty-five dancers approach the audience from the back wall of the set, walking forward as a large mass, dressed as if attending a cocktail party. Sometimes a few dancers approach from within the mass – movements are directed towards the audience. And dancers perform acts on and for one another. They converse through tests of body language, as happens when a group of men surround a woman, patting, rubbing and pulling her limbs. As the dancers meet the edge of the stage, they run backward to the set's furthest wall again, forming a machine in rotation from front to back.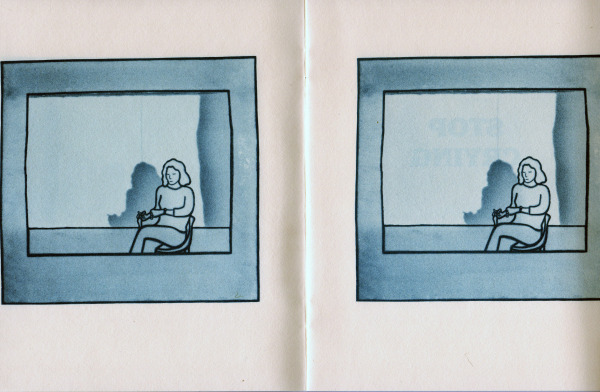 Stop Crying: A Performance, Ida Applebroog, 1981, staple-bound book
Kontakthof's starkness invigorated me to look through the illustrated books of Ida Applebroog, printed in the late 70s and early 80s, each book subtitled "A Performance" on the cover.
The performances inside consist of a single set and only rarely a set change, and a script of no more than two lines. The pages of each book are a repeated photograph of a monochromatic drawing of a scene. They have a cartoon look. For example, one print shows a woman sitting contemplatively alone, her shadow cast on the wall behind, the entire scene viewed through a box frame. The first of a three line script reads, "Stop crying."
Think of this as a theater, a small third floor affair. Operations are run by a single person, gamely but silently playing the parts of the director, lighting technician, actor and set designer.
Envision of the surface of a building. One might have a beige plaster front, another made from sedimentary rock, and a third obscured in a malaise of vines. These surfaces can be monologues as much as a slew of words can be: letters of discontent directed at the art world, for example, filling the lobby walls of the Institute of Contemporary Art in Philadelphia in the Readykulous by Ridykeulous installation called This is What Liberation Feels Like. Both commissioned correspondences and pre-existing letters of outcry from an exclamatory world fill the lobby. Letter writing appears just as what it is and in works of art as trope, both as a promise of a space for correspondence, and as the unfolding of particular resistance to an addressee.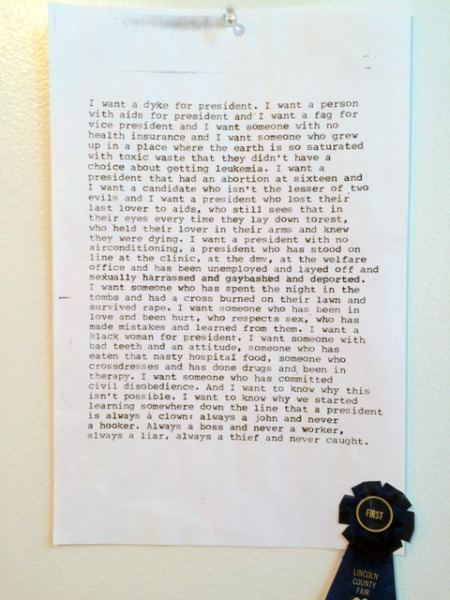 I want a President, Zoe Leonard, 1992, xerox, 14 x 8.5 inches, included in Readykeulous by Ridykeulous exhibition This is What Liberation Feels Like
A facade, like a one-sided conversation, is the staging of interiority. Currently on view in Aliza Nisenbaum's first solo New York exhibition at White Columns, among portraits of immigrants from Mexico and Central America, there is a painting of a letter, a pile of letters really, a bent paper pile. The writing is not identifiable, but the addresses of the correspondents appear, and drawings within the letters surface. Next to the letters, the flat, bent body parts of the sitters still manage to look solid, weighted. The bent ankles and limbs take the form of bent letters. Subjects look otherwise engaged, detached from being painted, but still. The two women of the painting Stephanie and Christina appear self-contained, as if entering this stage by having emanated from this fabric; henna-covered hands look woven from the thread of the pillows setting the scene.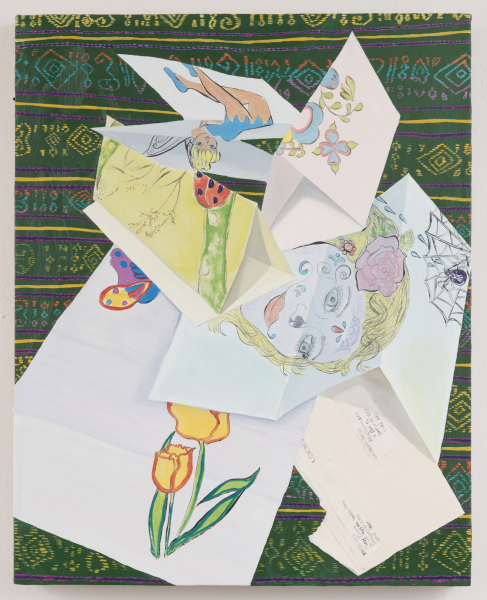 Tinker Bell, Aliza Nisenbaum, 2014, oil in linen, 20 x 16 inches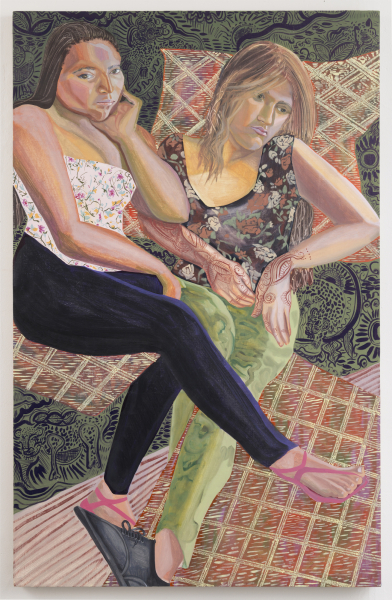 Stephanie and Christina, Aliza Nisenbaum, 2014, oil on linen, 51 x 33 inches
Like so many in our worlds, Brett Kashmere's engagement with art spans making, writing, teaching, curating, editing and organizing. Perhaps more impressively, he's good at each of these. His subjects often pertain to history, collective identity, sports and the ways they articulate and actualize each other. His essay film Valery's Ankle (embedded below) is deft and provocative, mixing personal history, social questions and rib-rattling editing toward a peek beneath the pads into Canadiana. His latest project, From Deep, signals a switch to the basketball court and the United States. At the same time, it maintains an interest in fan-culture, hybrid forms and a commitment to rigor without opacity and invention without pretension.
Raised in Canada, Brett has lived in Pittsburgh (while teaching at Oberlin) for the last several years. He is known perhaps equally for his own filmmaking as he is for his critical writing, his work editing INCITE Journal of Experimental Media (medium disclosure: I have a piece in the next issue) and his curatorial pursuits. INCITE does an excellent job of publishing works both scholarly and playful (a G-Chat conversation between Jesse McLean and Jacob Ciocci, for instance) without privileging either or presuming one form might have a monopoly on all types of insight. 
As part of the exhibition Spectator Sports (opening this Thursday!), Brett will be screening his work and discussing it with Lester Munson at the Museum of Contemporary Photography in Chicago on Tuesday, April 23rd. Graciously, he never brought up the name of this publication in relation to his own work. 
You've curated, written about and made films about Canadian identity. I have dual (US and Canadian) citizenship. Half of my family is Canadian and I've spent a decent amount of time in Canada and thinking through the issue of Canadian identity. No identity is fixed and national identity can be as useful or as destructive as any other unwieldy, essentializing concept. That said, I'm hoping you might elaborate a bit on where your thinking is on the issue now and how it's changed in that last many years of living in the States.
I agree – national identity is an abstract, complex construction, a symbolic category, which serves both good and bad purposes. As someone who works a lot with sports as a subject, it's disturbing to see how they're often used, in ways subtle and overt, to stir up nationalist sentiment and prop up dangerous ideologies. I'm thinking of that famous quote from Ronald Reagan: "Sport is the human activity closest to war that isn't lethal." He meant that as an endorsement. On the other hand, sports provide a common, everyday, shared experience that has deep (often under-acknowledged) reverberations and significance. I'm most interested in its relationship to place and community, as a kind of folk culture that is potent and tribal, rather than as an instrument of national identity.
I finished Valery's Ankle shortly before immigrating to the U.S. in 2006, to upstate New York. At first it didn't seem that much different than living in Canada, though the Iraq War certainly cast a shadow over everything during that period. It was a dark time. There was a distinct feeling of uneasiness, which I attributed to the political circumstances, and that did seem to dissipate somewhat after Obama's election (replaced by a different, more manufactured form of paranoia).
The longer I live in the U.S., the less I feel connected to Canada but the more I come to recognize differences between the two countries. Part of that understanding is intuitively felt, and part of it has to do with core principles and attitudes rather than anything related to day-to-day life. When I think about what it means to be Canadian, I often come back to the question: "Where is here?" For Northrop Frye, that was the central question of Canadian identity. Our sense of self is determined by external factors, the things beyond us, which we don't control. Whereas in America, identity seems determined from within – "Who am I?" – and rooted in those founding American ideas of personal liberty and freedom.

I've only ever watched Valery's Ankle on home screens. In particular, I've enjoyed being able to watch it on my laptop and scan through it, returning to certain parts and skipping over others while thinking about the work and this interview. In this changing media landscape, there are lots of new opportunities for works to be experienced. Typically for works that do not originate with intentions for the small, portable screen, we maintain an understanding that this isn't how they're supposed to be experienced, but this is what we have. UbuWeb recently tweeted "UbuWeb is a photograph of a painting." For video works whose form is shifting and fluid (are there people who really think a new export with a different codec is an inauthentic copy?), this is a little more complicated. I have been speaking recently with others who (in this mode of speaking) identify as a fellow makers of "dense video work," and are excited by the potential of video for the home, for the computer, because it allows the chance to view and re-view. With works in the essay tradition, this seems to be an even greater boon.
A common response I hear about my work is that it's dense. I use a lot of text layers and sources, onscreen and through voice-over, and the editing style is usually fast – I like a constant flow of images and ideas. I'm not interested in making conventional documentaries that you can watch once, process the information, and arrive at a satisfying conclusion. Even though it's unlikely and probably unreasonable, I embrace the idea of making work that will reward multiple viewings. So in that sense, the home computer, the small portable screen, offers a lot. I'm glad you find value in returning to certain parts, in shuttling back and forth. I prefer that its reception be productive and relational, not merely consumptive.
Then again, I consider the filmmaking that I do to be part of a cinematic tradition, best suited for the theatrical screening context. The conditions of that experience are still important to me: the large image, the fixed starting and endpoints, the focused attention, the darkened space, the social dimension. But more and more, I find that situation to be limited and unsatisfying, at least for the kind of work that I make. I would like for it to circulate more freely, and across platforms; to be more available to more people than the one-time theatrical screening allows. I'm not sure that YouTube is the answer, in terms of the mindset that's required for viewing a longer essay film or video. But perhaps the work can exist in different forms, as a modular construction, and the platform determines the version of the piece that you see.
In perhaps a similar vein, how does your work in curating and writing impact your filmmaking practice? Does the skillset of the curator align with the culling and positioning of archival materials? Does critical writing engage the same part of your brain as making critically-engaged films?
I tend to think of curating, writing, and filmmaking as distinct and separate parts of my life, linked together by expertise in editing. They definitely impact one another, sometimes consciously and sometimes in coincidental or supplementary ways. My work as a curator and a writer, for instance, has influenced my approach to filmmaking, which I'd describe as a research-based practice. From Deep, the project that I'm working on now, about the cultural history of basketball, feels at times like a curated film. It relies on the editing together of hundreds of discrete elements, including movie clips, music videos, TV commercials, video game footage, and so on, which are interwoven with self-shot "moving snapshots" of the game. I can easily imagine an exhibition on the same topic, or a book. But I don't think those forms would connect or communicate in the same way, the way I prefer. The moment-to-moment conjunction of image and language, which provides the central tension, the collision and mix of ideas within a set period of time, being able to control the entire experience and where people enter the work, those factors require that it be a film or a video.
In terms of the overlapping skill sets, my working knowledge of film/video production helps when I write about and curate moving image artwork. I understand the technical aspects and logistics of film and digital media, and I know what to pack when I'm presenting a screening to avoid technical problems and troubleshoot. But crafting narration for a film is quite different than writing a critical essay or a curatorial text. Writing voice-over requires constant revision, to get the timing, sound and flow of the words right and it can't be too complicated. It's one of the final stages, so often the sequence lengths are already set and the text has to fit into predetermined blocks. It's about concision – how to say the most with the least. But being able to write critically helps in the pre-production and post-production phases, in the preparation of grant applications and the development of secondary writing about projects.
In Valery's Ankle, you declare your interest in asking questions (over providing answers). Have the intervening seven years answered some of these questions? Have you found this interrogative mode of making to be productive or frustrating to audiences?
Posing questions is a useful rhetorical device, a way of opening things up. I'm interested in the anti-authoritative perspective, in the amateur or fan's point-of-view, and in Foucault's notion of counter-memory. Many of the questions that I ask in Valery's Ankle can't really be answered, and aren't meant to be. If they provide an opportunity for individual reflection, or if they provoke a discussion, that's great, that's the ultimate goal. I don't think the mode is frustrating for audiences. I'm careful about building in different entry points and levels of engagement. Accessibility is important to me, and so are variety and surprise. I like to frequently shift between a first-person mode of address, the subjective, and a more straightforward presentation of facts and evidence: Here is where I'm coming from (my frame of reference) – here are some things you may not know about (forgotten or overlooked histories, silences of memory) – here's why I think they're important (the argument). The viewer can decide for herself whether the argument has merit, whether the connections I'm making are sound, and whether I'm to be trusted as a reliable narrator.
The things that I struggle with are: How to synthesize the personal with the formal investigations? What is important as information? What does the viewer need to know in order to follow the work? Where is the point of convergence between local and universal experience? I also work from a basic assumption that every record (every fact) has a b-side. There's the side that is marketed and sold, but the other side is usually more interesting.
For all of its formal inventiveness and engagement with the expressivity and history of non-fiction filmmaking, Valery's Ankle is still an immediately watchable film. The questions that it poses are quite literally posed and the gestures you make toward an expanded notion of nonfiction film (perhaps the space between documentary and essay) fit and flow seamlessly. Will you speak a little about questions of legibility and the ways a background in "experimental" media can impact other types of making? Am I just "in too deep[ly]" to see that this work is secretly difficult for non-specialized audiences to enjoy?
Having a background and an ongoing interest in experimental film has definitely shaped my approach. I don't consider the work that I make now to be part of that tradition, even though it circulates in that world. I feel like that background does give me some license, or drive, to mess with the tropes and conventions of documentary. Alternately, the appearance of documentary provides cover for the more formal investigations, the manipulation of the image and so on. Creative nonfiction is probably the most accurate description, but it's more of a literary term. It hasn't quite crossed over into film and video, even though a lot of my favorite work– by practitioners such as Jackie Goss, Harun Farocki, Michael Moore, Chris Marker, Barbara Hammer – fit that categorization. Also, I don't believe the work is automatically difficult for non-specialized audiences to enjoy. That hasn't been my experience. It doesn't give viewers enough credit. The public screenings that I've attended often elicit homogenous, guttural groups reactions to the visceral and/or humorous parts; that kind of bonding amongst strangers can have a powerful effect.
Lately, I've been motivated by a couple of overlapping concepts: Brecht's notion of a theatre (or a cinema) of pleasure and instruction, and the idea of "edu-tainment," which I associate most with the hip hop artist KRS-One. I'm trying to find ways to bridge accessibility with critical inquiry. I don't want to make straightforward work about sports – there's already a lot of that out there, like ESPN's 30-for-30 series. I enjoy those films – they're well produced and fun to watch, but once they're finished I never think about them again. It's institutional storytelling. The one exception that comes to mind is Brett Morgen's documentary about the O.J. Simpson chase, which stands out because of its unusual form: a found-footage compilation that presents the events of one day – June 17, 1994 – with no commentary. It's a mesmerizing piece, and a reminder of how much the media landscape has changed since then. The 24-hour news cycle really begins right there, with those long helicopter shots of O.J.'s white Ford Bronco navigating the L.A. freeways.
Speaking of specializing audiences, how have hockey fans (in particular Canadian ones with long enough memories) reacted to Valery's Ankle?
In many ways, hockey fans have been the best, most accepting audience for Valery's Ankle. Part of that is by design. I've presented the video in a lot of places across Canada, in a lot of different contexts – from academic hockey conferences, to big city and small-town film festivals, university classes, art galleries, microcinemas, sports bars. The sports bar is almost an ideal setting for me, because I work with a formal language that most people understand, the language of sports broadcasting. If you've ever watched a hockey game in a bar you'll know that nothing captures mass attention like a hockey fight, even though, nine times out of ten, they're the most banal things to watch: a couple of guys clutching one another and spinning in slow circles for two minutes. Valery's Ankle pulls you in with the fighting, the spectacle, but then it flips things around. It starts posing questions about our common assumptions of hockey violence. For instance, when, and why, did fighting become an accepted part of the game? What is the deeper meaning behind the trophy for most sportsmanlike behavior in hockey?
The people who are old enough to remember the 1972 Canada-Soviet Summit Series either don't remember the slash – Bobby Clarke's intentional breaking of the Russian star Valery Kharlamov's ankle – or never knew about it. The visual evidence scarcely exists – it happened quickly, with no camera close ups. The image quality is poor. No one is truly surprised by it, though, as Clarke had a brutal bully reputation, but the general response is one of embarrassment for the sanctioned dirty play, and the fact that the Canadian men's bodies were so out of control. If there's a negative reaction, it's usually from people who don't think I go far enough with the critique; that I leave too much out. The violence touches a nerve.
I've received a lot of wonderful notes and messages over the years, saying to the effect that Valery's Ankle has changed, or modified, their opinions about hockey and its relationship to their identity. The video has acted as a bridge piece (peace bridge?) between artist friends and their dads, who wouldn't normally have much tolerance for experimental work. Just yesterday, I received an email, out-of-the blue, from an established Canadian filmmaker, a person I've never met but have great respect for, who wrote: "my 15-year old son and I watched Valery's Ankle and he thought it was 'awesome'; me too! thanks for providing that perspective with such calm passion, along with the great hockey images." I can't really ask for anything more than that.
Will you tell our readers a bit about your most recent project and what they'll experience at the Museum of Contemporary Photography?
The MoCP will be showing a couple of my pieces as part of their upcoming exhibition, Spectator Sports (April 12–July 3, 2013). In addition to the video essay Valery's Ankle, there is a newer work titled Anything But Us Is Who We Are, which is comprised of two parts: a burned LeBron James Cleveland Cavaliers jersey, framed and mounted on the wall, and a live video game feed of James (in Cavs uniform) holding a basketball at center court in an otherwise empty arena, waiting to be activated, perhaps in a moment of indecision, contemplation, or awaiting orders from the viewer/fan/agent/gamer. The game controller is displayed in such a way that you can't actually use it.
For me, the piece was a way of exploring and coming to terms with the limitations, but also the agency, of fandom. The bond between fans and players is so tenuous, so illusory, and typically one-sided. In his great book Black Planet: Facing Race during an NBA Season, David Shields writes that "Fans want to think it's us against them… and that the players on 'our' team are in cahoots with us, in some difficult-to-define way – difficult to define, since their contempt for us is so manifest." LeBron's decision to leave Cleveland for the Miami Heat in 2010 demonstrates the volatile nature of this relationship. It was such a charged moment, because as fans, we like to believe the players play "for us" and that we're part of the team, or at least recognized by and important to the team. But this isn't really the case. They play for themselves and each other, and we invest symbolic meaning in a multimillion-dollar corporate enterprise.
Nonetheless, when a cherished star leaves town, it's hard for those fans not to feel betrayed. Complicating this is the fact that nearly all of the NBA's owners, team executives, and paying customers are white, while nearly all of the players are black. The struggle to possess and control the subjects of our sporting affection is such a potent metaphor. In many ways, sports have been at the vanguard of social change in America. I don't think it's a coincidence that the racial integration of baseball in 1946, followed by NBA's integration in 1950, preceded the racial integration of schools in 1954. Athletes like Jackie Robinson, Muhammad Ali, Tommie Smith and John Carlos did a great deal to bring awareness to racial inequality, and helped to erode the structures of racism that were inherent at the time. When Obama was campaigning for president in 2008, he deliberately played up his interest in basketball, to make himself more relatable (the professor could hoop, too).
In addition to the exhibition, I'm doing a public event on April 23rd at the museum. I'll be screening excerpts from my in-progress feature documentary From Deep, and discussing the culture of basketball with Lester Munson, a writer and legal analyst for ESPN, who also teaches journalism at Northwestern.
I was a tremendous basketball fan at one point. I have dozens of books and VHS tapes on the subject and still find myself accidentally stuck in the mental morass of John Starks' number of Dikembe Mutombo's full name on occasion. Will you talk a bit about the personal shift you made from being a hockey kid to a basketball one and about the larger societal shifts in fandom? Why make a film about basketball instead of baseball (our supposed national sport) or football (our apparent cinematic/televisual national sport)?
That transition, from hockey to basketball, occurred during my teenage years. Typical of Canadian boys during that time, I started played competitive minor hockey at age 5. After ten years of full-time play and grueling travel, I realized hockey wasn't the sport for me anymore. Part of it was the danger, the fear of serious injury, since I was the smallest kid on the team. But a larger part of it was an evolving sensibility – I just wasn't into the small-town, country-and-western, hockey-obsessed prairie culture. By then I was listening to rap, fascinated by graffiti, urban style and expression, and following the NBA. This was a golden age for basketball: Jordan was just reaching his prime, Magic and Bird were still in the league (this also around the time that Magic revealed he had HIV); the video game NBA Jam was a huge success. Then there were the 1992 Olympics and the Dream Team, which took basketball to an even bigger stage internationally. I was also really into Skybox basketball cards, which had those amazing computer-generated abstract backgrounds, and also the Arsenio Hall show, which often had rappers and basketball players as guests. Michigan's Fab Five were bringing hip hop fashion and swagger to college ball. It was all cool, and fun and exciting. Basketball hoops were suddenly popping up on driveways everywhere. A tremendous shift was occurring. The world got much larger, seemingly overnight.

Although, unlike baseball or football, basketball is less rooted in American myth, it is, in my opinion, the 21st century American sport. It is certainly more global and easier to play: You don't need a lot of equipment or a lot of space, it can be played outdoors or indoors (all weather), by yourself or in almost any sized group. It's democratic. Everyone does everything on the court – there aren't highly specialized roles, as with baseball or football. I like those sports and enjoy watching them but I never really played them growing up. So basketball was the natural next step for me, as a subject to explore. I've been thinking that my next project might be about football, though. With all of the recent studies that have come out about head injuries in football and the long-term effects of repeated concussions, it seems to be facing a major crossroads. The game, and the NFL, will have to adapt to this new science or it will become obsolete. It's an interesting parallel to where the U.S. is at in right now in its history, as an international power trying to maintain its primary place in a changing global landscape. The idea of the masculine warrior athlete, and of sports as a gendered institution, a "school for masculinity," is no longer contemporary, or relevant. It's time to evolve.
Switching gears to some of your other endeavours, is there a specific niche you're hoping for Incite to fill? How are you approaching print/web publishing decisions? What are some historical forebears whose output has influenced the project?
As an undergraduate film student, I loved flipping through back issues of Film Culture and Millennium Film Journal and smaller, more idiosyncratic hand-bound journals like Spiral. Those publications had a big impact on me, as did Jonas Mekas' "Movie Journal" columns. The way he mixed criticism, advocacy, community building, and poetic language into his writing was inspiring. I knew from that point forward that I wanted to start a journal. My favorite types of writing have always been artist statements, manifestos, personal essays, letters and filmmaker responses to their colleagues' work.
INCITEÂ was founded in 2008 with the goal of reinvigorating the culture, community, and discourse of experimental film, video art, and new media. P. Adams Sitney made a comment around that time, in an interview with Scott MacDonald, decrying the lack of new writing about experimental film and video, at a time when it was going through a huge creative resurgence. That was a major catalyst.
From the beginning, INCITE has embraced a plurality of forms and approaches, combining the spirit, eclecticism, and individuality of zines and artist books with the review process and editorial methods of academic publishing. In addition to scholarly articles, INCITE regularly prints manifestos, aesthetic statements, artist projects and drawings, archival documents, "G-chats," diagrams, collage-essays, and so on.
Through the integration of print and online platforms, we attempt to distribute our publishing activities as widely as possible while also providing a material trace, a tangible legacy. It's important to me that we publish an annual printed issue. But those take so much time to produce, and are dependent on volunteer time. The current issue that we're working on right now, Exhibition Guide, has over 50 contributors. We decided a few years ago to create an online interview series ("Back and Forth"), which would allow us to have an active publishing presence between issues. We have a couple of other web initiatives planned, including a reprint series of important texts that are difficult to find or no longer available, with new contextualizing information; and a "work bench" series, which will feature annotated documentation of artists' studios and editing spaces. And we're close to finishing our first artist monograph, on the work of the pioneering Canadian media artist David Rimmer. It was edited by Mike Hoolboom, and will be available as an e-book on our website as well as in a print-on-demand edition.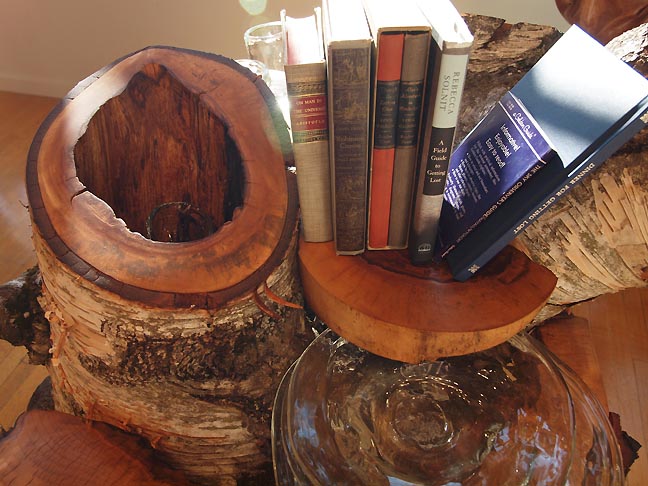 Midway through our studio visit, MK Guth told me about a compass—her father's compass to be precise—that, throughout her childhood, was contained in the tackle box on her family's boat. After countless summers of relying on this particular compass to navigate the waterways of the Canadian Great Lakes, it became a talisman of sorts, and it was this heirloom that sent the artist running to Midwest following the sale of the entire rig a few years ago. Out of this experience, Guth began to reconsider objects: how they transition between function and fetish; how they shift and shape social interaction; and how their relation to us and to each other organizes our surroundings and appropriates our actions.
Despite her attachment to the compass, Guth never learned to read it. It wasn't until she was the sole owner of the object that she fulfilled its agency as a wayfinder, using it to navigate hikes through the Cascades. This notion of object lying in wait, anticipating the grasp of the human hand to become activated as an extension and mediation of human experience in the world, is a theme resonant throughout Guth's art practice. Her most recent project, When Nothing Else Subsists, Smell and Taste Remain, (2012), is a multi-sensory exploration of the meaning that can evolve from the intersection of subject, object, and context. The exhibition is composed of a series of vignettes—or still lives as the artist calls them—composed of everyday readymades interspersed with one-of-a-kind handcraft and modified found objects. Guth meticulously curated a range of texture in each display. The all too appealing interplay of lustrous forged bronze, hand-blown glass, and polished woodgrain cannot help being touched. Guth intentionally solicits this interaction from her audience, tempting visitors to sit at her handcrafted table, thumb through original artist books, and take various tools for dining in hand.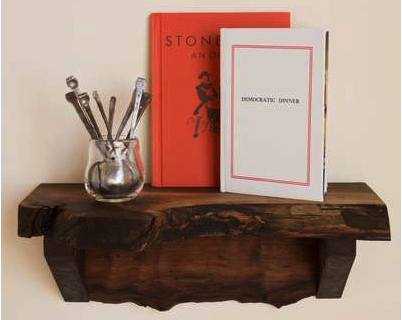 As a secondary, perhaps richer engagement, viewers are invited to enact dinners— elaborate rituals explicitly outlined in Guth's one-of-a-kind books: Dinner for John Cage, Dinner for Crying, Dinner for the Woods, Dinner for a Funeral, Dinner for Getting Lost, and others. In this iteration of When Nothing Else Subsists, the social becomes both medium and content of the project. Setting the stage upon familiar platform of table, flatware, and food, Guth subverts the everydayness of dining, directing attention to the ritual itself—its structure, its narrative, and its social interplay—as a subtle reminder of the small, ephemeral gestures that contribute to grand, long-lasting accumulations.
Guth's previous work similarly embraced participation as fodder for art practice. Her recent series of braid projects including: Best Wishes, (2011); This Fable is Intended for You: A Work-Energy Principle, (2010); Ties of Protection and Safe Keeping, (2008); solicited physical material—swatches of fiber—as well as text commenting on issues ranging from desire to security. The material was then woven into yards upon yards of braids to create a generative social work that, in the gallery, was translated into an equally compelling sculpture, installation, or lens-based project, that visitors uninvolved with the initial performance could engage and appreciate. Braids from these previous projects festoon the artist's studio currently. They are in the process of being woven into vessels—clever plays on the idea of a repository— where hopes and wishes are bound-up in the objectness of the container itself.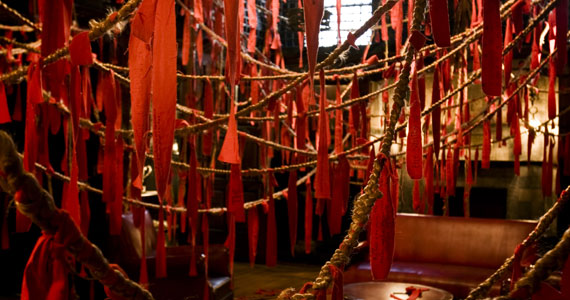 Guth is the maestra of the send-off. At the root of her work is a central line of inquiry—a rhizome-like thread that binds individual, to object, to universe—generating meaning from what is unacknowledged, unarticulated, or unknown. I spoke to Guth in her southeast Portland studio.
Sarah Margolis-Pineo: I'd love to start with a quote that came up in a previous conversation with you: "Art is what makes life more interesting than art." (Robert Filliou, n.d.) Why did that statement resonate?
MK Guth: What I find important about that quote is that it reminds us that art has a job to do. In the case of my work, I tend to use the concept of the everyday—reflecting on the everyday in the content, materials, and processes of art making—to refocus attention on analyzing and addressing everyday acts, rituals, and processes with new appreciation and understanding. My recent work at Marylhurst [University's Art Gym], When Nothing Else Subsists, Smell and Taste Remain, the project places the ritual of dining within the context of art to attune the viewer to an act that is so familiar that we take it for granted. For example, in the case of the Dinner for John Cage, you perform a composition at the dinner, but you are also enacting a ritual that we do all the time: eating. It's this combination of producing something collectively as part of a mundane action within the context of an art experience that forces us to reexamine what we already know.
SMP: So, you're making the familiar strange, or the ordinary extraordinary…
MKG: It's more about bringing our attention back to the ordinary so we look at it again. For example, when you walk the few blocks to work every day, you notice certain things, but then you take that walk with someone else and they point out a different building or some detail or whatever, all of a sudden, the walk becomes new again—you see it in a different way. So, I'm not even sure it's about making it special as much as it is about realigning our sight.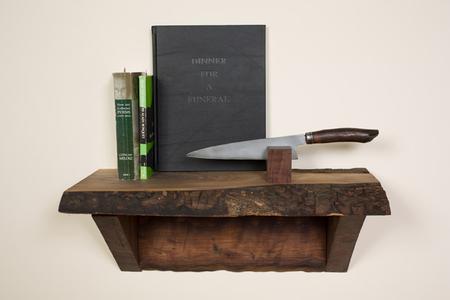 SMP: Food has become such an enormous part of contemporary art and exhibition practice, but in viewing your work, I was brought back to those seminal figures in food and performance, Gordon Matta Clark, Alison Knowles, and to some extent, Rikert Tiravanija. Do you have a relationship to these artists, and how did the contemporary context—cultural and social life—set the stage for this project?
MKG: I'm a bit of a researcher bug. I roll that way anyway. My undergraduate degree is in sociology from the University of Wisconsin, Madison, and that department is very research oriented and it really influenced the way that I work. In the process of developing [When Nothing Else Subsists], sure, I was looking at all of these different people who engaged food in one way or another; that being said, I don't want to make the assumption that everyone who works with food shares some sort of similarity. Tiravanija's way of engaging food and the meaning behind it is very different than somebody like Daniel Spoerri, even though both of these artists are cooking. Both are very different than Gordon Matta Clark and the project Food, or Alison Knowles, who, in a very Fluxus-Happening spirit, highlights our relationship with tools and implements. But sure, I became interested in how art addressed food and eating beginning with very early artworks as a material of life itself that is essential to existence. No matter the moment or context, food makes its way into the artistic realm, from pre-antiquity to present… food is part of what we need and often part of significant rituals that imbue out lives, for example, weddings, births and birthdays all have particular food and food rituals.  It doesn't surprise me that artists are interested in using it to create meaning.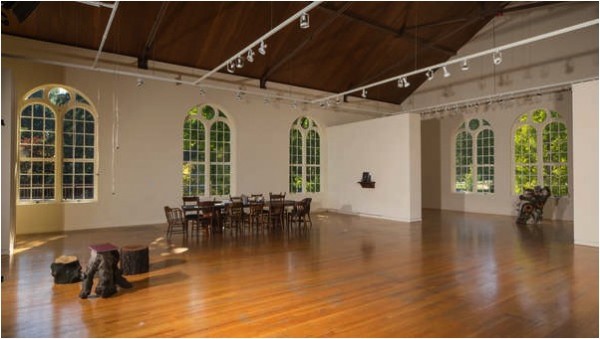 SMP: Many of your previous projects including Best Wishes and This Fable is Intended for You are about engagement through the accumulation of matter—generating fiber and text—whereas your more recent work around food and dining is more about ritual—generative through discursive and performative engagement. What drew you away from one form of participation to another?
MKG: In the 1970s, Gordon Matta-Clark coined the term "food theater." I actually began conceiving [When Nothing Else Subsists] several years ago when I was in the process of doing all the weaving and braiding projects, and that term—food theater—helped develop my most recent work by focusing my attention on what it meant when I was eating with friends and how it is this theatrical event. Everybody is a performer at the table and there are always expectations as the guest, as the server, as the person who's cooking the meal, or as the person who is directing the conversation. That notion of performance in relation to something that we do together everyday started to inform where I wanted this work, When Nothing Else Subsists, to go.
I suppose this project is the absolute opposite of my previous work in terms of process. These last several years, perhaps starting with Red Shoe Delivery Service, (2002-2006), and continuing through the woven works, the interaction with the public played out in one field, and the accumulated ephemera then went on to form works of art that could be then reflected on in an institutional setting—a gallery, museum, or what have you. In essence, the interactivity was one experience and the viewing of the object that came out of it was a different experience. What was important to me is that residual work wasn't functioning as a direct document; meaning, that the secondary object was created to offer up a wholly new viewing experience that has different meaning attached.
I know that my work could easily be defined as "social practice," but in part because I choose not to show direct documentation of the interactive elements of the work in a gallery context and because my work does not exist as documentation of an experience but instead as an object produced from that experience, I feel that my work is set apart. Honestly, I understand why social practice, or any sort of event-oriented project, relies on documentation—there's an art economy there, and a manner of communicating something that would be otherwise lost.  However, I also feel that showing ephemera can be a fuck you to the audience. It's like saying: "here's the event that you all were not involved with. It was great, but you weren't there." Also, a photograph or video can never accomplish translating what the original experience was—the related discomforts, smells, sounds, and all the many other things are absent from documentation. An important part of what I do is creating something else that might connect to that initial experience but it isn't trying to document it in a direct way. I am interested in creating work that offers up multiple experiences and, as a result, the whole project becomes generative.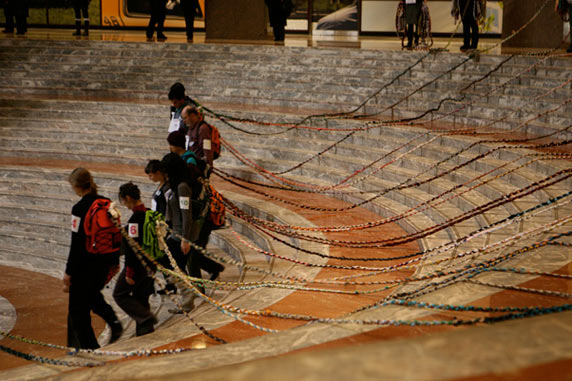 When Nothing Else Subsists turns my earlier process on its side. The object is similarly the agent of activation, but the activity occurs through an inverse process: object precipitates event.
Certain things cause us to act in specific ways: a book tells us to read it; a table tells us to sit and use it as a surface. We understand that code and structural system, regardless of where the objects are located. It's universal. You can put something into a gallery—it doesn't matter what it is—it could be a clothespin and voila, and it's art. The thing that I like about the table is that people will go to sit at it because its meaning—its system and code—is stronger than that of the art context. For example, people are still willing to go sit at a table and eat despite its location in a university art gallery.
As far as the little vignettes that hold these one-of-a-kind dinners, those still lives have materials that I had hoped would encourage people to take materials off the shelves and engage with them; in particular, the books. For example, the Dinner for Getting Lost has a copy of Aristotle's "On Man in the Universe" and a book of Rebecca Solnit as well as the one-of-a-kind book that encompasses the dinner. I made the books to be hardcover sturdy objects that tell the viewer: "I'm not fragile, pick me up." I wanted these still lives to announce that they are meant to be engaged and, in this way, that body of work starts with the sculpture as a way to promote an action. Really, each piece has three different potential experiences that can be engaged: the initial entry to the project is through the still life and contemplative viewing, the second experience is through engaging with the material of the still life, and the third level is to activate the dinner itself.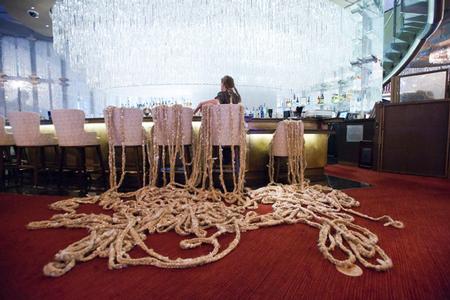 SMP: I'm interested in your ability to engage with the unique properties and etiquette for participation within different spaces, fluctuating seemingly easily between white cube and more public venues, as with your recent work in Las Vegas. How do you leverage the different qualities of different spaces for your projects?
MKG: All spaces have a context—including galleries—and often, it can be difficult to fight against the associations brought on by site. For the Whitney Biennial, my piece, [Ties of Protection and Safe Keeping, (2008)], was installed in the library of the Park Avenue Armory, a space that has very specific meaning and embedded history. In my mind, simply putting an artwork in that space without considering the relationship to site means that both elements—the history of the space and the meaning of the artwork—are in this constant battle. In my work, it makes more sense for me to use history and meaning in the construction of the artwork so that the two could come together and create a unique, mutually supported experience for the audience. At Marylhurst, the Art Gym has a very particular feel with its exposed wooden beams and a huge expanse of windows—a very hallowed hall kind of feel that adds to the sense of ritual. And, of course, you can't fight Vegas, so it made sense to do a work that connected some of the aspects of the reasons people visit Vegas: the dream, desire, etc. To me, it seems to be a more successful strategy somehow to engage the site, leveraging it to create meaning for the rest of the work.
SMP: The research-based element of your practice is so intensive. I'm wondering if you could continue this thread and speak to blending more empirical truth—particularly history—with mythmaking, which strikes me as being very present in many of your projects?
MKG: I start often with mythic narratives and use them as a way to bring people in. Often with interactive work, people do not like to engage, (including me!), so there has to be another way to invite people into the piece. There are narratives that we all recognize, and these provide a way for people to come to the work that's familiar. It's the shifting that happens in that space—engaging audience with familiar narrative—that creates a new mythic site.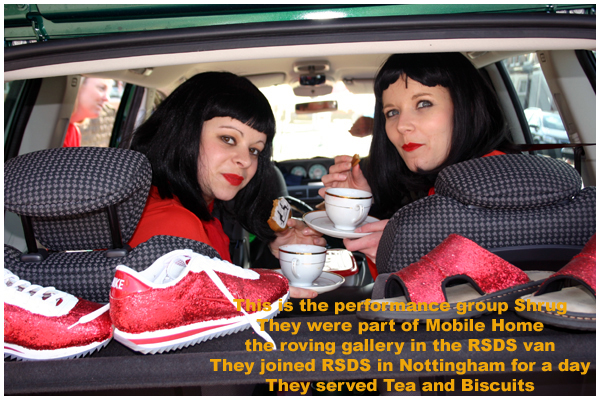 SMP: How did you begin to do participatory work and how do you negotiate the unknowns that come with choreographing this type of performance?
MKG: Late-summer 2002, Red Shoe Delivery Service made its debut in New York. This was a project with Molly Dilworth and, one year later, with Cris Moss. I had been working on a series of photos that were combining mythic representations into everyday scenarios, and one of them was Dorothy's Ruby Slippers. I had been doing this kind of work for three years and, at that point, I was frustrated with it. In my mind, I was redesigning these representations to make room for ordinary people in the way that you may not be a superhero but you could still have some sort of remarkable power. That series of work just kind of collapsed into the photograph, object, or video, and never really became an experience outside the realm of image or object; Red Shoe developed out of this point of frustration. I was sitting at the kitchen table with my then roommate Molly Dilworth, and I said: "What if I just rented a van, filled it with glittery shoes, and drove around giving people free rides? What would happen then?" And Molly said: "If you do that, I'll drive." That's how Red Shoe was born. We did our first three days in New York with a rented minivan and a bunch of red glittery shoes that I had made, and we literally gave rides to people to wherever they wanted to go. In exchange, they had to give us their shoes for the duration of the ride, and they had to choose a pair of red glittery shoes and click their heels saying: "there's no place like…" the Post Office, work, the neighborhood bar, or wherever they were going. We took video of our passengers at the beginning and end of each ride, and later edited those two moments together to create a video of people magically transported in a spiral of glitter and heart music to their desired location. As the project went on, we became more sophisticated. Molly started curating the van, so the ride itself became this entirely other experience for the riders. Then Chris Moss became involved when we realized we needed a third person. Chris began working on these interactive DVDs that involved recording the stories of our riders and partnering with writers and illustrators to translate them into texts and images. We began creating this multi-layered, almost rhizomatic project that spoked in all these different ways. We began doing virtual travel agencies, dispatch centers, shoe stores, so something that started out as a mobile project—which we always kept—became all these different ways of communicating notions of risk taking, desire, transformation, and different ideas of home.
When Red Shoe was first developed, it took time for the three of us to understand and evolve the work in such a way that the loss of autonomy that comes with participation was not a problem to be resolved, but rather, something that offered up a range of new possibilities both for the viewers and for us as the artists that made the work more exciting. As time went on, and with the braid projects, I began to weave-in this loss of autonomy into the design of the work. When Sol Lewitt spoke about his instructions-based works, he had an understanding that no one person draws a line the same. So, those works, no matter how well the instructions are composed, will always vary a little bit, and that becomes part of the work. I think that if you pursue a practice that is exchange-based or participatory without that understanding that concept, you are going to be constantly frustrated. Understanding that active audience members will come in and shift the outcome of the work has to be taken into consideration in the design of the piece. This different system of meaning making doesn't change the authorship of the work however, because the design of that experience is still coming from me.
SMP: So, given that transdiciplinary is the buzzword du jour, I'm curious if you can articulate a bit more about your approach to art making that draws from research, object making, image making, performance, and choreography. Moreover, artists today function in various roles ranging from sociologist, to journalist, to cabdriver. Given the expansion of the field, how would you define the role of an artist in this context and how do you address the anxiety that comes with pushing and crossing traditional boundaries?
MKG: I'm not going to define the role of an artist—each artist is going to define that role differently. But I do feel that art has a job to do and, for me now, my job as an artist involves wearing a lot of different hats: choreography, directing, facilitating.
I come from an object making background, and I still believe in the power of the object to make people act or to change their understanding of an image or event. That being said, I would like to approach my practice as one that offers up a multi-level of experiences including more viewer activated experiences. At the end of the day, I feel that in order to communicate, I need to make use of many different skills: some that are very common and everyday ways of making; others are more cerebral, mining my education and research skills; and some that engage new technology, which in many ways is redefining the role of the artist today. What is an artist? Tough question! I guess I choose the job of cultivating an experience for an audience that communicates something about them back to them.  This is the role I choose.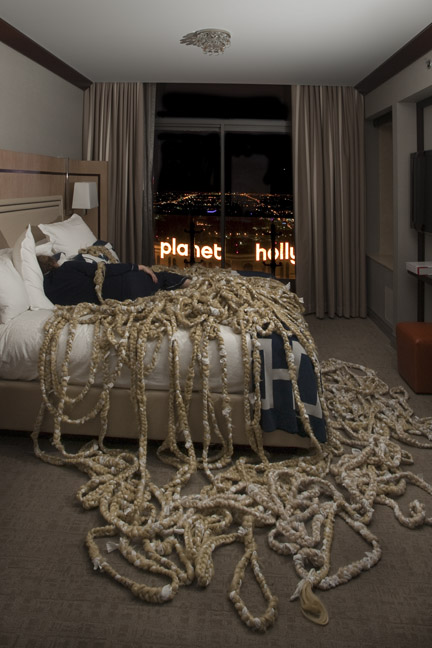 MK Guth is a multidisciplinary artist residing in Portland, Oregon. Her most recent project, When Nothing Else Subsists, Smell and Taste Remain, was on view at Marylhurst University's Art Gym, Oct. 7 – Dec. 9, 2012. She received her MFA from New York University in 2002, and her work has been featured internationally at numerous museums, galleries, and festivals including: The Whitney Museum of American Art; The Yerba Buena Center for the Arts; The Melbourne International Arts Festival; Portland Institute for Contemporary Art; Swiss Institute; White Box Annex; White Columns; Frye Museum; Henry Art Gallery; and others. Guth is currently Chair of the MFA Program at the Pacific Northwest College of Art, (PNCA), and is represented by Elizabeth Leach Gallery, Portland.